Skin color names can be confusing at times, believe me, I know!
If you've ever wondered what yours is called, or which tones are closest to yours, I've got you!
Below, I listed out the 26 26 most common skin tones along with celebrity pictures for them.
Start with a quick list, then keep reading to see each one up close.
News: Thosegraces Acquires Makeupscholar
26 Different Skin Tone Names With Pictures
Alabaster
Tan
Ivory
Honey
Caramel
Peaches and cream
Praline
Porcelain
Marshmellow
Cacao
Saddle Brown
Pecan
Olive
Espresso Brown
Umber
Sable
Almond
Beige
Chestnut
Bronze
Mahogany
Hickory
Teak
Bisque
Carotenoid
Sand
So, here's the thing you need to know before we move on. Technically, according to the Fitzpatrick scale, there are really only 6 actual skin colors [1].
The scale was designed to help people figure out how their skin will react to the sun, and it's the most widely-used scale by dermatologists, doctors, and even the beauty industry.
However, one look around the world and it's easy to see that humanity can't be grouped into just 6 shades.
So other experts, including makeup artists (and the people who create makeup in the first place), aestheticians, and so on expanded on that scale a bit.
The problem, of course, is that everyone sees and names colors differently, so there's really no single standard list beyond the Fitzpatrick scale.
But these 26 skin tones below are widely used by the industry (although you may sometimes see them with different names).
Watch the summary video below for a quick recap.
Check out the color chart for skin tones for a better understanding of the most common skin tones, then read on for all 26.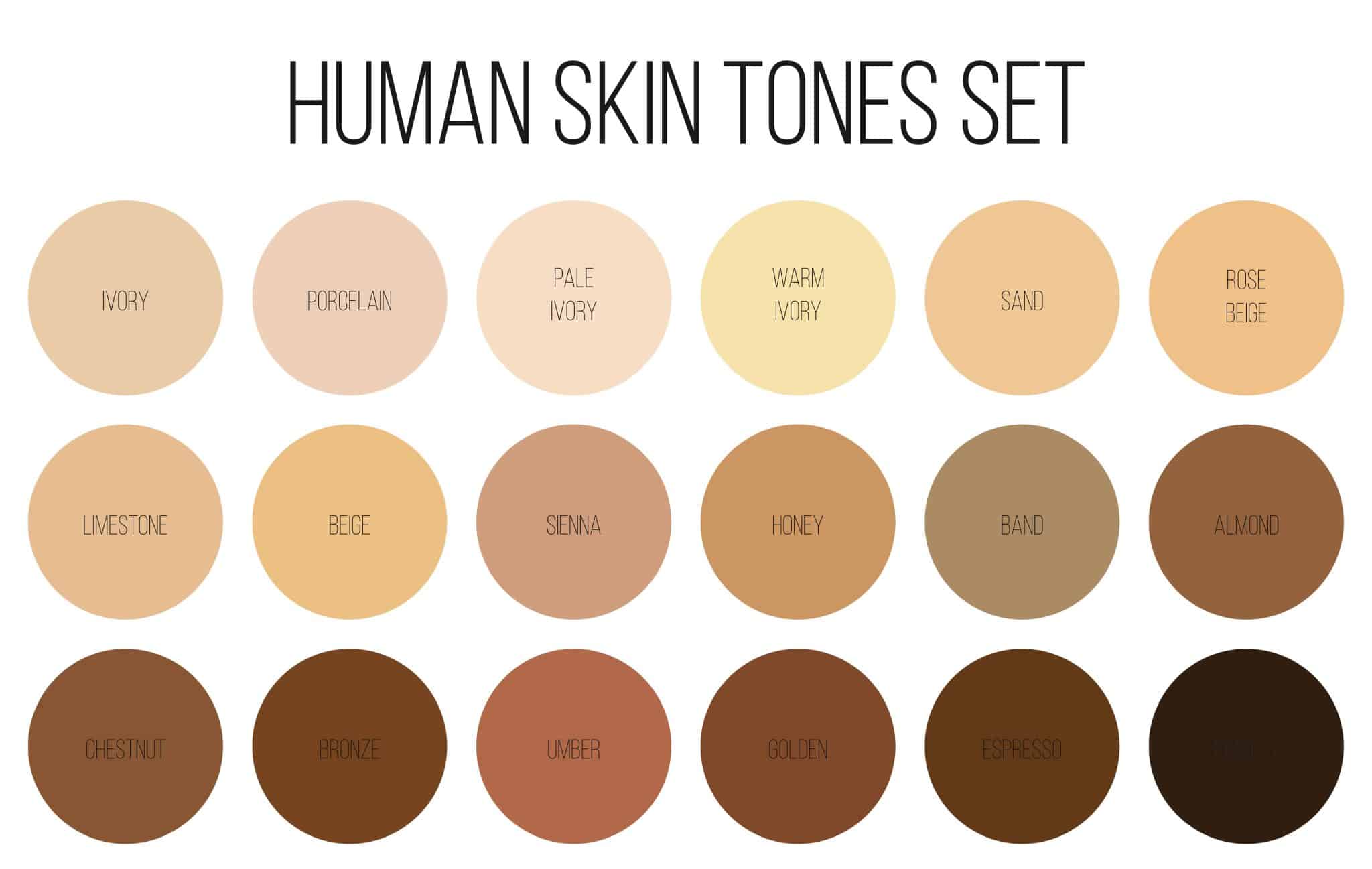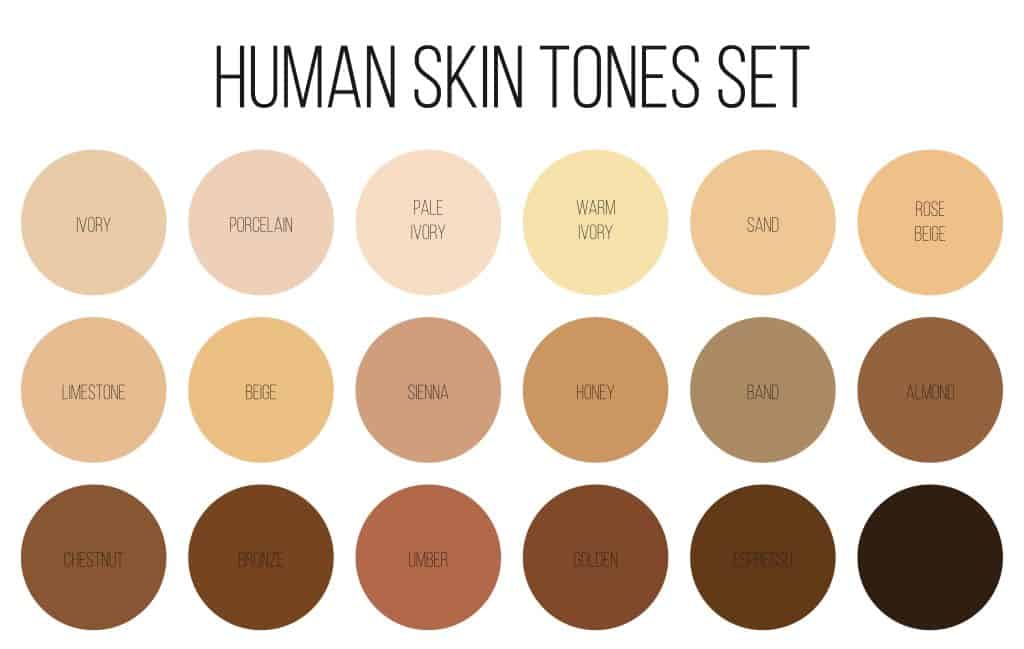 #1 Alabaster Skin Tone
Alabaster skin tone is associated with white skin that has a cool or neutral undertone. It is in between porcelain and ivory skin tones. It is darker than porcelain and lighter than ivory skin tone.
An example of a celebrity with an alabaster foundation color or skin tone is Anne Hathaway.
#2 Tan
Although all shades of brown skin can be called 'tan,' the word is mainly associated with light brown skin color.
Tan skin tone has benefits like it doesn't show signs of aging, at least not much later. This is what makes it one of the most desirable skin tones.
Salma Hayek has a tan skin tone, and you can see the Mexican-American actress flaunting her beautiful skin in the above picture.
CHECK: Best Hair Color for Mexican Skin
#3 Ivory
Ivory skin tone is another shade of white skin. It has a pinkish undertone which makes it different from the porcelain and alabaster skin tone.
Besides the pinkish undertone, people with ivory skin can also have a peach, golden, or bluish undertone.
A celebrity with Ivory skin tone is 'The Amazing Spiderman' beauty Emma Stone.
ALSO CHECK: Is Natural Ivory Warm or Cool?
#4 Honey
Honey skin tone is light brown skin color with yellow undertone. This skin tone looks similar to what your skin would look like if you applied a dewy highlighter.
The Spanish beauty Penelope Cruz is an excellent example of someone with a honey-toned complexion.
The Spanish beauty Penelope Cruz is an excellent example of someone with a honey-toned complexion.
#5 Caramel
The caramel skin tone is medium brown skin. It is a shade or two darker than the tan skin tone. It has a golden undertone to it.
Halle Berry is an example of someone with a caramel skin tone.
Caramel skin tone celebrities such as Halle Berry is a prime examples.
#6 Peaches and Cream
The sixth skin tone on the list is peaches and cream. This is used to describe someone with a pale white complexion and pink cheeks. Similar to porcelain and ivory tones, it does not have any blemishes or freckles.
The 'Pretty Woman' actress Julia Roberts has peaches and a cream skin tone.
ALSO READ: Skincare for Pale Skin Guide
#7 Praline
Praline skin tone is a medium brown skin tone. The American singer-songwriter Camila Cabello is one celebrity with a beautiful praline skin tone.
#8 Porcelain
Porcelain skin tone is similar to ivory skin tone. The only difference is porcelain has a yellow undertone to it. Like ivory and alabaster, it is also a blemish-free, beautiful pale white skin.
Emma Watson has a porcelain white skin tone. The actress who plays 'Hermione Granger' in the Harry Potter series is an excellent example of looking great on and off-screen with a porcelain skin tone.
#9 Marshmallow
Marshmallow refers to light brown tan skin, almost like a gently toasted marshmallow. It can also be thought of as the alabaster version of brown skin. People with Marshmallow skin tone usually have a yellow undertone.
Zoe Kravitz, who plays Catwoman in the upcoming Robert Pattison's Batman, has a marshmallow skin tone.
RECOMMENDED ARTICLE: Best Colors for Neutral Skin Tone
#10 Cacao
Cacao skin tone is a deep brown shade. It has cool undertones like icy blue or mahogany red. As is common with most dark skin complexions, this skin tone is rich in melanin.
It belongs to the fifth type on the Fitzpatrick skin scale. Idris Alba is one celebrity with a cacao skin tone.
#11 Saddle Brown
As this skin tone is similar in color to a western horse saddle, it is named so. This is another skin tone with medium brown skin. It mostly has a red or yellowish undertone.
Zawe Ashton is one celebrity who has a beautiful saddle brown complexion or an ebony skin color.
#12 Pecan
Pecan is a shade lighter than caramel. It is a warm buttery skin tone with a yellow and golden undertone.
The color of pecan skin can change depending on the season. It is easy for pecan-skinned people to tan during summer. While during winter, pecan skin appears fairer.
Rihanna has a beautiful pecan skin tone, as you can see in the picture below.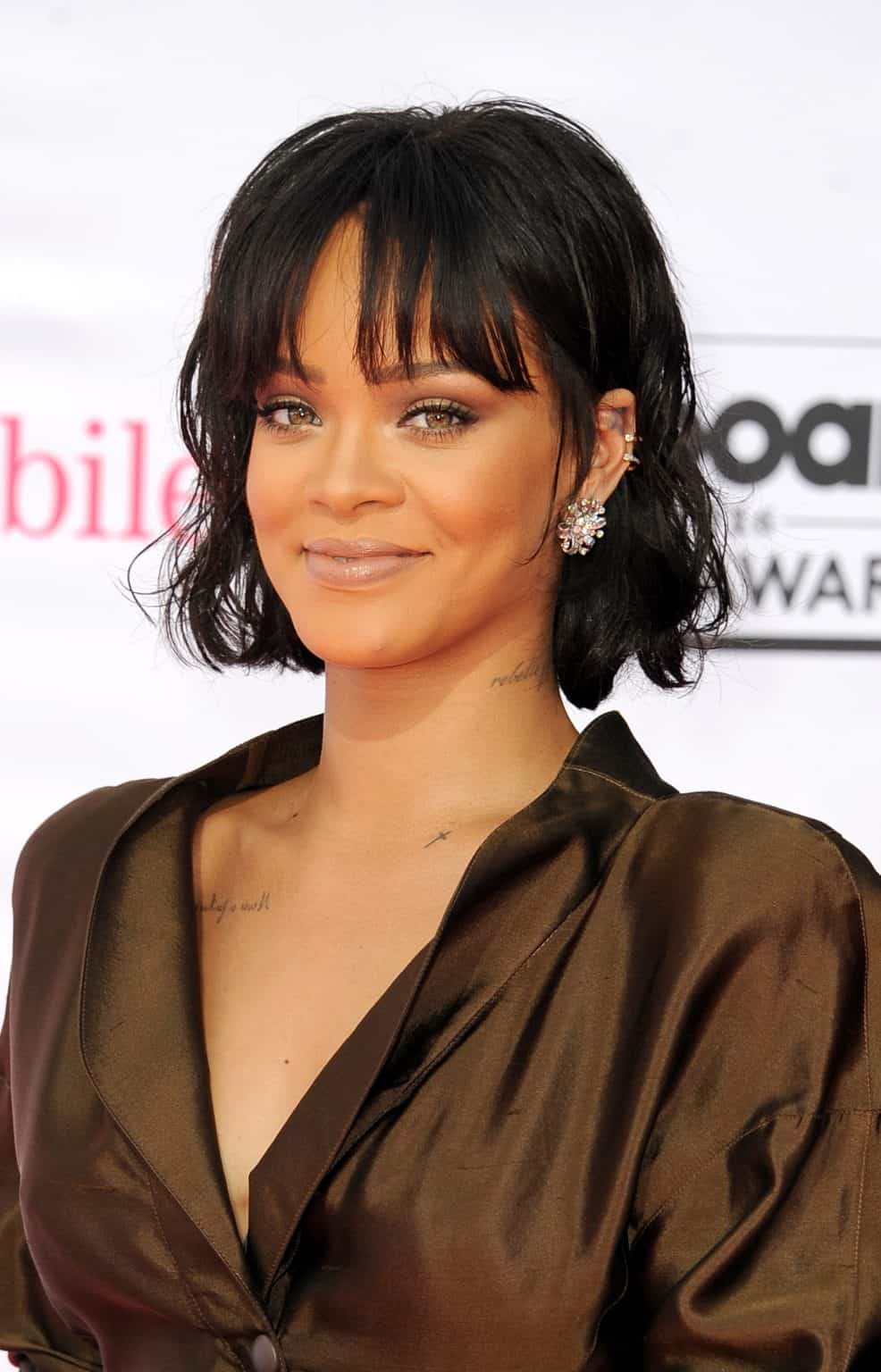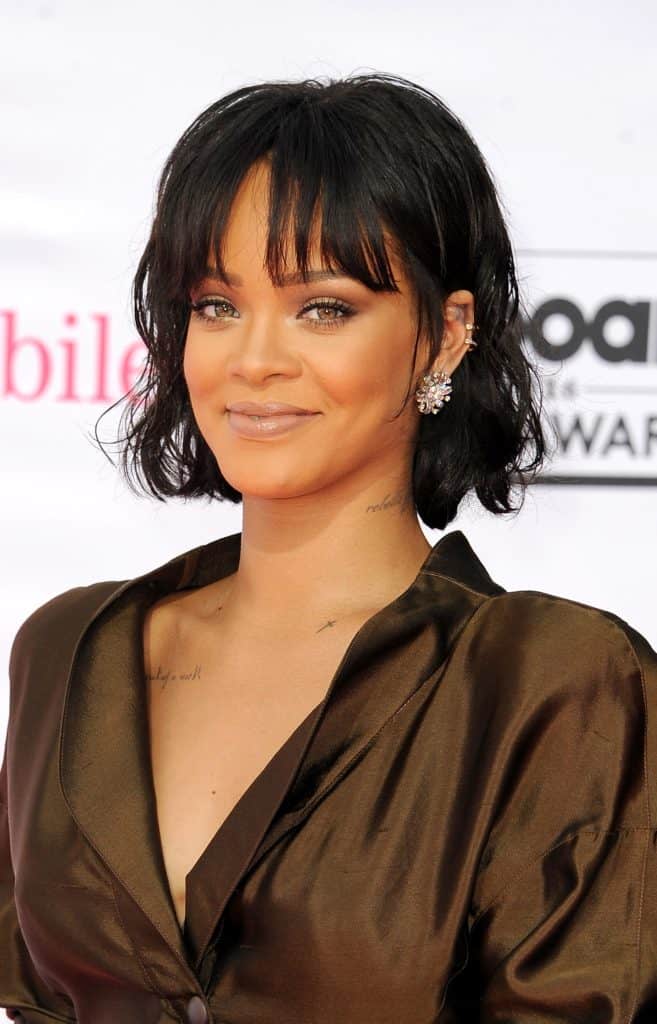 #13 Olive
Olive skin tone has a yellow, green, or golden undertone with a fair to medium tan skin complexion.
On the Fitzpatrick skin scale, it belongs to the third to fifth type. Similar to pecan skin tone, this skin tone also looks fair during winters.
Olive is one of the common middle eastern skin tones and, in addition to the Middle East, is found in the Mediterranean area, Asia, Latin America, and India.
Eva Mendes has a beautiful olive skin tone, as is evident from the picture below.
#14 Espresso Brown
Espresso Brown denotes a lighter shade of brown skin than mahogany and cocoa.
Conversely, it is darker than chestnut and bronze. However, the name is sometimes used to describe all tones of deep brown skin.
Tika Sumpter has an envious Espresso Brown skin.
#15 Umber
Umber is a beautiful shade of deep brown skin with a radiant glow. It also has a reddish undertone to it.
This complexion provides a healthy and youthful look and is quite resistant to showing signs of aging.
Umber's skin tone is common in Indians, Africans, and Asians.
The British model turned actress Naomi Campbell has an umber skin tone.
RECOMMENDED ARTICLE: Makeup Tips for Skin Tone Asians
#16 Sable
Sable is a rich deep brown skin tone that is almost black. Due to the brown undertone of the sable skin, it looks radiant. The Sable is so dark that it almost looks blue.
It is a very rare skin complexion, and not many celebrities have this.
One of these rare celebrities is Duckie Thot, who has a beautiful sable skin complexion.
#17 Almond
As the name suggests, almond skin tone resembles in color to almonds. It can have a light brown shade to a dark brown shade. It falls into type 4 of skin type on the Fitzpatrick skin scale.
It is one of the most common skin types along the Indo-Pak regions but can also be found in China and the Gulf region.
The wife of Nick Jonas, Priyanka Chopra Jonas, is an Indian actress. She has a gorgeous almond skin tone.
#18 Beige
Beige is a lighter shade of Olive skin tone. It can have any color, from white to a golden brown hue. The natural color of the beige skin tone is due to the undertone, which can be yellow, green, or grey.
The golden look of the beige separates it from the olive skin tone.
The 'Fantastic Four' star Jessica Alba is an excellent example of a beautiful beige skin tone celebrity.
#19 Chestnut
A medium reddish brown shade or a dark tan is called a chestnut skin tone. It has a characteristic brown or copper skin tone. This undertone is the reason for the rich glow it provides.
It is also called a milk chocolate shade because of the similarity in color with milk chocolate.
The American actress Issa Rae has a chestnut skin tone.
#20 Bronze
Bronze skin tone has a golden or red undertone, making it similar to the alloy by the same name. It can also be thought of as a darker shade of caramel skin tone.
Bronze skin tone is common with people in Mexico, Brazil, the Philippines, and the southernmost parts of the US.
On the Fitzpatrick scale, it is the fifth skin type.
Vanessa Williams is an excellent example of having a beautiful bronze colored skin stone.
#21 Mahogany
Mahogany is a skin tone that has a rusty or copper look. It has a reddish-brown glow to it. It can be seen in people from India, Pakistan, the Philippines, and easter parts of Africa.
It is the fifth type of skin on the Fitzpatrick skin scale.
The 'Slumdog Millionaire' actress 'Freida Pinto' has a mahogany skin tone.
#22 Hickory
From here down, we're into "relatively uncommon and not widely used" territory for skin color names, so, unfortunately, I don't have celebrity pictures to show you.
If you are wondering, yes, it gets the name from the typical North American hardwood.
This color has a wide range as it can vary from light brown to dark brown. It has a pinkish or yellowish undertone to it.
#23 Teak
Another skin tone gets its name from the typical hardwood by the same name. It can be medium or golden brown. Moreover, this skin tone is most likely to have a yellow undertone.
#24 Bisque
Bisque is very similar to an almond skin tone. It is pretty hard to tell the two apart. However, bisque is a shade lighter than almond.
Some ethnicities who are most likely to have a bisque skin tone are; Hispanics, African-Americans, and Armenians.
#25 Carotenoid
A carotenoid is another type of fair skin that has a yellow-orange undertone. Carotenoids are also the pigment's name, which gives characteristics color to pumpkins, tomatoes, carrots, etc.
Some studies have shown that carotenoids rich food influences skin pigmentation and UV photosensitivity [2]
#26 Sand
Sand skin tone is between ivory and beige. It is darker than ivory and lighter than beige. It has a characteristics yellow undertone to it.
FAQs
Why do people have different skin tones?
It is due to a pigment present in the skin called 'melanin.' The amount of melanin present in the skin decides the skin tone. In addition to this, exposure to the sun is also a deciding factor depending on your geographical location.
What are the four main types of skin tones?
The four major types of skin tones are light, fair, medium, and dark.
Conclusion
Many skin tones make the color of the skin of people from the same race different.
One of the deciding factors for skin tone is the pigment called 'melanin.' The amount of melanin present in the body decides the skin tone, eye, and hair color. [3]
Knowing your skin tone helps you pick clothes that suit you, take proper care of your skin, and find products that are best for your skin tone.
While some skin tones require more care than others and are difficult to maintain, it is essentials to remember all skin tones are beautiful.
References
1. https://www.facebook.com/verywell (2020) Fitzpatrick Classification Scale for the Right Amount of Sun Exposure. In: Verywell Health. https://www.verywellhealth.com/fitzpatrick-classification-scale-1069226. Accessed 10 Dec 2021
2. Alaluf S, Heinrich U, Stahl W, et al (2002) Dietary Carotenoids Contribute to Normal Human Skin Color and UV Photosensitivity. The Journal of Nutrition 132:399–403. https://doi.org/10.1093/jn/132.3.399
3. Schlessinger DI, McDamian Anoruo, Schlessinger J (2021) Biochemistry, Melanin. In: Nih.gov. https://www.ncbi.nlm.nih.gov/books/NBK459156/. Accessed 10 Dec 2021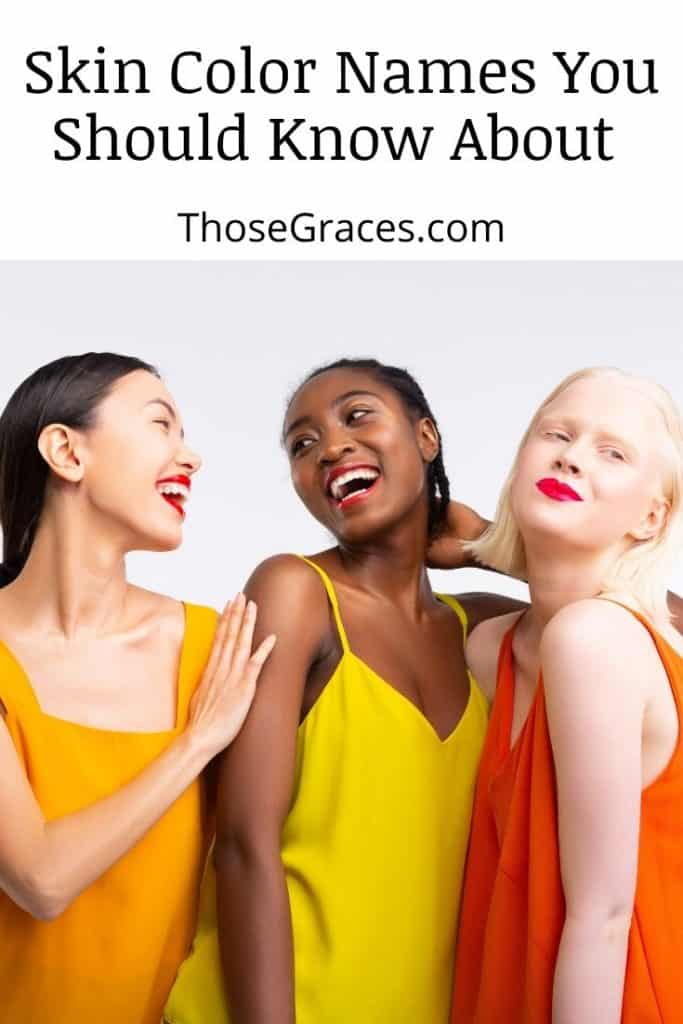 What are your favorite skin color names? Please let us know in the comments below!