Asian skin tones have always been a hot topic in the skincare community. There are a lot of shades and tones in Asian skin.
You might be wondering what skin tone you are and what skincare routine best suits your skin. That's what I'm going to help you with today!
So read on for some great tips on how to take care of Asian skin tones.
FYI, this post contains affiliate links. We earn a commission if you make a purchase at no extra cost to you.
What Are Asian Skin Tones?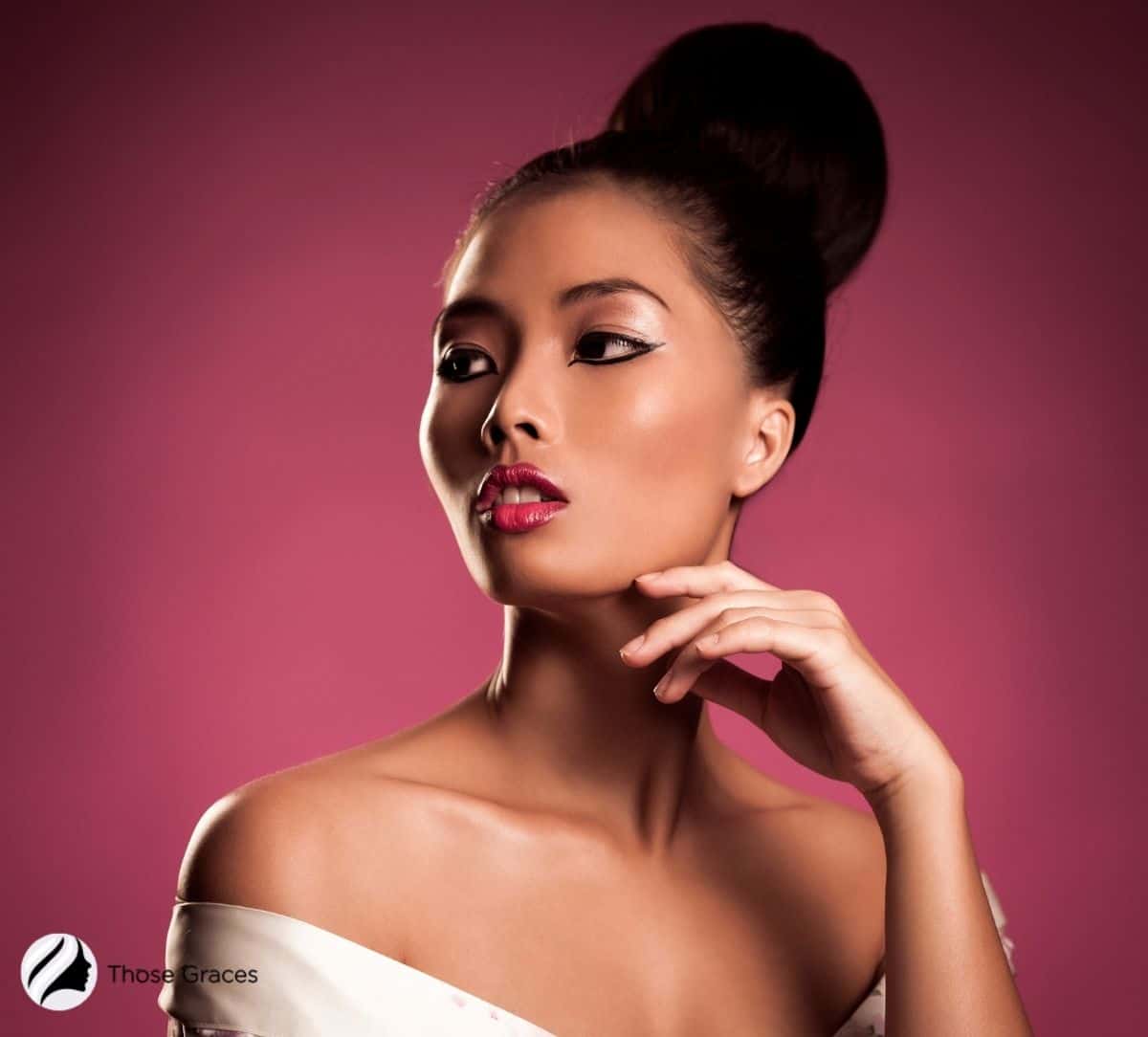 When I am talking about Asian skin tone, I can't describe any specific color to it.
This is because the Asian zone has a diversity of skin tones that range from very fair to beige or deep brown complexion.
A majority of the Asian population has brown skin[1] but that doesn't mean all Asian people have a warm skin tone with pink undertones.
Some Asians have darker skin tones [2] with olive undertones, such because they live in areas with lots of sunlight.
What Color Does Asian Skin Fall on the Fitzpatrick Pigmentary Scale?
In the Fitzpatrick skin scale, Asian skin tone falls under the Types II to IV classifications.
People under these skin tones have a skin color that ranges from light brown and olive skin color to dark brown.
According to PubMed [3], people of Asian descent have various skin prototypes.
The prototypes range from type III to IV Fitzpatrick's classification in Chinese and Japanese, to type IV and V in Indian and Pakistani people.
Asian Skin Groups
There is a variation with gradients of color ranging from very light to darker.
Although Asian skin has more yellow undertones, there is a great diversity of complexions that varies according to territory and latitude.
You can find a very pale skin tone, like in Russia, Korea, or Japan, to a darker or dusky tone such as in Thailand, Srilanka, South China, Bangladesh, India, or Pakistan.
Basically, the difference in skin tones is due to sun exposure and genetics.
Based on the skin surface color and skin undertones, aestheticians and beauticians classify Asian skin into the following six groups.
Let's see what are these and how they differ from each other.
South Asian
East Asian
North Asians
Southeast Asians
West Asians
Central Asians
Let's see what are these and how they differ from each other.
1. South Asians
The South Asian region includes Sri Lanka, Pakistan, India, Bangladesh, Bhutan, Afghanistan, Nepal, and the Maldives.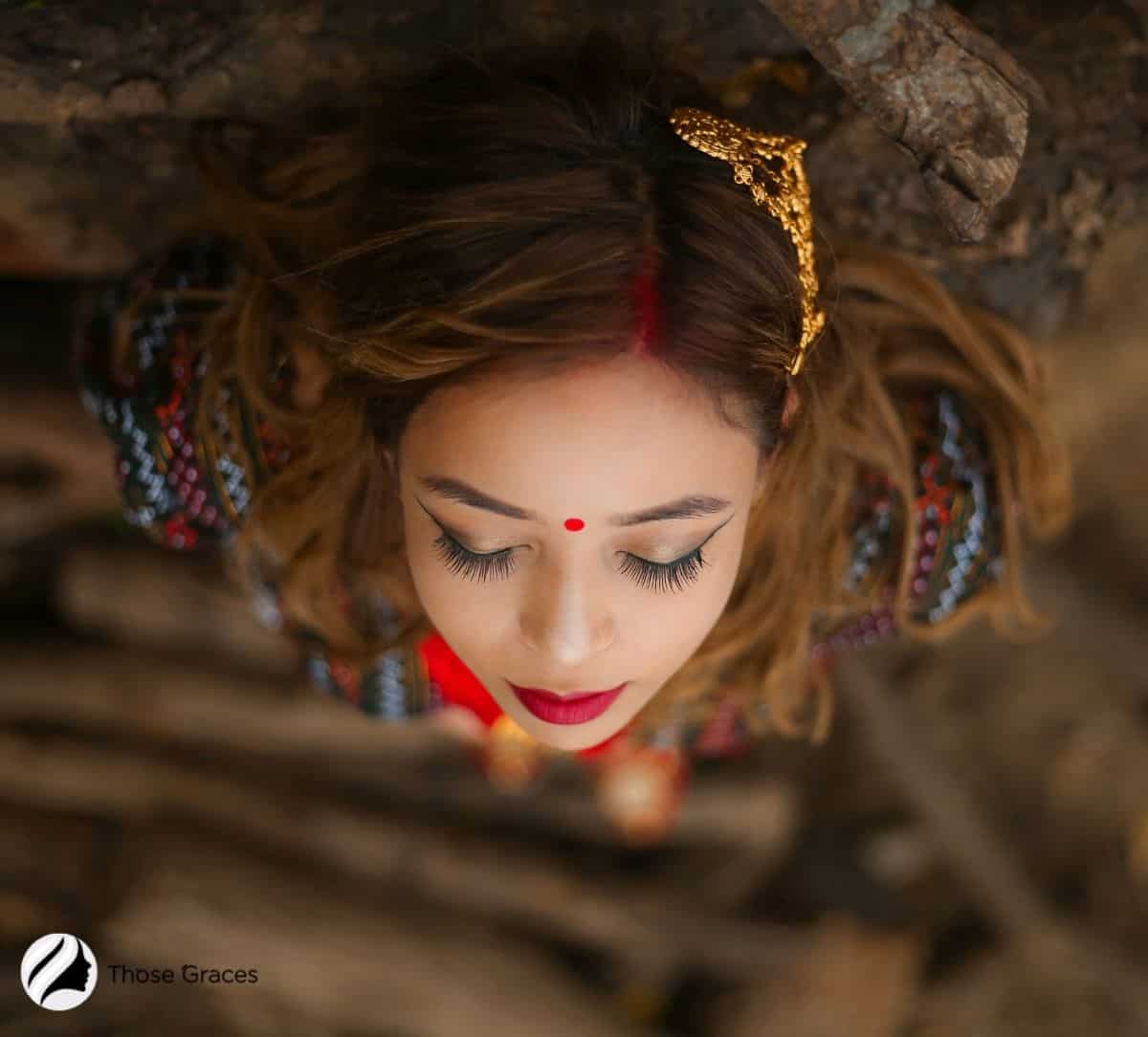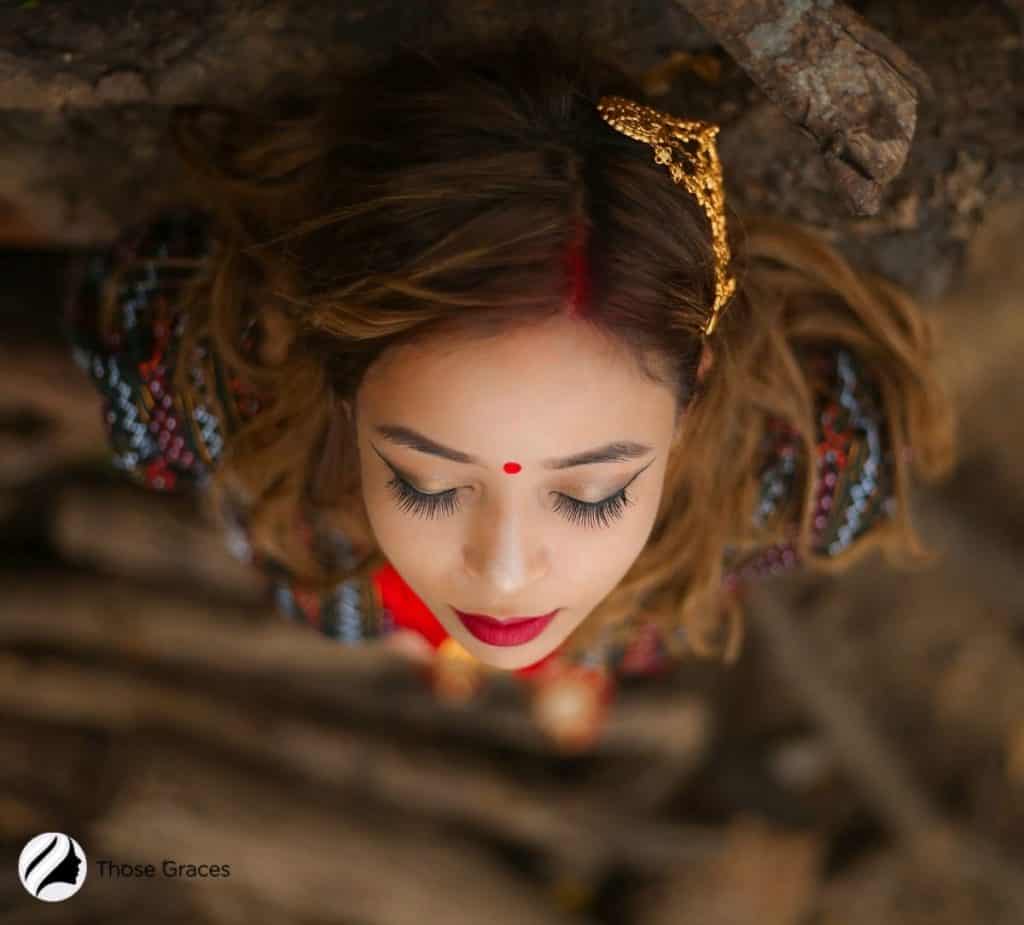 The skin color of South Asians ranges from fair to wheatish brown to dark brown.
The color variation depends on genetics, as well as the climatic conditions. If you notice, these areas have a harsh climate, with long sizzling summers.
The higher melanin levels in the skin give them brown skin along with black or brown eyes and black hair.
2. East and North Asians
East and Northern Asia include China, Japan, Taiwan, North Korea, South Korea, Russia, and Mongolia.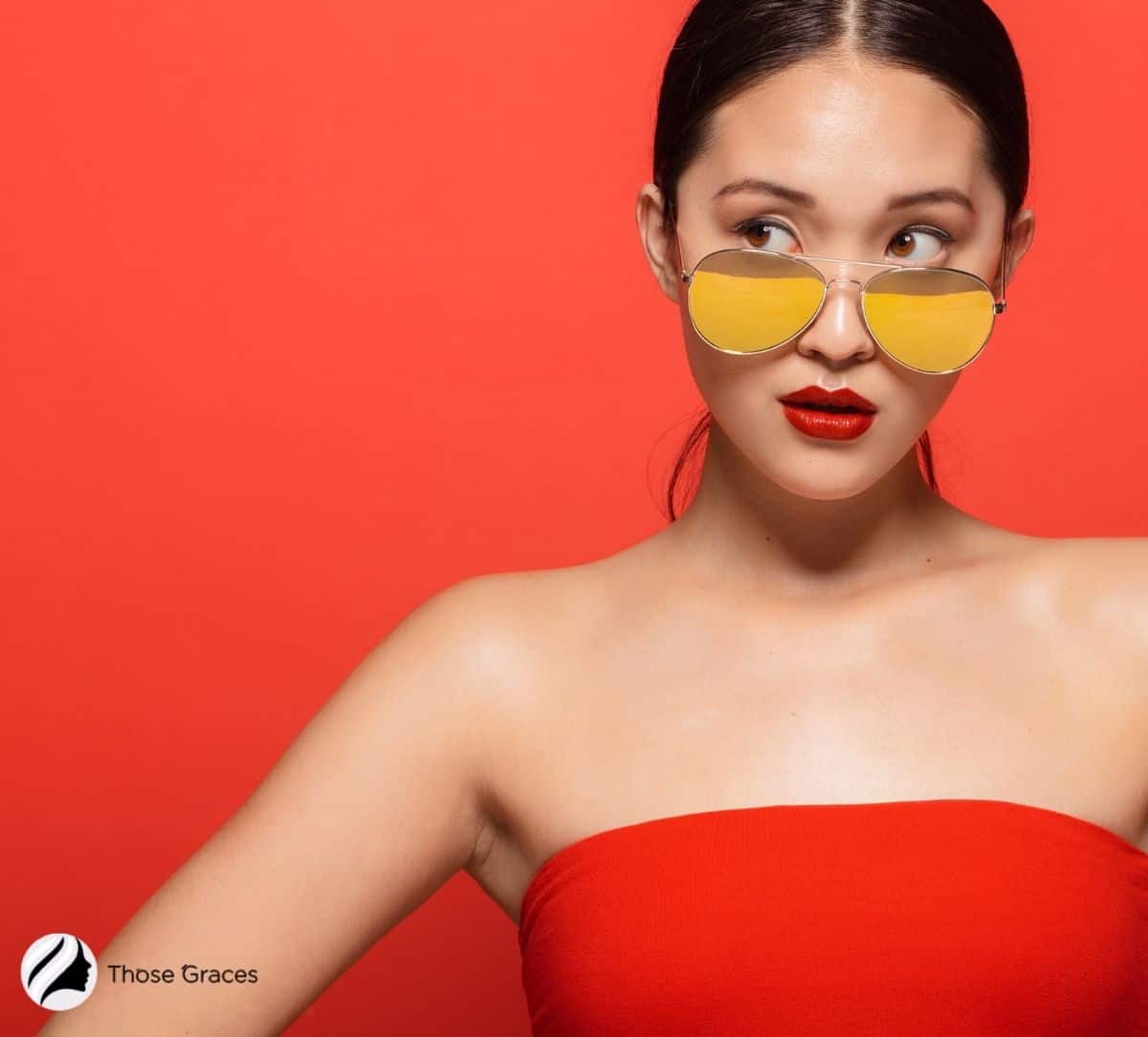 Residents in these areas have a very fair to brown skin complexion with yellow or peach undertones to light brown skin and naturally black hair.
People in Korea are most well known for their "Korean beauty", and it has obsessed most of the modern world with Korean beauty care [4] and cosmetics.
3. South-East Asians
Southeast Asia skin group includes people from including Malaysia, Indonesia, the Philippines, Thailand, Vietnam, and Singapore.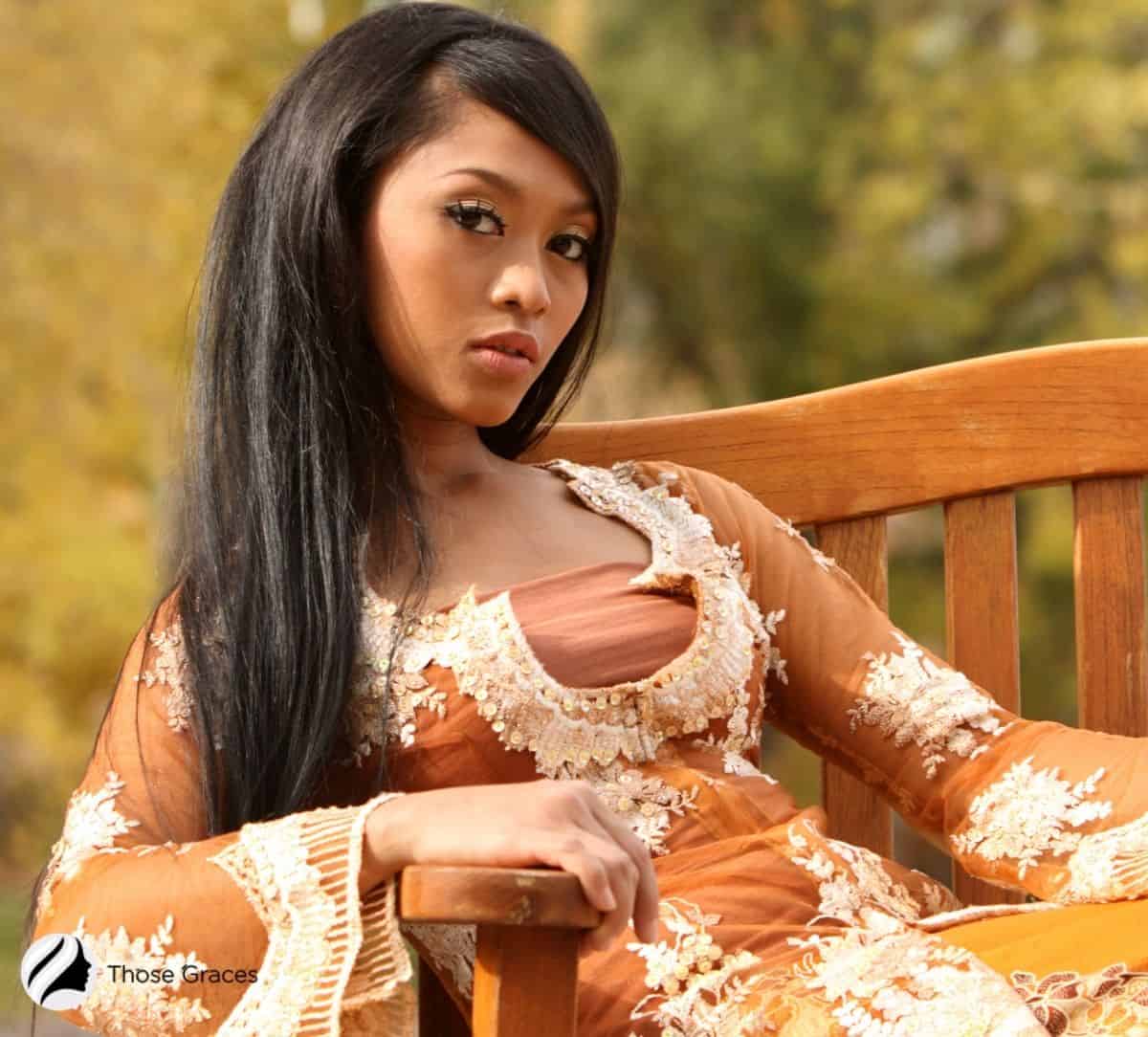 There you will find a variation in skin color that ranges from tan skin color to dark brown.
Usually, Indonesians and Malaysians have a complexion, which ranges from fair to dark brown tones.
4. West Asian
West Asia comprises countries, including Armenia, Afghanistan, Azerbaijan, Bahrain, Israel, Iraq, Iran, Iraq, Saudi Arabia, Qatar, Turkey, United Arab Emirates, and Yemen.
You can find people with light skin color (with mostly peachy undertones and warm undertones), medium or dark brown.
The eye color is dark brown or black with black hair color.
5. Central Asians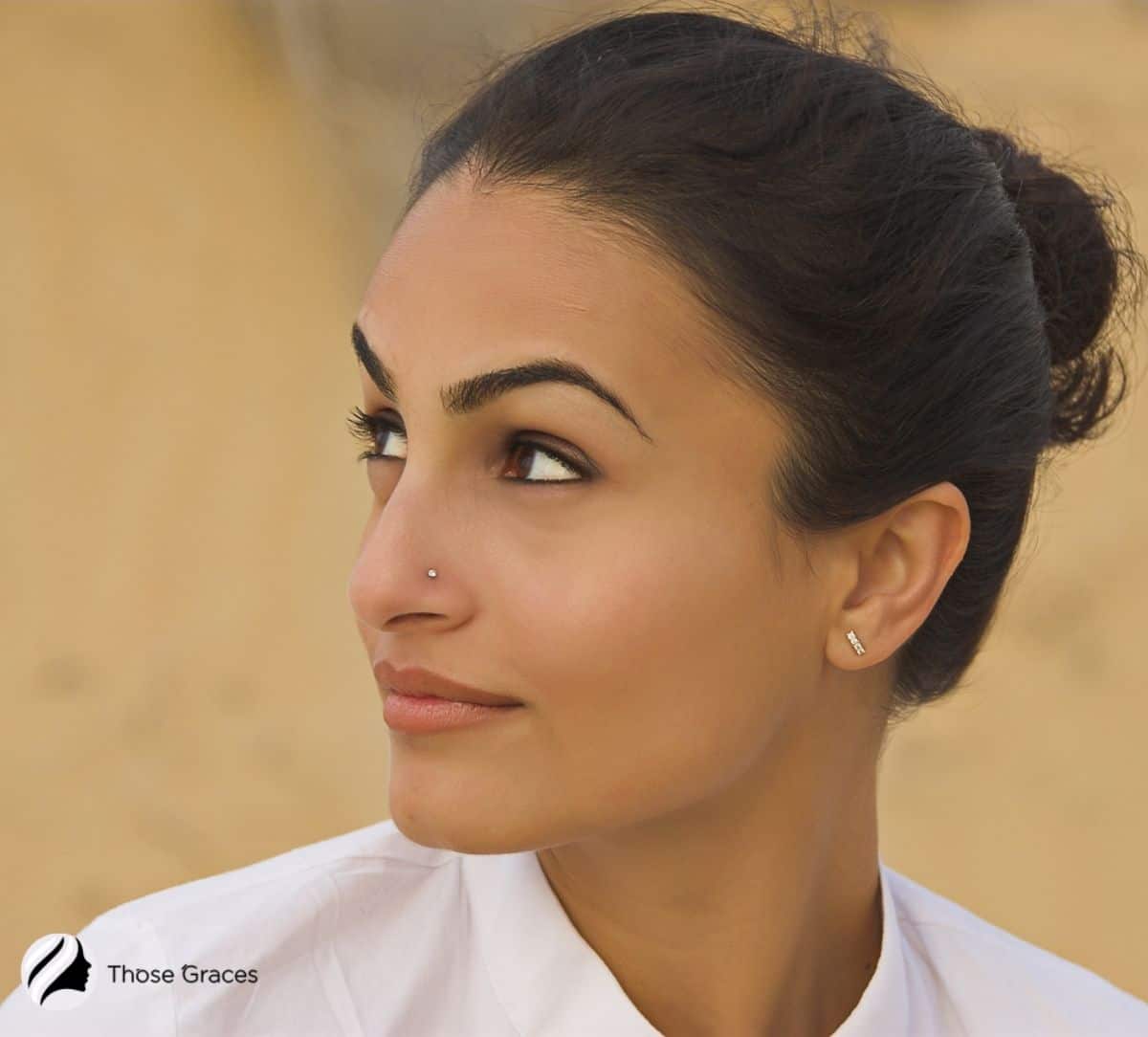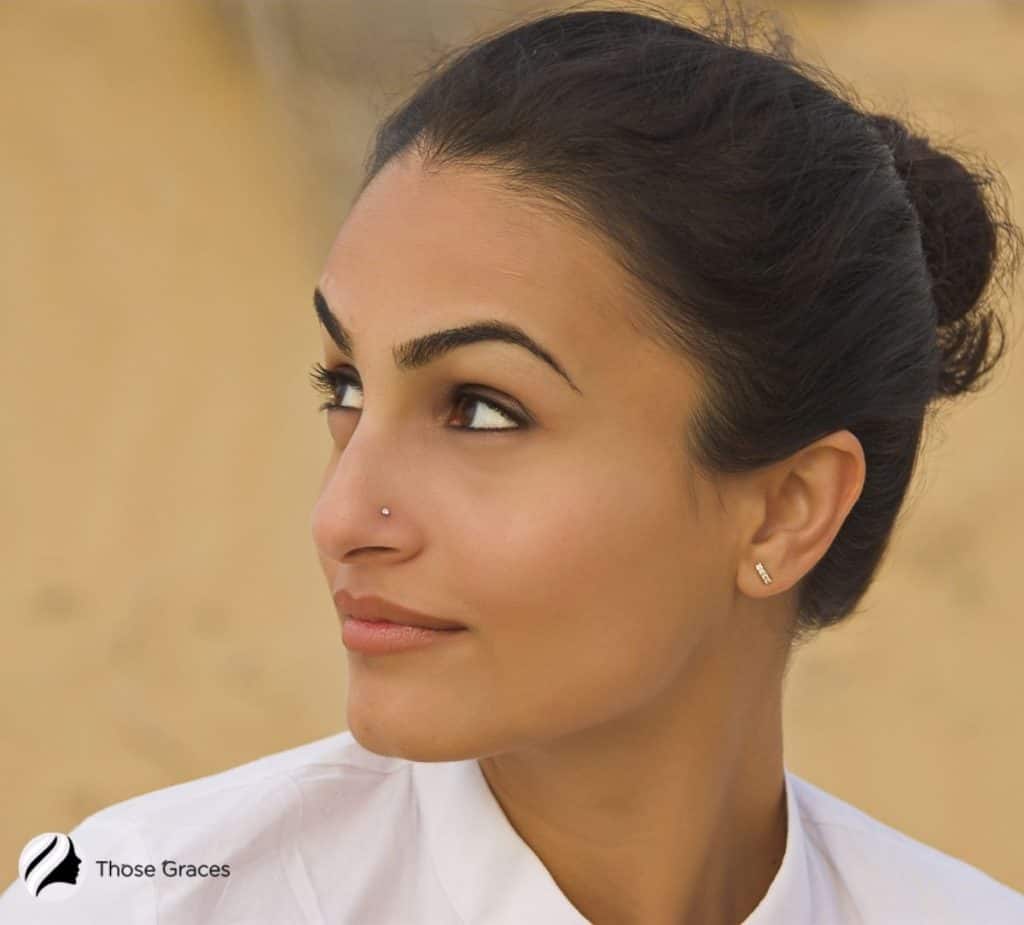 Central Asians belong to Uzbekistan, Tajikistan, Kazakhstan, Kyrgyzstan, and Turkmenistan. Most of the residents have light brown to medium skin color.
Anyhow, some Central Asians from Uzbekistan have a pinkish-white skin tone and blonde hair.
ALSO READ: Alabaster Complexion
Skincare Tips for Asian Skin Tones
Asian Skin Tone Problems
People in the Asian region face different weather conditions. There are some areas with hot spells and less rainfall.
Some regions have hot and humid temperatures, most likely in the United Arab Emirates, coastal areas of India, and Pakistan).
Because of certain climatic conditions, Asians have to face a lot of skin problems. Some of the common skin problems that they face are:
1. Hyperpigmentation
Because of the higher melanin levels, the most common skin problem for both men and women is hyperpigmentation, freckles, and uneven skin tone.
Common skin disorders affecting many South Asians include melasma and post-inflammatory pigmentation (PIH).
Post-inflammatory hyperpigmentation (PIH) [5] results in dark spots or large patches after inflammation or a skin injury, such as a cut, bruise, minor burn, or scratch.
Any type of rash or even acne can also lead to this disorder.
2. Acne and Pimples
As Asian countries have a tropical climate, their skin has more active sebaceous glands.
This leads the individuals more prone to acne outbreaks.
Most of the time, these appear as keloids that lead to acne scars.
3. Vitiligo
Another skin condition that often affects Asian people is hyperpigmentation, that's uneven white patches or Vitiligo.
This appears when the pigmentary cells are disrupted by the immune system. Unfortunately, this condition is difficult to cure.
4. Sunspots
As their name shows, these small brown spots on the skin that result from excessive exposure to the sun.
Sunspots are also called "age spots" because these are common in individuals as they age.
Asians, especially women, are always anxious about developing sunspots along with getting wrinkles.
Gordana Gacic-Vukovljak, cosmetic scientist and head of Research and Development at 9Tribes Skincare, states that in Asian skin tones photo-ageing in terms of localized hyperpigmentation is much more common as compared to Caucasian skin tones and occurs with greater incidence than skin wrinkling."
Skincare Tips for Asian Skin Tones
Here are some essential skincare tips for Asian skin:
1. Cleansing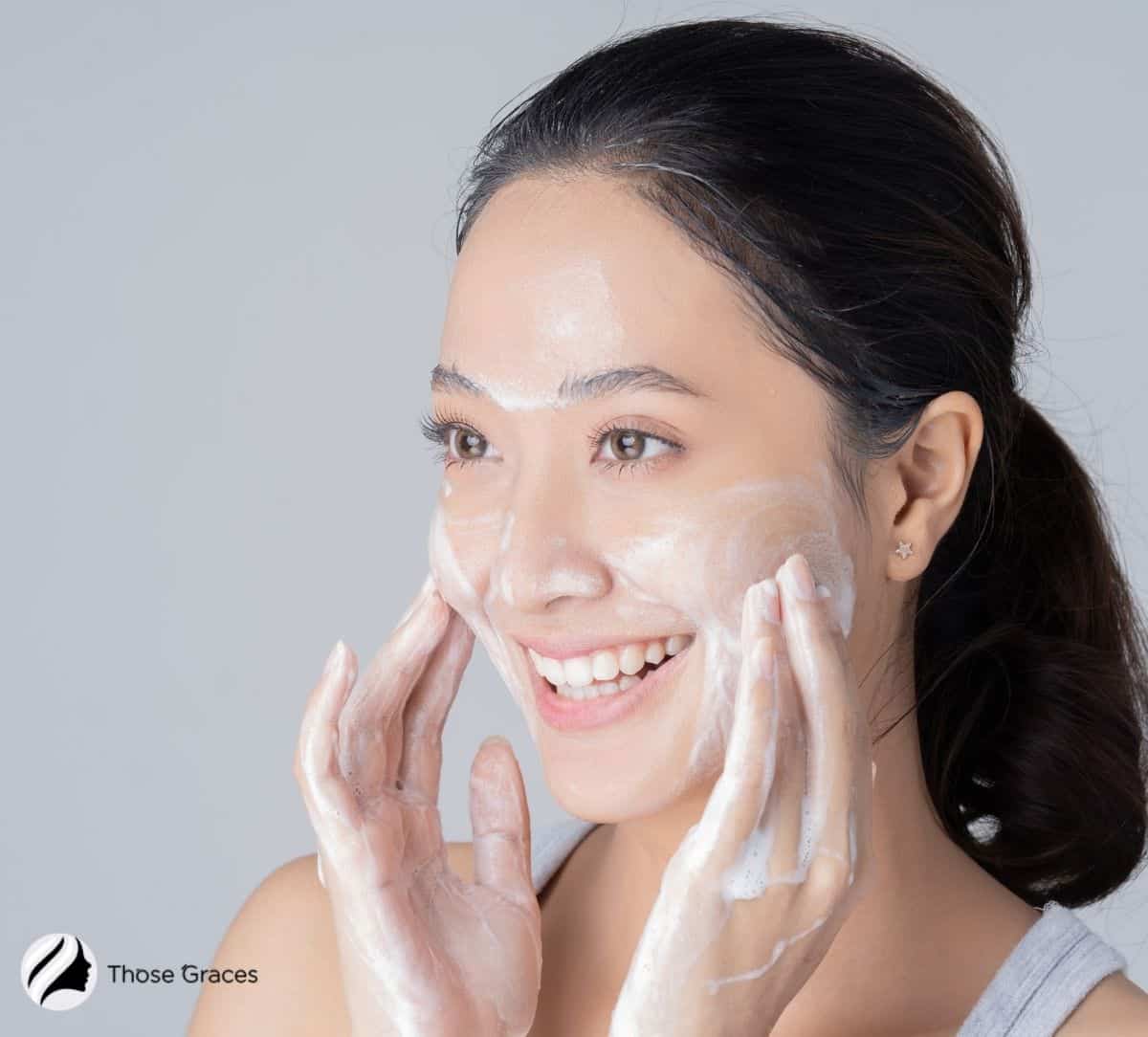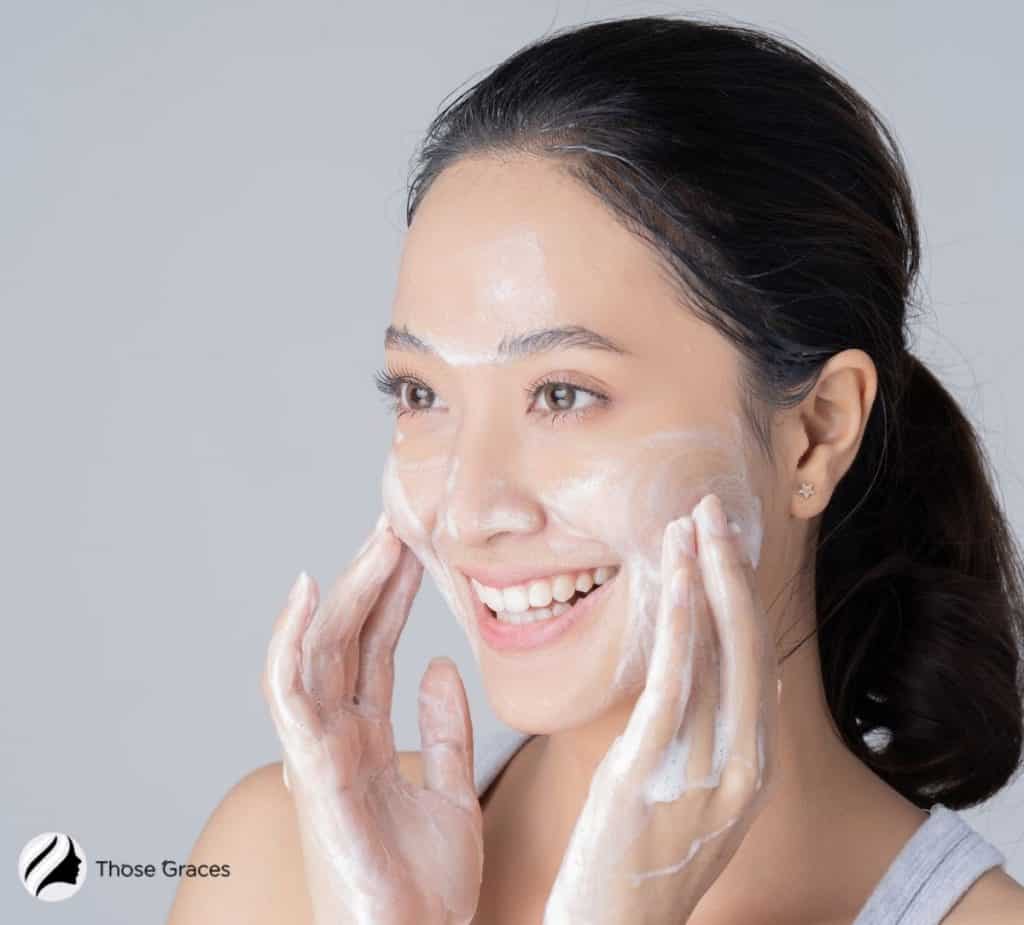 Cleansing is the basic and most necessary step for any skin type.
If you are living somewhere in Asia, I recommend you never forget cleansing, especially before going to bed.
The skin is exposed to dirt and sweat that clogs the pores and results in other skin concerns.
2. Moisturizing
Regular moisturization is essential to lock the moisture to your skin for a healthier look.
3. Steaming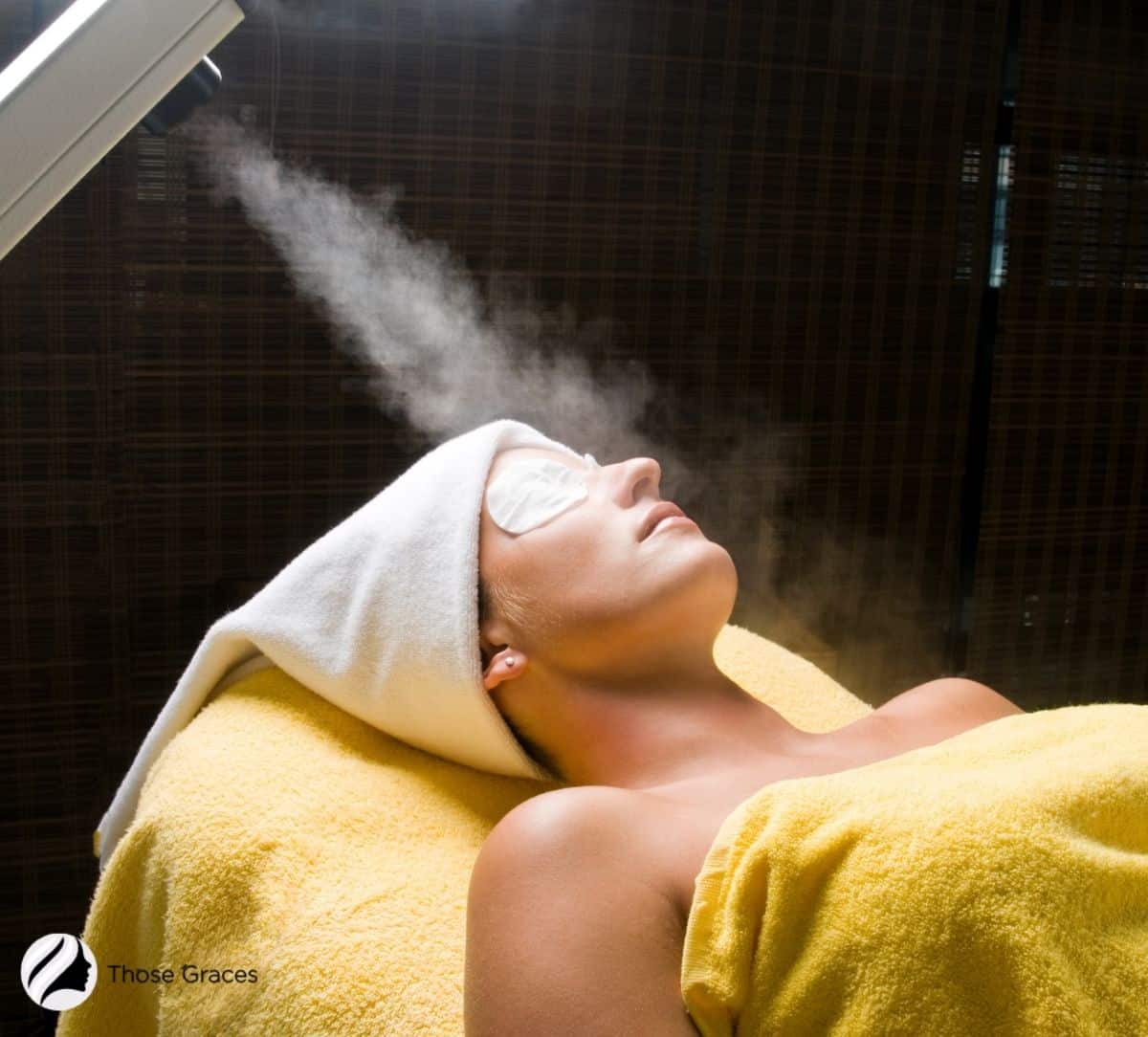 I would suggest that you add steaming as a part of your skincare.
Steaming the skin at least twice a week is essential to get rid of all dirt and dead skin cells that accumulate on your skin surface and result in acne and pimples.
Steaming also helps to regulate the blood flow, and it is essentially helpful for people who have oily skin concerns.
However, if you have sensitive skin, avoid steaming for a long time as it may irritate your skin.
4. Stay Hydrated
Hot weather results in skin dehydration because of sweating. You should ensure adequate water intake to keep your skin hydrated and healthy.
A dehydrated body also affects skin health. It is important to keep the skin's pH levels.
According to Dr. Cheryl Karcher, a New York-based dermatologist, "The skin's barrier is slightly acidic for a reason.
It helps to keep the moisture in and bacteria out. "If your pH balance is altered, and it's too alkaline, your skin looks flaky and red.
If it's too acidic, you'll increase your chances of skin inflammatory conditions like eczema and acne."
5. Always Wear Sunscreen
Sunscreen is your skin's best companion on sunny days. People in Asian countries face more UV exposure.
Therefore, it's always important to wear good sunscreen, preferably with an SPF higher than 30 will give around 96% protection from UVB rays.
Along with sunscreen, you should always use an umbrella, shades, and a dress that fully covers your body from direct sunlight.
Makeup Tips for Asian Skin Tone
As Asian skin tone falls on type 2 to 5 on the Fitzpatrick prototype scale, it's important to wear makeup and dress colors that best complement your complexion.
Type 2 to 5 has a fair to light or medium brown, wheatish or dusky complexion, mostly with yellow or golden undertones.
Asians cover a vast population of the world, but do you know an interesting fact?
Despite the fact that Asians covered a majority of the world's population, every person will have distinct facial structures, skin undertones, and complexions.
Though there is a huge diversity in personalities, can you guess one thing all Asian women do have in common?
Well, let me tell you. Their ability to look absolutely stunning in different makeovers and colors.
This video shows some DOs and DON'Ts of dusky or dark skin.
1. Avoid Pinks
Most Asians have a warm skin tone with yellow hues. Wearing too much pink makeup or dress can suppress their brown beauty.
2. Avoid Cakey Makeup
Asian skin is naturally gorgeous with gold tints. Wearing too much makeup or "caking" your face with the foundation will give it a fake look.
Also, the warm climate doesn't support such heavy makeup and it may sweep away with sweat.
Tip: Use a light foundation or preferably a BB or CC cream to avoid a heavy look.
3. Dark Blush
Asian skin tones with warm undertones can take the advantage of dark shades of blush. You can also experiment with a purple blush!
4. Highlighters
Asians are naturally blessed with a defined cheekbone.
Applying a bronze, golden, or rose gold highlighter on darker tones will give a more dewy look to your cheekbones and intensify your beauty.
5. Lip Shades
Red or vibrant lip shades compliment dusky tones and black hair.
However, if you have a cool undertone, you can opt for lighter shades as well.
6. Colours for Asian Skin Tones
Check this video for a perfect guideline.
Best Makeup and Foundation for Asian Skin Tones
Choosing the right shade of foundation can be challenging.
However, there are many beauty brands that offer different shades of foundation, especially for Asian skin tones.
Here are some top picks:
MAC offers a wide range of matte foundations for different complexions.
it is a liquid foundation that is easy to apply, blends well, and provides medium to full coverage.
It's a perfect foundation for covering skin imperfections and provides a long-lasting matte finish with UVA/UVB SPF 15 protection.
Sale
As an Asian beauty brand, Etude covers a broad range of Asian beauty markets. Coming to their foundations, the Etude House Double lasting Foundation is a lightweight, liquid foundation with SPF 35 that provides excellent coverage for a flawless look.
ETUDE New Double Lasting Foundation (Neutral Vanilla) SPF35/ PA++| High Coverage Weightless Foundation | 24-Hours Lasting Double Cover | Magnet-Like Adherence without Stickiness | Makeup Base
HIGH COVERAGE: Just one layer of the Double Lasting Foundation will guarantee you a flawless skin, thanks to the "Double Shot Technology" amd moderately protects skin from UV-rays
MAGNET-LIKE ADHERENCE: "Magnet Fit Effect" allows your morning coat of foundation stay on like magnet, delivering weightless, long-wearing full coverage
24-HOUR LONG LASTING TESTED. Research officially conducted by Ellead, a cosmetics clinical evaluation institution
DOUBLE COVER: Effortlessly covers problematic areas such as blemishes and redness. Holds up the entire time without becoming sticky
COLOR VARIATIONS: Pick out your perfect match color that fits your tone from the various range of shades organized by color professionals. DISCLAIMER: Images show this product applied on pale skin. Please notice that colors may look different according to your skin color and monitor settings
A high coverage, matte finish liquid foundation with almost 50 shades, is an oil-free foundation giving you a perfect finish all day long.
Makeup Revolution Conceal & Define Concealer, Full Coverage Conceal & Contour, Shade C1, Blemish Concealer for Under Eye Brightening, Liquid Makeup Stick for Blemishing and Hides Acne
PERFECT FLAWLESS COVERAGE, A concealer makeup with instant high coverage in seconds. Get a lightweight and natural makeup look with this enriched formula that makes your pores and fine lines less visible.
COMPLETE BLEMISH CORRECTION, This blemish concealer in shade C1 is a wonder under eye concealer that hides and removes unwanted blemishes and evens out the tone. It blurs your imperfection giving you a flawless porcelain look.
MATTE FINISH, This liquid concealer essentially mattifies the unnecessary oil on your face, to keep your makeup fixed and on point. A smooth and soft under eye brightener and true oil controller for flawless makeup.
ALL DAY STAY, With a long wear full makeup coverage, Revolution light concealer gives you a look to flaunt the entire day. It has SPF to brighten and protect your under eye area without cracking or requiring additional touch ups.
FOR ALL SKIN TYPES, This cruelty free concealer in shade C1 is frequently used as a light concealer, under eye brightener for all skin types. Shades available from fair to dark making it universally suitable.
One of my favorite beauty brands is Maybelline. It offers an exclusive range of the best foundations, from light to dark brown complexion that perfectly goes with Asian skin tones.
It comes with SPF 18 and provides ideal skin coverage with a dewy finish.
Sale
Maybelline Fit Me Dewy + Smooth Liquid Foundation Makeup, Classic Ivory, 1 Count (Packaging May Vary)
Maybelline Fit Me Dewy Foundation With Spf: Ideal for normal to dry skin, this liquid foundation hydrates and smoothes skin texture for a natural-looking, luminous finish; Protects with SPF 18
A Shade That Fits Me: Maybelline Fit Me liquid foundation provides coverage for a wide array of skin tones, from Ivory to Mocha; Use as a full face foundation with buildable coverage for a flawless, natural-looking, "I woke up like this" finish
Best Face Forward: Maybelline has sheer, medium, and full coverage foundation in liquid and powder foundation formulas, and a range of concealers, face primers, contour, highlighter, and pressed and setting powder to help you create a perfect canvas
Create any look with Maybelline; foundation, BB creams, concealers, and setting powders for the perfect canvas, eye shadows, mascara, brow pencils, and eyeliners for any eye look and lip products, from showstopping lipstick to plumping lip gloss
Remove Maybelline Makeup With Micellar Water: Use Garnier Micellar Water as a gentle makeup remover at night, and as a facial cleanser in the morning to prep skin for Maybelline makeup
If you are not a big fan of liquid foundation or want a perfect finish without a liquid foundation, L'Oréal brings an ideal product.
This Foundation-in-a-powder provides coverage just like a liquid, mattifies the skin without a chalky look. An ideally good choice for summers or travel.
Sale
L'Oréal Paris L'Oreal Paris Makeup Infallible Fresh Wear Foundation in a Powder, Up to 24H Wear, Waterproof, Vanilla, 0.31 oz.
Powder Foundation: With a weightless texture that gives full coverage and a natural, matte finish that looks fresh hour after hour, this powder foundation feels breathable and weightless, wearing for up to 24 hours
All Day Coverage: With a blurring effect and all day matte finish, this powder evens skin tone with no transfer and covers like a liquid with no cakey look; Non-comedogenic, waterproof, heatproof and sweatproof
The Infallible Collection: Turn to the cosmetics the pros use and get long-lasting color, expert definition, and full coverage formulas that actually stay put with Infallible
Because You're Worth It: Create the look you want with our full line of makeup including foundations, concealers, highlighter makeup, brow pencils, eyeshadow palettes, lipsticks and much more
L'Oreal Paris Beauty: A leading total beauty care company based in Paris, we offer innovative products and unique expertise from beauty experts in makeup, skin care, hair care, styling and hair color
Check out this video for a guideline on how to choose the right foundation according to your skin tone.
Celebrities With Asian Skin Tone
Some of the celebrities with Asian complexion are:
Awkwafina: The crazy rich star has the most beautiful glowy skin.
Lana Condor: Attributes her clear skin to having a nighttime routine and doing hot baths.
Lyrica Okano: Her beautiful skin is the envy of many.
Dev Patel: The Hollywood star with smooth skin.
Deepika Padukone: Deepika believes that keeping hydrated is what keeps her skin glowing.
Manny Pacquiao, and Joseph Vijay: These two exhibit beautiful flawless Asian skin colors.
Kim Kardashian: The Beauty mogul goes with a lighter brown look though she continues to struggle with psoriasis.
Jenna Ortega: At only 18, this shining star says she maintains her beautiful warm tone skin with Neutrogena Skin Balancing Milky Cleanser.
Sophia Ali: The star with glass-like skin says she uses chemical peels and caviar cream to take away blemishes.
Asian Skin Tones FAQs
What colors look best on Asian skin tone?
Some colors that suit best on the Asian tone are:
Black, navy blue, yellow, earthy tones like oranges, browns, burgundy, bright red, olive green, plum brown, skin or beige, midnight blue, purples, greens, and colors with warm tints.
Which skin tone is most attractive?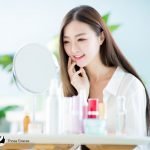 All of the skin tones are attractive. One just needs to have a proper skincare routine and eat a balanced diet.
Is Asian skin tone warm or cool?
Asian skin is mostly warm with yellow undertones. However, many people also have pink, blue, or olive green skin undertones.
Conclusion
Asians cover around 60% of the world population with tremendous diversity in skin tones, ranging from fair to dark brown.
Surprisingly, Asians differ from each other in complexions and facial features.
Being the residents of a warmer climate, Asians are more prone to certain skin problems, most commonly hyperpigmentation, acne, and pimples, and need a good skincare regimen.
However, Asian skin is less prone to get wrinkles or sunburns.
Resources
1. Donella L. Can East Asians Call Themselves "Brown"? [Internet]. NPR.org. 2017. Available from: https://www.npr.org/sections/codeswitch/2017/11/16/563798938/the-gray-area-between-yellow-and-brown-skin
2. Jones T. The Significance of Skin Color in Asian and Asian-American Communities: Initial Reflections [Internet]. Available from: https://www.law.uci.edu/lawreview/vol3/no4/Jones.pdf
3. Chan IL, Cohen S, da Cunha MG, Maluf LC. Characteristics and management of Asian skin. International Journal of Dermatology [Internet]. 2019;58:131–43. Available from: https://pubmed.ncbi.nlm.nih.gov/30039861/
4. Korean Skin Care Routine: All the Steps From A to Z [Internet]. Healthline. 2021 [cited 2021 Dec 14]. Available from: https://www.healthline.com/health/beauty-skin-care/korean-skincare-routine
5. What You Should Know About Hyperpigmentation [Internet]. Healthline. 2018. Available from: https://www.healthline.com/health/hyperpigmentation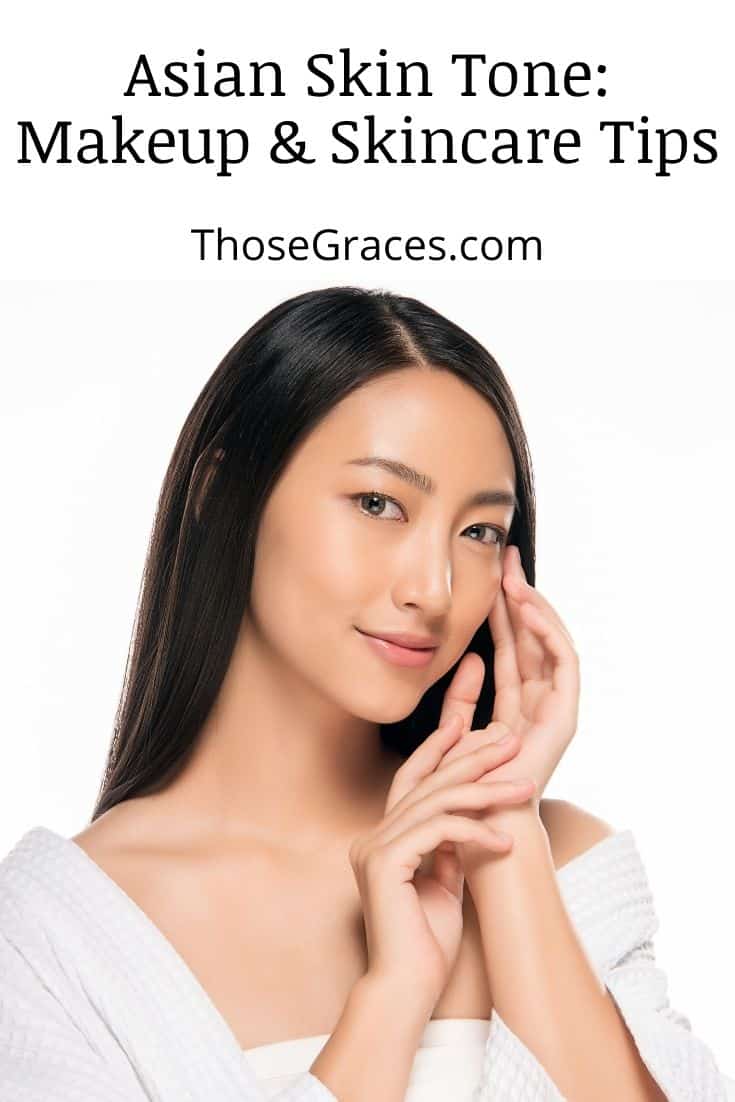 What do you think of Asian skin tone? Isn't it gorgeous? Let us know in the comments below!