While choosing a makeup product, you might find a product that mentions 'best for BRONZE tone".
Or maybe you like a product, but the makeup expert says, "it doesn't match your skin tone"!
What is a bronze skin tone, actually? Does choosing a makeup product different from your skin tone make any difference?
Let's see!
Also Check: Native American Skin Tone
What is Bronze Skin Tone?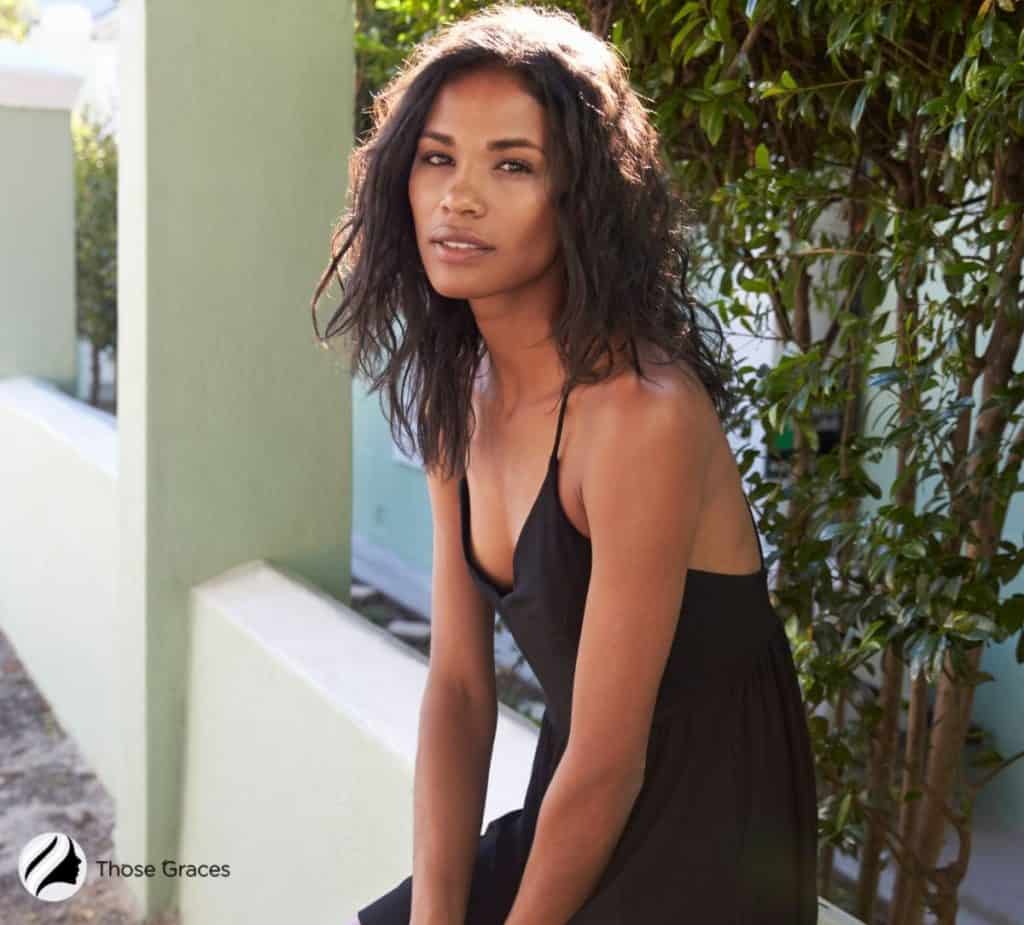 The bronze skin tone is a dark brown skin color with a red or a golden undertone. It is the opposite of the porcelain skin tone, which is a white skin color with pink undertones.
A bronze skin complexion is the lightest among all variations of brown skin tones.
However, the bronze skin tone is comparatively darker than the caramel skin tone.
This bronze glow is very popular among fashion models because they have radiant Skin that attracts attention.
But what does it mean to have bronze skin?
What Color is Bronze Skin on Fitzpatrick Pigmentary Scale?
The bronze-colored skin tone is marked as the fifth type (type V) [1] on the Fitzpatrick scale. [2].
People with bronze skin color usually have dark-colored eyes like brown, black, grey, or dark-colored hair like black, fudge, or charcoal.
Ethnicities of Bronze Skin Tone
Around the globe, there are certain regions where the bronze complexion is a common trait. Bronze skin tone is commonly seen among African and Latin American women.
Around the globe, there are certain regions where the bronze complexion is a common trait. Bronze skin tone is commonly seen among African and Latin American women.
People with type V skin tone have an olive skin complexion or dark brown skin tone.
These include light-skinned African-Americans and residents of Middle Eastern countries like Bahrain, Cyprus, Qatar, Turkey, Saudi Arabia, United Arab Emirates (UAE), Pakistan, India, etc.
How to Know if You Have a Bronze Skin Tone? (6 Methods)
Bronze skin is visibly a gloomy tone of brown, but it is not black either! The golden undertone results in sun-kissed Skin.
Recognizing bronze skin is as easy as learning your ABCs.
Yes! Here are some tricks to judge.
Method 1: Physical Features to Determine Bronze Skin Tone
Remember that you are most likely to have a bronze skin tone when you have,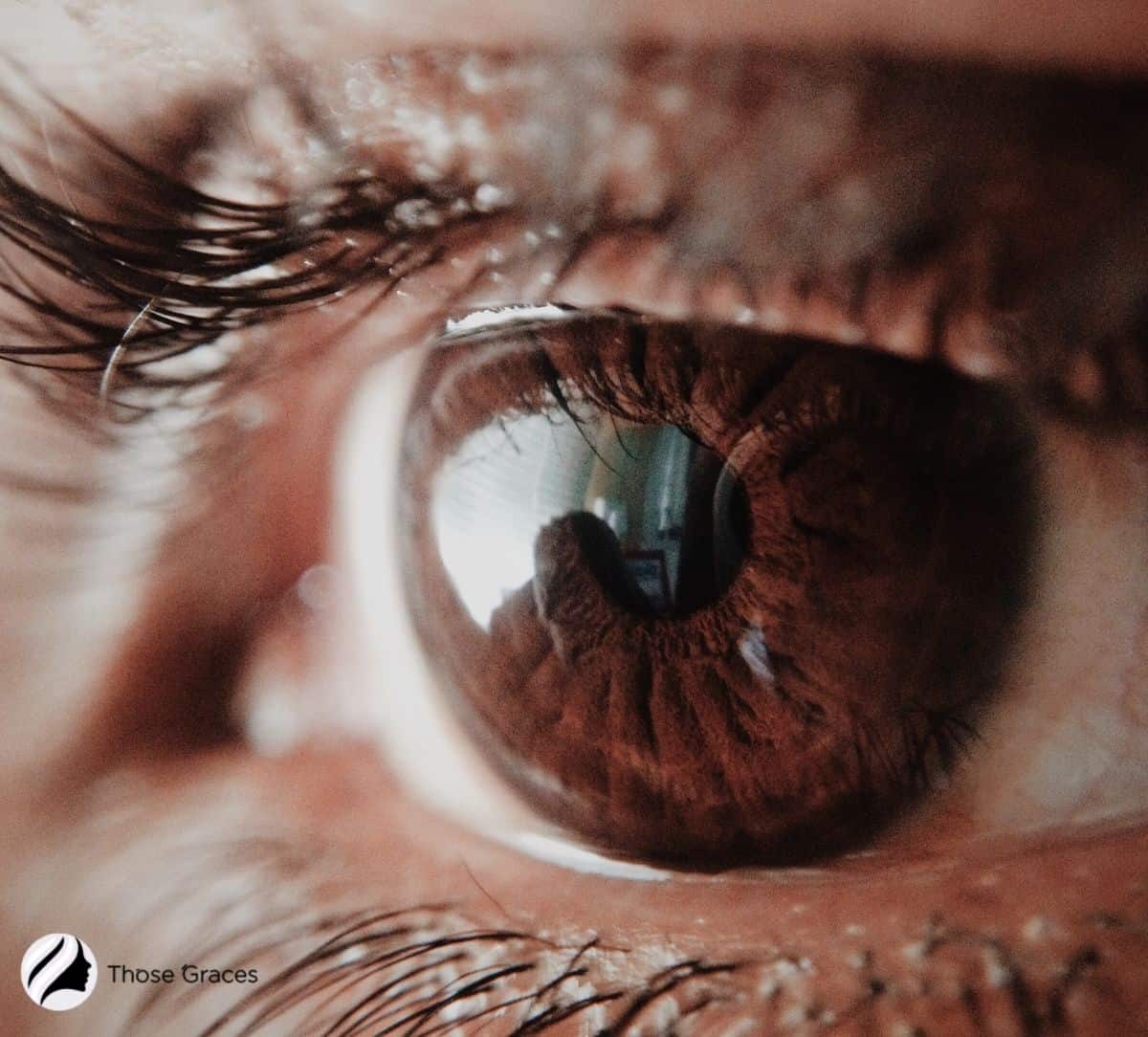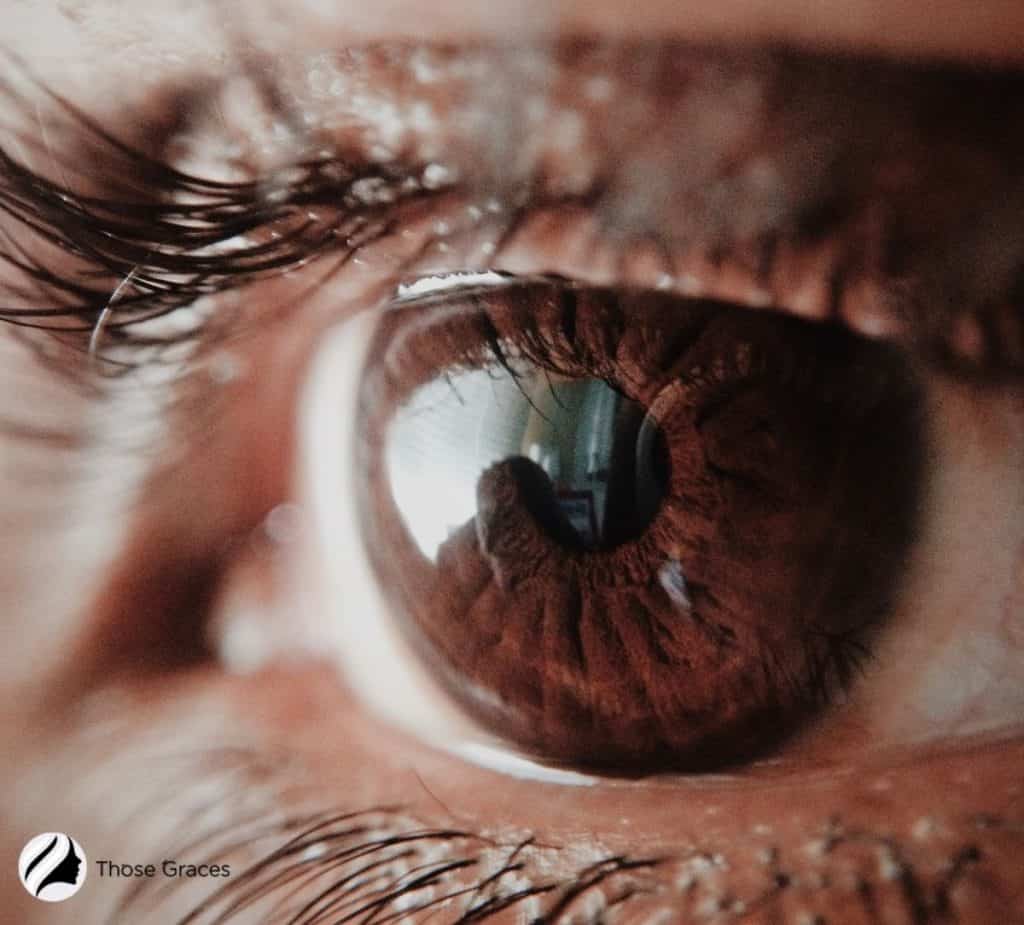 Dark brown skin tone
Dark brown or black hair color
Dark brown eyes
Your skin always tans but rarely burns in the sun
These are some general features of brown or bronze skin tone.
You might differ in any of these characteristics depending on the amount of melanin in your skin.
Method 2: Determine your Skin Undertones
Determining your skin undertones helps you decide whether you have a warm, cool, or ash undertone.
You can determine your undertones through simple tests for this type of skin tone.
Method 3: Vein Test
Check the veins on your wrist. Warm-toned people usually have green or olive-green veins.
Method 4: Jewelry Test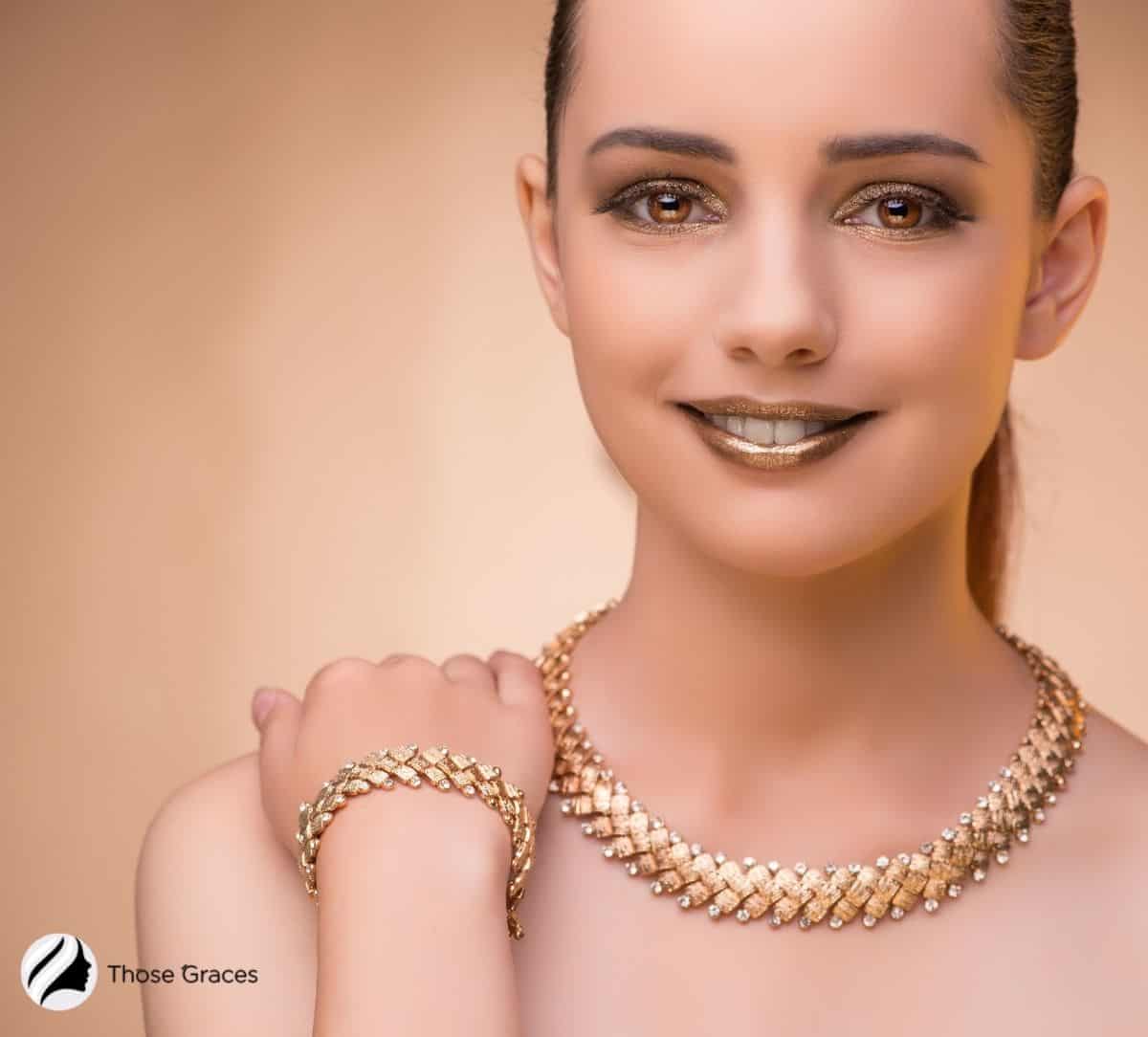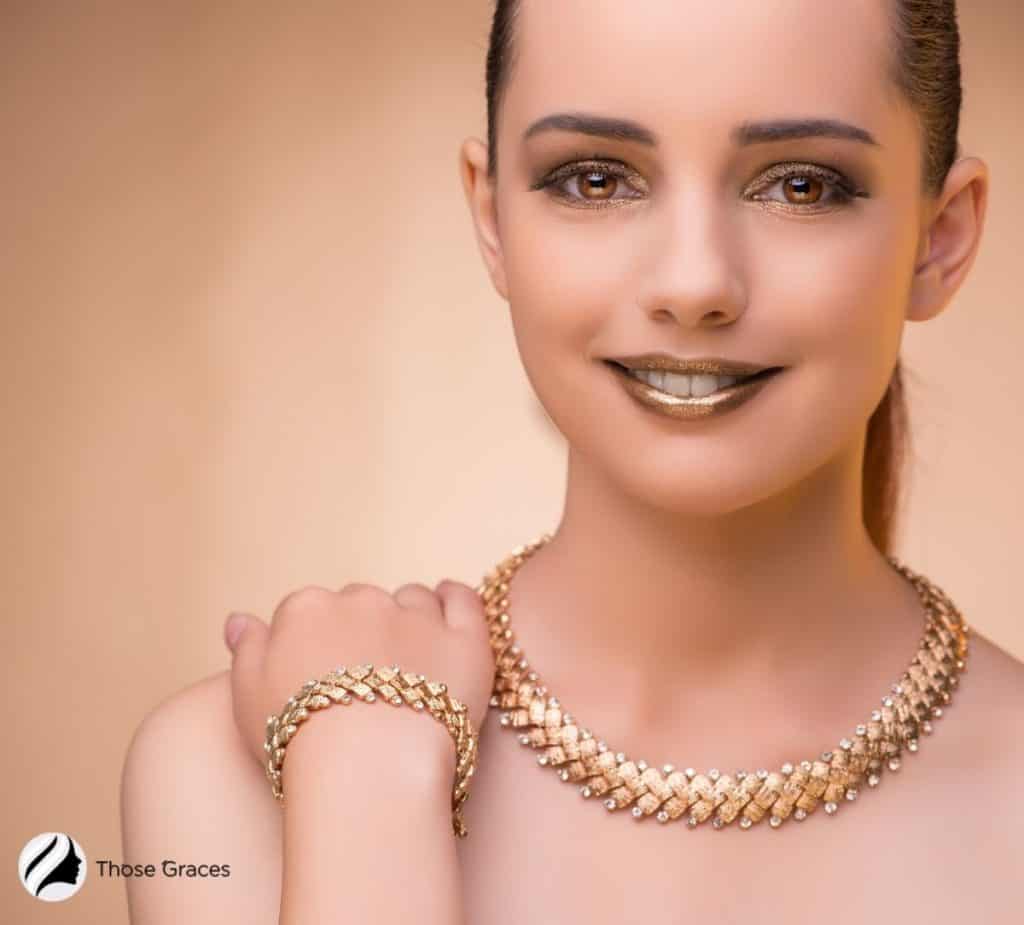 Do you look alluring in gold or rose-gold jewelry?
Try this now!
Place a piece of gold and silver jewelry near your face. If gold compliments your complexion, you have a warm undertone.
Method 5: Sun Test
You most likely have warm undertones if you have a sun-kissed look under the sun.
Method 6: The Cloth Test
Get a white cloth or a piece of paper and hold it next to your Skin in a well-lit mirror (tip: daylight works best!).
If your skin looks yellow/gold in comparison, you have warm undertones.
It would be best to remember that bronze skin tone is a warm skin tone with more hues of yellow or red undertones. Cool-toned people have silver or ash undertones.
If the above-suggested tests fit on you, you are a warm, bronze-skin-toned person.
Watch the video to determine your skin undertone:
Skincare Tips for Bronze Skin Tone
Now, when you know you have bronze skin, it's time to learn more about bronze skin. What skin problems might you face?
Bronze Skin Problems
Bronze skin tone is often associated with warmth and vitality. People with this bronzed glow are lucky.
They don't have to worry about losing their natural glow because they always have it! However, there are some problems that people with bronze shades face.
So, here are the most common issues people with bronze skin tone face.
Hyperpigmentation
This is the most common skin condition in people with dark skin tones.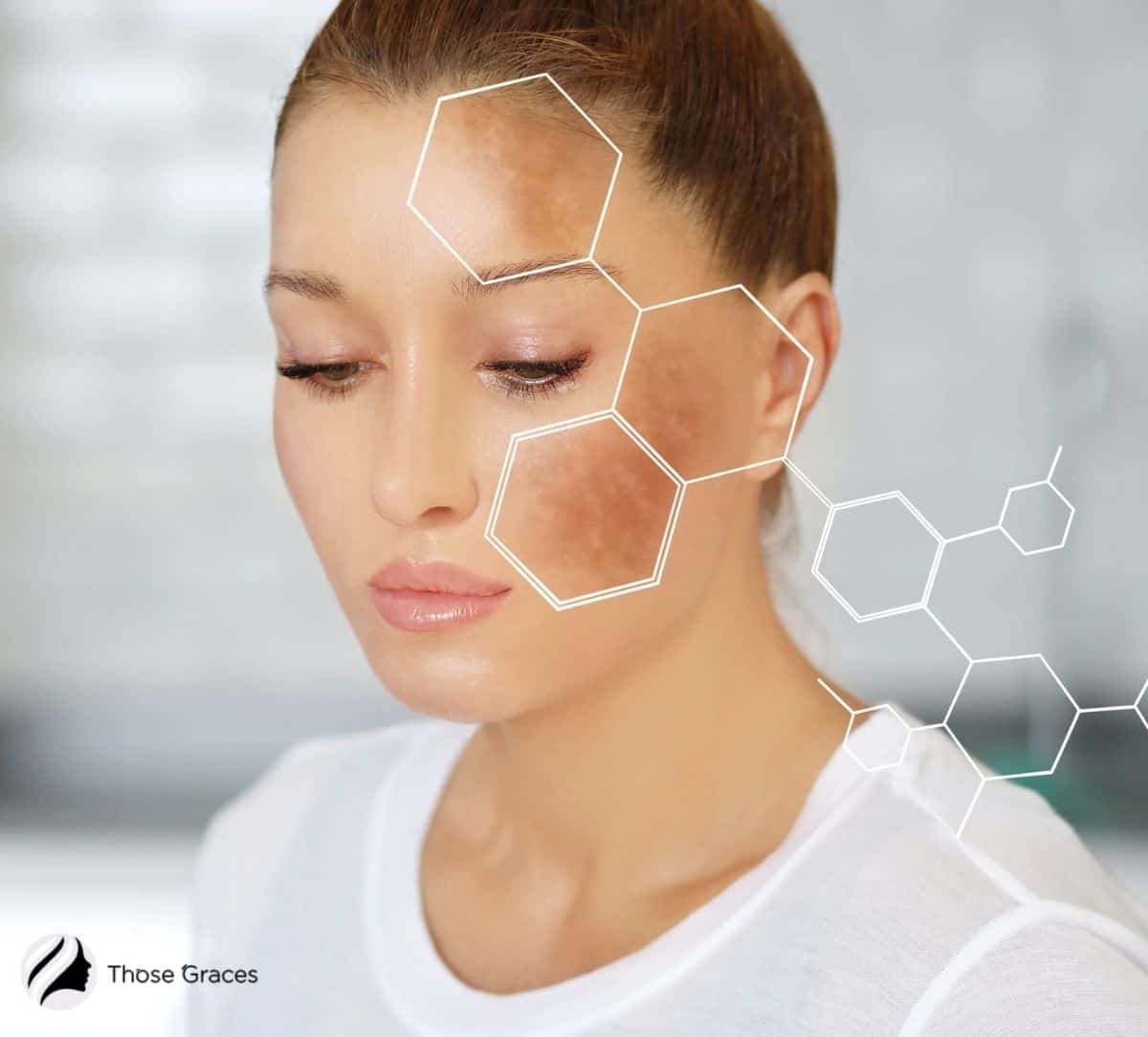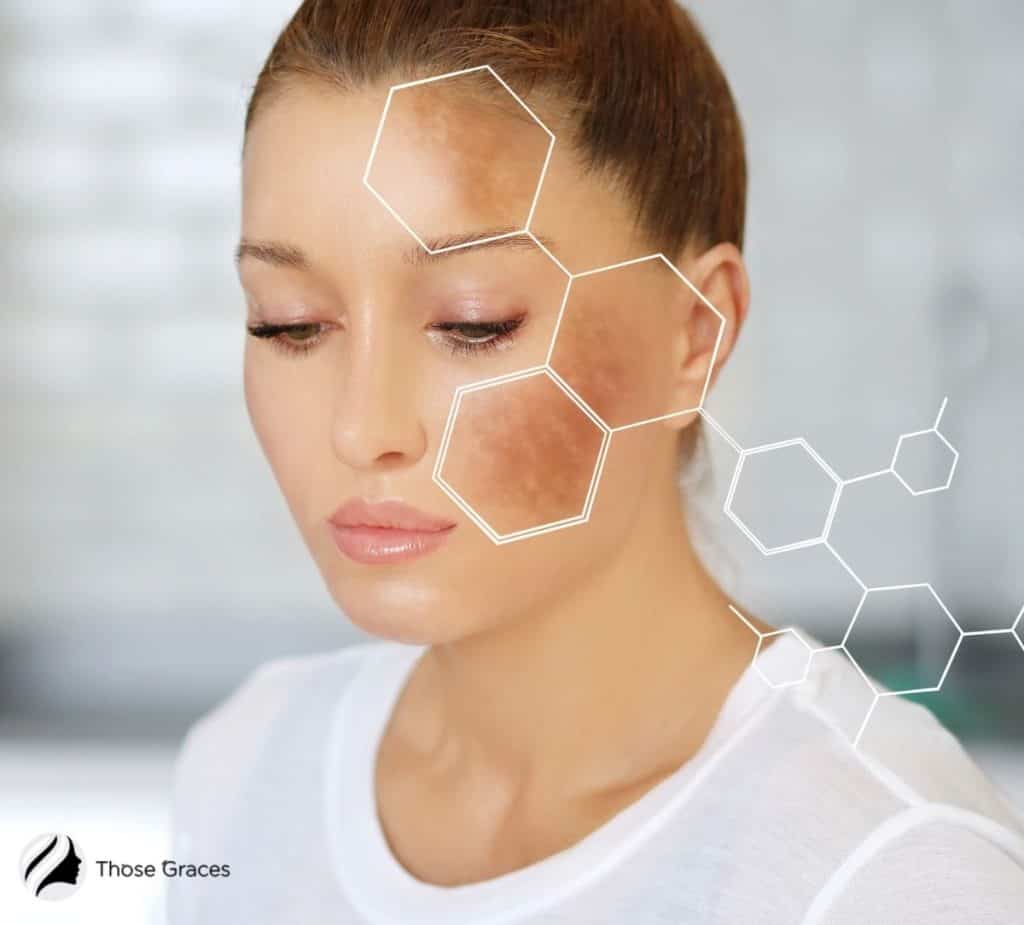 Either they face overproduction of melanin (hyperpigmentation) or the pigment deposits as dark patches within the Skin, resulting in abnormal skin pigmentation.
Tip: No matter whatever skin type you have, always wear a high SPF sunscreen before you step out into the sizzling sunlight!
Post-inflammatory Hyperpigmentation (PIH):
Another skin problem related to dark Skin is "post-inflammatory hyperpigmentation." This occurs because of minor skin injury, bruises, or minor burns.
According to Pharmaceutical Journal, "Darker skin types are more prone to post-inflammatory hyperpigmentation (PIH). The common presentation of redness, scaling, and inflammation that is easily visible on fair Skin is less likely to present in the same manner in darker skin tones, making diagnosis difficult." [3]
Eczema
This condition is also known as dermatitis [4]; an itchy, red rash that gradually appears and lasts for a long time characterizes it.
According to WEBMD.com [5], Eczema occurs twice as frequently in dark skin children than white babies.
Vitiligo
Vitiligo [6] is the loss of skin pigment that causes white or colorless spots. This condition is more noticeable in people with light bronze skin tone.
Acne and Pimples
Bronze or dark-skinned people are more prone to acne and pimples.
The excess oil production on the skin, dirt, bacteria, and sweat, leads to skin inflammation and acne-related problems.
Keloids and Dark Skin
Keloids [7] are dark, raised, thick scars on the Skin and usually form after an injury. Sometimes, the scar tissue overproduces, and a keloid forms over the wounded area.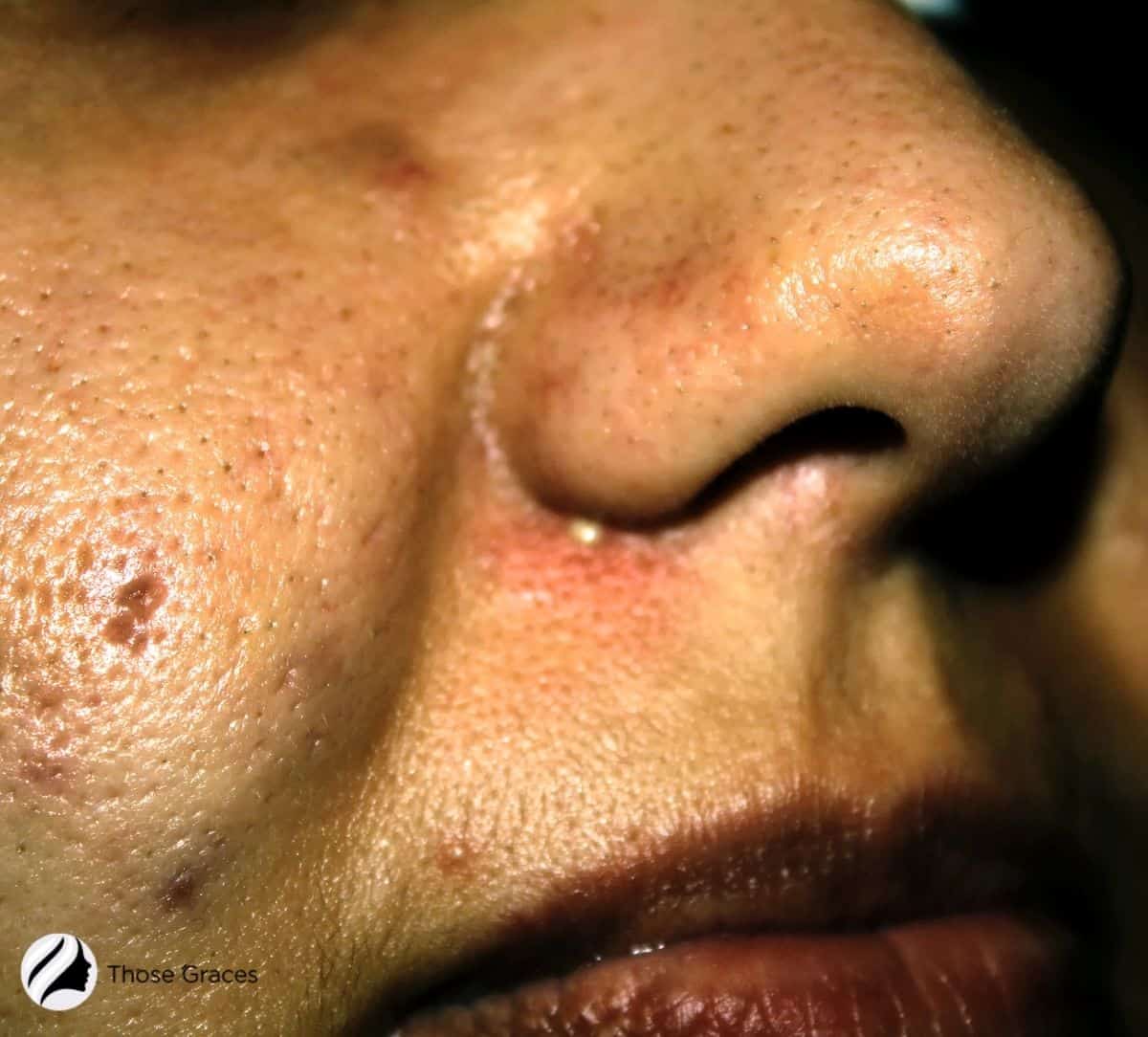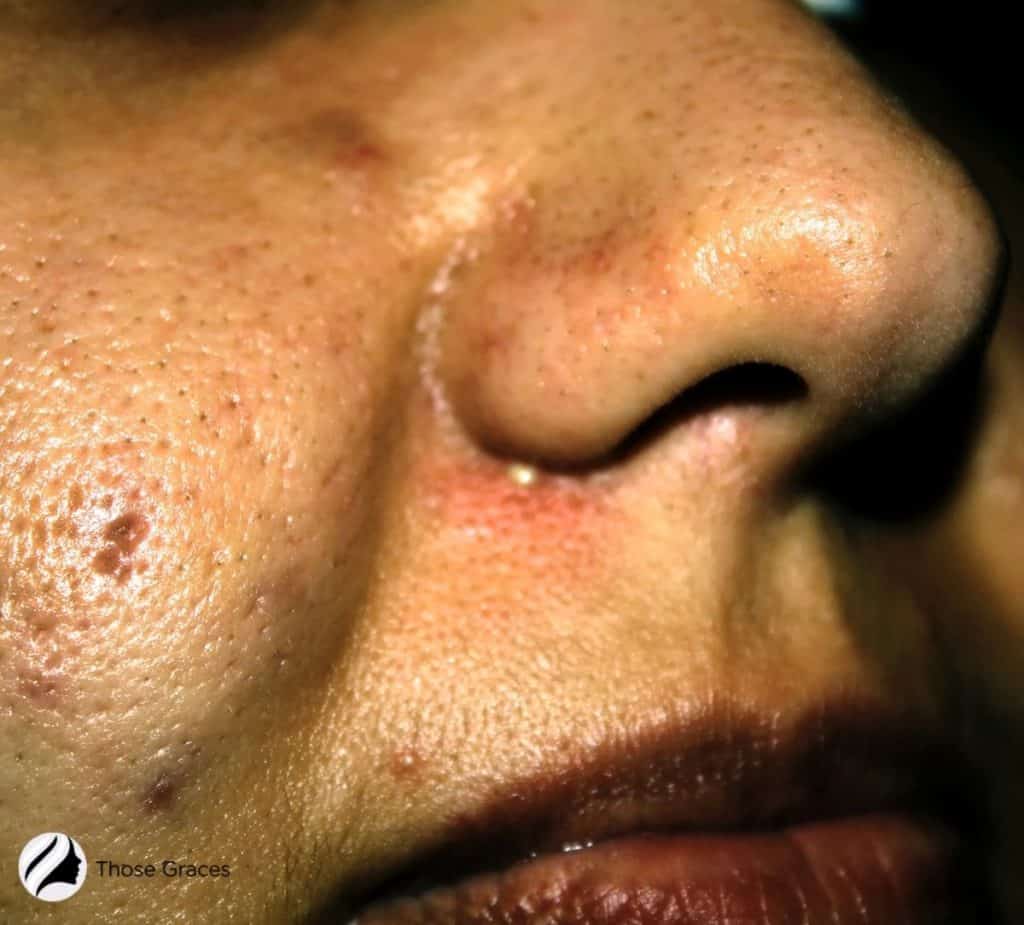 Keloids are more common in people with black, brown, and chocolate brown shades.
Apart from these common skin concerns, darker Skin is more prone to other skin problems like freckles, blemishes, melasma, Lichenification, Dermatosis papulosa nigra (DPN), razor bumps (Pseudo-folliculitis barbae (PFB), etc.
Bronze Skin Makeup Tips
A bronze skin makeup look is all about the glow. It's not so much a matter of covering up imperfections as it is accentuating your natural beauty.
You want to bring attention to your perfect bone structure and gorgeous Skin by giving yourself a vacation glow look that no tanning bed can reproduce.
1. Lips
For bronze skin, you can go for bold colors. You can get your hand on vibrant orange-red tones, corals, magenta, or bright pink will give you a stunning everyday look.
However, keep in mind to pair the bright lip shades with a lighter shade on the eyes and blush.
2. Eyes
Darker skin tones can enhance their beauty with smoky eye makeup, paired with curled mascara, black eyeliner, and sheer gold cream shadow.
Remember, you need not wear too much eye makeup.
3. Cheeks
For the cheeks, you can use hot pink or coral shades. Your blusher shade must complement your lips and eye shadow.
If you do not apply the correct shade, you might end up looking more of a clown.
4. Highlighter
Highlighters not only enhance your facial features but add a shimmer to give a more sexy look.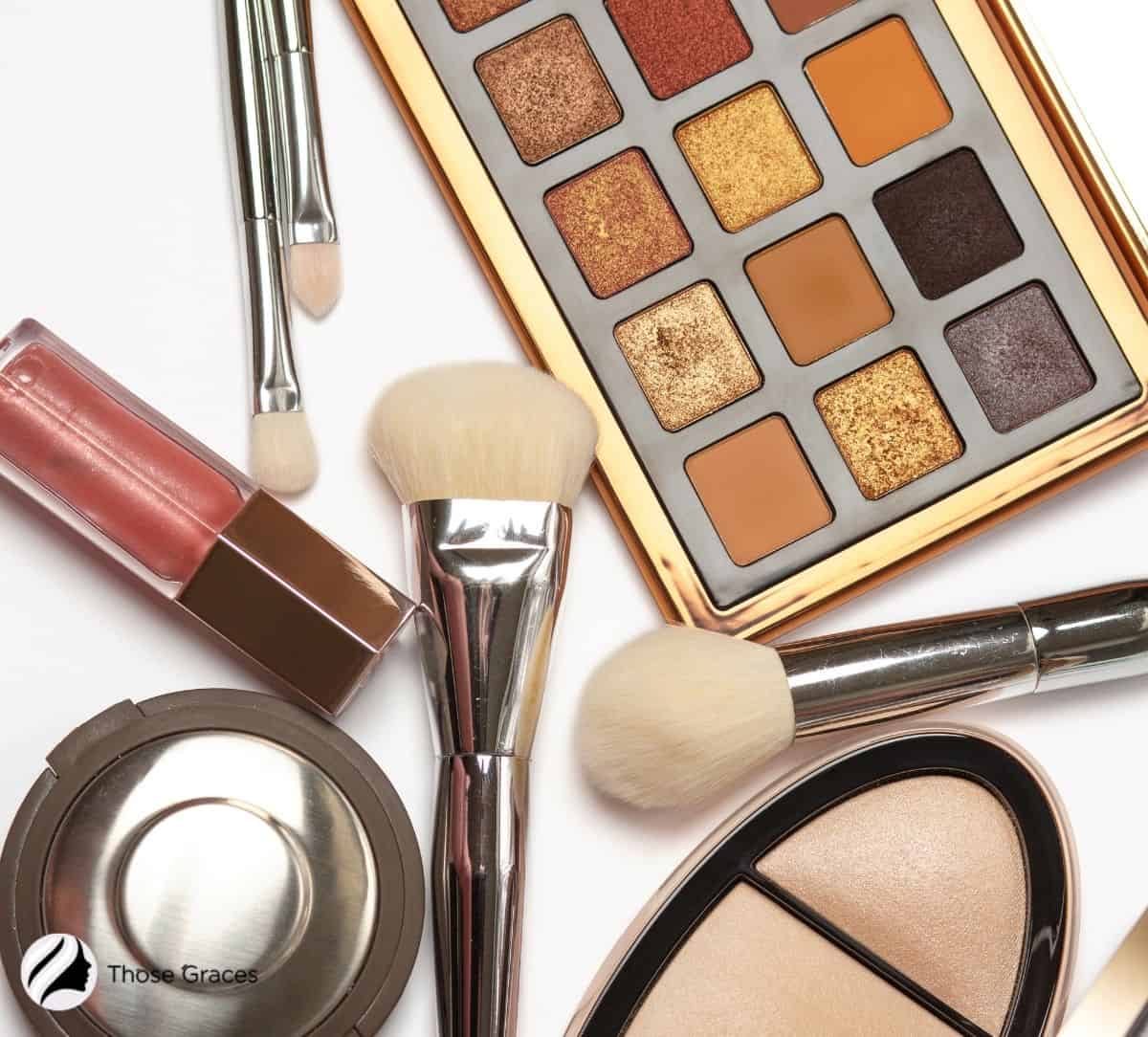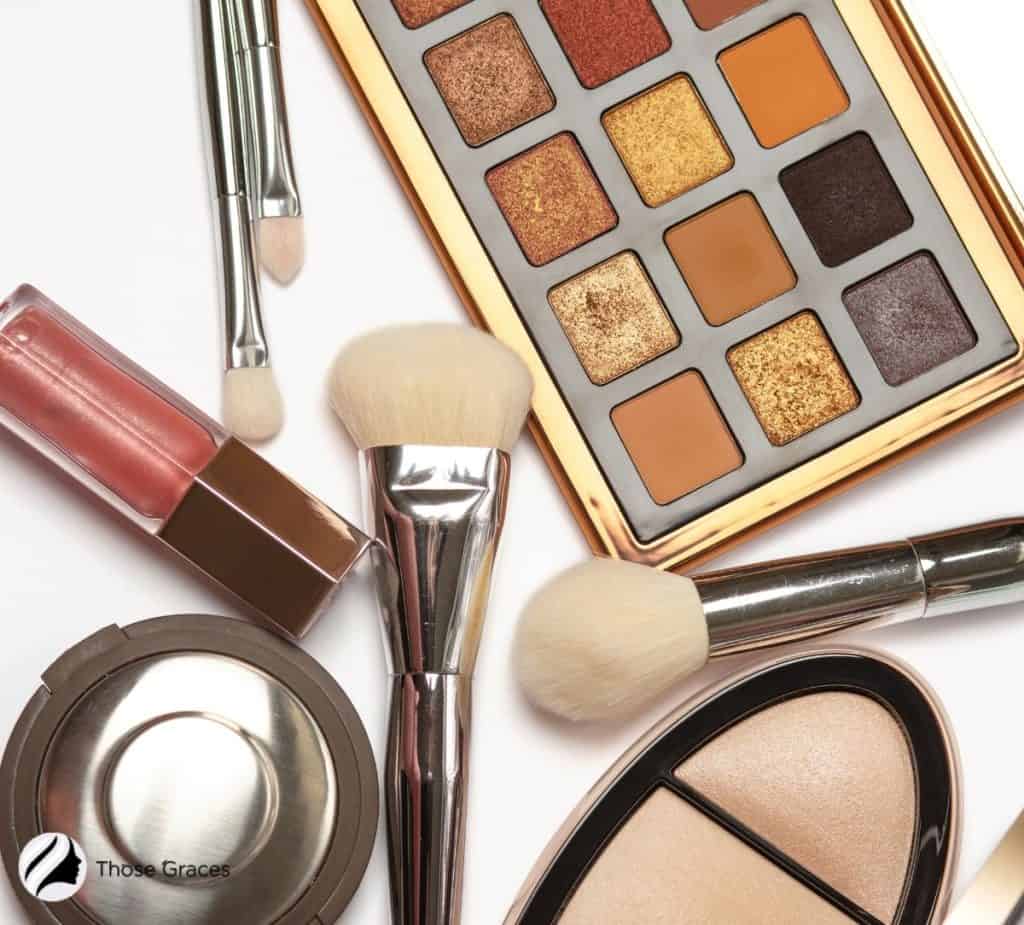 I recommend you use bronze or gold highlighters that will undoubtedly enhance your bronzy hues. (Avoid silver shade)
The Shiseido Translucent bronzer is an excellent option.
5. Nail Polish
While picking the products for the face, don't forget your nails.
You can pick vibrant red or rich pigmented shades or experiment with bright pink, orange, neons, peach, and golden hues for warm skin shades.
6. Hair colors for bronze skin
Bronze skin suits well with hair colors like black, brownish-black, brown, copper, choco-browns, caramel, mahogany, burgundy, or tones of red or purple.
You can also go for highlights or steaks with gold shades.
Which Makeup Product Suits Bronze Skin Best?
Some of the best suitable makeup products for bronze skin are these:
1. Eyeshadow pallet
SHANY Smokey Eyeshadow Palette has 12 Smokey eye Shades. You can use the Shany smokey eyeshadow pallet for casual and formal occasions.
It fits the bronze skin tones best and gives a radiant glow to your eyelids.
2. Foundation
Your overall makeup look depends on the foundation shade. It would be best to be careful while picking up the shade, as light foundations don't combine well with a bronze tone.
Many good brands like Rimmel, Maybelline, Mary Kay, NYC, Fenty beauty offer a good range of foundations for dark tones.
Check this video to know how to pick the right foundation shade:
3. Blush
A fantastic product by ECOFAVOR is most suitable for dark skin tones. It includes three highlighters plus three blush tones perfect for bronze and even darker skin tones.
4. Highlighter:
Bobbi Brown's Shimmer Brick Compact in Bronze is a perfect highlighter for the bronze skin that adds a natural glow and more charm to your personality.
5. Lip shades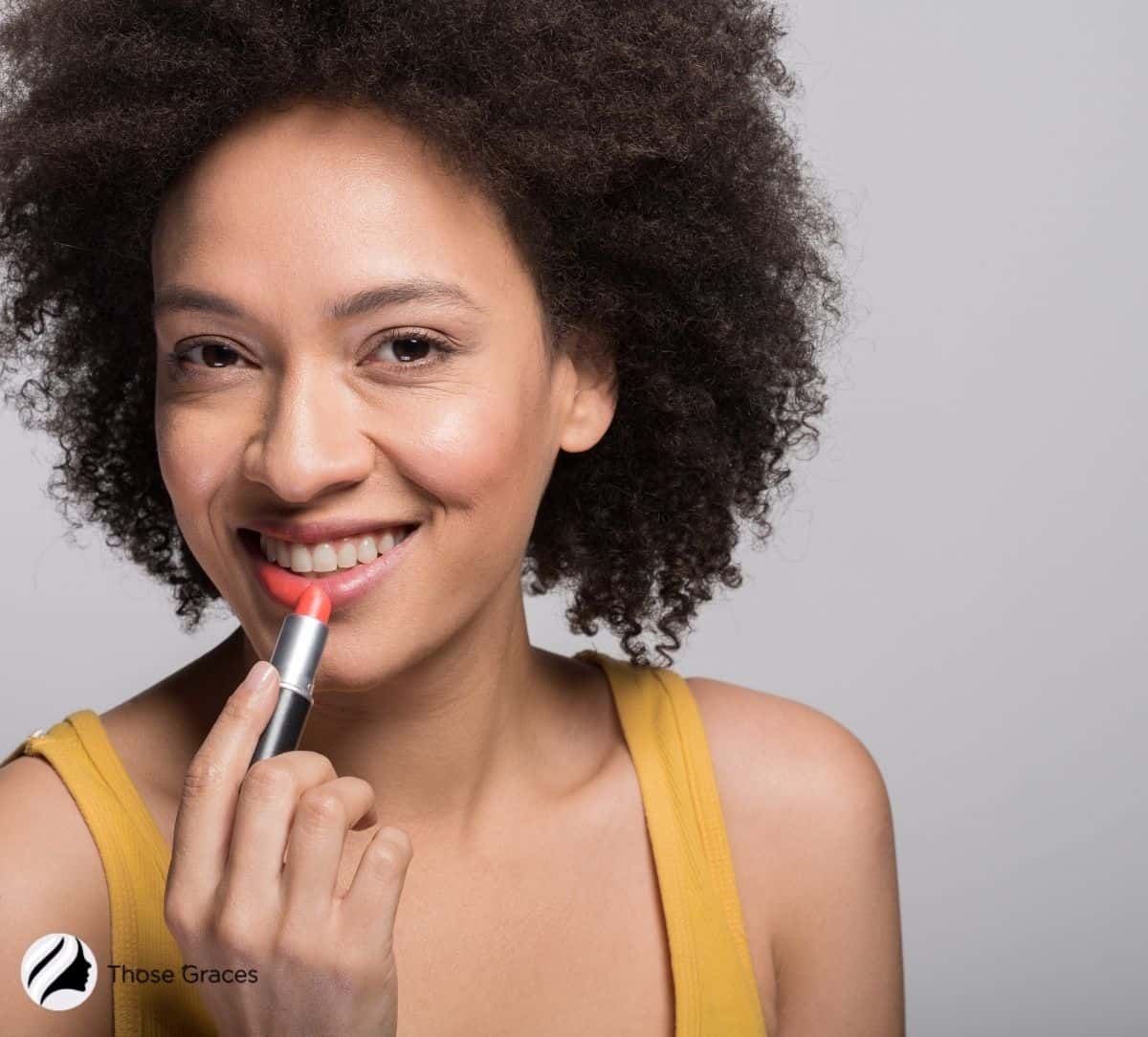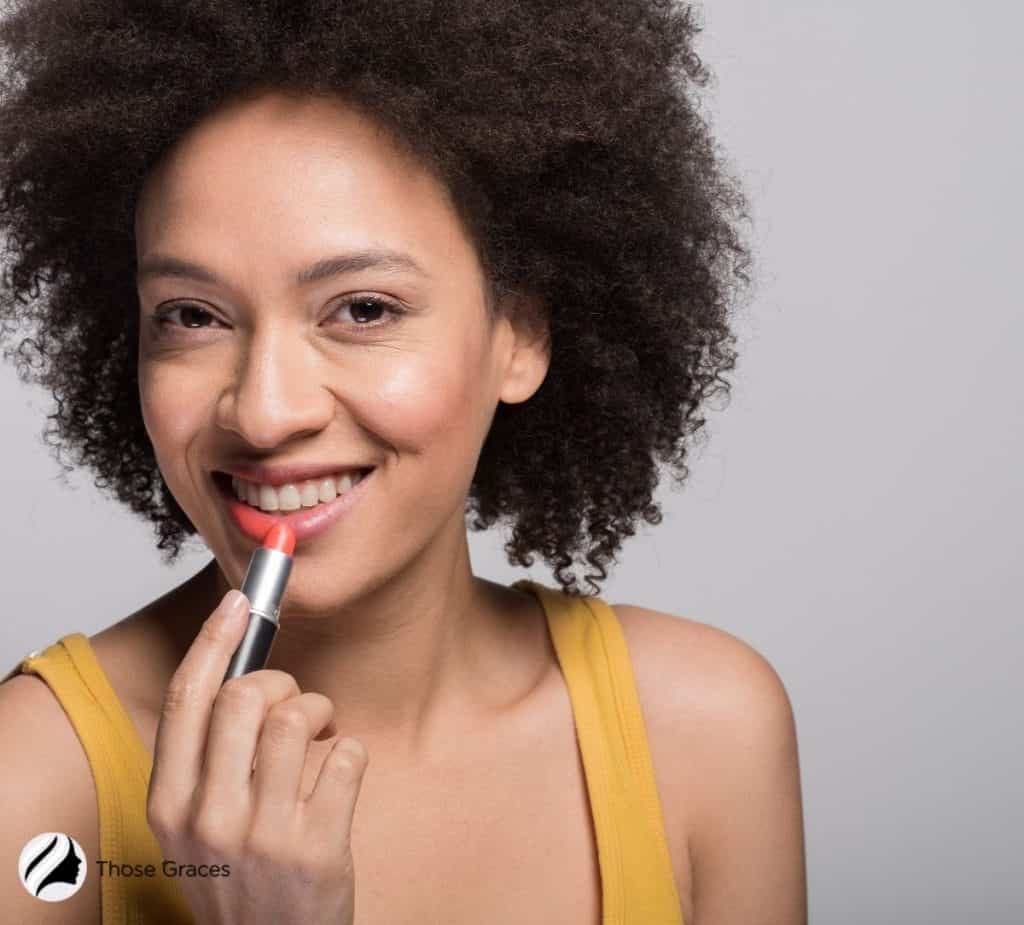 Bronze skin looks stunning with warm lip colors.
Check out a collection of bright lip colors for dark skin tones by ELLE.
You can also choose a good range of beauty products for dark skin tones from Marie-Claire.
Celebrities With Bronze Skin Tone
Some celebrities who own a bronze skin color are:
Eva Marcille: An American actress and a fashion model. Check out her warm and radiant bronze tone look.
Tyra Banks: Tyra Banks is an American fashion model and television personality. She is renowned as a face of CoverGirl and the American retailer Victoria's Secret.
Her gorgeous olive and golden undertones are the real Victoria's Secret.
Priyanka Chopra Jonas: An Indian actress, fashion model, and singer with natural bronze skin tone.
Her breathtaking bronze skin tone and flawless Skin is coveted by millions of her fans worldwide.
Bipasha Basu: Indian actress and a fashion model. I absolutely adore her sun-kissed look.
Whitney Houston: Her stunning golden glow and tan skin tone are as enchanting as her vocals.
Barack Obama: The first African-American president of the United States, with an enviable golden tanned skin.
Mindy Kaling: An American comedian, actress, and screenwriter. No tanning bed can give you this beautiful skin tone.
Apart from these world celebrities, there are some of the most beautiful black women worldwide.
If "Snow White" is fascinating and "fairest of them all," then undoubtedly, dark Skin can also be graceful as a deep dark night!
See the video below:

Is There a Difference between Bronze Skin and Black Skin?
Yes! The bronze skin is the lightest brown skin tone with less melanin. Bronze skin is a shade of 5 on the Fitzpatrick scale.
Whereas black Skin has high melanin and is mentioned as number 6 on the Fitzpatrick scale.
What is dusky Skin?
Dusky Skin is a dark brown skin tone. It is slightly on the light brown side, darker than a fair skin tone.
What is golden skin color?
Golden skin tone is darker than white with more yellow or gold undertones.
Conclusion
This was all about bronze skin. Do you have any other tips that can help you stand out with a bronze complexion? Drop them in the comment section.
Resources:
1. Fitzpatrick Skin Type V | Skin Types 5 | Skin Type Five [Internet]. Skin Renewal. Available from: https://www.skinrenewal.co.za/fitzpatrick-skin-type-v
2. Oakley A. Fitzpatrick skin phototype | DermNet NZ [Internet]. dermnetnz.org. Available from: https://dermnetnz.org/topics/skin-phototype
3. Ullah N, Ch, Vishrolia. Recognising common skin conditions in people of colour [Internet]. The Pharmaceutical Journal. Available from: https://pharmaceutical-journal.com/article/ld/recognising-common-skin-conditions-in-people-of-colour
4. Bhargava H. Contact Dermatitis [Internet]. WebMD. 2020. Available from: https://www.webmd.com/skin-problems-and-treatments/contact-dermatitis
5. Bouchez C. Skin Conditions in Dark Skin [Internet]. WebMD. 2021. Available from: https://www.webmd.com/skin-problems-and-treatments/skin-conditions-people-with-dark-skin
6. Hitti M. Vitiligo and Loss of Skin Color [Internet]. WebMD. WebMD; 2005. Available from: https://www.webmd.com/skin-problems-and-treatments/guide/vitiligo-common-cause-loss-skin-pigment
7. Nall R. Everything You Need to Know About Keloid Scars [Internet]. Healthline. Healthline Media; 2015. Available from: https://www.healthline.com/health/keloids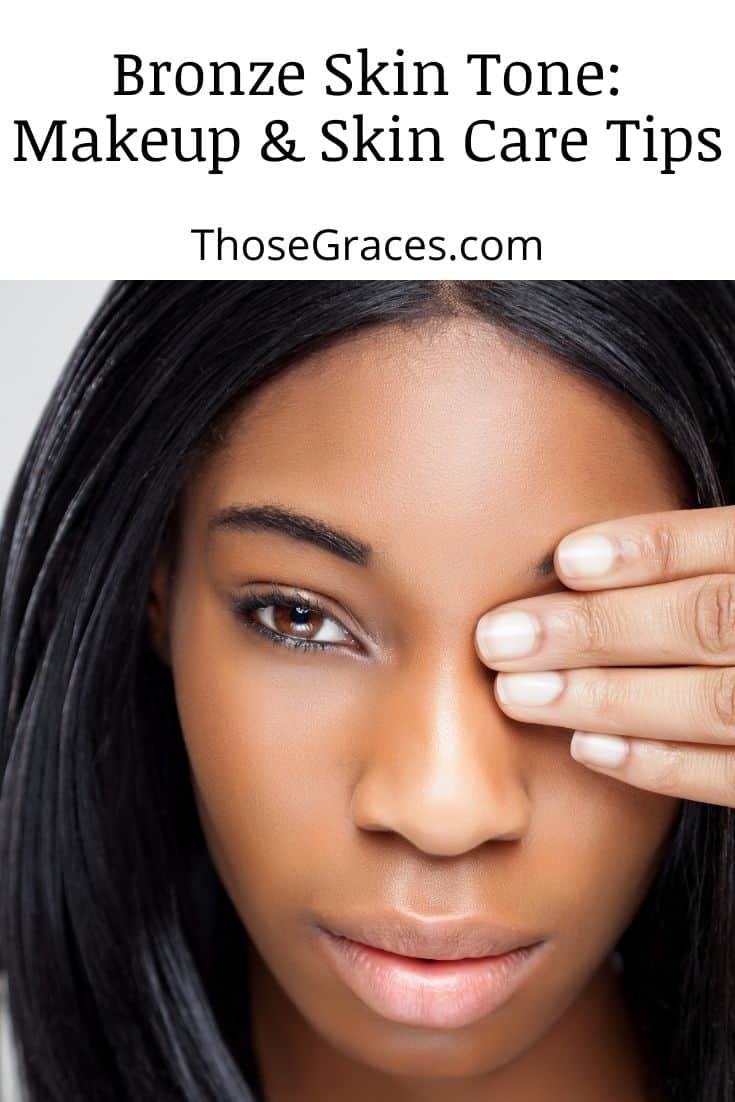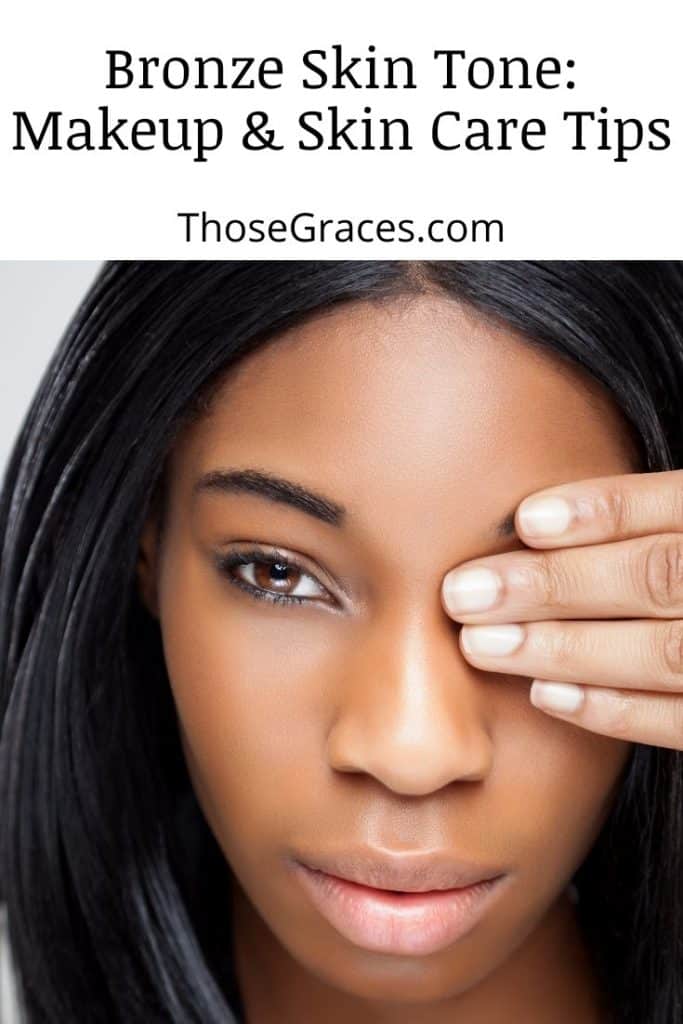 What do you think of bronze skin tone? Let us know in the comments below!