There's nothing quite like the look of ebony skin tone. It's unique and beautiful and deserves to be celebrated.
As someone with ebony skin, I know that there are some things you need to know to take care of your skin tone.
In this blog post, I'll talk about everything from skincare tips to makeup advice and so much more.
This post contains affiliate links. We earn a commission if you make a purchase at no extra cost to you.
READ MORE: Everything About the Bronze Skin
What is Ebony Skin Tone?
It is also the darkest skin tone on the Fitzpatrick scale. People with this skin tone tend to have black hair and very brown eye color.
Due to the high level of eumelanin in ebony skin, it has more protection from the sun's harmful UV rays. This means that people with ebony skin are less likely to develop skin cancer.
Nonetheless, this doesn't mean people with ebony skin color can't get cancer. Dermatologist Angela Kyei, MD (4) clarifies that "They can, and they do – just not at as high rates as fair-skinned people."
You'll also be happy to know that ebony skin is more resistant to wrinkling and aging. I don't know about you, but this is excellent news considering this is my skin type.
It's also a perfect explanation for the "black don't crack" saying.
However, you should know that people with ebony skin are typically grouped into three categories:
1- Dark Skin Pigmentation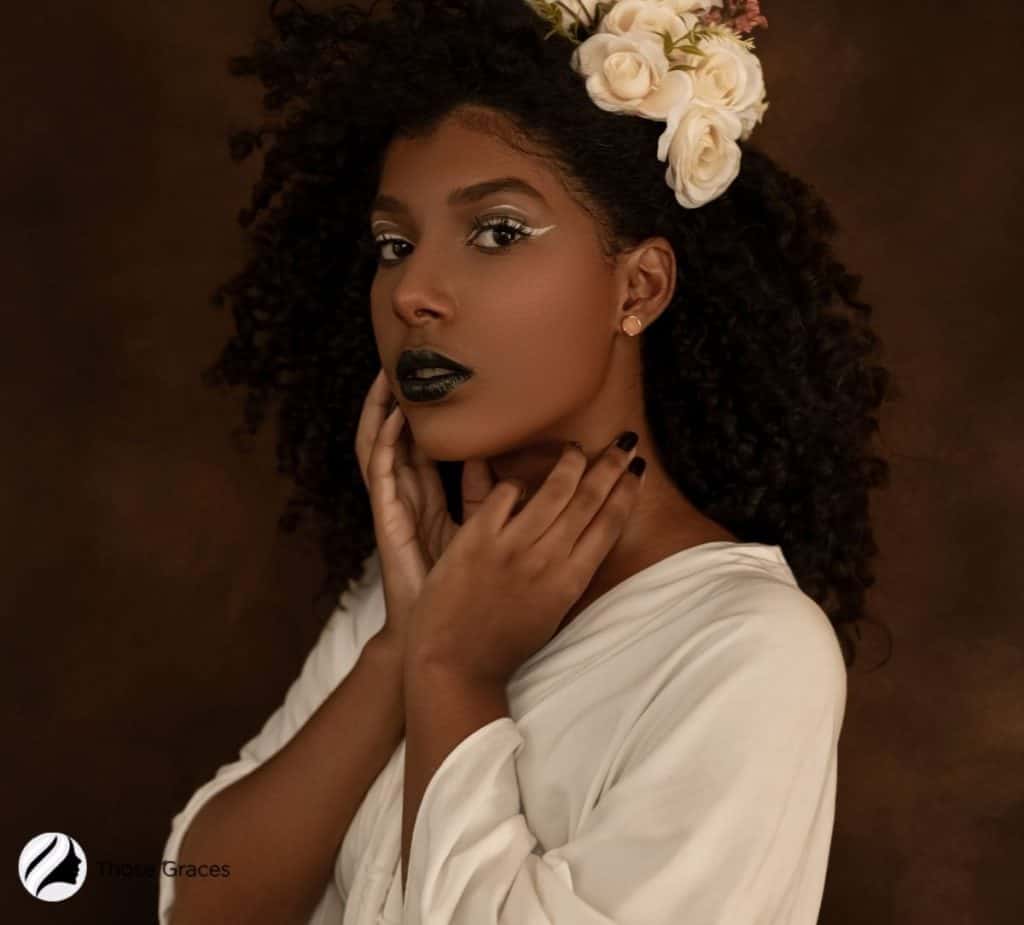 Dark ebony skin tone is the deepest and darkest. Folks in this category have skin naturally rich in melanin – think of it as your body's built-in SPF. But don't skip on the sunscreen!
2- Light Skin Ebony
Individuals with ebony light skin have a significantly lighter skin color than the dark skin ebony group. Furthermore, light skin color typically has an olive undertone skin.
You'll often see light ebony skin tone in countries like Brazil, Cuba, and Puerto Rico.
Check out this video!
3- Brown Skin Ebony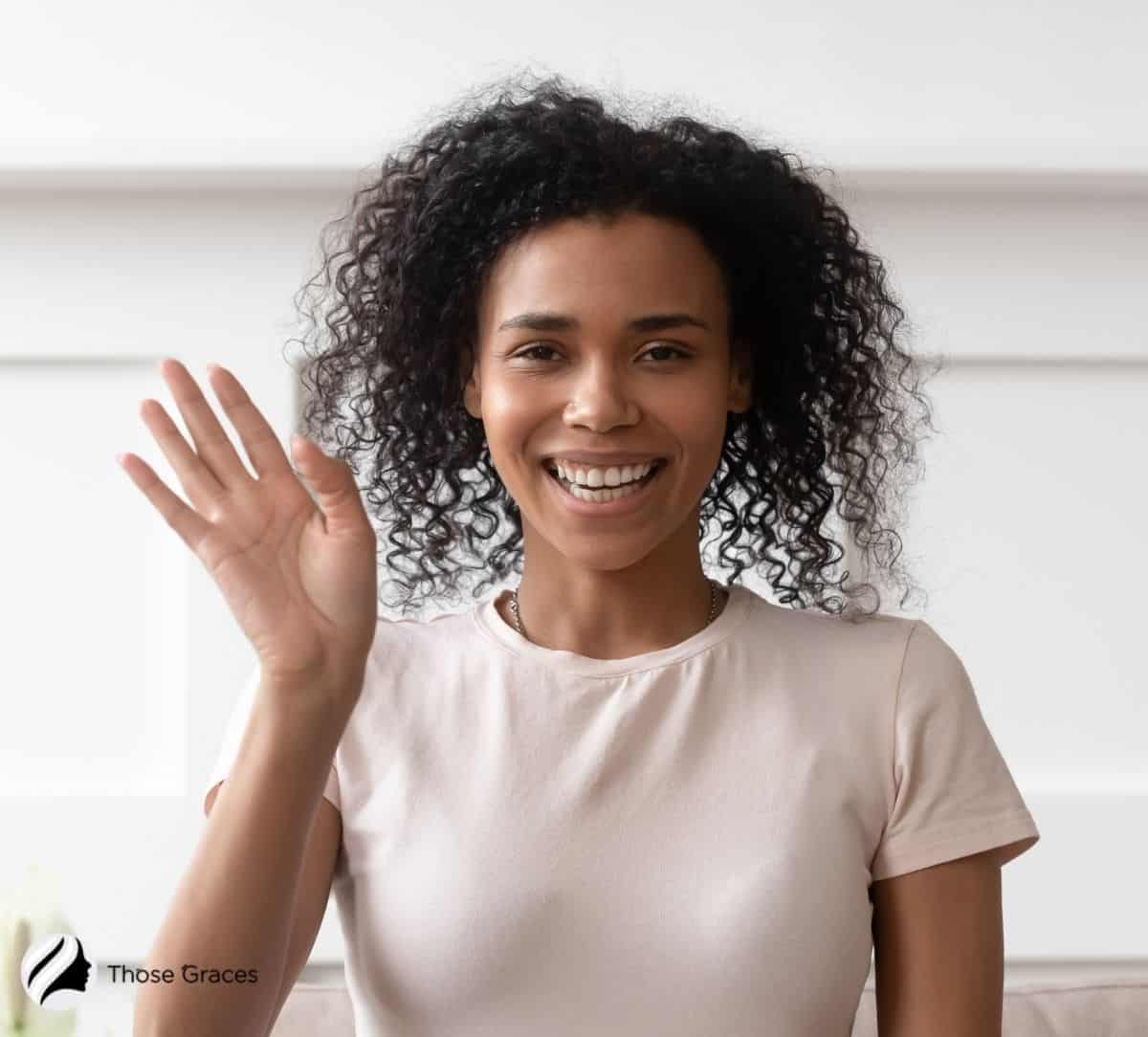 The third and final group is brown, olive skin tones. People in this category have a warm brown skin tone. This skin tone is also typical in Brazil, Cuba, and Puerto Rico.
How to Identify if You Have Ebony Skin Tone
Now that you know there are three types of ebony skin tone, you probably have a million questions on your mind.
What does the color ebony look like? Do I have ebony skin? How can I tell? Do I need a skin undertones chart?
Take a breather. I have three simple ways you can determine your skin tone once and for all.
#1 Look at Your Jawline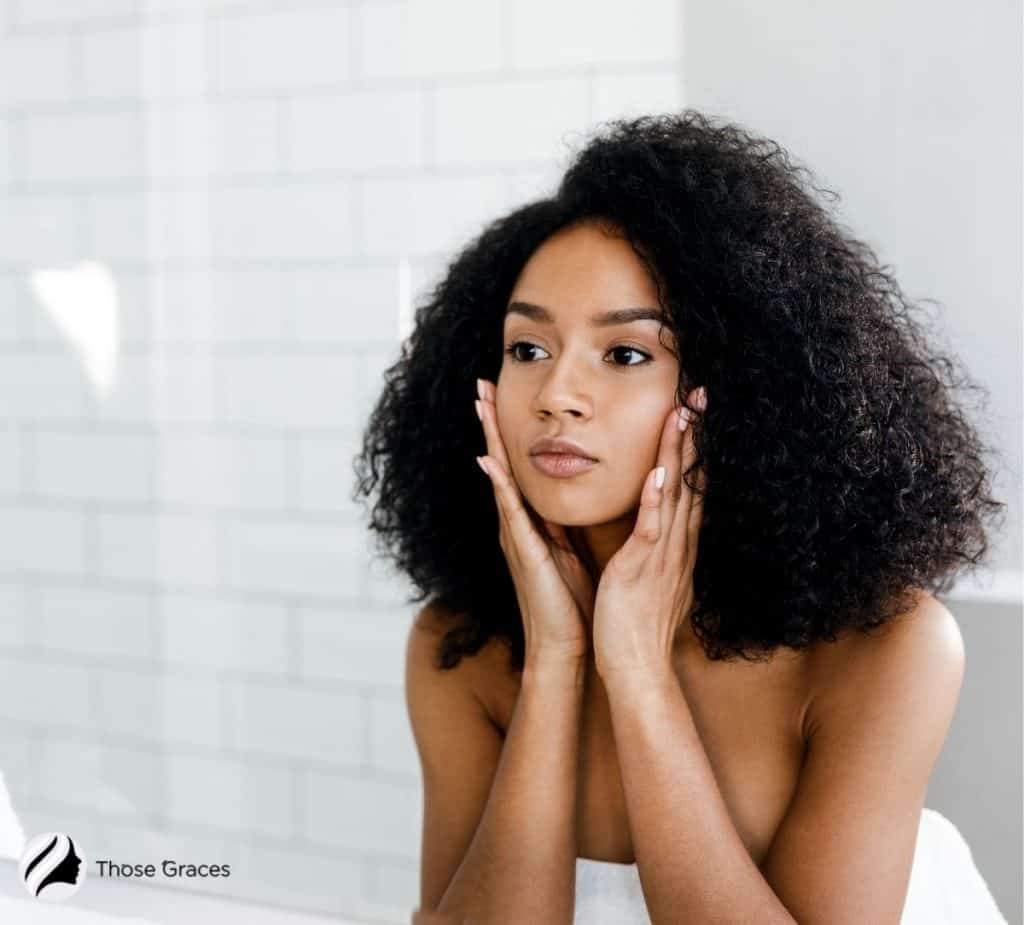 Over time, your skin color will change. Seasonal changes, sun exposure, and even stress can cause your skin to be darker or lighter.
The best way to determine your skin tone is to look at the color of your jawline. The jawline is often the least exposed to the sun and other external factors. Therefore, it will give you a good idea of your natural skin tone.
If your jawline is
Dark brown or black, you have deep ebony skin.
Brown with red or yellow undertones, you have caramel ebony skin.
Light brown or golden brown, you have honey ebony skin.
#2 Use the Fitzpatrick Skin Tone Scale
Another effective way to determine your skin tone is to use the Fitzpatrick Skin Tone Scale (3). This scale was developed by Dr. Thomas Fitzpatrick in 1975 and is still used today by dermatologists.
The Fitzpatrick Skin Tone Scale goes from I (very light) to VI (very dark). If you have deep ebony skin, you would be a type VI on this scale.
Some of the characteristics of this skin type include:
Deeply pigmented dark brown to darkest brown before sun exposure
Brownish black eye color
Black hair
Sun reaction: tans quickly, never freckles, and never burns
If you can't figure out your skin tone on your own, ask a friend or family member for their opinion.
They will be able to help you determine if you have ebony skin based on their observations.
Here's a quick rundown about it
#3 Get Professional Opinion
Ah, technology! Many beauty stores now offer skin tone/foundation matching tests to tell you your skin tone in under 10 minutes.
Therefore, if you won't settle for anything less than an accurate result, head to your nearest beauty store and ask for a skin tone test.
Essential Skincare Tips For Ebony Skin Tone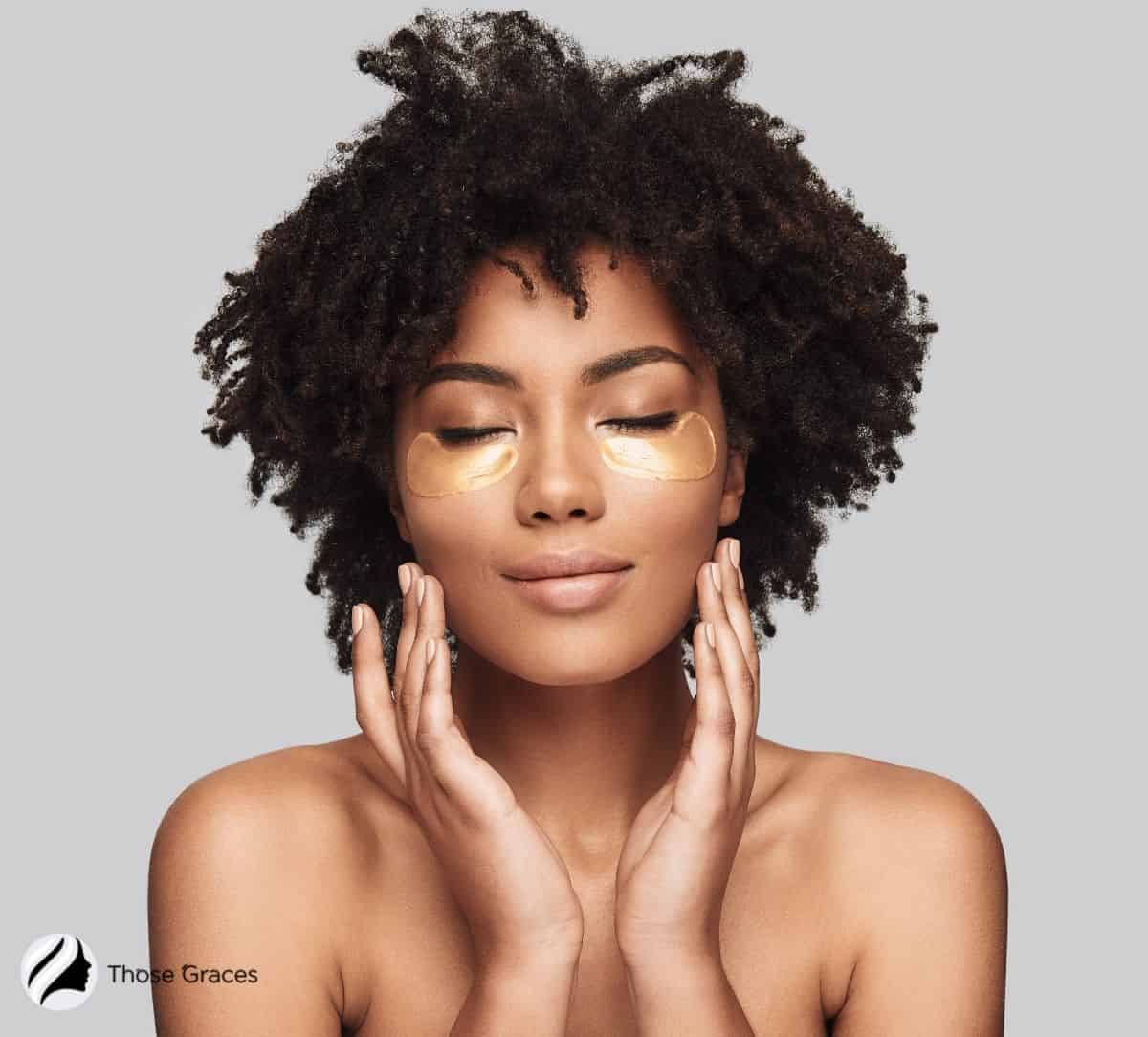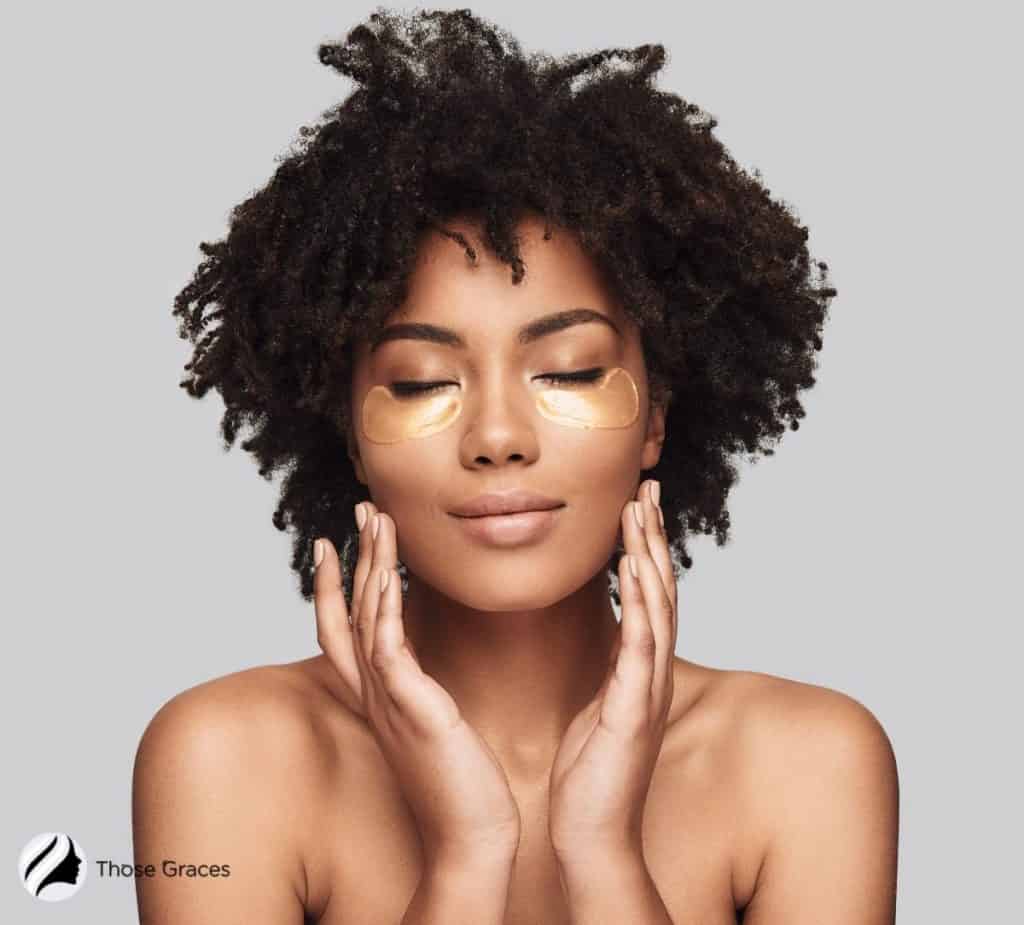 Understanding your ebony skin color is half the battle.
The next step is taking care of your skin to ensure that it always looks its best.
Here are a few essential skincare tips for ebony skin tone:
Skin Problems for a Darker Skin
Like every skin type, ebony skin is susceptible to various skin problems.
The good news is that you can prevent most of these problems with a proper skincare routine.
Here are a few of the most common skin problems (2) for people with ebony skin tone and how to avoid them:
Acne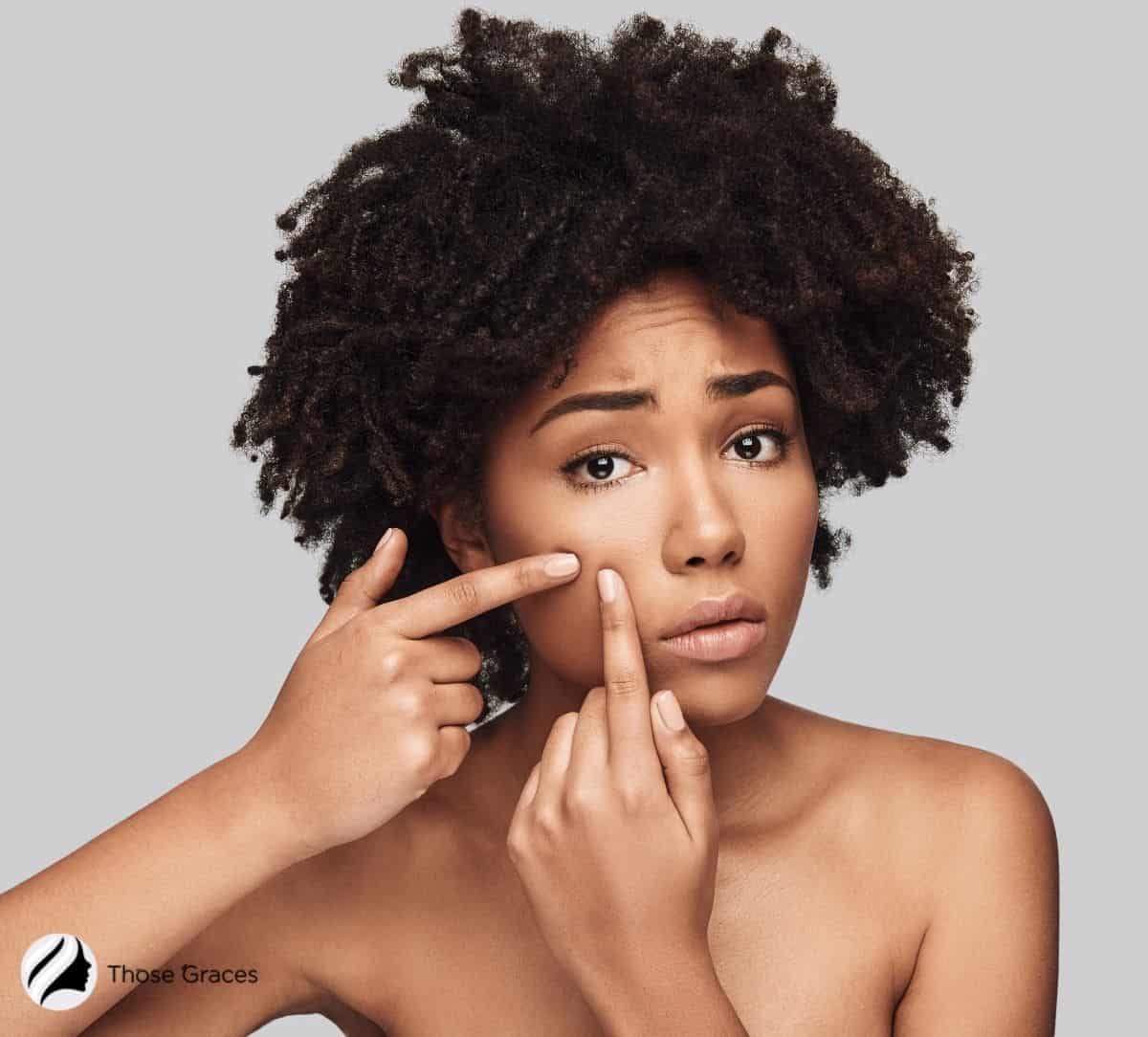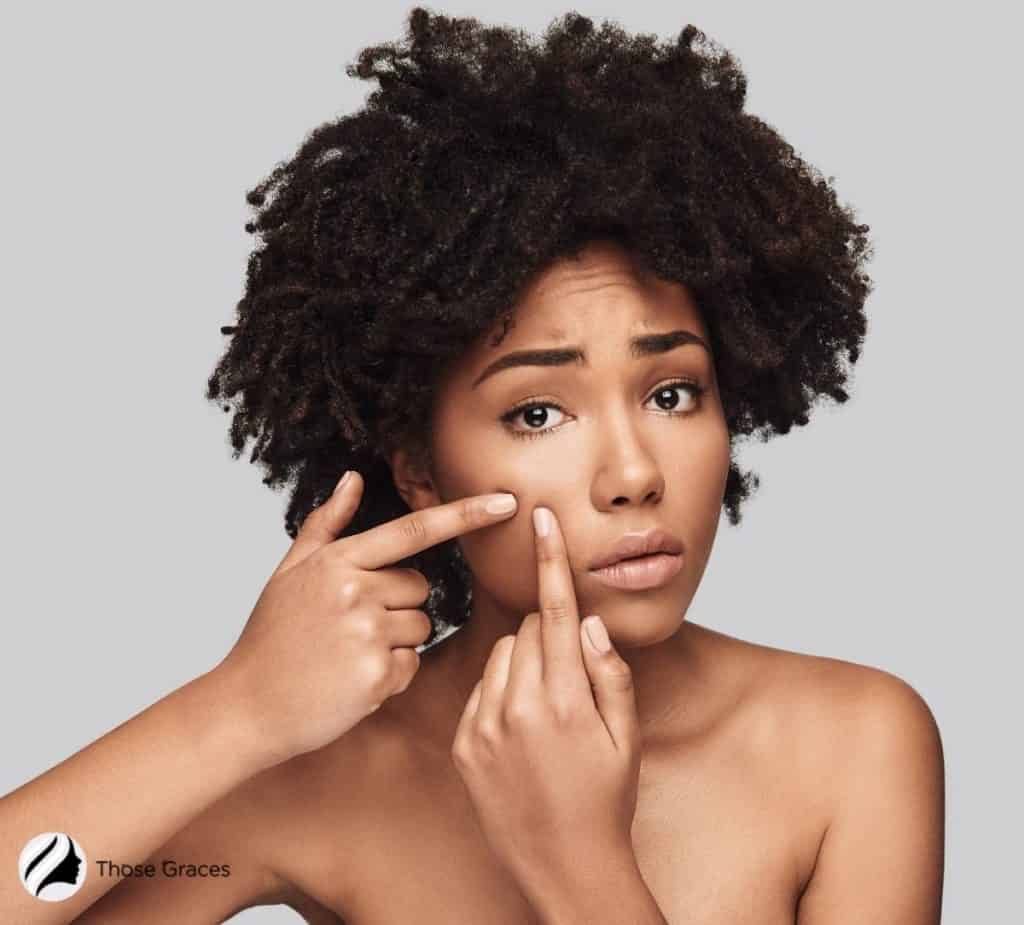 Acne is one of the most common skin problems for people with ebony skin tone (2).
The good news is that there are many ways to prevent and treat acne.
Here are a few tips:
Wash your face twice a day with a gentle cleanser.
Avoid scrubbing your face too hard.
Use an oil-free moisturizer to keep your skin hydrated.
Avoid changing products too often.
Hyperpigmentation
Hyperpigmentation is another common skin problem for people with ebony skin tone. (2) Hyperpigmentation is the darkening of the skin due to an overproduction of melanin.
There are several ways to prevent and treat hyperpigmentation.
Exfoliate your skin regularly.
Use products that contain glycolic acid or kojic acid.
Wear sunscreen every day.
Limit your exposure to the sun.
Wear protective clothes and sunglasses.
Treating hyperpigmentation can be difficult, but you can see results with patience and consistent care.
Scarring
Scarring is another common skin concern for people with ebony skin tone. Scars can be caused by several things, including acne, surgery, and injury (1).
There are several ways to prevent and treat scars.
Exfoliate your skin regularly.
Use products that contain aloe vera or vitamin E.
Wear sunscreen every day.
Basic Skincare Tips for an Ebony Skin Tone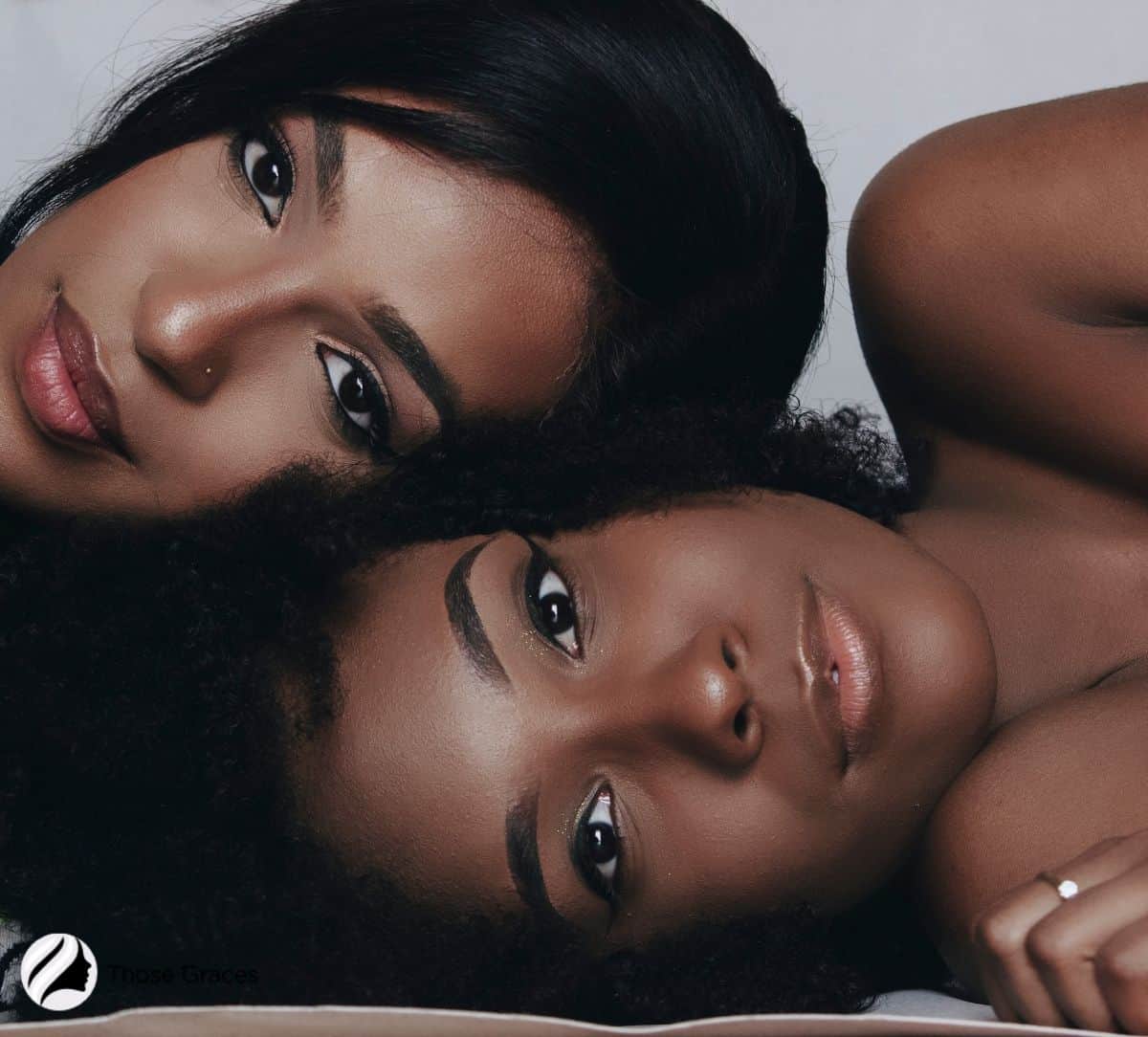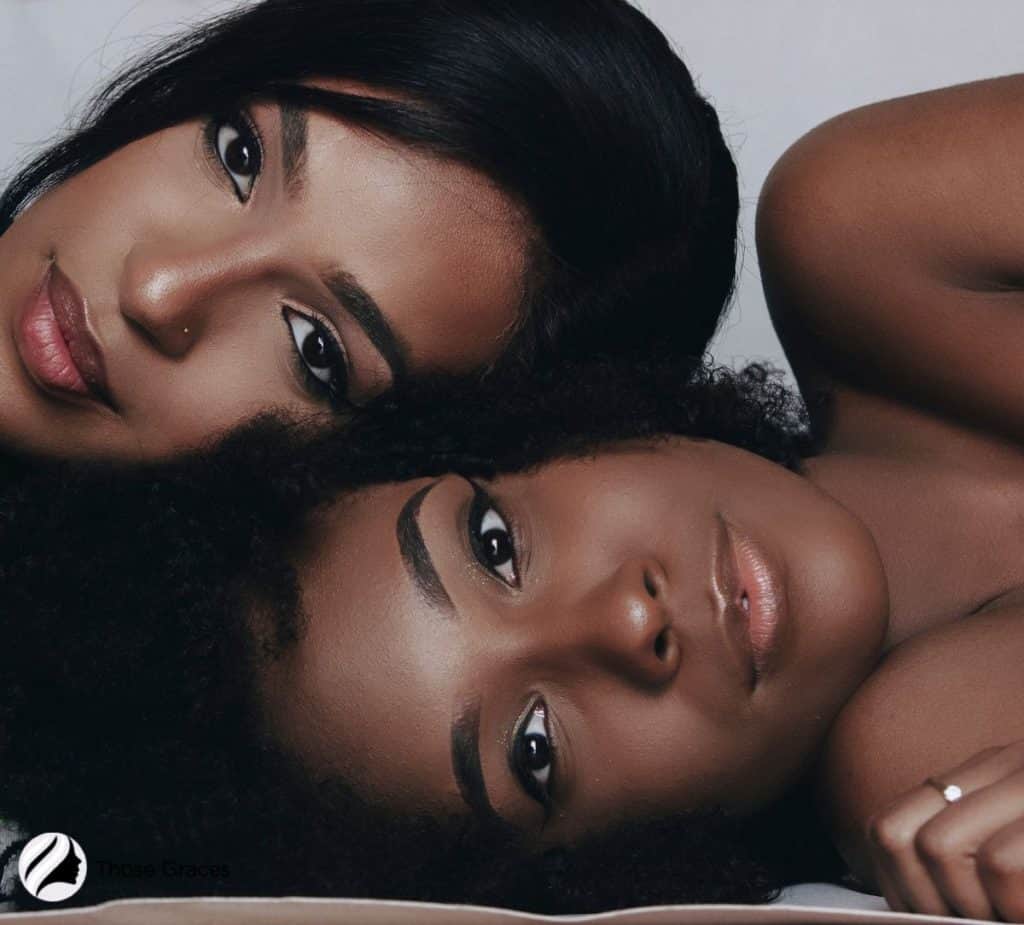 Besides the tips mentioned above, you can do a few basic things to care for your ebony skin tone.
Drink plenty of water.
Eat a healthy diet.
Get enough sleep.
Exercise regularly.
Moisturize and cleanse your skin daily.
By following these tips, you can help keep your skin looking its best.
Makeup Tips for an Ebony Skin Tone
I relate to the frustration of not finding the right makeup shades. I can't tell you how often I've gone to the store only to find that they don't have my shade.
When it comes to makeup, there are a few things you can do to make sure you're getting the right shades:
Foundation: Look for a color that perfectly matches your skin, including your neck.
Blush: Choose deep and vibrant colors and consider using a bronzer to highlight your ebony skin further.
Eyeshadow: Jewel tones like emerald green and purple work best for ebony skin tone. However, if you have a warm undertone, gold and bronze are a better option.
Lipstick: Rich and saturated colors like red, brown, and pink make ebony skin pop.
Skincare Products to Use for an Ebony Skin Tone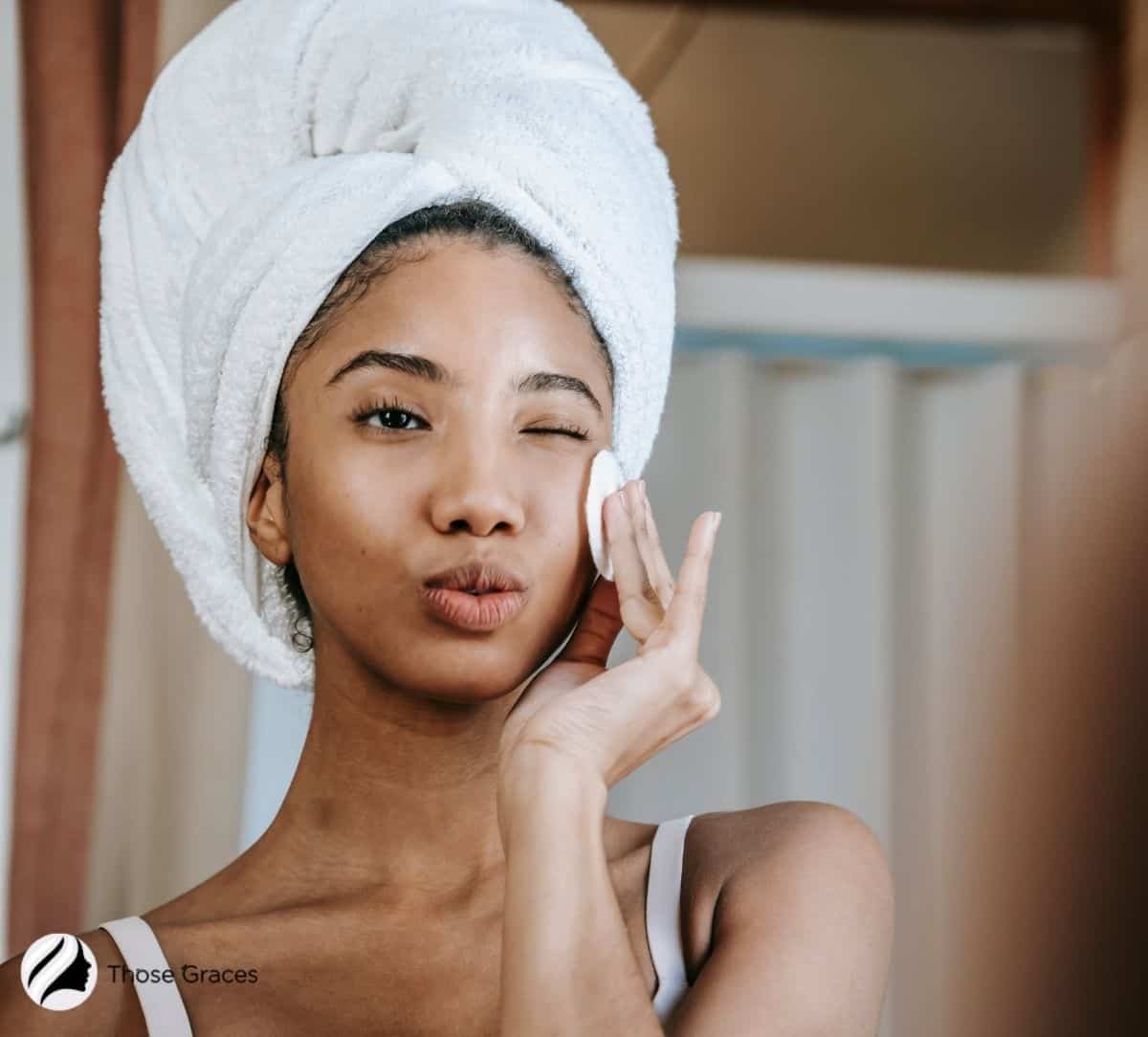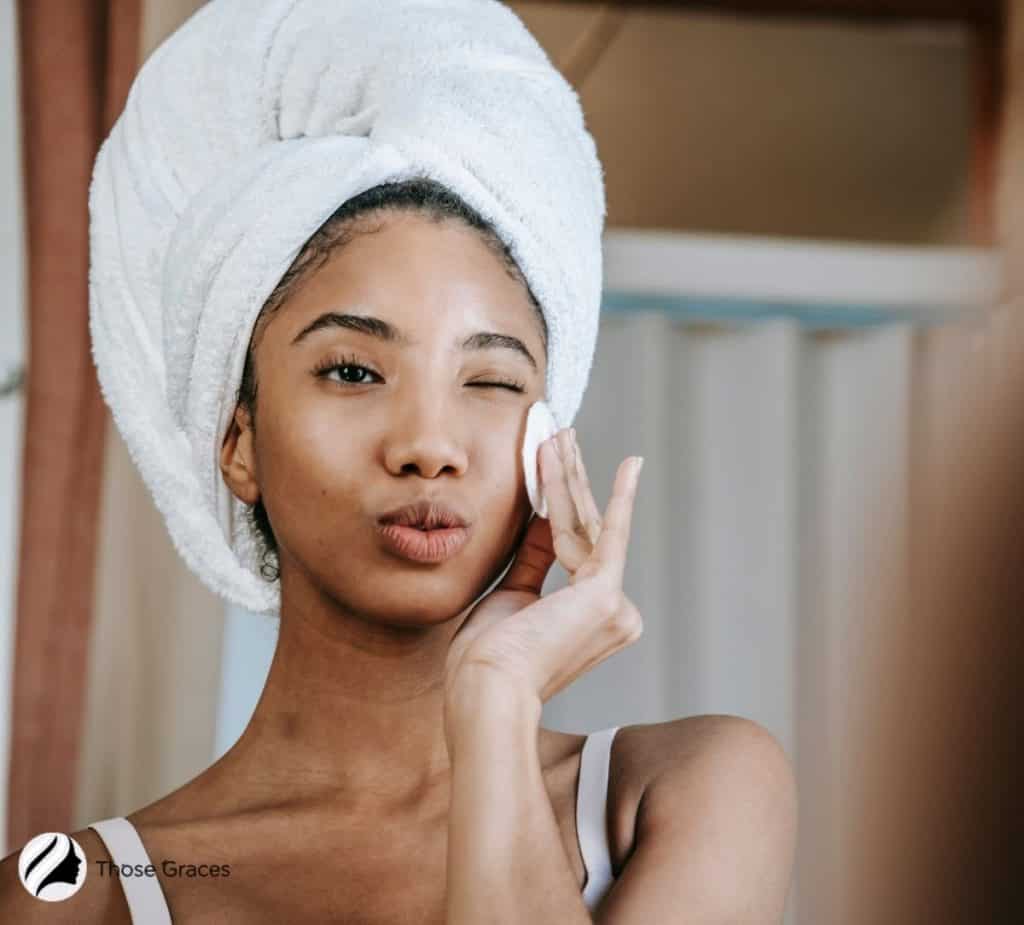 So, which skincare products are best for ebony skin tone?
While there are products for ebony skin that I swear by, every skin is different. Therefore, what works for me will not necessarily work the same for you. However, here are some general tips:
Use products that have been specifically designed for black skin. These products take into account the unique needs of ebony skin tone.
Choose skincare products with natural ingredients. Chemicals can be harsh on ebony skin and strip it of its natural
Select products designed for your skin type. For instance, if you have oily skin, look for products that control oil production. On the other hand, choose products that will hydrate and nourish your skin if you have dry skin.
Some of my must-haves that I would recommend are:
InstaNatural 10% Azelaic Acid Moisturizer, Face Moisturizer with Vitamin C, Hyaluronic Acid, Green Tea Extract, and Witch Hazel, For Roscesea, Acne Prone Skin and Hyperpigmentation
10% Azelaic Acid Moisturizer is a hydrating face moisturizer that sloughs away pore-clogging debris and reduces the appearance of blemishes, redness, and scarring. It also brightens and prevents the look of post-blemish hyperpigmentation.
Ingredients: Powerful Azelaic Acid is combined with Vitamin C and nourishing botanicals to gently exfoliate while softening the appearance of uneven texture for a complexion that is visibly radiant, refined, and clear.
What to Expect: This is a lightweight anti-aging cream for both blemish & aging concerns that helps clear the look of hyperpigmentation & fine lines. It is great for those with oily skin who need a moisturizer that will nourish without feeling heavy.
Best Paired With: While 10% Azelaic Acid Moisturizer pairs with most InstaNatural products, we recommend pairing it with InstaNatural's Vitamin C Cleanser, Vitamin C Toner, and Age Defying & Skin Clearing Serum to soften and brighten skin.
InstaNatural Core Clean Promise: Our skin care products are formulated without 1500+ ingredients such as parabens, sulfates, synthetic fragrance, PEGs, petroleum, and formaldehyde releasors. Our products are certified cruelty-free.
Cetaphil Sheer 100% Mineral Liquid Sunscreen for Face With Zinc Oxide Broad Spectrum SPF 50 Formulated for Sensitive Skin, Unscented, 1.7 Fl Oz
CETAPHIL SHEER MINERAL FACE LIQUID SUNSCREEN SPF 50: Nourishes sensitive skin while providing hydrating, chemical free sun protection
MICROBIOME GENTLE FORMULA: Locks in moisture to hydrate and protect skin delicate microbiome
NON-COMEDOGENIC, ULTRA LIGHTWEIGHT FORMULA: Blends quickly into the skin without leaving a white cast or greasy residue and is water resistant for up to 80 minutes
SHEER, COSMETICALLY ELEGANT: Glides effortlessly onto skin leaving a dry, matte finish for daily use alone or under makeup; dermatologist and ophthalmologist tested
REEF SAFE SUNSCREEN: This product is a reef friendly sunscreen.
Sale
Garnier SkinActive Micellar Water for All Skin Types, Facial Cleanser & Makeup Remover, 13.5 Fl Oz (400mL), 1 Count (Packaging May Vary)
ALL-IN-1 Cleanser To hydrate and Rrefresh skin: This all-in-1 micellar cleansing water is a facial cleanser and makeup remover that is gentle on skin. This micellar water for all skin types gently cleanses, removes makeup, dirt and oils from skin.
A soothing formula that gently cleanses: micellar water leaves skin feeling/looking healthy and hydrated; formulated to be gentle on even the most sensitive skin; easily removes makeup without over-drying skin.
A multi-purpose cleanser powered by micelle technology: Micelles work like a magnet to gently cleanse, while removing makeup, dirt, sunscreen, and excess oil all in 1 step; No rinsing, no harsh rubbing- just clean, refreshed skin.
Dermatolgist and Ophthalmologist tested for safety: safe for use on face, lips and eye area. Approved by Cruelty-Free International under the Leaping Bunny Program. Vegan formula is oil-free, paraben-free, fragrance-free, sulfate-free and silicone free.
America's #1 Micellar Water Brand: there's a reason one bottle is sold every 3 seconds!* *Source: Nielsen Measured Mass Market, Full Year 2022, Unit Sales
What Colors Go Well With Ebony Skin Tone
Another pain points if you have ebony skin is finding the right colors to complement your skin tone.
Which hair, clothes, and colors generally look best on you?
This can be a trial and error process, but here are some general tips.
Hair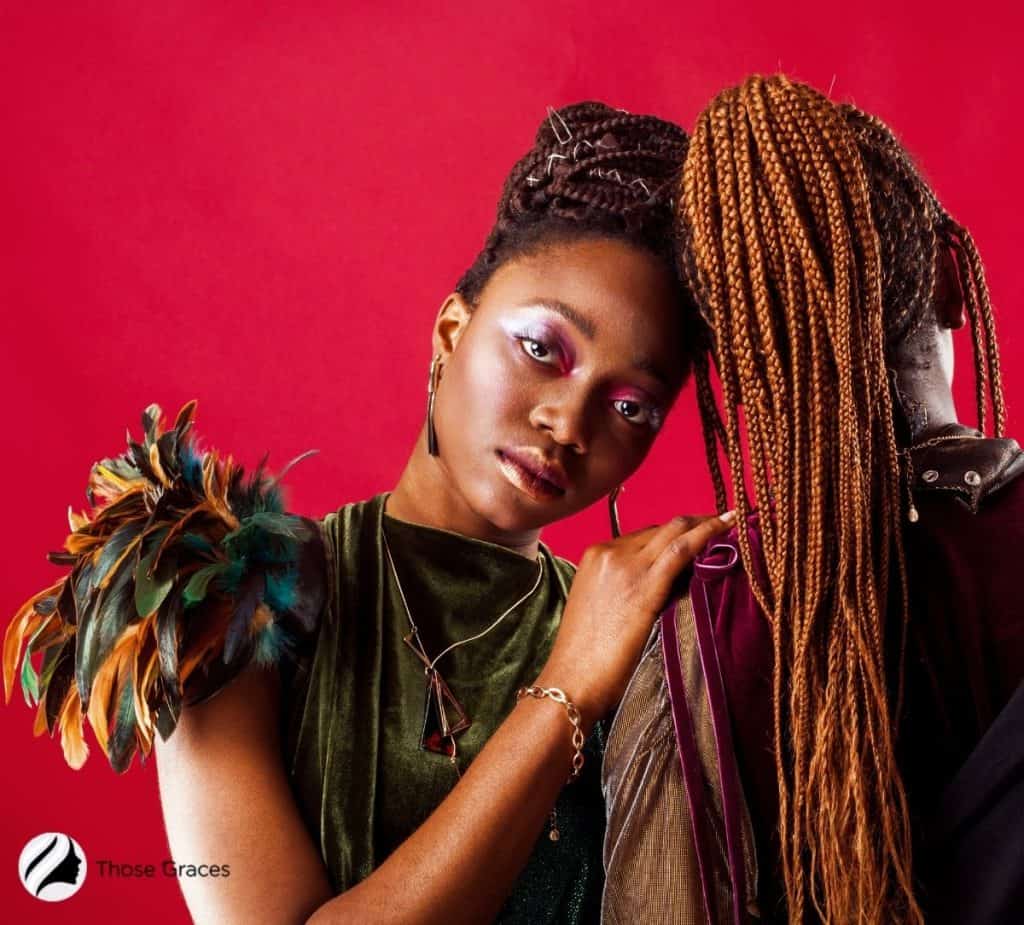 Hair color can be a tricky one if you have ebony skin. One little mistake can end up making you look ridiculous. Been there, done that! Don't let this be you!
The goal is to find a hair color that will complement your skin tone, make you look radiant, and appears natural.
The best hair colors for ebony skin tone are honey, golden, reddish-brown, and ash. These colors complement your skin tone naturally and brighten up your hair.
If you're African-American, espresso and golden brown should leave you turning heads for all the right reasons.
If you have a lighter complexion, opt for a color that's one or two shades darker than your natural hair color.
And if you want to go blonde, honey blonde is always a good option. Just make sure your stylist doesn't make it too light!
Clothes
The key to choosing the best clothes colors for ebony skin is understanding your undertone.
If you have a warm undertone, the following colors will be stunning on you:
Brown
Orange-red
Gold
Peach Bronze
However, if your skin tone leans more towards a cool undertone, you'll look best in:
Blue
Blue-red
Pink
Silver
Purple
However, these colors aren't set in stone. Some of my best colors for neutral skin tone are the ones I thought I'd never pull off.
So, don't be afraid to experiment with different shades to see what works best for you!
5 Celebrities With Ebony Skin Tone
One of my tried and true hacks for finding new clothes colors or skincare tips that work for my skin tone is to see what celebrities with a similar complexion are doing.
There are so many gorgeous ebony celebrities who always look fabulous no matter what they wear.
Here are some of my favorites:
1. Yara Shahidi
If you're in your early 20s or just starting to experiment with your style, Yara is the perfect celebrity inspiration.
She always looks put together, but her style is also fun and youthful. And let's not forget her bold hairstyle choices and perfect skin.
Whether you're looking for skincare tips or fashion inspiration, Yara is always an excellent place to start.
2. Gabrielle Union
There's no denying that Gabrielle Union is one of the most beautiful women globally with a chocolate complexion.
She has a fantastic sense of style and always looks effortless, whether wearing a casual outfit or a red carpet gown.
I also love that despite being close to 50, she looks not a day over 30. So if you need some skincare and style inspiration, Gabrielle is the person to follow.
3. Lupita Nyong'o
Lupita Nyong'o is another gorgeous actress with perfect skin in the black community.
I remember seeing her in 12 Years a Slave for the first time and being mesmerized by her beauty.
She has dark, ebony skin that looks flawless. I also love her style. She always looks so elegant and put together, even when she's just wearing jeans and a t-shirt.
4. Viola Davis
Another ebony skin queen is Viola Davis.
She's an outstanding actress and has starred in my favorite movies, like The Help and Fences.
I love her style. She always looks so regal and powerful, ready to take on the world.
If you're looking for some serious #blackgirlmagic inspiration, Viola doesn't disappoint, whether on the screen or the red carpet.
5. Iman
Iman is another one of my favorite black women.
She's a model and actress who has graced the covers of some of the most prestigious magazines, like Vogue, Harper's Bazaar, and Elle.
One of the things that always leaves me stunned is that this ebony queen is over 65.
Yes, you read that right.
Over. Sixty. Five.
And she still looks better than me on my best day.
FAQs
Is Ebony Lighter Than Black?
Yes. While ebony is considered a very dark shade of black, it has an olive undertone that gives it a slight lightness.
What are the 4 Skin Tones
Skin color comes in various tones ranging from the palest hues to the darkest browns but is categorized into four: fair, light, medium, and dark.
Wrapping Up
So, back to our initial question, "what is ebony skin?"
To recap, ebony skin is a deep, dark brown color. It is the darkest skin tone on the Fitzpatrick scale and usually has dark brown eyes and black.
Ebony skin is beautiful, unique, and should be celebrated!
Use the tips we've shared in this article to help you choose the best colors and products for your ebony skin tone.
And, as always, consult with a dermatologist if you have any concerns about your skin. They will be able to give you the best advice for keeping your skin healthy and looking its best.
Now that you know more about ebony skin, we hope you feel confident in embracing your beautiful complexion!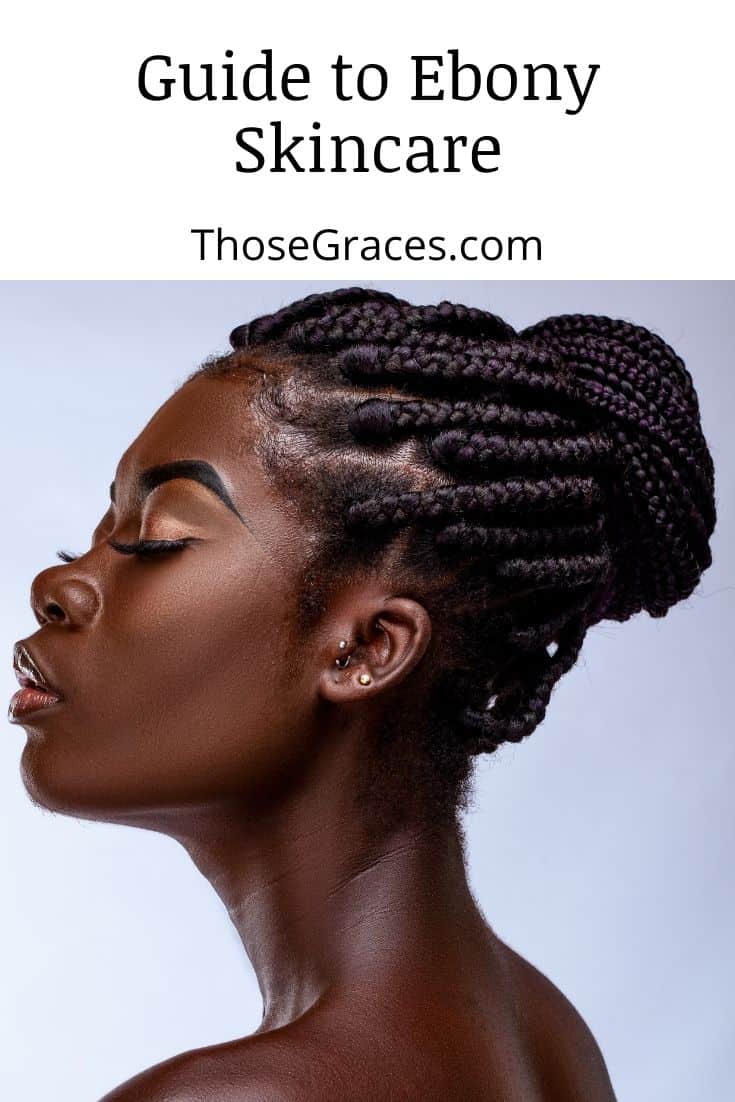 What are some of your favorite products or colors for ebony skin? Please share them with us in the comments section below!
References
1. Scars: Treatment and Cause [Internet]. Cleveland Clinic. Available from: https://my.clevelandclinic.org/health/diseases/11030-scars
2. Gardner S. Skin Conditions in Dark Skin [Internet]. WebMD. 2021. Available from: https://www.webmd.com/skin-problems-and-treatments/skin-conditions-people-with-dark-skin
3. Hecht M. What Are the Fitzpatrick Skin Types? [Internet]. Healthline. 2019. Available from: https://www.healthline.com/health/beauty-skin-care/fitzpatrick-skin-types#About-the-Fitzpatrick-scale
4. What Dark-Skinned People Need to Know About Skin Cancer [Internet]. Cleveland Clinic. 2019. Available from: https://health.clevelandclinic.org/what-dark-skinned-people-need-to-know-about-skin-cancer/
5. Frudakis T. Eumelanin – an overview | ScienceDirect Topics [Internet]. www.sciencedirect.com. 2008. Available from: https://www.sciencedirect.com/topics/chemistry/eumelanin