Do microcurrent facial machines really work and what's up with all the hype over it, anyway?
If you're not new to the beauty industry, you've heard of 'microcurrent technology'.
But, is it? Should you stick to your regular facial or should you upgrade to a microcurrent device?
Read on for comprehensive answers on microcurrent facials and why you need them.
Make sure to also check our Solawave reviews!
What is a Microcurrent Facial?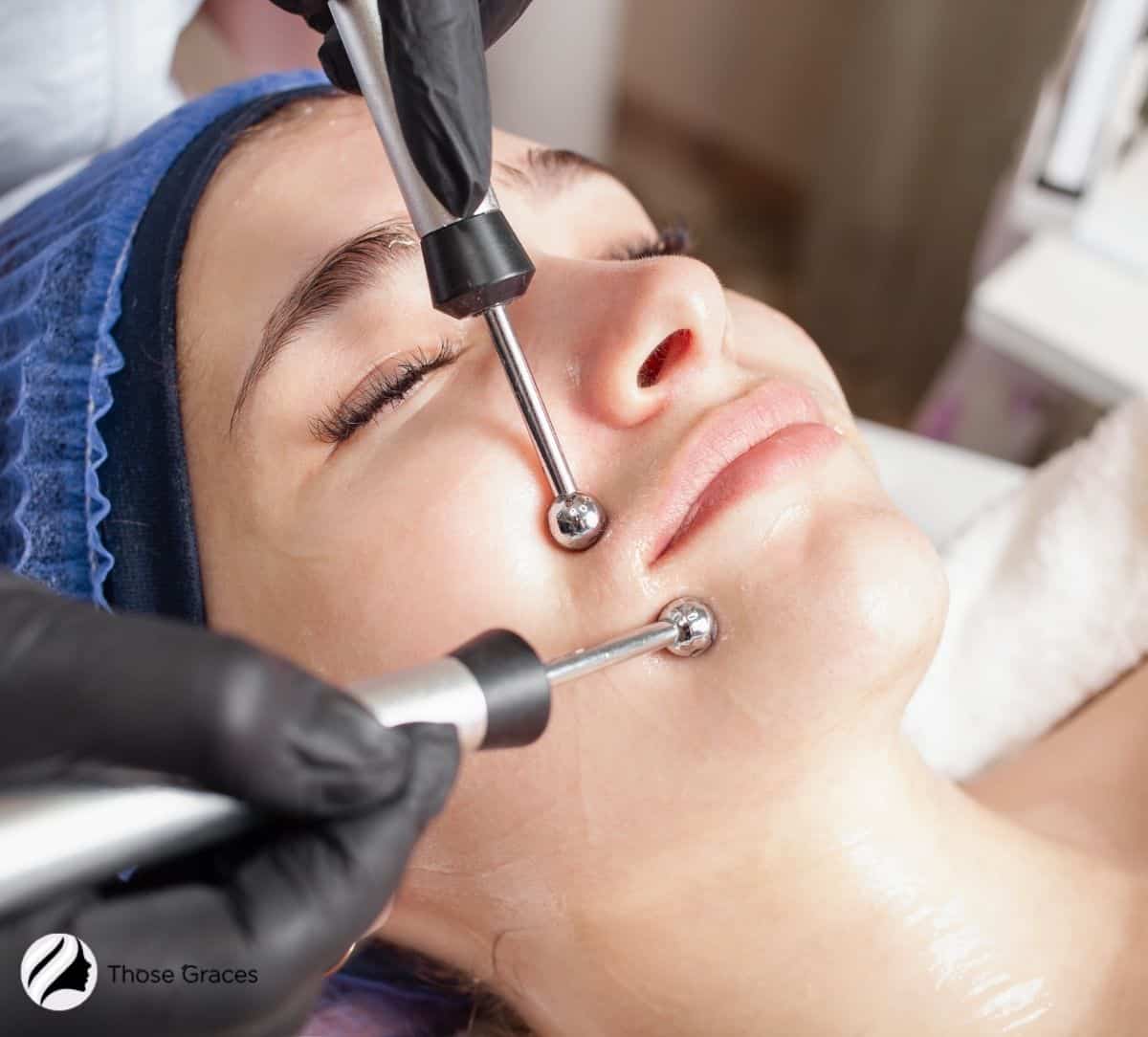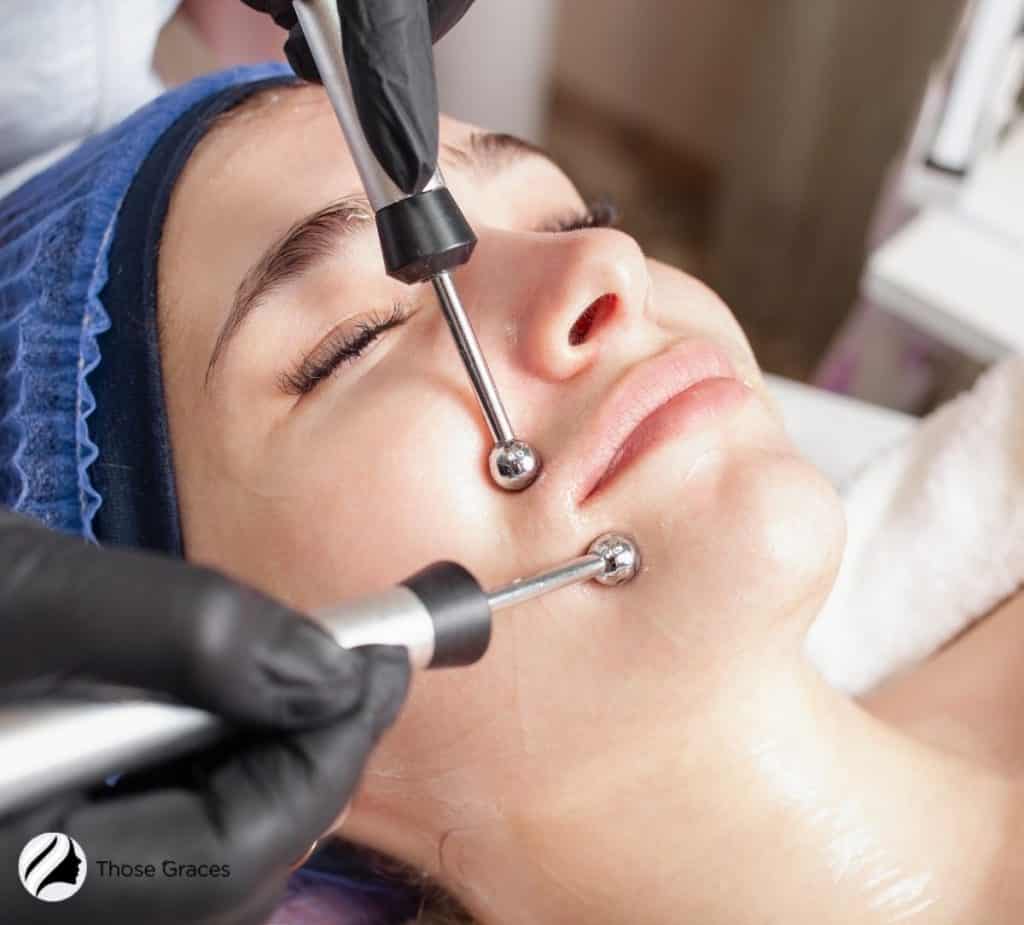 A microcurrent facial gives out a low-grade electrical current contracting the muscles. This helps to sculpt them just like a gym!
Joanna Vargas, celebrity aesthetician and facialist (1) says, "The microcurrent facial uses two handheld prongs that deliver precise dosages of energy to the skin and work simultaneously to repair and produce collagen in the dermis while gently erasing signs of aging in the epidermis, which is the top layer of skin."
The entire process is safe and painless. It helps reduce the appearance of wrinkles in a matter of minutes.
The process involves cleansing the skin, LED light therapy, exfoliation and masking.
How long does microcurrent facial last, though? The results will stay for three to six weeks after which you'll need to get it done again.
Here's a step-by-step video showing you how a professional microcurrent facial works.
Does Microcurrent Work?
Oh yeah! The low-level current on your face works wonders in sculpting and lifting (2) your entire face.
It also helps to produce collagen in the skin and erases signs of aging.
Prepare to say goodbye to sagging skin and redefining your lovely features.
That too in minutes. Could it get any better? Of course not!
Nerys Rodriguez, professional facialist at the Carillon Miami Wellness Resort says, "Results are, the eyes will be lifted, the forehead gets tighter, and you'll see more of an 'awakened' look.
It also stimulates collagen, so you'll have a fuller look as well."
Does Microcurrent Help Sagging Skin?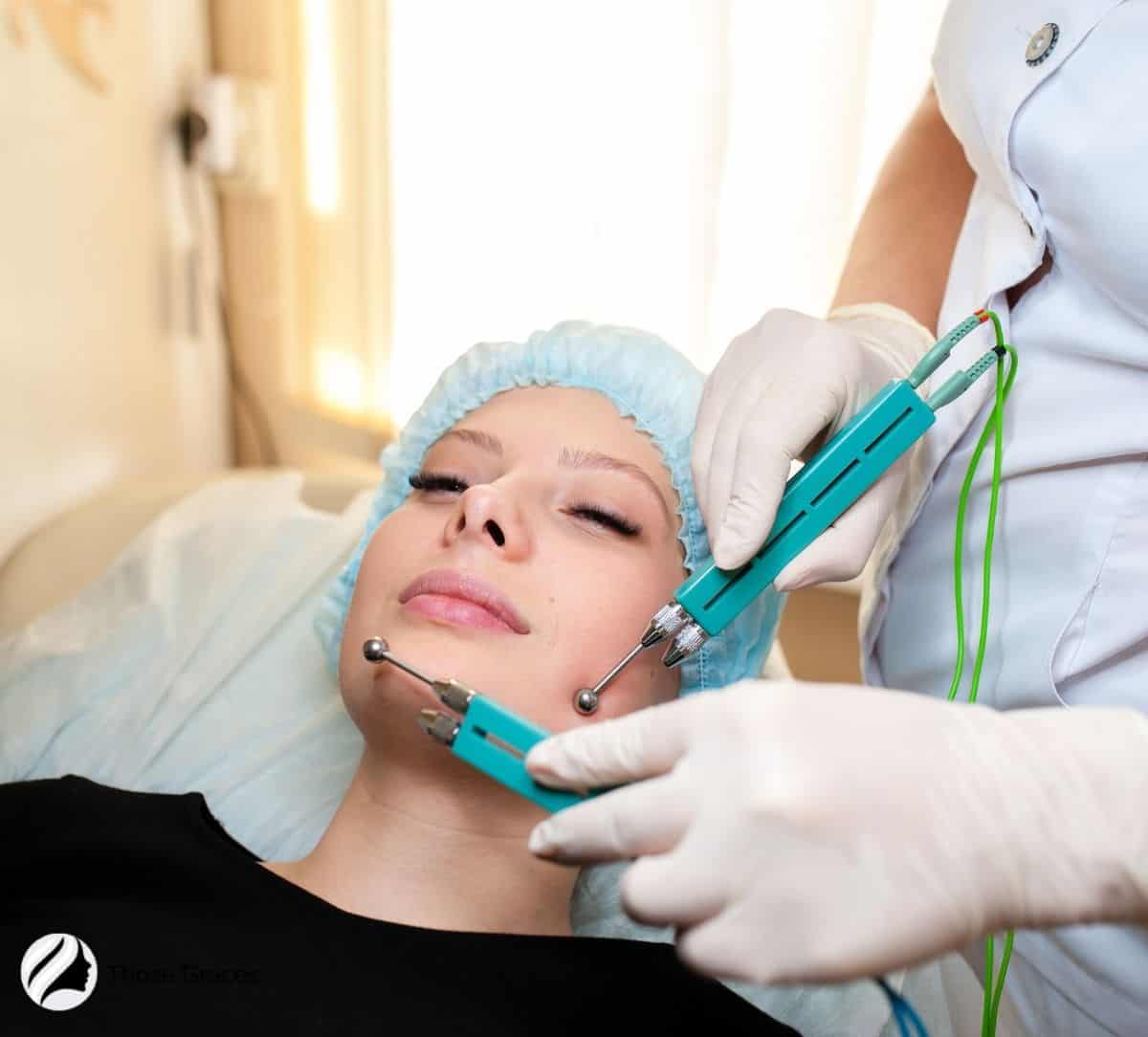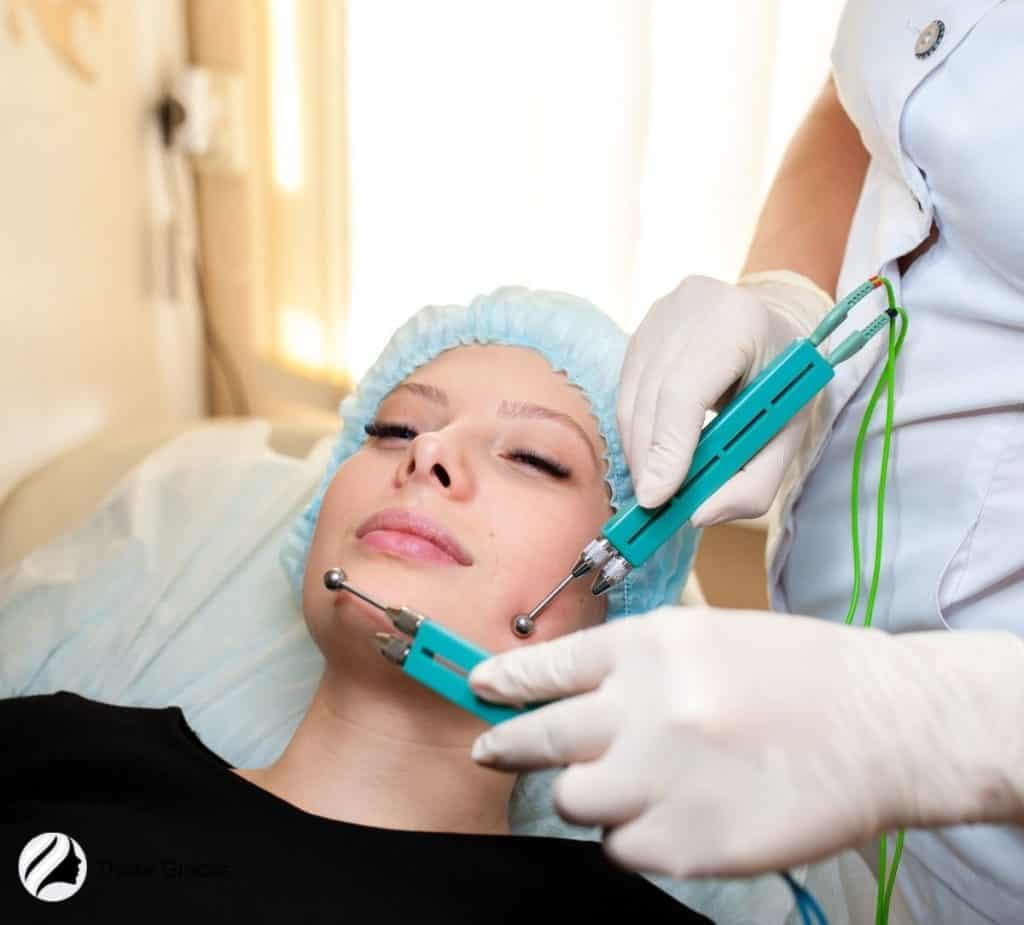 The human body degenerates over time ( and isn't that the saddest thing, ever!)
We can't stop nature from doing what it does but we can delay it with a microcurrent device.
Regardless of your skin tone and type, microcurrent therapy works deep at the cellular level.
The electrical muscle stimulation helps in the production of collagen and elastin. This rejuvenates your sagging skin.
Yes, a microcurrent device will help tone your loose skin and lift it to get it to look younger and more elastic.
How Much Does Microcurrent Facial Cost?
The price for a microcurrent facial differs on where you live and your aesthetician.
The rates for getting this non-invasive treatment can cost from $150 to $600 per treatment.
The process is quite expensive and may not fit the budget of every individual.
But if you can, getting the treatment done on your facial tissues will slow down the aging process.
There are several at-home microcurrent facial machines. This is if you wish to undergo microcurrent therapy at home.
The best home microcurrent device does not come cheap.
But it means you're saving on time and getting repetitive treatments.
Here's my Ziip beauty vs face review to help you decide which device to get.
The effects of getting the treatment are cumulative, i.e. the more you do it, the better your skin will look.
So investing in a facial machine for your use at home could be an investment worth its price.
Darya Rzaca, the co-founder of Atelier Beaute', says, "This non-invasive facelift helps lift and tone cheeks and brow, tighten the jawline, improve circulation, and elasticity.
And like many facial treatments, the results are cumulative, so the more you micro, the better."
Are Microcurrent Facial Treatments Safe?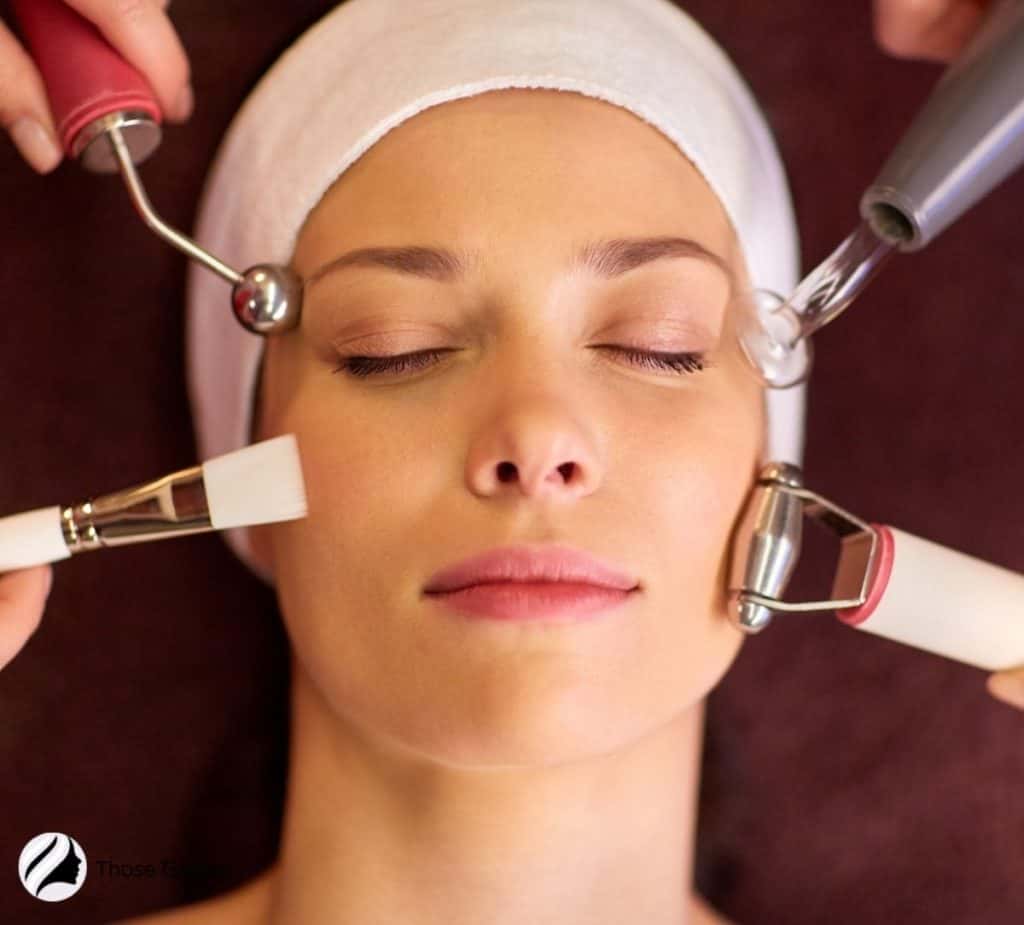 Microcurrent therapy has been around for over 50 years and is approved by the FDA as a muscle stimulator. (3)
It was first used on patients undergoing treatment for muscle paralysis and Bell's palsy.
The positive effects were noticed in patients with sagging facial muscles.
After a few tweaks, the world was introduced to a facial treatment so good that aestheticians swear by it.
A low-level electrical current on the face is harmless. It aids in electrical muscle stimulation and collagen development.
So, is microcurrent safe? It sure is.
But is microcurrent safe around the eyes? Definitely!
It works great around the eye area and helps lift your eyelids, much like fillers or Botox.
Do Microcurrent Facial Machines Really Work?
As you have deduced from research and aestheticians' excerpts, microcurrent facial machines work!
The treatment works to stimulate your facial cells and promote the production of ATP.
The ATP helps in elastic production, collagen production, and cell regeneration.
You no longer have to see your plastic surgeon about your sagging skin or loose facial features.
The treatment is a natural and better alternative to fillers and botox. Yet works just as well to give you a smooth, lifted, and contoured face.
FAQ
What does a microcurrent facial do?
A microcurrent treatment works deep in your skin cells to smoothen and tighten the muscles around your face, especially your forehead. Your facial tissues react immediately to the entire process, which is why most users turn to this professional treatment for instant gratification.
How long does a microcurrent facial last?
Light therapy on your skin will last for three to six weeks.
Is microcurrent good for skin?
Yes, it is. There are several benefits of microcurrent on facial muscles including skin elasticity.
What are the side effects of microcurrent facial?
Side effects include drowsiness, fatigue, and nausea which may last up to 24 hour.
Conclusion
So, there you have it! The benefits of getting a microcurrent facial are plenty.
You sport elastic skin and promote your skin health with gentle electrical stimulation.
Working out at the gym is great for the body and working out for the face?
Well, a microcurrent treatment does that for your facial muscles.
Here's to delaying the aging process and looking young for a long, long time!
What are your thoughts on this treatment? Do microcurrent facial machines really work? Let us know in the comments down below!
Resources:
1. Instagram A, Twitter A. What Is a Microcurrent Facial? We Investigate [Internet]. Byrdie. 2021. Available from: https://www.byrdie.com/microcurrent-facials
2. Shiffer EJ. Is This 5-min Microcurrent Facial Better than Botox? [Internet]. Healthline. Healthline Media; 2019. Available from: https://www.healthline.com/health/beauty-skin-care/microcurrent-facial
3. Rodulfo K. I Let a Facialist Electrocute My Face for Better Cheekbones and It Actually Worked [Internet]. ELLE. 2019. Available from: https://www.elle.com/beauty/makeup-skin-care/a27700335/microcurrent-facial/