You've seen it being advertised, and you're probably wondering is it as good as they say it is?
I'm a bit of a skincare junkie, and I've tried pretty much every buzzy skincare device out there. SO of course I had to get the Solawave's microcurrent facial wand.
I was skeptical at first, but I'm a believer now—and you will be too. After using it for a week or so, my skin is feeling better than ever!
Read on for a detailed Solawave facial wand review.
This post contains affiliate links. We earn a commission if you make a purchase at no extra cost to you.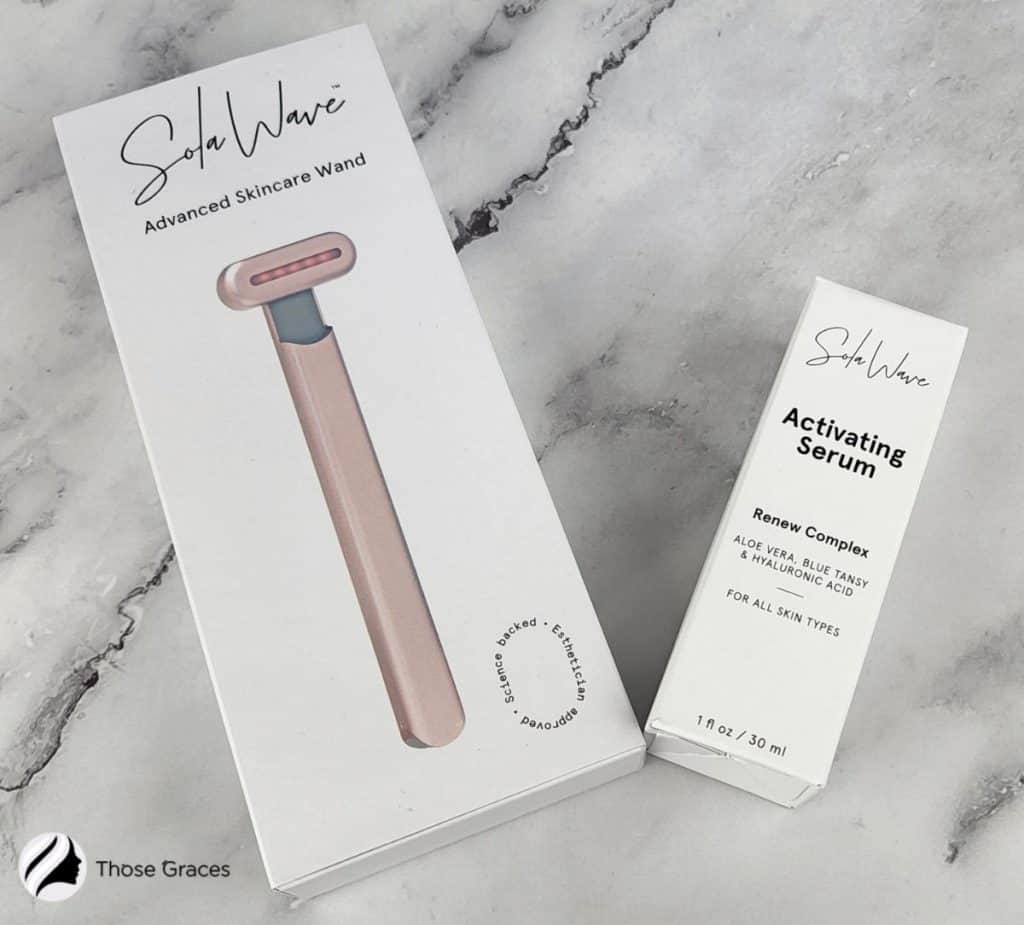 I love that it is portable. You only need to use it for a few minutes a day, 3 times a week
Also Read: The Best Face Lift Machine Home Use
Solawave Facial Wand Reviews: Advanced Microcurrent Technology Skin Care
Solawave's award-winning skincare tool is what I consider one of the best skincare products in the market today.
This beauty tool is perfect for all skin types! So, whether you have dull skin or sensitive skin like me, or if you already have healthy skin and just want to improve it, you'll find this the perfect fit for you!
What's Included in the Package?
At first, I did not think that packaging as small as this one would contain everything needed for my beauty routine; I was wrong.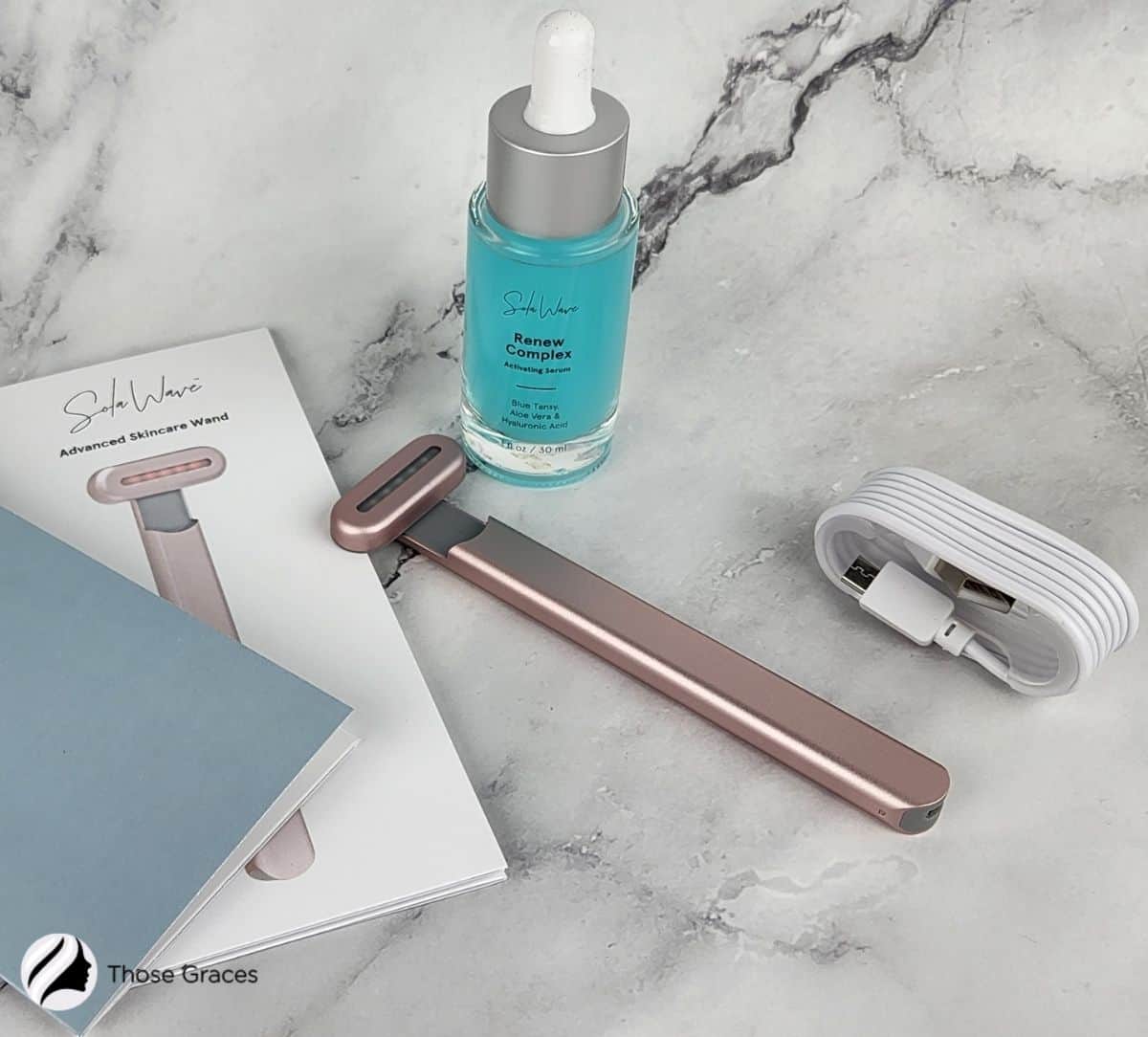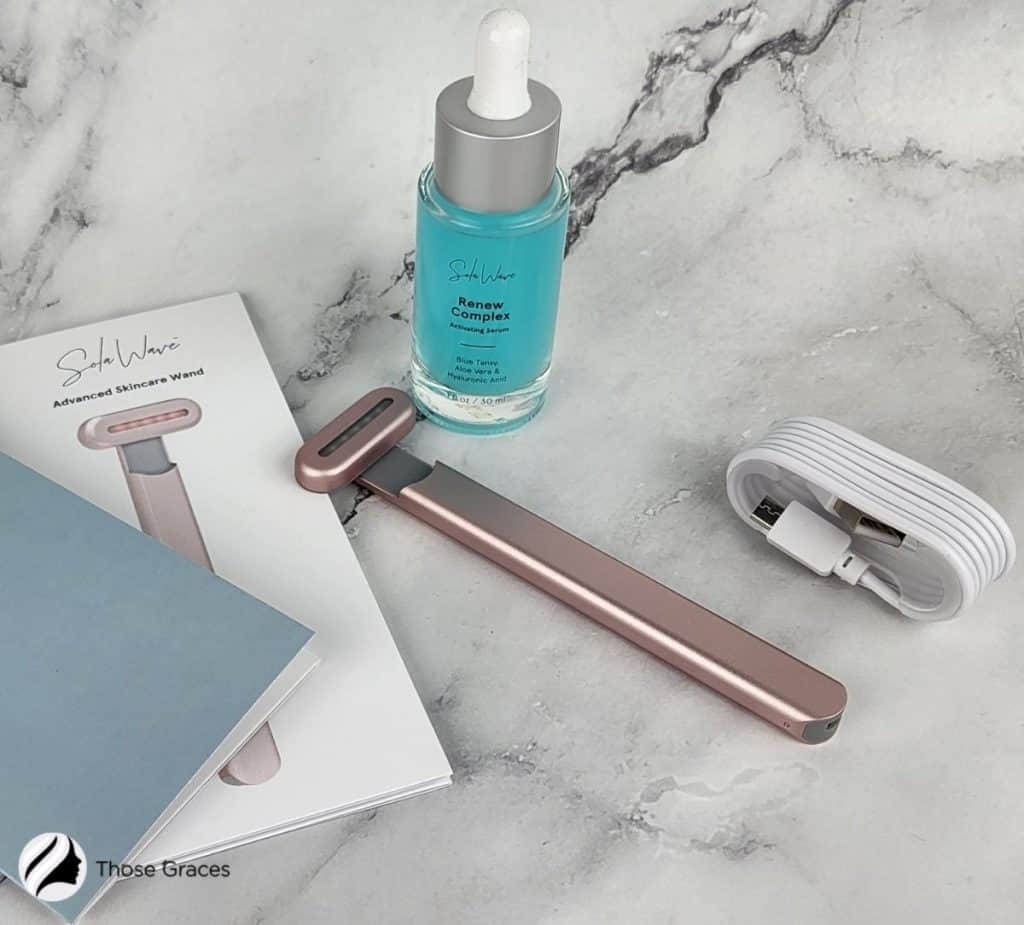 In fact, the following are the items that are included in the package:
Solawave Wand
USB charging cord
User manual
Getting started pamphlet
Renew complex serum (separate box)
About the Brand
The brand is not a loud one, to be frank, and in fact, I didn't have a solid idea of who they were before purchasing.
Upon further researching and reading about them, I found out that they're a science-focused skincare brand with eyes on the innovation or development of skincare devices and technologies.
Solawave as a product has been featured and recognized by some of the world's most famous and most popular entities such as NEW BEAUTY, Yahoo!, Forbes, allure, The Cut, Byrdie, and more!
Features of the Solawave Microcurrent Wand
This 4-in-1 beauty tool features multiple functionalities that you can take advantage of.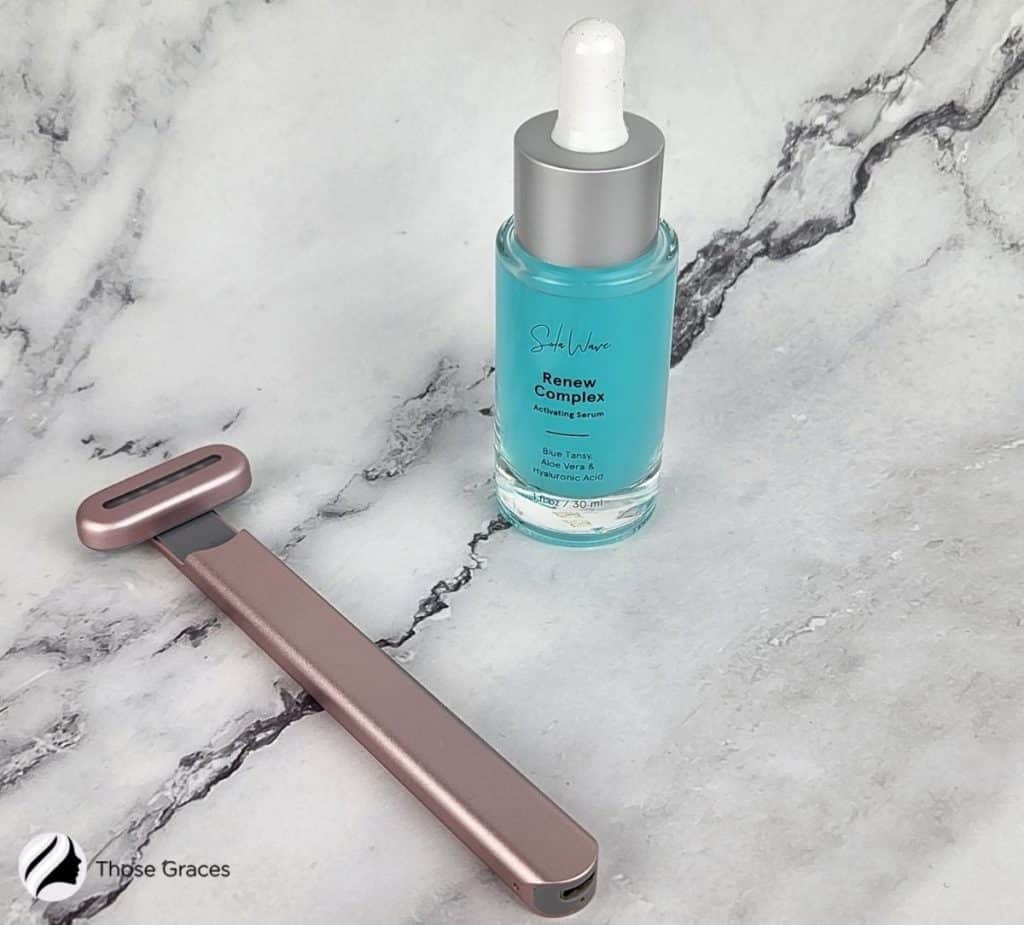 Overall, I loved and admired this high-tech skincare device because I was able to try all of its features smoothly and seamlessly.
1. Facial Massage
At first, I thought that the facial massage setting of the wand was a bit too harsh. But after using it for a few straight days, I was able to see the positive effects it had on my skin.
I saw a substantial boost as my skin had a natural radiant glow, as well as reduced facial puffiness and swelling.
2. Microcurrent Technology
The beauty wand utilizes low voltage microcurrent [1] energy, which helps with the stimulation of the skin's deeper layers, as well as the muscles.
"Microcurrent technology drives the production of elastin and collagen to the skin," says Zain Hussain, Founder of New Jersey Dermatology & Aesthetics Center and a board-certified dermatologist.
It's the key to achieving smoother, softer, and younger-looking skin!
3. Red Light Therapy
Another thing that made the product as famous as what it is now is the optimal range of red LED lights. Red light therapy [2] assists in rejuvenating and improving the skin's physical appearance and texture.
Dr. Dennis Gross, Founder of Dr. Dennis Gross Skincare and certified dermatologist says that red light is a component that is responsible for eradicating wrinkles and fine lines.
"The LED stimulates collagen production by entering the fibroblast cell, helping diminish wrinkles, dark spots, and fine lines."
4. Therapeutic Warmth
The facial wand also had a setting for therapeutic warmth, which is best for improving and increasing the blood flow in the area.
Scientifically, this is essential for the repair of cells and tissues, as well as increasing the skin's natural absorption of skincare products that it meets.
I saw a significant change in the condition of my skin after toggling through these four (4) different options.
Here's a quick snapshot of my skin before using the Solawave Facial Wand: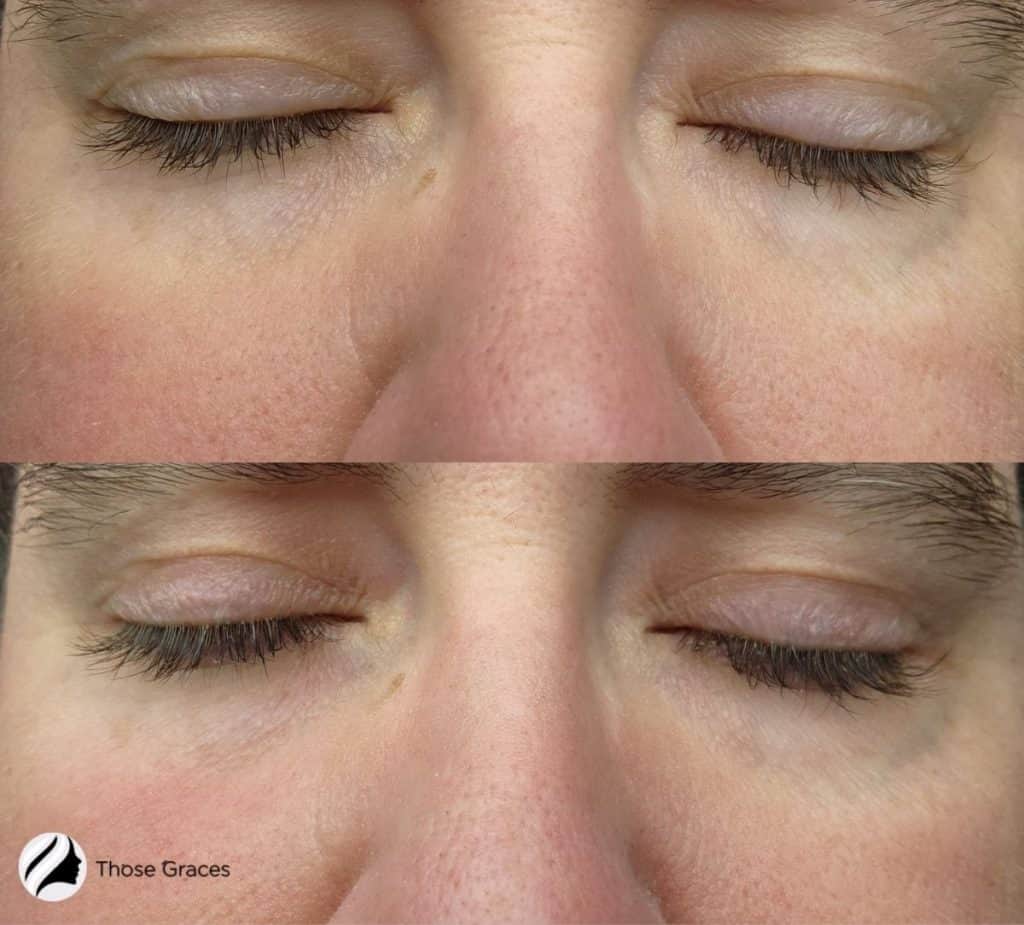 As you can see, the fine lines and dark spots under my eyes, as well as my cheekbones were noticeable. Here, I can say that I have a dull skin tone.
The redness and puffiness on certain areas of my skin were also evident.
The photo at the bottom shows what it looked like after five (5) treatments.
The skin discoloration faded, and the dark circles around my eyes were gone. At a glance, you'll notice that I have evidently healthier skin compared to the before photo. It made my skin hydrated!
ALSO READ: Is High Frequency the Same as Radio Frequency?
Quantitative Measurements
The 4-in-1 beauty device measures 0.6 x 0.4 x 6 inches, with a weight of 1 oz.
The package says that it runs for a total of 60 minutes (1 hour), but I swear I was able to use it more than that. For the charging time, it's definitely about 1 and a half to 2 hours.
For you to have a better sense of how big the product is, here's an image I took of the wand still inside its packaging.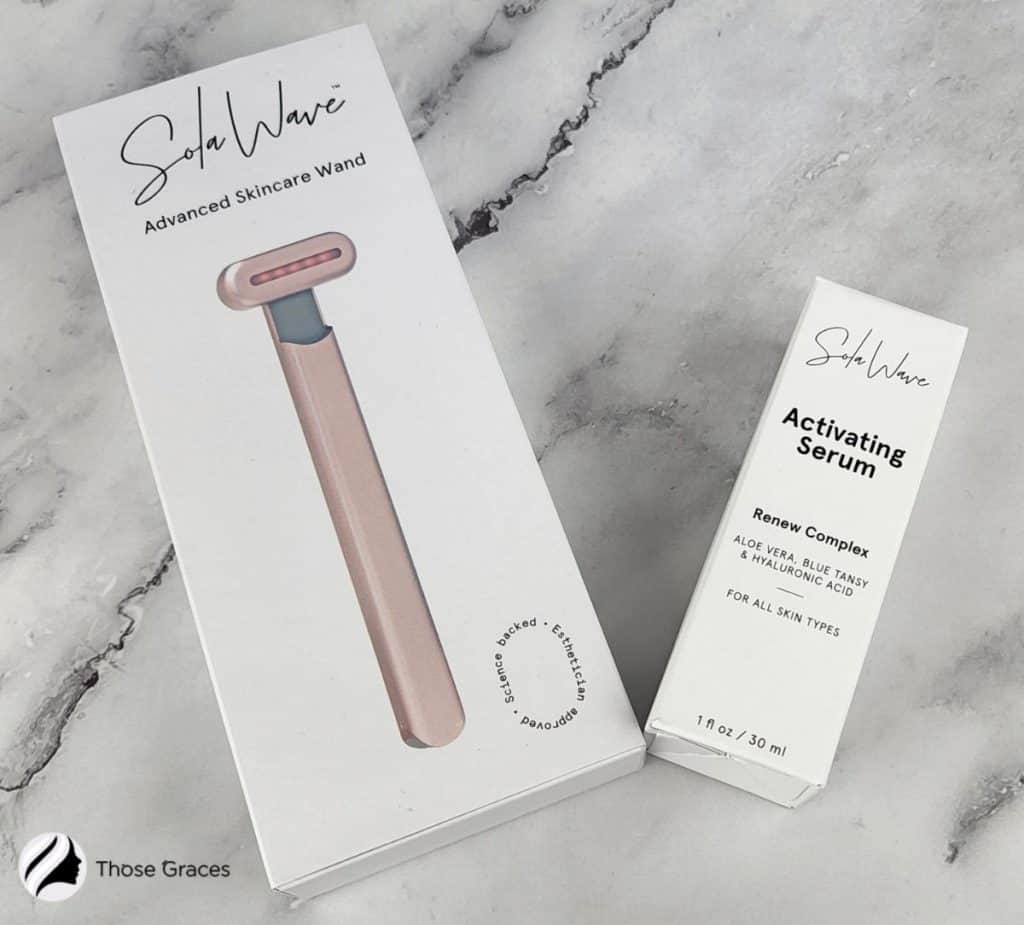 The current is at 0.2A with a power rating of 1.5W.
You can set it at the maximum temperature of 107 °F (41.7 °C).
Benefits of Using the Solawave Microcurrent Wand
The product is portable and rechargeable with a USB port –you can use it anytime, anywhere!
It's dermatologist-approved, safe, and performs deep enhancement and penetration to the skin
The device is crafted with aluminum alloy, making it easy, simple, and convenient to clean
You only need to use it five (5) minutes per day, three (3) times a week!
You can toggle through the four (4) different modes easily
It's lightweight and can be placed inside the luggage with ease
Drawbacks of Using the Solawave Microcurrent Wand
The charge on the device isn't as long-lasting as advertised
For bigger and more noticeable results, you'll need to use it for a longer period of time
The wand has instances where it overheats and stops working
Is the Solawave Advanced Skin Care Wand For You?
What I always tell people is to choose a high-tech skincare device that befits them perfectly.
I would suggest the Solawave Facial Wand if you're the type who wants to save money from expensive acne treatments, glowing skin booster sessions, as well as the removal of lines and wrinkles.
It's the perfect all-around beauty tool that's backed by Science and years of study!
Where Can I Buy It?
The Solawave Microcurrent Red Light Therapy Wand is available on their website. However, you can also purchase it at Amazon and Walmart, too!
Check this video out from Elle Leary Artistry as she answers the most asked question about it –does the Solawave wand work?
Warranty
The product has a 12-month or 1-year warranty and a 30-day return money-back guarantee, just like many other skincare products and beauty devices in the market.
For you to be able to use the 1-year warranty policy, you'll need to contact the customer service team of Solawave first and inform them of your plan.
How Do You Use the Solawave Light Therapy Wand? 4 Steps to Success!
After using the product for a few weeks, I was able to find the best possible method of how you can use it for your face and skin.
Step 1: Cleanse Your Face and Dry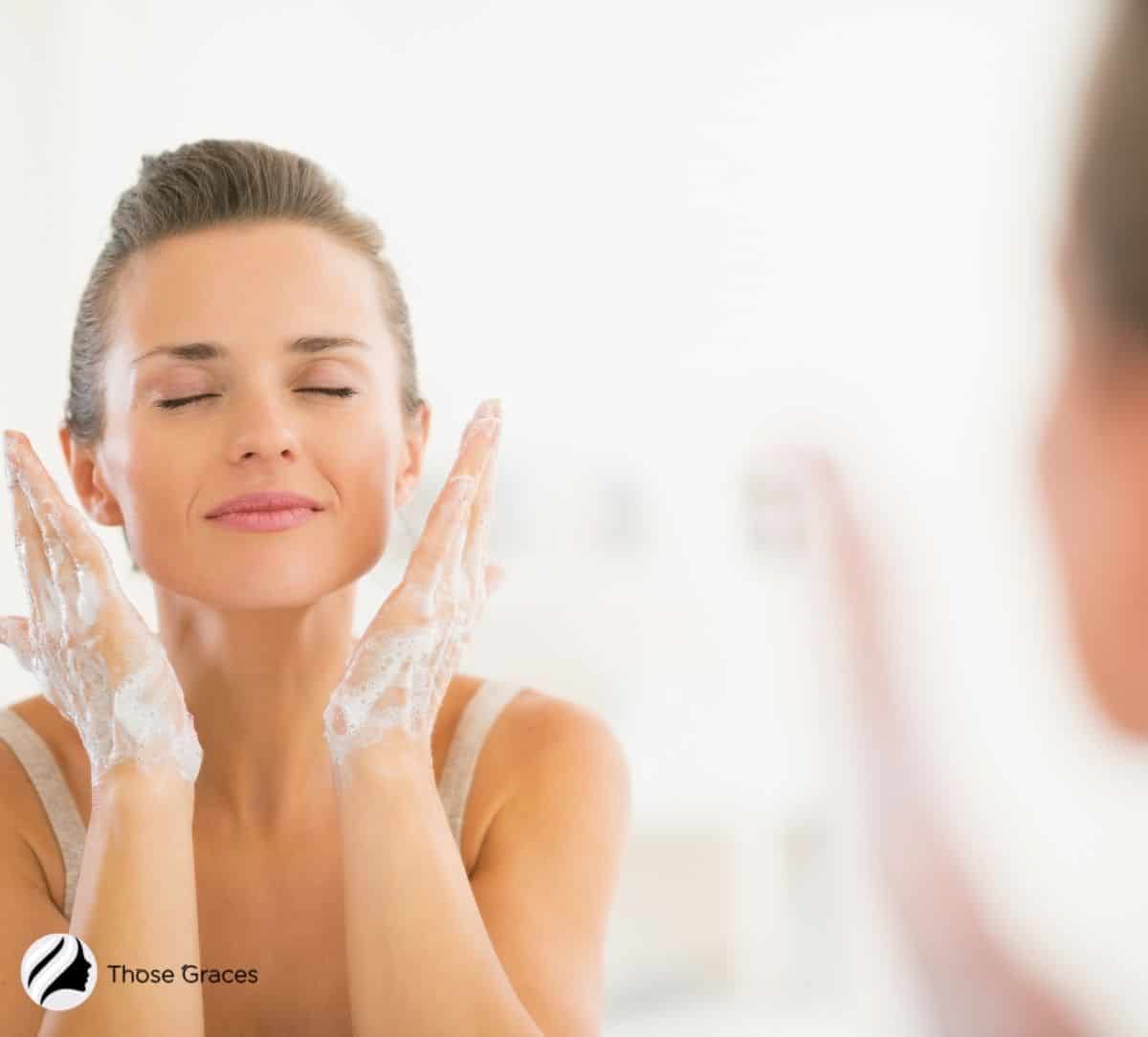 The first step is to make sure that your face is clean and free from all impurities like dust and dirt.
You need to make sure that it's clean, and then dry it out afterward. The goal is to make sure that your face is clean and hydrated before you go on with the process.
Step 2: Use it With a Product
Then, apply any type of product like a moisturizer, cream, serum or ampoule, or even mist underneath the wand.
I would suggest using serums or ampoules if your goal is to have better, smoother, and younger-looking skin.
Should your goal be hydration, I'd suggest using a moisturizer and doing the session at night.
"Sleep and relaxation have scientifically been proven to help the skin by moisturizing it naturally," says Dr. Ellen Marmur, Founder of MMSkincare and a board-certified dermatologist.
Step 3: Set the Positioning You Want
After that, the next thing you want to do is to finalize the positioning you want with your wand. This is one of the key selling points of this product.
You can easily toggle its rotating head so that it can be shaped as a T-shaped tool or an I-shaped tool. Personally, I prefer it as a T-shaped tool because it's more versatile and the grip on the skin is better.
Step 4: Gently Allow it to Pass Through Recommended Areas
When done, the last step is to apply it to your skin. You can activate the device simply by applying or letting the product touch the area.
You can use it almost anywhere on your face, but the best application you could have would be to start by using it on your forehead; gently push the wand upwards.
Below the eyes where most dark circles and dark spots are seen. Then, work your way through your cheekbones, down to your cheeks, and then the jawlines. Finally, use it around your neck.
See how this TikToker does it.
You can do this at a minimum of five (5) minutes per day when starting. Then, you can work your way up to thirty (30) minutes daily and you'll see significant changes on your skin within a few weeks.
Refrain from using it directly on your eyes, your chest, breasts, the groin area, as well as wounds and bruises all over your body.
Who CAN and CANNOT Use the Solawave Red Therapy Facial Wand?
Although experts have deemed the product to be completely safe, it still wouldn't hurt to take extra precautionary actions in using it.
If you are pregnant, diagnosed with cancer, underage (under 18), or have overly sensitive skin, it's best to consult your dermatologist first before trying the product out.
How Long Would You See Results?
I tried and tested the product for 2 weeks or about five (5) treatment sessions. I saw a slight change in my skin tone, as well as the progressive diminishing of the dark spots and circles under my eyes.
In this short working time, the changes are already there. What more if I've used it for over a month, two months, or even a year?
I would say that the Solawave light therapy wand is a win-win, especially if you are looking for an all-around skincare tool.
Thanks to its multiple functionalities, the lasting effects wouldn't just be for the skin. It can also help tone your facial muscles, it can keep your skin hydrated, and you can get absolutely healthy skin!
Does the Solawave Red Therapy Facial Wand Really Work?
Some of you might say that I'm being biased in my opinion and review about Solawave's Red Therapy Facial Wand but let me tell you how light my face feels every session.
Each time I use it, my face has this feeling that it was outside on a windy day. At first (especially if you're using it the first time), you'll feel that you're having a slight windburn, but that'll go away after a few hours.
The Renew Complex Serum that comes with the product emits a mild, earthy, tea scent, which is light.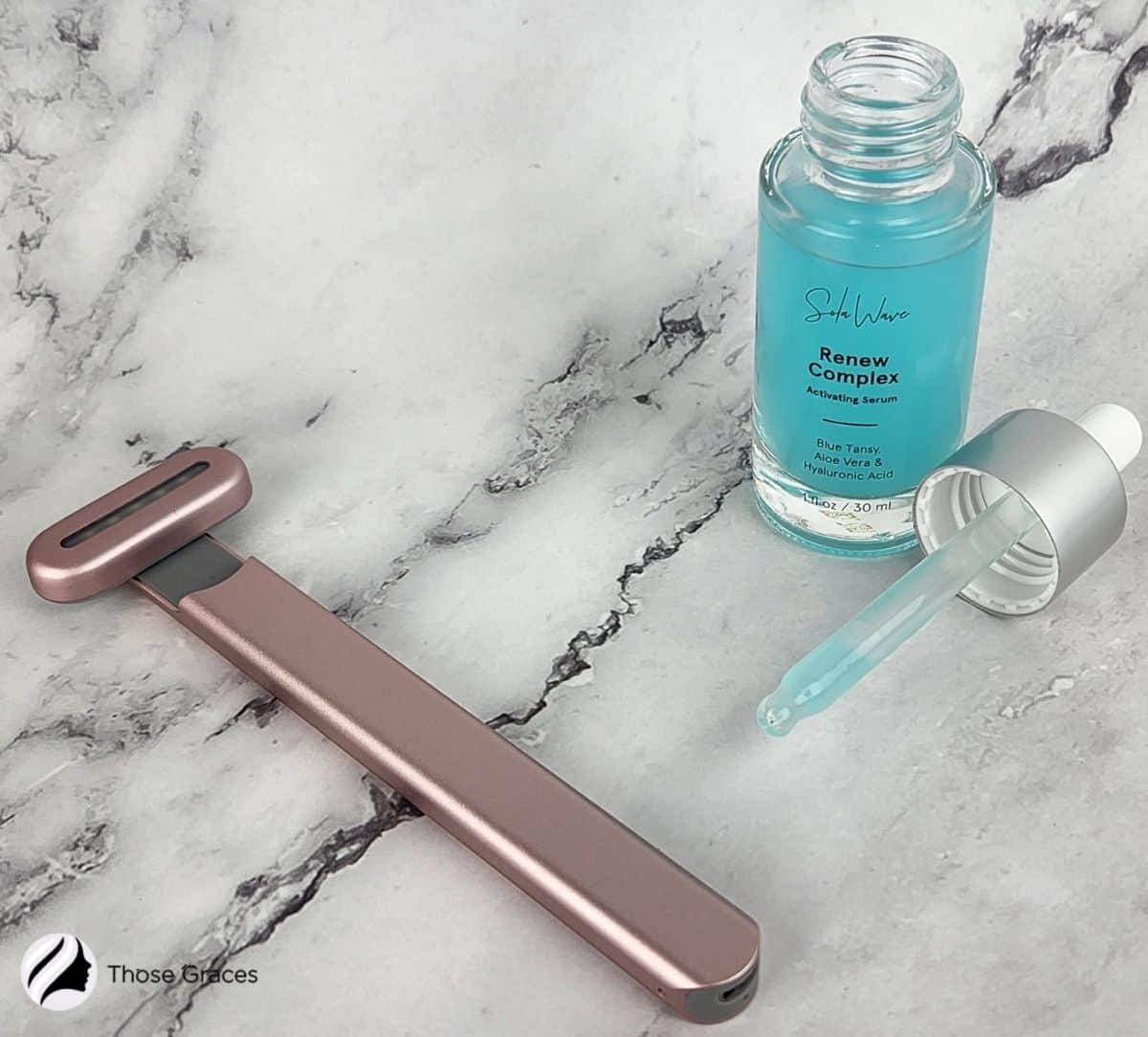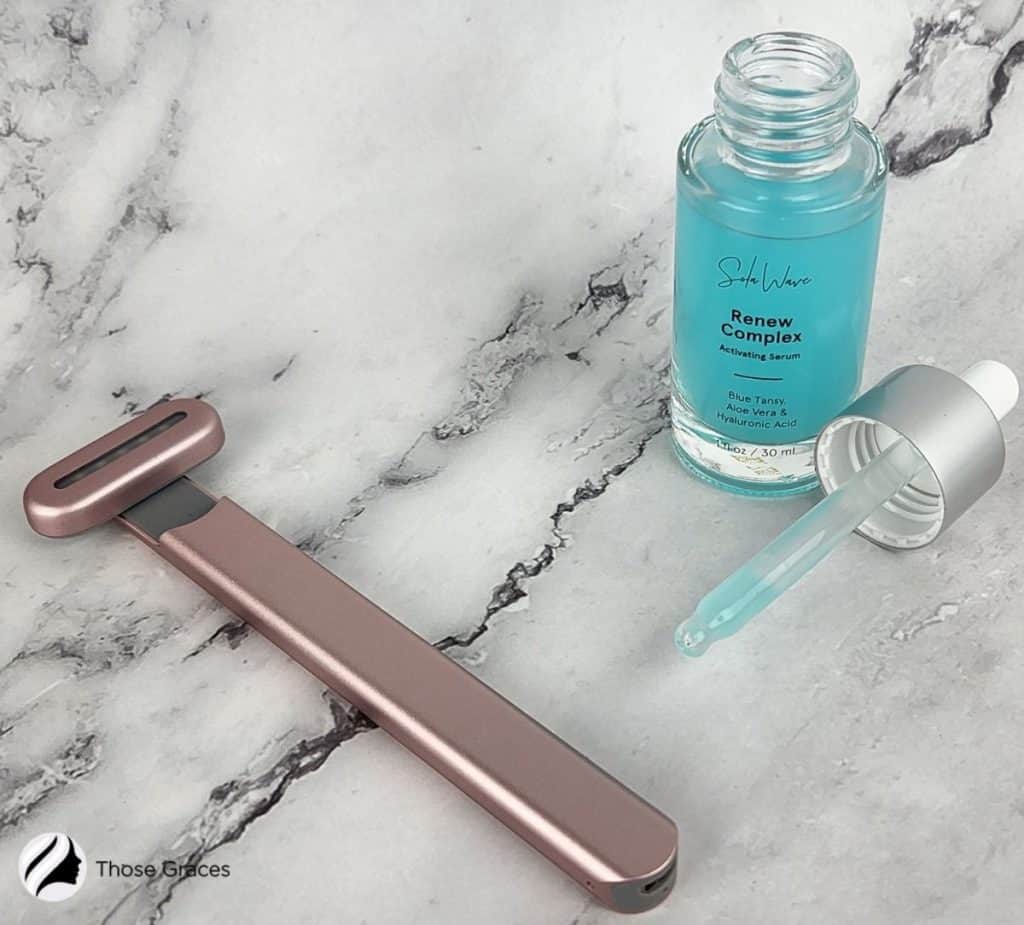 It's meant to hydrate and refresh, unlike other ampoules and serums that you know of. But I didn't actually feel any hydration from it.
When you use the wand together with the serum, it'll feel like a warm massage that has gentle vibrations in just a few seconds of application.
So, is it worth it? YES, it is. Would I recommend it? Absolutely! It's one of those products you'll regret not buying just because you weren't sure of it.
FAQs
In case you're interested to know more about the product, here are some of the most frequently asked questions about it.
Can You Use Solawave Too Much?
Yes, you could overwork your facial muscles, and can cause more harm than good if you use it too much.
Can You Use Any Serum With Solawave?
Yes, you can use whatever serum or ampoule that you already have with Solawave. What Solawave will do for its part is it will help your skin absorb the nutrients of the product more.
How Do I Clean My Solawave Red Therapy Facial Wand?
Cleaning it is easy, you simply have to spray water or with a disinfecting agent on a dry cloth and wipe the head of the wand down to the handles.
Does the Solawave Red Therapy Facial Wand Help Acne?
Yes, the beauty wand does help you with acne because the heat and the light help kill bacteria that cause acne. Moreover, it also assists in improving the appearance and texture of scars over time.
Is the Solawave Light Therapy Wand For You?
If you're rummaging through online Solawave Facial Wand reviews but they can't help you with a decision, here's an in-depth look at the product and how it took effect on my face and skin.
Here's a quick before & after video from Slashed beauty for you to be able to properly visualize the results after using the wand.
As final word, I highly recommend Solawave's microcurrent wand to people who are looking to add more to their skincare routines!
It's safe, clinically proven & tested, and is flexibly compatible with most outlets and devices we know of today.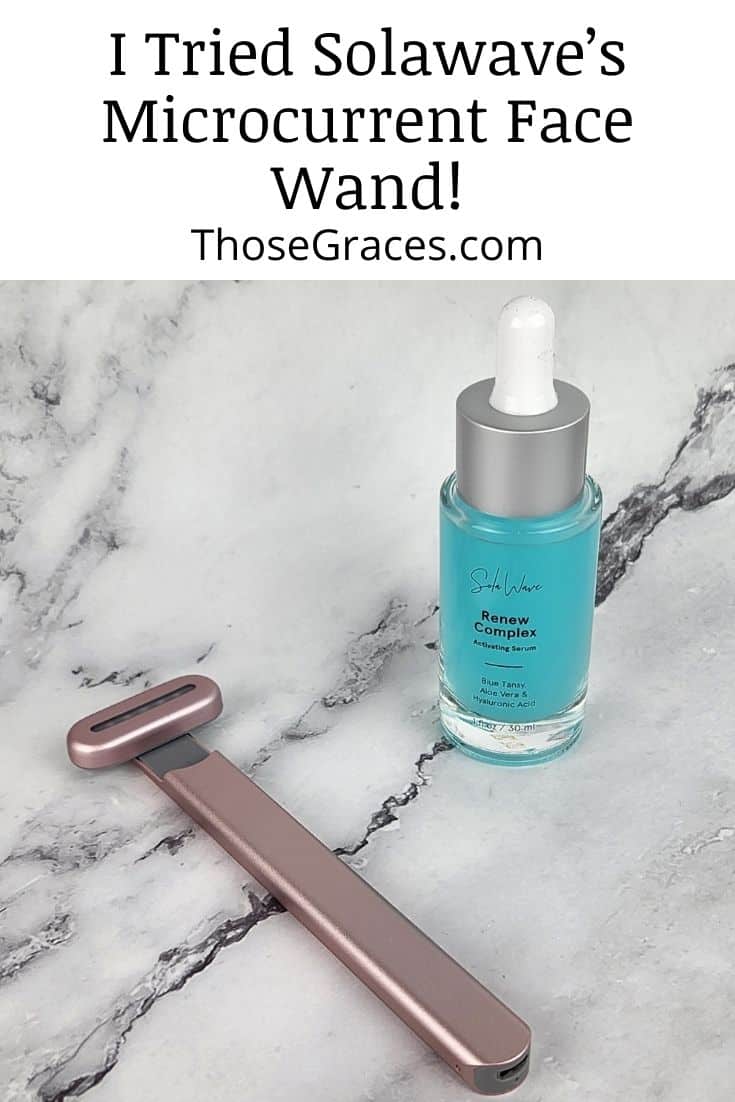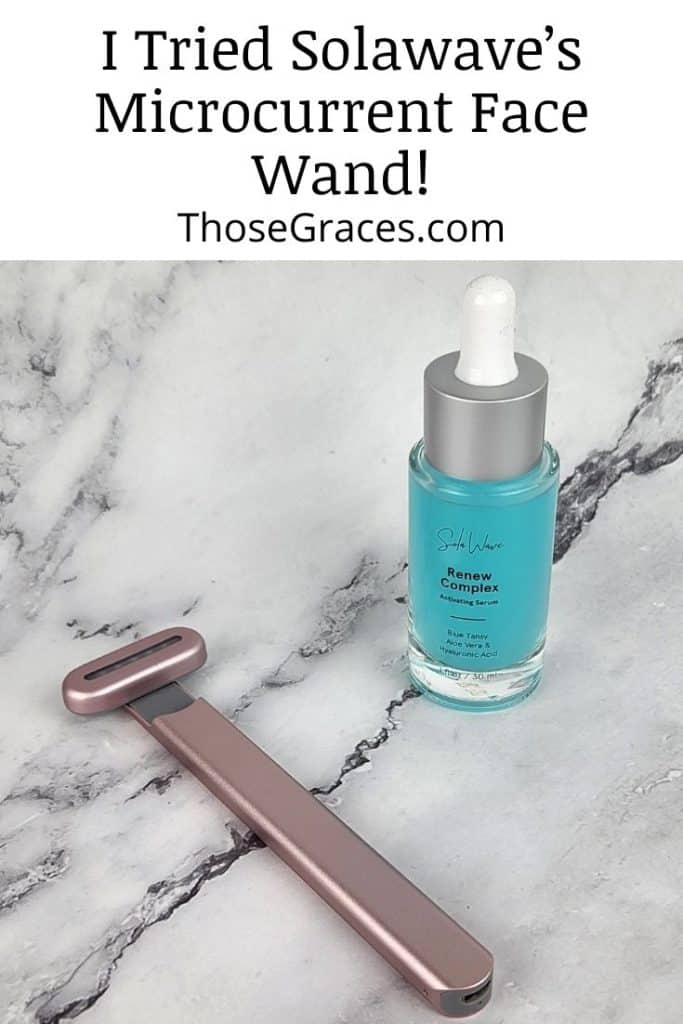 What do you think of Solawave facial wand? Let us know below!
Resources
Shiffer EJ. Is This 5-min Microcurrent Facial Better than Botox? Healthline. Published June 26, 2019. https://www.healthline.com/health/beauty-skin-care/microcurrent-facial
What Is Red Light Therapy? WebMD. https://www.webmd.com/skin-problems-and-treatments/red-light-therapy