Hey there, fellow beauty enthusiasts! If you're like me, you're always on the lookout for the latest and greatest in skincare technology.
That's why I'm excited to share with you my latest obsession: the best at-home microcurrent machine. With the rise of non-invasive beauty treatments, microcurrent technology has become increasingly popular for its ability to tighten and lift the skin.
And now, with at-home devices, you can enjoy the benefits of microcurrent treatments without ever leaving your house! So, let's dive into the world of at-home microcurrent machines and find the perfect one for you.
Let's start with a quick look at our top picks, then keep reading for all the glorious details.
This post contains affiliate links, and I will be compensated if you make a purchase after clicking on my links.
Microcurrent Machine Top Picks at a Glance
Check the table below for a side-by-side comparison of our favorites!
Top Benefit
Delivers instant results and is extremely easy to use
The packaging includes a bottle of the ZIIP Golden Gel
You can use the machine with your facial creams and serums
The device is travel-friendly and compact
It's a perfect alternative for a night mask
Top 10 Microcurrent Machines For An Instant Facelift
Microcurrent facial machines are proven to reduce wrinkles, promote elastin production, collagen production, stimulate facial muscles, and tone the skin.
This treatment uses electricity to stimulate the growth of skin cells and achieve an anti-aging effect. If you've been looking to buy one of these devices for at-home use, you'll love this article.
If you read my latest article on radio frequency skin tightening at-home machines, you already know that I want to keep my skin as young as possible for as long as possible.
That's why microcurrent was the next technology on my radar. Let's start with the reviews of the five best products.
The NuFACE Trinity Advanced Facial Toning Kit is one of the microcurrent facelift machines that I couldn't wait to try.
So many of my friends and relatives already had it, and I was lucky enough to get it as a gift during the holidays.
Since it's an FDA-approved device, I feel safe using it on my sensitive skin. It's one of those facial devices that many skin care experts recommend and rave about.
So, let's see why it's such a popular product.
This is actually the winning product because it delivers instant results and is extremely easy to use. The brand made it lightweight, and portable, and I've been carrying it with me everywhere.
Another reason why I love it so much is that it has several intensity levels that I can adapt to my sensitive skin.
Brand Review
NuFACE is a popular brand that specializes in products that use microcurrent to tone the skin, reduce facial wrinkles and fine lines, and a more radiant skin appearance.
Carol Cole, the founder, is a licensed aesthetician who has spent a lot of time hearing about the most common concerns of her clients.
Many of them expressed the need for a non-surgical treatment that will help with saggy, loose skin and a more contoured appearance.
That's how Carol and her daughters got inspired to create at-home devices that will use microcurrents to treat these concerns.
Features
This NuFACE device comes packed in a small, white handy design that is easy to hold in your hand. It has an on/off button and '+' and '-' buttons which you should use to regulate the frequency.
The brand also offers two other attachments, but you need to buy those separately.
The ELE attachment will reduce the wrinkles around the lips and eyes, while the Wrinkle Reducer attachment will stimulate the production of collagen and reduce facial wrinkles.
Benefits & Drawbacks of NuFACE Trinity Advanced Facial Toning Kit at a Glance
| Benefits | Drawbacks |
| --- | --- |
| Five levels of intensity to choose from so that it fits all skin types | You have to purchase the ELE and Wrinkle Reducer attachments separately |
| Great results after the first use | You have to use the brand's face primers for the device |
| Five-second timer for easier use | The charging time is around 12 hours |
| It's an FDA-approved device | |
| It's cordless, small, and portable, so you can take it everywhere with you | |
Benefits
Five levels of intensity to choose from so that it fits all skin types
Beginners in microcurrent tools and more sensitive skin types can opt for the lowest intensity, and as time goes by, increase the intensity level.
Great results after the first use
I could notice results right away, but to achieve permanent changes, you need to follow the treatment plan recommended by NuFACE. All it takes is five minutes per day to finish your microcurrent therapy.
Five-second timer for easier use
Since you shouldn't spend too much time treating the same area, this device has a five-second timer that will let you know when to move it to another part of the face.
It's an FDA-approved device
The fact that it's FDA-approved ensured me that this microcurrent therapy device is safe to use.
It's cordless, small, and portable, so you can take it everywhere with you
I love that I can take the Trinity microcurrent face lift machine with me anywhere. It's pretty small, easy to pack, and it's lightweight.
Drawbacks
You have to purchase the ELE and Wrinkle Reducer attachments separately
These two attachments are great but costly. However, you don't need to have them; the basic attachment will do the job.
If you ever feel like you need an upgrade, you can save over time and purchase these other two.
You have to use the brand's face primers for the device
NuFACE recommends that you use their professional microcurrent machines with their primers. Thankfully, one bottle of the primer lasts a long time, and it won't be a significant investment.
The charging time is around 12 hours
It takes half a day to charge the device fully, but you won't be doing that every single day.
How it Compares to Others and Why
The NuFACE Trinity device is an award-winning product praised by many happy customers.
It's different because the treatment is short and the effects are visible right away, which isn't always the case with other devices.
Reddit user madcool420 says "I've definitely noticed that my cheeks and jaw look more sculpted and my nasolabial folds are much less pronounced."
Expert Tips
According to the brand, it's best that you use your Trinity kit five days a week for the first two months. Although I skipped a few days, I still noticed significant improvements in the skin's appearance.
The results are actually instant, but you still have to continuously use them for permanent improvements. I can now brag about my toned jaw, cheeks, and firm skin.
Lulabell Harron, beauty and makeup YouTuber said that the product feels good when you apply it onto your cheeks and cheekbones –even under the eyes.
Check this video out to see what she has to say about NuFACE's Trinity Advanced Facial Toning Kit:
Where Can I Buy It?
I was able to purchase the product directly from NuFace's website. But, it's also available on Walmart, as well as Sephora!
Curious about the best alternatives to conductive gel? Check out our article 'What Can I Use Instead of Conductive Gel' for some game-changing options!
Looking to revitalize your skin? Check out our article on microcurrent wand reviews for an in-depth look at this popular beauty tool and how it can help you achieve a more youthful, glowing complexion!
The NuDerma Therapy Skin Therapy Wand blends the power of Argon and Neon to improve the overall skin profile.
This isn't a device that will only tone your facial muscles but also target fine lines and wrinkles.
Brand Review
This is another brand that manufactures skin and body beauty tools, ranging from microcurrent, microdermabrasion, tanning, derma rollers, and much more.
Their microcurrent devices come with many different accessories that are meant to target specific concerns.
Features
This is another sleek white device with six different applicators. Three of those are purple with Argon and supercharged with Tungsten, while the other six are orange and with Neon.
Argon is known to boost the skin's healing process, and Neon promotes collagen production and fewer wrinkles.
My three favorite tools to use are the mushroom tube (better skincare product absorption), tongue tube (kills acne bacteria), and comb tube (increases blood flow in hair follicles and promotes growth).
Benefits & Drawbacks of NuDerma Therapy Skin Therapy Wand
| Benefits | Drawbacks |
| --- | --- |
| Comes with six applicators you can use for your face, body, and hair | You have to really read the instruction manual closely to learn how to use the device |
| Aside from facial toning, it will boost the healing time of severe acne by 90% | Some complaints about poor customer service. |
| You can use the machine with your facial creams and serums | |
| It's an affordable purchase | |
How it Compares to Others and Why
The NuDerma device is a game-changer in the world of at-home microcurrent machines, thanks to its unique technology that promises visible results.
With its six wands, powered by either Argon or Neon, the device can effectively reduce the appearance of fine lines and wrinkles, or even initiate skin healing. It's like having a professional-grade microcurrent treatment in the comfort of your own home!
What makes this tool even more special is the low price (compared to similar machines) and excellent quality.
Expert Tips
Remember to use this device on dry, clean skin or after applying your skincare products. The packaging includes a detailed instruction booklet which you should go over to get familiar with the tools and how to use the device.
Daicy Maria, a makeup, and cosmetic YouTuber discuss how effective the wand has been for her and her sister.
Watch this video so you can have a better sense of what Daisy's review is all about.
Where Can I Buy It?
I was able to purchase my NuDerma Skin Therapy Wand from Amazon. But the product is also available for purchase at Walmart, too!
Sale
NuDerma Clinical Skin Therapy Wand - Portable High Frequency Skin Therapy Machine w 6 Fusion Neon + Argon Wands – Anti Aging - Blemish & Spot Control - Skin Tightening & Radiance - Wrinkle Reducing
Breakthrough Fusion Applicators – The ultimate NuDerma High Frequency system. Our clinical-grade system features a more powerful NuDerma wand and revolutionary FUSION Neon+Argon applicators. The 6 FUSION applicators provide the skin boosting anti-aging benefits of Neon and blemish and inflammation fighting power of Argon in one universal delivery system. They work synergistically to offer the complete spectrum of skin therapies; creating beautiful radiant skin while shortening treatment duration
Instant Skin Radiance – High frequency treatments are a safe and 100% natural way of boosting your entire skin profile no matter your skin type. Nuderma Clinical turns back the clock by energizing and oxygenating skin at the cellular level. It also kills any sub-dermal causes of inflammation to control blemishes and ensure a smoother complexion 90% faster. You'll see a difference after just a single session.
Better Absorption of Your Beauty Serums and Creams – Your preferred beauty creams and serums are expensive. NuDerma ensures that you are getting their maximum effects by improving your skins receptiveness to absorption. Use your preferred serums or creams during, or immediately after NuDerma Sessions to ensure maximum absorption into the deeper layers of your skin; boosting their effects by up to 5x.
Specialized Applicators for Total Body Sessions- NuDerma Clinical features specialized glass applicators like a Y-shaped wand that can conveniently be applied to areas like your arms and neck or a Rod applicator that works with broader areas like cheeks and the forehead. A supercharged comb wand is perfect to energize the scalp and hair.
What's Included – 1 NuDerma Clinical High Frequency Handle, FUSION powered mushroom wand, FUSION powered Y-shape wand, FUSION powered comb wand with Tungsten, FUSION powered tongue wand, FUSION powered bent wand, FUSION powered rod wand with Tungsten, quick-start treatment guides, instruction and support contact manuals. A brand proudly based in the United States.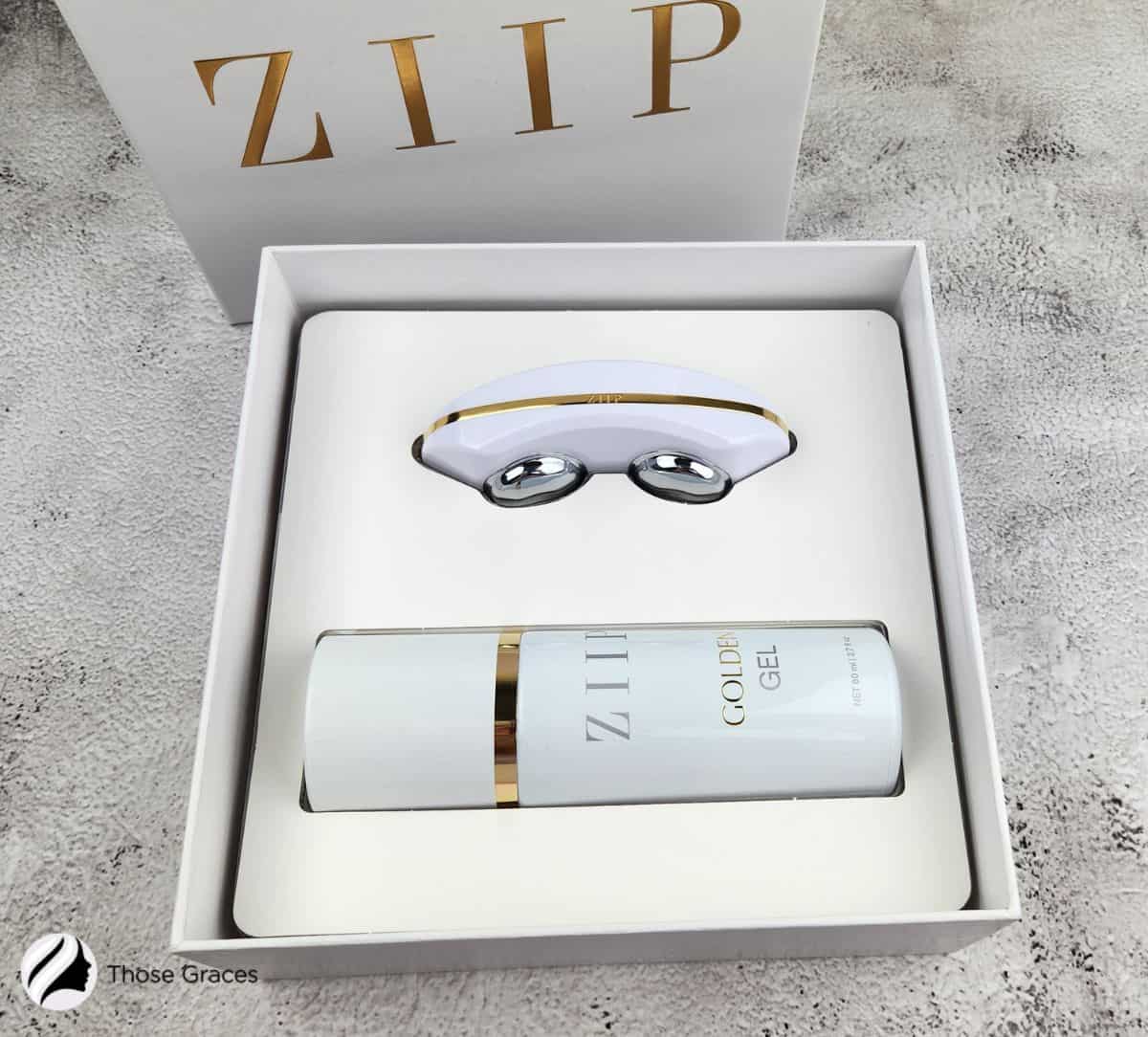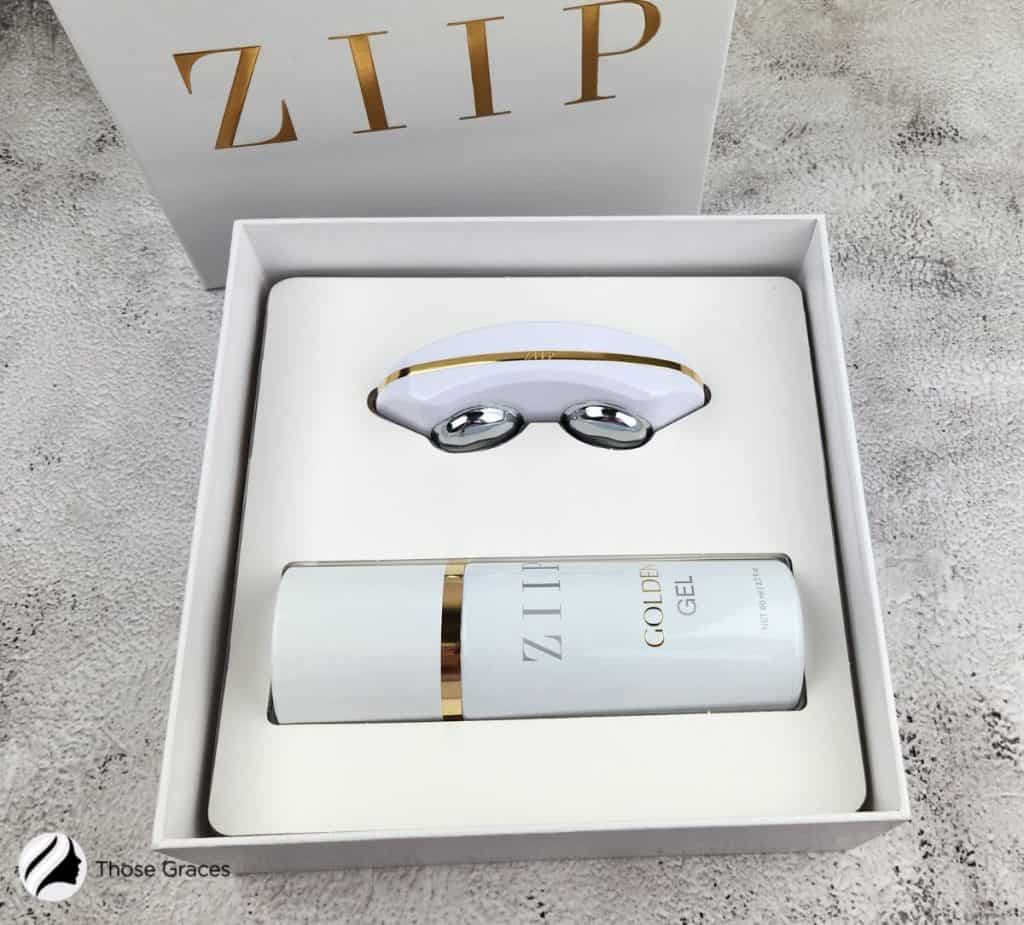 This might be the costliest machine, but it's made with unique technology.
The ZIIP Beauty Microcurrent Professional Facial Device uses micro and nano currents to reduce wrinkles, tone the jaw, and cheeks, and deliver young-looking skin.
One of the comments that stimulated me to make the purchase is this one by Reddit user skincareandbourbon:
"The Ziip is also good at lifting and sculpting, but it's definitely more subtle. While the lift isn't as dramatic, I feel like it's really improved my overall skin texture and tone. I like being able to pick different program settings depending on what my skin feels like, and at this point, I don't really need to follow the videos anymore. It's very quiet, and only beeps at the beginning, middle and end of a program, and isn't distracting to use while watching tv or chatting with my partner – I've even used it on airplanes because it's so portable."
Brand Review
ZIIP Beauty produced the first app-connected microcurrent tool for at-home use. This is a luxury brand that uses microcurrent and nano current for its designs.
The company was founded by Melanie Simon, an Electrical Esthetician, and David Mason, a technology pro. Their first release was the ZIIP microcurrent professional tool in 2015.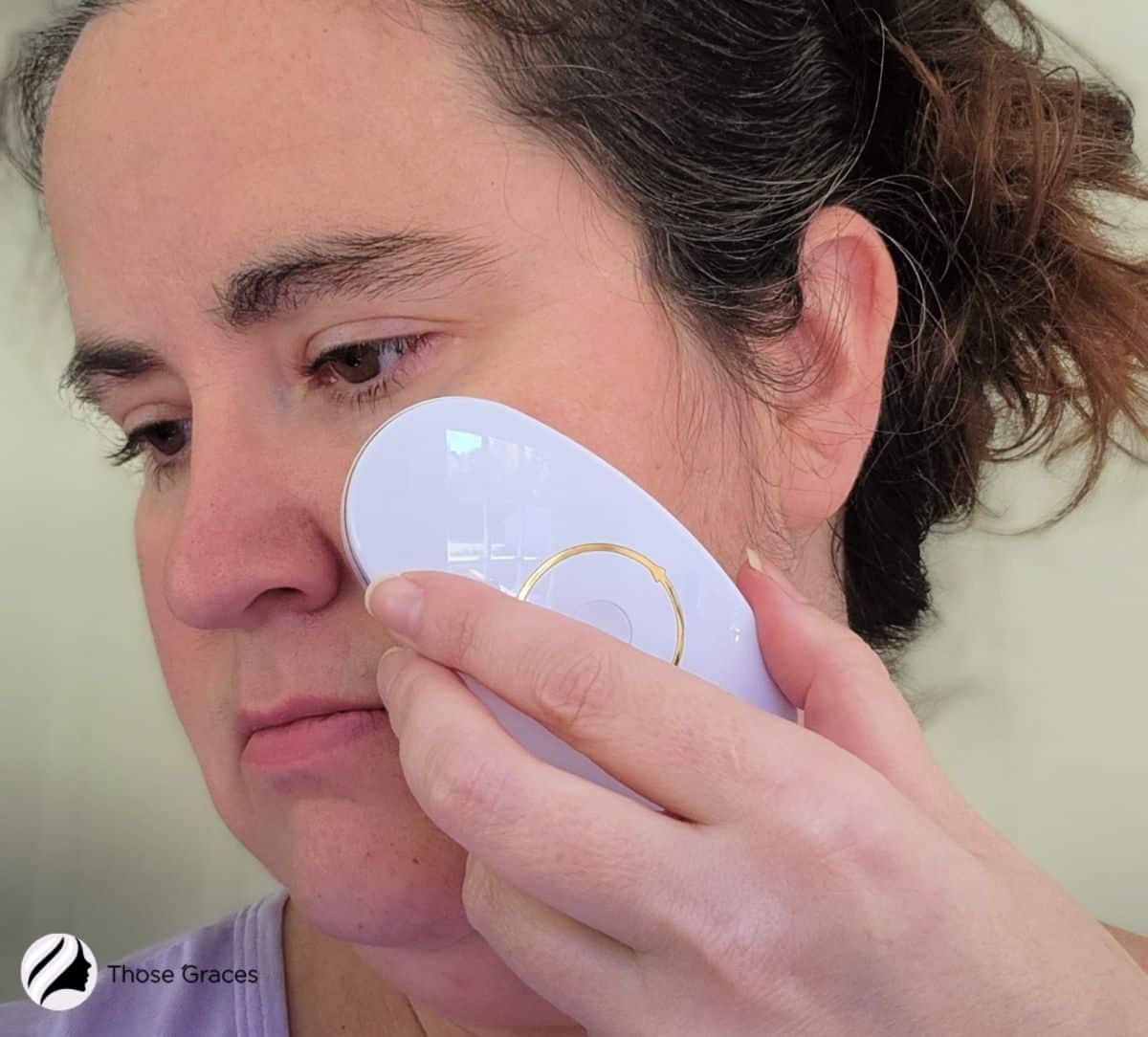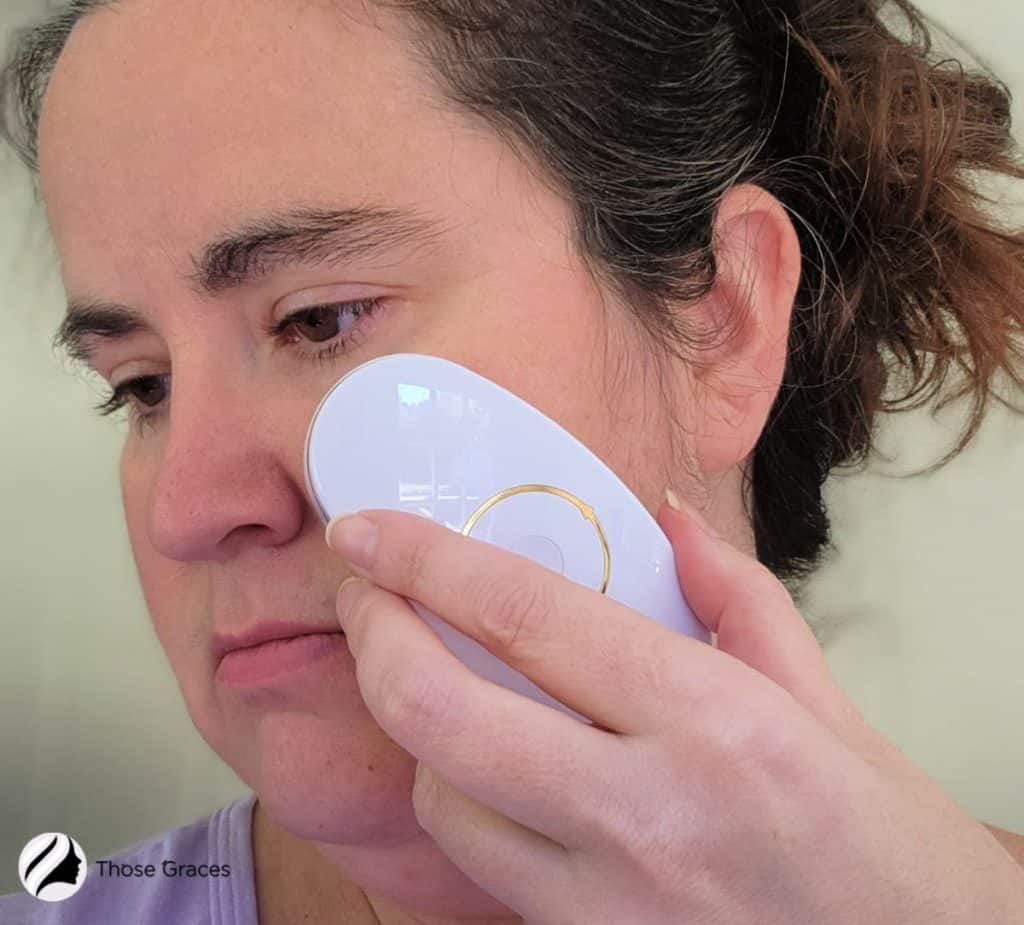 Features
I have to say, this facial device is not only functional but also incredibly stylish. The white machine with gold accents adds a touch of glamour to my skincare routine.
Plus, it's so small and compact that I can take it with me wherever I go. If you're always on the move and looking for a reliable facial device, this one is definitely worth considering.
Benefits & Drawbacks of ZIIP Beauty Microcurrent Professional Facial Device
| Benefits | Drawbacks |
| --- | --- |
| Comes with a travel bag and a cleaning cloth | It's an expensive purchase |
| The device boosts skin appearance, lifts the face, tones it, and promotes rejuvenation | Some complaints about customer service not honoring the warranty. |
| The packaging includes a bottle of the ZIIP Golden Gel | Some issues with Bluetooth syncing |
| You can use the ZIIP app to guide you through the facial treatment | |
| You can return it within 30 days if it's unopened | |
How it Compares to Others and Why
The ZIIP device is the only one that uses nano current and has a unique preventative program meant for all skin types.
Expert Tips
After purchasing this device, I read the instructions, downloaded the ZIIP app, and used it for every single treatment since then. It guides me through every step and makes the device so easy to use.
ZIIP Beauty GX Series Microcurrent Facial Device + Golden Conductive Gel | Professional At-Home Tool plus Rejuvenating Skin Care to Contour, Firm & Tighten Skin
ZIIP utilizes nano-current and microcurrent to deliver skin that gets better every time you use it. Using the ZIIP App and our sophisticated waveform combinations, you choose the results you want for your skin on any given day. Your ZIIP GX comes pre-loaded with the Energize treatment, an all-encompassing rejuvenating and preventative program is for all skin types.
PERSONALIZED CARE - ENDLESS RESULTS - Lift + sculpt facial contours. Increase brightness + glow. Define the jawline + work on tech neck. Smooth the look of fine lines + wrinkles. Make face and eyes look more awake!
DEVICE, GEL, CHARGER AND KIT - your ZIIP nano-current and microcurrent facial device comes with 1 bottle of Golden Gel, a charging cable, a protective travel bag, a cleaning cloth, and user guide with instructions.
WHAT PEOPLE ARE SAYING ABOUT ZIIP - The device that's been deemed 'worth the splurge' by Allure, Byrdie, Coveteur, Refinery 29, and more is the brainchild of Melanie Simon. She performs the 'holy grail of facials' and has brought decades of skincare expertise into the creation of ZIIP, which has received thousands of five-star reviews since its launch. This one sums it pretty well: 'Single best skincare skin care product out there.'
SATISFACTION GUARANTEED - RETURN POLICY: May only return if unopened within 30 days of purchase.
NuFACE's Precision Facial Toning Kit is the perfect 5-minute device to add to your daily skincare routine.
I consider the NuFACE PRECISION Facial Toning Kit as one of my top choices because of the multitude of functionalities and features it's offering.
The Trinity device has a microcurrent activator, which you can use along with other primers like gels and creams for skin care and treatment.
Brand Review
The majority of the personnel and experts who work for NuFACE possess over 30 years of experience in Microcurrent devices.
I would say that NuFACE is some type of a virtuoso and a pro when it comes to the patenting of the devices under this specific niche.
All products are FDA-approved and cleared, the results are consistent and accumulative, and the development of products, patents, and devices are consistent.
Features
Purchasing the NuFACE Trinity for your skincare routine will not only help your skin look younger and smoother, but it can also help you exercise your face without doing any grand movements.
It is an FDA-cleared microcurrent facial machine that's powerful, manageable, and precise all according to what you may need it for.
If you're a beginner and you want an easy-to-use, convenient, and comprehensive toning kit, choosing NuFACE's PRECISION Facial Toning Kit is the best product for you!
Benefits and Drawbacks of Using the NuFACE Trinity Facial Toning Kit
| Benefits | Drawbacks |
| --- | --- |
| It's multifunctional –you can use it for your neck, cheeks, forehead, eyes, jaws, jawlines, etc. | The device does not keep the charge (it does not have a battery strong enough) |
| Unlike other devices, you can use it either during the day or during the night. | It's expensive and pricey compared to other devices |
| The package contains a detachable eye attachment for lifting and contouring the skin | |
| You only need to use it for five (5) minutes a day; about three (3) times a week | |
| The device is travel-friendly and compact | |
How it Compares to Others and Why
Compared to other microcurrent machines, the NuFACE PRECISION stands out for its precise targeting of smaller facial muscles, such as the eyebrows and lip line.
Its unique microcurrent technology delivers gentle yet effective stimulation to improve the appearance of fine lines and wrinkles. Plus, the device is lightweight, portable, and easy to use, making it a great option for on-the-go skincare enthusiasts.
Overall, if you're looking for a microcurrent device that can deliver targeted results, the NuFACE PRECISION Facial Toning Kit is definitely worth considering!
Expert Tips
You can use the NuFACE PRECISION Trinity Facial Toning Kit in the morning before you start your day or at night before you hit the sheets.
If you're after a device that can help you with a lift, a balancing of the skin tone, and removal of dark spots and wrinkles, NuFACE's Trinity Facial Toning Kit is what I recommend you to purchase.
Where Can I Buy It?
I bought mine straight from NuFACE's website. But, it's available on Amazon, too!
Check this video out by Susan Yara as she teaches how you should use NuFACE's PRECISION Facial Toning Kit!
NuFACE Trinity and Effective Lip & Eye Attachment Set – Facial Toning Device with Hydrating Leave-On Gel Primer (2 Fl Oz) and Dual Wand Attachment
NuFACE Trinity and Effective Lip & Eye Attachment Set. Enjoy a 5-Minute Facial-Lift with our pro-level microcurrent facial toning device. This power set includes the Lip & Eye attachment to deliver precise microcurrent.
Microcurrent is low-level, electrical current that sends gentle waves down to the facial muscles. It mimics and re-energizes the body's own natural current helping to tone, lift and contour.
The FDA-cleared dual-wands deliver microcurrent to hard-to-reach areas on the face. It improves facial contour while reducing 11 lines, eyebrow furrows, crow's feet and nasolabial folds/smile lines.
Cleanse with an oil-free cleanser. Then, apply the Primer onto face and neck, and perform glides and holds using the device and dual wand attachment across targeted zones.
NuFACE is the leader in at-home beauty devices helping every client look and feel more beautiful. Products are clinically shown to provide instant results and cumulative benefits.
FOREO's Skincare Secrets Gift Set is an all-in-one package that contains primers, products, and a microcurrent facial toning device.
It's a "gift set" because it's packaged with style as if you are going to give someone a present or a gift. I admire how the company marketed the product as "BEAR," and it's because of its bear-shaped form.
Brand Review
FOREO is a Swedish company and is one of the newest, yet most successful skincare and cosmetic brands and companies in the market.
They're known worldwide, and they were able to patent a wide array of skincare machines and devices that me and you use on a daily basis.
I honestly didn't know about them until the time I purchased the Secrets gift set. And quite frankly, they shocked me –but in a good way.
Features
One of the major selling points of FOREO Skincare's Secret Gifts Set is the fact that the bear is an efficient microcurrent tool.
Not to mention that it uses a combined T-sonic massage and an anti-shock system that can help you contour, tone, exercise, and smoothen your face's skin on a whole new level.
Benefits and Drawbacks of Using the FOREO Skincare Secret Gifts Set
| Benefits | Drawbacks |
| --- | --- |
| It's a perfect alternative for a night mask, perfect for everyone that finds using a mask a hassle | The motions aren't consistent enough to be effective |
| The device is small and compact (not including the gels and primers) | Battery-wise, it turns off quite swiftly compared to how it was advertised |
| It can be recharged for up to 90 uses | |
| You can use a few different modes and intensities; use it depending on your skin type | |
| The programs and sessions would not last hours! | |
How it Compares to Others and Why
This gift set is the perfect all-in-one package if you want to purchase everything in one go. It will be difficult to find microcurrent machines that are compatible with a wide range of products.
For anyone looking for a complete skincare set that won't break the bank, I highly recommend the Secret Gifts Set from FOREO Skincare. This affordable yet comprehensive set has everything you need to achieve healthy, glowing skin, from a gentle cleanser to a nourishing face mask.
Expert Tips
The FOREO Skincare Secret Gifts Set is the most popular and number one and topmost selling product in their arsenal. You can purchase it in either the mint color or the pink color – your choice!
In total, the device can help you out by massaging and exercising more than 65 muscle in your neck, face, and upper back in just two (2) minutes!
Where Can I Buy It?
You can get your FOREO Skincare Secrets Gifts set on Look Fantastic! However, the product is available on Amazon, too!
FOREO Skincare Secrets Gift Set: UFO 2 + 30 UFO Power Activated Face Masks, 2-min Full Facial LED Therapy Device, Warming, Cooling, Advanced Temperature Control, T-Sonic Massage, Rejuvenating
A SUPERCHARGED 2-MIN FULL-FACIAL UFO 2's innovative technology fuses with UFO Activated masks for a supercharged skin spa, clinically proven to reduce the appearance of fine lines & wrinkles in 7 days & increase moisture levels by 126%
FULL-SPECTRUM LED LIGHT-THERAPY Implements 8 varying wavelengths of LED light to provide non-invasive & highly effective therapeutic effects for all skin types and needs, helping rejuvenate and refine imperfections
HYPER INFUSION & COOLING Warming & T-Sonic pulsations combine into Hyper-Infusion Technology to push actives deeper for max results while the cooling finish locks in moisture, minimizes puffiness, and instantly lifts & firms
POTENT, NUTRIENT-RICH CLEAN MASK FORMULAS - The clean, dermatologically tested, vegan & cruelty-free formulas pack essential nutrients, vitamins & minerals to suit every skin concern and restore a balanced, naturally radiant complexion
2-YEAR WARRANTY - FOREO warrants this device for a period of TWO (2) YEARS after the original date of purchase against defects due to faulty workmanship or materials arising from normal use of the device
The LEFAY 5-in-1 anti-aging skin tightening and toning tool is an unorthodox product I deem that you can use for many different applications.
Thanks to the five (5) different modes and settings, you wouldn't be limited to just one (1) feature.
I would recommend going with this option if you're looking for a flexible and versatile RF facial machine.
Brand Review
LEFAY Radiofrequency is one of the newer brands and names in the anti-aging and skin tightening industry.
They've patented more than 20 different devices, all catering to help people look, feel, and become visibly younger and more youthful.
Features
LEFAY's RF facial 5-in-1 machine features five (5) different skincare routines you can do, most of which focus on cleaning, penetration (deep penetration), cooling, lifting, and special care.
I was honestly surprised that it was able to do its job effectively and efficiently –I'm sure you'll appreciate it, too!
The device also has an ice cooling function that's been engineered to perform rapid cooling of the area where your focus is.
Benefits and Drawbacks of Using the LEFAY RF Facial Machine
| Benefits | Drawbacks |
| --- | --- |
| It emits pulsed electromagnetic fields, reducing lines, dark spots, and wrinkles | Not all products are compatible with the device |
| It's also an effective RF facial machine to get rid of eye bags, acne, and swelling | The most ideal application for various processes differs from one session to another |
| The cleaning process is fast because it utilizes high frequency | The "lift" setting doesn't stay on long enough |
| It can give you the necessary vibration you need for the processes and sessions you want | |
| It has a smart temperature control system, protecting the device from overheating | |
| The usage time needed is just around four (4) to six (6) minutes | |
How it Compares to Others and Why
In my experience, LEFAY's RF facial machine stands out from other products for its exceptional flexibility and versatility.
Whether you're looking to reduce the appearance of wrinkles, lift and tone your skin, or improve overall skin texture, this machine has got you covered.
With its innovative RF technology, it can effectively deliver a range of skincare benefits, making it a great investment for anyone looking to up their skincare game.
Expert Tips
If you are to use LEFAY's RF facial machine, you can use and go through all the different settings and modes it offers.
You can use a combination of penetration, eye care, lifting, and even cold therapy with vibration to put more emphasis on the effects of the product.
Where Can I Buy It?
You can purchase the LEFAY RF facial machine on Amazon –that's where I got mine.
Here's an unboxing video to help you visualize what's inside the LEFAY RF Radio Frequency Facial Skin Tightening Machine.
LEFAY Radio Frequency Facial Machine - 5-in-1 Anti-Aging Skin Tightening Rejuvenation Skin Care Device Light Therapy for Wrinkles High Frequency Face Massager Facial Toning, STM-BaK
WHAT IS RADIOFREQUENCY? -- LEFAY radiofrequency skin tightening machine adopts Israel radiofrequency (RF) skin therapy. The procedure involves using energy waves to heat your dermis skin layer to naturally build collagen and repair elastin. Moreover, it is armed with a smart isothermal system to avoid skin burning.
WHAT ARE THE BENEFITS? -- LEFAY is a multi-functional anti-aging device that includes Radio Frequency (RF) technology with red/blue light therapy, Pulsed electromagnetic fields (PEMFs), EMS to reduce lines and wrinkles, lift and tone the contour, remove dark circles, eye bags, improve skin penetration, and absorption abilities, and soothe acne, redness, etc.
5-IN-1 SKINCARE ROUTINE -- LEFAY RF-MAX designed 5 modes as per the daily skin care routine. They are #CLEANING for improving skin penetration, #PENETRATION for improving skin absorption, #LIFTING for skin tightening and firming, #SPECIAL for eye care, and #COOL for skin soothing and sterilizing.
ICE COOLING FUNCTION -- Considering the radiofrequency heating feature would open pores during operation, we designed a 10s rapid cooling function for face and eyes to help shrink pores and soothing redness.
HIGH-FREQUENCY FACE MASSAGE -- With the help of RF, PEMFs, and EMS technologies, on cleaning, penetration, and lifting modes, being of high frequency vibrating sensation to help stimulates cell viability and promotes blood circulation. So it is actually also a face massager.
Colilove's Microcurrent Facial Device is what I consider one of the cheapest, budget-friendliest, and easiest to use out of all the different ones I've tried in the market.
In my experience using it, I felt the difference between using Colilove's facial device from those that are used in spas. It actually collects and gathers more dust and dirt, and it has a better grip.
The product is portable, easy to carry and transport, and comes with a user manual that you can use as a guide in setting it up.
Brand Review
Colilove is one of those brands that aren't specifically catering to the cosmetic and skincare business, but they have many offers for products under this niche.
Most of their skincare products are tested and assessed and have been proven to be effective when used appropriately.
Features
You can think of it as a mini home salon –or at least that's what I'm seeing. The package features a ball and a roller probe that are used for the eyes and nose, as well as the face and neck, respectively.
Just like me, I'm sure that you'll find the device easy and simple to operate. Unlike how you felt in using other products, this is fit for people who are skincare enthusiasts on all different levels!
You'll find many other features of Colilove's Microcurrent Facial Device when you get the chance to use it!
Benefits and Drawbacks of Using the Colilove Microcurrent Facial Device
| Benefits | Drawbacks |
| --- | --- |
| You can use it for small/narrow and big/wide areas of the face/skin | Instructions were poor and hard to understand |
| The functionalities and features involve cleaning, texture improvement, firming and tightening | Would need to use under high settings most of the time to see drastic changes and results |
| You can use the product effectively and efficiently using one (1) hand | |
| Daily usage only entails 15 to 20 minutes per day | |
| The product is wireless and rechargeable | |
How it Compares to Others and Why
Out of all the different microcurrent facial machines I had the privilege to try, Colilove's machine is the only one I found to be the most flexible and versatile.
During cleaning, I was able to feel the effectiveness of the absorption of the specks of dust, oils, and dirt on my face. When lifting, deep cleansing is never out of the question, too!
Expert Tips
Here's a hot tip: to get the most out of your skincare products, try using their features and functionalities in tandem.
For example, while using a deep-cleansing product, you can also take advantage of its BIO micro electric current to treat a variety of skin concerns, from freckles and wrinkles to dark spots and beyond!
By using your skincare products strategically and in conjunction with one another, you can maximize their benefits and achieve your best skin yet. So go ahead and experiment with your products to see what works best for you – your skin will thank you for it!
Where Can I Buy It?
You can buy yours at Amazon!
Microcurrent Facial Device, Colilove Galvanica Facial Micro-Current Face Lift Machine Skin Spa Salon and Home
⚡CARE FOR YOUR SKIN - Increase product penetration. Different from the general electric spa deliver,It can help to absorb the dirt ,Restore transparent luster
⚡SIMPLE - Colilove's device is simple to operate and requires minimal skill to achieve amazing results within the first few uses,Use for about 15-20 minutes each day.
⚡FACE LIFT - It works on deep cleansing, increases capacity to absorb nutrients.ImpartsTightening Firming.
⚡PORTABLE- Wireless&Rechargeable. Does Not Require The Operation Of An Awkward Base Unit! 1 x Adaptor, 1 x Operation Manual.
⚡PERFECT GIFT - This galvanic facial machine is a perfect gift for your girl friends, mom and family. We are all here in 24 hours for your service, any using or product quality problems, please contact us directly
Yeamons' 4D microcurrent face massager, roller, and electric face lift tool is the perfect package for the light-to-medium skincare device you're looking for.
Upon receiving the package, I instantly knew that it would be well within my expectations. Its structure, physical appearance, and the features it carries were more than enough for me to know.
Brand Review
Yeamons, although a new brand in the industry, has been one of the most impacting and influential in the world of skincare and beauty.
They run a website where you can see the list of all the products they're offering. Their 4D microcurrent face massager is just one of the things I know you'll love and find worthy.
Features
Yeamons' 4D microcurrent facial machine features five (5) major modes and functions for intensity, all of which are for the purpose of improving and enhancing your skin.
I was shocked to find that there are actually 125 different choices you can do for adjustment; the five (5) choices were for function.
You'll love the product as a whole as it can help you get rid of wrinkles, relax the muscles, as well as tighten the skin!
Benefits and Drawbacks of Using the Yeamons 4D Microcurrent Face Massager
| Benefits | Drawbacks |
| --- | --- |
| The movements and motions of the face massager are gentle but effective | The strength is too intense even in the lowest setting with a conductive gel |
| It improves blood flow and circulation, which can help your skin be younger and more youthful | The initial lift is seen early on, but only lasts for a few hours |
| Proper use of the device can help stimulate lymphatic vessels, which can help eliminate toxins | Vibrations stop randomly if used continuously |
| You can improve your facial contour, smoothness, and texture | |
| The vibration of the device is high frequency | |
How it Compares to Others and Why
If I were to group them, I would place Yeamons' 4D microcurrent face massager more on the massaging and therapeutic side.
The combination of phototherapy and vibrations makes it an effective choice for people who want to change the contours of their facial structure.
It's like a face massage that you can use at home.
Expert Tips
In using Yeamons' 4D microcurrent facial machine, I would suggest using it during the night when you apply your nightly facial creams and gels.
It's a perfect stress and tension reliever, releasing all the impurities on your face. You can use five (5) different speeds and modes of vibration, depending on what you need!
Where Can I Buy It?
I bought mine from Amazon. But, your options aren't just limited to that – you can get it straight from Yeamons website, too!
4D Microcurrent Face Massager Roller,Electric Rechargeable Face Lift Roller Arms Legs Massager for Anti Aging Wrinkles Facial Massage
New Design Multi-function: This 4D Micro Current facial massager was new designed by us, which brings together all the advantages of the previous generation. It has micro current therapy, high frequency vibration and phototherapy care functions. You can adjust vibration mode, vibration speed and micro current intensity. There are 5 choice for every functions. In total there are 125 choices to adjust. You don't need go to SPA house, just at home to enjoy massage time.
Micro Current Therapy: There are 5 modes micro current intensity. During working this face massage roller will release gentle microcurrent to stimulate ATP production which energizes the facial muscles. You can feel light tingling sensation, that means, microcurrent has been released to your body. It truly improves facial contour, facial tone, reduce fine lines and wrinkles. It effectively reduces the dark circles, puffiness and wrinkles during massaging chin, cheeks, forehead and lips etc.
High Frequency Vibration: The 4D Micro Current facial massager device is designed for maximum to 8000 vibrations per/min. In order to provide user best massage time, we adopt fitful vibration mode. You can feel the vibration clearly. "VM" and "MODE" buttons are used to adjust vibration ways. You can choose the best vibration speed and mode that you like. High frequency vibration can relax muscle, which has extremely effect to anti wrinkle. "V" shape roller design can help you tighten skin.
Enjoy Massage Time: You can combine with skin care products
Perfect Gift: This is a super exquisite gift box, which includes, massage device x1; English user manual x1; Portable bag x1; USB cable x1; Cleaning wiper x1. This is also a good choice as gift to female , such as birthday, Valentine's Day, Mother's Day, Women's Day or Christmas Day gift.
When looking for an actual machine with microcurrent technology, this is the one that popped up first.
Although it's a little more expensive than small, portable devices, it's a machine that you can use at home, and it provides fantastic results.
Brand Review
Genmine is a brand that makes beauty tools that range from face machines, to nail machines, teeth products, and more.
Aside from this microcurrent device, they also have a professional microdermabrasion machine meant for beauty salons.
Features
If you decide to purchase the Genmine Microcurrent Face Lift Machine, you'll get one portable main machine with one 3D photon head, one head for no needle mesotherapy, two bio-lifter sticks, a manual, and a wire for power supply.
Benefits & Drawbacks of Genmine Microcurrent Face Lift Machine
| Benefits | Drawbacks |
| --- | --- |
| Comes with several tools that are meant for facial toning, targeting freckles and skin discolorations, and improving wrinkles | It's costlier than simple devices |
| Uses no needle mesotherapy to deliver necessary nutrients to the skin and stimulate skin rejuvenation | It's not compact and easy to pack for traveling |
| It comes with a manual that explains how to use the machine | |
How it Compares to Others and Why
One thing that sets the Genmine device apart from other machines is its unique no-needle mesotherapy design. With this cutting-edge technology, you can get all the benefits of mesotherapy without any of the needles!
But that's not all – the Genmine device is also a great option for anyone looking to tackle skin discoloration, freckles, and other pesky skin concerns.
Expert Tips
To get the best out of this machine, go over the manual. Since there are different tools, you need to study them well and see how to target your concerns.
This is another affordable find that my mom recommended, and I've loved it since the first try. It's the most user-friendly machine on the list because it comes with simple instructions and no buttons.
All you need to do is touch it to your face, and it starts working.
Brand Review
Although VIJUVE offers only two products, this facial massager and a Vitamin C serum, they put in a lot of research on the products they create and sell.
The brand's goal is to deliver tools that are packed beautifully and actually yield results. At the same time, they want to make the prices affordable for everyone.
Features
It's safe to say that this is the most elegant machine I'll review today. It's so cool and different from the rest of the designs. It's white, with a touch of silver, and doesn't come with any buttons.
Benefits & Drawbacks of Anti-Aging Face Massager by VIJUVE
| Benefits | Drawbacks |
| --- | --- |
| You don't have to press a button to turn it on; it activates when it touches the skin | There is only one intensity level, and the frequency can't be adjusted |
| It's very easy to use, small and lightweight | You need to change the battery after a month |
| It helps with faster skin care product absorption | It can only be used on the face |
| It's powerful, with 9.000 vibrations per minute, which means faster results | |
| You can use it to massage your face and relieve pain | |
| There's no need to charge it because it's battery-operated | |
How it Compares to Others and Why
The VIJUVE facial massager is the only device you can use to massage your face and treat facial pain and fatigue. It also features a unique appearance that is very appealing.
Expert Tips
The best way to use the VIJUVE Anti-Aging Face Massager is after applying your skincare products. Just touch the device to your skin, and it will start vibrating. Move it back and forth to cover the entire face.
Anti Aging Face Massager by VIJUVE for Wrinkles Removal & Facial Skin Tightening | Boost Effects of Face Cream & Serum | Anti Wrinkle Skin Care & Facial Toning Massage Device
MAKES ANY SKIN CARE PRODUCT WORK BETTER & FASTER; Absorb your favorite Face Cream, Serum & Lotion to a maximum level to hydrate the skin, reduce appearance of wrinkles, scars & age spots while firming & tightening in the quickest time; Boost all types of wrinkle cream, wrinkle serum, anti aging face cream, facial cleanser and essential oils etc; Massage to relieve facial pain and fatigue
YOU BECOME AGELESS; This facial device lets you defend aging and get rid of sagging neck and face, puffy eyes, furrow lines, crow's feet (eye wrinkles), dark circles and reduce facial wrinkles and wrinkles around mouth; It's 9,000 per minute vibration rebuilds the skin collagen, tightens up the pores, promotes blood circulation of your skin to give you the rejuvenated, radiant and youthful look
SIMPLE, ELEGANT & SAVES YOU TIME; This massaging device is a complete contour skin toning system which saves 75% of your time than what you spend on your current anti aging skin care routine and provides 6 Times better results; It is an efficient Wrinkle Reducer, Spot Corrector, Collagen Booster & Face tightening tool that is ideal for all skin types; And is as simple and elegant that has no button on it; It turns on and off merely by sensing skin touch
BREAKTHROUGH TECHNOLOGY & PORTABILITY; A revolutionary face cream, serum and lotion boosting device which offers NO CHARGING feature; Works for 2-3 weeks on a single AAA battery; Isn't it amazing? You're welcome; And the sleek 5 inches long design and the 1.8 ounces lightweight makes cream boosting tool truly portable
THE SECRET; Skin care products work best only when absorbed deeper into the skin; The traditional "Hands Alone" tactic doesn't let these products absorb properly, thus delivering poor results; While revolutionizing application procedures of face creams, serums, and lotions, Vijuve Face Massager absorbs these 6 times better by delivering 75% quicker and excellent results; Our customers call this anti aging machine an open secret to an everlasting beauty, thus, we invite you to discover it
Guide On Buying Microcurrent Machines
Before you choose a device and start your microcurrent treatment, these are the factors that can influence your buying decision:
Size
The size is quite important if you're planning on taking this microcurrent device with you.
Since the treatment is continuous with most machines, you will probably need to travel with it if you want to achieve the best results.
That's why it's great to opt for a compact, portable, and cordless device that won't take up too much of your space.
Also, large machines can be heavy on your hands. The treatment usually lasts for five minutes each day, so ladies with smaller hands will find large devices hard to use.
Ease Of Use
The best microcurrent machine for home use is one that's simple to use. If you don't want to spend hours reading through manuals, you should opt for a device that is straight to the point.
When there's a product that most people find confusing, with too many buttons, complicated features, and multiple accessories, it can take time to learn how to use it.
Frequency
The frequency of the electric currents matters because of efficacy.
Devices with higher frequency electric currents will stimulate your facial muscles and blood circulation more and provide faster results.
Time Of Treatment
If the machine you're looking to buy requires long treatments and almost every single day, you're less likely to use it.
That's why you should look at the time of treatment and make sure that you'll commit to using the device as recommended by the seller.
For example, if you can only spare five minutes a day, find a device with short treatments.
But, if you have more time and don't mind spending over ten minutes with one of these machines in your hand, you don't have to worry about the length of the treatment.
Benefits Of Using A Microcurrent Machine
Improved Blood Circulation
Aside from boosting the production of elastin and collagen, microcurrent increases the blood flow in treated areas. In other words, the cells will receive more nutrients and oxygen.
This is important because it can speed up healing processes, and deliver healthier and radiant skin.
Immediate Results
You can see results right after each treatment with one of these devices. Just try comparing the side of your face where you used the tool with the other side.
The results will be visible. Your jaw and cheeks will be more contoured, the wrinkles less visible, and the skin plumper.
If you're looking for long-lasting effects, you need to continuously use the device for at least six months.
Facial Toning
The main reason why so many people are obsessed with these tools is that they notice improvements in their saggy skin. The microcurrent stimulates the muscles and tones the skin of the face and neck.
Anti-Aging Effects
Another huge benefit of this type of tool is its anti-aging effect. After using the device, you'll see that the fine lines and wrinkles will be less noticeable.
Microcurrent has the power to boost the production of adenosine triphosphate, a compound that increases elastin and collagen production.
Contoured Face
The muscle stimulation will help with a more contoured face, especially around the eyes, jaw, and cheeks.
Treat Acne Scars
If you've been struggling with acne scars, these machines will treat them and significantly help with the appearance.
Better Skincare Absorption
Some of the tools that we listed can be used with your creams and serums to increase absorption. You can sleep safely knowing that your expensive products will reach where they need to.
FAQS
How long do the effects of microcurrents last?
Although microcurrent facials provide instant results, the effects are not permanent. Depending on the machine you use, the effects can last up to several hours or several days. You need to practice continuous use for permanent results.
How long does a microcurrent facial last?
Once again, this depends on the at-home microcurrent device that you'll use. The duration of the treatment can vary, but it usually ranges between five and twenty minutes. That's all it takes for you to achieve tighter skin and fewer wrinkles.
Are microcurrent facial treatments safe?
Microcurrent facial machines use electric currents to deliver results. They are safe to use for most people; however, some people shouldn't use these devices. Because of the electrical currents, pacemakers, and heart conditions are contraindicated.
Conclusion
Microcurrency at-home devices are an excellent investment that will free you from expensive in-office treatments.
These machines are handy and use electricity to reduce fine lines, and wrinkles, toned skin, and improved skin complexion.
Although the effects are visible right away, you still need to opt for continuous use to achieve permanent results.
All five machines that I listed will cost you less than regular in-office visits, and you can do the treatments from the warmth of your home.
Our Recommendation:
If you want the most bang for your buck, go with the NuFACE Advanced Facial Toning Kit.
.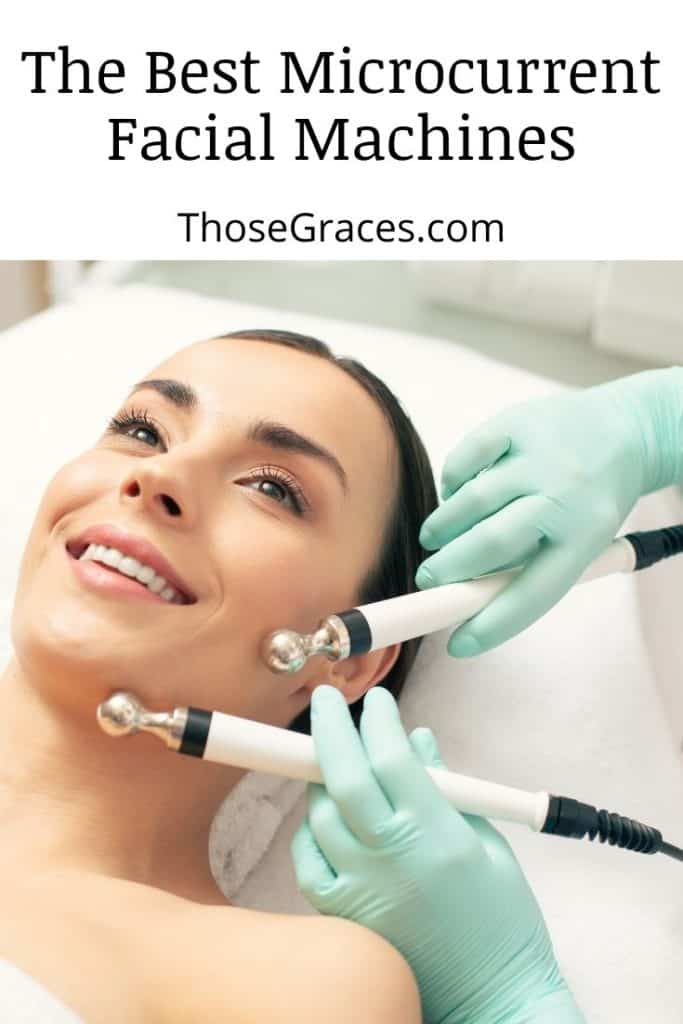 Have you tried using a microcurrent machine? Please share your experience below!
References:
Fatemeh Saniee, Hamid Reza, Hamid Reza Ghafarian Shirazi, and Pooyan Soltau Soltani. 2012. "Consider of Micro-Current's Effect to Variation of Facial Wrinkle Trend, Randomized Clinical Trial Study." ResearchGate. unknown. July 2012. https://www.researchgate.net/publication/230642269_Consider_of_Micro-Current's_effect_to_variation_of_Facial_Wrinkle_trend_Randomized_Clinical_Trial_Study.
Schroeder, Roberta. 2021. "#SkinSchool: Everything You Need to Know about Microcurrent Devices." Harper's BAZAAR. April 8, 2021. https://www.harpersbazaar.com/uk/beauty/skincare/a33499130/microcurrent-facial/.
Shiffer, Emily J. 2019. "Is This 5-Min Microcurrent Facial Better than Botox?" Healthline. Healthline Media. June 26, 2019. https://www.healthline.com/health/beauty-skin-care/microcurrent-facial.