Microcurrent is a hot topic in skincare and a very promising non-invasive way to rejuvenate your skin. Ever since the pandemic started and ever since I hit 30, my goal has been to spend less on professional treatments and preserve my skin's health.
At-home microcurrent devices sounded like a way to do both, so I started testing various designs. These microcurrent machine reviews are meant to help you make the right purchase and find the device that will fit your budget and your needs.
Let's start with a quick look at our top picks, then keep reading for all the glorious details.
Microcurrent Machine Top Picks at a Glance
If you see the value in these products and choose to purchase via my referral links, I may earn a small commission at no extra cost to you.
Check the table below for a side-by-side comparison of our favorites!
Top Benefit
Delivers instant results and is extremely easy to use
You can use it to massage your face and relieve pain
Uses no needle mesotherapy to deliver necessary nutrients to the skin
The packaging includes a bottle of the ZIIP Golden Gel
Top 5 Best Microcurrent Machines For An Instant Facelift
Microcurrent facial machines are proven to reduce wrinkles, promote elastin production, collagen production, stimulate facial muscles, and tone the skin. This treatment uses electricity to stimulate the growth of skin cells and achieve an anti-aging effect. If you've been looking to buy one of these devices for at-home use, you'll love this article.
If you read my latest article on radio frequency skin tightening at-home machines, you already know that I want to keep my skin as young as possible for as long as possible. That's why microcurrent was the next technology on my radar. Let's start with the reviews of the five best products.
The NuFACE Trinity Advanced Facial Toning Kit is one of the microcurrent facelift machines that I couldn't wait to try.
So many of my friends and relatives already had it, and I was lucky enough to get it as a gift during the holidays.
Since it's an FDA-approved device, I feel safe using it on my sensitive skin. It's one of those facial devices that many skin care experts recommend and rave about.
So, let's see why it's such a popular product.
This is actually the winning product because it delivers instant results and is extremely easy to use. The brand made it lightweight, portable, and I've been carrying it with me everywhere.
Another reason why I love it so much is because it has several intensity levels that I can adapt to my sensitive skin.
Brand Review
NuFACE is a popular brand that specializes in products that use microcurrent to tone the skin, reduce facial wrinkles and fine lines, and a more radiant skin appearance.
Carol Cole, the founder, is a licensed aesthetician who has spent a lot of time hearing about the most common concerns of her clients.
Many of them expressed the need for a non-surgical treatment that will help with saggy, loose skin and a more contoured appearance.
That's how Carol and her daughters got inspired to create at-home devices that will use microcurrents to treat these concerns.
Features
This NuFACE device comes packed in a small, white handy design that is easy to hold in your hand. It has an on/off button and '+' and '-' buttons which you should use to regulate the frequency.
The brand also offers two other attachments, but you need to buy those separately.
The ELE attachment will reduce the wrinkles around the lips and eyes, while the Wrinkle Reducer attachment will stimulate the production of collagen and reduce facial wrinkles.
| Benefits | Drawbacks |
| --- | --- |
| Five levels of intensity to choose from so that it fits all skin types | You have to purchase the ELE and Wrinkle Reducer attachments separately |
| Great results after the first use | You have to use the brand's face primers for the device |
| Five-second timer for easier use | The charging time is around 12 hours |
| It's an FDA-approved device | |
| It's cordless, small, portable, so you can take it everywhere with you | |
Benefits
Five levels of intensity to choose from so that it fits all skin types
Beginners in microcurrent tools and more sensitive skin types can opt with the lowest intensity, and as time goes by, increase the intensity level.
Great results after the first use
I could notice results right away, but to achieve permanent changes, you need to follow the treatment plan recommended by NuFACE. All it takes is five minutes per day to finish your microcurrent therapy.
Five-second timer for easier use
Since you shouldn't spend too much time treating the same area, this device has a five-second timer that will let you know when to move it to another part of the face.
It's an FDA-approved device
The fact that it's FDA-approved ensured me that this microcurrent therapy device is safe to use.
It's cordless, small, portable, so you can take it everywhere with you
I love that I can take the Trinity microcurrent face lift machine with me anywhere. It's pretty small, easy to pack, and it's lightweight.
Drawbacks
You have to purchase the ELE and Wrinkle Reducer attachments separately
These two attachments are great but costly. However, you don't need to have them; the basic attachment will do the job.
If you ever feel like you need an upgrade, you can save over time and purchase these other two.
You have to use the brand's face primers for the device
NuFACE recommends that you use their professional microcurrent machines with their primers. Thankfully, one bottle of the primer lasts a long time, and it won't be a significant investment.
The charging time is around 12 hours
It takes half a day to charge the device fully, but you won't be doing that every single day.
How it Compares to Others and Why
The NuFACE Trinity device is an award-winning product praised by many happy customers.
It's different because the treatment is short and the effects are visible right away, which isn't always the case with other devices.
Reddit user madcool420 says "I've definitely noticed that my cheeks and jaw look more sculpted and my nasolabial folds are much less pronounced."
Expert Tips
According to the brand, it's best that you use your Trinity kit five days a week for the first two months. Although I skipped a few days, I still noticed significant improvements in the skin appearance.
The results are actually instant, but you still have to continuously use them for permanent improvements. I can now brag with my toned jaw, cheeks, and firm skin.
The NuDerma Therapy Skin Therapy Wand blends the power of Argon and Neon to improve the overall skin profile.
This isn't a device that will only tone your facial muscles but also target fine lines and wrinkles.
Brand Review
This is another brand that manufactures skin and body beauty tools, ranging from microcurrent, microdermabrasion, tanning, derma rollers, and much more.
Their microcurrent devices come with many different accessories that are meant to target specific concerns.
Features
This is another sleek white device with six different applicators. Three of those are purple with Argon and supercharged with Tungsten, while the other six are orange and with Neon.
Argon is known to boost the skin's healing process, and Neon promotes collagen production and fewer wrinkles.
My three favorite tools to use are the mushroom tube (better skincare product absorption), tongue tube (kills acne bacteria), and comb tube (increases blood flow in hair follicles and promotes growth).
| Benefits | Drawbacks |
| --- | --- |
| Comes with six applicators you can use for your face, body, and hair | You have to really read the instruction manual closely to learn how to use the device |
| Aside from facial toning, it will boost the healing time of severe acne by 90% | Some complaints about poor customer service. |
| You can use the machine with your facial creams and serums | |
| It's an affordable purchase | |
How it Compares to Others and Why
The NuDerma device uses a unique technology to deliver skin results. The six wands are either Argon or Neon powered to initiate skin healing or reduce the appearance of fine lines and wrinkles.
What makes this tool even more special is the low price (compared to similar machines) and excellent quality.
Expert Tips
Remember to use this device on dry, clean skin or after applying your skincare products. The packaging includes a detailed instruction booklet which you should go over to get familiar with the tools and how to use the device.
Sale
NuDerma Clinical Skin Therapy Wand - Portable High Frequency Skin Therapy Machine w 6 FUSION Neon + Argon Wands – Anti Aging - Blemish & Spot Control - Skin Tightening & Radiance - Wrinkle Reducing
Breakthrough Fusion Applicators – The ultimate NuDerma High Frequency system. Our clinical-grade system features a more powerful NuDerma wand and revolutionary FUSION Neon+Argon applicators. The 6 FUSION applicators provide the skin boosting anti-aging benefits of Neon and blemish and inflammation fighting power of Argon in one universal delivery system. They work synergistically to offer the complete spectrum of skin therapies; creating beautiful radiant skin while shortening treatment duration
Instant Skin Radiance – High frequency treatments are a safe and 100% natural way of boosting your entire skin profile no matter your skin type. Nuderma Clinical turns back the clock by energizing and oxygenating skin at the cellular level. It also kills any sub-dermal causes of inflammation to control blemishes and ensure a smoother complexion 90% faster. You'll see a difference after just a single session.
Better Absorption of Your Beauty Serums and Creams – Your preferred beauty creams and serums are expensive. NuDerma ensures that you are getting their maximum effects by improving your skins receptiveness to absorption. Use your preferred serums or creams during, or immediately after NuDerma Sessions to ensure maximum absorption into the deeper layers of your skin; boosting their effects by up to 5x.
Specialized Applicators for Total Body Sessions- NuDerma Clinical features specialized glass applicators like a Y-shaped wand that can conveniently be applied to areas like your arms and neck or a Rod applicator that works with broader areas like cheeks and the forehead. A supercharged comb wand is perfect to energize the scalp and hair.
What's Included – 1 NuDerma Clinical High Frequency Handle, FUSION powered mushroom wand, FUSION powered Y-shape wand, FUSION powered comb wand with Tungsten, FUSION powered tongue wand, FUSION powered bent wand, FUSION powered rod wand with Tungsten, quick-start treatment guides, instruction and support contact manuals. A brand proudly based in the United States.
This is another affordable find that my mom recommended, and I've loved it since the first try. It's the most user-friendly machine on the list because it comes with simple instructions and no buttons. All you need to do is touch it to your face, and it starts working.
Brand Review
Although VIJUVE offers only two products, this facial massager and a Vitamin C serum, they put in a lot of research on the products they create and sell. The brand's goal is to deliver tools that are packed beautifully and actually yield results. At the same time, they want to make the prices affordable for everyone.
Features
It's safe to say that this is the most elegant machine I'll review today. It's so cool and different from the rest of the designs. It's white, with a touch of silver, and doesn't come with any buttons.
| Benefits | Drawbacks |
| --- | --- |
| You don't have to press a button to turn it on; it activates when it touches the skin | There is only one intensity level, and the frequency can't be adjusted |
| It's very easy to use, small and lightweight | You need to change the battery after a month |
| It helps with faster skincare product absorption | It can only be used on the face |
| It's powerful, with 9.000 vibrations per minute, which means faster results | |
| You can use it to massage your face and relieve pain | |
| There's no need to charge it because it's battery-operated | |
How it Compares to Others and Why
The VIJUVE facial massager is the only device you can use to massage your face and treat facial pain and fatigue. It also features a unique appearance that is very appealing.
Expert Tips
The best way to use the VIJUVE Anti-Aging Face Massager is after applying your skincare products. Just touch the device to your skin, and it will start vibrating. Move it back and forth to cover the entire face.
Anti Aging Face Massager by VIJUVE for Wrinkles Removal & Facial Skin Tightening | Boost Effects of Face Cream & Serum | Anti Wrinkle Skin Care & Facial Toning Massage Device
MAKES ANY SKIN CARE PRODUCT WORK BETTER & FASTER; Absorb your favorite Face Cream, Serum & Lotion to a maximum level to hydrate the skin, reduce appearance of wrinkles, scars & age spots while firming & tightening in the quickest time; Boost all types of wrinkle cream, wrinkle serum, anti aging face cream, facial cleanser and essential oils etc; Massage to relieve facial pain and fatigue
YOU BECOME AGELESS; This facial device lets you defend aging and get rid of sagging neck and face, puffy eyes, furrow lines, crow's feet (eye wrinkles), dark circles and reduce facial wrinkles and wrinkles around mouth; It's 9,000 per minute vibration rebuilds the skin collagen, tightens up the pores, promotes blood circulation of your skin to give you the rejuvenated, radiant and youthful look
SIMPLE, ELEGANT & SAVES YOU TIME; This massaging device is a complete contour skin toning system which saves 75% of your time than what you spend on your current anti aging skin care routine and provides 6 Times better results; It is an efficient Wrinkle Reducer, Spot Corrector, Collagen Booster & Face tightening tool that is ideal for all skin types; And is as simple and elegant that has no button on it; It turns on and off merely by sensing skin touch
BREAKTHROUGH TECHNOLOGY & PORTABILITY; A revolutionary face cream, serum and lotion boosting device which offers NO CHARGING feature; Works for 2-3 weeks on a single AAA battery; Isn't it amazing? You're welcome; And the sleek 5 inches long design and the 1.8 ounces lightweight makes cream boosting tool truly portable
THE SECRET; Skin care products work best only when absorbed deeper into the skin; The traditional "Hands Alone" tactic doesn't let these products absorb properly, thus delivering poor results; While revolutionizing application procedures of face creams, serums, and lotions, Vijuve Face Massager absorbs these 6 times better by delivering 75% quicker and excellent results; Our customers call this anti aging machine an open secret to an everlasting beauty, thus, we invite you to discover it
When looking for an actual machine with microcurrent technology, this is the one that popped up first.
Although it's a little more expensive than small, portable devices, it's a machine that you can use at home, and it provides fantastic results.
Brand Review
Genmine is a brand that makes beauty tools that range from face machines, nail machines, teeth products, and more.
Aside from this microcurrent device, they also have a professional microdermabrasion machine meant for beauty salons.
Features
If you decide to purchase the Genmine Microcurrent Face Lift Machine, you'll get one portable main machine with one 3D photon head, one head for no needle mesotherapy, two bio lifter sticks, a manual, and a wire for power supply.
| Benefits | Drawbacks |
| --- | --- |
| Comes with several tools that are meant for facial toning, targeting freckles and skin discolorations, and improving wrinkles | It's costlier than simple devices |
| Uses no needle mesotherapy to deliver necessary nutrients to the skin and stimulate skin rejuvenation | It's not compact and easy to pack for traveling |
| It comes with a manual that explains how to use the machine | |
How it Compares to Others and Why
It's a unique design that offers no-needle mesotherapy, which none of the other machines have. The Genmine device can also help with freckles and skin discoloration.
Expert Tips
To get the best out of this machine, go over the manual. Since there are different tools, you need to study them well and see how to target your concerns.
Genmine Microcurrent Face Lift Machine, Home Needless Mesotherapy Facial Microcurrent Face Lift Photon Wrinkle Removal Skin Whitening Skin Care Device
✔️Freckle removal and skin whitening: open cells channel woundless, absorb nutrition, participate in cells metabolism, promote cells rebirth.
✔️Fantasy wrinkle removal: the electrode nutrition is directly penetrated the deep-seated skin, start cells rebirth, remove wrinkles of deep skin layer.
✔️Resist the acne: Through the electric nutrition conveyer belt, inject the acne removal distillate into the focus, clear or retrain the acne rebirth, avoid the wound infection.
✔️Moisten and make up water: inject the water feeding active distillate into the deep-seated skin, supply enough water to the cells, and prevent the series of skin problems caused by short of water.
✔️What you get: 1 x main machine; 1 x head of no needle mesotherapy; 1 x 3D photon head; 2 x bio litfer stick; 1x power supply wire; 1x User Manual.
This might be the costliest machine, but it's made with unique technology.
The ZIIP Beauty Microcurrent Professional Facial Device uses micro and nano currents to reduce wrinkles, tone the jaw, cheeks, and deliver young-looking skin.
One of the comments that stimulated me to make the purchase is this one by Reddit user skincareandbourbon:
"The Ziip is also good at lifting and sculpting, but it's definitely more subtle. While the lift isn't as dramatic, I feel like it's really improved my overall skin texture and tone. I like being able to pick different program settings depending on what my skin feels like, and at this point, I don't really need to follow the videos anymore. It's very quiet, and only beeps at the beginning, middle and end of a program, and isn't distracting to use while watching tv or chatting with my partner – I've even used it on airplanes because it's so portable."
Brand Review
ZIIP Beauty produced the first app-connected microcurrent tool for at-home use. This is a luxury brand that uses microcurrent and nanocurrent for its designs.
The company was founded by Melanie Simon, an Electrical Esthetician, and David Mason, a technology pro. Their first release was the ZIIP microcurrent professional tool in 2015.
Features
This is another elegant facial device that you'll find even more likely to use because of the gorgeous design. It's a handy white machine with golden details.
If you're looking for a small machine that you can take anywhere, this one is it because it's even smaller than your hands.
| Benefits | Drawbacks |
| --- | --- |
| Comes with a travel bag and a cleaning cloth | It's an expensive purchase |
| The device boosts skin appearance, lifts the face, tones it, and promotes rejuvenation | Some complaints about customer service not honoring the warranty. |
| The packaging includes a bottle of the ZIIP Golden Gel | Some issues with Bluetooth syncing |
| You can use the ZIIP app to guide you through the facial treatment | |
| You can return it within 30 days if it's unopened | |
How it Compares to Others and Why
The ZIIP device is the only one that uses nanocurrent and has a unique preventative program meant for all skin types.
Expert Tips
After purchasing this device, I read the instructions, downloaded the ZIIP app, and used it for every single treatment since then. It guides me through every step and makes the device so easy to use.
ZIIP Beauty Microcurrent Professional Facial Device | Portable, Kit, Conductive Gel, Charger, & Bag
ZIIP utilizes nanocurrent and microcurrent to deliver skin that gets better every time you use it. Using the ZIIP App and our sophisticated waveform combinations, you choose the results you want for your skin on any given day. Your ZIIP GX comes pre-loaded with the Energize treatment, an all-encompassing rejuvenating and preventative program is for all skin types.
PERSONALIZED CARE - ENDLESS RESULTS - Lift + sculpt facial contours. Increase brightness + glow. Define the jawline + work on tech neck. Smooth the look of fine lines + wrinkles. Make face and eyes look more awake!
DEVICE, GEL, CHARGER AND KIT - your ZIIP nanocurrent and microcurrent facial device comes with 1 bottle of Golden Gel, a charging cable, a protective travel bag, a cleaning cloth, and user guide with instructions.
WHAT PEOPLE ARE SAYING ABOUT ZIIP - The device that's been deemed 'worth the splurge' by Allure, Byrdie, Coveteur, Refinery 29, and more is the brainchild of Melanie Simon. She performs the 'holy grail of facials' and has brought decades of skincare expertise into the creation of ZIIP, which has received thousands of five-star reviews since its launch. This one sums it pretty well: 'Single best skincare skin care product out there.'
SATISFACTION GUARANTEED - RETURN POLICY: May only return if unopened within 30 days of purchase.
Guide On Buying Microcurrent Machines
Before you choose a device and start your microcurrent treatment, these are the factors that can influence your buying decision:
Size
The size is quite important if you're planning on taking this microcurrent device with you.
Since the treatment is continuous with most machines, you will probably need to travel with it if you want to achieve the best results.
That's why it's great to opt for a compact, portable, and cordless device that won't take too much of your space.
Also, large machines can be heavy in your hands. The treatment usually lasts for five minutes each day, so ladies with smaller hands will find large devices hard to use.
Ease Of Use
The best microcurrent machine for home use is one that's simple to use. If you don't want to spend hours reading through manuals, you should opt for a device that is straight to the point.
When there's a product that most people find confusing, with too many buttons, complicated features, multiple accessories, it can take time to learn how to use it.
Frequency
The frequency of the electric currents matters because of efficacy.
Devices with higher frequency electric currents will stimulate your facial muscles and blood circulation more and provide faster results.
Time Of Treatment
If the machine you're looking to buy requires long treatments and almost every single day, you're less likely to use it.
That's why you should look at the time of treatment and make sure that you'll commit to using the device as recommended by the seller.
For example, if you can only spare five minutes a day, find a device with short treatments.
But, if you have more time and don't mind spending over ten minutes with one of these machines in your hand, you don't have to worry about the length of the treatment.
Benefits Of Using A Microcurrent Machine
Improved Blood Circulation
Aside from boosting the production of elastin and collagen, microcurrent increases the blood flow in treated areas. In other words, the cells will receive more nutrients and oxygen.
This is important because it can speed up healing processes, deliver healthier and radiant skin.
Immediate Results
You can see results right after each treatment with one of these devices. Just try comparing the side of your face where you used the tool with the other side.
The results will be visible. Your jaw and cheeks will be more contoured, the wrinkles less visible, and the skin plumper.
If you're looking for long-lasting effects, you need to continuously use the device for at least six months.
Facial Toning
The main reason why so many people are obsessed with these tools is that they notice improvements in their saggy skin. The microcurrent stimulates the muscles and tones the skin of the face and neck.
Anti-Aging Effects
Another huge benefit of this type of tool is its anti-aging effect. After using the device, you'll see that the fine lines and wrinkles will be less noticeable.
Microcurrent has the power to boost the production of adenosine triphosphate, a compound that increases elastin and collagen production.
Contoured Face
The muscle stimulation will help with a more contoured face especially around the eyes, jaw, and cheeks.
Treat Acne Scars
If you've been struggling with acne scars, these machines will treat them and significantly help with the appearance.
Better Skincare Absorption
Some of the tools that we listed can be used with your creams and serums increasing the absorption. You can sleep safely knowing that your expensive products will reach where they need to.
FAQS
How long do the effects of microcurrents last?
Although microcurrent facials provide instant results, the effects are not permanent. Depending on the machine you use, the effects can last up to several hours or several days. You need to practice continuous use for permanent results.
How long does a microcurrent facial last?
Once again, this depends on the at-home microcurrent device that you'll use. The duration of the treatment can vary, but it usually ranges between five and twenty minutes. That's all it takes for you to achieve tighter skin and fewer wrinkles.
Are microcurrent facial treatments safe?
Microcurrent facial machines use electric currents to deliver results. They are safe to use for most people; however, some people shouldn't use these devices. Because of the electrical currents, pacemakers and heart conditions are contraindicated.
Conclusion
Microcurrency at-home devices are an excellent investment that will free you from expensive in-office treatments.
These machines are handy, use electricity to reduce fine lines, wrinkles, toned skin, and improved skin complexion.
Although the effects are visible right away, you still need to opt for continuous use to achieve permanent results.
All the five machines that I listed will cost you less than regular in-office visits,, and you can do the treatments from the warmth of your home.
Our Recommendation:
If you want the most bang for your buck, go with the NuFACE Advanced Facial Toning Kit.
.
References:
Fatemeh Saniee, Hamid Reza, Hamid Reza Ghafarian Shirazi, and Pooyan Soltau Soltani. 2012. "Consider of Micro-Current's Effect to Variation of Facial Wrinkle Trend, Randomized Clinical Trial Study." ResearchGate. unknown. July 2012. https://www.researchgate.net/publication/230642269_Consider_of_Micro-Current's_effect_to_variation_of_Facial_Wrinkle_trend_Randomized_Clinical_Trial_Study.
Schroeder, Roberta. 2021. "#SkinSchool: Everything You Need to Know about Microcurrent Devices." Harper's BAZAAR. April 8, 2021. https://www.harpersbazaar.com/uk/beauty/skincare/a33499130/microcurrent-facial/.
Shiffer, Emily J. 2019. "Is This 5-Min Microcurrent Facial Better than Botox?" Healthline. Healthline Media. June 26, 2019. https://www.healthline.com/health/beauty-skin-care/microcurrent-facial.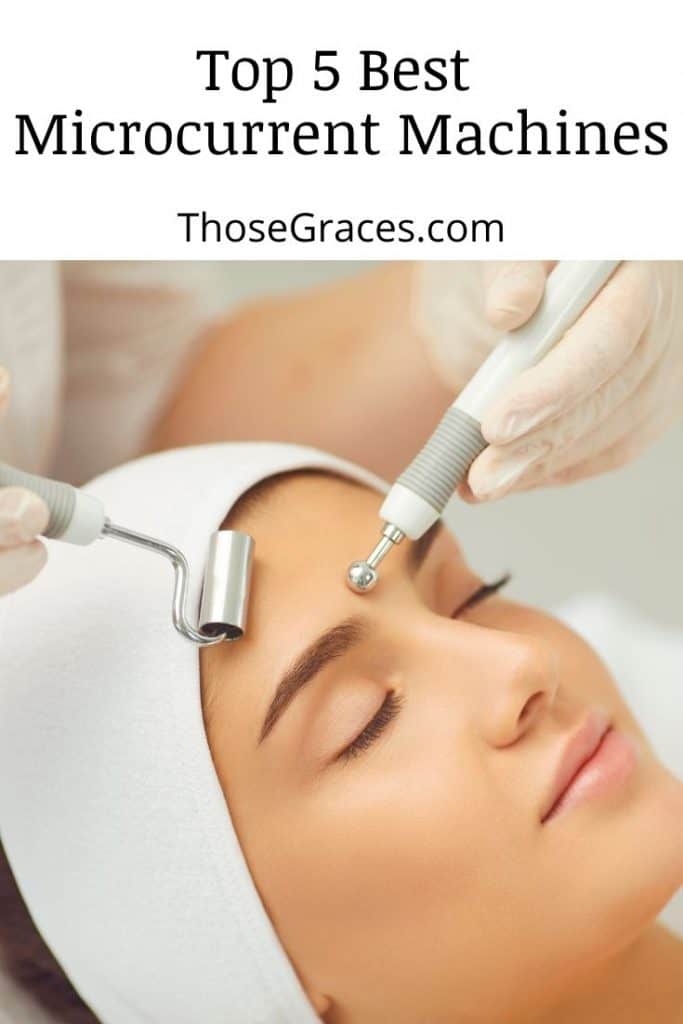 Have you tried using a microcurrent machine? Please share your experience below!