Tanning lamps are efficient and convenient because they allow you to get your beautiful bronze at home.
They really come in handy when you're too busy to schedule a tanning appointment, and you got an event coming up!
As a tanning enthusiast, I know how difficult it can be to navigate the realm of indoor tanning, especially when a poorly chosen lamp can turn you into a human-sized grilled cheese sandwich.
Don't worry, I've reviewed some of these lamps and researched the others extensively.
I'm here to help you choose the perfect tanning lamp that will have you looking like a sun-kissed goddess, minus the risk of over-toasting
Let's start with a quick look at our top picks, then keep reading for all the glorious details.
Related: The Best Indoor Tanning Lotions
This post contains affiliate links. We earn a commission if you make a purchase through my links, at no extra cost to you.
Tanning Lamps Top Picks at a Glance
Don't have time? Here is a quick comparison of our favorites!
Top Benefit
It's the perfect upgrade for whatever tanning bed you have
It's powerful enough to help you achieve a full tan in just a few sessions
It promotes quiet operation
9 Best Tanning Lamps (Review Guide)
If you've always been more of an outdoor tanning kind of girl like me, all these indoor tanning devices can be very confusing.
It was a lot for me, and I had to talk to several professionals to fully understand what was best for me and why.
And today, I'll be letting you in on the best tanning lamps in the market, because you REALLY need one.
I also did; I just didn't know yet! And it has been a lifesaver.
Let's get started.
ALSO READ: How Long Does it Take to Get a Noticeable Tan?
One of my pet peeves with the tanning lamps has always been the size. Most of them are tiny, and you have to keep tossing or moving the lamp to get a good uniform tan.
Well, I'm slowly learning that there is a device for everything & I've even started to appreciate the face lamp tanners as well.
Anyway, this is my favorite brand because it's big, and I don't need to be super near to get a golden tan.
But there is more to why it's in the first position. Read on to see.
Features
One of the greatest features of the lamps is the great stand that can be easily adjusted based on the areas that you need to tan.
The lamp is also compact, so you won't be struggling with space even if you've got a small apartment, and it's very portable.
Another great feature is the 1000-hour bulbs that are responsible for giving you the tan. And as you'll later see in the next section, they do a fantastic job.
I also love the 15-minute auto shut-off timer because sometimes you get so lost in thoughts, and you can just go and on.
And sometimes, you just don't want to move from where you are (especially if you're struggling with depression).
I'm mentioning this because I've seen many people who use these lamps to relieve depression symptoms.
It's also important to mention that the lamps are FDA approved. They protect your skin from overexposure to UVA radiation and other environmental pollutants. [1]
Benefits & Drawbacks of Sperti Fiji Sun Home Tanning Lamp
| Benefits | Drawbacks |
| --- | --- |
| It's very effective; for those with fair skin, a session of 5-10 minutes is more than enough to get a golden tan | It can easily burn you if you are too near, or underrate it and have long sessions |
| Besides tanning, some users mentioned using the lamp as a way of reducing depression symptoms | It's on the pricy side. |
| It gives you a boost of energy | |
How it Compares With Others
One of the greatest strengths of the Sperti Fiji Sun is that it has 24 inches of coverage. As a result, it allows you to tan your shoulders, neck, upper chest, head, and face at the same time.
The bulbs also do an amazing bulb and give you a salon-like tan.
Expert Tips
When using the Sperti Fiji Sun for the first time, my only advice is to not underestimate its power. Keep your distance, and start with shorter tanning sessions to know how much your skin can handle.
5-minute sessions are okay for beginners.
What Influencers are saying about this tanning lamp
Tyler Tolman, an influencer, says that Sperti's Fiji Sun Tanning Lamp is a great way to get natural Vitamin D. Here's a video of him explaining his experiences in using it.
"It's so effective that if you stand in front of it for just five (5) minutes and you'll immediately get burnt."
Maintain Your Summer Tan Through Winter with The Fiji Sun Indoor Tanning Lamp - Adjustable, FDA Cleared, Auto Timer & UV Safety Glasses - Trusted US Company
Salon quality - No need to carve out time for an appointment. Fiji Sun lets you conveniently achieve a smooth and even glow from the comfort of home.
Face and body - Easy to use tabletop light is fully angle adjustable, allowing it to be used for facial and sectional body tanning. Enjoy results in minutes - a little goes a long way!
All year bronze - Maintain a natural glow year-round, regardless of the weather or season. This mighty personal sunlamp lets you quickly and easily touch up your base tan as needed.
FDA cleared - This indoor tanning box is cleared by the FDA and helps avoid sunburns and overexposure to UVA radiations of the sun as well as outdoor pollutants. UVA blocking eyewear included.
Compact - Small foot print, can be easily stowed away when not in use. Dimensions: 22in x 9in x 14in and weighs 15 lbs.
Also check: Cheap Tanning Bed Bulbs
No products found.
Moontree's U-V-A sun lamp is one of the top tanning lamps I consider the most efficient because of its flexibility and adjustability.
In my personal opinion, the lamp is so functional that it's able to hit two birds with one stone. It emits the heat and light akin to that of the sun, ensuring that you get the vitamin D you're looking for!
Appearance-wise, I'll say that the product is also a win-win. It's sleek, professionally-looking, and it's small, portable, and lightweight.
Features
This powerhouse of a lamp is packed with multiple features and functionalities, one of which is the easy control pad. The side-control pad gives the lamp more space for the emission of heat and light.
The entire body and physicality of the lamp are sleek and functional, it's not that space-consuming compared to the other tanning lamps I've used.
Moreover, the quick-heating ability of the lamp is perfect if you're a person who is always on the go!
Apart from that, the product also features fair and cheap pricing –it's sold for a lot less than stationary and auxiliary tanning bulbs!
I can guarantee you that nowhere else can you get tanning bulbs for less in the same quality as this!
Benefits & Drawbacks of the U-V-A 395nm Sun Lamp
| Benefits | Drawbacks |
| --- | --- |
| The lamp heats up in just a few seconds to a minute | The product doesn't come with instructions, so it's not that simple to set up |
| You can use it for your face and body | It can get extremely hot to the touch when left too long |
| It's small, compact, and easy to carry –it's also lightweight! | |
| You can use it regardless of the skin type and skin color you have | |
| It does not contain hazardous and dangerous UV rays! | |
How It Compares to Others
Moontree's product is what I consider one of the best tanning bulbs I've used because of its overall physical feat.
Compared to others, this tanning bulb can be mounted on top of a table, on the floor, and it can even be placed on a flat surface that does not need too much support.
Other things that I loved most about Moontree's U-V-A tanning bulb is the fact that it is lightweight, it's easy to use, and it does not require too much experience and expertise.
You'll be able to use it effectively and successfully even if it's your first time using a tanning bulb!
Expert Tips
In using it, make sure that you place it on a surface that's flat and stable. Moreover, ensure that your position when using it is at least 12 inches away from your body skin or your face.
User Reviews and Testimonials
Elaine, who is an Amazon customer said that this product is like what she was using in a tanning salon!
"I don't need to go to a tanning salon anymore –I have my own salon with this device!"
Where Can I Buy It?
I bought mine from Amazon, but you can get it from ubuy, too!
No products found.
CHECK: Tanning Bed Rash Pictures
When it comes to pure function, Wolff Tanning Equipment Co's Bronzing Sun Plus F71 is the lamp I wish I had known before.
It's a product that's rated to be effective for 800 to 1,000 hours when used accordingly (10 to 12 minutes per session).
In just the first try, I immediately felt and saw the change in color, thanks to the UVA and UVB [2] capabilities it has.
I would recommend this product to people who want a unique blend of UVA and UVB rays for their tan.
Features
At first glance, I thought that the product is not far from all the other fluorescent lamps in the market. Upon further inspection and application, though, I noticed that it was indeed something special.
The purpose of the bulb is not to provide light, but to provide enough radiation to achieve a tan. In as little as 10 minutes, I saw a change in my color and shade!
That's how effective Wolff's Bronzing Sun Plus was! Unlike other lamps, though, this product is applicable to tanning beds and is rarely used independently.
Another thing I loved about this lamp is the fact that it's a bi-pin [3] type of lamp, which is great because you don't need to worry about plugs any longer.
Benefits & Drawbacks of the Wolff Bronzing Sun Plus F71 100W Bi-Pin Tanning Lamp
| Benefits | Drawbacks |
| --- | --- |
| It's the perfect upgrade for whatever tanning bed you have | Contains focused amounts of UVA and UVB, which could be dangerous |
| You'll see a change in your color in just a few minutes | Tan lines would require more time and longer to achieve |
| The bulbs were easy to install because of the pins | |
| You rarely do not need to use a tanning lotion to assist the process | |
| You can purchase them in various sizes and wattages | |
How It Compares to Others
The product is thin and is compatible with most, if not all tanning beds. Although it is not a standalone lamp (you need to install it), it was extremely effective to the point that it's scary to use.
In terms of use, mine last for more than 3 years after a constant on/off in my tanning bed. It's a great purchase overall.
Expert Tips
Before using it, make sure you wipe it down with a glass cleaner. I did this and I was able to see a dramatic effect on the bulb's effectiveness.
When installed, turn it on for about three (3) minutes, and then turn it back off. After so, it'll already be safe to use.
User Reviews and Testimonials
Carlie, a customer from Amazon said that it's able to do the job and that she highly recommends the product.
"I've had this lamp for about five (5) months, and I mean it when I say that they are the best bulbs I've ever used."
Where Can I Buy It?
I was able to purchase mine from Amazon, but the product is available on eBay, as well as straight from Wolff's website, too!
Similar to the brand's Bronzing Sun Plus F71 bi-pin tanning lamp, they're also offering a dark tan II, F71 T12 100W bulb.
It's a regular bulb replacement for tanning beds, and I found this better compared to the bulbs I experienced using in tanning salons.
The product gets hot to the touch, which is normal, but this one's a bit different. When I touched it, I almost felt like I was touching a heap of power that is emitting excessive amounts of radiative heat.
In using it, though, make sure that you use it on a tanning bed equipped with a timer.
"Tanning beds are just as harmful (in fact, can even be more harmful) as the sun… In reality, there's no such thing as a "safe tan," says Jennifer Lucas, M.D. [4]
Features
The product features "fast tanning" technology, which is perfect if you want a touch-up on your color in just a few sessions.
Economically speaking, it's the perfect product because it's powered by 100 watts, and it has a life expectancy of about 500 to 600 hours.
I would say that it is one of the best and most popular bi-pin types of tanning bulbs for less because of its wide compatibility.
You can use it with SunMaster, Anytime Beds, Solar Storm, SunVision, and even ESB! So long as the machine uses FR71, it's compatible!
Benefits & Drawbacks of the Wolff System Wolff Dark Tan II F71 T12 100W
| Benefits | Drawbacks |
| --- | --- |
| You can use it in shorter sessions because of the UVB focus | They do not get as hot as other replacement bulbs |
| The product has a 30-day warranty for no lights, heat, or other defects | It can give you a reddish hue (sunburnt) |
| It's powerful enough to help you achieve a full tan in just a few sessions | |
| You can use it to upgrade the current tanning bed you're using | |
| The UVB rating is close to 5%, which makes it effective | |
How It Compares to Others
I like comparing this to the Wolff Bronzing Sun Plus F71 bulb not just because they're from the same brand, but also because they almost have the same features.
One thing I noticed with it, though, is that it does not give you a burning feeling, compared to the Bronzing Sun Plus. The feeling you'll get is mild, easy, and it's usable even if you're not used to tanning.
Expert Tips
Before usage, I always recommend firing the lamp up for about three (3) minutes. This helps the lamp incorporate into the bed overall, avoiding any type of premature failure like sparks or worse – explosions.
User Reviews and Testimonials
Hope Young, an Amazon customer, said that the bulb is awesome and that it is highly recommended to all possible buyers.
"The bulb has a nice color, it's lightweight, and it does not emit that buzzing sound we all loathe!"
Where Can I Buy It?
I was able to purchase my Dark Tan II from Amazon. However, it's also available on Wolff's website and eBay, too!
Check this video out to learn the process of replacing your tanning bed's bulb with the Wolff Dark Tan!
RAYMINDER's UVB Midband TM Ultraviolet Lamp Twist Timer is what I can one of the best tanning bulbs for people who aren't very familiar with tanning.
It's mountable, portable, and it is very convenient because the bulb does not flicker, does not hum, and can be turned on instantly.
Akin to any other tanning bulb, too much exposure to it can cause serious damage. Like the eyes, for example.
"Large amounts of energy light – like ultraviolet rays, blue light, and the sun – can increase the risk of eye disease," says Whitney Seltman, O.D. [5]
Features
The lamp features a countdown timer that's integrated to help you get just the right amount of UVB to achieve the tan you're looking for.
The package also includes safety glasses that help block UVB, which is something I appreciated because not all tanning bulbs and lamps have this as a freebie.
Primarily, the major winning factor here is the controlled timer, which is what can help you avoid overexposing yourself with too much radiation – like it did mine.
It was made to imitate the sunlight's intensity up to eight (8) times, so I can assure you that it is extremely hot!
Benefits & Drawbacks of the UVB Midband TM Ultraviolet Lamp
| Benefits | Drawbacks |
| --- | --- |
| You won't have to worry about overexposure because of the timer | While it is easy to set up, it's quite difficult to use and operate |
| It's portable and mountable to any surface –it has all the instructions! | To see changes, it will take time |
| It promotes quiet operation, you won't hear buzzing or humming sounds. | |
| The delivery of UVB is about 309nm, which is powerful and effective | |
How It Compares to Others
It's one of those lamps that have its own frame and is operated on its own. It's not like the replacement bulbs or lamps you're known to use, instead, you can hang it up or mount it onto the wall and floor.
The installation part was easy, I can tell you that, but if you aren't very familiar with tanning and UVB rays, you need to at least get an idea of how it works first.
I used it like about six (6) minutes per day, and it gave me the results I was looking for in about a month.
Expert Tips
When using, make sure that you position it about 24 inches over the area you want to expose. Also, avoid going over the recommended timeframe of when to use it because it can result in burns.
User Reviews and Testimonials
Lain, one of the customers who bought the lamp, said that it works great and perfect.
"Although the fixture needs a redesign, the functionality and features of the product are on the A-list. Me and my husband love it!"
Where Can I Buy It?
I purchased my UVB midband UV lamp from Amazon, but it's also being offered at eBay and Rayminder's website!
Does this lamp give you a tan? Of course it does. But that's like the least benefit of the lamp, so you can imagine the value it comes with.
And no, this is not some marketing BS; it actually has some crazy health benefits that we will be discussing in the next section.
Features
Its XXL treatment surface is one of the greatest benefits of the lamp because many users want to get a tan and relax their muscles. The il50 lamp is great for treating large parts of the body like the back and chest.
Another great feature of the lamp is the effective deep penetration. This is all thanks to the infrared light therapy that provides pain relief by penetrating through deep layers of the skin.
In addition, it helps in promoting skin health by repairing it, reducing inflammation, and improving blood flow.
Like our previous lamp, it's adjustable and very portable.
Benefits & Drawbacks of Beurer IL50 Infrared Heat Lamp
| Benefits | Drawbacks |
| --- | --- |
| It gives you an amazing golden tan | It gets extremely hot, so be careful with it |
| It relieves pain in all body parts by simply committing to 5-10 sessions daily | Turns on as soon as you plug it in (no switch), which can be dangerous if left unattended. |
| The infrared energy absorbed into the skin is converted to thermal energy, which subsequently improves blood circulation | Some issues with the bulb arriving dead (which means an email to customer service to replace). |
| It helps with other chronic diseases; one user said it significantly improved his kidney health in 2–15-minute sessions | |
| It helps in heating muscles before a workout to avoid muscle injuries | |
How it Compares With Others
One of the greatest features of this lamp is the infrared heat that helps in solving so many health problems.
It can help in relieving muscle ache and tension, colds, backaches, support bronchial congestion treatment, and one user even said it helped with his muscle kidney health.
Expert Tips
I know it's easy to get excited and go trying to self-treat yourself with the lamp after reading the reviews. However, I highly recommend consulting your doctor if you have diabetes or serious skin allergies before using the lamp.
Also, be careful when using it for the elderly, especially if they suffer from dementia and drowsiness.
Lastly, avoid usage after taking medication or consuming alcohol.
Sale
Beurer IL50 Infrared Heat Lamp, Red Light Heat Device (Portable), for Muscle Pain and Cold Relief, Improves Blood Circulation, 300W, Safety-Features
Portable, convenient and Easy to use: Adjustable tilt angle for direct heating where you need it and portable with a cord winder. Start it simply by pressing the on/off switch and choosing your time
XXL treatment surface: The il 50 lamp is perfect for treating large parts of the body. For an ideal outcome we recommend a treatment area of 11.8" X 15.7". Keep at minimum 12" - 16" Distance
Effective deep penetration: Ir light therapy provides better pain relief by penetrating even deep layers of the skin. It improves cardiovascular health (blood flow) treats inflammation and promotes cell repair
Beurer safety features: 100% UV-free, built-in timer (1-15 mines) and overheat protection; material of the underside: soft, breathable cotton
ACCESSORIES & SUPPORT INCLUDED: Comes with an AC-Adapter with a cord winder. And if you have any questions, our friendly Florida based team is always happy to help
What if you could get a golden tan and come out of your session happier, motivated, and more energetic?
You would probably never visit your tanning salon. Would you?
Well, I hate to spoil business for your tanning salon, but it's my duty to tell you the truth.
There is a way, and this lamp is your only ticket
Anyway, read on to see what I'm talking about.
Features
One of the greatest features of this lamp is the soothing lamp therapy. The 2-in-1 therapy combines light & fresh air to help you balance your body clock.
This means by the end of your sessions, you'll be feeling nourished, rested, and refreshed.
Another great feature is that it's a fantastic mood enhancer. It emits 17,000 Kelvin UV-free light, which helps in brightening your mood and raising your spirits, especially during winter.
One Amazon user mentioned that she has been battling depression and has been on antidepressant pills for the longest time possible, and this lamp really helps.
She adds that while the lamp doesn't give her the artificial high she gets from the pills, it has helped her survive without the meds
It also helps that the lamp is convenient and compact so that you can carry it around. One user says she uses it when doing her morning routines, and she loves that she can move it around for this.
The timer also helps because if you need some energy boost before sleeping, you can simply set the time and sleep without worrying about burning the house down.
Benefits & Drawbacks of Nature Bright SunTouch Plus Light and Ion Therapy
| Benefits | Drawbacks |
| --- | --- |
| It gives you a golden tan | It's not FDA approved to cure any diseases |
| It boosts your energy and mood, especially during winter | Bulbs burn out fairly quickly |
| It may help reduce symptoms of depression | |
| Includes a timer | |
How it Compares With Others
Unlike other lamps, this lamp is safe to use even for 2 hours a day without the fear of getting burnt.
Expert Tips
If you want to use the lamps to cure any illness, consult a professional. I also recommend starting with small sessions and increasing the time as you get used to it.
Nature Bright SunTouch Plus Light and Ion Therapy
SOOTHING LIGHT THERAPY LAMP: The Nature Bright Sun Touch 2-in-1 Light Therapy Lamp combines light and fresh air therapy in a compact design. It helps balance your body clock, leaving your entire body feeling rested, refreshed, and nourished
PERFECT MOOD ENHANCER: Our Sun Touch Plus sun lamp is ideal for brightening your spirits in the winter season and year-round. Our SkyEffect technology emits 17,000 Kelvin UV-free light, which can uplift mood
CUSTOMIZED MOOD LIGHT: Since 2001, we've been helping people through hard times and toward a brighter future. Our built-in personal air purifier and built-in timer with 15, 30, 45, and 60-minute intervals allows customized use
CONVENIENT AND COMPACT: The Nature Bright sunlight lamp is designed with a slim footprint and upright design so it can fit seamlessly almost anywhere. You can set it on your desk at work or on the nightstand at home to help you elevate your mood
COMMITTED TO YOU: Sun Touch Plus is recommended by the Columbia Department of Psychiatry and is tested and certified safe for eyes by Age-related Macular Degeneration Center, University of Texas Medical Branch
If you've used infrared light devices and find them very costly, this is another excellent alternative.
Plus, the Anyork company has been in the industry for over 20 years, so they know what they're doing.
Ready to know more about this device? Let's get into it.
Features
One of the greatest features of these tanning lamps is that it uses red-light technology, which has so many benefits.
For instance, it helps in repairing tissues and healing wounds in the skin and reducing inflammation. This means that besides a tan, this lamp may help in reducing acne in the long term.
You'll also be happy to know that red light technology can help in hair growth in the long term.
It's lightweight and easy to move around, unlike other red-light panels. Since you're advised to hang it when using it, it comes with a hanger, so you don't have to hustle for one.
And lastly, it comes with one pair of goggles for eye protection, which is a big bonus.
Benefits & Drawbacks of Anyork Red Light Device
| Benefits | Drawbacks |
| --- | --- |
| Thanks to the red-light technology, the lamp can repair your skin, reduce the appearance of wrinkles, and boost collagen production | For best results, you're recommended to hang the device and stand in front of it. This can be very tiring. |
| It improves your skin complexion giving you a glowing skin | Bulbs don't last as long as you'd expect, according to some. |
| It helps in reducing inflammation and joint pain | |
| Its lightweight compared to other red-light panels | |
How it Compares With Others
What I love most about this lamp is its red-light lamp technology that comes with so many benefits.
However, I also love that their instructions are very clear, and they even throw in a hanger and goggles in the package.
Expert Tips
For best results, stand 5-15 inches from the light for 10-25 minutes a day and ensure you take all the recommended precautions.
Sale
Body Red Light Devices in Deep Red (660nm) for Face Body Skin
☞ Pain Relief of Muscles: Deep red & near infrared light helps promote antioxidants, which play a central role in reducing the oxidative stress associated with muscle fatigue, Deep red 660nm stimulates cell repair, accelerates cell metabolism and capillary blood circulation, and relieves pain.
☞ Skin Beauty: Red light can promote the growth of skin collagen, carry out deep skin beauty maintenance, eliminate wrinkles, shrink pores, promote the regeneration of collagen and elastin, and also promote skin aerobic respiration and help blood circulation.
☞ 338 LEDs 660nm Body red light devices panel: Our red light panel is a combination of two 169 LEDs panels, The beam angle of the LEDs is 60 degrees, advanced LED, with excellent robustness, high reliability, long life, low thermal resistance..
☞ specifications of LED Light Therapy Panel: Red light panel's measurment: 22*11.8*0.7 inch, total product weight is 8.64lb, 60W power consumption, weight 3.3lbs. You can hung on red therapy panel the door or be hung on the hook, lying irradiation of the whole body to use.
☞Using Tips for the Red Light Panel: Apply the light from 5-15 inch to the body, exposure each area for 10 – 25 minutes, depending on distance, do this 2 times to 5 times a week until results are felt, Led red Light device can be applied to any area of the body, except the eyes.
Read: Do You Need Tanning Lotion for Tanning Bed?
This is another great invention that Amazon users can't seem to get enough of. One user even felt the 5-star rating system wasn't enough and gave the lamp 500 stars.
That was the first review I read, and I also thought to myself, come on, it can't be that good. But, it turns out it can be that good.
Ready to know more about the lamp? Read on.
Features
One of the greatest features of the lamp is its automatic shutdown 60-minute timer to ensure you don't get burned.
I know this sounds ridiculous, but most users actually recommend starting small with 2-3 seconds per exposure and build up to 15 seconds. So the timer is critical in this case.
Another great thing about the lamps is that they include clear & comfortable UVB filtering glasses for your eye's protection.
Benefits & Drawbacks of M260 UVB Rayminder Lamp with a 60 min Timer
| Benefits | Drawbacks |
| --- | --- |
| This lamp gives you a better tan compared to other lamps on the list. | It can cause burns very quickly if you exceed the time |
| It's a fantastic source of vitamin D | Fairly pricy |
| It helps with multiple health problems as well as boosts the immune system | |
How it Compares With Others
The UVB lamp is an excellent choice for people looking for a source of vitamin D or a light tan.
It's also different in that you don't have to use the lamp for a prolonged time to enjoy the benefits. Even 2-minute sessions a day are more than enough.
Expert Tips
As mentioned earlier, it's essential to start with 2-3 seconds sessions and add 15 seconds every day. This will allow you to know how much intensity your skin can handle without getting burnt.
Also, ensure your eye protection because too much of this light isn't good for unprotected eyes.
Tanning Lamps FAQs
Here are the most common questions that people ask about tanning lamps
Do tanning lamps work?
Yes, tanning lamps are very efficient in giving you a golden tan. This is because UV lamps help produce UV radiation, which leads to a boost in melanin production (like it happens when you're under the sun). And since your skin pigment is a result of the melanin level in your skin, your skin gets a tan when you have a high melanin production.
Is it safe to use facial tanning lamps?
Yeah, facial tanning lamps are a great and quick way to get a facial tan. This is efficient when you're having meetings or simply don't want to go for a whole-body tan. And don't worry about the excessive UVA rays; most facial lamps have UV filters to ensure your skin is well-protected.
Final Thoughts
With our busy schedules, it's impossible to get time to go to the salon for tanning whenever we want. And even if we had the time, it could be very costly.
Luckily, thanks to technology, you can always get yourself a tanning lamp and get the tan at the comfort of your home.
Be sure to check the instructions on how to use the lamp and take the necessary precautions.
I hope my best tanning lamps review gave you an idea of what to look for in a great lamp.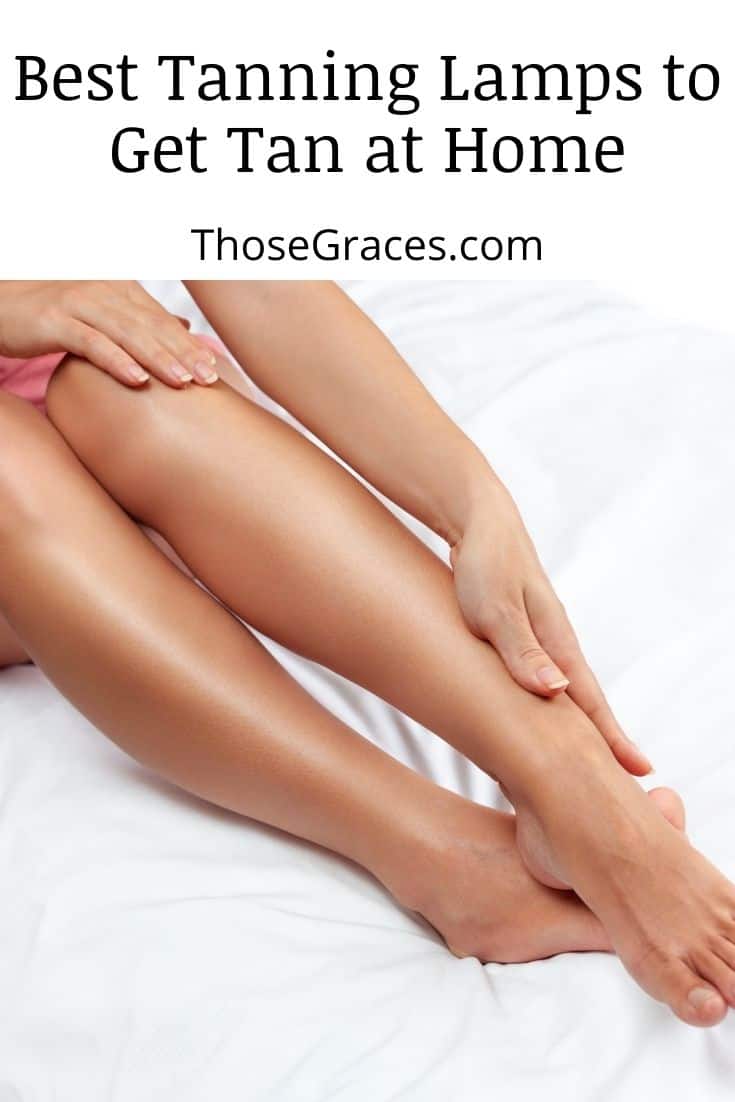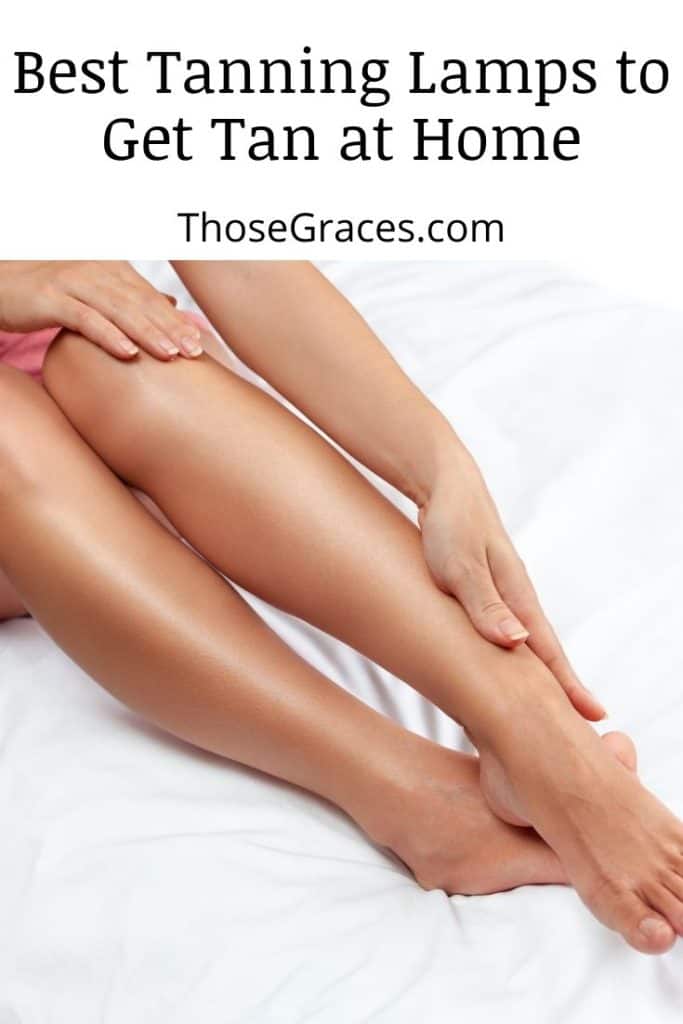 Have you ever used a tanning lamp? How was your experience? Please share with us below!
References
1. American Cancer Society. Ultraviolet (UV) Radiation [Internet]. Cancer.org. American Cancer Society; 2019. Available from: https://www.cancer.org/cancer/cancer-causes/radiation-exposure/uv-radiation.html
2. Vandergriendt C. What's the Difference Between UVA and UVB Rays? [Internet]. Healthline. Healthline Media; 2019. Available from: https://www.healthline.com/health/skin/uva-vs-uvb
3. Hunt J. An Easy Guide to Plug-In and Bi-Pin Light Bulbs [Internet]. Energy Avenue. 2019. Available from: https://www.energyavenue.com/blog/easy-guide-plug-bi-pin-light-bulbs/
4. Jennifer Lucas, MD [Internet]. Cleveland Clinic. [cited 2022 Apr 12]. Available from: https://my.clevelandclinic.org/staff/13748-jennifer-lucas
5. Whitney Seltman, OD [Internet]. WebMD. [cited 2022 Apr 12]. Available from: https://www.webmd.com/seltman-whitney