If you're struggling to find CHEAP tanning bed bulbs that actually work, I totally feel you.
The first time I bought them, I was bummed because I couldn't get the bulbs to work, and when I did, they barely bronzed my skin at all.
Anyway, eventually, I had to do my research because a girl gotta do what she's got to do for that tan.
Since I don't want you to have the same ugly experience, I made a list of the best cheap bulbs and home tanning lamps that don't ACT like cheap bulbs, if you catch my drift.
This post contains affiliate links. We earn a commission if you purchase after clicking on our links.
Cheap Tanning Bed Bulbs Top Picks at a Glance
Start with a quick look at my favorites, then keep reading for full reviews.
Check this table for a side-by-side comparison:
Top Benefit
The bulbs have a great wattage
It gives you a tan within a few minutes
The installation process is easy
Check: How to Prevent Tanning Bed Rash
5 Best Cheap Tanning Bulbs Detailed Review
Quality tanning bulbs take forever before needing a replacement, so I obviously wasn't able to buy each of these.
So, I did is consult tanning salon owners and tanned in their beds to experience the intensity of the bulbs.
That said, I have bought a share of tanning bulbs, and I'll be mentioning my favorites.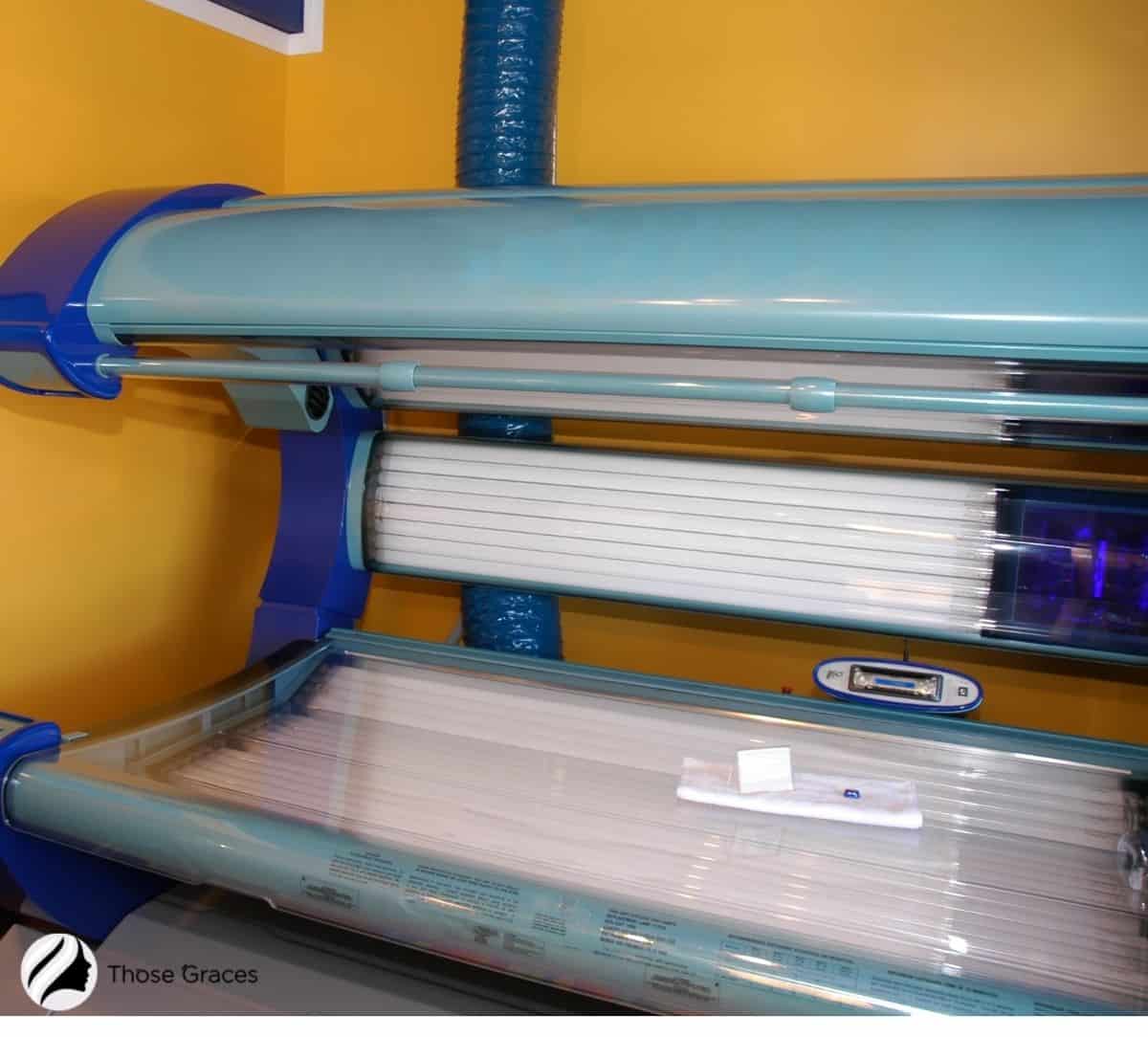 Let's dive in.
I wish I knew about the Wolf Dark Tan II before all my awful experiences. After a long struggle, one of my friends recommended the bulbs, and I bought them several times after that.
For a long time, I was paranoid and felt like any other bulb I purchased would be a disappointment, which killed my usual spirit of adventure.
And even now, after experimenting with so many bulbs, I still feel they deserve this top position on the list.
Ready to know what the fuss about the dark wolff bulb is all about? Let's get to it.
Features
I can't talk much about the Wolff System company and its products because I let my boyfriend do most of my electronics shopping.
That said, I did a little research, and they seem like they're among the big boys of the electrical world.
One of the best features of the bulbs is that they can last you for at least 800 hours if you do tan sessions of 12-15 minutes.
Mine lasts longer than that because once in a while, I choose to tan in my backyard.
Just to give you an idea of longevity, see what my friend Sher said about the bulbs when I interviewed her.
'We mostly use the wolf dark tan bulbs because they last for about 6 months, which is a lot of time in a commercial setup."
The bulbs operate at 100W, and they're shaped like tubes; they spread the lights in all parts of your body.
You can feel the intensity when you're laying – not the irritating kind, but just enough to let you know something is happening.
Another great feature of the tanning bed bulb is that it fits with all the lamp sockets I tried out.
I've bought some tanning bed bulbs in the past that I had to return because they didn't match my lamp sockets.
| Benefits | Drawbacks |
| --- | --- |
| The bulbs have a great wattage | Some people mentioned that they didn't get any color using this bulb |
| You can recycle the bulbs | They don't ship to Alaska or Hawaii |
| They provide extra radiation, which allows you to get a golden tan fast | Stock issues (sometimes they're sold out) |
| They fit in with all universal sockets | |
*If they're unavailable, check here for more options.
How it Compares to Others and Why
The Wolff Dark Tanning bed bulbs have 100 Watts like most tanning bulbs in the market.
However, their tube shape allows them to deliver great intensity and give you a tan in half the time you get one.
Expert Tips
Ensure you install the lights well for the best results. Also, start with a few minutes in bed and keep increasing as you gauge your body's tolerance to UV rays.
No products found.
The X Power Twister is another great option if you're looking for something with a longer life expectancy.
I used this bulb for so long that I had to change them just to experience something new. Yeah, that's how long they last.
Anyway, here are more important details that you should know about the bulbs before buying them.
Features
One of the greatest features of the X power twister dual face is its shape. Many people think that the twister shape is only for the beauty and cool appearance of the bulbs, but there is more to it.
The depressions or periodic swirls on the ultra-high-power tanning technology have a glass surface that improves the lamp cooling efficiency by reducing radiant heat.
Additionally, the lamps are also designed to allow higher input and an increased UV radiation output.
It has a dual phosphor formula with in-built face tanners to ensure you get a golden tan even on those areas that don't turn easily.
However, one buyer mentioned that he had a hard time placing the bulbs in their respective positions.
As we continue hoping that the company takes a step and does better with their labeling, ensure you install the bulbs correctly to get the desired results.
Another great feature of the bulbs is that they have a longer life than our previous counterparts. They should serve you for approximately 1000 hours if your tanning sessions last anywhere between 15 to 20 minutes.
| Benefits | Drawbacks |
| --- | --- |
| The bulbs warm up gradually, allowing you to enjoy your tan without any burns | The bulb installation can be challenging since you have to place all bulbs in their respective positions. |
| They have a long life expectancy | Like most cheap bulbs, they go out of stock often* |
| They have a very unique and appealing appearance | Hard to see the markings that tell you which ones go where. |
| They're cost-effective for commercial tanning services | |
| They have an increased surface area which gives them a higher tanning power | |
*If they're unavailable, check here for more options.
How it Compares to Others and Why
One way the X Power Twister Dual Face stands out from the crowd is its technology that allows you to tan even on areas that take longer to tan. I also love that it doesn't get very hot since it enhances the lamp's cooling efficiency.
Expert Tips
I know wearing an eye protector is a must when using tanning beds. But I can't stress enough the importance of wearing one when using these bulbs since they have in-built face tanners that can do more harm than good if the right precautions aren't taken.
No products found.
I know this is starting to sound like a Wolff System affair, but I promise you that every spot is well-deserved.
The Wolff bronzing sun plus is an excellent choice for those looking for a fast golden tan (and who isn't?).
This tanning bed bulb gives very fast results; one amazon user says that she began seeing results within a few minutes of using the bulb.
Ready to see all the features of the Wolff bronzing sun plus? Let's dive right in.
Features
Like its counterpart, the bulbs have a lifetime of 1000 hours, with sessions of about 10-12 minutes. However, you'll realize that the bulb consumes a little less than other bulbs with the same wattage.
You'll also realize that the bulb is very lightweight and compact.
The bulb is designed for 16rs beds, but it will fit in with many modern beds.
| Benefits | Drawbacks |
| --- | --- |
| It has a perfect wattage | When the bulb is new, it has so much power, and it may cause burns |
| It gives you a tan within a few minutes – reducing the number of sessions you need to tan. | Some complain that the seller isn't responsive to questions. |
| It consumes less power compared to other 100-watt tanning bulbs. | |
*If they're unavailable, check here for more options.
How it Compares to Others and Why
Tanning regularly can increase the power bill. Luckily, this bulb consumes less power, so it's very economical for frequent tanners.
Another way the bulb stands out is in the time taken before you start seeing a change on your skin. You should start seeing changes on your first tanning session, which is like 10 minutes.
Expert Tips
I only recommend these bulbs to intermediate tanners because it tans the skin very fast. For those with fair skin, ensure the tanning bed lotions you use have a high SPF to avoid any burns.
If you're looking for a great tan and an exceptional tanning experience, the Cosmetta tanning bulbs got you.
To be honest, I haven't tried these bulbs yet, but from the reviews I have read, I'll be trying them out soon.
One user from Chloe's tanning salon described her tanning experience using the lamps as soothing and very pleasant.
'My experience was very pleasant, and the red light helped me calm down and just chill. Everything was well-regulated, and I didn't suffer any burns. I must also admit that it took me half the time I normally take to tan.' She said.
Below are more details on the tanning bulbs.
Features
Well, the most outstanding feature of the bulbs is the 4 specific wavelength technologies. First, it has a red light.
This light ensures your skin maintains a youthful look even after tanning and keeps your skin hydrated. According to users, this light is also very relaxing.
The second light is the blue light. This one protects your skin from suffering any stress that comes with being exposed to the UVA rays and eases it.
Then there is the third wavelength (the UVA) that helps you get a rich and bronze tan within a few minutes.
The last wavelength is the UVB which enhances the tanning process by boosting your skin's melanin production.
| Benefits | Drawbacks |
| --- | --- |
| The bulbs have a combination of 4 wavelengths that enhances the tanning process | It takes longer to heat up |
| The bulb has 100-120 watts, which is slightly high compared to our previous bulbs | Stock issues (seems to be a pattern!) |
| It gives you a dark tan within a short time | |
| The installation process is easy | |
*If they're unavailable, check here for more options.
How it Compares to Others and Why
The most outstanding feature of this bulb is the 4 wavelengths. Users are particularly impressed with the red light, which has a calming effect.
Expert Tips
Because of the high wattage of 120, I recommend reducing the amount of time you spend in the tanning bed when using this bulb.
The Brilliance is a high-power bulb compared to our previous bulb. I have used this bulb in several tanning salons. They probably prefer it because they help their customers turn darker faster, which is good business.
This is what Kelly said when I asked her why she preferred the bulbs.
'For starters, I love the bulbs because they fit in most of our tanning beds, even though they are all from different generations. I also love that I don't have to incur an extra cost for batteries.'
Here are all the features of the Brilliance Bronzer F-73.
Features
One of the features I would love to stress is that these bulbs have 120 watts. This means they consume more power than most tanning bulbs that have 80-100 watts.
However, they also give a faster golden than other bulbs. In fact, if you dilly-dally in the tanning bed, you may end up with a burn.
The best part is if the 120 watts is a bit much for you, you can use it in 100 watts bulbs.
| Benefits | Drawbacks |
| --- | --- |
| The bulb has 120 watts, but you can use it to replace 100-watt bulbs | You may get a burn if you stay for too long in the tanning bed |
| It gives you a faster tan because of the high tanning power | No shipping to Alaska or Hawaii |
| It has a long life of 1000 hours if all sessions are 15 minutes | |
| Packs in multiple sizes | |
How it Compares to Others and Why
The best feature of this bulb is its 120-watt power. Its high output translates to a better and faster tan. Also, if you have 100-watt lamps, you can still use this bulb.
Another way it stands out is its cost; other 120 watt bulbs are more costly, so it's very fairly priced.
Plus, unlike the other cheap tanning bulbs on our list, Brilliance rarely goes out of stock, so there's a very good chance they're available when you need them.
Expert Tips
This bulb has a higher output, so it can easily burn you if you have a fair skin type, it can cause burns. To avoid this, just use a good tanning lotion during your sessions.
Frequently Asked Questions
Here are frequently asked questions regarding tanning bulbs.
Where Can I Find Cheap Tanning Bed Bulbs?
There is no specific outlet to get cheap tanning bulbs. The best thing to do is shopping around before making a purchase.
I found several affordable and quality tanning bulbs on Amazon. You can also ask for suggestions on tanning social media groups.
How do I know which replacement bulb to buy?
One thing you have to pay attention to when buying a replacement bulb is the length. Most bulb lengths are F71, F72 and F73. For instance, F71 bulbs are approximately 73 inches long.
You also need to check the power in watts. Most tanning bed bulbs range between 80 watts to 120 watts, with a big majority of the bulbs with 100 watts. The amount of time you wait to get a tan is determined by the output of your bulb. 100 watts is considered a high output, while 200 or 140 watts is considered a very high output.
How often do you have to change tanning bed bulbs?
This depends on the number of hours spent in the tanning beds. For example, tanning salons have to replace the bed bulbs every year, but a personal bed may require changing after 3-5 tanning years.
To simplify it further, the life of many tanning bulbs is 1000 hours if you're having 15-20 minutes tanning sessions.
Cheap Tanning Bed Bulbs (Final Thoughts)
One of the determinants of the quality of tan you get in your tanning session is the type of bed bulbs you use.
Bed bulbs are the source of the radiation that gives you a tan – this means the bulb's intensity has a lot with the time you have to stay in a tanning bed.
And while some tanning bed bulbs are so costly, they're worth the sacrifice because they're replaced once in a blue moon.
That said, I focused on getting you cheap tanning bed bulbs that are also effective.
However, as you noticed, some often have stock issues. One minute there are plenty, the next they're unavailable.
If your favorite is out of stock and you need it right now, I recommend checking all of Amazon's cheap tanning bulbs for more options.
Have you used any of the bed bulbs on my review list?
Final Recommendation
References:
"Are Tanning Beds Safe?" 2020. Health Essentials from Cleveland Clinic. July 14, 2020. https://health.clevelandclinic.org/tanning-bed-dangers/.
"What Do Watt and KWh Mean?" 2019. Energuide. 2019. https://www.energuide.be/en/questions-answers/what-do-watt-and-kwh-mean/121/.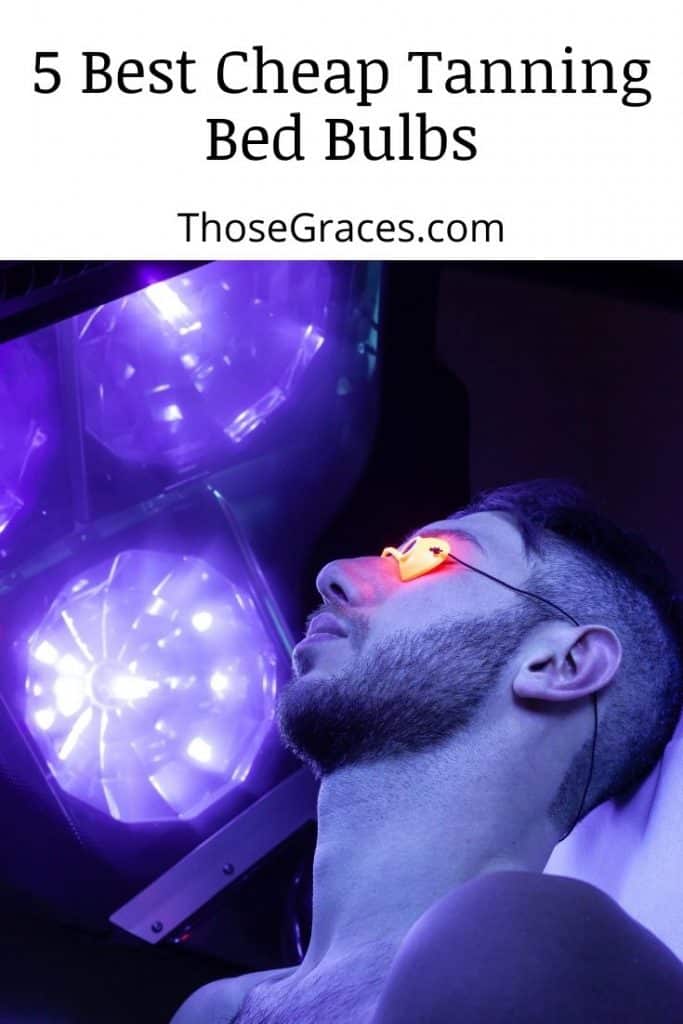 What are your thoughts about these cheap tanning bed bulbs? Share with us!