Looking for ways to celebrate your tan skin in fashion's color palette? Look no further!
As a dermatologist with years of experience and deep research, I have curated the perfect guide to help you celebrate your tan skin in the vast landscape of fashion's color palette.
This article will reveal science-approved strategies revealing my 3 easy steps to transforming your tan to navigate the fashion world confidently and stylishly.
So let's dive in and explore how you can celebrate your tan skin in Fashion's color palette.
Key Takeaways
Understanding your skin undertones can guide your choices of clothing colors that best complement your tan or darker complexion.
Paying attention to the patterns, prints, and fabric textures of your clothing can enhance your overall appearance and fashion statement.
Adapting your color and style choices to suit different occasions can help elevate your personal style and confidence.
Celebrating Tan Skin in Fashion's Color Palette (4 Easy Steps)
Here are 3 DIY tips for going beyond the pale and experimenting with a wide and fashionable color palette for darker complexions:
Step #1 Determine Your Skin Tone
As a first step, and long before you delve into those hip fashion trends, determine your skin undertone.
Irrespective of the lightness or darkness of your complexion, your skin's undertone reveals something very unique about the true color of your skin.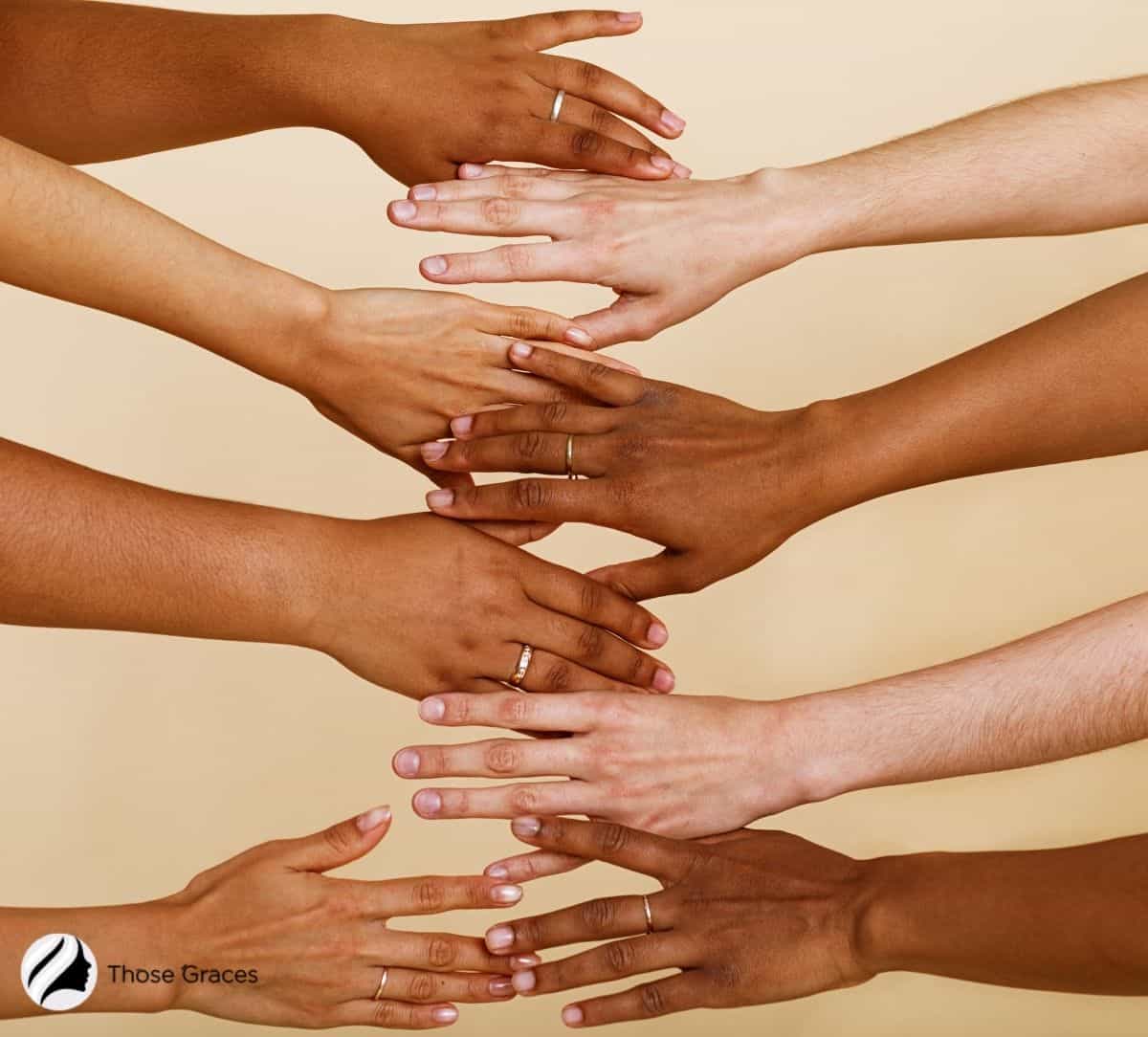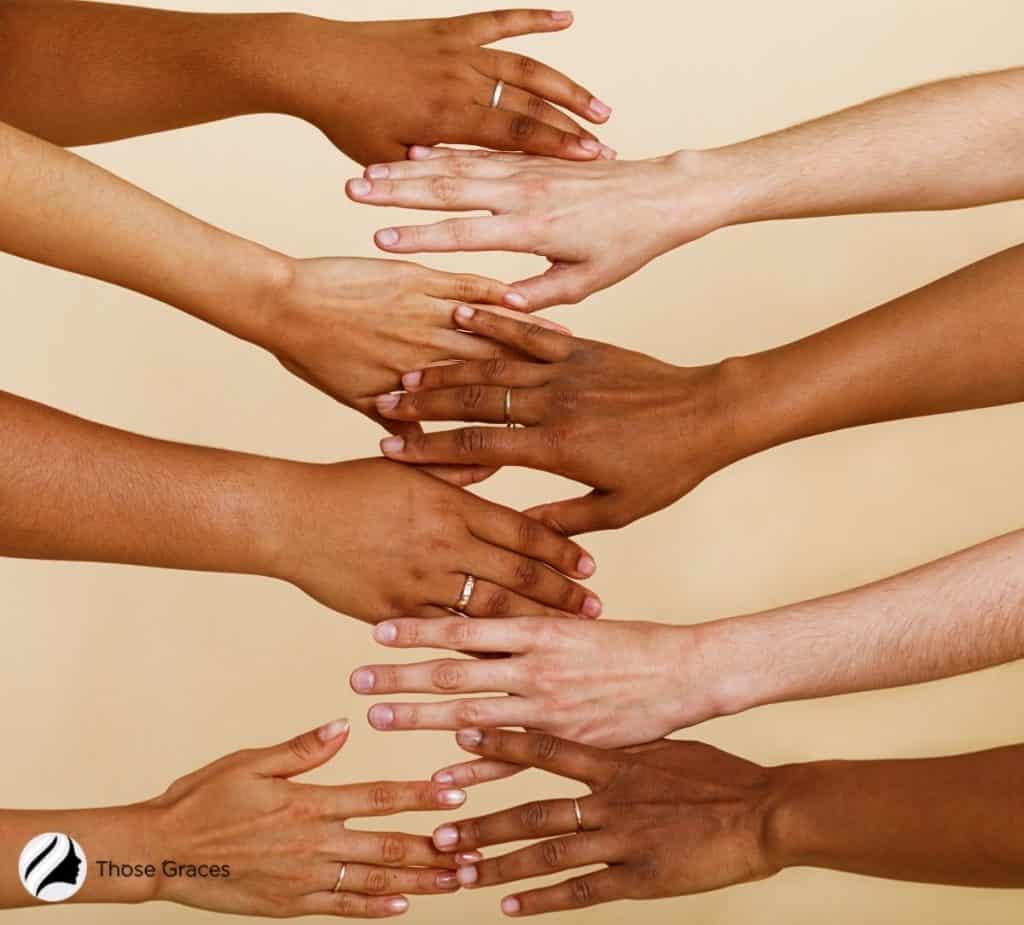 Typically, undertones are classified as cool (having pink or blue hints), warm (yellow or golden), and neutral (a balance of warm and cool).
Observing the color of the veins on your forearm is an effective way to identify your undertone: greenish veins suggest a warm undertone, bluish or purplish veins indicate a cool undertone and neutral undertones may not have a noticeably colored vein.
For a comprehensive understanding of 'what is tan skin tone', I highly recommend diving into my specific article on this subject.
A fashion lover? Delve into step #2 for some sparkling tips…
Step #2 Dress to Enhance Your Complexion
When dressing to complement your complexion, it's good to consider three things: colors, patterns, and cloth textures.
To illustrate, here are some tips for dressing to bring out your skin's color and glow:
1. Choosing Colors
Whether you want to get a new dress or shop for women's tights, selecting the right colors will be the key to enhancing your tan or darker skin tone [1].
In her paper "A Study on the Color Arrangement of Personal Color & Beauty and Fashion," dermatology researcher Ji-Young Lee emphasizes the "growing trend" of enhancing cosmetic color choices based on particular skin tones and the weight they play in cosmetics [2].
But how do you pick the correct color? Ji-Young Lee advises determining your undertones…
For warm undertones, earthy tones like olive green, burnt orange, and deep browns can bring a flattering glow.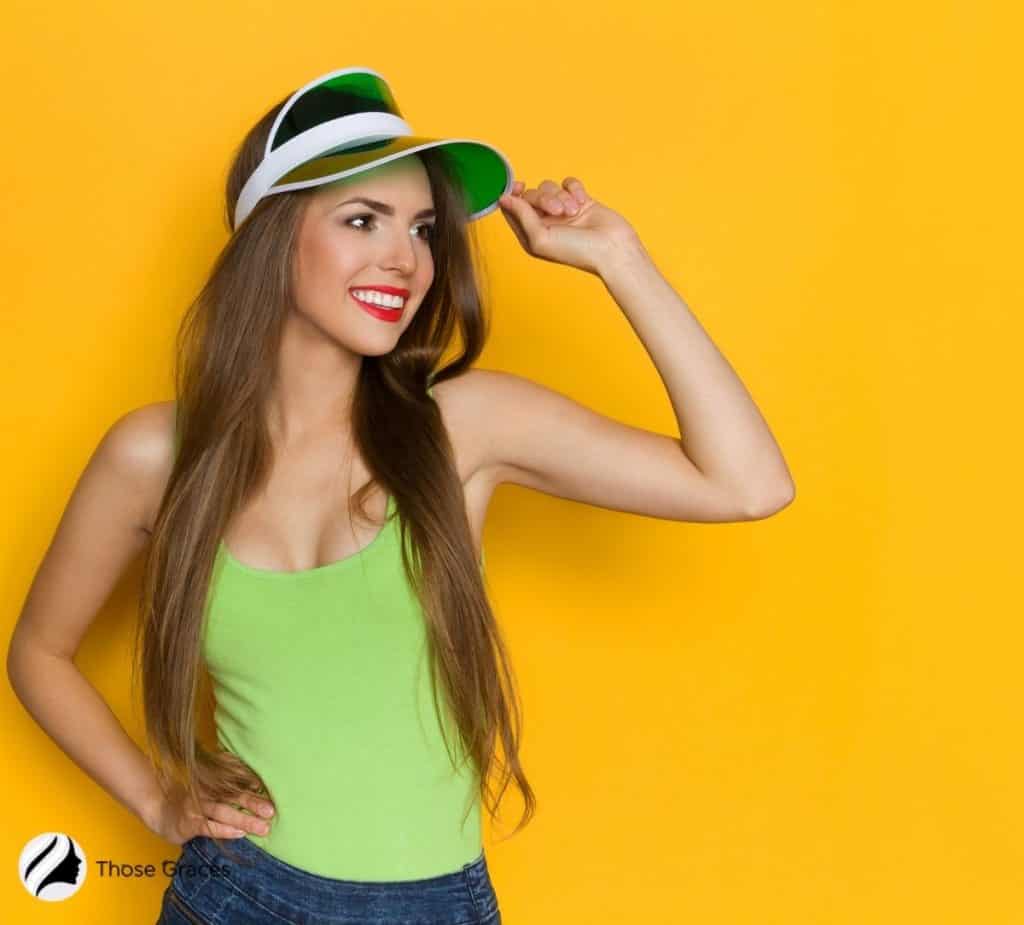 In addition, warm neutrals like camel, mustard yellow, and terracotta can provide a sophisticated touch.
If your skin has cool undertones, jewel tones such as emerald green, sapphire blue, and rich purples will work beautifully with your complexion.
Don't be afraid to experiment with different shades and tones within each color palette to find what suits you best.
Neutral colors like black, navy, white, and gray are versatile and work well for all skin undertones.
The colors eggplant purple, true red, and mellow rose also look good on various skin tones.
Enhance your beauty repertoire by checking out our additional resources on makeup looks for medium skin tones, hair colors for pale olive skin, and a pale olive skin color palette.
2. Patterns and Prints
Cosmetics expert and researcher Yinghui Fan describes how your clothing style should "celebrate and enhance tanned skin tones" [3].
Similarly, the author explains how patterns and prints can add visual interest and personality to your outfits to give you that glowing skin [3].
Darker complexions and – more specifically – bold prints and patterns are typically the way to go.
But consider incorporating animal prints and geometric designs into your wardrobe for a more natural, more robust color-matching.
If you're going with softer looks, don't forget floral patterns – They're always a great addition to any wardrobe.
Check more tips and tricks here:
3. Fabrics and Textures
The choice of fabric and texture on your clothing can significantly impact your overall appearance.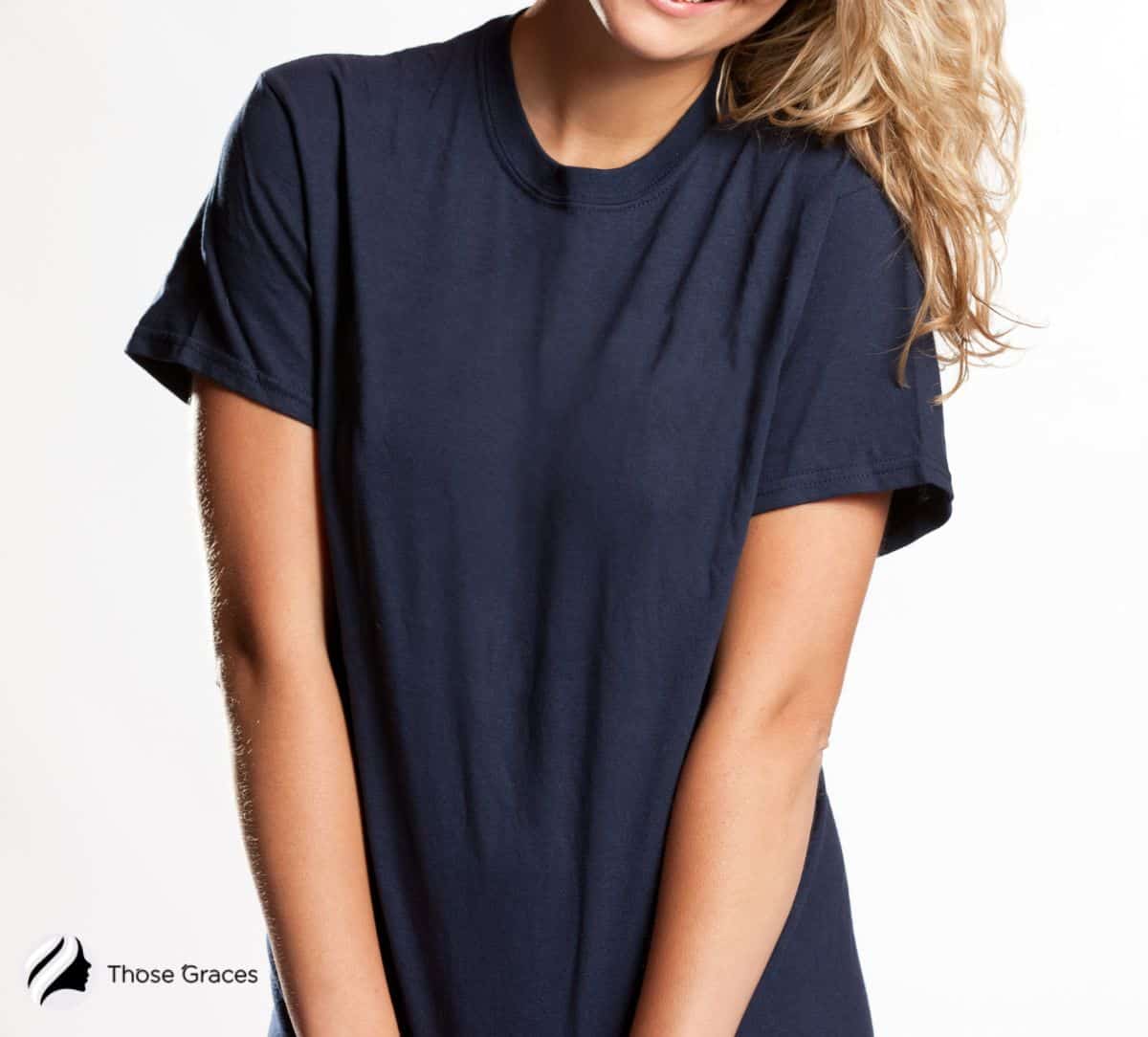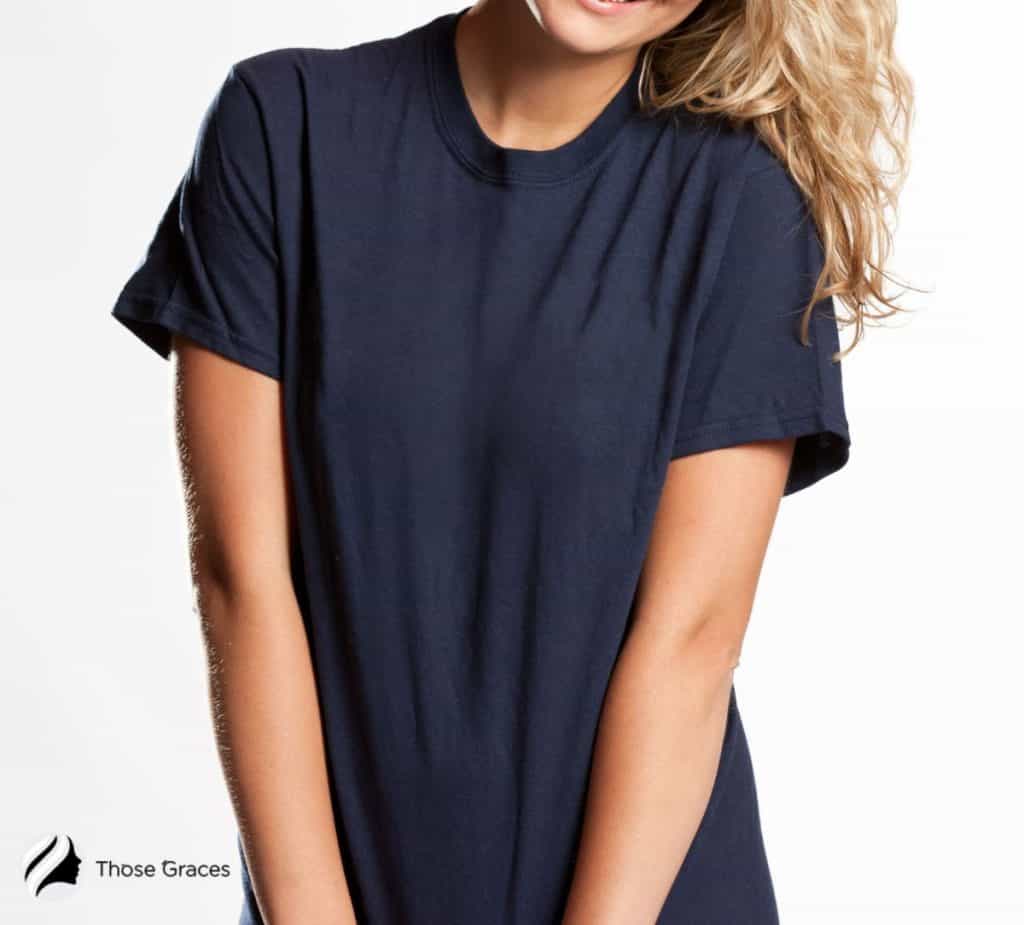 With this in mind, rock your tan and darker skin tone by wearing rich textures like velvet, brocade, or silk to add depth to your ensembles.
Metallic finishes are also a great choice, making even the simplest outfits feel more glamorous. Experiment with different fabric weights and finishes to find what works best.
Now, get ready for more on being "fashionable early" in different dress occasions…
Step #3: Dress for Different Occasions
Once you have a solid grasp on how your clothes' colors, patterns, and textures can complement your look, it'll be easier to dress for different occasions.
Below are some tips for specific applications:
Tip #1 Work Attire
Regarding work settings, it's important to balance both style and professionalism. Stick to classic colors like navy, charcoal gray, or camel for a polished look.
Meanwhile, tailored pieces in structured fabrics can give off a sharp and confident impression.
You can incorporate pops of color throughout your outfit using accessories like scarves or statement jewelry.
Tip #2 Casual and Everyday Wear
For daily activities, embrace comfort and style with versatile pieces that reflect your aesthetic.
Consider relaxed-fit jumpsuits, maxi dresses, or high-waisted pants paired with flowy blouses or leggings paired with oversized shirts or shirt dresses.
For a playful touch to your casual wardrobe, earthy colors in brighter hues—think sienna or golden orange instead of brown—will make you look amazing.
Tip #3 Evening and Formal Wear
Getting ready for a formal event? Or – perhaps – that long-anticipated wedding?
Don't shy away from elegant and glamorous options. Those with darker skin tones can go for deep jewel tones like ruby red, amethyst purple, or emerald green.
For more on accessorizing and final touches, head over to the next step: step #4…
To find out more tips, check out this video:
Step #4 Accessorizing and Final Touches
Add accessories that complement your skin and your choice of clothes to round out your outfit.
On many occasions, jewelry tones that flatter tan and darker complexions are gold, copper, and rose gold.
For your makeup, experiment with warm-toned eyeshadows, such as copper or bronze, to make your eyes pop.
Use rich shades like berry, deep red, or warm nude tones for your lips.
Lastly, don't forget to highlight your natural glow with a radiant, illuminating foundation or highlighter.
Having a tan or darker skin complexion is something to celebrate and be proud of. It also shouldn't stop you from exploring your fashion options.
Use the tips above to find flattering fashion choices for your skin color and undertone, and create a wardrobe that will turn heads and make you (literally) feel comfortable in your skin.
Thirsty for more tips? Check out these frequently asked questions and BOOST your look!
FAQs
#1. Are there any patterns or prints that work particularly well for tan or darker skin tones?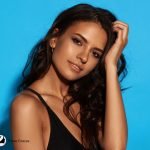 Focus on bold prints and patterns typically. Experiment with animal prints, geometric designs, and floral patterns to add interest and personality to your outfits.
#2. What about fabrics and textures for tan or darker skin tones?
Using rich textures like velvet, brocade, or silk can add depth to your ensembles. Metallic finishes are also a great choice, adding glamour to even the simplest outfits.
#3. Can I experiment with alternative colors for my skin undertone?
Absolutely! While certain colors tend to complement specific undertones better, the most crucial factor is your comfort and personal preference.
Conclusion
In the realm of fashion, celebrating tan skin in the color palette offers immense possibilities.
Knowing about your special skin tone, pairing colors wisely, and using patterns and textures effectively can help you reinvent your style.
Don't forget that your tan or darker skin is a feature to be proud of and cherished.
Use these insights as a springboard to explore fashion that complements your complexion and resonates with your individuality and spirit.
Let your fashion choices highlight your natural beauty and amplify your confidence as you stride into the world.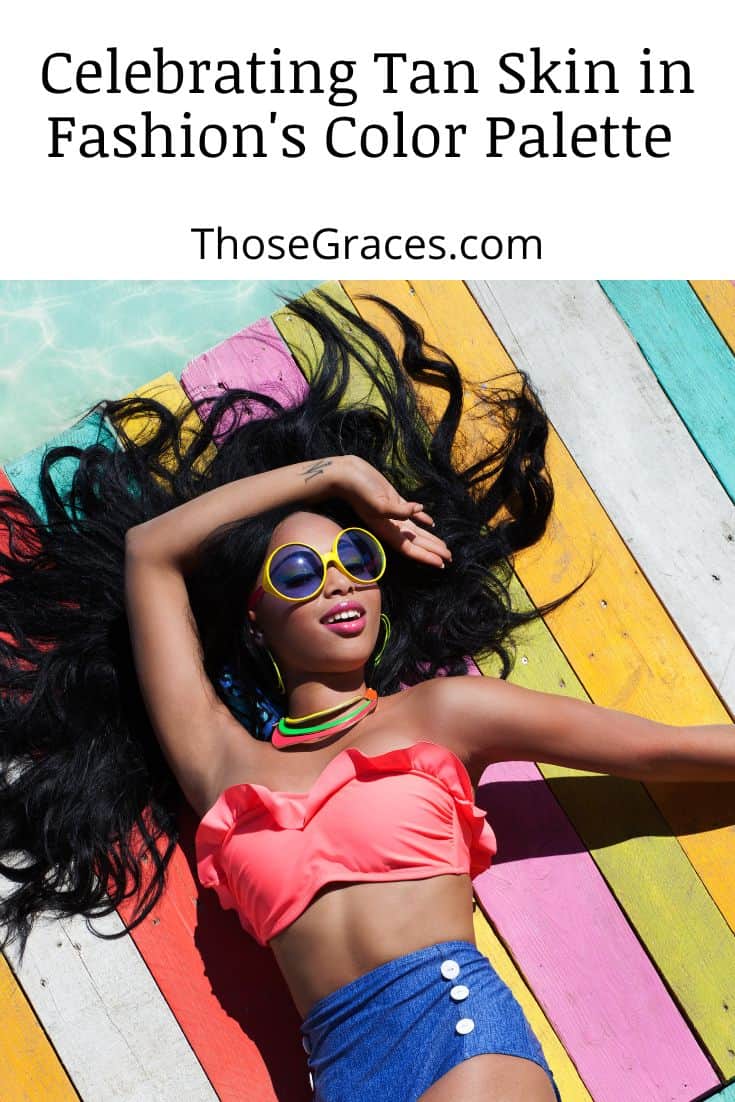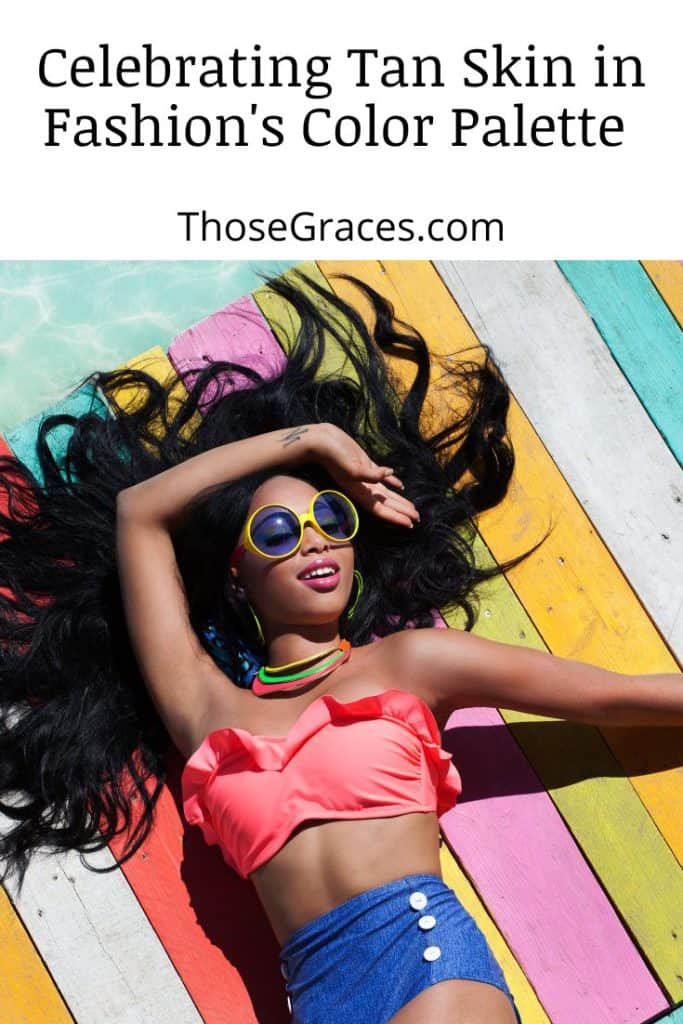 Resources
1. Lee J-Y. A Study on the Color Arrangement of Personal Color & Beauty and Fashion. 2023;29:485–98.
2. Shop for Tights | HUE [Internet]. hue.com. [cited 2023 Jun 25]. Available from: https://hue.com/tights/
3. Fan Y. Clothing Style Recognition and Design by Using Feature Representation and Collaboration Learning. International Journal of e-Collaboration. 2023;19:1–14.