If you're looking for great Fall Nail Designs, you'll love these ideas below!
All of these fun nails are beautiful and unique, and with browns and yellows to choose from, you'll have the best fall nails in town.
Use these ideas to get ready for the upcoming season or just give your nails a new fun, and festive look.
Related: 23 Gorgeous Minimalist Nail Designs
13 Fall Nail Designs Worth-Trying
The best part about fall nails is that you can mix and match them as you see fit.
You'll find that a lot of these nails are unique in their own way but would pair perfectly with any fall fashion or style.
Use these nails as a simple way to spruce up your fall look and style.
#1 Fall Vibes
You'll be 100% ready for fall once you have these nails primed! I love the contrast between the white and brown bases on alternating nails.
#2 Fall Skittles
Don't these look just like tasty fall-colored M&Ms or Skittles? They're simple enough to do on your own, yet make a huge statement!
#3 Leopard Print
Add a fun look and a unique style to your nails fast. Grrr!
#4 Turkey Trot
With fall leading into Thanksgiving, check out these fun nails! How freaking cute are they? I'm in love!
#5 Glitter Fall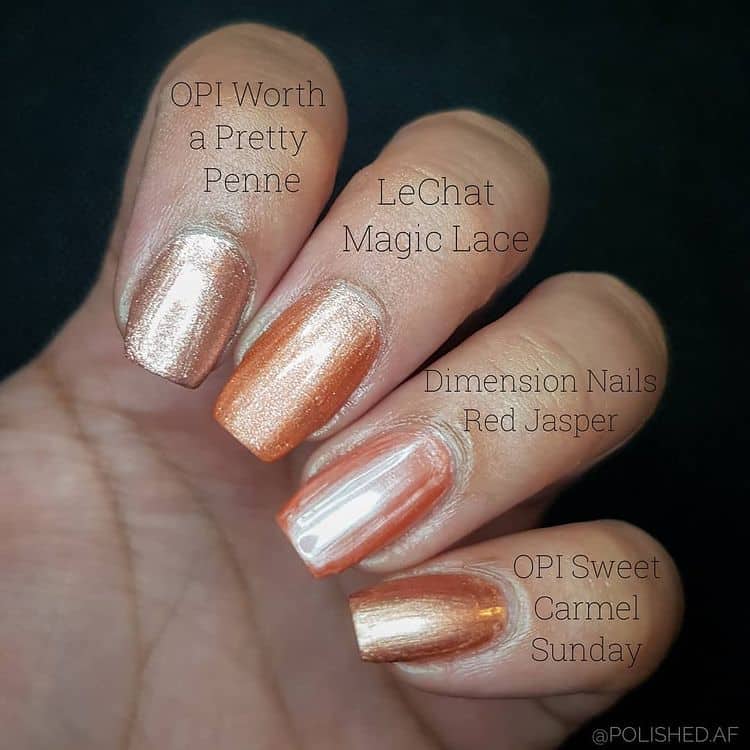 You can never have too much glitter, ever. I love that this nail artist was nice enough to put the exact shades for each nail right there for you.
#6 Just A Little Gray
If you're really not into browns and oranges, dark gray is a perfect look to head straight into the fall months. It's very elegant, making it great for the office.
#7 Sister Skittles
Another more subtle fall look, the burgundy mixes beautifully with the lighter shades. It kind of reminds me of leaves changing colors set against a bright blue sky!
#8 Pretty in Purple
Dark purple is a great color for fall, especially if you love Halloween, too.
#9 Just Chillin'
A super unique design that quietly whispers, "I'm just chillin' on my deck, enjoying the crisp temps."
#10 Modern Rainbow
Use this cute idea as a fun inspiration to do! It kind of reminds me of a river bank lined with leaves.
#11 Moondust
Totally unique and a fun pattern to try.
#12 Groovy
Chill and send out groovy vibes with your nails.
#13 Fall Foliage
Take a peek out the leaves turning to get inspiration for this look.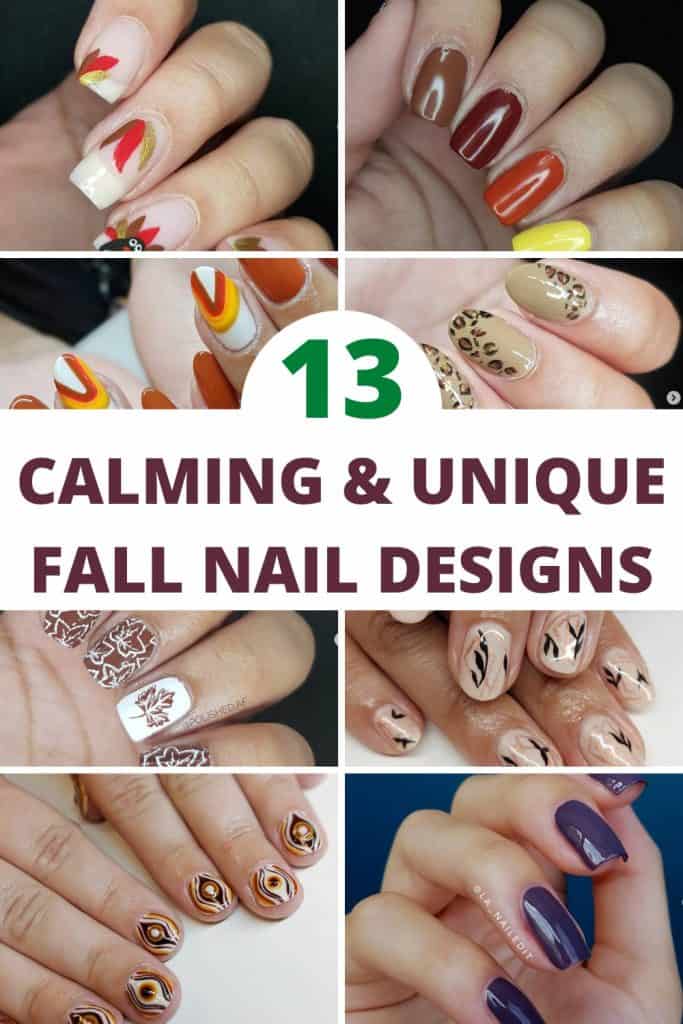 What are your favorite fall nail designs on the above list? Please share with us below!