If you're looking for the best Korean ampoules for your skincare routine, stick around!
Like any other beauty product, the number of K-beauty ampoules in the market is overwhelming, but I've narrowed it down to the best of the best to save you the trouble.
I know the pain of spending on the wrong beauty products, I've been there, so I got you.
Let's start with a quick look at our top picks, then keep reading for all the glorious details.
READ MORE: Which is Better Ampoule or Serum?
Best Korean Ampoules Top Picks at a Glance
If you see the value in these products and choose to purchase via my referral links, I may earn a small commission at no extra cost to you.
Check the table below for a side-by-side comparison of all five of our favorites!
5 Best Korean Ampoules In-Depth Review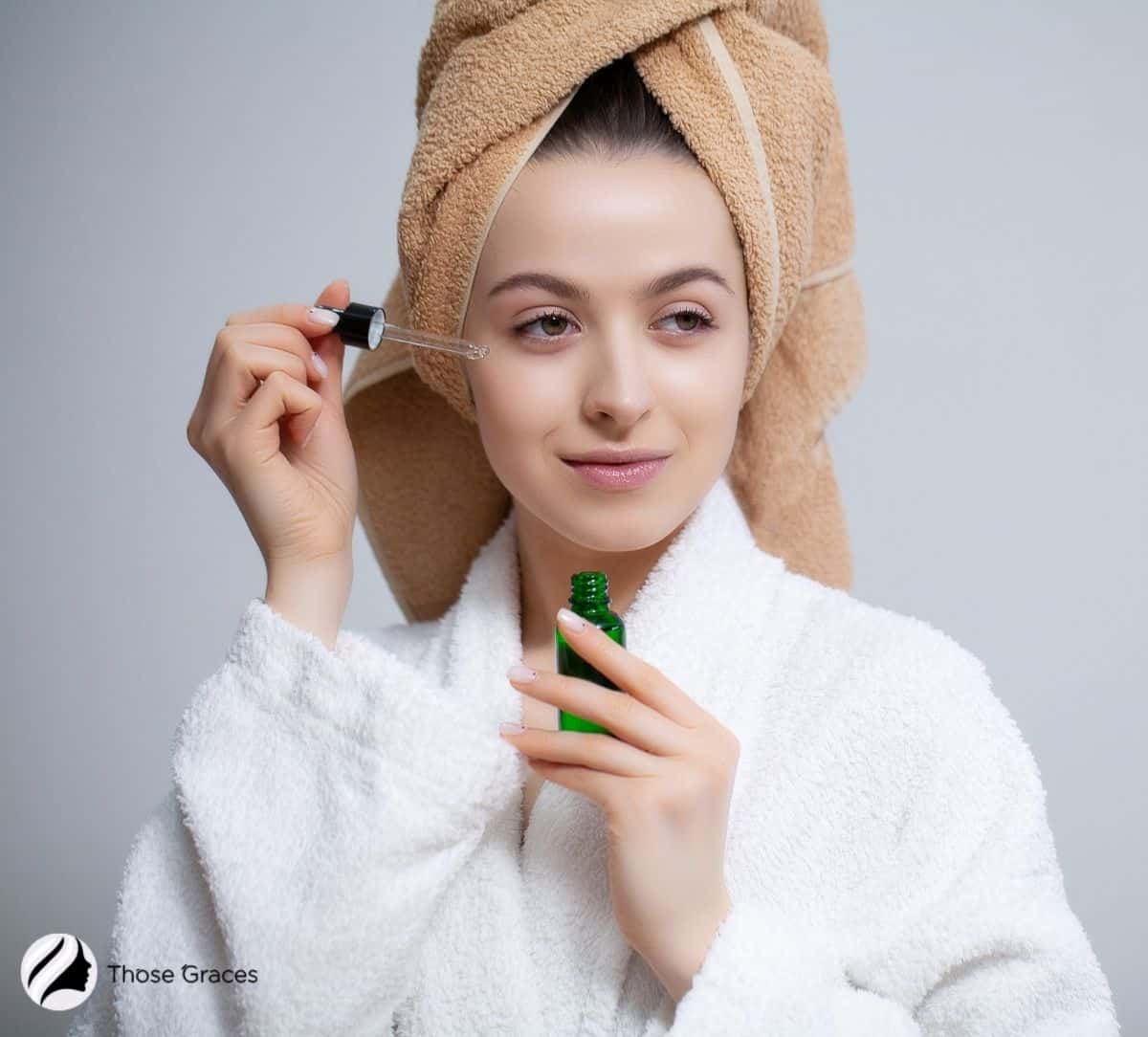 I'm surprised by the number of products Koreans have in their skincare routines.
After buying BB creams, serums, primers, foundations, and many others, I thought that was it.
Only to find out I was doing the bare minimum. Since then, I've added a few Korean products to my skincare routine, and I'll be sharing them with you in bits.
For today, I'll be talking about Korean ampoules. I know most people assume ampoules are the same as serums. However, they're a few differences like the ingredients, purpose, and consistency.
Anyway, that's a whole battle for another day; for now, let's focus on the best Korean ampoules.
Let's dive in.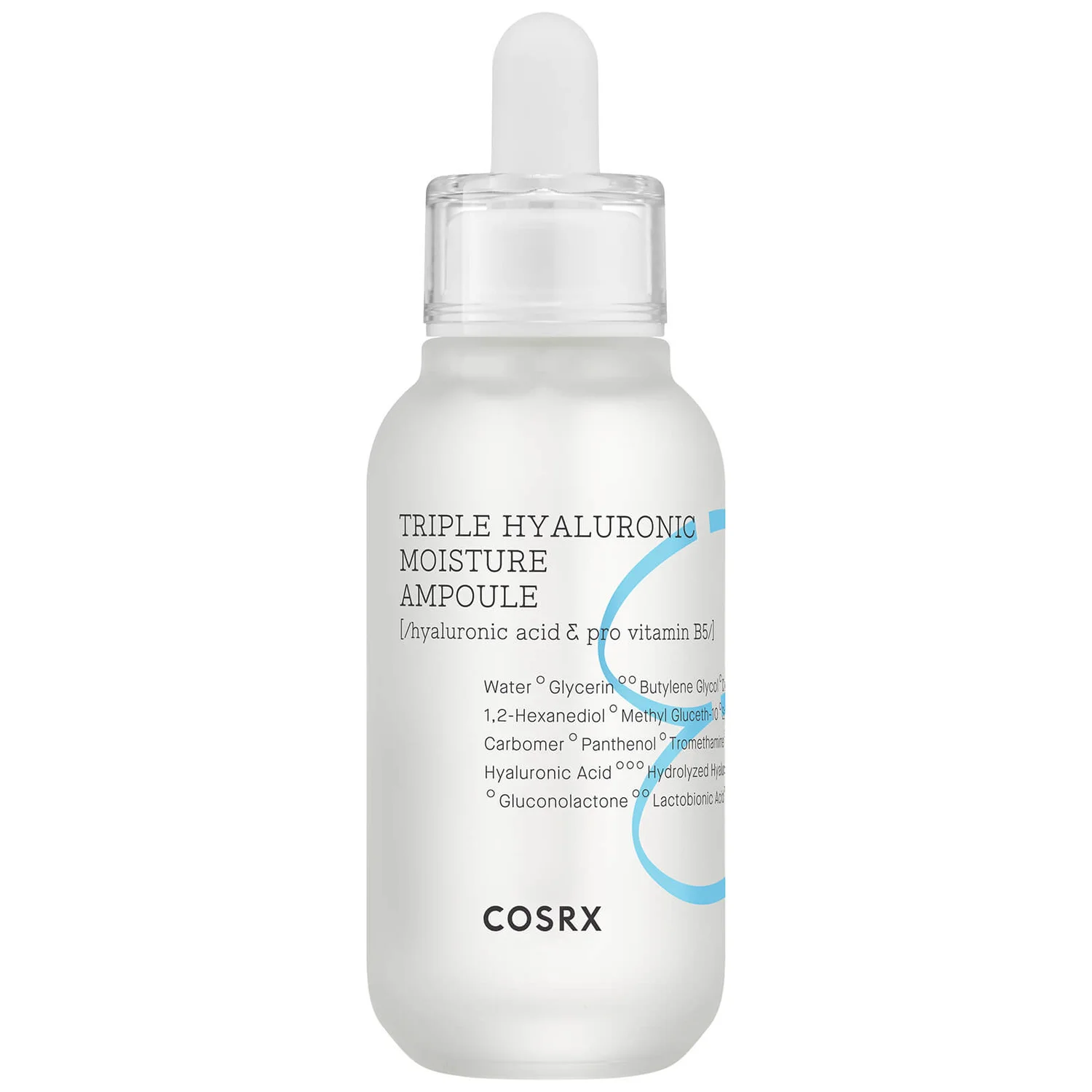 I love Cosrx products, and it's definitely one of my favorite Korean beauty brand companies. However, I let my sister try out this product because it works for people with dry skin.
Of course, I had to buy the product, but I'm glad I have a solid review for you in return.
She was pretty impressed by the product. According to her, she felt the impact of the ampoule immediately after applying.
"I really loved the results; of course, I didn't get overnight results, but my skin felt hydrated and moisturized after application. However, I realized it worked better when used alongside other moisturizers and serums than when it's used as a stand-alone product."
Read on to learn more about the product.
Features
The greatest feature of this ampoule is that it contains three forms of hyaluronic acid, which means it penetrates very well into the skin.
High molecular weight hyaluronic acid helps in locking the moisture to ensure your skin stays hydrated. And the lower molecular weight of hyaluronic acid improves skin elasticity.
Hyaluronic acid also helps slow down aging by reducing the appearance of wrinkles, plump fine lines, and other parts of your face with volume loss.
Another great ingredient in the Corsx hyaluronic acid is Allantoin. The latter helps treat any skin irritations and moisturize dry skin to avoid itchiness or rough, scaly skin.
Lastly, the cream contains Vitamin B5 (D-Panthenol), which keeps the skin smooth, soft, and healthy. Vitamin B5 also has anti-inflammatory properties that help in the skin's healing process.
| Benefits | Drawbacks |
| --- | --- |
| The cream has amazing hydrating properties | It has no scent (I prefer products with a pleasant smell) |
| It has excellent moisturizing properties that protect dry skin from cracking by locking in moisture | Not made with natural ingredients |
| It improves skin elasticity and reduces the appearance of wrinkles and fine lines | |
| It doesn't cause irritation or any skin breakouts | |
How it Compares to Others and Why
One of the greatest qualities of this ampoule is that it contains three types of hyaluronic acid, and they all play a major role in skincare. This means great moisturizing and hydrating properties.
Expert Tips
Since this ampoule locks in moisture and prevents it from escaping the skin, it's great for those with dry skin and conditions like eczema.
For best results, continue using your vitamin C korean skincare serums or moisturizers alongside the ampoule.
The Pyunkang Yul brand is one of the skincare secrets that Koreans have been hiding from us for years. They have great products (their toner is amazing), their prices are friendly, and they're minimalists.
I really love their ampoules because it doesn't leave me greasy, and it also feels very good on my skin.
Here are more details about the ampoule.
Features
I know you're used to having products with a long ingredient list – well, that's where the Pyunkang Yul differentiates itself. It only has 15 natural ingredients that are well picked to nourish the skin.
Among the most critical ingredients is the astragalus Root that's used in place of water.
The root increases your skin vitality, brightens your skin, makes your sagging skin firmer and radiant, boosts collagen production, nourishes the skin, just to mention a few.
Another great ingredient is olive oil, which helps restore broken moisture and oil balance by moisturizing and nourishing the skin.
It's also important to note that the product is hypoallergenic, thanks to the bold elimination of unnecessary ingredients. Therefore, it's safe for people with sensitive skin.
I should probably talk about the texture; it's thick and honey-like, so you need to apply it well for results (more on this later).
| Benefits | Drawbacks |
| --- | --- |
| It's vegan friendly | You need to apply it correctly for results – and most people don't know how to |
| It only has 15 ingredients, so it's easy to research each one of them before use | Not good for people with rosacea or other skin conditions |
| It's pocket friendly compared to other Korean ampoules | |
| It leaves your skin moisturized and nourished | |
| | |
How it Compares to Others and Why
It's amazing to have a product with 15 ingredients for a change. This means you'll know exactly what you're getting yourself into without surprises.
It's also hypoallergenic, so people with sensitive skin can use it. However, it's not ideal for people with certain skin conditions, so talk to your dermatologist first if you have one.
Expert Tips
As mentioned earlier, it's crucial to apply the ampoule the right way for results. Well, the secret is to pat it in instead of rubbing it in.
Since it has a honey-like texture, it doesn't spread well if you try to rub it in. Simply dab it on your skin and gently pat it in until it disappears.
PYUNKANG YUL Moisture Serum for Face - Korean Face Serum with Oriental herbs and Olive Oil giving Oil and Water Balance and Skin Calming Effect - Moisturizer for Oily and Combination Skin - 3.4 Fl Oz
DEEP ABSORBING: Instead of purified water, Milk Vetch Root's fine particles deeply penetrate deep into the dermal layer, providing essential nutrients and enhancing skin conditions.
SOFT AND NOURISHING TEXTURE: The soft and nutritious texture is fully absorbed into the skin, leaving it perfectly moisturized so that revitaliaing the skin that lost it's elasticity.
BALANCE OF OIL AND WATER: Composed of thoughtfully chosen oriental herbs and olive oil, having an optimal oil ratio, it recovers the lost balance of oil and water. The serum's soft and nutritious texture is fully absorbed into the skin, leaving it perfectly moisturized so that revitaliaing the skin that lost it's elasticity.
ONLY 15 ESSENTIAL INGREDIENTS FOR HEALTHY SKIN: Pyunkang Yul harvests only bare, essential, natural ingredients, carefully formulated to help your skin rediscover youth. Pyunkang Yul believes cosmetics are a means of protecting the skin. As such, they have opted to remove all unnecessary chemical substances from their products to utilize only the minimum, safest components to protect and provide respite to your tired and irritated skin. #Fragrance free #Color free #Safe EWG ingredients
A RELIABLE SAFE PRODUCT: Certified product through strict skin patch tests conducted by Korea Dermatology Research Institute and passed the rigorous European certification.
I love Mizon products, and their collagen didn't let me down. And it's just not me; one amazon user says they began seeing changes in a week. Their skin became healthier, firmer, and brighter.
Ready to see what makes the Mizon collagen special? Read on to find out.
Features
One of the most excellent features of the product is its 90% marine collagen concentration.
The latter helps in repairing skin collagen that improves skin elasticity, which significantly reduces wrinkles and fine lines.
It also contains a natural vegetable extract that keeps your skin moisturized.
Another great feature of the product is its paraben-free, which means it's safe for sensitive skin.
It's also fragrance-free, which is suitable for those who hate scents; for me, this is kind of a downer because I love a cream with a great smell.
| Benefits | Drawbacks |
| --- | --- |
| It's thick, which makes application very easy | It can be a little tacky and sticky when the weather is humid. |
| It doesn't leave your skin greasy or sticky, which is great for people with oily skin | Some say it caused breakouts. |
| It keeps skin moisturized and protects your skin from getting flaky and dry | Not ideal for very sensitive skin. |
| It brightens dull skin, leaving it healthier and lively | |
| It reduces the appearance of crow's feet | |
How it Compares to Others and Why
One way this ampoule stands out is that it contains 90% marine collagen, which has powerful anti-aging properties.
Expert Tips
For best results, focus more on the areas with wrinkles; under your eyes, and don't forget your neck.
Also, continue using your moisturizer and serum as the ampoule doesn't work well alone.
MIZON Collagen Line, Collagen 100, Collagen Ampoule, Skin Energy, Facial Care, Moisturizing, Skin Elasticity, Lifting Formula (30 ml 1.01 fl oz)
💎[Marine Collagen] MIZON´s Collagen 100 Ampoule contains a high concentration of marine collagen (90%) to tone up your skin and improve elasticity, say goodbye to saggy skin, and say hello to fresh and tight-looking skin!
✨[Secret for Anti Wrinkle] Smooth those fine lines and wrinkles with its active ingredient Adenosine, this ampoule also contains Hyaluronic Acid to provide and hold in moisture protecting the skin from external stimuli.
💧[Just One Drop is Enough] Collagen 100 is a high-ingredient concentration ampoule that tightens and revitalizes your tired skin with just one drop!
❤[We Care for Your Skin] Collagen 100 Ampoule has a hypoallergenic safe formula free from pigment, fragrance, and parabens. This minimizes skin irritation, good for every skin type, even sensitive skin.
READ MORE: Best Korean Ampoule for Anti-Aging
No products found. Freshly Juiced Vitamin Drop, 5% Hypoallergenic pure vitamin C serum, 35ml, 1.18oz | a potent skin rejuvenator"]
This is one of the most highly rated ampoules on Amazon, and that's because it works very fast. And everyone loves fast results.
But will it work for you?
Let's find out.
Features
One of the greatest features of the product is the 5% vitamin C serum.
Well, it does come with multiple benefits like protection from sun damage, reducing wrinkles, brightening the skin, and reducing hyperpigmentation, among others.
However, 5% is only exciting for people who haven't used vitamin C serums before.
The good news is, you can use this serum daily without experiencing any form of irritation, even if you've got sensitive skin.
| Benefits | Drawbacks |
| --- | --- |
| It moisturizes your skin without leaving you greasy | The packaging – vitamin C serum is easily oxidized, so it's best packed in an opaque bottle |
| It gives fast results | It's pretty sticky. |
| It can be used regularly without causing any harm | |
| It gets rids of dark spots giving you an uneven skin tone | |
No products found. Freshly Juiced Vitamin Drop, 5% Hypoallergenic pure vitamin C serum, 35ml, 1.18oz | a potent skin rejuvenator"]
How it Compares to Others and Why
It contains 5% vitamin C serum, which has so many benefits to the skin. And thanks to the low concentration, it can be used regularly.
Expert Tips
The one precaution you need to take is how you store the serum. Store it in your refrigerator to avoid oxidation. Otherwise, it will turn into a very off-putting yellow color after a few days.
I decided to end my list by recommending something for those with sensitive skin. Many people who have had success with this product mostly use it alongside other products.
If you're looking for something to soothe and heal your irritated skin, then this is for you.
Here are more details on the product.
Features
One of the product's main features is the 80% propolis extract, which has become the Queen B of the skincare routine.
It helps in soothing redness, inflammation and protects your skin from acne and bacteria.
Another main ingredient in the ampoule is honey that helps in fading scars, brightening, exfoliating skin, and treating acne.
It also contains citrus and eucalyptus, which help in tightening pores and removing dead skin.
| Benefits | Drawbacks |
| --- | --- |
| It helps in calming and soothing the skin | It has citrus, so it's essential to use sunscreen to protect your skin from the sun |
| It contains anti-bacterial and anti-inflammatory properties | No translated instructions on the packaging. |
| It moisturizes the skin and keeps skin soft | |
| It's gentle and safe for sensitive skin type | |
How it Compares to Others and Why
The active ingredient in the ampoule is propolis extract, which has excellent skin benefits. It also contains honey which heals skin redness as well as wounds.
Expert Tips
The only thing worth noting is to ensure that you use a toner, moisturizer, and serum with this product.
For best results, use the product in the morning and evening by slowly patting it on your skin.
Buy the Tosowoong Propolis Sparkle Ampoule on Amazon.
Korean Ampoules FAQs
Here are common questions people ask concerning Korean ampoules.
What are ampoules?
An ampoule is like an upgrade of serums; they are designed to solve specific skin problems. And they are concentrated with specific active ingredients; for example, a hyaluronic acid ampoule has a concentrated drop of the acid on every tiny drop.
When and how to use ampoules?
Korean ampoules aren't meant to be used in your daily skincare routine because they're very concentrated. It's best to use an ampoule once or twice a week.
To get desired results, first, cleanse your face, then apply your toner, and then use your ampoule by simply massaging it in your skin. Lastly, apply your serum and moisturizer because an ampoule doesn't work well alone.
What type of ingredients should I look for in Korean ampoules?
Korean ampoules are designed to solve a specific problem, so the ingredients should match your needs.
For instance, if you want to fight acne, you should look for Centella Asiatica; if you want to brighten your skin, go for vitamin C or vitamin B12 ampoule; propolis for healing and soothing irritated skin, and hyaluronic for treating dry skin.
You can then check the ampoules with other skin hydrating properties that help in moisturizing the skin and contain anti-aging properties.
Final Thoughts
Korean ampoules are a good addition to the skin care routine, especially if you're looking to solve a specific skin problem while nourishing your skin.
But as tempting as it might be to use the product frequently for quick results, it's essential to stick to using the ampoule twice a week. Remember, they're very concentrated, and the active ingredients may harm your skin if used excessively.
I hope you got a great ampoule from my best Korean ampoule review.
Have you used a Korean ampoule before? What was the experience?
References
"Drugs & Medications." n.d. Www.webmd.com. https://www.webmd.com/drugs/2/drug-20247/allantoin-topical/details.
Nilankeeta. 2018. "Astragalus Root – Fight Ageing, Acne, Wrinkles & Fine Lines." BeautyGlimpse. January 16, 2018. https://www.beautyglimpse.com/know-the-usage-and-skin-benefits-of-astragalus-root/.
Snetkov, Petr, Kseniia Zakharova, Svetlana Morozkina, Roman Olekhnovich, and Mayya Uspenskaya. 2020. "Polymers Hyaluronic Acid: The Influence of Molecular Weight on Structural, Physical, Physico-Chemical, and Degradable Properties of Biopolymer." https://doi.org/10.3390/polym12081800.
What are the best Korean ampoules that you love the most? Share with us below!