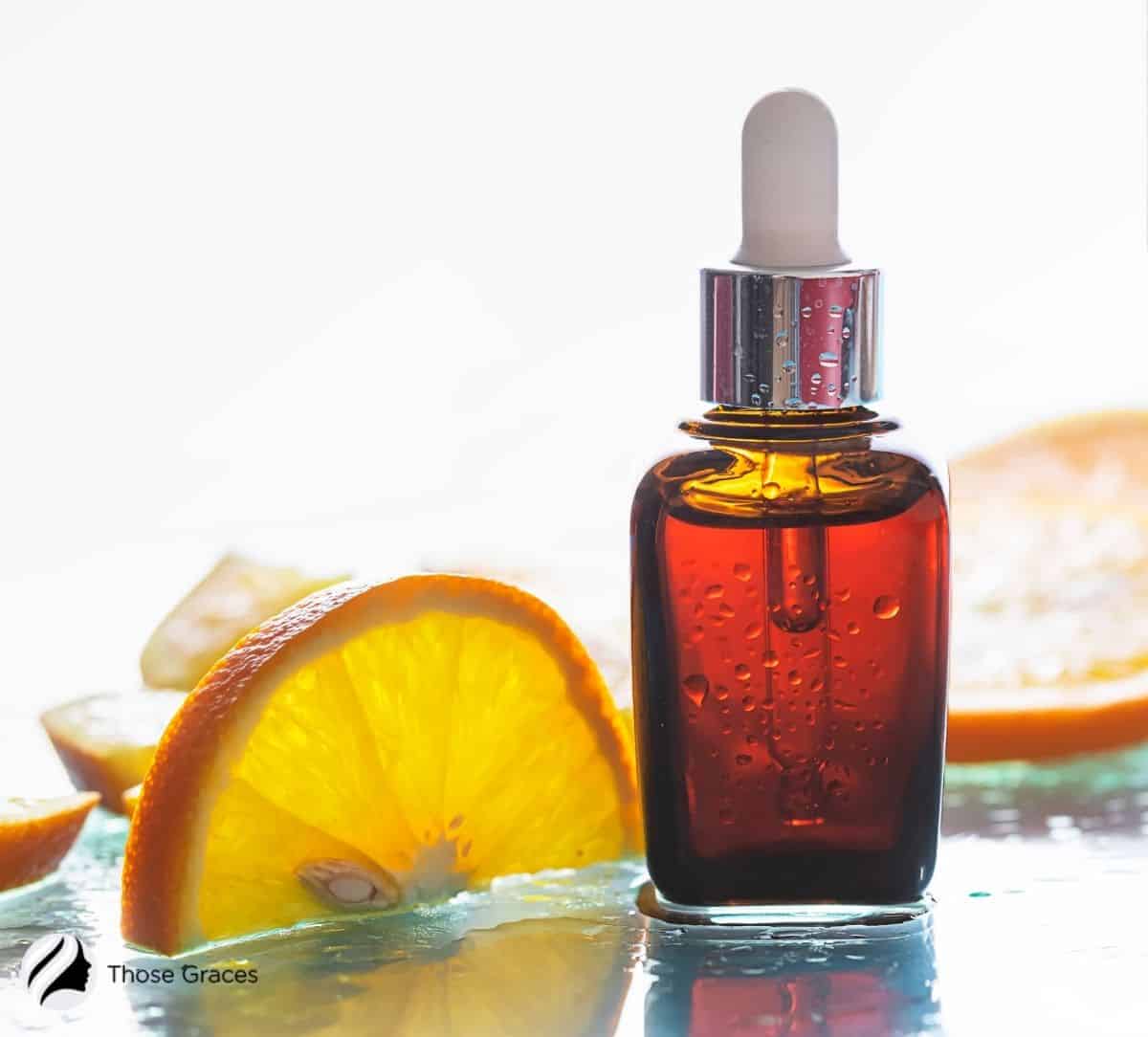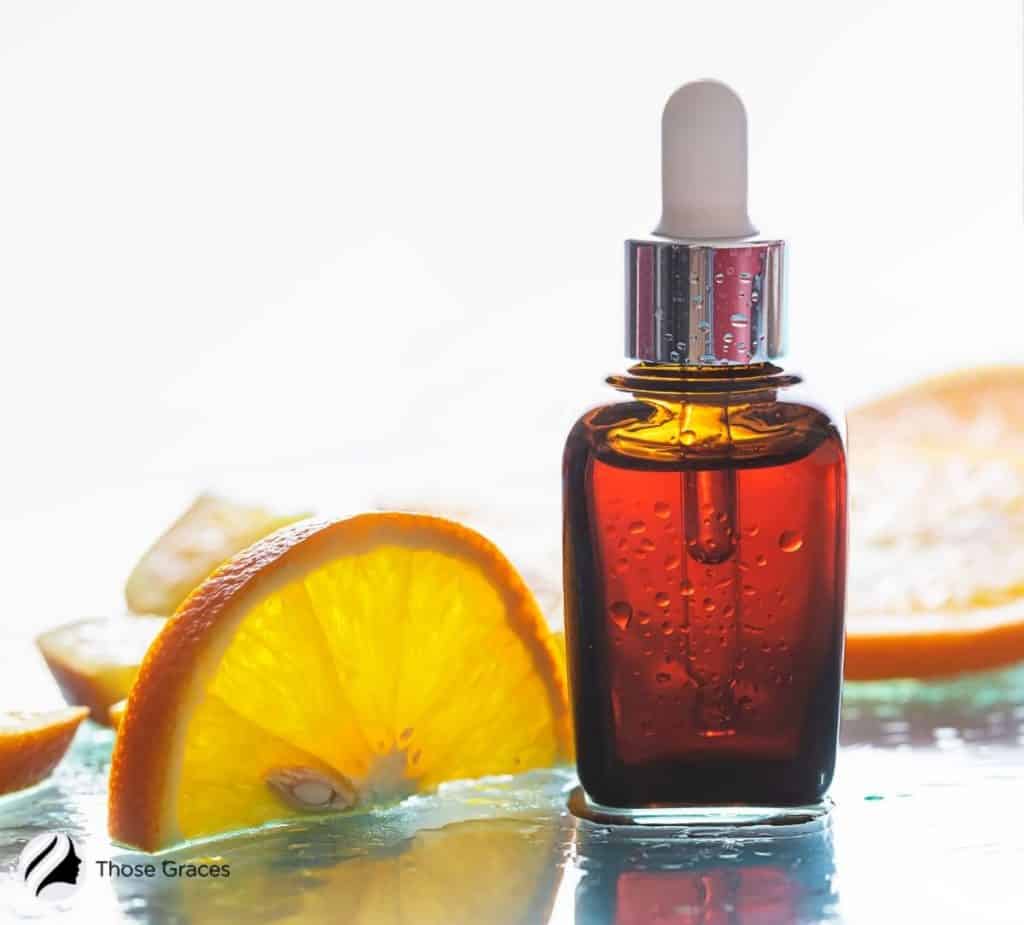 If you're looking for the best Korean vitamin C serum to get gorgeously healthy & glowing skin, stick around!
We tried dozens of brands on the market and narrowed down the field to just the best of the best.
Below, I'll tell you why I choose every K beauty product, its best features, as well as its benefits and drawbacks.
By the end, you'll be able to choose the best Korean vitamin C for your skin type.
Let's start with a quick side-by-side comparison of the brands we tried before we dive into the in-depth reviews.
Don't forget to also check our best k beauty subscription box review!
Best Korean Vitamin C Serums at a Glance
If you see the value in these products and choose to purchase via my referral links, I may earn a small commission at no extra cost to you.
Don't have time? Here is a quick comparison of our favorites!
5 Best Korean Vitamin C Serum Picks for 2021
If there is something I've learned it's that there are only a few things that Korean vitamin c serums can't do.
It doesn't matter how dull your skin is or how many scars or blemishes you have; adding one of these serums to your beauty routine will make things better for you.
This was my first Korean vitamin C ever, and I think it's for the same reason many people start with the product.
The SeoulCeuticals day glow serum is one of the highly-rated Korean vitamin C on Amazon.
It has over 9k ratings on Amazon, and most of the reviews are positive. And the beauty of it is that people with different skin types have used it and shared their experiences.
This gives you a better understanding of the bad and good of the product.
So, is the serum worth the hype? Let's find out.
Features
One of the greatest features of this product is that it gives you fast results. Not overnight results, but within 3 weeks of using it, your acne should've started fading away.
The serum's active components provide your skin with Vitamin C and hyaluronic acid, hydrate the skin, and facilitate collagen production.
As a result, you get a younger and fresh look since collagen helps with skin tightening and reduces wrinkles' appearance.
Just in case you didn't know: Collagen prevents our skin from sagging, giving you that youthful look. And as we age, the collagen production in our body decreases.
The vitamin c which is in the form of ferulic acid, and ascorbic acid also helps protect your skin from free radicals. It also brightens your skin in the process giving your skin a fantastic glow.
If you're struggling with sunspots, vitamin C will help fade them too. It also has Vitamin E, which prevents further skin breakouts and damage.
The SeoulCeuticals day glow serum has other ingredients that nourish and hydrate your skin. They include dandelion, aloe vera, dandelion, Gotu kola, and jojoba extracts.
When it comes to the application, the serum is lightweight, watery, and it's easily absorbed by the skin.
It's comfortable and non-sticky, and it doesn't add to the oiliness of the oily skins. And for people with dry skin, the hyaluronic helps in attracting and locking in moisture to prevent your skin from cracking.
For the scent, it has a sweet citrus scent that I find very calming.
Benefits
Drawbacks
Reduces the appearance of wrinkles, blemishes, and sunspots
You need sunscreen when going out. Read our guide for the best Korean sunscreen for oily skin

.

It's good for all skin types
Very thin, not as thick as other serums (some users complain about this)
It has a sweet citric smell
It locks in the skin moisture, preventing your skin from drying up
It keeps the skin hydrated all-day
It prevents skin damage
Who needs this Korean vitamin C serum?
This Korean vitamin C is for everyone. It keeps the skin hydrated without making it excessively oily.
It's also great for people with skin breakouts, sunburns, and blemishes, as it corrects all this.
Korean Skin Care K Beauty - 20% Vitamin C Hyaluronic Acid Serum + CE Ferulic Acid Provides Potent Anti Aging, Anti Wrinkle Korean Beauty 1oz
✅ THIS KOREAN SKIN CARE VITAMIN C serum contains the same potent, active ingredients as the $160 Skinceuticals CE Ferulic Serum
✅ EXTREMELY EFFECTIVE - WE PROMISE you'll begin to see results with this K beauty product within 3 weeks when used daily
✅ POTENT ANTI AGING, ANTI WRINKLE serum is proven to help reduce the appearance of wrinkles, fine lines & crows feet
✅ THIS TOPICAL VITAMIN C ALSO helps to fade sun spots and is guaranteed to provide you with a brighter more youthful complexion
✅ THIS FACIAL SERUM HELPS TO shrink pores, clear up acne, prevent breakouts, and minimize the appearance of acne scars & perfect under korean makeup
If you want something totally customized for YOUR skin type (and ONLY yours) check out Vitabrid! It's not Korean, but it's definitely one of the best vitamin C serums overall.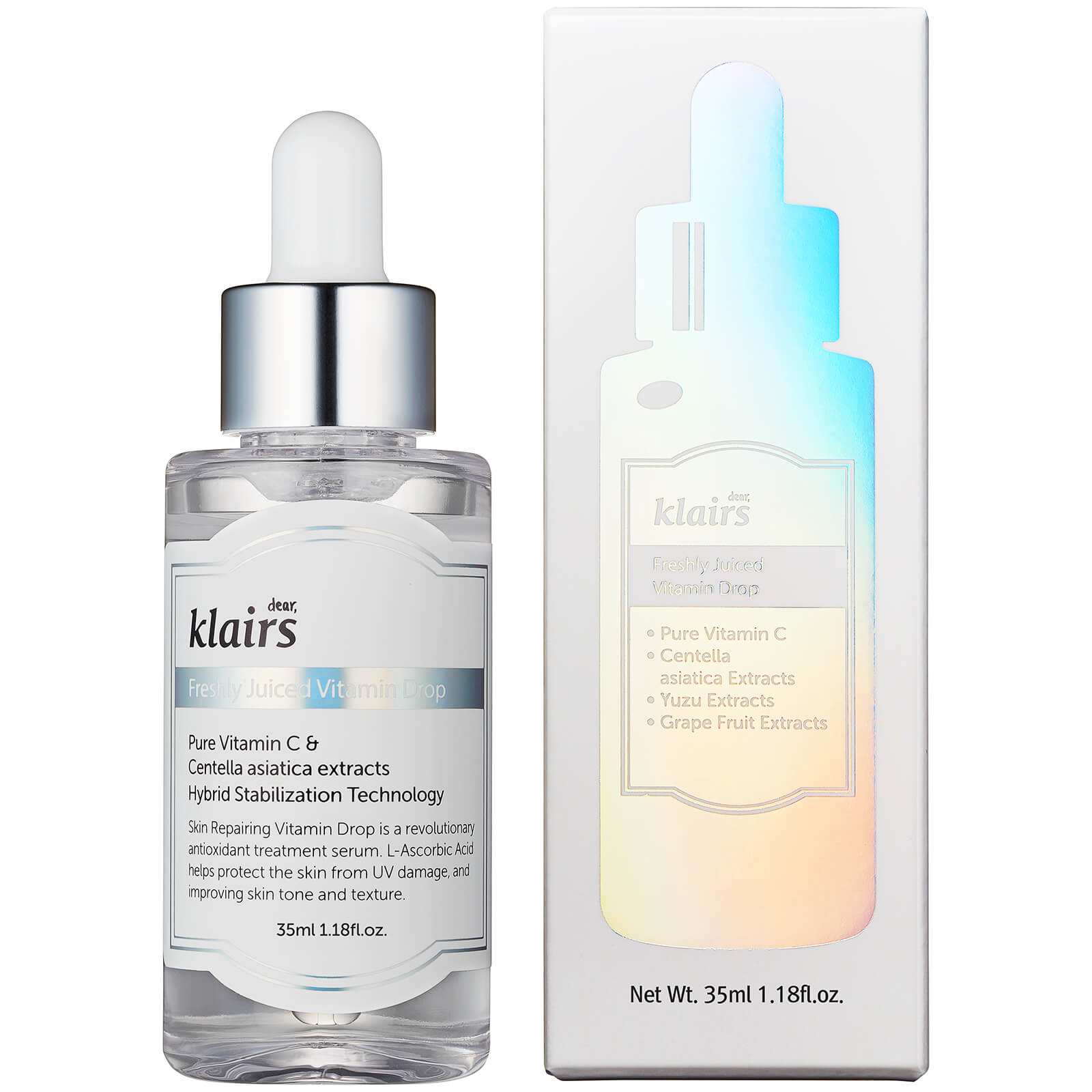 If you're a fan of Korean products, you've come along the KLAIRS somewhere along the way.
KLAIRS is known for its amazing beauty products; I've used their primer, and from the reviews, I can tell their vitamin c serum is equally good.
But before we approve it, let's see its features, pros, and cons.
Let's get into it.
Features & Attributes
If you're just getting started with vitamin c serums, it's best to start with one with a low vitamin c concentration. And KLAIRS gives you that opportunity because it only has a 5% vitamin c concentration.
Does that mean that it's less efficient? Absolutely not; in fact, for some users like Elisa, less is more. See what she says.
If you have sensitive skin, then you've got nothing to worry about. Klairs serum is safe and non-irritating.
This is because it contains Scutellaria baicalensis root extract and Centella Asiatica extract that soothes any irritation.
Like Elisa mentioned above, you may feel some warmth after application, but it's nothing to be concerned about.
The product improves your skin tone by getting rid of acne, spots and reducing large pores' appearance.
The vitamin C in the product is in the form of Ascorbic Acid derived from Yuja and grapefruits. It also has a little bit of sodium ascorbyl phosphate.
KLAIR serum also has excellent hydrating properties because it contains butylene glycol and sodium hyaluronate.
If you're vegan, you'll be glad to know that this product is cruelty-free and contains no alcohol, parabens, and colorant.
| Benefits | Drawbacks |
| --- | --- |
| It's unscented It soothes irritated skin | It has a small shelf-life (2 months) |
| It improves discoloration | It's not very good for oily skins |
| It's a vegan and non-oily formula | |
| It leaves your skin glowing | |
| It clears acne | |
Who needs this vitamin C Serum?
Although it works well for all skin types, it's best for people with dry skin. I also recommend this product to people who are just testing the vitamin C serum waters for the first time.
READ MORE: When to Use Vitamin C Serum in Routine?
Neogen is another household name in Korean beauty products. In my research, I've found that the Neogen brand always favors people with acne-prone skin.
It has multiple positive reviews on Amazon, its greatest strength being brightening skin and tightening the skin.
So, what is their vitamin C serum like?
Here is more information.
Features & Attributes
The mixture of Niacinamide and 22%of Ascorbic Acid works very effectively in brightening the skin. This is by reducing the appearance of photodamage, leaving you with radiant and luminous skin.
The other great feature of the Neogen is its 5-citrus fruits (lime, lemon, tangerine, orange, and grapefruit) that contain vitamin C. They help in firming the skin, giving you that youthful look.
This Korean vitamin C also stops further damage, nourishes your skin, and keeps it hydrated thanks to Panthenol (Vitamin B3) and Tocopherol (Vitamin E).
The combination of Vitamin E, C, and B leaves your skin smooth and glowing after application.
| Benefits | Drawbacks |
| --- | --- |
| It nourishes and hydrates the skin | Some people don't like the scent |
| It brightens the skin | |
| It tightens the skin | |
| It reduces the appearance of wrinkles and freckles | |
| Improves the appearance of dull skin | |
Who needs this vitamin C serum?
This vitamin c serum is best for people with acne-prone skin because it prevents further skin break out.
It's also great for people looking for fast results; unlike other serums, where you have to wait for 21 days, you'll start seeing slight changes within one week with this serum.
Pure Vitamin C21.5% Advanced Serum 30ml, Clear and Healthier Skin"]
If you consider yourself as one of those people destined to live with acne forever, I've got good news for you. You don't have to be that person anymore.
I know that's a bold statement to make. But I'm confident with the abilities of the Wishtrendvitamin C serum because I've heard life-changing stories.
And most of them end with, "But now I look forward to a new morning so that I can look at myself in the mirror."
Here is more about the product.
Features & Attributes
The serum's main ingredient is Pure Vitamin C21.5%, which effortlessly brightens your skin and removes any scars. It also boosts the production of collagen, which is a crucial anti-aging agent.
Other helpful ingredients include panthenol and Sodium hyaluronate; the two help correct your skin tone, improving your skin's texture and smoothening it.
Vitamin C is suitable for sensitive skin as it's free from fragrances, parabens, and essential oils.
It's non-sticky, fast-absorbing, light, and watery, so the application is easy.
And for vegans, here is another cruelty-free Korean vitamin C serum.
| Benefits | Drawbacks |
| --- | --- |
| It's cruelty-free | You need to store it in a cool place |
| It corrects your skin tone | You can't use it with Retinol, which is a big deal breaker |
| It improves your skin's texture | |
| It leaves your skin firm | |
| Easy application | |
Who needs this vitamin C serum?
This Korean vitamin C serum is great for people with sensitive skin and those struggling with stubborn acne.
It's also a great choice for people who struggle with rough skin or skin discoloration.
[By Wishtrend] Pure Vitamin C21.5% Advanced Serum 30ml, Clear and Healthier Skin
★ Say Good-Bye to Dull Skin and Pigmentation, Scars Removal, Natural and Effortless. Our Pure Vitamin is also Amazing for Boosting Your Collagen Production which is Key for Anti-Aging.
.★ 22% is the Maximum Skin Absorption Level. Going Anything over that Concentration Won't Have More Benefits and Could Cause Skin Irritation. Our Formula Composed of 10 Essential Ingredients Brings You the Optimal Amount of Vitamin C for the Best Results.
★ Light, Watery, Fast Absorbing and Non-sticky Unlike most of the other Vitamin C out there. Witness Your Skin Getting Firmer, More illuminating, Reduce Wrinkles, Dark Spots, Redness, Sun Spots and Fine Lines.
★ Korean Best Seller and for a Good Reason. Over 100 000 Bottles Sold in 2016 Alone! See Reviews from Our Satisfied Customers all Over the Internet. WISHTREND is an Well Established Beauty Company within the Beauty Industry. Of Course, Cruelty Free.
★ Please note that hot whether causes oxidization or slight leakage of Pure Vitamin C21.5% Advanced serum. You may be faced with following phenomena ; "Slight leak, hissing sound, gassy - bubbles" since it is natural phenomenon that can only appear to pure vitamin. You can simply contact CS and receive a new product regarding the issue.
READ MORE: Can You Use Hyaluronic Acid With Vitamin C?
Purito is a Korean beauty product that's known for using natural ingredients in their products.
So, if you prefer products with a low chemical percentage, this one is the vitamin c serum for you.
Let's talk about the features.
Features & Attributes
Purito's main ingredients are natural red ginseng and 5% ascorbic acid, which are known for their great anti-aging properties. They tighten the skin and give it a beautiful glow.
It also contains 89% Hyaluronic Acid, which helps in keeping your skin hydrated.
The vitamin C serum works well for sensitive skin because it has no oil or fragrances.
It locks moisture in the skin, which helps in keeping the skin hydrated.
Like other vitamin C serums, Purito helps in fading blemishes, scars, leaving your skin elastic and softer.
| Benefits | Drawbacks |
| --- | --- |
| Good for exfoliation | It's not great if you live in humid areas |
| It diminishes scars and blemishes | It's not light |
| It's vegan | |
| It helps in cell regeneration | |
| It locks in moisture, keeping your skin hydrated | |
Who needs this vitamin c serum?
This vitamin c serum is for those who love natural products. It's also suitable for vegans.
The product is also good for beginners because it has a small vitamin C concentration.
FAQs for Korean Vitamin C Serum
Here are common questions that people ask regarding Korean vitamin c serum.
Why use vitamin c serum?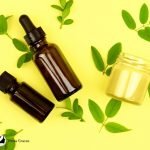 There are very many benefits that come with using Korean vitamin c serum. Some of them include: making the skin firmer, softening the skin, and shrinking large pores.
How should I store my vitamin c serum?
One thing that you should always keep in mind when handling vitamin c serum is that it oxidizes very fast. You need to store your product in a dark and cool area otherwise, it will oxidize before you even use it.
Do you need vitamin c serum for oily skin?
Yes, even people with oily skin need vitamin c serum. I know you probably think it's going to add to your oiliness, but there are plenty designed for oily skin, so you don't have to miss out on the vitamin c serum benefits.
Final Thoughts
As I always say, Korean products are the queen of the beauty industry. Seriously, they have amazing solutions that actually work.
For instance, Korean vitamin c serums help in treating multiple skin problems from scars, blemishes, aging, sagging to sunburns.
I highly recommend adding vitamin c serums to your daily skincare routine, especially if you're looking for an anti-aging product or something to deal with stubborn acne and spots.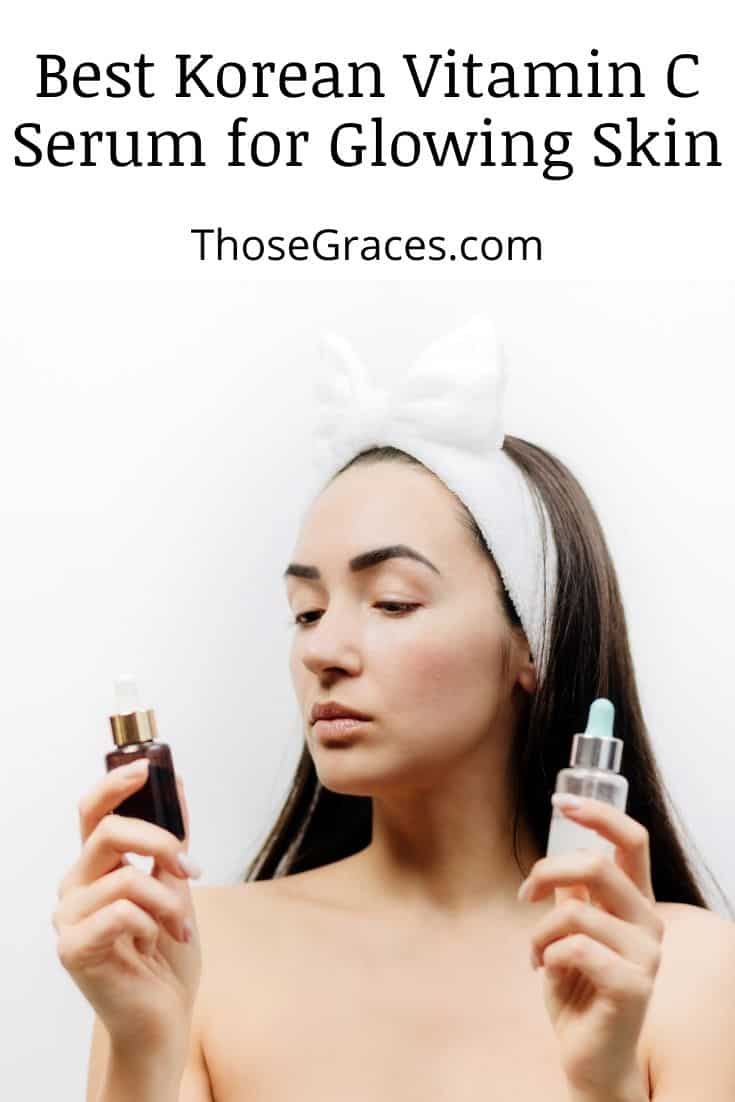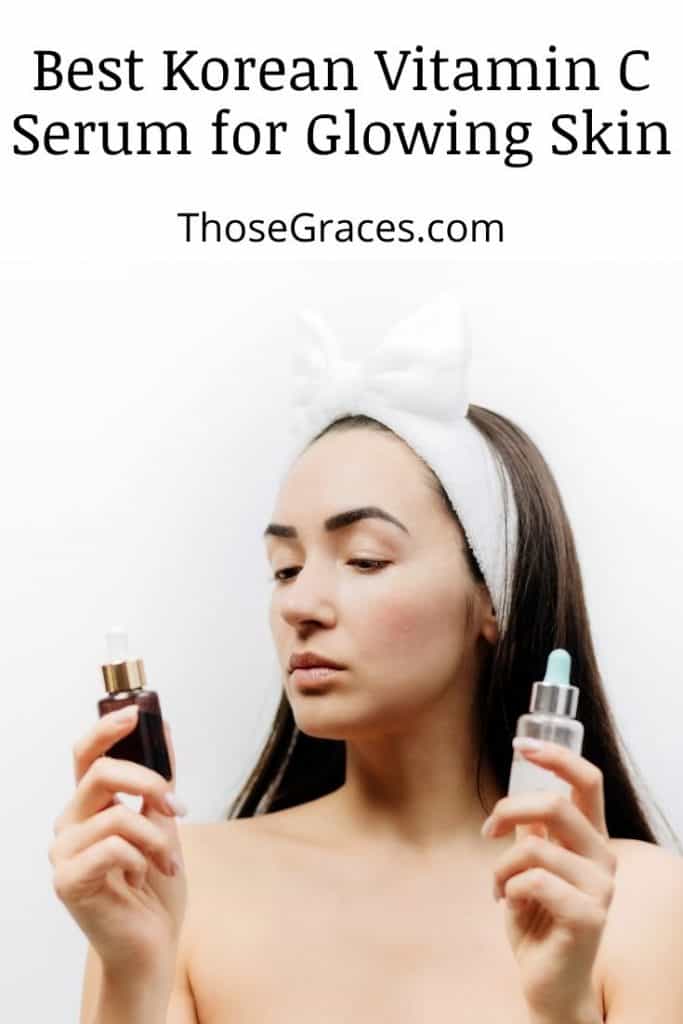 Have you used the best Korean vitamin C serum before? What was your experience? Share with us below!