If you're wondering how to use Real Techniques sponge to apply makeup like a pro, we've got you covered.
Beauty blenders have become one of the revolutionary tools for makeup application in recent years.
Thanks to its multi-functional design and affordable price, this sponge has become a favorite for many makeup artists.
If you're not sure what we're talking about, check out the table below for a quick look; then read on to learn how to use it.
FYI, this post contains affiliate links. If you make a purchase through these links, we earn a small commission at no extra charge to you.
How to Use Real Techniques Sponge
The Real Technique sponge perfectly blends liquid foundation as it has an excellent shape and texture.
It has a special shape, thanks to which you can blend different products on your face.
You can either use it to blend the foundation to your face, contour or cover blemishes.
The best thing is, that this miracle sponge gives you a smooth and perfectly blended complexion.
Is the Real Techniques Sponge Good?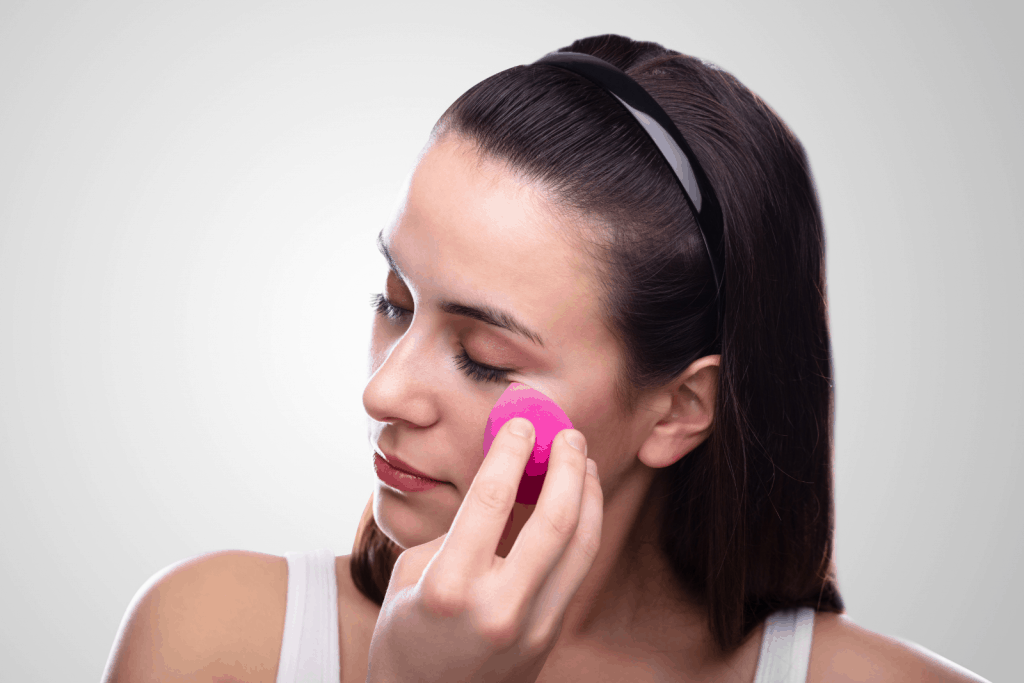 Apart from being affordable and well-blendable, there is one thing that this sponge is the best at.
Having a flat edge, with the RT Miracle Complexion sponge you can easily cover the larger areas of your face.
Another excellent advantage of this sponge is that it has a pointed tip, allowing you to blend every corner such as around your nose or hairline.
The tip also helps you to perfectly conceal under your eyes.
The round side of the sponge comes in handy when using a blush. It is ideal for cream blushes as it gives more control to your application and makes it easier to blend the pigment to your cheeks.
It surely has excellent advantages, which is why this sponge has become a staple tool for many makeup artists and makeup enthusiasts.
So let's see how to use the Real Techniques sponge (AKA the RT Miracle Complexion Sponge) the right way.
Are You Supposed to Wet the Real Techniques Sponge?
This is a question that anyone has when wanting to use this sponge. And it entirely depends on the look you want to get after applying your foundation.
In case you are using a full coverage foundation and want to perfectly cover your face, it is best to use the sponge dry. It surely does help to cover your face without any spots.
For everyday makeup, dampen your beauty sponge in water, to get a more dewy and natural look.
Wet the sponge in the faucet till it doubles the size, then squeeze it a few times for a smooth foundation application.
I really like using this sponge wet, as it helps to absorb less product and gives a more natural look. You can use the concealer the same way and with just a few dabs, you will look flawless.
What is Real Techniques Makeup Sponge Made of?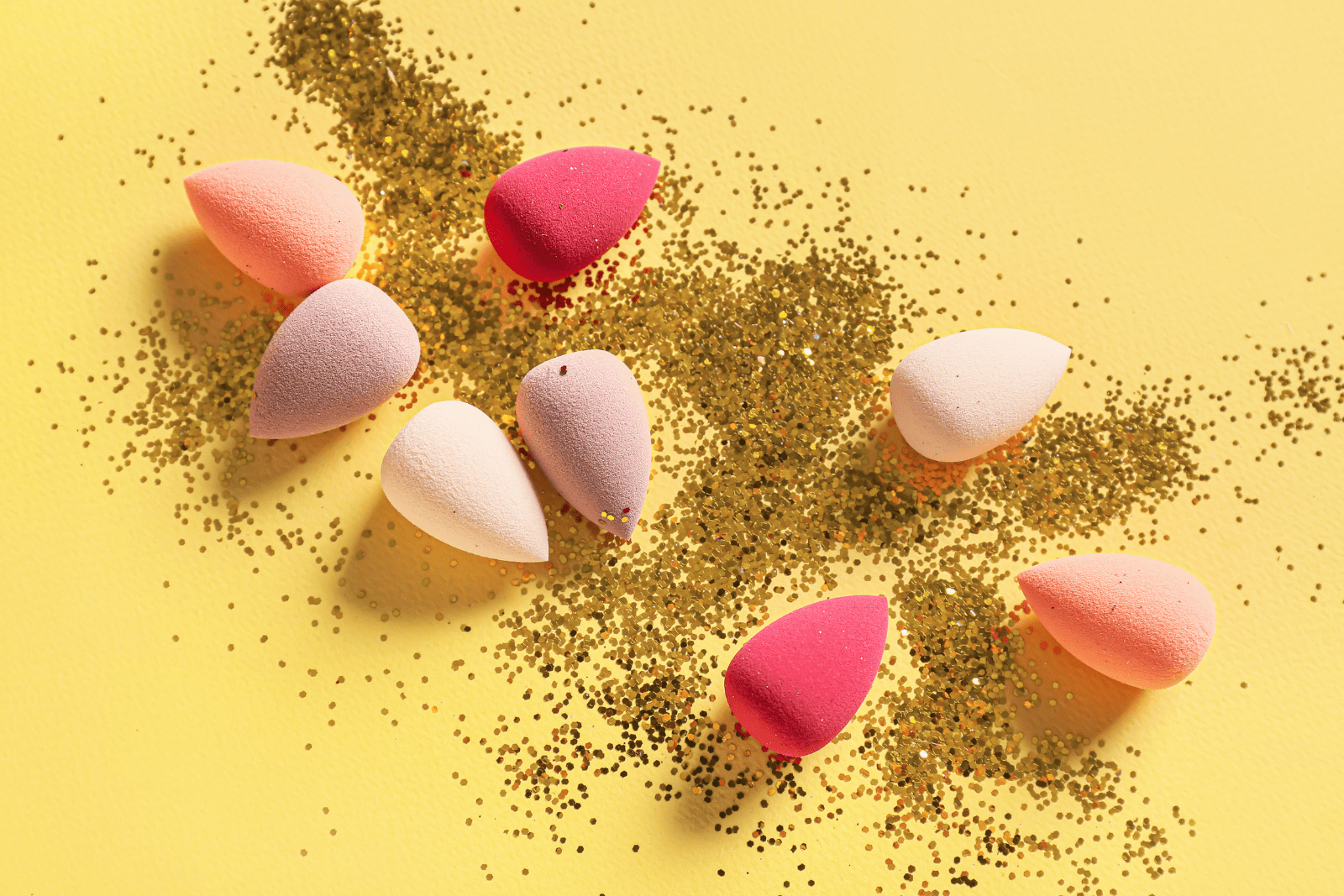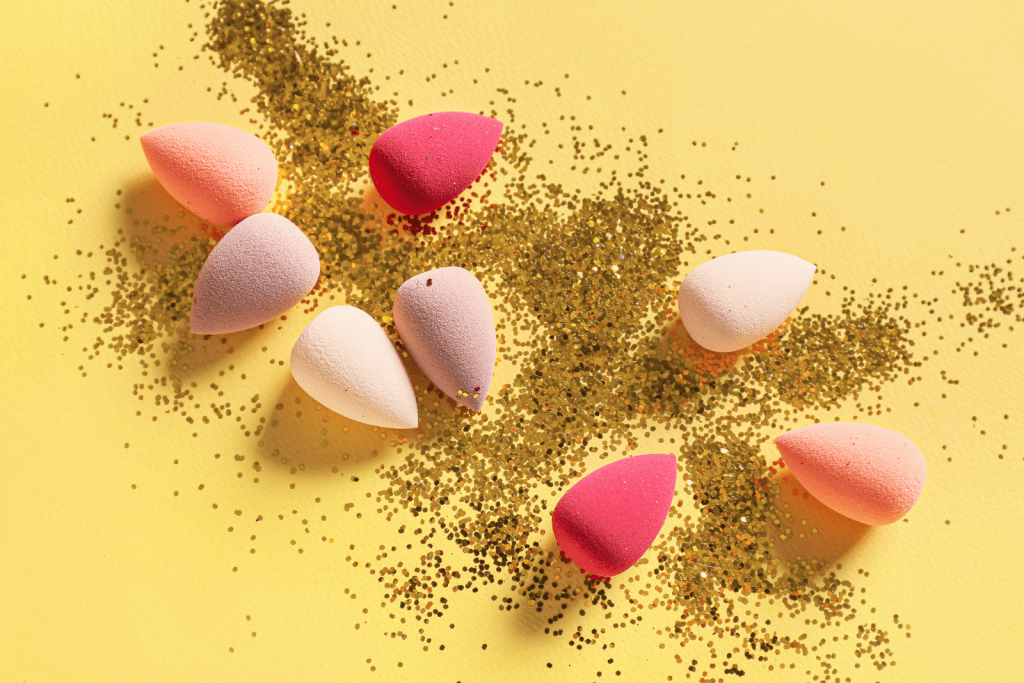 The Real Techniques Miracle Complexion sponge is made with vegan materials, making it a cruelty-free beauty brand.
The latex-free sponge has an antimicrobial composure and is made from polyurethane foam.
It will feel a little firm when dry, but as soon as you dampen it in water, you will immediately feel it softening and becoming more flexible.
Thoroughly cleaning it with soap water after every application will help you keep the sponge in the best shape.
And it is recommended to change your RT Miracle sponge every 30 days to avoid bacteria.
How Do You Use the Real Technique Miracle Sponge?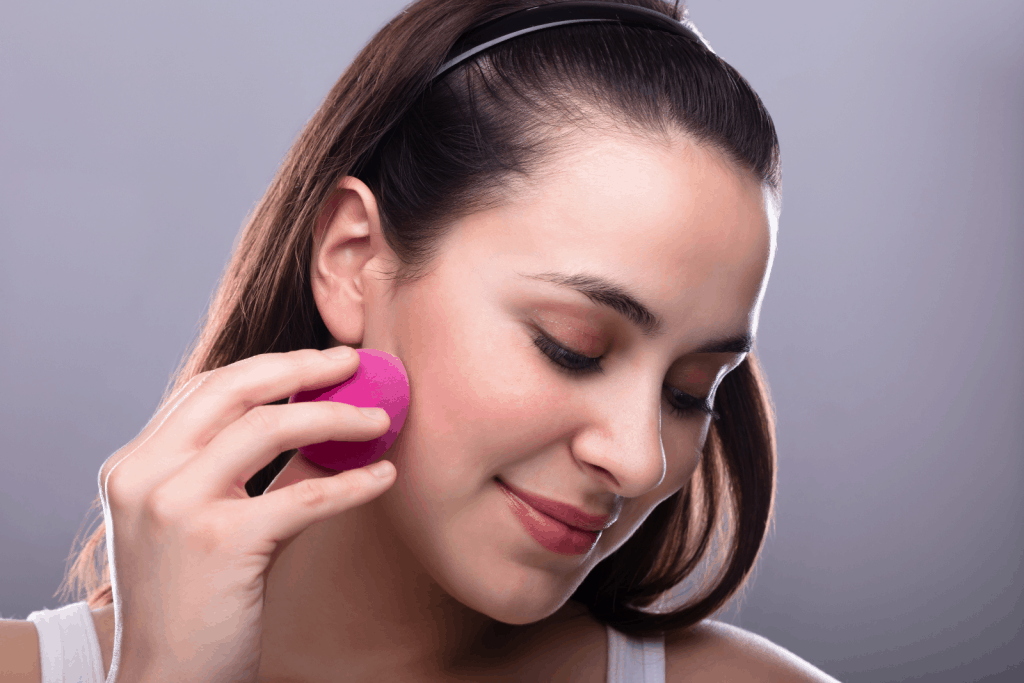 Now we get to the heart of the matter: how to use Real Techniques sponge! The RT Miracle Sponge shows its best sides when used with a liquid or cream foundation.
Depending on how you want to use your beauty sponge, there are two ways to get the best outcomes.
To get a dewy look with glowing coverage, you can soak the sponge in water until it is completely wet.
Squeeze the excess water out by pressing the sponge a few times. I normally squeeze it out with a towel for the best results.
Use the flat surface of the sponge to apply the foundation. Gently dab the foundation on your skin with the wet sponge and get your preferred coverage by pressing the product with the flat side.
After applying the foundation you can use the pointed tip with a concealer to cover blemishes or dark circles under your eyes. Tap a few times with the tip and you will get a gorgeous look.
To perfectly blend the products, the dabbing technique is best. With bouncing motions dab the products instead of swirling the sponge onto your face.
For a more evening and full-coverage look, use the sponge with the same techniques without soaking it in water.
If you still need help figuring out how to use Real Techniques sponge, check out the video tutorial below.
Final Thoughts
As a final thought, the RT Miracle sponge can surely be a useful tool in your makeup bag.
Not only it is easy to use but you can get it in drugstores for about $6.
Using this sponge with your liquid foundation or any liquid-base product will leave your skin naturally looking.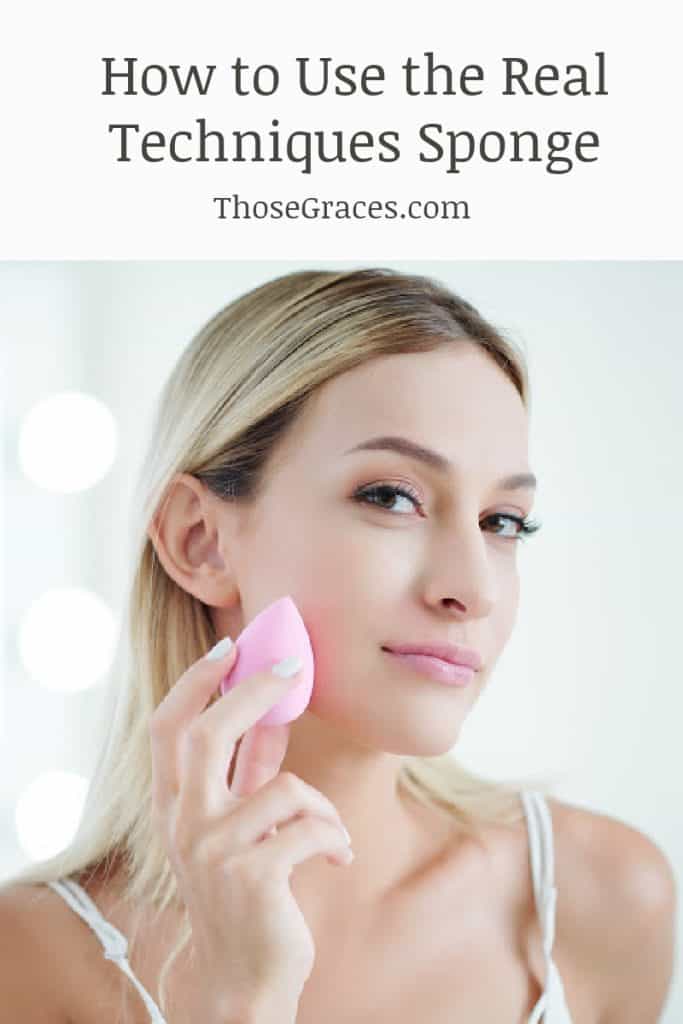 Do you have other ideas on how to real techniques contour sponge? Share with us below!