If you're looking for the best Korean BB Cream, I've got you covered!
BB cream is a multi-billion-dollar industry, and there are so many products in the market.
To get the right products, I tried some, read hundreds of reviews, and watched 3-5 YouTube reviews for every product to gather more information for you.
Let's start with a quick look at our top picks, then keep reading for all the glorious details.
Don't forget to also check our review on the best K beauty products!
CHECK: The Best K Beauty Vitamin C Serum
Best Korean BB Cream Top Picks at a Glance
This post contains affiliate links, and I will be compensated if you make a purchase after clicking on my links.
Check the table below for a side-by-side comparison of our favorites!
5 Best Korean BB Creams In-Depth Review
Here are my best picks.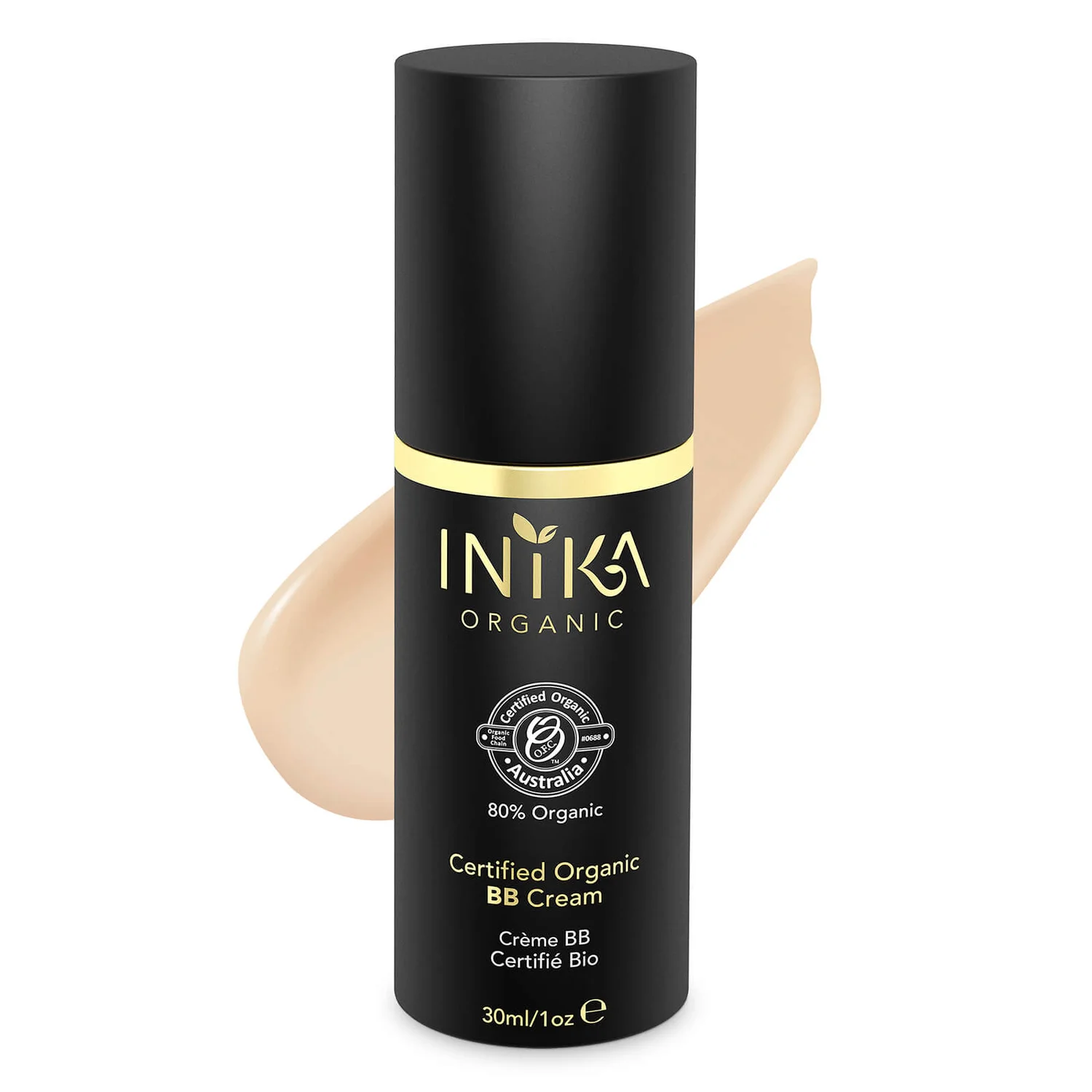 This is the first product I've used from INIKA so far, and it surpassed my expectations. After reading the ingredient list, I thought to myself; this must be good. And after a few youtube videos, I was sold.
I have a lot to say about the product, but there is no way to do that without giving out its features, so let's go all in.
Features
This is not a good way to start this review, but the packaging isn't anything fancy.
It's not one of those bottles that give your display a classy look. But it locks well, and you can comfortably travel with it without worrying about spilling.
The bottle has 1oz /30 ml, which I think is fair based on the ingredients and the benefits the cream has.
One of the major ingredients of the cream is the prickly pear, which has several skin-care benefits including anti-bacterial and hydrating properties.
Prickly pear can also prevent your skin from any damage, acne as well as reduce inflammation. It also boosts collagen production and cell regeneration.
Besides the prickly pear, other skin-friendly ingredients in the cream include avocado oil and jojoba oil, which have excellent hydrating properties.
Another great feature of the cream is that it is hypoallergenic ; it contains 80% certified organic ingredients. It's also cruelty-free, so vegans are welcome to use it.
How it Compares to Others and Why
One way Inika cream stands out is that it has the highest certified organic ingredients.
It also has multiple unique ingredients that aren't common in other BB creams, such as prickly pear, which has many skin benefits.
Expert Tips
Although the cream has great hydrating properties, I recommend it to people with oily skin or combination skin. But if your skin gets very dry, it's best to try out other products on the list.
READ MORE: Do Koreans Wear BB cream?
When I received my Erborian BB cream, I was so shocked.
I believe my exact words were, 'This is the tiniest BB cream I've ever held in my hand.'
I went through a few minutes of regrets and feeling robbed, but all that came to an end after seeing the cream's performance.
Here is everything you need to know about the product.
Features
I'll have to start by saying that the cream comes in a tiny tube, and it's 45 ml. It gives you perfect coverage and so don't worry, it will last long enough.
The Erborian BB Cream has many great ingredients, but I'll only talk about the main ones, which are ginseng and licorice.
Ginseng seems to be in every Korean product and even on Korean movies – I watched a Korean guy bring her girl ginseng extract (it's a long story).
It's a root, and it's harvested after 6 years! It helps in reducing the appearance of wrinkles, fine lines, and blemishes. Ginseng also deals with dullness by brightening and revitalizing your skin.
On the other hand, licorice helps prevent your face from getting dark spots and fading existing ones. It also has an active compound that disperses and removes melanin, brightening your skin.
Besides the great ingredients, the cream also has a SPF of 20.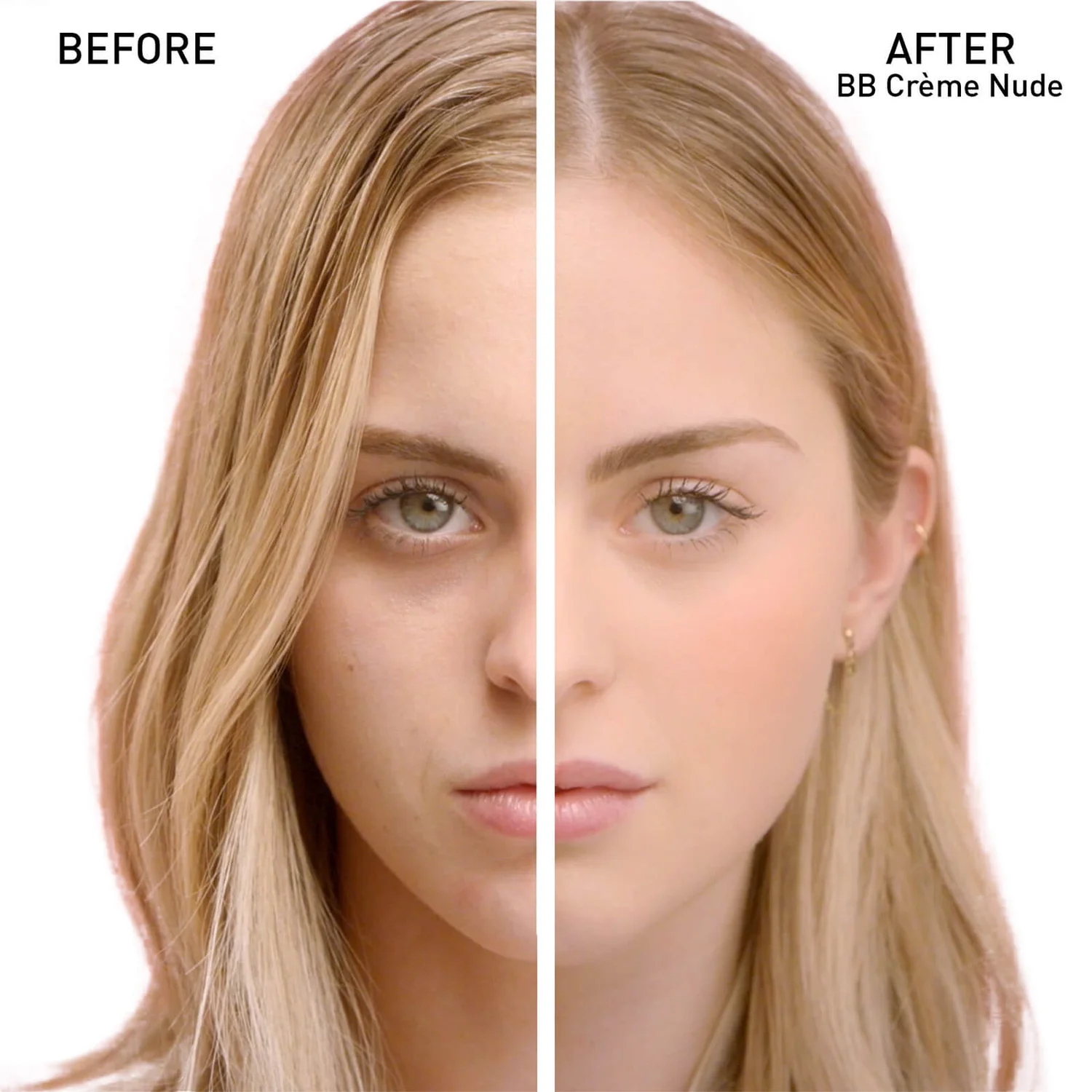 How it Compares to Others and Why
The Erborian BB Cream differentiates itself from other BB creams with its great ingredient combination, which helps in preventing further skin damage while restoring the skin glow.
It also has an SPF of 20, which is a great bonus.
Expert Tips
Although this cream is great, it did give me a greasy feel later on in the day, but applying powder helped with the situation.
However, this is the best Korean bb cream for dry skin because of its high moisturizing property.
I think I did my homework really well for this blog post because this is another great Asian bb cream.
The only reason this product came third is that it's not cruelty-free. And with many brands being able to test their products in other ways, the company has a bad rep for animal testing.
So, if you are vegan, please check out my other recommendations.
Features
As I mentioned in the introduction, the BB cream isn't cruelty-free, which is a big turn-off for our vegan beauties.
Other than that, the cream is made of amazing ingredients that leave the skin moisturized and nourished. The ingredients include hyaluronic acid, powerful ceramides, and Gatuline RC.
It also contains botanical essences and emollient plant oils and replenishes your skin.
How it Compares to Others and Why
Unlike other BB creams, Missha BB cream isn't cruelty-free. And yeah, I know this is like the third time I'm mentioning it. I hope they can finally find other ways to test their products to accommodate vegans.
However, it also standouts because it has a SPF of 42 PA+++.
Expert Tips
The cream is best for fair skin complexion and those looking for a perfect BB cream with SPF.
It's also a great choice for those looking to reduce blemishes and wrinkles or correct skin tone.
Also, be sure to choose the right shade for your skin type because they have different shades for different skin tones.
READ MORE: Why is Korean Skincare so Popular?
Do you have very fair skin, and every BB cream you apply gives you an orange look?
Pretty annoying, huh?
Well, you know I love to cater to all my beauties, so this is for you.
I must mention that after you apply the cream, you'll go through a 'Daemn it Sylvia, you played me phase!' where the cream doesn't seem to blend in with your skin. Just give it a few minutes to do its thing.
Features
The cream contains coconut water, which does a great job in improving skin elasticity, reducing wrinkle appearance, and increasing the blood flow to the skin.
This is also crucial if you're trying to heal your skin from sun damage.
Another great ingredient in the cream is the plant stem cells, which boosts collagen production, lowers the risk of skin cancer, and improves skin texture and appearance.
It also contains hyalunonic acid which reduces the signs of aging. .
How it Compares to Others and Why
If you're looking for something with a very natural "barely there" tint, this is it for you. The cream doesn't look cakey at all and blends really well into your skin.
Expert Tips
This is a great cream for a person with fair skin and struggles in getting a cream that doesn't give them an orange look.
It also doesn't irritate the skin, so it's a good choice even for people with sensitive skin.
If you've read any of my Korean beauty reviews, you know Holika Holika is among the Korean beauty companies I'm obsessed with.
And that's because they honestly never let me down. Their BB cream worked very well with my oily skin, and it never triggered any acne, which is always a bonus.
Features
One of the best features of the cream is the marine jelly, which is a mixture of several plant extracts that contain collagen.
Another great ingredient is peppermint which soothes irritated skin and gives you a calming effect. Peppermint also reduces acne scars and controls sebum, which makes the cream suitable for oily skin.
It's also worth mentioning that the cream contains aloe vera, which plays so many roles in skincare, including healing damaged skin and protecting the skin from UV rays.
How it Compares to Others and Why
The cream stands out from the crowd due to its marine jelly complex that helps give the skin a youthful look by repairing it.
Expert Tips
This cream is great for those with oily or combination skin types. It doesn't leave you feeling greasy. If you have acne-prone skin ,no worries, this cream doesn't cause irritation or trigger acne.
It was a long journey to find the perfect BB cream for my perfectly oily skin, but I found it at last. This was one of the creams I tried, and I am glad to say that it didn't disappoint.
Features
Skin 79's triple-action BB cream provides light to medium coverage and lasts all day long. Not only does it help even out your skin tone, but it fights wrinkles and protects your skin from sun damage.
It comes in 7 different shades, although they're all sold on separate listing.
Benefits & Drawbacks of skin 79 Super Plus Beblesh Balm Pink BB
How it compares to others and why
If you are looking for a cream that will effectively conceal fine lines and wrinkles on oily skin, this is the one.
Expert tip
This cream helps with skin adhesion and sebum control.
Moisturize your skin with a regular moisturizer, and then use the cream.
This brand name might be a little complicated to say, but the cream is quite simple. Let me quickly mention its features.
Features
The cream contains lime tree water [1] and cabbage extracts that effectively remove dirt from your skin. Also made with rosehip oil and lemon balm extracts to help keep skin moisturized.
I love that it's a "5 free" product, meaning it doesn't have any alcohol, mineral oil, GMOs, Benzophenone or tar.
Benefits & Drawbacks of Dr.G Gowoonsesang Perfect Pore BB Cream
How it compares to others and why
The cream is free of alcohol and mineral oils, both of which can irritate acne-prone skin.
Expert tip
With a decent SPF (30), this cream is perfect for acne-prone skin.
If you are looking for a cream that can lighten your skin tone evenly with a smooth and bright finish, this cream will not disappoint you.
Features
The best feature of this cream is perhaps its usage of Centella Asiatica Extract that has healing and anti-inflammatory properties. It leaves a soft glossy finish with no flakiness.
Benefits & Drawbacks of Quick Cover BB Cream
How it compares to others and why
With ingredients that have a soothing effect and high SPF, this cream clears pores and texture.
Expert tip
This cream will be a delight to people looking for high SPF and skin tone correcting cream.
Are you looking for a cruelty-free and vegan cream with good SPF and long-lasting coverage? Seems like a dream combination, doesn't it? Well, this cream, is all of this and more.
Let me tell you a little more about it so you can decide for yourself.
Features
This cream is ideal for all skin types and has a flawless finish. It contains antioxidants like chamomile and artemisia [2] that prevent aging. It also uses sugar maple to enhance the skin's natural beauty.
Benefits & Drawbacks of Purlisse Perfect Glow BB Cream
How it compares to others and why
It offers 11 shades and has a 30-day satisfaction guaranteed policy. With plant-based and irritant-free ingredients, this cream covers blemishes perfectly.
Expert tip
You can use it as a makeup primer.
People with dry and sensitive skin, look no further, for this is your salvation.
Features
If your skin is dry or feels dry after using foundation, this cream can solve that problem. With niacinamide that corrects the tone and eucalyptus that fortifies the skin, this is one solid pick.
Check out the video below to see it in action:
Benefits & Drawbacks of Miba Ion Calcium Mineral BB Cream
How it compares to others and why
This cream differentiates itself from others due to ionized calcium and adenosine that reduce fine lines and wrinkles.
Expert tip
You can use almost anything to apply this cream and, still, it will blend well.
Not recommended for people with pale skin
This cream has been clinically tested for fine dust blocking and 24-hour coverage consistency (rare to find).
Features
This cream not only beautifies the skin but also protects it from fine dust and UV rays. Its hydrating formula keeps the skin moisturized for 24 hours.
Check out the video to learn more:
Benefits & Drawbacks of Precious Mineral Beautifying Block Cream Moist
How it compares to others and why
Its multi-protection system and moisture finish make it unique.
Expert tip
Apply this with a sponge for a lighter texture.
This cream is one of the best options for reducing wrinkles, as the name suggests.
Features
Made with the fermentation of Helichrysum Italicum and Royal Jelly, [3] the formula nourishes and preserves youth.
Benefits
Great SPF 45/PA +++
Long-lasting coverage
Prevents blemishes
Comfortable texture
Drawbacks
How it compares to others and why– Apart from its fermented ingredients, this product does not contain oxybenzone and octinoxate [4,5], both of which are harmful to coral reefs (so we can't really call it marine friendly).
Expert tip– A little will go a long way for this one as well.
Another gem by Holika Holika, this BB cream is great for oily skin.
Features
It contains hyaluronic acid that holds on to the water in your skin and brings a moisturizing effect. It's also infused with Collagen & Caviar. Yes, caviar. I love that it comes in a perfect little travel-sized tube!
Benefits
Medium to full coverage
Texture is moisturizing
Gives a vivid finish
Increases elasticity
Drawbacks
Strong fragrance
Does not work well for dark skin
How it compares to others and why– This is an inexpensive purchase and suitable for oily skin.
Expert tip– Although the cream is for all complexions, I'd suggest it for fair and medium complexioned people.
Do you have acne-prone skin and sweat frequently? Well, this BB cream is for you.
Features
This cream contains silica bead powder [6] that absorbs sweat and sebum. It facilitates long-lasting wear without darkening.
Benefits
Ultra-lightweight texture.
Matte finish
Reduces acne, dry patches, and skin irritation
Drawbacks
Doesn't completely cover up dark age spots
How it compares to others and why– Comes in a pretty package and has a unique formulation compared to others.
Expert tip– If your skin is dry, use a little moisturizer or highlighting cream to blend this well.
This cream is best for mature skin but can work wonders for dull skin.
Features
I'm a sucker for herbal ingredients and this one is a win in that department. It contains ingredients like wild ginseng, cordyceps mushroom, and many more that heals the skin from inside out.
It also contains hydroxyethyl cellulose that disguises fine lines.
Check it out:
Benefits & Drawbacks of Missha Misa BB Cream
How it compares to others and why
With its unique oriental herbs, this cream is perfect for people with an inclination towards them. It is long-lasting and has good oil control.
Expert tip
It adheres to the skin well and does not irritate it, making it ideal for delicate skin.
Check out this video to learn how to use a BB cream.
Korean BB Cream FAQs
Here are common questions people ask about Korean bb creams.
Final Thoughts
I love Korean BB creams because they feel like an entire skin routine. If you're having a lazy day, and you simply cleanse your face and apply bb cream, then you're good to go.
That's why I recommend it to anyone who finds the 10-step daily beauty routines daunting. Or busy moms who barely have time for any self-care routines.
I hope my best Korean bb cream review gave you an idea of what kind of bb cream is best for your skin.
Why are you looking for a Korean BB Cream? What do you want to accomplish?
Our Final Recommendation
Try INIKA Certified Organic BB Cream!
References
"31 Benefits of Prickly Pear Fruit for Skin, Hair & Health." 2013. STYLECRAZE. September 21, 2013. https://www.stylecraze.com/articles/benefits-of-prickly-pear-for-skin-hair-and-health/.
"Red Ginseng Benefits for Skin – Kiehl's." n.d. Kiehl's – Naturally Inspired Skin Care, Body and Haircare. Accessed June 22, 2021. https://www.kiehls.com/skincare-advice/red-ginseng-benefits-for-skin.html.
us.facetheory.com. n.d. "TEN REASONS WHY LIQUORICE IS GREAT for SKIN." Us.facetheory.com. Accessed June 22, 2021. https://us.facetheory.com/blogs/news/10-reasons-why-licquorice-is-great-for-skin.
What is your favorite best Korean BB cream? Have you tried using one? Please share your experience with us below!