If you've been trying to find the best Korean whitening cream for your face or your body, I prepared a review of the five products you need to know about.
Korean skincare is a worldwide hit, thanks to the gentle and effective ingredients that they use.
As a woman with extremely sensitive skin, I love testing new Korean products because I know I can feel safe with their formulations.
Let's find out more about why I rated these products so highly, their most notable benefits, and the drawbacks you need to keep in mind.
Korean Whitening Creams Top Picks at a Glance
If you see the value in these products and choose to purchase via my referral links, I may earn a small commission at no extra cost to you.
Check this table for a quick side-by-side comparison, then keeping reading for in-depth reviews.
5 Best Korean Whitening Creams Detailed Review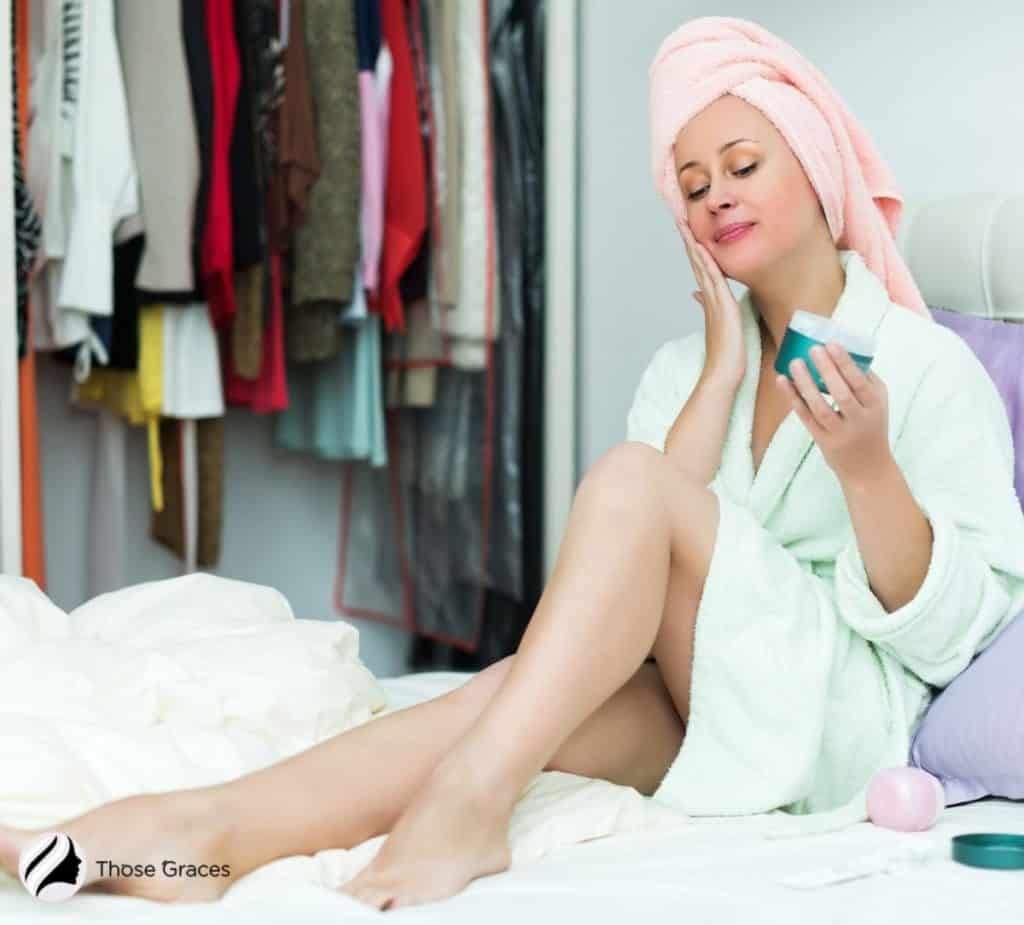 After I tamed my obsession with Korean snail creams, I got hooked on finding the best Korean whitening products.
These five products below are the best of the best and performed wonderfully without making my sensitive skin irritated.
The La Bauge Whitening Cream is the best Korean whitening cream for face and body. So many of my friends have tried this product, so I was curious to see what all the rave was about.
Since I was already using a similar product on my face, I decided to try and achieve lighter skin on my armpits.
After a few weeks, this product became my absolute winner in the Korean skin care whitening category. First of all, it's affordable, and anyone can buy it.
It can be used on the body and face, making it an all-around product. Next, if you use it continuously, the effects are fast and permanent.
Finally, I really love that the ingredients are plant-based and don't irritate my hypersensitive skin.
Physical Attributes
The La Bauge Korean whitening cream is packed in a cute peach-colored tube.
This is not the fanciest packaging I've seen, but to be honest, I was more focused on figuring out whether the product would serve its purpose.
Quantitative Measurements
The tube packaging of this Korean skin lightening cream contains 50 ml of product. This is a decent amount of product to get for the price of the cream.
When I first received it, I was afraid I would go through it very fast, but the cream is rich and powerful, so a little goes a long way.
| Benefits | Drawbacks |
| --- | --- |
| Can be used for the face and body as well (armpits, knees, neck, elbows) | Some say it leaves behind a residue |
| It's pretty hydrating because of the hydrolyzed collagen present in the ingredient list | Can cause "rebound darkness" if you use it for a long time then suddenly stop. |
| It's affordable | A few users feel it's too sticky. |
| Fast results thanks to the great plant-based ingredient list | |
| Contains Vitamin E, tranexamic acid, niacinamide, alpha arbutin | |
Benefits
Can be used for the face and body as well (armpits, knees, neck, elbows)
This is a total body product that you can use on any problematic area.
It's pretty hydrating because of the hydrolyzed collagen present in the ingredient list
If you're scared that this cream will leave you dry and flaky, there is no need to. It contains hydrolyzed collagen that it's surprisingly hydrating.
This is one of the most affordable products on the list, with a decent size. Because it's powerful and rich, you don't have to use too much. It took me months to finish the tube.
Fast results thanks to the great plant-based ingredient list
Natural ingredients such as bamboo charcoal and white mineral oil are safe for the skin
Contains Vitamin E, tranexamic acid, niacinamide, alpha arbutin
All these ingredients are proven to have whitening effects, are great at evening out skin, reduce hyperpigmentation, fight acne scars, and are gentle enough for sensitive skin types.
Drawbacks
The most notable drawback is the "rebound darkness" issue. Some users said that while it worked, when they stopped using it, the dark spots came back even worse than before.
A few users complained that it was sticky and left behind a bit of a residue.
How it Compares to Others and Why
This is definitely the best value product on the list because it comes at a great price, and you get a lot of product.
I applied it both day and night, and I can say that it lasted me a pretty long time.
I love that you can use it on the face and body, that it's focused on natural ingredients, and it doesn't cause any irritation.
How the Product Evolved
This is the only product that La Bauge sells, so there aren't any similar products to compare it to.
It's also the only version of this product, so I couldn't find any information on previous generations from this whitening cream.
Expert Tips
After reading that this is one of the best Korean whitening creams for intimate areas and face, I decided to use it on my underarms. The instructions are pretty simple; all I did was wash, dry my skin, then apply the cream. I waited for a minute or two, then got dressed.
La Bauge recommends that you use the cream once in the morning and once at night, so that's what I did. I didn't notice any results the first few days, but my dark skin in the underarm area started getting lighter after a week.
The brand mentions that this is a Korean product meant for dry skin types because it contains hydrolyzed collagen in the ingredient list.
Sale
Whitening Cream Skin Lightening Cream - Intimate Area Face Body Skin Tone Dark Bright Spot Correction Freckle Armpit Underarm Knees Effective Brightening Bleaching Nourishing Effect with Collagen
Whitening effect from the first use: this professional cream will help you brighten and lighten your skin with a visible results from the first use. Fast correction of hyperpigmintation and dark spot removal.
Nourishing action while discoloration: hydrolyzed collagen as one of the ingredients of this skin brightening cream helps to deliver molecules of collagen to your skin to nourish and moisture it to improve skin look.
Universal solution for all of your body: our whitening cream can be effectively used for skin tine correction in the armpit zones, on the knees, elbows, freckles and even private intimate zones.
Safe and gentle bleaching cream: plant based ingredients such as bamboo charcoal, white mineral oil etc does not harm your skin while it's working.
Easy to use skin tone corrector: as easy as these simple steps: clean and dry your skin then apply and massage cream into the part of your skin that needs color correction, use twice a day morning and night for optimal result.
The APLB Glutathione brightening cream is my second favorite next to the La Bauge's whitening product.
I love that it contains Centella (Gotu Kola), an ingredient that keeps my skin hydrated and prevents inflammation.
Physical Attributes
The APLB Glutathione Hyaluronic Acid Brightening cream is packed in a gorgeous glass jar packaging.
It's great that the brand uses glass packaging that is environmentally friendly and reusable.
Quantitative Measurements
The amount of lightening cream that you get in the packaging is 60 ml. This is a great size considering the low price of the product.
| Benefits | Drawbacks |
| --- | --- |
| The Centella 3x Complex is excellent for sensitive skin, has anti-inflammatory properties, and promotes beautiful skin | The witch hazel in the ingredient list can be a little harsh for some people |
| It contains glutathione that has whitening effects | Gotu Kola can cause side effects in some people.* |
| Hyaluronic acid is a known hydration booster | The whitening effect only lasts until you wash it off. |
| The size of the cream that you get is quite generous for the price | |
| The cream contains Vitamin C and niacinamide, both promote light skin without pigmentation | |
*Most research pertains oral gotu kola, but it shouldn't be used by those with liver problems.
How it Compares to Others and Why
This is the only product that contains Centella and ingredients that promote skin elasticity, such as squalene and adenosine. Check our guide on Adenosine Korean Skincare for an in-depth explanation of its benefits.
How the Product Evolved
APLB has a glutathione ampoule serum with similar effects to this lightening cream.
Expert Tips
I used this cream three times a week for months and never noticed sensitivity. It was the last step of my routine, and as the brand suggests, I applied it to my problem areas more frequently.
Sale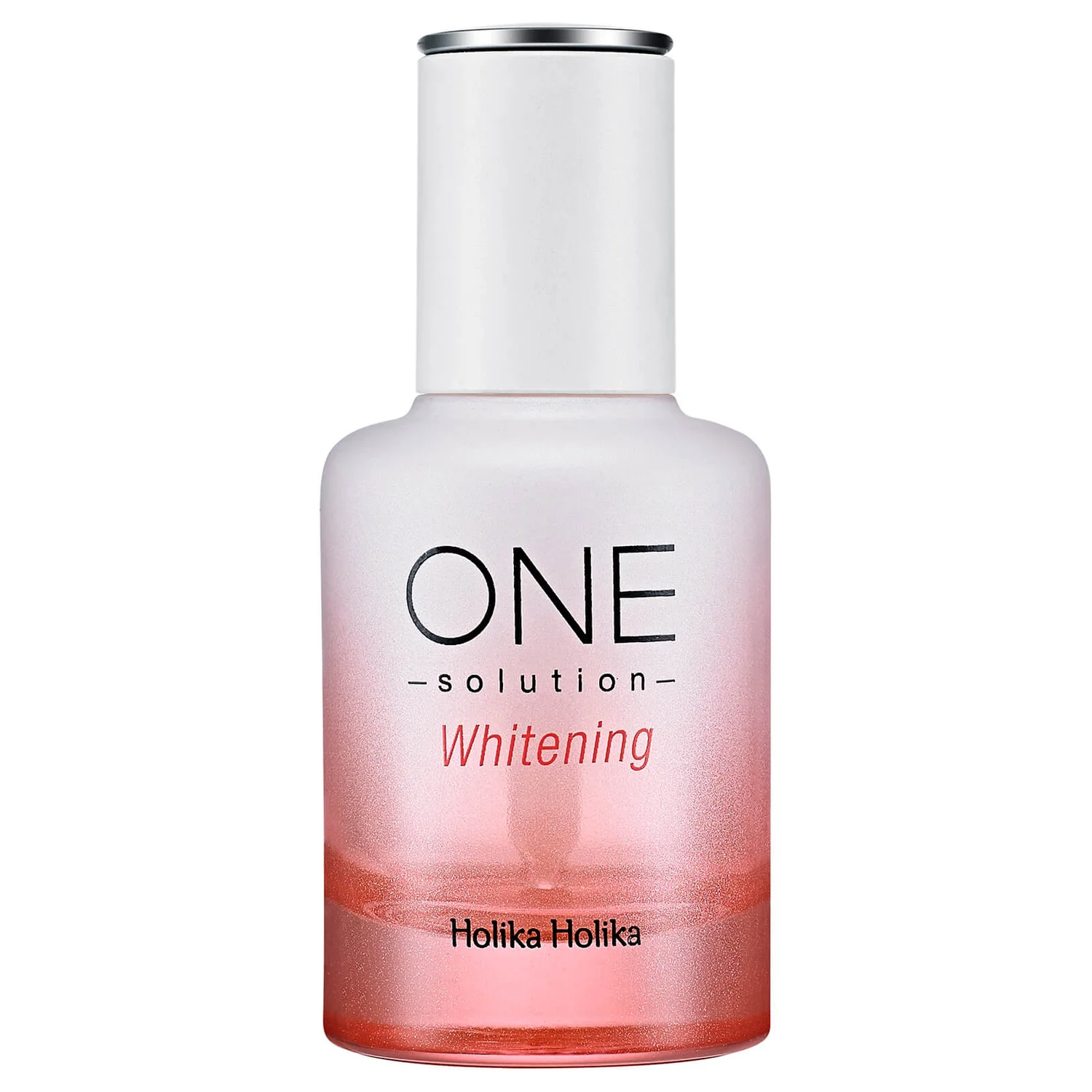 The Holika Holika One Solution Super Energy Whitening Ampoule is a product I've been eyeing for a while.
After reading that it can help my uneven skin tone and minimize dark spots, I was almost sold. I saw Kasia Jonasik's comment on Facebook, "I love this serum.
The best I've ever used." and I had to give in. The next thing I know, I'm obsessed with this essence-like product.
Physical Attributes
This Korean skin whitening cream comes in a cute pink bottle with a dropper for easier use. I love products that come with droppers because it's much easier for me to dose how much I want to apply.
The product itself is milky, creamy, light pink, and applies easily. Although it might look a little heavy when you first apply it, it absorbs right away without leaving any residue.
Quantitative Measurements
The gorgeous Holika Holika One Solution Super Energy Ampoule bottle packs 30 ml of product.
This is a decent amount for the price, but I used it quite fast because I liked it so much and applied it four to five times a week.
| Benefits | Drawbacks |
| --- | --- |
| It's packed with gentle and whitening ingredients that won't leave your skin dry or irritated | I used it all up fairly quickly |
| The berry extract complex that includes acai, blackberry, blueberry, and cranberry extracts fights free radicals, reduces the production of melanin, and is rich in tannins that boost skin firmness | Contains ingredients that may cause allergic reactions in some. |
| Lightweight formula that is easy to absorb and doesn't leave a residue on the skin | |
| It can be used as an essence or mixed with other products such as moisturizer or foundation | |
How it Compares to Others and Why
It's not a face cream, but an essence. This product shouldn't be the last step in your routine; it should be applied after toning.
How the Product Evolved
The Holika Holika Whitening Ampoule is a part of a range of products that target common skin concerns.
In the brand's One Solution Super Energy Ampoule range, you'll also find a product for moisturizing, soothing, anti-wrinkle, and firming.
I've also tried the moisturizing super marine serum, and it's been so wonderful for my dry skin during the winter.
Expert Tips
Although I thought this was a typical cream product at first, after reading the product info, I saw that it's an ampoule serum that should be applied after toner.
I tried using it two ways: right after my toner (instead of an essence), and mixed with my favorite moisturizer. In my opinion, people with dry skin types will benefit most if they apply it as an essence because it's pretty hydrating. Since it's a lightweight formula, it will be great for oily skin as well.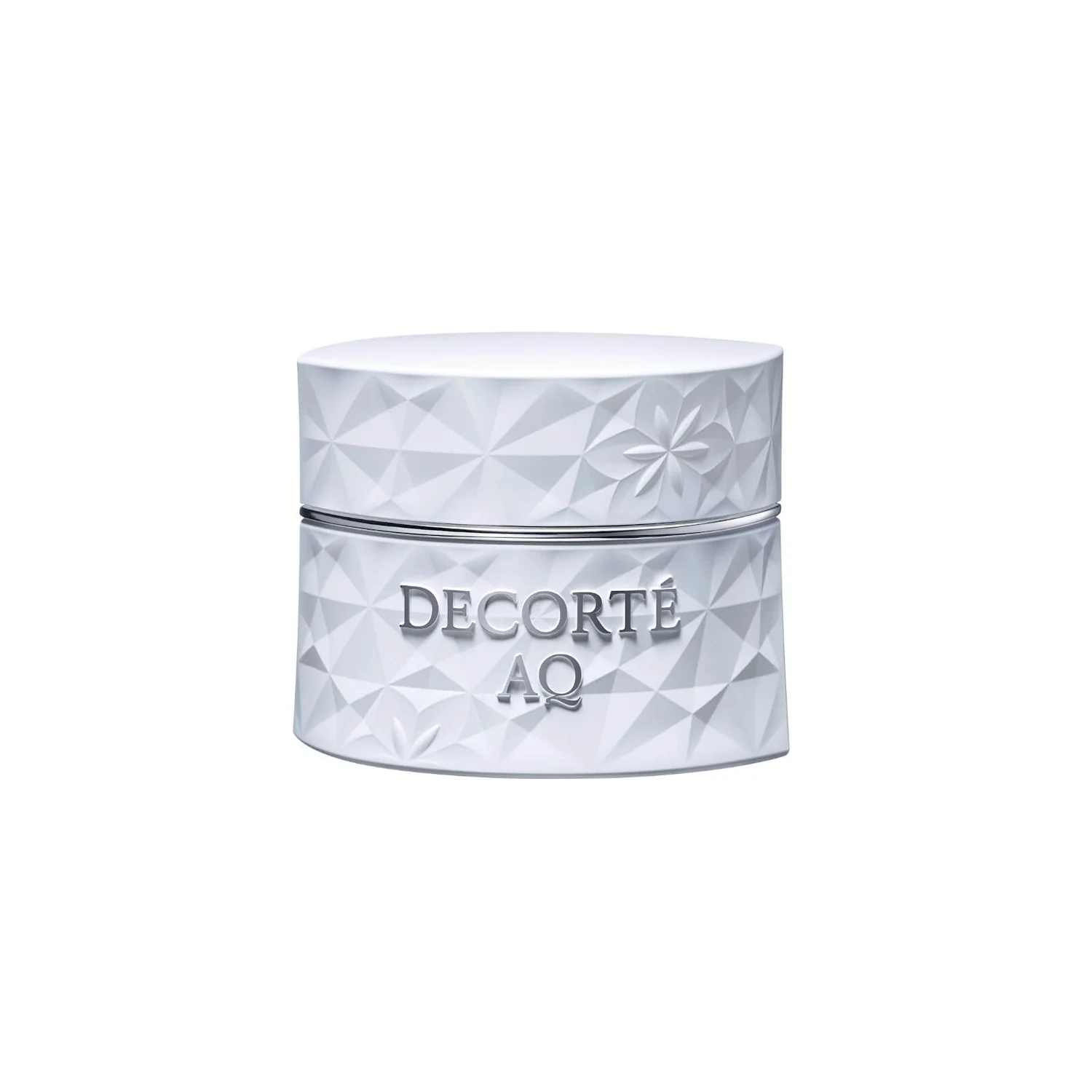 According to online reviews, Decorté's AQ Absolute Brightening cream is one of the best Korean whitening products. Well, this skincare junkie couldn't pass on it, so I decided to give it a try. Was it worth the almost $200 that I spent? I would have to say yes.
Physical Attributes
Decorté's AQ Absolute Brightening Cream has the most luxurious white and silver packaging. I have to admit that I'm a sucker for great packaging, so it was one of the first things I noticed about this product. Considering that it's a costly purchase, it's only expected for the cream to come wrapped in luxury.
Quantitative Measurements
Each time I research skincare products, I don't only focus on the price and size, but also the worth per ml or per g. This is an expensive product that is very costly if you calculate the cost per ml. The luxurious packaging contains 25 ml of brightening cream.
| Benefits | Drawbacks |
| --- | --- |
| The ingredients include cranberry, acai berry, and blackberry extracts that fight free radicals, dark spots, age spots and boost the look of dull skin | It's the most expensive product on the list |
| Spa-like experience because of the luxury packaging and rich texture | Long list of ingredients means it could cause allergies. |
| It contains niacinamide that reduces hyperpigmentation and leaves a glowing skin | |
How it Compares to Others and Why
If you're ready to splurge a lot on a night brightening cream, this one is it. Although I don't usually opt for the most expensive skincare products, I was quite intrigued by this one.
How the Product Evolved
This product is a part of Decorté's AQ line that also includes a brightening lotion and emulsion.
Expert Tips
One of the things I love the most about this Korean skin whitening product is that it comes with a spatula. I hate dipping my fingers into a jar of product, so instead, I use a spatula. For the best results, get a small amount of the cream with the spatula, and apply it all over your face. It has a rich texture which makes it an exceptional choice for dry skin.
Because I test numerous products daily, I often share them with my mom, who has combo skin. She's impressed with this one because it didn't make her feel oily. So, it's safe to say that it's suitable for all skin types.
If you're into Korean whitening skin care, you've probably already heard of the Mi Amor Intimate Skin Lightening Cream.
Although the brand says it's suitable for the body and skin, I found it to be best for the sensitive areas on my body.
Physical Attributes
This rich cream comes in a plastic jar packaging that doesn't look expensive.
Although I wasn't impressed with the packaging, I love how rich the cream is. It applies beautifully, without leaving a white cast.
Quantitative Measurements
In the jar packaging, you'll receive 60 ml of this Premium Intimate Skin Lightening Cream. That's a significant amount, and since you only need to use a little, it will last you for months.
| Benefits | Drawbacks |
| --- | --- |
| It contains arbutin, kojic acid, and niacinamide, all of which fight discoloration, skin damage, and spots | The coconut oil can be comedogenic for people with oily skin |
| The brand offers a full refund within 30 days of the purchase | It's not the best product for the face; it's more suitable for body |
| The ingredient list includes coconut oil, a moisturizing ingredient that leaves the skin happy and plump | |
| Doesn't contain parabens, artificial preservatives, sulfates, hydroquinone | |
How it Compares to Others and Why
Although most products on this list can be used on the body, this one is specifically meant to target dark areas that are also sensitive.
It's quite gentle, so it's perfect for anyone who struggles with hypersensitive skin.
How the Product Evolved
I couldn't find any information if this is the first product of this kind for the brand.
Expert Tips
For the best results, apply this Korean bleaching cream twice a day, in the morning and before bed.
Make sure to use only a tiny amount because using too much can have the opposite effects and cause dark skin. The brand says you should expect results within 6 to 8 weeks, but I started seeing some changes earlier.
Premium Intimate Skin Lightening Cream - Mi Amor - Natural Whitening Cream - Bleach your Buttocks, Privates, Knees, Elbows, Underarms, Thighs or Face (2oz)
NATURALLY WHITENING Mi Amor Intimate Lightening Cream is 100% natural. We use no chemicals, no artificial preservatives, no sulfates, no parabens. To lighten your skin, we do not use hydroquinone. Instead, we added arbutin, niacinamide, and kojic acid. In synergy, these ingredients create a lightening powerhouse! See the results you desire.
STRONG YET SOFT Because we only used natural ingredients in this skin lightening cream, it won't cause skin irritation. With the presence of 3 whitening ingredients working in sync, you should expect great results. This perfect balance is what makes this cream ideal for intimate and sensitive areas.
LUXURY MOISTURIZER Not only does this cream lighten your skin, but it also has amazing moisturizing properties. With coconut oil as the star, you can expect the skin in your intimate areas will be softer than ever, after using Mi Amor Intimate Lightening Cream.
FOR INTIMATE AREAS AND ELSEWHERE Since this cream was made to treat the most sensitive areas, it can be used throughout the body. Use this cream to lighten your knees, inner thighs, elbows, underarms, chest, nipples, vagina, anal area, face or anywhere else.
GUARANTEED If you're not satisfied with Mi Amor Intimate Lightening Cream, just contact us within 30 days for a full refund.
Korean Whitening Cream FAQs
Are Korean Whitening Products Safe?
As an absolute obsessive with Korean beauty, I've always been intrigued by their skin whitening products. Since I'm a fair-skinned girl, I never needed any help in this area until I turned 30. When I started getting more into Korean lightening creams, I discovered that most of these products are based on natural ingredients such as vitamin C, fruit extracts, licorice root, glutathione and don't contain bleaching agents. Because of this ingredient list, Korean skin lightening creams are suitable for daily use.
What are the Most Common Ingredients in Korean Whitening Products?
In general, Korean skin lightening products aren't based on bleaching agents such as hydroquinone or mercury. Some of the most common active ingredients in these products include glutathione (an antioxidant that fights free radicals), kojic acid (evens out skin tone), niacinamide (promotes even skin tone and texture), licorice root (fights pigmentation), Vitamin C (antioxidant properties). As you can see, these are not the typical skin bleaching products, but they focus on fighting pigmentation and uneven skin tones to deliver radiant, glass skin.
Conclusion
Did you know that the global skin whitening market is worth over $8.3 billion?
If you're looking to achieve an even skin tone without dark spots, blemishes, acne scars, and hyperpigmentation, you don't have to go the regular skin bleaching route.
Thankfully, these days there are so many amazing Korean skin whitening creams based on natural ingredients. They are free of potentially harmful ingredients such as hydroquinone and mercury.
If you ever want to improve your dull-looking complexion, any of the five Korean skin care products we listed will give you a glowing appearance.
References:
"AQ Skincare." n.d. Decorté. Accessed June 1, 2021. https://decortecosmetics.com/collections/aq-skincare.
Grand View Research. 2019. "Skin Lightening Products Market Size, Share | Industry Report, 2025." Www.grandviewresearch.com. August 2019. https://www.grandviewresearch.com/industry-analysis/skin-lightening-products-market.
"K-Beauty Translations: What 'Whitening' Means in Korean Beauty." 2018. The Klog. February 15, 2018. https://theklog.co/what-whitening-means-in-korean-beauty/.
"What Are Korean Skin Whitening Products and Do They Bleach Your Skin?!" n.d. Sokoglam.com. Accessed June 1, 2021. https://sokoglam.com/blogs/news/112943045-skin-whitening-explained-its-not-what-you-think#:~:text=That%20means%20that%20the%20majority.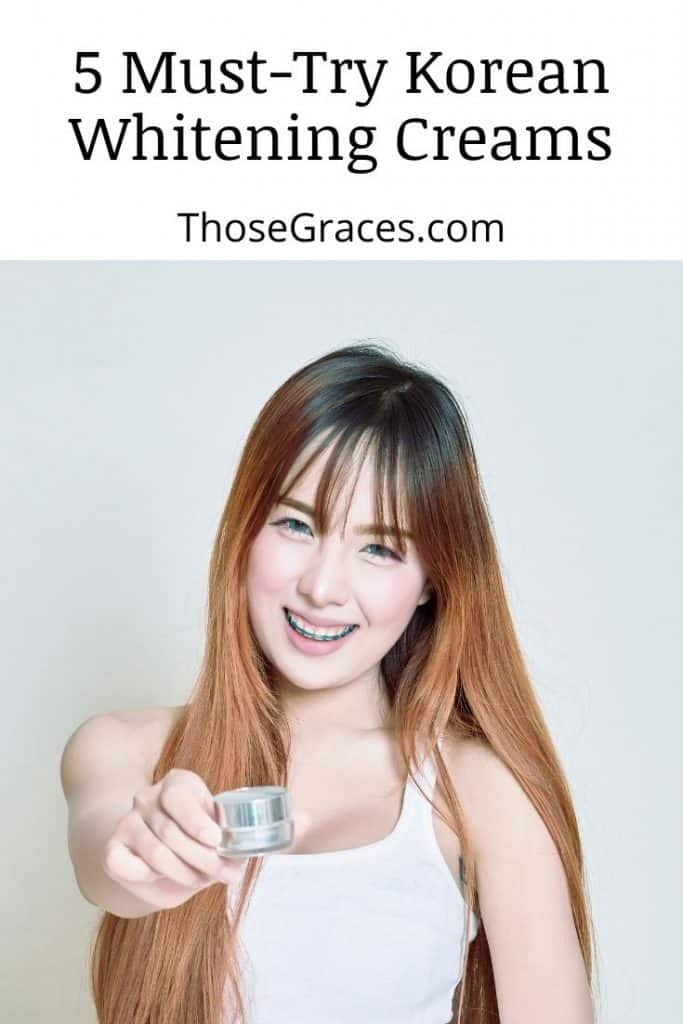 Have you tried using a Korean whitening cream? Let us know your experience below!