If you want to know the difference between fiberglass and acrylic nails, we've got your back!
Having long nails is something everybody wants to experience at some point in their lives.
Of course, growing them naturally takes time and there are chances that they will break; and that's where the two most common manicure techniques come helpful: Fiberglass and Acrylic nails.
Below we will explain and compare everything about these two products, and see which one is best.
Don't forget to check our list of the best nail subscription boxes!
Fiberglass Nails
Fiberglass nails have been part of the salon industry for decades. Nevertheless, there are other more famous options in the market such as acrylic nails.
These two methods are different from each other in their application techniques. Regardless, both options give you long and beautiful nails, as well as strengthen them.
Before we get to our comparison, let's learn a bit more about fiberglass nails, since they're newer and less well-known than their acrylic cousins.
Introduction to Fiberglass Nails
What are fiberglass nails?
Fiberglass nails have become one of the trendiest artificial nail techniques on Instagram in the last couple of years. Many nail artists prefer this product as it looks natural, elegant, and opulent.
These types of nails are similar to silk wraps, as they are made with fiberglass or other slim and flexible fabric materials. They give strength to your nails, as well as provide beautiful length to them.
The fiberglass nails can be applied to give a natural coating to nails, or they can be combined with acrylics for extra coating and strength. They tend to be much stronger than acrylic nails.
This particular nail system is made to extend and strengthen the nails just like silk wraps. The only difference between these two systems is that different materials are used.
We'll start with a quick look at the benefits and drawbacks, then dig into all of the details.
Check out this video for gorgeous designs for acrylic nails.
Fiberglass Nails Benefits and Drawbacks
| Benefits | Drawbacks |
| --- | --- |
| Most natural-looking fake nails | Weak compared to other fake nails |
| Thinner and more comfortable than other types | Prone to breaking or chipping |
| They don't damage your nails as much as acrylics | Can't apply to unhealthy nail beds |
| Odorless | They are form-fitting, so not ideal if your nail bed is oddly shaped. |
| More hypoallergenic than other types | |
| | |
Fiberglass Features
Having good-looking and long nails with fiberglass techniques requires a few materials. The fiberglass system works with two components, which are fiberglass fabric or strands and resin.
Fiberglass nails are thinner than the gel nail extensions such as acrylics. So if you are more into natural-looking nails, this can be the best choice for you.
However, it is also worth mentioning, that fiberglass nails might be more prone to breaking as they are more flexible and less durable in comparison with other nail enhancements.
Another great feature of fiberglass is that they are less damaging to the nails than gel nail extensions. It is why this system is more acceptable for different types of nails.
Price
Fiberglass nail extensions might be more at a higher cost in nail salons due to their application process and material. The reason for that is because it might take few hours for nail technicians to finish both hands.
Depending on the nail salon, the prices of fiberglass nail extensions might range from $50 to $100, which is considerably higher than acrylic extensions.
Materials
As we have already seen above, there are only two components that make fiberglass extensions look beautiful and natural. To get the perfect look you will need fiberglass fabric and adhesive glue or resin.
Fiberglass fabric can be used if you want to only strengthen your nails without giving them any extra length. Whereas fiberglass strands are used to give artificial length to nails.
After applying the fabric or strands to your nails, the resin is added to them, to give more thickness to your nails.
Normally nail technicians apply a few coats of resin, after which the nails are ready to be filed down and buffed.
Fiberglass nails vs silk wraps
People often confuse fiberglass nails with silk wraps. While they seem similar, they're actually made of entirely different materials.
Silk nail wraps are, as the name implies, made up of silk. As we just learned, fiberglass nails are made of fiberglass material. Basically, their names say it all.
Another major difference is how they're used. Both fiberglass and acrylics are used to either make your natural nails longer or cover your natural nail entirely for style and appearance purposes.
Silk wraps can achieve the same function, but they're mostly used to strengthen your natural nails or to cover a crack while it heals. Basically, they have a more therapeutic function.
How Long Do Fiberglass Nails Last?
Fiberglass nails typically last about two weeks. In some cases, they can last a bit longer. However, they're fairly delicate overall, so don't expect to get much more than a month out of your manicure.
Also, they're more prone to chipping and cracking, or just looking raggedy faster than acrylics.
So even if the nail itself is still in relatively good shape after two weeks, you may still need to get a touchup.
Check these amazing July nails ideas!
Looks
Whether you want to strengthen your nails or add length to them, after applying the fiberglass to your nails, you can paint them with nail polish or nail gels.
You can get any length, shape, or form of your nails with this amazing product.
The only thing here is that it will be difficult to get the best results at some, so looking for a professional nail technician will be your best choice.
Just like all nail enhancements, you can add colors to your nails, have beautiful designs, and nail art, depending on your preferences. There are so many creative ways you can have your nails done. Let's check out a few!
Fiberglass Nails Designs
Before we move on to the comparison, let's quickly check out a few of my favorite fiberglass nail designs and tutorials.
Pretty in Pink
A simple and elegant design that looks great year-round. The pale pink makes a great foundation for other nail art designs, too.
Simple Pastel Almond Fiberglass Nail Extensions
Another very simple design, the pale almond is perfect if you just want a smidge of color on your nails.
Fiberglass Coffin Nails
Fiberglass Nails with Dip Powder
A beautiful ombre effect using dip powder and gel polish.
Availability
There are many nail salons that offer fiberglass nails to their customers. So you can check the best available salons near you for an appointment.
If you decided to go for fiberglass nail extension, keep in mind that the application process is time-consuming, and you might need touch-ups every now and then to get the perfect look.
What are Acrylic Nails?
Acrylic nails have been around for a long time, so most of us are pretty familiar with them even if we may not know it. So I'm not going to get too in-depth here.
I do want to quickly talk about what, exactly, they are, though, before we get into the fiberglass vs acrylic debate.
Without getting too crazy with the science, acrylic nails are a product that consists of two parts – liquid nail monomer and powdered acrylic polymer.
Once the two are mixed, the resulting substance adheres to your natural nail in order to add strength & length.
Silk wrap nails vs acrylic
Again, like with fiberglass nails, the main difference between silk vs acrylic nails is function.
An easy way to think about it is this: acrylics are traditionally used to create a whole new nail, where silk wraps help existing nails.
So if you're a nail-biter like me and you basically need the whole shebang, it really comes down to a choice between acrylics and fiberglass.
But which one is better? Let's find out!
Fiberglass vs Acrylic Nails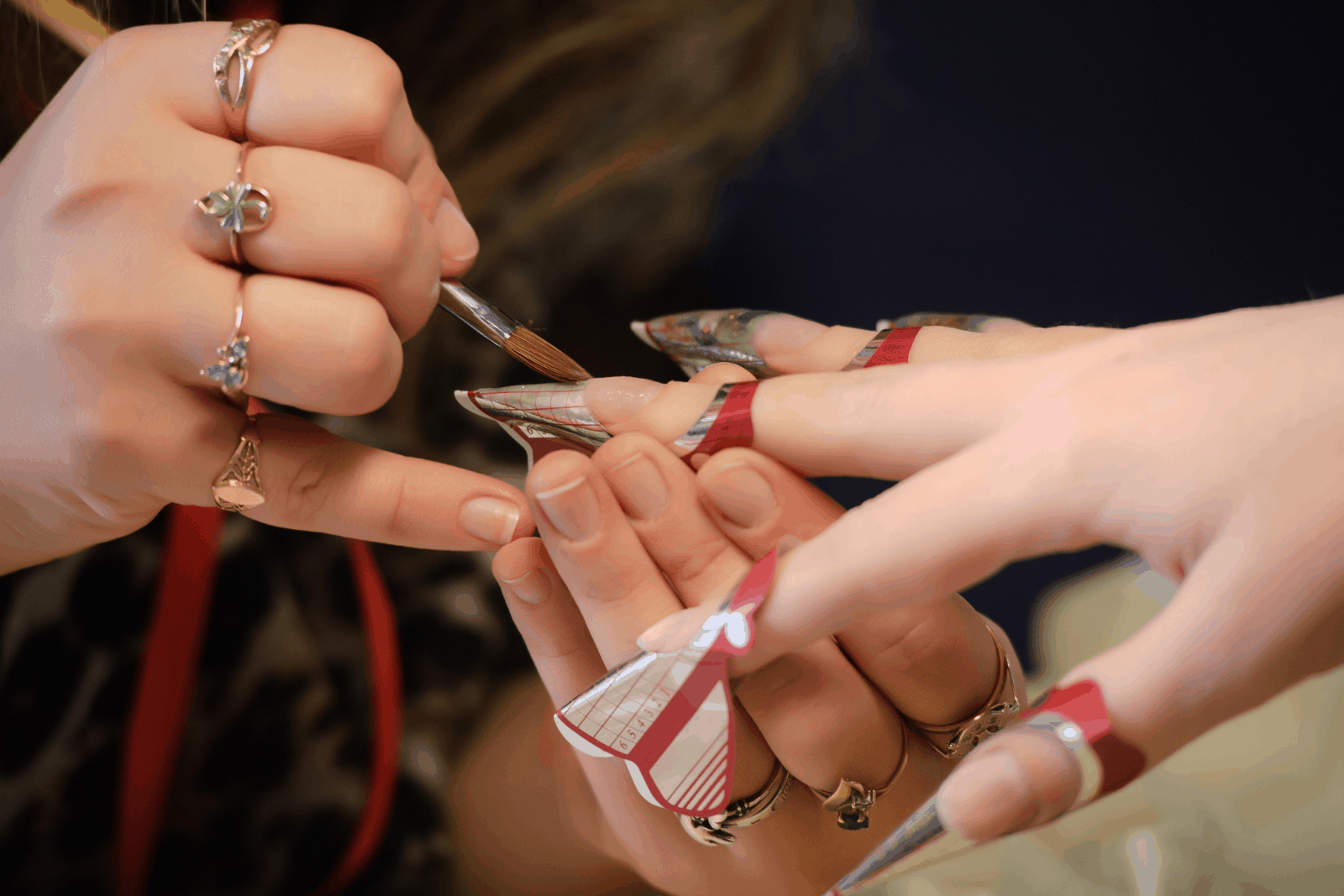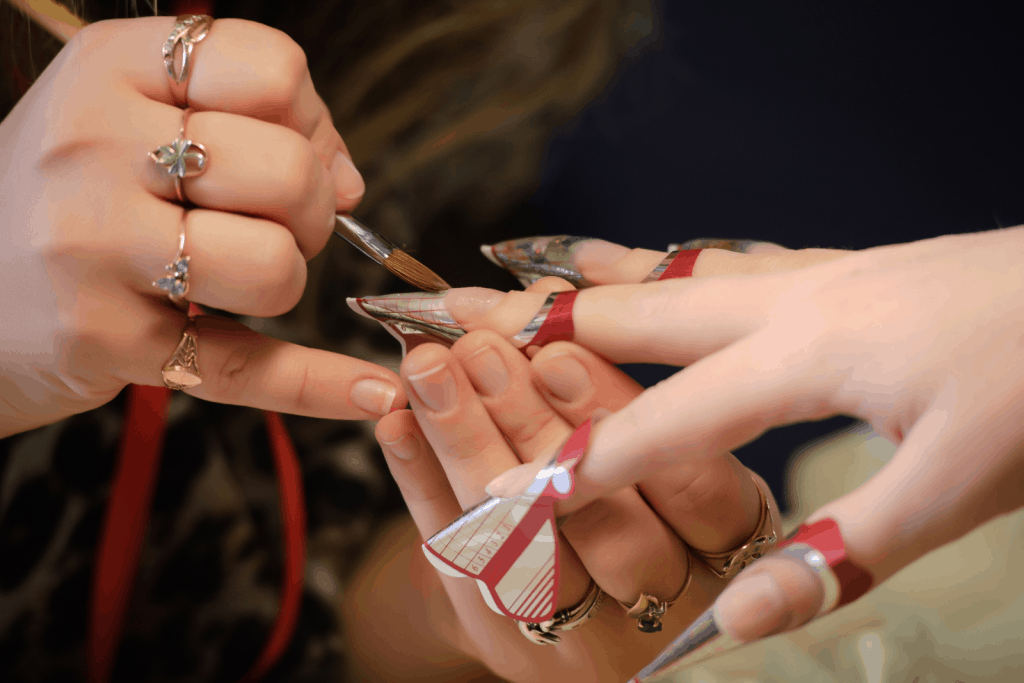 Fiberglass nails and acrylics are two of the most popular manicure techniques that are used by many people in recent years. They both give your nails strength, extra length, and elegance.
The main difference between these two nail systems lies in their application techniques and the products used. You can achieve your desired nail look at any nail salon near you that will serve you for weeks.
Comparison of Features
| Fiberglass Nails | Acrylic Nails |
| --- | --- |
| Made with fiberglass or other slim and flexible fabric materials | Made with liquid nail monomer and powdered acrylic polymer. |
| Most natural-looking fake nails | Might look more unnatural |
| Odorless | Have a specific odor |
| Higher cost in nail salons | Cheaper |
Acrylic nails are more common at nail salons due to their durability. Many nail technicians know how to properly apply this product to your nails without causing any damage to your natural nails.
Due to their thick consistency, acrylic nails might look more unnatural, unlike fiberglass nails. They also have a specific odor, that fiberglass nails do not, making the application process more pleasant.
When you decide to remove the artificial nails, no matter acrylics or fiberglass, it is better to have it done by a professional. Trying to remove the products at home might damage your natural nails.
Why Should You Opt for Fiberglass Nails Instead of Your Usual Acrylic Nails?
Fiberglass nails are an excellent way to strengthen your nails. As they are thin, they will look more natural and give them an elegant appearance.
This method is also a great option for people with natural long nails, who have broken one or two. You can use fiberglass on the broken nail, without filing down all the nails to match the length of the broken nail.
Moreover, the fiberglass doesn't have any smell, unlike acrylics, and it is unlikely that they will cause any allergies to your natural nails.
All that said, if you're trying to do your own cute indie nails at home, acrylics may be the cheaper and easier option.
Conclusion
Fiberglass or acrylics, it is always important to do your research when trying new things.
Find the right specialist to have your nails done depending on the system you choose.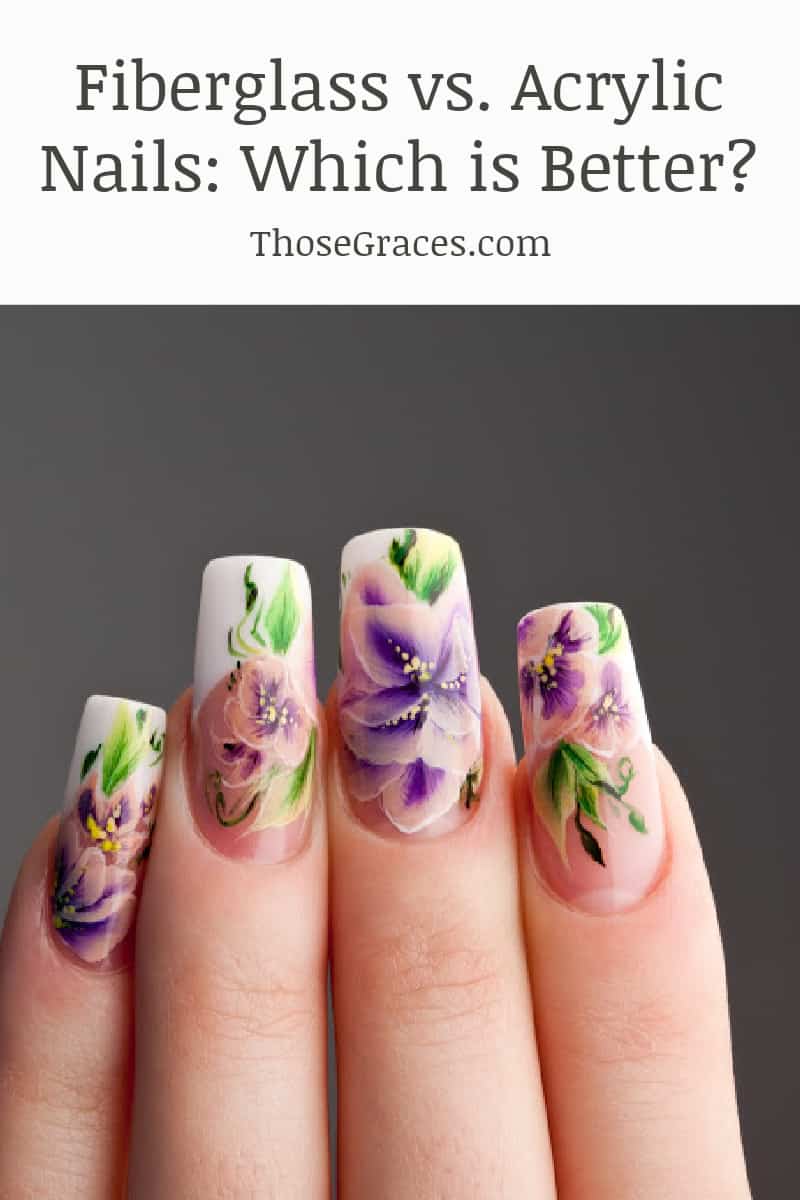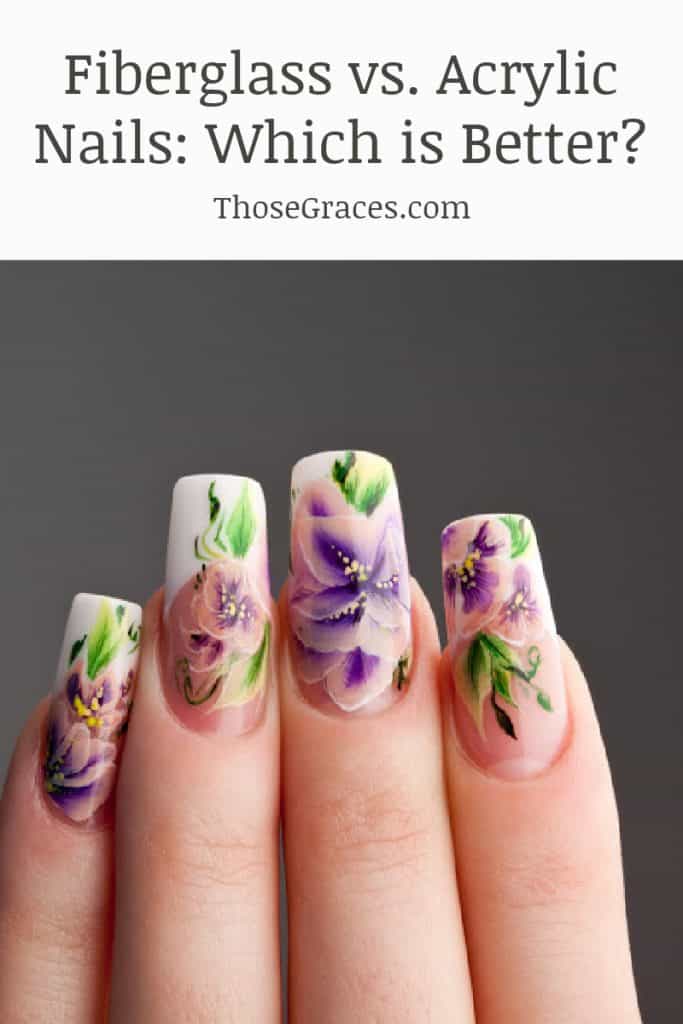 Have you tried both options? Share your thoughts on fiberglass vs acrylic nails below!