If you're like me, then you love fake nails!
They can be a fun way to add some pizzazz to your usual style, and they can last for weeks or even months if you take care of them properly.
But it's essential to choose the right type of nails, or you could end up with damaged nails.
So which type of fake nail is right for you? Keep reading to find out!
What Are Fake Nails?
Fake nails are an addition to your nails that last 2-3 weeks and require no additional care.
Your fake nail options can have a natural appearance, or you can showcase over-the-top artificial fingernails. It depends on you.
Also, check out my top choice of nail polish subscription for regular manicures. Alright, let's get started with the types of artificial nails then.
Here's an example of what fake nails are.
5 Different Types of Artificial Nails
Here are the artificial nail types that look great on your hands for a couple of weeks. These are perfect for an event or just your everyday life.
If you're unsure about what to get, talk to your nail manicurist about your needs and let them decide for you.
Celebrity make-up artist Amy Hide says,(1) "Ensure you can view the team members' qualifications and can communicate with you to advise the right nails for you depending on your desired look and outcome."
1. Acrylic Nails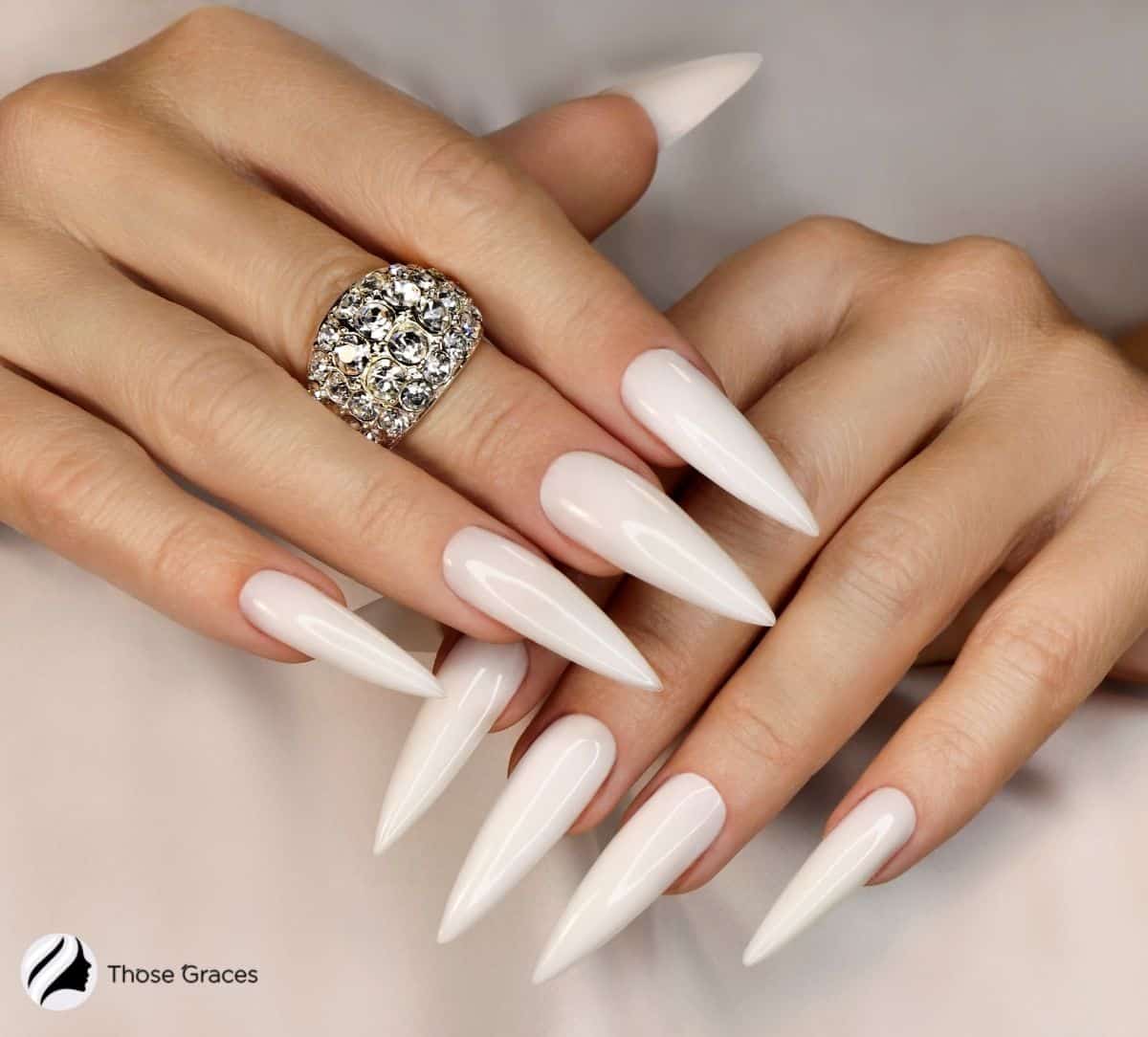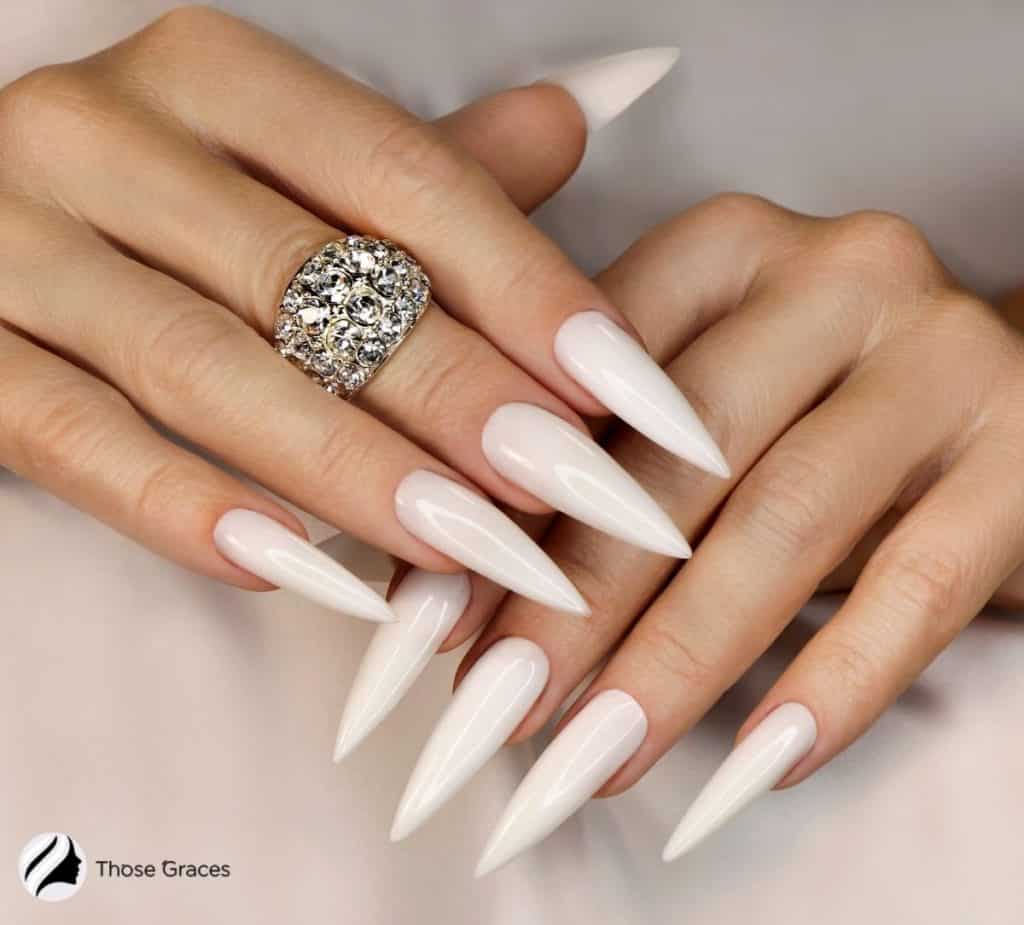 The paste is molded into getting the shape that you desire. Then it hardens in your nails, giving you length and thickness.
Acrylics are an excellent idea for faux nails since they are stronger than other artificial fingernails and come in many designs. Not to mention all the acrylic nail designs that you can flaunt and add to your overall look.
Do acrylic nails go under your skin? Yes, they do. Acrylics are fake nails that go under your cuticle and bond with strong glue.
Since they are more durable, you can get them if you wish to extend your manicure for a few weeks, as they last anything from 6 to 8 weeks.
Here's a detailed video of how the process goes.
Since the bottom of your natural fingernail will show, you can get a touchup and help the manicure last longer.
However, you must remember that acrylics may be the worst of all artificial fingernails weakening your nail health, especially during removal.
Hannah Lee, a professional manicurist, says, "It's recommended to take a break from getting acrylics around every three to six months to help rejuvenate your nails."
2. Full Cover Nails
Full coverage nails are artificial fingernails glued onto your natural nail beds. These nails are available in various sizes, nail shapes, and patterns.
They usually last for two weeks on the clients' hands, after which they will need to book an appointment with their manicurist and soak the glue off.
They don't require fills or anything. It is a one-time thing that takes less than 15 minutes to apply. These false nails are preferable for clients taking a break from acrylic nails.
Millie Donovan, the owner of Mbeauty, says, (3) "Quick Tips have meant that my clients getting extensions quicker."
"Another key thing I love about Quick Tips is that it is best to reapply a new set every time," she adds. "This has also allowed clients who want to grow their nails to have quick tips for just one appointment and then change the treatment to gels."
So, as a transition, you can wear these for a certain period and go back to getting gel nails or acrylic nails, as you wish.
Not sure how to apply full cover gel tips? This video may help.
3. Gel Nails
The most sought out artificial fingernails by most users are gel nails aka gel manicures.
This service uses a gel-based polish exposed to UV light to cure it and lock it onto your natural fingernails. Gel polish is way more long-lasting than regular polishes, making it a go-to choice for most users.
It doesn't matter how long or short your nails are to get them. Even those with shorter nails can get short gel nail designs that are super easy to maintain.
Duguay-Gordon, a professional manicurist at Green Tangerine Salon and Spa, (4) says, "Gel manicures can last up to two weeks with proper nail prep and at-home care, such as cuticle oil and hand lotion."
Gel nails are best removed at a salon by a nail technician to ensure the best for your nail beds. If not removed properly, it could be pretty damaging to your cuticles.
However, if you're savvy on DIY, you could remove it yourself at home with tin foil, acetone, cotton, and a nail file. Just make sure you're not scraping at your nails aggressively.
Here's how a gel application on natural nail looks like.
4. Nail Wraps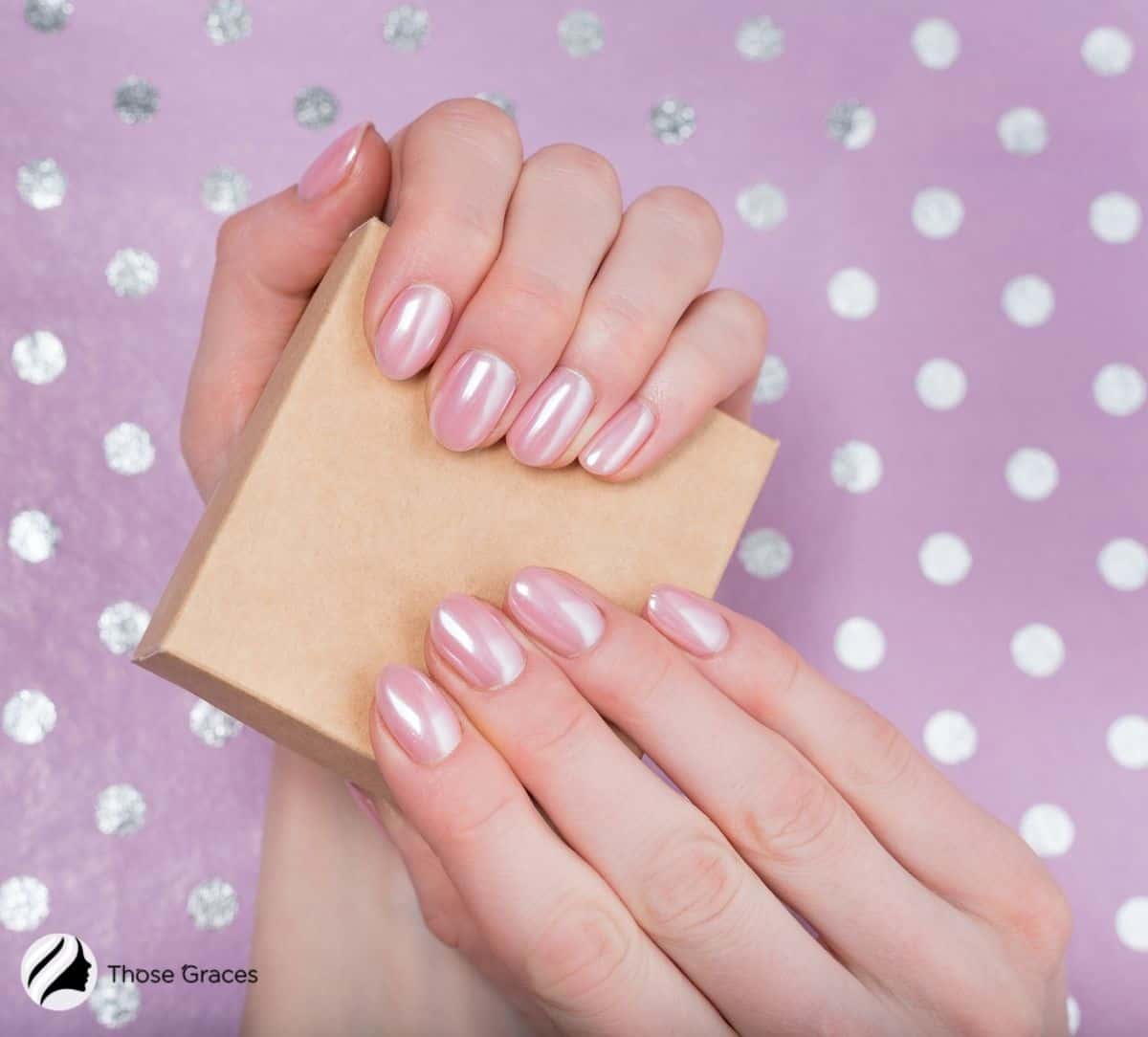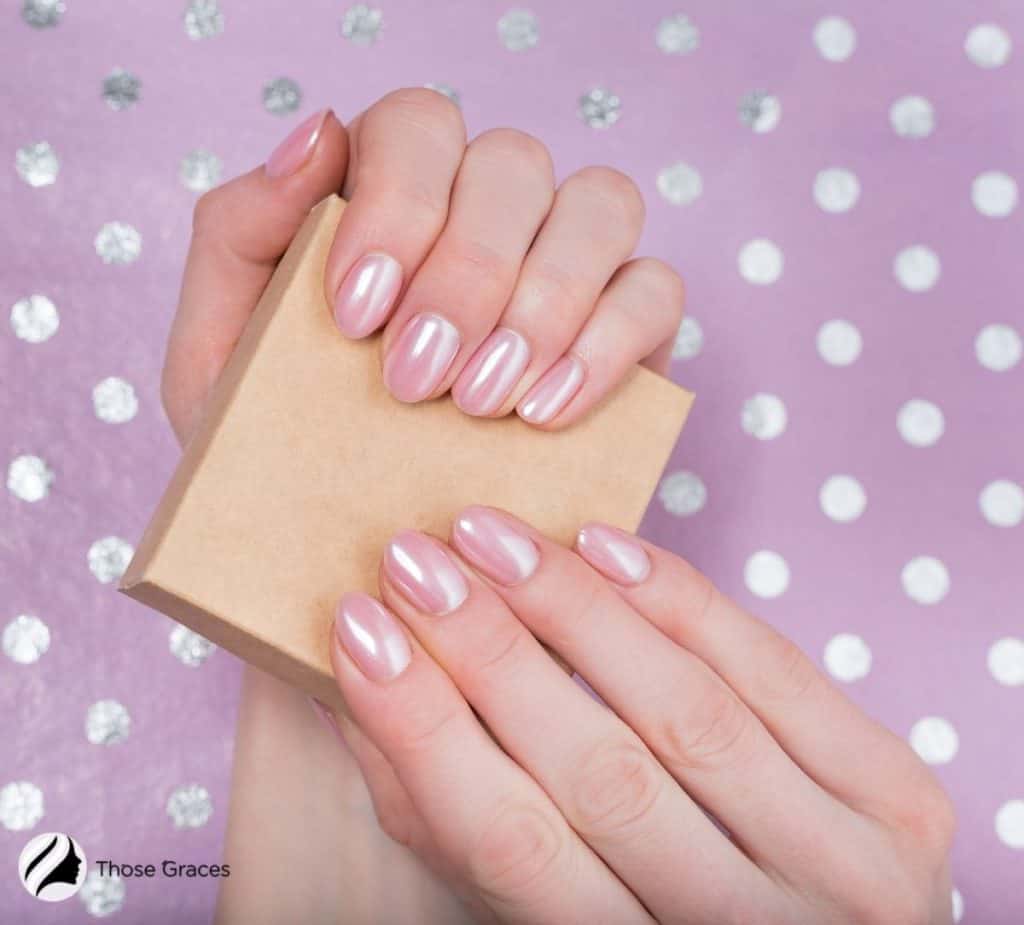 Nail wraps are thin products made from either silk, paper, linen, mesh, or fiberglass. They are applied to your regular nails, gel nails, or even acrylic nails.
When applied, you reinforce the strength of your nails while adding some patterns, if needed. No wonder silk wrap nails are all the hype with clients looking for a natural nail overlay.
Fiberglass nails don't look bulky or unnatural and are good for your natural nails as they promote nail growth by creating a protective layer over your cuticles.
They do not dehydrate your natural nail and are non-porous, meaning nothing damages your nail bed.
These artificial nails are a perfect fit for users who have been indulging in gel nails or acrylic nails for too long and now have unhealthy and brittle nails.
By getting a silk wrap, they can start to grow out their natural nails and give them some much-needed strength with the added protection of the wrap.
Vicki Peters, master nail technician, says, "If a client needs some help growing out her natural nails, wraps are a perfect service."
Watch WinterRose84 apply these beautifully patterned nail wraps on her nails.
5. Powder Dip Nails
Powder dip nails, aka SNS nails, are getting their spot under the limelight for their benefits and durability.
The process consists of dipping your actual nails or false nails into a colored powder and using a seal on top to lock it in place. Sometimes the dip powder is brushed onto the nail.
Syreeta Aaron, LeChat Nails Educator, says, "Dip powder nails are a hybrid between gel nail polish and acrylic extensions. It gives you the flexibility of gel nails and the durability of acrylic nails."
Depending on the opacity of your choice, nails can be dipped in the powder two to three times. You will require a coat of base between each set.
The color does not need to be cured with UV lights which are quite harmful in the long run. And since it's so easy to do, you can get it done at home.
These nails last about a month and remain looking fresh and chip-free for that period. I've done it at home and had new manicures for almost two weeks, so that's pretty awesome.
Here is a short tutorial video on how to get powder dip nails at home.
Also, removing it is easy. Here's how to remove dip powder nails without acetone.
FAQs
What type of fake nails are healthiest?
Gel nails are the number one choice of fake nails that don t damage your natural nails. It uses way less harsh chemicals than other fake nails do and causes the least amount of nail damage while removing.
Can you use eyelash glue for fake nails?
You can use eyelash glue if you wish to use press-on nails, but they are not entirely reliable like nail glue and do not do an excellent job.
What is the difference between poly gel and gel nails?
Gel nails are much like typical polishes applied to your natural or artificial nails. Instead of air-drying, the polish is cured with UV exposure. Polygel nails are fake nails applied on top of your natural nails.
Does nail glue ruin your nails?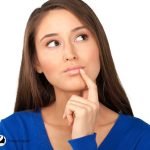 Nail glue can take its toll on healthy nails due to the harsh chemicals making them weak and brittle. It is best not to overdo glue nails and let your normal nails breathe from time to time.
Conclusion
Fake nails can be a fun way to change your look, but it's important to choose the right type.
We hope this guide has helped you figure out which type of fake nails is best for you and given you some ideas on how to style them. Have fun with your new look!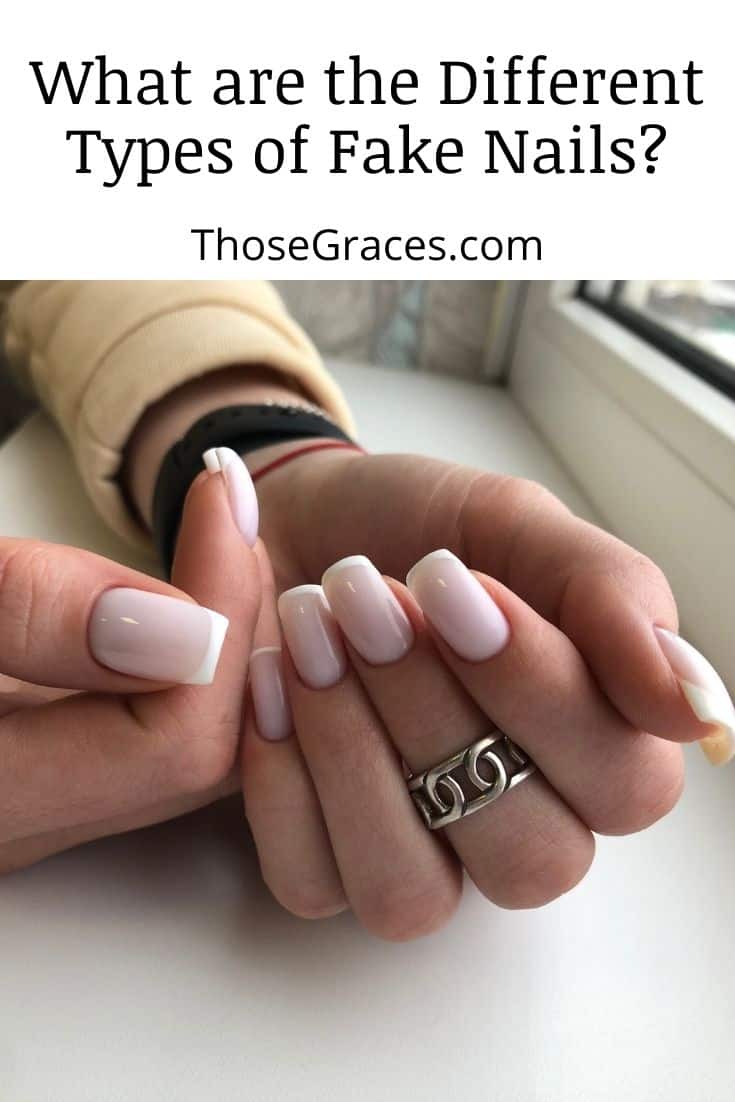 Which one of these types of fake nails did you like? Please share with us down in the comments below!
Resources
1. Pearson-jones B. Manicurist reveals the common mistakes people make doing their nails [Internet]. Mail Online. 2021 [cited 2022 May 25]. Available from: https://www.dailymail.co.uk/femail/article-10224671/Celebrity-manicurist-reveals-common-mistakes-people-make-doing-nails.html
2. Segal L. The Beginner's Guide to Acrylic Nails [Internet]. Harper's BAZAAR. 2020. Available from: https://www.harpersbazaar.com/beauty/nails/a31123254/acrylic-nails-what-to-know/
3. Staff S. How full coverage nail tips have grown my business [Internet]. Scratch Magazine. 2020 [cited 2022 May 25]. Available from: https://www.scratchmagazine.co.uk/feature/how-full-coverage-tips-helped-my-nail-business/
4. Kim Y, Denton E. Everything You Need to Know About Get Manicures [Internet]. Seventeen. 2020. Available from: https://www.seventeen.com/beauty/nails/a31574/things-you-need-to-know-about-gel-manicures/