Do you want to try microcurrent and nanocurrent devices, but don't know which one is the best? I'll show you the great winner in this ZIIP vs NuFACE fight.
As a beauty enthusiast, I was curious too! I've done a lot of research, and tests to see which device wins!
Curious?
Read on this DETAILED COMPARISON Guide You'd be surprised by the answer!
Related: What is the Best Microcurrent Facial Machine?
This post contains affiliate links. We earn a commission if you purchase after clicking on our links.
What is ZIIP Beauty and How it Works
ZIIP is a beauty device that transforms the skin using the power of microcurrents and nano currents.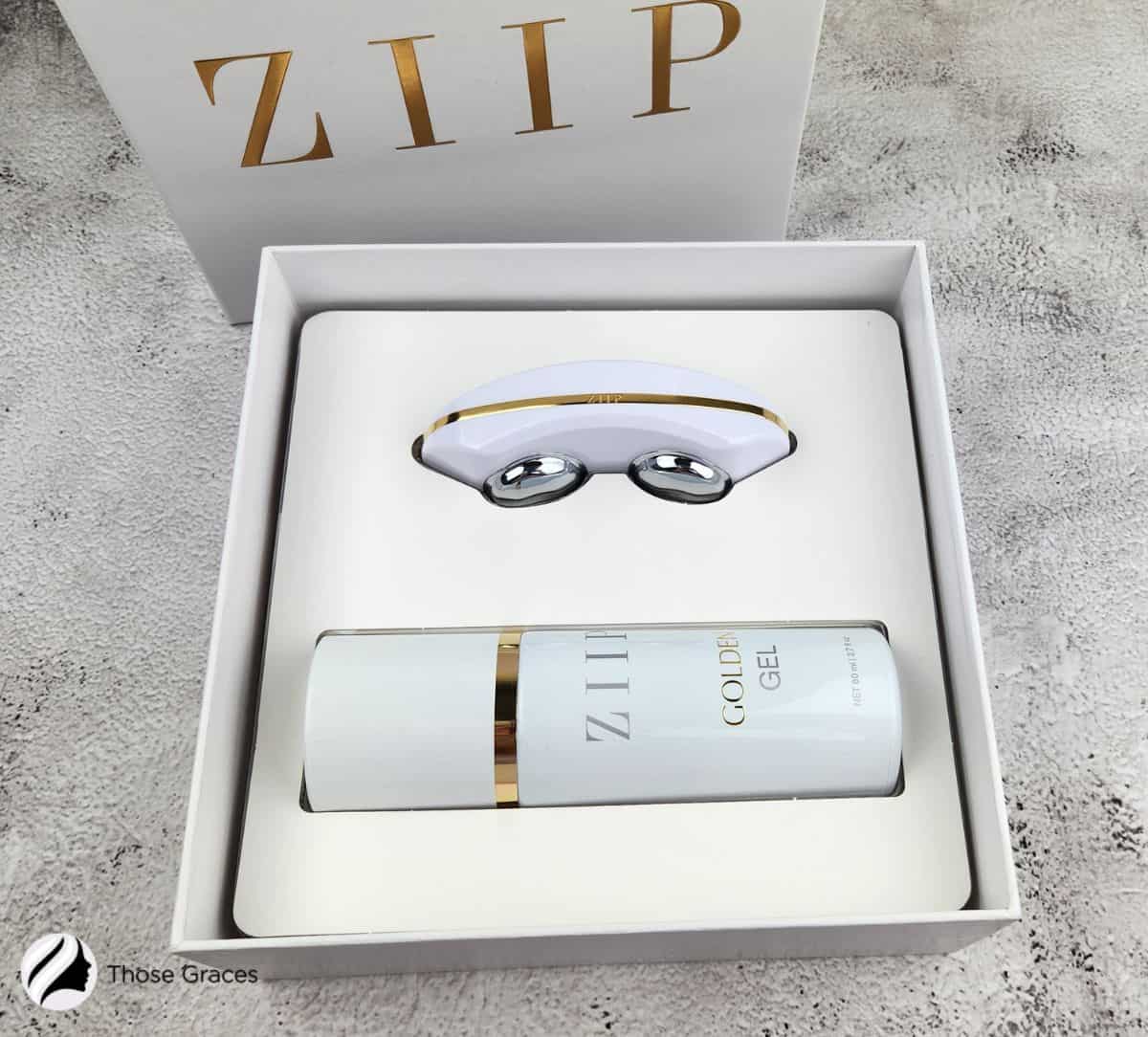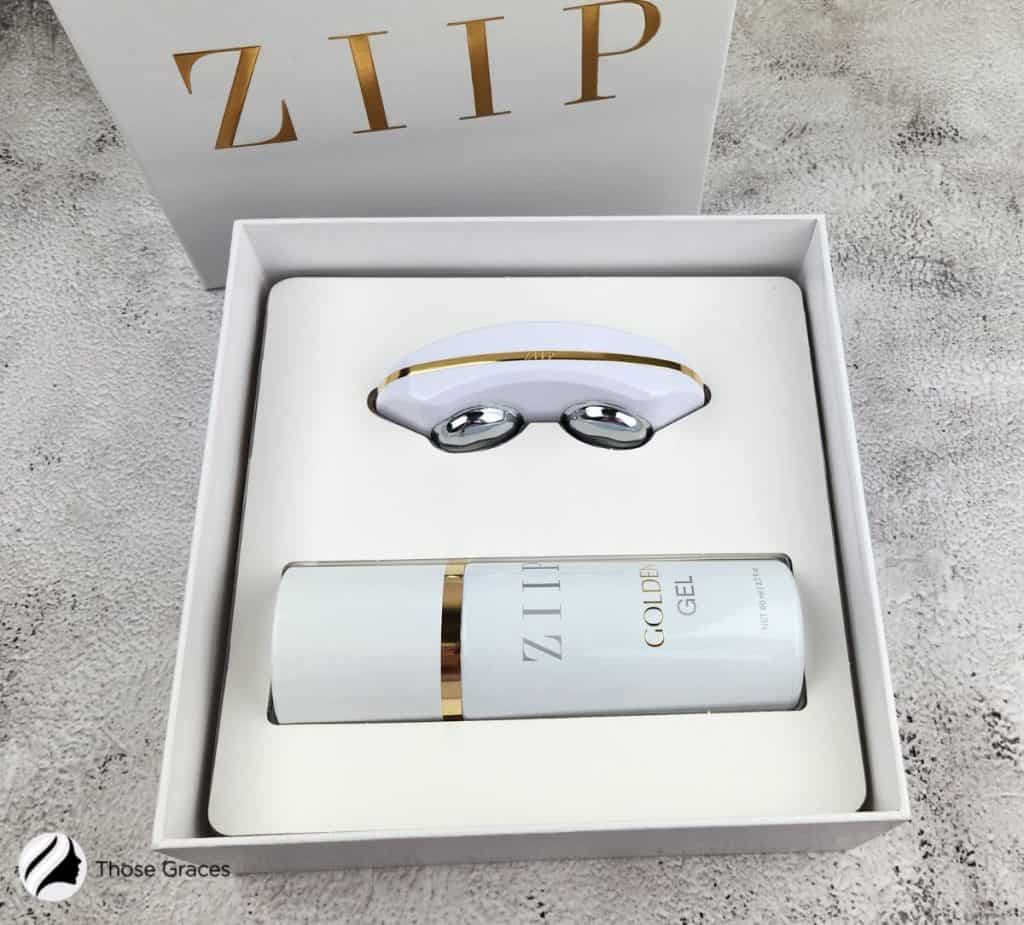 This handheld marvel, which was developed in 2015 and led to many imitations, is regarded as the first home-friendly technology of its kind.
It is still considered one of the greatest toning devices [1] in the market today!
Nanocurrent and Microcurrent Facial: One Device Solution
The ZIIP device comes with the golden massage gel you'll need as well as a useful pamphlet that outlines the technique and what it's supposed to accomplish.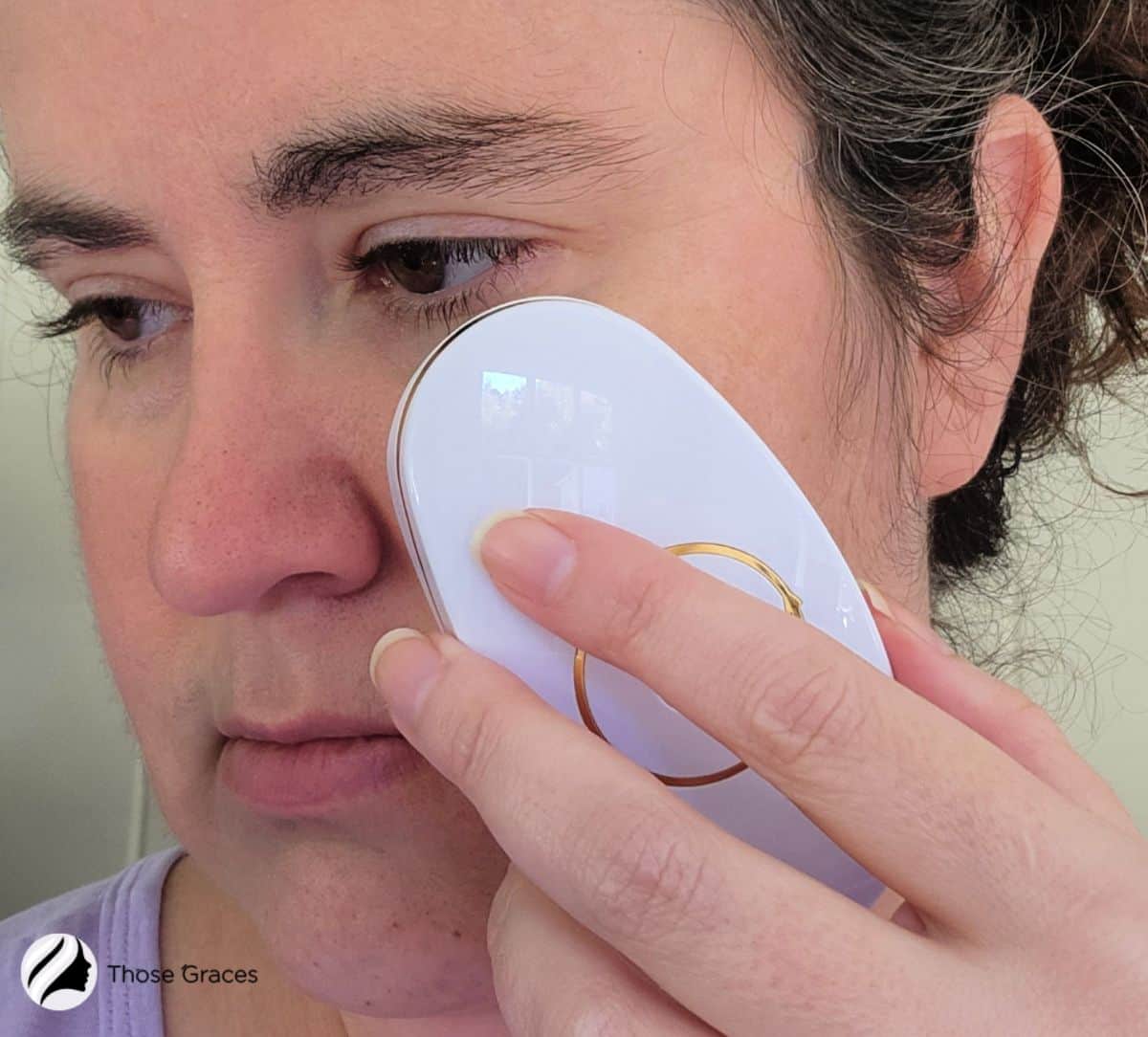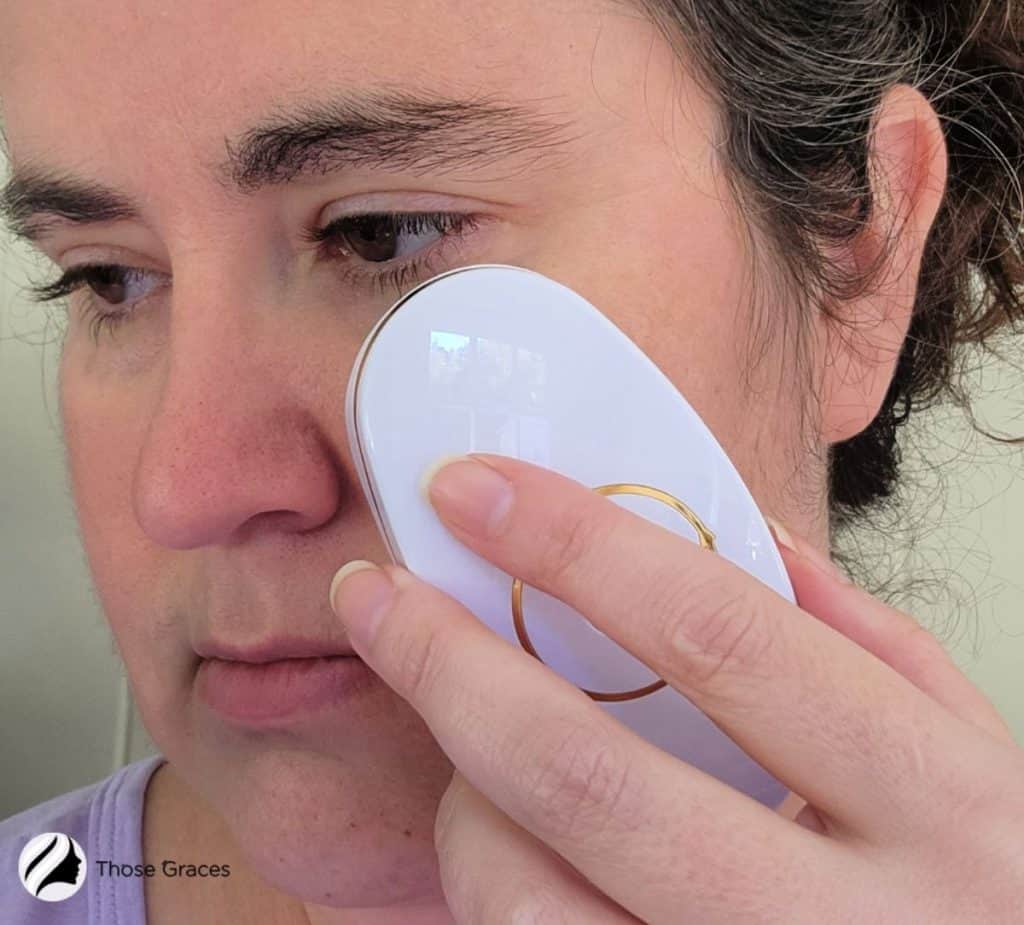 The nano current and microcurrent technology supports skin treatments for nine various skin concerns, including facial wrinkles and lines, pimples, blemishes, and even lymphatic drainage, making it a flexible tool for anti-aging and appearing your best healthy skin [2]!
I enjoy using a silver gel, though, for more whitening and hydration effects. I just use the device in an upward motion to have the electrical currents deep in the skin and deep dive into my blood circulation [3].
Here's a video tutorial on how to use it:
Make sure also to read our separate comparison guide of Microcurrent Vs Nano Current.
Frequency of Usage
According to ZIIP, the facial device, or such microcurrent devices, should be used at least three times a week to observe effects, and no more than six times a week is recommended [4].
To see the effects, each session has to last from five to 20 minutes, with most people saying that 20 minutes or longer is recommended.
This number can vary substantially based on skin type, skin texture, and other skincare routine concerns.
Ergonomic and Comfortable Microcurrent and Nanocurrent Technology Tevice
After putting the ZIIP to the test, I can confidently say that it's not only ergonomic and easy to use, but also a luxurious addition to my skincare routine. The device is comfortable to hold and operate, and I've found that it really does feel like a home spa treatment.
One of the best things about the ZIIP is the accompanying gel's fragrance, which smells amazing and adds to the overall experience. I highly recommend giving the ZIIP a try if you're looking to elevate your skincare routine with a touch of luxury!
App Included
Many people bought ZIIP because of the free app functionality, which allows you to track your progress through an online account. You can also choose up to four programs for each session!
If you have a hard time using the app or prefer not to use it, you can also just check out your session schedule and select your programs manually.
Many customers said the free app helped them figure out how to use the product.
Generous Warranty
ZIIP offers a generous, two-year warranty policy. Even if you break the device within the first year of your purchase, they will replace it with a new one for free!
This is great news because many devices do not come with any kind of warranty at all. It's always great to know that there is some kind of potential remedy in the event of an issue.
If you are interested to buy this but need more details, read our in-depth ZIIp Beauty Review too.
What is NuFACE and How it Works
According to an electrical esthetician, Am J Pathol, collagen is the principal skin cell protein that gives the skin its stretchability. Its output declines as it gets older [5].
Essentially, after using NuFACE myself, I can attest to the fact that it really does work wonders for increasing collagen production in the skin. This device works on a cellular level to stimulate collagen production, resulting in firmer, more youthful-looking skin over time.
I was impressed with how easy the device was to use, and I've noticed a visible improvement in the appearance of my skin since incorporating it into my routine.
NuFACE devices use a low-level current to boost collagen production and treat muscle tone. The nanocurrent technology is modest enough to be perfectly safe, although it can cause cramping in the worst-case scenario.
Aside from the Trinity, NuFACE offers a variety of alternative versions for individuals with more specialized requirements.
The NuFACE Mini, a smaller version designed for simple portability, is one of their most popular products.
If you're looking for an effective way to boost collagen production and achieve a more youthful complexion, I highly recommend giving NuFACE a try!
Check:
Frequency of Usage
After using it for 60 days and following the massage techniques (such as the one below) they prescribe, I noticed tighter skin, a much more youthful tone, reduced wrinkle visibility, and a better natural face shape.
However, if you don't spend that much time with it, you may still get good results, and it's an excellent investment for people who seek portability.
To use NuFACE, the company recommends massaging your face for five minutes a day [6] with their unique gel and sticking to it for 60 days.
For more options, here are some NuFACE gel alternatives.
Cost-Effective
This is a cost-effective introduction into a market where microcurrent toning devices typically cost twice as much.
Even though it was less expensive, consumers observed benefits, showing that a microcurrent facial does not have to be expensive.
A Skin Firming Device
Customers believe that using it for just five minutes a day improves skin firmness and elasticity, making it one of the quickest ways to see effects in terms of time invested.
It also does an excellent job of elevating the skin and making it look younger, with people detecting benefits after only a few weeks.
Positive Reviews From Influencers
Here is a hall of influencers that attest to the effects of NuFACE.
Francesca Fusco, M.D., a Clinical Professor
She said that NuFACE does not have the sensation of an electric shock. Instead, it makes use of moderate microcurrent technology to provide genuine skin advantages.
It gives tight skin and activates muscles, lifting the brows, eyes, jawline, cheekbones and neck.
Here's the video of her full review.
Brooke Shunatona, Cosmopolitan
"I especially like that it's made early morning wake-up times suck a little less, so this is one cosmetic commitment I'm willing to make. [7]"
In her same article from cosmopolitan, she posted a video showing Hyram, a beauty expert, and his review on NuFACE.
You'll want to conduct your homework and evaluate the ZIIP and NuFACE closely because they're two of the most popular microcurrent toning devices on the market.
NuFACE Trinity Starter Kit – Facial Toning Device, Microcurrent to Tone, Smooth, Contour and Lift Skin in Minutes
Pro-Level Microcurrent – Tone and contour down to the muscles while smoothing fine lines and wrinkles on the skin's surface in just minutes.
Fast and Lasting Results – Firm the face and neck, sculpt the jawline and lift brows for a refreshed, rejuvenated appearance.
Fitness For Your Face – Traditional skincare treats the skin's surface, but Trinity goes deeper to smooth fine lines, contour and sculpt deep down to the facial muscles.
Add-On Treatments. Elevate your Trinity routine with interchangeable targeted microcurrent and LED Red Light attachments, sold separately.
NuFACE Smart App – Unlock App-exclusive treatments, step-by-step tutorials tailored to you, and the Selfie Tracker to see progress and celebrate your achievements.
What's The Difference Between NuFACE & ZIIP?
If you're wondering what's the difference between NuFACE and ZIIP, I've examined the similarities and differences between these devices and have them tabulated, so you can determine which one provides the features you require.
| | | |
| --- | --- | --- |
| | NuFACE | ZIIP |
| Types of currents | NuFACE just uses microcurrent technology. The finer particles allow it to efficiently target other areas such as hyperpigmentation and even lymphatic drainage, so it's worth the money if you require these additions. | The ZIIP uses both nano current and microcurrent technology. |
| Treatment time | Customers at NuFACE discovered that the finest results could be attained in just five minutes per day, every day. | Customers of ZIIP reported that after 20 minutes every other day, they experienced better outcomes. |
| Ease of use | 5.5 inches in diameter but it's still easy to use. | Have at least 4.4 inches in diameter, so it's smaller than NuFACE. |
| Cost and warranty | $325 with gel | $480–$495 with gel. ZIIP's warranty is a year longer than Nuface's, so the extra cost is justified in some ways. |
| App included | All attachments have how-to videos in the app. | There are 9 different skin treatments synced with the app, as well as how-to videos. |
| Attachments included | NuFACE requires you to purchase additional equipment in order to achieve greater results. This could influence your decision depending on what you intend to gain through microcurrent toning. | Comes with everything that you may need in using the device. |
| CHECK PRICE | Check the Price on NuFACE | Check the Price on ZIIP Beauty |
ZIIP vs NuFACE: Which One Should I Choose?
You might still be wondering which one you should choose. Remember, there is no definite answer!
The easiest approach to figuring out which of these premium facial toning devices you should purchase is to think about your skincare goals and requirements.
Facial toning and the delivery of microcurrents of electricity may sound futuristic, but in today's skincare market, it's all very real!
Those looking for simple facial toning [8] should choose the NuFACE device, while those seeking more intensive treatments such as under-eye and acne removal should opt for the ZIIP option.
But, Is ZIIP Better Than NuFACE?
If you're wondering if ZIIP is better than NuFACE, the answer is yes.
It's not because NuFACE isn't a high-quality device, but rather because it doesn't provide as many options as the ZIIP does.
The ZIIP has nano current and microcurrent technology that combine to offer more intensive treatment for those who require it, and NuFACE only has the microcurrent option.
With the additional nano current technology, ZIIP is able to target acne scars and under-eye bags without having to purchase any additional equipment, which can make ZIIP a superior buy over NuFACE.
In the end, both devices are excellent choices and produce similar results. However, if you require more in-depth treatments such as acne scar removal and under-eye bags, then ZIIP is the only option that you will need.
If you also want to learn about NuFace side effects, check out this video:
FAQs
Is NuFACE better than Foreo?
NuFACE and Foreo are both skincare devices that use microcurrents. NuFACE uses a special gel formula to conduct electricity more effectively into the skin, while Foreo uses T-Sonic pulsations instead of electrical currents.
What is comparable to NuFACE?
Foreo and Tria Age-Defying Laser are comparable to NuFACE. They all use microcurrents, which help reduce the visibility of fine lines and wrinkles while also tightening your skin.
How often should you use NuFACE?
You should use NuFACE for five minutes per day. You can gradually build up to 10–15 minute sessions by adding more time gradually, but five minutes per day should give you visible skin benefits.
Can you use ZIIP on the neck?
YES! ZIIP can be used on your neck and décolletage in order to provide the same benefits that it provides in the facial area.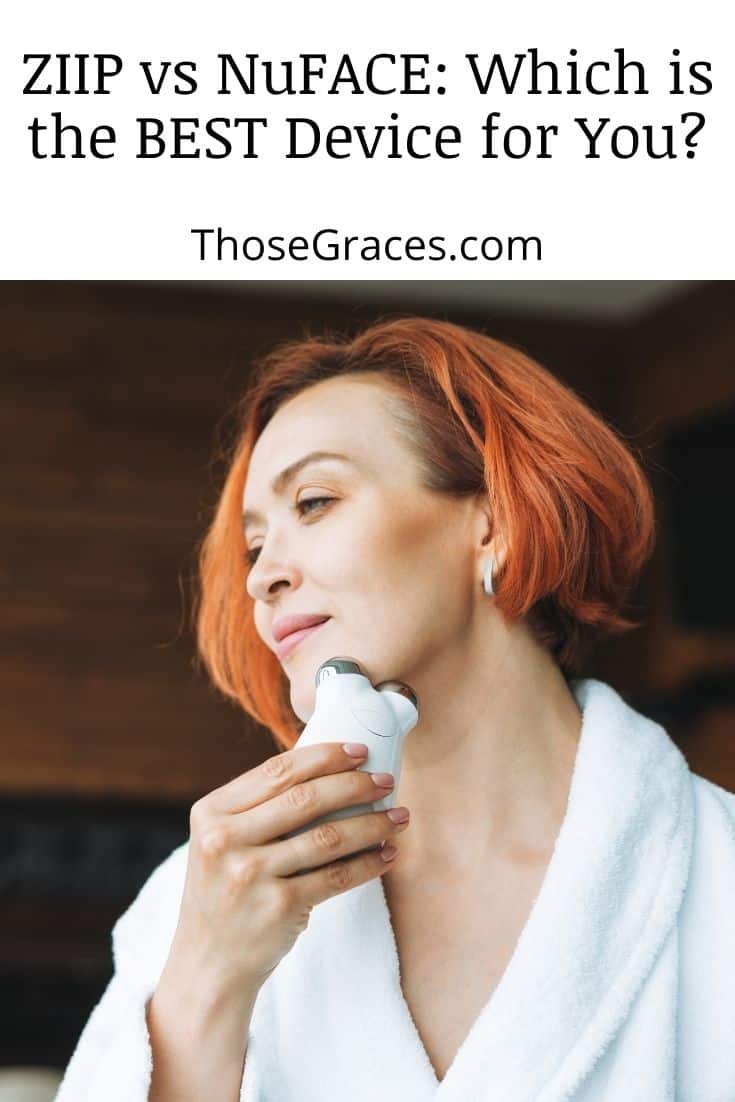 Do you prefer ZIIP Beauty or NuFACE? Let us know below!
References
1. Milliner-Waddell J. The Best Skin-Care Tech Devices for Every Concern, According to Dermatologists [Internet]. The Strategist. 2021 [cited 2022 Feb 24]. Available from: https://nymag.com/strategist/article/best-skincare-tech-devices.html
2. Weiner Z. What Does the ZIIP Do for skin? In a Word: Everything [Internet]. Well+Good. 2021 [cited 2022 Feb 24]. Available from: https://www.wellandgood.com/what-does-ziip-do
3. Miyazawa T, Horiuchi M, Ichikawa D, W. Subudhi A, Sugawara J, Ogoh S. Face cooling with mist water increases cerebral blood flow during exercise: effect of changes in facial skin blood flow [Internet]. frontiers in Physiology. 2012 [cited 2022 Feb 23]. Available from: https://www.frontiersin.org/articles/10.3389/fphys.2012.00308/full
4. Pauly A. I Shocked My Face With Electrical Currents Using The Ziip — Here's What Happened [Internet]. ZIIP. 2020 [cited 2022 Feb 24]. Available from: https://ziipbeauty.com/blogs/press/i-shocked-my-face-with-electrical-currents-using-the-ziip-heres-what-happened
5. Varani J, Dame MK, Rittie L, Fligiel SEG, Kang S, Fisher GJ, et al. Decreased Collagen Production in Chronologically Aged Skin. The American Journal of Pathology [Internet]. 2006;168:1861–8. Available from: https://www.ncbi.nlm.nih.gov/pmc/articles/PMC1606623/
6. Todorovska M. NuFace Mini vs Trinity: Which Beauty Device is the Best? [Internet]. Those Graces. 2021 [cited 2022 Feb 24]. Available from: https://thosegraces.com/nuface-mini-vs-trinity/
7. The 5-Minute Facial-Lift – NuFACE [Internet]. www.mynuface.com. [cited 2022 Feb 24]. Available from: https://www.mynuface.com/blogs/how-to-use/17252688-your-5-minute-facial-lift
8. Schroeder R. #SkinSchool: Everything you need to know about microcurrent devices [Internet]. Harper's BAZAAR. 2021. Available from: https://www.harpersbazaar.com/uk/beauty/skincare/a33499130/microcurrent-facial/