Foreo BEAR vs NuFACE! It's the battle between two of the best professional microcurrent machine for estheticians.
I've used both and can say that these two are great, but which is better? Read on as I dig deep into these facial microcurrent devices and reveal the winner.
Key Takeaways:
Both devices provide a non-invasive treatment for facial curves.
You can select your preferred microcurrent levels with both.
BEAR by Foreo requires a 3-minute treatment time while NuFACE requires 20.
NuFACE comes with extra attachments for eyes and lips.
BEAR by Foreo provides an app connectivity feature for better usability.
CHECK: Currentbody Skin Led Lip Perfector Review
Foreo BEAR: How Does It Work & How To Use It
I love beauty devices with microcurrent technology and the Foreo BEAR is definitely one of the best. (1)
Laura Kaiser, an esthetician, says,
"Microcurrent devices use low-level electrical impulses to stimulate the facial muscles to lift them and make skin glowy." (2)
The Foreo BEAR device comes in a cute design with two versions: the Foreo BEAR and the Foreo BEAR Mini and has patented T-sonic pulsations too.
How the Foreo BEAR Works
A microcurrent therapy treatment works on the cellular level by delivering low-voltage microcurrents on the skin. This creates facial tension and tightens the skin. (3)
The two silver balls on the BEAR by Foreo produce small microcurrent zaps on the skin. All you need is a three minutes treatment time for visible results.
How To Use It?
Clean your skin, apply a conductive serum and turn on the power button. Use on the forehead, cheekbone, and jaw for three minutes. It can be used once every day.
Here's a detailed video on how to use the BEAR by Foreo at home.
NuFACE: How Does It Work and How To Use It
A major contender in microcurrent treatments, the NuFACE Trinity has a cult following.
Microcurrent technology has been shown to work incredibly well on all skin types for facial tightening. This mini microcurrent device is no different.
NuFACE has two versions of the beauty treatment: the NuFACE Trinity and the NuFACE Mini. Read this post to decide between the NuFACE Mini or Trinity.
How Does It Work?
The NuFACE Trinity uses true microcurrent zings for collagen production and skin tightening.
This handheld device requires 5 to 20 minutes of intense microcurrent treatment time on the skin to work properly.
How To Use It?
Start with a clean face and apply a conductive serum to the skin. Use the device on desired microcurrent setting on the face, jaw, and cheeks. It can be used every day.
Here's a detailed video on how to use the NuFACE Trinity and NuFACE Mini at home.
What Is the Difference Between Foreo BEAR & NuFACE?
Now that we have an overview of NuFACE vs Foreo BEAR, let's look at the differences.
1. Technology
The BEAR by Foreo works with microcurrents, an anti-shock system, and T-Sonic pulsations while NuFACE Trinity and NuFACE Mini only have the microcurrent setting.
2. Usage Time
The Foreo BEAR and Foreo BEAR Mini require only a three-minute treatment per day for effective facial microcurrent therapy. The NuFACE Trinity and NuFACE Mini require 5 to 20 minutes.
3. Attachment Head
The Foreo BEAR and Foreo BEAR Mini do not come with an extra facial trainer attachment. The NuFACE Trinity comes with additional attachments for eyes and lips and a red light wrinkle reducer.
4. Charge
BEAR by Foreo lasts for 90 uses per charge. The NuFACE Trinity and NuFACE Mini work for 15 uses per charge.
Here is a detailed summary table on Foreo vs NuFACE.
| | | |
| --- | --- | --- |
| Attributes | BEAR by Foreo | NuFACE |
| Technology | Microcurrent, Anti-shock system, T-sonic pulsations. | Microcurrent. |
| Use time | 3 minutes per day. | 5–20 minutes per day. |
| Attachments | No extra attachments. | Lips and eyes attachment and red light wrinkle reducer can be bought as extras. |
| Charge | Lasts 90 uses per charge. | Lasts 2 weeks per charge. |
| Price | $299. | $325. |
| Warranty | 2 years. | 1 year. |
| App | Works with the Foreo app for customization of microcurrent intensity levels. | Works independently without an app. |
Another comparison between great skincare products is the ZIIP or NuFACE one.
Foreo BEAR vs NuFACE: Which One Should I Choose?
Now that you have the NuFACE vs Foreo differences sorted out, which one should you choose?
It really depends on your choice but if you ask for my honest opinion, I would choose the BEAR by Foreo. I have used both the Foreo and the NuFACE and I believe the Foreo is a better buy for people below the age of 50.
You only need to use it for 3 minutes of your spare time and it is cheaper than the NuFACE Trinity. And, you don't need to charge it too much because the charge lasts longer.
But if you have stubborn expression lines on your eyes, forehead, and lips, the NuFACE Trinity is a better bargain.
You get additional attachments to target these fine lines. The LED light wrinkle reducer is a great attachment for facial treatment as well.
Is the Foreo BEAR Stronger than NuFACE?
Both facial treatments use the same microcurrent amps at 335 microamps. But I would say the Foreo BEAR is stronger because it only requires 3 minutes for optimum microcurrent levels, while the NuFACE Trinity requires 20.
If the comparison between these two isn't enough for you, check out the NuFACE vs Lumina NRG one.
READ MORE: NuFACE Trinity vs Mini Comparison Guide
FAQs
1. How many times can you use the Foreo BEAR?
BEAR by Foreo can be used once every day on your facial features for definition in the cheeks and jaw.
2. Is the Foreo BEAR FDA approved?
Yes. The Foreo BEAR is the first microcurrent facial device to be approved by the FDA.
3. Does the Foreo BEAR work without an app?
Yes. The Foreo BEAR facial device works without the app. But you must register the handheld microcurrent device in the app first.
4. Can I use aloe vera gel with the Foreo BEAR?
Yes. BEAR by Foreo works well with aloe gel. But using specific gels for microcurrent treatments is better for low-voltage microcurrent effectiveness.
Conclusion
So which do you think is better in Foreo BEAR vs NuFACE? Both microcurrent giants can help make your skin glowy and sculpt your facial features.
I've been loving the definition in my cheeks, thanks to my three-minute microcurrent treatment every day with the Foreo BEAR.
Incorporating microcurrent into my skincare routine has amped up my collagen production and I definitely recommend it to you guys as well.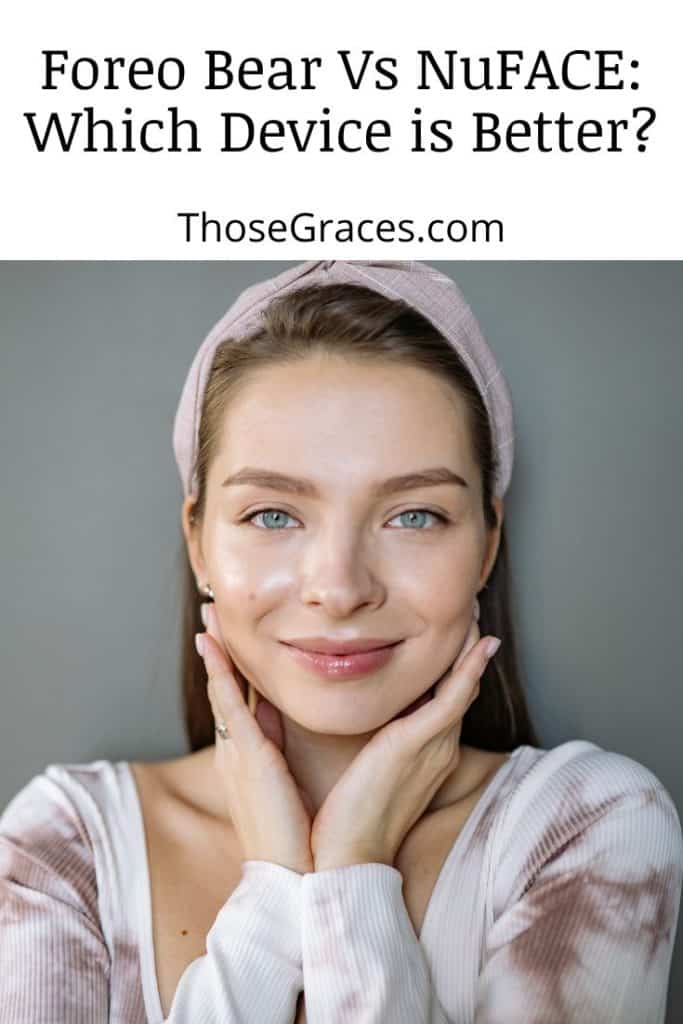 References
1. Yu C, Hu Z-Q, Peng R-Y. Effects and mechanisms of a microcurrent dressing on skin wound healing: a review. Military Medical Research. 2014;1.
2. Stessman E. This buzzy skin care treatment is like "a Pilates class for your face" [Internet]. TODAY.com. 2022. Available from: https://www.today.com/shop/home-microcurrent-facial-t244766
3. Saniee F, Khademi Kalantari K, Yazdanpanah P, Rezasoltani A reza, Dabiri N, Ghafarian Shirazi H reza. The effect of microcurrents on facial wrinkles. Journal of Jahrom University of Medical Sciences [Internet]. 2012 [cited 2022 Oct 6];10:9–16. Available from: http://jmj.jums.ac.ir/article-1-54-en.html