Is microcurrent safe around the eyes?
According to research, microcurrent eye treatment is effective in the improvement of vision in those with retinal conditions such as macular degeneration (1).
As the rate at which people are taking this treatment keeps increasing because of these kinds of results, there's also a rising concern centered on the safety of this procedure.
I'll be answering this important question here after extensive research and also giving a detailed explanation of how the treatment works.
Key Takeaways:
How microcurrent eye treatment works
Safety tips for microcurrent eye treatment
Benefits of microcurrent eye treatment
How Does Microcurrent Eye Treatment Work?
Microcurrent eye treatment is a professional treatment for improving the appearance of the skin around the eyes through the application of rejuvenating low-grade electrical current.
The eyelid skin is the thinnest and most delicate of all the skin areas in the body.
As you age, collagen production in connective tissues continues to decline. This has an impact on skin health and appearance as the reduction in collagen production reduces muscle tone making the skin susceptible to wrinkles and fine lines.
Being the thinnest part of the skin, the eyelid skin soon begins to show signs of aging, such as puffiness and wrinkles, especially with increased exposure to risk factors such as smoke, sun rays, and cosmetics. These factors progressively weaken the facial muscles over time.
Microcurrent eye treatment is a skincare treatment for achieving smoother skin around the eyes by improving muscle toning through collagen stimulation.
It is a non-invasive treatment that involves the use of microcurrent tools and toning devices such as electrodes which deliver low-grade electrical current that can stimulate ATP production at the cellular level, specifically in the skin cells around the eyes.
Increased ATP production triggers collagen and elastin production. The skin texture becomes smoother and firmer as increased production of collagen will result in a contraction of the muscles of the skin.
Microcurrent therapy for the eyes functions like electrical acupuncture in which microcurrent devices (electrodes) resembling protruding props press the skin and send in rejuvenating electrical stimulation deep into the skin.
Watch this video to learn more about the use of microcurrent in the treatment of eye diseases:
This all sounds pretty amazing, who wouldn't want to improve the skin around their eyes, but is it safe? Let's find out.
Microcurrent Eye Treatment: Is it Safe?
Microcurrent eye treatment is a safe skin care treatment. When it is done properly, there's hardly an aspect of the treatment that poses risk to the eyes, so it is important to only use it the right way.
One of the fears most people have when considering microcurrent eye treatment is the possibility of having electrical shocks around the eyes when conducting the procedure.
Which is quite understandable! I had the same concern before I learned more about this facial treatment.
However, you'll be relieved to know that the level of current used in microcurrent machines is low and well-regulated. To put it into perspective, the current level is so low that you'll need as many as 50,000 microcurrent devices to power an electric bulb. So, you don't need to worry about electrical shocks.
Moreover, the electrical stimulations in microcurrent treatment are not voltage-driven, rather they are current-driven.
To learn more about the device itself, check out do microcurrent facial machines really work.
Is Microcurrent Safe For Skin Around The Eyes?
Microcurrent is safe around the eyes and is effective for eliminating dark circles and puffiness and tightening the eyelids.
You can use the microcurrent treatment for areas of the skin below the eyebrow and the corners of the eyelids.
There'll be no danger to the skin area around the eyes as long as the microcurrent device is not applied too hard.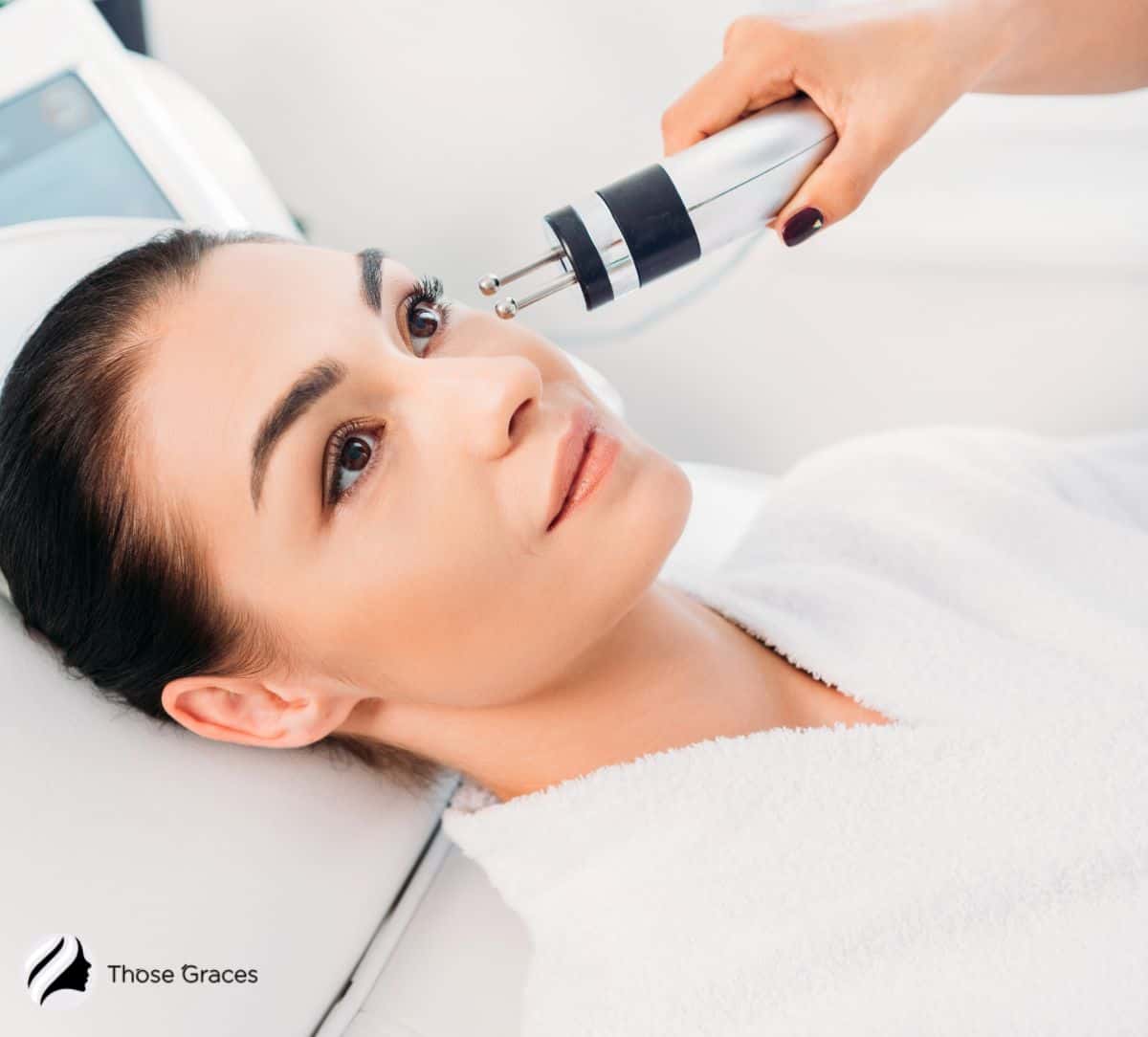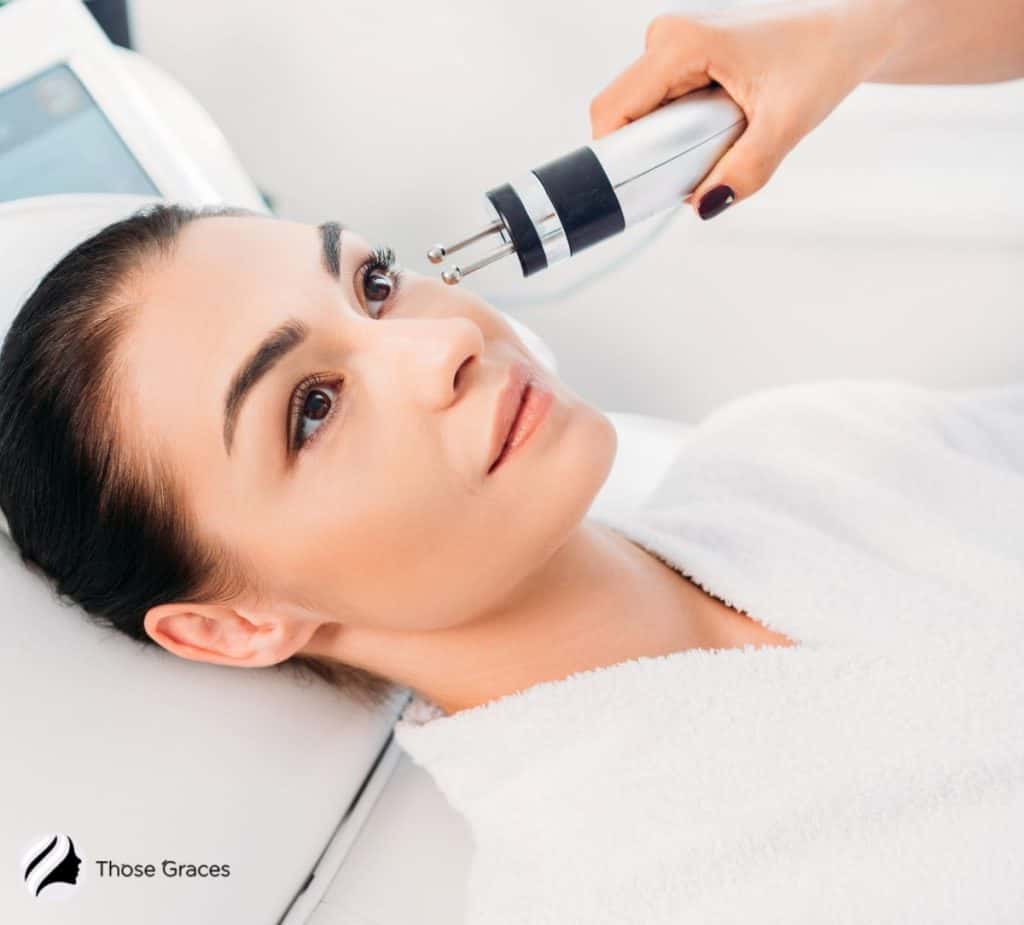 Can You Use Microcurrent Under Eyes?
You can use microcurrent under the eyes. If you have noticed the appearance of dark circles under your eyes, a microcurrent eye treatment can help reduce them by improving blood circulation and stimulating collagen production.
Can You Use Microcurrent On Eyelids?
Yes, you can use microcurrent on eyelids. Microcurrent therapy can help to lift sagging skin on the upper eyelids.
The electrical stimulation has to be applied gently to safely "reawaken" the muscles around this region.
Maximize your microcurrent results with our article on the best conductive gel options. Find your perfect match and achieve the best results.
Microcurrent Eye Treatment: Does It Really Work?
Microcurrent eye treatment works effectively in solving eyelid skin defects associated with aging, as well as other eye conditions that could result in loss of vision.
Well, that may sound like a one-sided approach to answering the question. So here's how I'll go about it.
Let's consider the benefits of this treatment, after which I'll also look at the risks involved. Then I'll arrive at a fair conclusion.
What Are The Benefits Of Microcurrent Under Eyes?
The benefits of microcurrent eye treatment are as follows:
It helps to waste products of metabolism that may have accumulated around and under the eyes over time.
You can check out our article to discover the best microcurrent device 2022.
Microcurrent eye treatment improves blood circulation to the nerves around and under the eyes. This results in healthier cells and tissues in this region.
It raises the level of nourishment in this region and enhances cellular activity.
In addition to being a wrinkle reducer, this treatment is an effective solution to the presence of scar tissue. Scar tissue can build up from inflammation resulting from surgery (2).
It is an effective solution for retinal conditions such as dry or wet macular degeneration, age-related macular degeneration, etc. (3).
Are There Any Risks Of Microcurrent Under Eyes?
The major risk from a microcurrent eye treatment is the possibility of permanent damage to the eye if it isn't done properly. Such an outcome is only possible if the esthetician handling the procedure isn't capable of doing it correctly.
So, make sure you only use an esthetician trained and experienced with this treatment.
Aside from this, there is no risk to this procedure as the entire process is pain-free.
Those with underlying conditions such as seizure disorders and epilepsy should avoid this treatment. Pregnant women and those with electrically implanted devices should also stay away from this treatment.
Given the benefits and risks of the microcurrent eye treatment mentioned above, it is convenient to conclude that this treatment actually works.
Frequently Asked Questions
1. Can microcurrent damage your skin?
Microcurrent treatment is relatively safe and is not strong enough to hurt or cause injury to the skin. The side effects are few, and if the process is done properly, there should be no damage to the skin.
2. Does microcurrent help with hooded eyes?
Microcurrent is an effective solution for hooded eyes. If you have excess skin and soft tissue forming a visible crease over your eyelid, microcurrent can help deal with that.
3. Can microcurrent hurt your eyes?
No, microcurrent won't hurt your eyes when it is done correctly.
Conclusion
So, is microcurrent safe around the eyes? I hope I've answered the question for you and you found it helpful.
Please ensure you do not get this treatment in an unprofessional setting. Also, make sure you ask your eye specialist for clarity on underlying health conditions that may pose risks to your health before going for this procedure.
Do you have any questions about microcurrent eye treatment? Let me know in the comments.
Resources
1. Chaikin L, Kashiwa K, Bennett M, Papastergiou G, Gregory W. Microcurrent stimulation in the treatment of dry and wet macular degeneration. Clinical Ophthalmology. 2015;2345.
2. Schmid-Schönbein GW. ANALYSIS OF INFLAMMATION. Annual Review of Biomedical Engineering. 2006;8:93–151.
3. Microcurrent Stimulation Therapy – Living Well With Low Vision [Internet]. [cited 2022 Oct 10]. Available from: https://lowvision.preventblindness.org/2003/01/20/microcurrent-stimulation-therapy/#:~:text=MCS%20is%20a%20form%20of