Upon hearing "ivory skin," the first thing that my mind associated was an elephant's tusk. This had me questioning whether the skin tone was named after this owing to the resemblance.
After extensive research, I have discovered the answer and will gladly share all the care tips for this skin tone.
Continue reading to find out more information.
Also Check: Everything About Olive Colored Skin
What is an Ivory Skin Tone?
Have you ever seen an elephant? Did you notice the color of the tusk?
Interestingly, the ivory skin obtains the name from the animals' tusk. It is scarcely creamy white, yellow, peach, golden, or pink undertones.
You might wonder if ivory skin is fair tone; is it porcelain skin? How are ivory skin tones different from porcelain and alabaster skin.
Primarily, they are all fair or white colors. But the simplest way to differentiate is that porcelain is the lightest color, alabaster is rather darker, and ivory is the darkest white skin tone.
Check out this skin tones chart: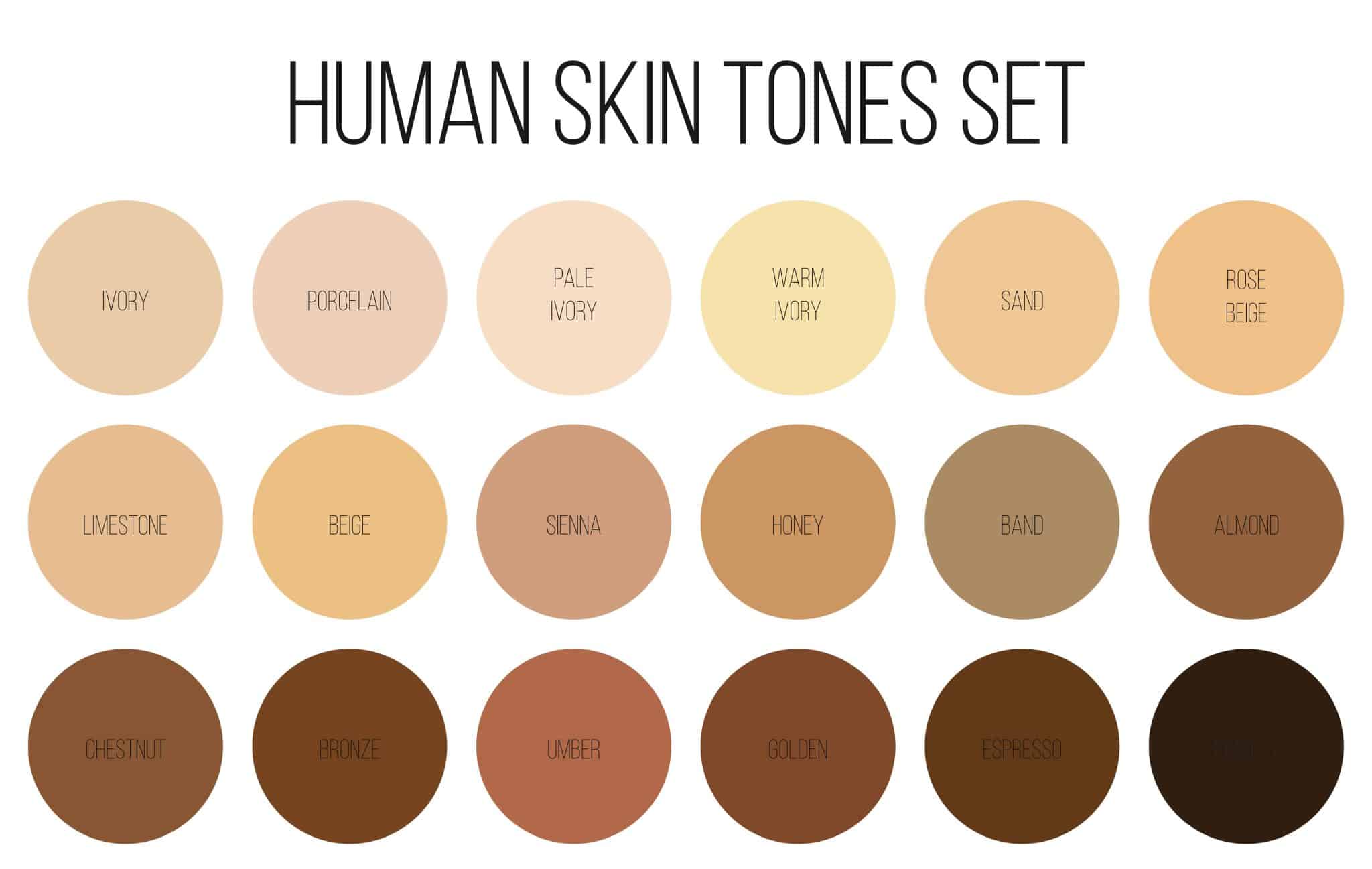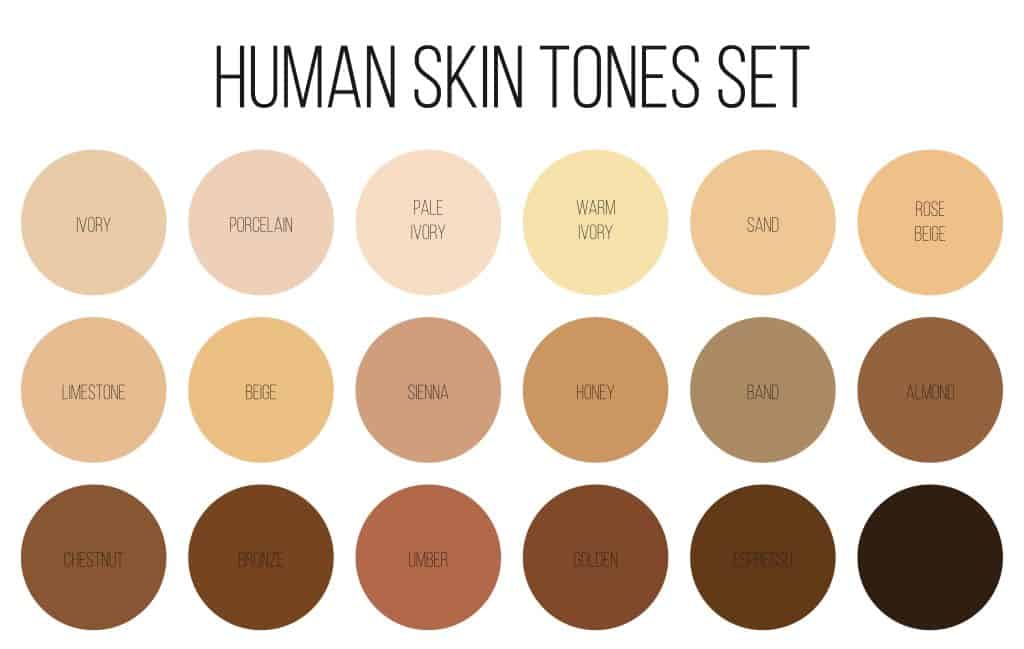 Warm Ivory Skin Tone
As the name suggests, the warm ivory skin is slightly warmer with more yellow undertones.
Though ivory is a neutral skin tone, mostly with pink or blue undertones, you will find ivory skin with more yellow or peach hues as well.
You might wonder or get confused why there is a difference in ivory tones?
In fact, of the different melanin types, [1] the two forms that give color to human skin are:
Eumelanin gives brown or black color to hair, skin, and eyes;
Pheomelanin is also found in the hair and skin and gives pink and red colors. It is the main pigment found among red-haired individuals.
Skin type I has the highest pheomelanin content and the lowest eumelanin content, ultimately giving it a pale, pinkish color. [1]
What is the Difference Between Ivory and Cream Skin Tone?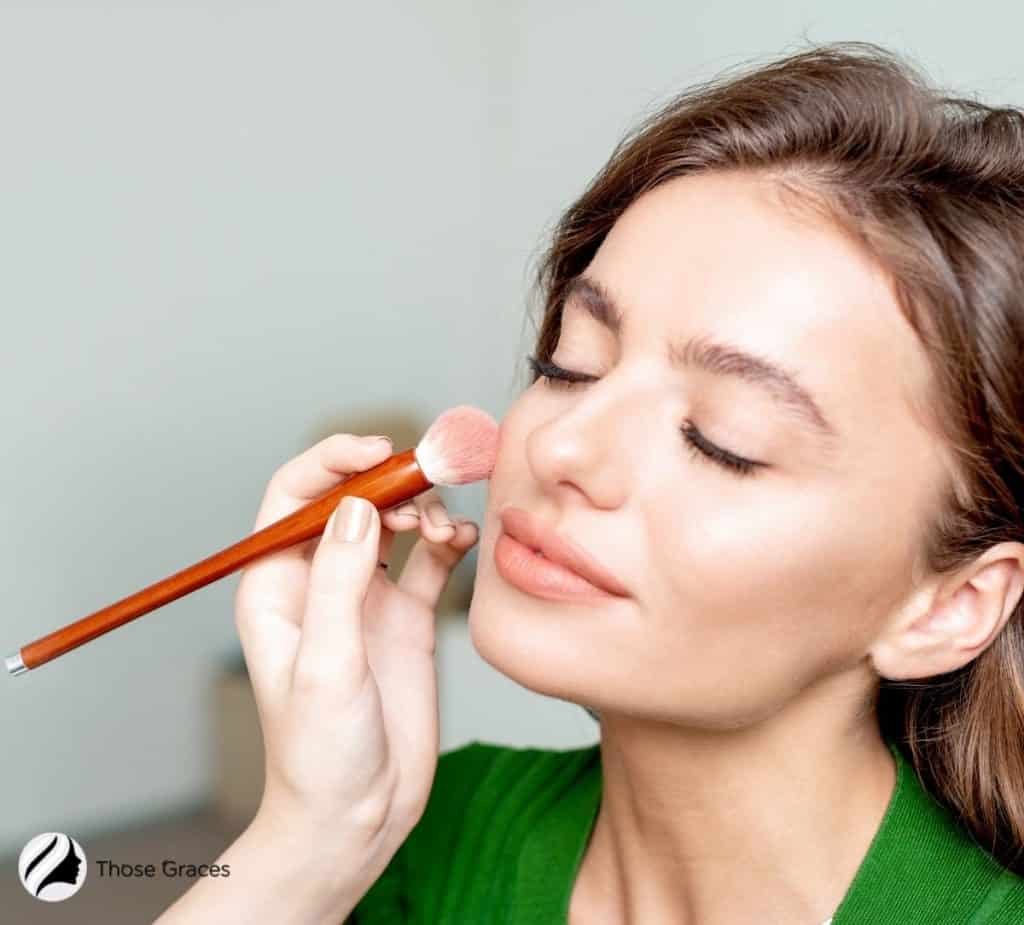 Although ivory is a fair skin shade, it is still darker than cream skin tone.
The basic reason is the yellow undertone that makes the ivory tone darker than the cream tone. As the animal ages, it gets a yellow tint on it. So, ivory skin is darker with yellow hues.
Whereas cream skin color gets the name from "dairy cream." You must have seen the cream in dairy products, and it is almost white.
Although ivory is a fair skin tone, it is comparatively darker than porcelain and cream skin tones.
Ethnicity of Ivory Skin
The people with ivory skin color mostly belong to Asia, North America, and the Mediterranean countries such as South France, Turkey, and Italy.
Some Mid-European and Caucasians also have ivory skin tones, such as Russia and Georgia.
Here, the people's skin tone is either pink, golden, or peach hues. The hair or eye color may vary, i.e., some people have blonde hair, and some have black hair, depending on their genetics.
How to Determine If You Have an Ivory Skin Tone?
You can determine ivory skin tone either through the similarities of general features or by comparing the undertones.
Characteristics of Ivory Tone:
The color of the ivory skin is usually off-white, and an interesting fact is that ivory skin color is rare, and it is graceful. Some general features of people with skin type 1:
Skin color is fair or pale skin color.
Susceptible to sunburn.
Seldom get a tan but tend to get freckles.
Type I people have the palest skin tone, and they are the least tolerant of the sun's ultraviolet (UV) rays.
Have Light blue, green, or grey eyes.
Beige, red, or blond hair color.
However, these are common features of ivory tone, and you may differ in any of these.
How Do I know I have an Ivory Skin Tone By Using the Fitzpatrick Skin Type Scale?
Ivory skin tone is marked as type 1 on Fitzpatrick pigmentary prototype scale. [2] Although it is one of the lightest skin tones, the ivory-toned skin is not as fair as porcelain skin.
You can determine your skin tone through other simple tests.
1. The Vein Test:
Observe the color of the veins on your wrist. You have a cool undertone if they appear blue, purple, or pinks.
If they are green, you have a warm undertone.
However, if there is a bluish-green appearance or no distinguishing color, you have a neutral undertone.
2. Sun Test:
The ivory skin marks as type 1 on the Fitzpatrick pigmentary scale. This skin type is sensitive, never tans but quickly burns in the sun, followed by painful skin peeling and blisters. [3]
3. Jewellery Test:
Checking your jewelry is a simple way to decide what your undertone is?
Try different jewelry of golds and silvers, and you'll find if you are cool, warm, or neutral undertones.
If you think you look absolutely gorgeous in gold accessories, you have a warm undertone.
If you look complimentary in silver, you have cool undertones.
If you think both gold and silver allure your looks, then you might have neutral undertones.
Essential Skincare Tips For Ivory Skin Tone
Ivory Skin Problems:
Ivory skin is rather a fair and susceptible skin type. Some of the common skin problems faced by ivory-toned people are:
1. Sun Damage
People with skin type 1 have a high risk of sun damage. Lack of melanin makes the skin more prone to the risks of skin cancer. According to the American Cancer Society (ACS), people with Fitzpatrick skin type 1 have fair skin and light hair and risk for melanoma skin cancer. [4]
The high risk of sun damage can lead to:
signs of aging
skin burns
skin cancer
These people are most likely to get freckles, Sunspots and experience intense sunburns.
2. Photoaging
Caucasians have a lower amount of melanin. This can make them more susceptible to pronounced photoaging, the premature appearance of wrinkles because of damage caused by ultraviolet (UV) rays. [5]
According to the Canadian Dermatology Association (CDA), everyone is at risk for damage because of excessive sun exposure. However, skin types I and II are at the highest risk and most susceptible to photoaging. [6]
In European and North American adult populations with skin types I, II, and III, the prevalence of clinically detectable photoaging may be as high as 90 percent.
Skincare Tips for Ivory skin
You need to be more concerned with ivory skin and protect yourself against sun damage. Some skincare tips for ivory skin are:
1. Use a Broad-Spectrum Sunscreen
People with very fair skin should use a broad-spectrum sunscreen with an SPF of 30. Sunscreen with much high SPF 70 and 100 are also available.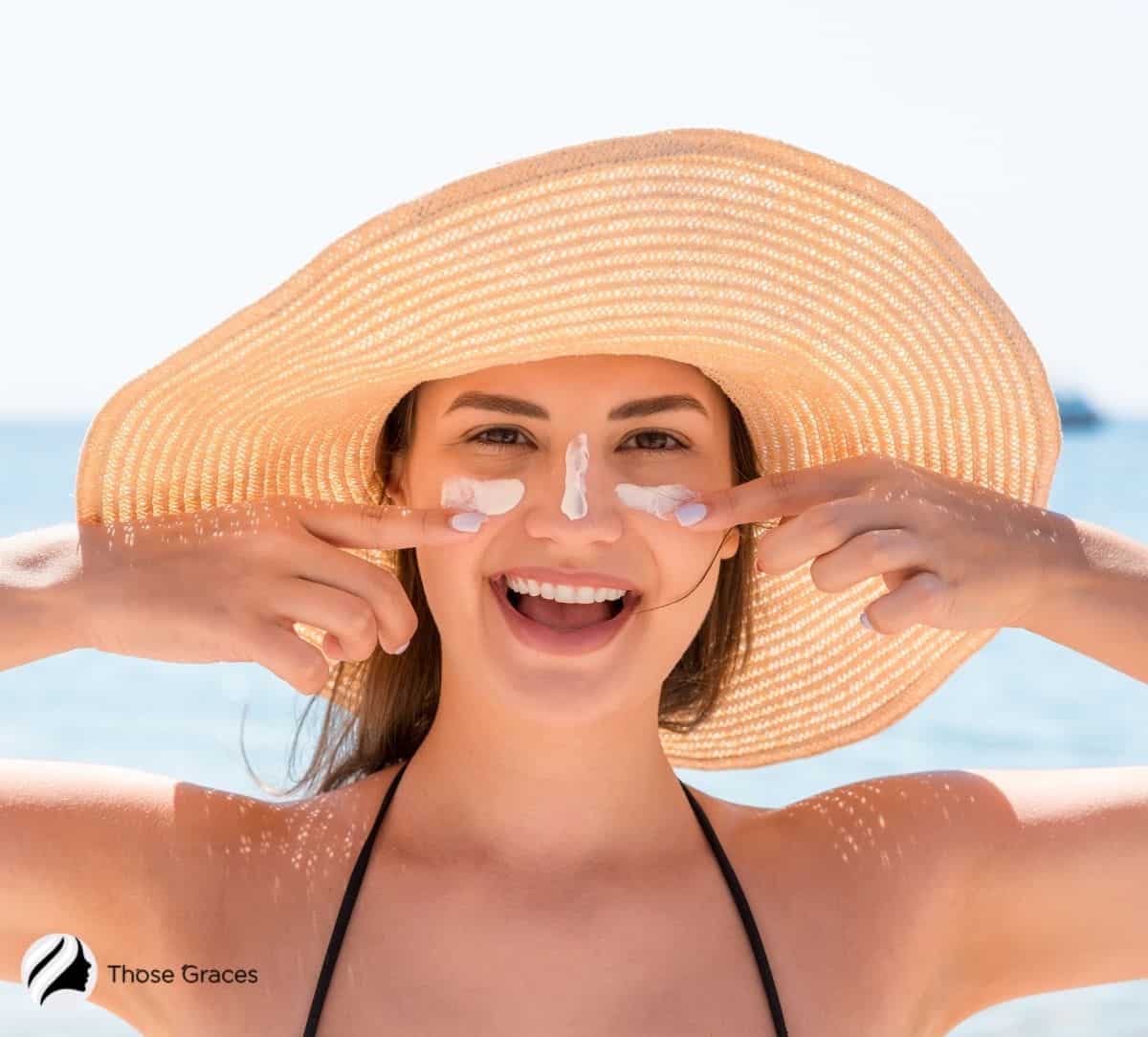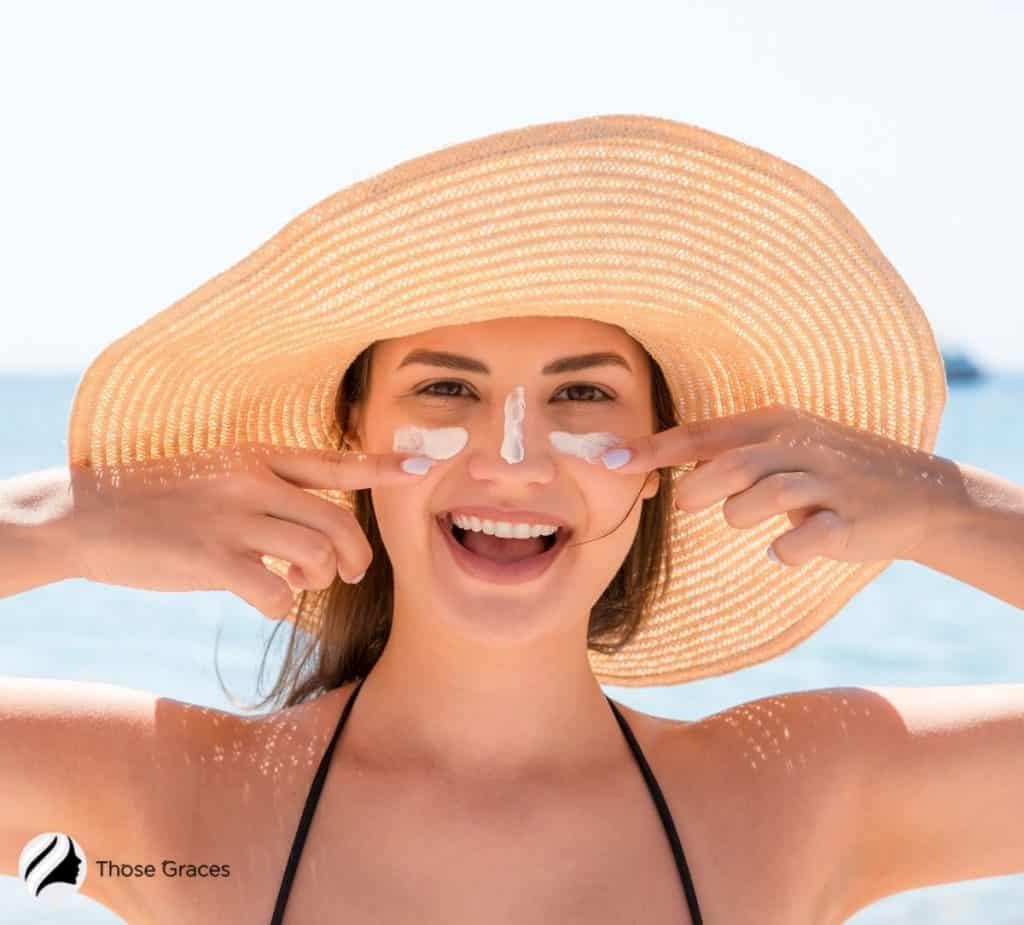 A broad-spectrum sunscreen will protect you from both UVA and UVB rays.
2. Use Soothing Creams
Ivory skin and other lighter skin tones are much prone to redness. The application of a calming and soothing cream will prevent your skin from turning red and minimize the redness.
3. Use Tanning Lotions or Cream
When you have white skin, you should avoid sunbathing or tanning salons.
Instead, a self-tanning lotion is a safer option. A self-tanning lotion gradually adds shades when you apply it. With this product, you can control the level of tan that you want to achieve.
My recommendation:
Banana Boat Summer Color Sunless Self Tanning Lotion is an oil-free tanning lotion with the benefits of vitamin E and aloe vera.
4. Avoid Direct Sun Exposure
Also, people with ivory skin should avoid sun exposure as much as possible and wear protective clothing, using an umbrella, hat, and shades to get maximum protection from UV damage.
Apart from these, always stay hydrated, keep your skin moisturized, and always cleanse your skin to stay away from undesired skin concerns.
Makeup Tips for Ivory Skin
Your complexion will determine if you have a warm or cool undertone.
If your skin undertone has pink, blue, violet, or red tints, the best makeup for you is from cool colored families such as pink, purple, green, aqua, and blue.
But if your skin undertone is much yellow, golden, peach, choose warmer colors from red, yellow, and orange families.
Best foundation for ivory skin:
I suggest Neutrogena Healthy Skin Liquid Makeup Foundation, with SPF 20 titanium dioxide sunscreen that provides full coverage, dewy natural finish.
An amazing blend of antioxidants, including vitamin E, the natural extracts Feverfew and natural soy. [7]
Blush:
For blushes, stick to peach and pink hues that can be easily formed to your desired level of pigmentation.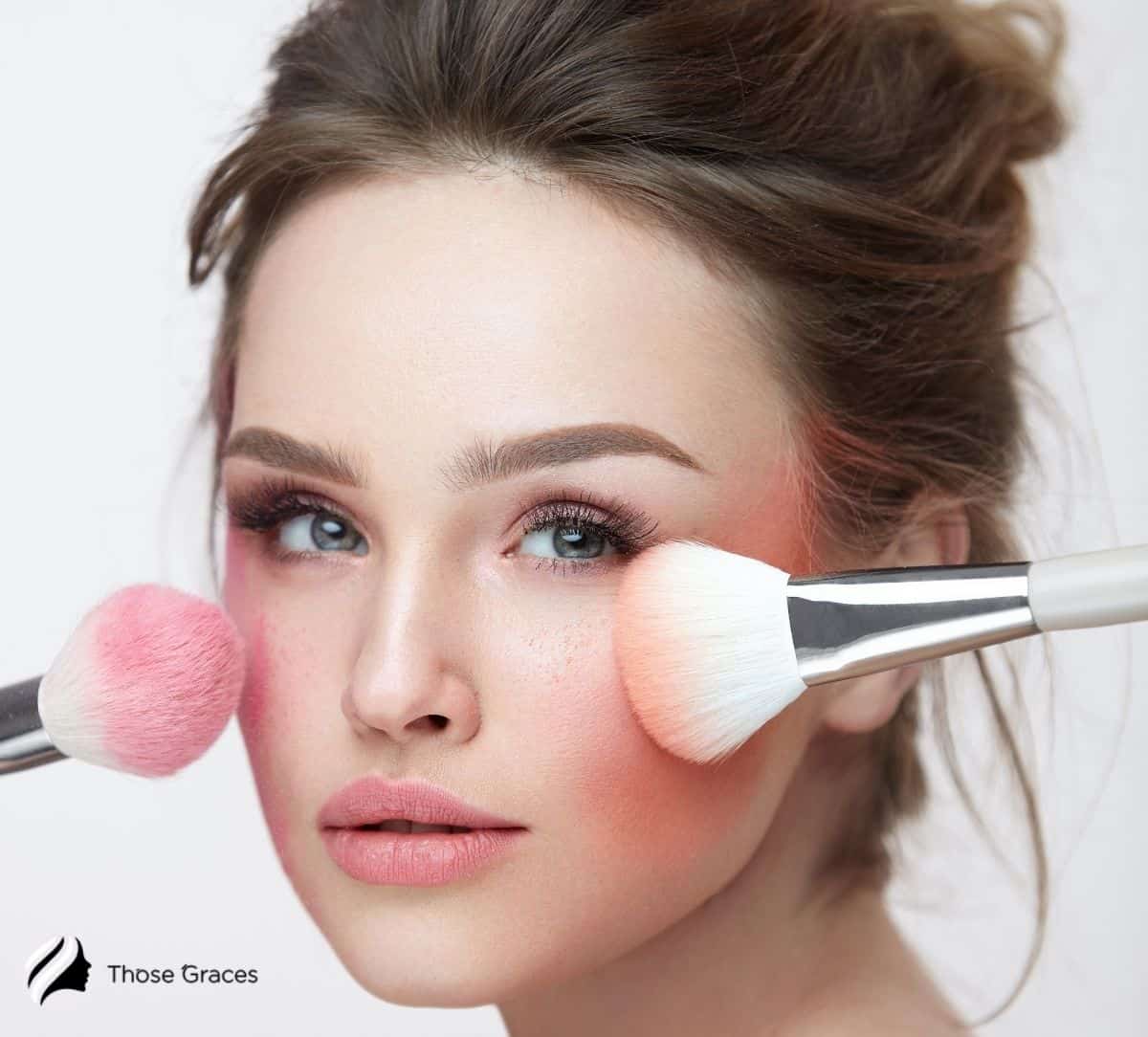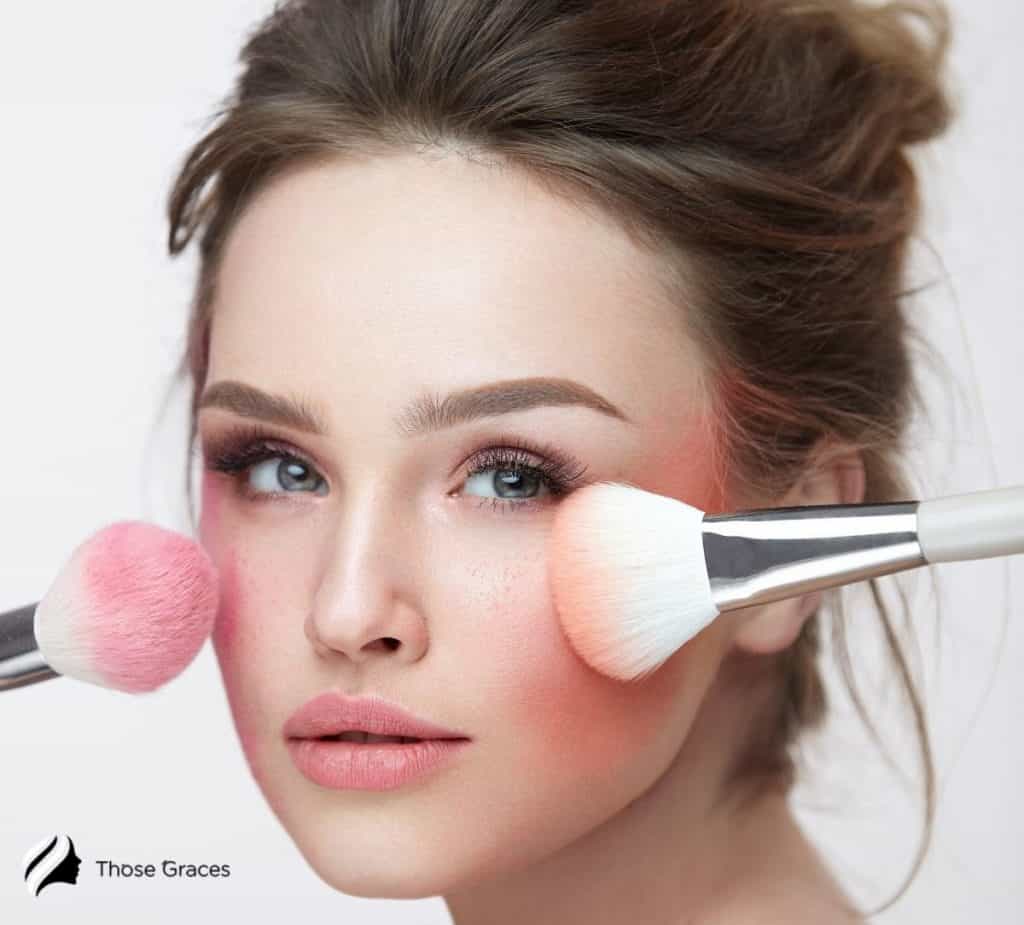 Or choose a color that closely matches your ivory skin tone.
A blush with added shimmer is ideally a good choice.
I suggest getting six colored KYDA 6 Colors Face Blush Palette with shades for warm and cool tones and is an ideal pick for fair skin tone.
Eye Shadows:
For your eye shadow, light pink, Taupe, rose gold, and champagne hues always look amazing on pale skin tones – and the same do the warm, earthy shades like gold and bronze.
Lip Shades:
When you have a fair complexion, it's a good idea to stick to varying shades of nude lipstick (avoid too pale or classic nude lip colors).
Luckily, you can also pick contrasting red or pinks occasionally!
If you choose to go for a vibrant lip color, keep the rest of your makeup subtle.
Pro tip: for the most admiring nude shade, choose the one that closely matches your lower lip.
Check out the video for pale skin makeup tips:
Celebrities With Ivory Skin Tone
1. Nicole Kidman
The American-born Australian actress is known for her versatility and her glamorous looks.
2. Cate Blanchett
Australian actress always looks incredible is known for keeping her skin pale.
3. Christina Hendricks
An American actress and model
4. Amanda Seyfried:
The blonde beauty always complements her pale skin with natural makeup yet doesn't wash her out.
5. Emma Stone
Known for her natural charm wears her fair skin well.
6. Gwen Stefani:
The thing that this American singer and songwriter has taught us about anything in the beauty world, it's that pale skin is at its most radiant when you have a great bold lip on.
7. Elle Fanning
The American actress is known about how to wear makeup that flatters her pale skin tone.
What Colors Pair Well With Ivory Skin Tone?
Some colors that can flatter your pale skin are blues, greens, and greys. Apart from these, you can opt for beige, brown, yellow, bold reds, oranges, or white.
Learn how to dress with pale skin:
FAQs
Is it an ivory yellow tone?
Ivory is an off-white color that resembles ivory, the material made from the tusks of animals. It is not pure white but has slight yellow tones.
Ivory vs. porcelain skin? What is the difference?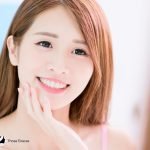 Porcelain skin refers to very white, flawless skin. It is an almost translucent white with more pink undertones. In terms of complexion, porcelain skin is the whitest type of skin.
Compared to this, ivory skin is fair but pale. It is not exactly white and has more yellow or peach undertones.
Is ivory skin attractive?
Ivory skin tone is generally less attractive. Though it is not an ugly skin tone, however, it is less likely to attract.
Conclusion
Ivory skin is a fair skin tone that resembles an elephant tusk. It is a neutral skin tone and is highly sensitive to sun exposure.
It is imperative to be mindful of having good skincare routines to protect your ivory skin!
References
1. News-Medical. What is Melanin? [Internet]. News-Medical.net. 2011. Available from: https://www.news-medical.net/health/What-is-Melanin.aspx
2. Fitzpatrick skin phototype | DermNet NZ [Internet]. dermnetnz.org. Available from: https://dermnetnz.org/topics/skin-phototype
3. Sunburn – Symptoms and causes [Internet]. Mayo Clinic. Available from: https://www.mayoclinic.org/diseases-conditions/sunburn/symptoms-causes/syc-20355922#:~:text=Sunburn%20is%20red%2C%20painful%20skin
4. Risk Factors for Melanoma Skin Cancer [Internet]. Cancer.org. American Cancer Society; 2000. Available from: https://www.cancer.org/cancer/melanoma-skin-cancer/causes-risks-prevention/risk-factors.html
5. Grabel A. Photoaging: What You Need to Know About the Other Kind of Aging – The Skin Cancer Foundation [Internet]. The Skin Cancer Foundation. 2019. Available from: https://www.skincancer.org/blog/photoaging-what-you-need-to-know/
6. Photoaging [Internet]. Canadian Dermatology Association. [cited 2022 Jan 11]. Available from: https://dermatology.ca/public-patients/skin/photoaging/#:~:text=Though%20everyone%20is%20at%20risk
7. Feverfew Benefits For Sensitive Skin [Internet]. AVEENO®. [cited 2022 Jan 11]. Available from: https://www.aveeno.com/our-ingredients/feverfew
What do you think of Ivory skin tone? Let us know below!