Looking for the best Korean foundations for a totally flawless look?
I've got you covered!
I personally tried out each and every one of the options below.
Read on for in-depth reviews and find out which ones give you Korean beauty hacks for flawless skin at an affordable price.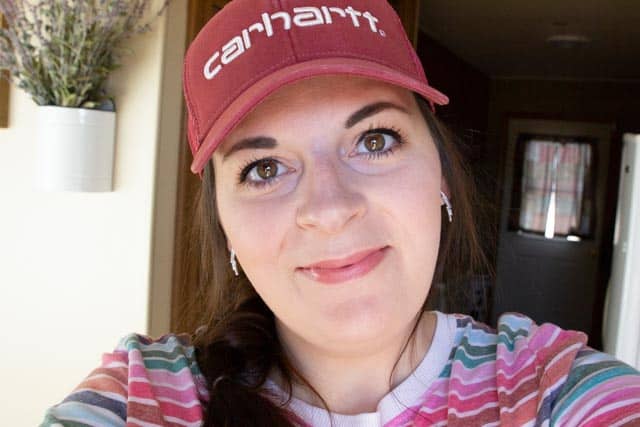 READ MORE: 5 Best Korean Primer for All Skin Types
This post contains affiliate links. We earn a commission if you make a purchase at no extra cost to you.
My Top Picks at a Glance
Check out the table for a quick overview of these foundations, then read on for more details!
Top Benefit
Contains SPF35 for skin protection from the sun
Top 5 Best Korean Foundation Options for Flawless Skin
Before we jump into the reviews, here's a "before" picture with my bare skin to give you an idea of my starting point: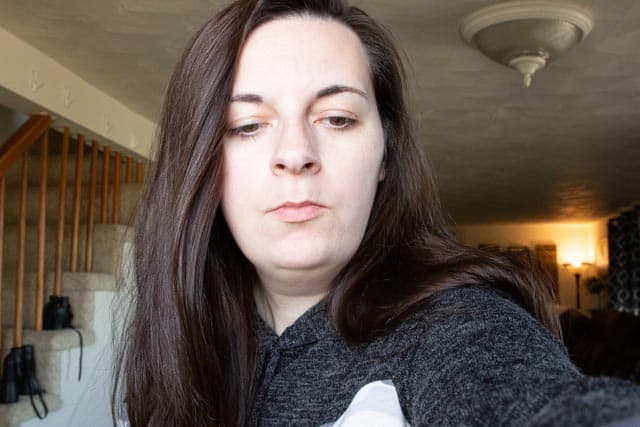 This is my favorite liquid foundation that I tried. Tons of coverage, easy to apply, and a nice clean finish.
Let me break down how I feel about this foundation. You can wear this as you head out to work, or a night out with your friends or partner.
Features
Lightweight feel

Full face coverage

Hydrating foundation

A liquid foundation so great for dry skin
Benefits & Drawbacks of Advanced Real Moisture Liquid Foundation
| Benefits | Drawbacks |
| --- | --- |
| This foundation did feel really lightweight on my skin. I found that it didn't feel as heavy or weighed down as some full-coverage foundation can. | You shop online, so you don't get to test the makeup on your skin to find the perfect match. But, I did have luck with getting the color that matched my lighter skin tone. |
| Helped to cover my fine lines on my face. I am in my 30's so having a foundation to help blur my troubled areas is very helpful. | By evening I had found that it kind of began to separate a bit on my skin, working into my fine lines, and just looking more worn than I would like. |
| Did a decent job of matching my skin tone. When you shop online it can be hard to know exactly what color to pick. | For areas that had redness or if you had a breakout, you will need to apply extra as it didn't fully cover in the first coating of my skin in some areas. |
Who Needs This Foundation
The true answer is who doesn't! This is a really affordable and nice quality foundation. Great for 20's-mid 30's age range. Full coverage for days you want to look extra put together.
Great for those who want a budget foundation that can compare to name brands.
TOUCH IN SOL Natural Moisturizing Oil Control Foundation 1.01 fl.oz. #21 Nude Beige - Full Coverage Makeup for Dry Skin – Minimizes Pores, Hides Wrinkles - Advanced Real Moisture Foundation
SMOOTHING AND HYDRATING DEWY FOUNDATION: Elevate your beauty on every occasion with Touch in Sol liquid foundation that will give you clean and ageless skin. This foundation for mature skin corrects and perfects skin imperfections and provides seamless, flawless coverage in an ultra-smooth finish while nourishing the skin.
ANTI-WRINKLE PORE MINIMIZING LIQUID FOUNDATION: The three-in-one formula of our liquid foundation offers protection against harmful rays of the sun, prevents blemishes, and evens skin tone. Collagen in our full coverage foundation tightens and lifts the skin to minimize the appearance of wrinkles, fine lines, and pores.
MAKEUP FOUNDATION WITH REFRESHING INGREDIENTS: Touch In Sol Advanced Real Moisture Liquid Foundation is a blend of hydrating ingredients like Birch Sap, Soluble Collagen, and Glycerin that gives a light satin finish to your skin. The moisturizing ingredients hold moisture of the skin for a long time to keep it soft and hydrated.
GET A FLAWLESS FACE MAKEUP: Whether you are going for a classical makeup look or an advanced makeup look, this lightweight and full coverage foundation will give you professional quality makeup. This makeup foundation for dry skin helps you achieve flawless brows, lashes, lips, and contouring to show off your style.
EASY TO USE CHEMICAL-FREE FOUNDATION: This liquid foundation does not contain paraben, mineral oils, acrylamide, talc, and animal ingredients, making it perfect for any skin type. Apply foundation starting from the center of the face, and gently pat several times for a full cover.
If you happen to struggle with dry skin this is a moisture-rich foundation that you apply with the pad that comes with it.
Dab into the foundation and then apply to the skin. A medium coverage foundation.
Benefits & Drawbacks of 2 MISSHA M Magic Cushion SPF50
| Benefits | Drawbacks |
| --- | --- |
| Ultra-rich in moisture to help hydrate dry skin | Minimal Korean foundation shades to choose from |
| A nice medium-coverage foundation | The application pad kind of smeared the foundation a bit so took more blending than other foundations |
| Good for acne-prone skin | Dewy finish |
| Nice it has SPF50 in the foundation to protect skin | Offers an orange ting to skin |
Who Needs This Foundation
If you are on a budget and need a foundation that fits drugstore quality, you would like this one. Also, for those who have acne-prone skin, this is great at hiding any imperfections.
Sale
MISSHA M Magic Cushion SPF50+/PA+++ NO. 23
MOIST UP: Adherence, long lasting, moisturization upgraded.
COVER LASTING: Adherence, coverage, long lasting upgraded.
IMPROVED ADHERENCE CUSHION: Magic fit powder is cleanly layered on top.
EXCELLENT LONG LASTING EFFECT: Long lasting without darkening as if you just put on makeup.
NON DRYING BUT FRESH CUSHION: Plant extract gives a fresh smooth look without drying the skin out.
ALSO CHECK: Olivia Rodriguez Makeup
Etude House Double Lasting Foundation was another HUGE success for me. I really found this foundation worked wonderfully on covering my skin while not looking heavy on my skin.
I found myself reaching for this foundation a lot when I wanted to wear around the house, running, errands, and such.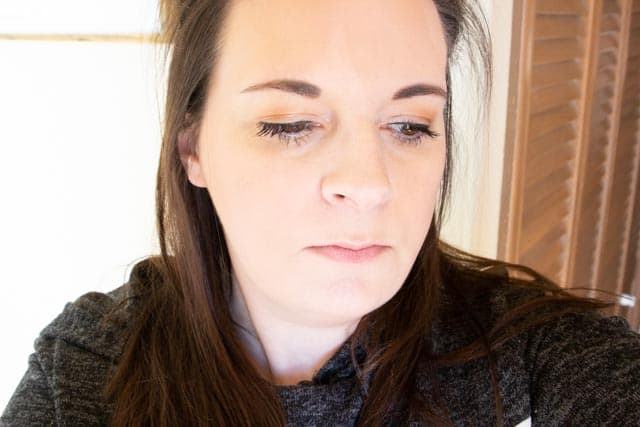 Features
Lots of color options

Contains SPF35 for skin protection from the sun!

Easy application

Semi-matte finish

Long-wear foundation

Buildable coverage

Great price for the quality
Benefits & Drawbacks of 3 ETUDE HOUSE New Double Lasting Foundation
| Benefits | Drawbacks |
| --- | --- |
| A true bang for your buck here. This is a foundation I would purchase again and use for a daily foundation! I found it to be great coverage, and very affordable. | You do have to apply a bit more than other foundations I have used in the past. It isn't a ton, but it is more than other brands. |
| Applied nicely to the skin. I did use a beauty blender for application, but I am sure a makeup brush would work as well. | This does dry out a bit, and I have dry skin so I found that if I didn't top with a setting spray it would crack a bit through the day. |
| I really loved they have a lot of color tone options to really help customers pick a shade that will work with your tone. They have a foundation guide on color and tones to really help you pick the right color. | |
Who Needs This Foundation
Honestly, this foundation is a good one to invest in. If you have dry skin just be aware. But for oily or normal skin I think you would have great success with this foundation.
ETUDE HOUSE New Double Lasting Foundation (Neutral Beige) SPF35/ PA++| High Coverage Weightless Foundation | 24-Hours Lasting Double Cover | Magnet-Like Adherence without Stickiness | Makeup Base
HIGH COVERAGE: Just one layer of the Double Lasting Foundation will guarantee you a flawless skin, thanks to the "Double Shot Technology" amd moderately protects skin from UV-rays
MAGNET-LIKE ADHERENCE: "Magnet Fit Effect" allows your morning coat of foundation stay on like magnet, delivering weightless, long-wearing full coverage
24-HOUR LONG LASTING TESTED: Research officially conducted by Ellead, a cosmetics clinical evaluation institution
DOUBLE COVER: Effortlessly covers problematic areas such as blemishes and redness. Holds up the entire time without becoming sticky. Applies thinly and covers the flaws of the skin
COLOR VARIATIONS: Pick out your perfect match color that fits your tone from the various range of shades organized by color professionals. DISCLAIMER: Images show this product applied on pale skin. Please notice that colors may look different according to your skin color and monitor settings. Shades might be slightly more pale than seemed in the image. Please check it before order ~
READ MORE: How to Apply Natural Korean Makeup
Talk about an incredible concealer stick. I wasn't fully sure what to think of this concealer but after trying it a few times I am sold.
I will for sure be buying this when it runs out. It glides on nicely and helps hide your tired eyes, acne, and more.
Benefits & Drawbacks of 4 Innisfree Mineral Stick Concealer
| Benefits | Drawbacks |
| --- | --- |
| Loved the packaging, it is like a pencil you glide on to the skin. | It is a pretty wet concealer so takes time to dry before applying powder |
| Super easy application | You have to really work at applying to skin to blend, since wet it takes more time than other brands |
| Ultra creamy concealer | |
| Hides imperfections in the skin | |
| Can do layers to add more coverage | |
Who Needs This Concealer
To be honest, who doesn't want a good concealer. I used this concealer with every single one of the foundations here, and it worked really well.
You will find it is a great pairing with a variety of foundations.
So I am not used to using a foundation compact. So this is something that was new to me, and I was pleasantly surprised. Here you have a Korean cosmetic brand that stands out from the rest.
A fun floral decorated foundation compact that you can pack in your purse for on-the-go makeup.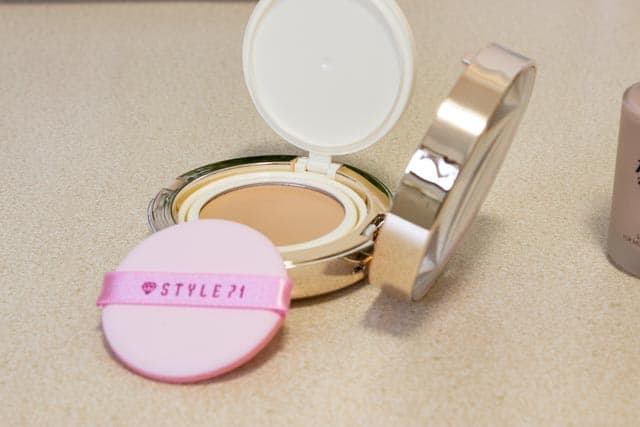 Benefits & Drawbacks of STYLE71 Korean Beauty Foundation Compact
| Benefits | Drawbacks |
| --- | --- |
| Buildable coverage | You have to use the pad it comes with which you need to wash often as it gets build up. |
| Super creamy foundation | Takes more time to blend on the skin with the pad as compared to brushes or a beauty blender |
| High coverage | Not a ton of color choices |
| Wonderful price point for the quality | |
Who Needs This Foundation
This foundation is really wonderful, and I have used it a few times. I do add on a translucent powder on top, as I find it offers a dewy finish.
If you have normal, dry, or even oily skin I think you would enjoy this foundation compact.
STYLE71 Korean Beauty Foundation Compact (American Blue No.21 Fair)
Light adherence Natural cover with clean, smooth and silky skin complexion.
Long Lasting wear Pearl Powder helps soft and non-sticky moisturizing cover for long lasting wear without a darkening. You can maintain clean skin without frequent makeup modifications.
Functional Plants Extracts If it's a makeup that you have to do anyway, please make it healthier. Chamomile extract, Rose centifolia flower water and other Plants extraction ingredients help Whitening and Wrinkle improvement.
Color features Darker than on the other style71 line and is expressed in a strong yellow tone. If you want a brighter tone, use another line.
Recommended for Who wants high Cover / Who wants fuzzy skin
FAQS about Korean Foundation
Real quick before I send you on your merry way, let's go over a few basic FAQs.
How do you choose the right foundation color?
Test shades along your jawline (and NOT the back of your hand or wrist) to find the perfect shade.
What is the difference between Korean Foundation vs. BB Cream?
BB cream is a 2-in-one moisturizer/foundation, so it typically provides lighter coverage overall. Foundation is thicker and offers more coverage.
Final Words on the Best Korean Foundation
It's hard to choose a winner, since all of these offer something different. However, I really liked the results of Advanced Real Moisture and Etude. Both offered flawless coverage at an affordable price.
The stick Innisfree Mineral stick is fantastic for targeting smaller problem areas (like that random pimple that always pops up right before a hot date), while the compacts are perfect for on the go.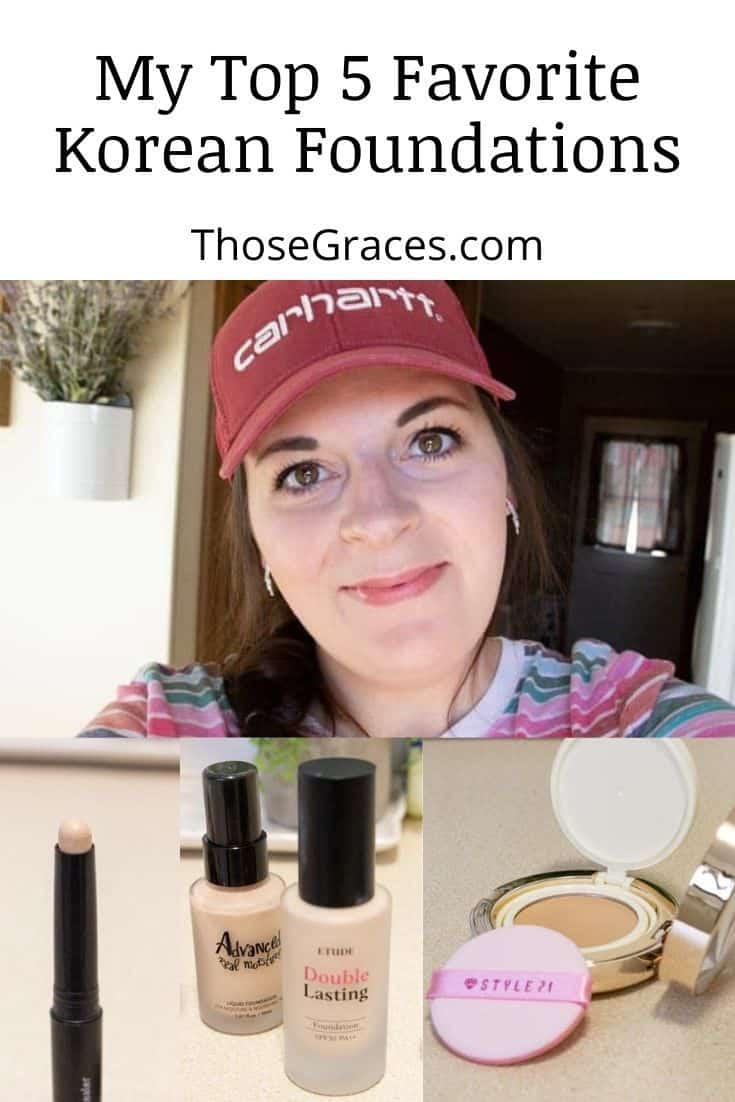 Which one is your pick for the best Korean foundation? Share with us below!