Are you ready to channel your inner 90s grunge goddess? Let's talk about one of my favorite topics – 90s grunge makeup!
As a beauty enthusiast who's experimented with countless makeup looks, I can confidently say that there's nothing quite like the bold, rebellious spirit of grunge makeup. Think dark, moody shades, smudged eyeliner, and a don't-mess-with-me attitude.
Whether you're a die-hard fan of the era or just looking to add some edge to your makeup routine, let's dive into the world of 90s grunge makeup together.
1990s Grunge Makeup & Style
The 90s grunge makeup trend fluctuated from either looking like you forgot to put any on or forgetting to take it off at night! Grunge encapsulated both the effortless no-makeup makeup look and the thick black kohl, pale foundation, nude (or deep red/purple) lips, and no blush or bronzer face.6
Did you know?: Teen Spirit deodorant (Nirvana's famous song was named after this brand) became a huge seller in the 1990s because of the success of Smells Like Teen Spirit. 2
Women in the 90s who hopped on the grunge trend sometimes opted for no makeup at all for a complete 'I don't care' look. Other times, they went heavy on the lips with no eye makeup or dark eyes with otherwise muted makeup. Or for the full grunge look – they combined a dark lip with dramatic smudged kohl eyes.
Pale Skin With Little Face Makeup
The 90s grunge makeup look was characterized by less is more.3 Even with dramatic eyes or lip makeup, the look should appear effortless and not perfectly applied.
In spite of the growing concern around the safety of tanning, the tanned skin look was still pretty popular in the mainstream 1990s makeup trends.
However, it was not as popular as it once was in the 1970s and a slightly lighter tan was in fashion. As a trend that was generally anti-mainstream, the grunge-specific look was characterized by looking very pale.3
Your base makeup should be paler than you actually are to lighten up the skin.
To get the authentic grunge look, make sure you opt for matte skin – modern dewy skin was a huge no-no!
Apply a matte foundation and concealer in a lighter shade.
The mainstream makeup look featured brown or neutral blush colors in the 1990s, but the girls who loved grunge music typically didn't wear any noticeable blush because being ultra pale was part of the trend.5
Skip the blush, and bronzer, and definitely don't apply highlights for the authentic look.
Dramatic Kohl Eye Makeup
While the mainstream 90s look featured a more natural earthy-toned eyeshadow, the grunge look typically revolved around the black kohl smudged eye look. 5
Although the grunge looks pretty consistently featured a paler foundation with no blush or bronzer makeup on the skin, those in the grunge scene liked to mix it up when it came to their eye and lip makeup.
Sometimes they went for heavy eyes and lips, other times they rocked deep intense red or black lips with nothing on the eyes.3
The grunge makeup look of the 90s was androgynous. Typically, women darkened their eyes with black smudged pencil kohl liner on both the top and bottom eyelids.
This was smudged in with fingers for a messier eye, often with the addition of vaseline for that slept-in look. A lot of grunge rockstars also applied this style of eye makeup on stage. 3
Smudge kohl eyeliner across both your top and bottom lids and add a tiny bit of vaseline for a more slept-in, glossy look.
Eyebrows in the 1990s were in contrast to the 1980s bushy and unplucked look. The 90s brow was typically well-shaped and well-groomed, but often also overplucked. 5
If you have thin eyebrows, keep them pretty much as they are. If they are overplucked that will add to the grunge style. For thicker eyebrows, don't fill them in too much to get the authentic look.
Plum Or Maroon Shade Lipsticks
The 1980s had extremely colorful (often clashing) eyeshadows and colorful lipsticks like orange, frosted pinks, and fuchsia. 5
In the 1990s, brown shades (coffee, raisin, caramel) were super popular on the lips and women also liked red russet and purple lip glosses. 5
Bobby Brown released a ton of nude lipstick colors in 1991, a strong contrast from the bright trend on the eyes and lips in the 1980s. The nudes set the standard of the 1990s. While the mainstream looks featured nude and caramel lip shades, the grunge look opted for plums and maroons.5
Add a plum or maroon lipstick to get the authentic grunge look (it doesn't have to be applied perfectly). You could also go nude on the lips if you have very dramatic eyes and want to tone down the look a little bit.
Want more historically accurate makeup? Check out our break down of the Greek Goddess and Flapper makeup and style looks!
Get ready to rock the grunge look with ease! Check out this quick and effortless grunge makeup tutorial video that will help you achieve that perfect edgy, rebellious vibe:
Messy Disheveled Hair Look
90s grunge aims to achieve that just rolled-out-of-bed look.1
And this applied not just to the makeup look – but also to the hair and fashion.
The mid-1990s grunge style, in particular, was epitomized by an unkempt hairdo and the slept-in-my-makeup look. 5
Both men and women rocked the long hair look in the grunge scene. It was not the time to use a straightening brush – they wanted their hair to look a bit dirty and disheveled. 6
Bushy, backcombed, messy hair looks great with this look. Keep it as disheveled and as messy-looking as possible. But if you have naturally pretty straight hair you can keep it just as it is without any styling and that will look great with grunge makeup and fashion!
Grunge Relaxed & Casual Fashion
Some saw grunge as the anti-fashion of the 1990s. 6
Grunge fashion typically featured muted-colored clothing on the body. It was a very thrift shop style, with inexpensive and relaxed plaid shirts, ripped old jeans, and boots as the signature look. 6
In November 1992, an article in The New York Times "Grunge: A Success Story" explained the grunge fashion code. 4
Plats: platform shoes
Kickers: heavy boots
Fuzz: woolen sweaters
Wack slacks: old-looking ripped jeans
During this era, grunge fans loved to accessorize with face and body piercings. 3
The Origins And Demise Of The Grunge Trend
The very beginning of the 1990s decade was characterized by huge hair, statement shoulder pads, and intense makeup. However, in 1993, the rise of grunge completely threw a spanner in the makeup and style works. Grunge was a much more laid-back look than the intense makeup period just 3 years before.3
Grunge music became huge in the 90s and the music videos often featured a relaxed flannels-and-baggy-jeans casual fashion look.
This was a complete change from the previous decades of sleek, carefully done, and neat hairstyles. Grunge music and culture rejected this 'fakeness' of the overdone look.2
Seattle was a hot spot for grunge music, including Nirvana (whose lead singer Kurt Cobain was the big icon of the grunge look). Cobain influenced the high fashion world and Kate Moss was the poster model for this more relaxed look.
Here's another quick tutorial:
From The Underground To The Mainstream
Alexander McQueen and Dries Van Noten were very influential fashion designers during the grunge era.3
Models Kristen McMenamy (who rocked a 20s style bob cut and shaved brows) and Eve (with an iconic shaved tattooed head) contrasted with the more traditional looking 90s supermodels like Naomi Campell and Linda Evangelista.3
Celebrities who were inspired by the grunge trend included Winona Ryder, Alicia Silverstone, and Angelina Jolie, and Johnny Depp. 3
1990s grunge makeup and fashion was a big cultural moment for Generation X.
"Gen X was about not wanting to grow up and not having to, and saying that it was not the baby boomers' culture anymore." – Erin Smith of Bratmobile. 4
The Fall Of Grunge
The grunge look was criticized for its perceived influence on the culture.
"Fashion photos in the last few years have made heroin addiction seem glamorous and sexy and cool… you do not need to glamorize addiction to sell clothes." – President Bill Clinton 6
In 1992, Marc Jacobs became heavily inspired by grunge music and culture. However, this was quite late for a fashion designer, who should have been well ahead of the trend, to jump on the bandwagon. It was already mainstream! 4
Marc Jacobs went pretty thrifty to keep his grunge look somewhat authentic. He picked out plaid fannels (that he bought for less than 10 dollars a pop) and sent them to Italy to be remade into silk that cost 1000 dollars per yard. He took woolen caps from thrift stores to create slouchy cashmere. He released his grunge collection in November 1992. 4
The models on the runway included Carla Bruni, Christy Turlington, and Helen Christensen. But Kate Moss was the star of the show because she looked effortless in the low key makeup and undone hair aesthetic. Kate Moss was the embodiment of the grunge movement. 6
However, only Wintour praised the grunge collection and Marc Jacobs was accused by the mass media of killing off the grunge look. 4
"Grunge: 1992 – 1993 R.I.P… Grunge has run its course… For many, Marc Jacobs' grunge fashion collection was the final shove. " – New York Times magazine. 4
Jacobs' failed because he wasn't the trendsetter – he was trying to follow an existing trend. 4
Not long after Marc Jacobs' show, Kurt Cobain was snapped in a black t-shirt with the words "Grunge Is Dead" printed on it. 4
"Punk was anti-fashion. It made a statement. Grunge is about not making a statement, which is why it's crazy for it to become a fashion statement." – Details editor, James Truman. 4
1990s grunge was a fairly quick trend and Kurt Cobain's untimely death was a big factor in the fall of grunge. 2
Take a nostalgic journey through the history of grunge style with this captivating video, exploring its rise to fame, fall from grace, and triumphant revival:
Conclusion
In conclusion, 90s grunge makeup is all about embracing your inner rebel and unleashing your bold side. From the deep, moody shades to the effortlessly smudged eyeliner, this makeup trend is perfect for anyone looking to add some edge to their look.
So go ahead and channel your inner Kurt Cobain or Courtney Love – grab some dark lipstick, smudge that eyeliner, and rock that grunge vibe like it's 1993 all over again.
Trust me, you won't regret trying out this iconic makeup trend!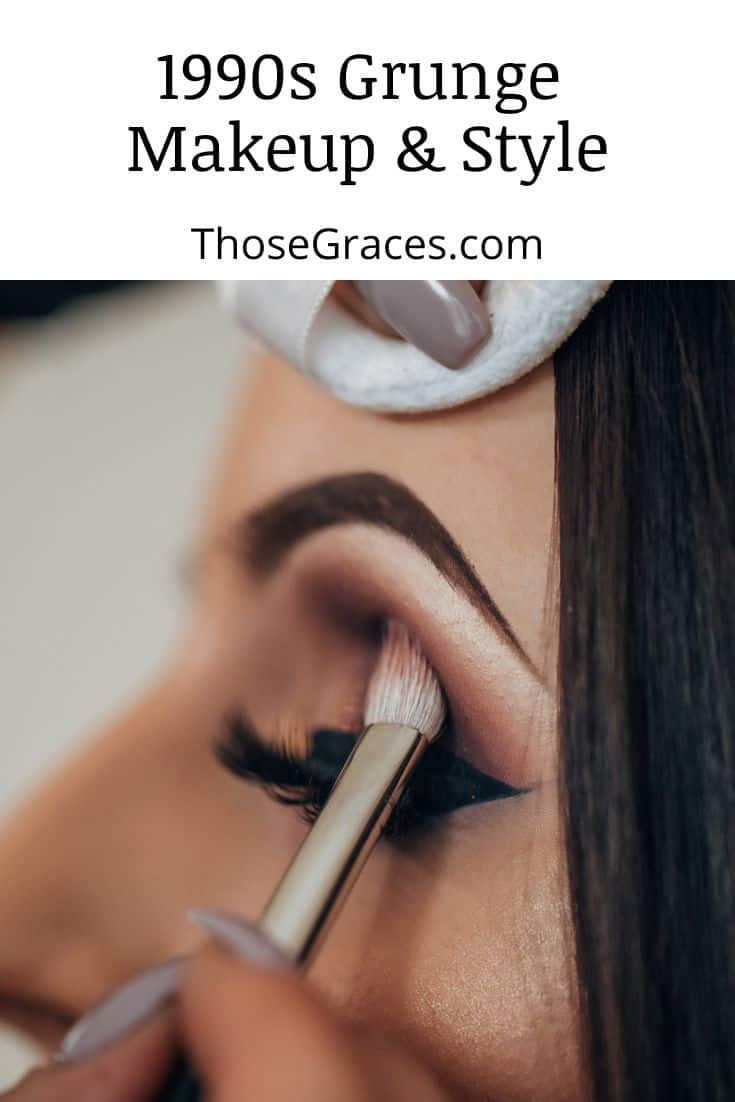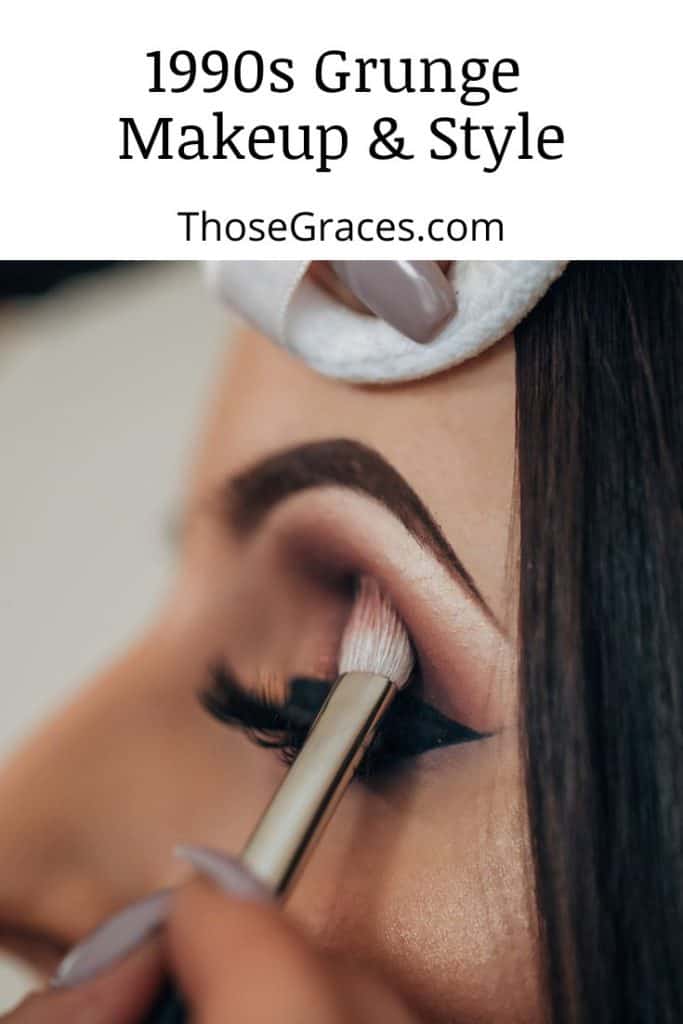 Sources
1. Oxberry E. Make Up: The Ultimate Guide to Cosmetics [Internet]. Google Books. Arcturus Publishing; 2016 [cited 2023 Mar 24]. Available from: https://books.google.ie/books?id=gug-DAAAQBAJ&pg=PT276&dq=90s+grunge+makeup&hl=en&sa=X&ved=0ahUKEwirqbf5sr7nAhWsUBUIHYb3AMsQ6AEIKDAA#v=onepage&q=90s%20grunge%20makeup&f=false
2. Cooper GF, Bellmont B. The Totally Sweet 90s: From Clear Cola to Furby, and Grunge to "Whatever", the Toys, Tastes, and Trends That Defined a Decade [Internet]. Google Books. Penguin; 2013 [cited 2023 Mar 24]. Available from: https://books.google.ie/books?id=SaLA2b5A0ZcC&pg=PT56&dq=90s+grunge+makeup&hl=en&sa=X&ved=0ahUKEwj93c71u77nAhUnUhUIHdrtApAQ6AEIOTAC#v=onepage&q=grunge&f=false
3. Campo R. Best in Beauty: An Ultimate Guide to Makeup and Skincare Techniques, Tools, and Products [Internet]. Google Books. Simon and Schuster; 2010 [cited 2023 Mar 24]. Available from: https://books.google.ie/books?id=JfJ-bXJNEsMC&dq=90s+grunge+makeup&source=gbs_navlinks_s
4. Callahan M. Champagne Supernovas: Kate Moss, Marc Jacobs, Alexander McQueen, and the '90s Renegades Who Remade Fashion [Internet]. Google Books. Simon and Schuster; 2014 [cited 2023 Mar 24]. Available from: https://books.google.ie/books?id=oTFvAAAAQBAJ&dq=90s+grunge+makeup&source=gbs_navlinks_s
5. Young L, Sheppard L. Timeless: A Century of Iconic Looks [Internet]. Google Books. Octopus; 2017 [cited 2023 Mar 24]. Available from: https://books.google.ie/books?id=An9MDgAAQBAJ&printsec=frontcover&dq=90s+grunge+makeup&hl=en&sa=X&ved=0ahUKEwirqbf5sr7nAhWsUBUIHYb3AMsQ6AEIbDAI#v=onepage&q&f=false
6. Marsh M. Compacts and Cosmetics: Beauty from Victorian Times to the Present Day [Internet]. Google Books. Casemate Publishers; 2014 [cited 2023 Mar 24]. Available from: https://books.google.ie/books?id=mkzWCwAAQBAJ&newbks=1&newbks_redir=0&dq=Compacts+and+Cosmetics:+Beauty+from+Victorian+Times+to+the+Present+Day&source=gbs_navlinks_s