Lumina NRG vs. NuFace: Which microcurrent facial toning device is better?
Microcurrent therapy machines are incredibly great for cell turnover and collagen production. But, there are so many options in the market. Which one should you get?
Read on as I weigh the pros and cons of these facial treatment devices.
CHECK: Lumina NRG Fat Sculpting Iron Reviews
What Are The Key Differences Between Lumina NRG & NuFace?
Research shows that microcurrent facial improves skin tone and facial wrinkle. No wonder several brands carry at-home natural current skincare devices these days. (1)
Dr. Jenniefer Haley, a board-certified dermatologist, says, "As we age, we lose collagen and definition in our skin, and microcurrent facial machines may help tone the skin by lifting and sculpting your facial muscles." (2)
NuFace Trinity and Lumina NRG are two such skin toning devices that tones saggy skin. What's the difference between these two beauty devices?
1. Appearance
NuFace Trinity has a pear-shaped body with two protruding silver balls sticking out at the end. It resembles the palm of a hand.
It has three buttons on the body. One for turning it on and off and the other for managing the microcurrent treatment's intensity.
Also, check out the difference between Nuface mini and trinity for a great microcurrent facial at home.
Lumina NRG is wand-shaped with an elongated body. This handheld device comes with a universal power button and two buttons for variations in intensity. It also has EMS and LED lights indicators in the body.
Here is a video showing how the device looks.
2. Function
NuFace Trinity provides microcurrent treatment only, which aids in rapid healing and collagen production. It can be used five times per week in your skincare routine. (3)
Lumina NRG is a 3-in-1 skin toning device. It provides low-level current for facial stimulation and interchangeable attachments for large pores and acne.
Here's a detailed video on how the NuFace trinity works.
3. Attachments
With the NuFace Trinity, you get two extra interchangeable attachments that must be bought separately. They can also be bought together in the NuFace Trinity Starter Kit.
You get the lip & eye attachment for smile lines and eye wrinkles and a wrinkle reducer that uses red light therapy for better skin texture.
The Lumina NRG comes with three attachments. Each attachment provides microcurrent therapy, red light therapy, and blue light therapy.
Blue light therapy goes 0.5 mm deep in the skin and is especially handy in treating acne and blemishes.
Here is an instructional video on how to use a Lumina NRG at home.
4. Price
The NuFace Trinity facial toning device costs $339, but if you buy the full starter kit along with the red light attachment and eye & lip attachment, it will cost you $525.
Lumina NRG is cheaper. It costs $325, and you get all the attachments included in the price.
Here's a quick summary on lumina NRG vs. Nuface.
| | | |
| --- | --- | --- |
| Differences | NuFace Trinity | Lumina NRG |
| Appearance | NuFace Trinity is palm-shaped and has two protruding silver balls. | Lumina NRG has a sleeker look. It resembles a wand. |
| Function | NuFace Trinity uses electrical currents to help users achieve supple skin. | Lumina NRG uses microcurrent and infrared light, blue and red, to work on deeper layers of skin. |
| Attachments | Eye & lip attachment and red light wrinkle reducer can be bought separately. | All attachments are included with the product. |
| Acne | It does not work for acne. | Blue light attachment is specifically built to combat acne and blemishes. |
| Price | NuFace Trinity costs $339 without attachments and $525 with attachments. | Lumina NRG costs $325 with all attachments included. |
| Variation | Available in two variations: NuFace Trinity and NuFace Mini | Available only in one variation. |
CHECK: Can I Use NuFace on My Neck?
Lumina NRG Vs. NuFace: Which One Should I Choose?
Are you on the verge of introducing a microcurrent routine 2-3 times per week and unsure what device to get?
Let me help. You may also want to see if Nuface is good for jowls while you're at it.
Is Lumina NRG or Nuface Better?
Lumina NRG and Nuface provide effective treatments for their users' smooth skin. On the surface, Lumina NRG looks better with its interchangeable treatment attachments with red light and blue light.
But, NuFace is definitely much better for healthy skin. NuFace microcurrent facial treatment helps users achieve better skin tone and smooth skin.
Check out this cool nuface mini tutorial to get help in using it
You can target your delicate eye and lip skin and eliminate dark spots if you get the extra attachments.
If the NuFace trinity is out of your budget, you can get the same results with the NuFace Mini. It costs $189 and does not include other attachments.
Unsurprisingly, NuFace has won the Allure Best of Beauty Awards in 2020 and 2021. It also won the harper's Bazaar Anti-aging awards in 2020 and 2021.
Of course, if you have acne, you could get the Lumina NRG which is a formidable device as well. But, overall NuFace trinity wins the battle.
CHECK:
FAQs
Which is better, NuFace or MyoLift?
Both NuFace Trinity and Myolift are great. However, if you are a beginner, you may fare better with NuFace Trinity or Mini.
Which microcurrent device is best?
The best microcurrent technology effective devices are NuFace Trinity, Bear by Foreo, NIRA skincare, and Ziip Beauty series.
Can you overdo microcurrent?
Yes. While microcurrent technology is a non-invasive treatment, it can only be used once per day or seven times per week for 5 minutes per day.
Can microcurrent help under eye bags?
Absolutely. Devices such as NuFace trinity help to tighten loose skin cells and give them a lifted look. Such facial devices come with extra attachments meant for delicate skin.
Conclusion
That concludes our battle of Lumina NRG vs. Nuface. Both of these products are amazing at skin healing, and I would certainly recommend them both.
They can be used five days weekly, starting for a month or two. After that, you can use it twice a week for maintenance.
In just a few minutes of treatment, you get healthy skin that looks and feels amazing! Thank you, science, for microcurrent technology!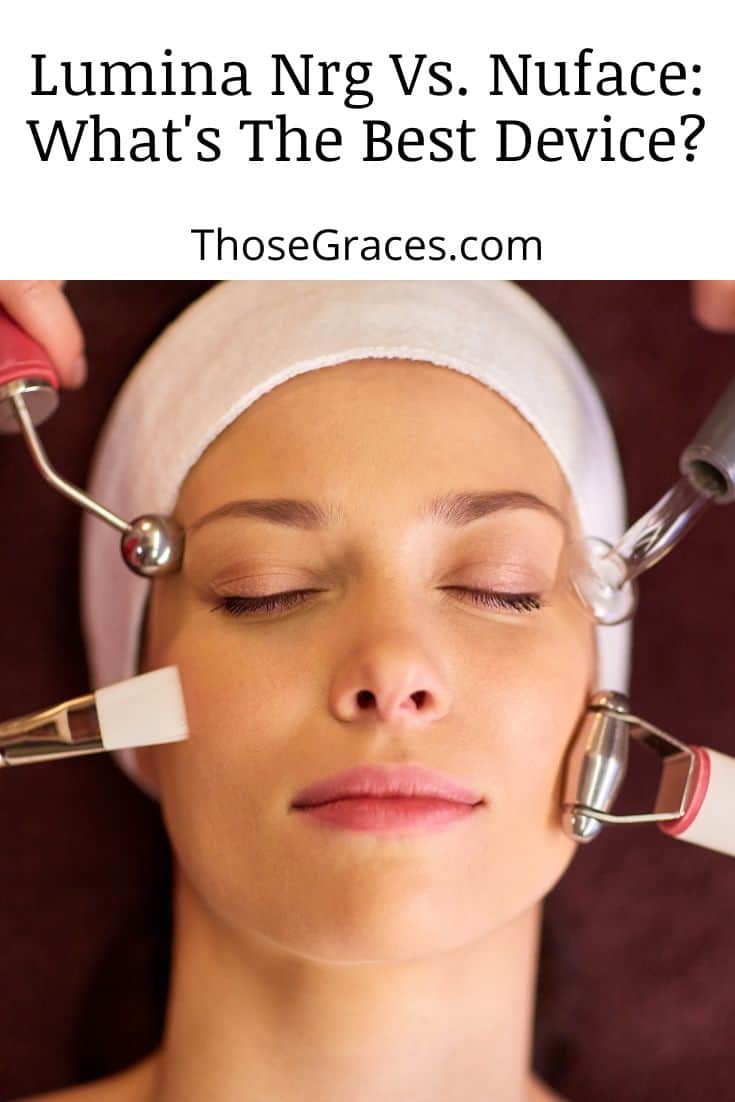 Resources:
1. Khademi K, Saniee F, Yazdanpanah P, Rezasoltani A. The effect of microcurrents on facial wrinkles. Researchgate. https://www.researchgate.net/publication/323852520_The_effect_of_microcurrents_on_facial_wrinkles
2. 11 Best Microcurrent Facial Machines That Give An Instant Face Lift. STYLECRAZE. Published April 17, 2019. https://www.stylecraze.com/articles/best-microcurrent-facial-machines/
3. Yu C, Hu ZQ, Peng RY. Effects and mechanisms of a microcurrent dressing on skin wound healing: a review. Military Medical Research. 2014;1(1). doi:10.1186/2054-9369-1-24