Does NuFace work on the neck? If you have a microcurrent tool, you may be tempted to try it out on your neck wrinkles.
But does it really work? Read on as I share with you whether or not a microcurrent neck treatment works.
CHECK: How Often Should You Use Nuface?
Can NuFace Be Used on Neck?
Microcurrent therapy works on a cellular level creating a visible difference in facial muscles. But, can I use NuFace on my neck? (1)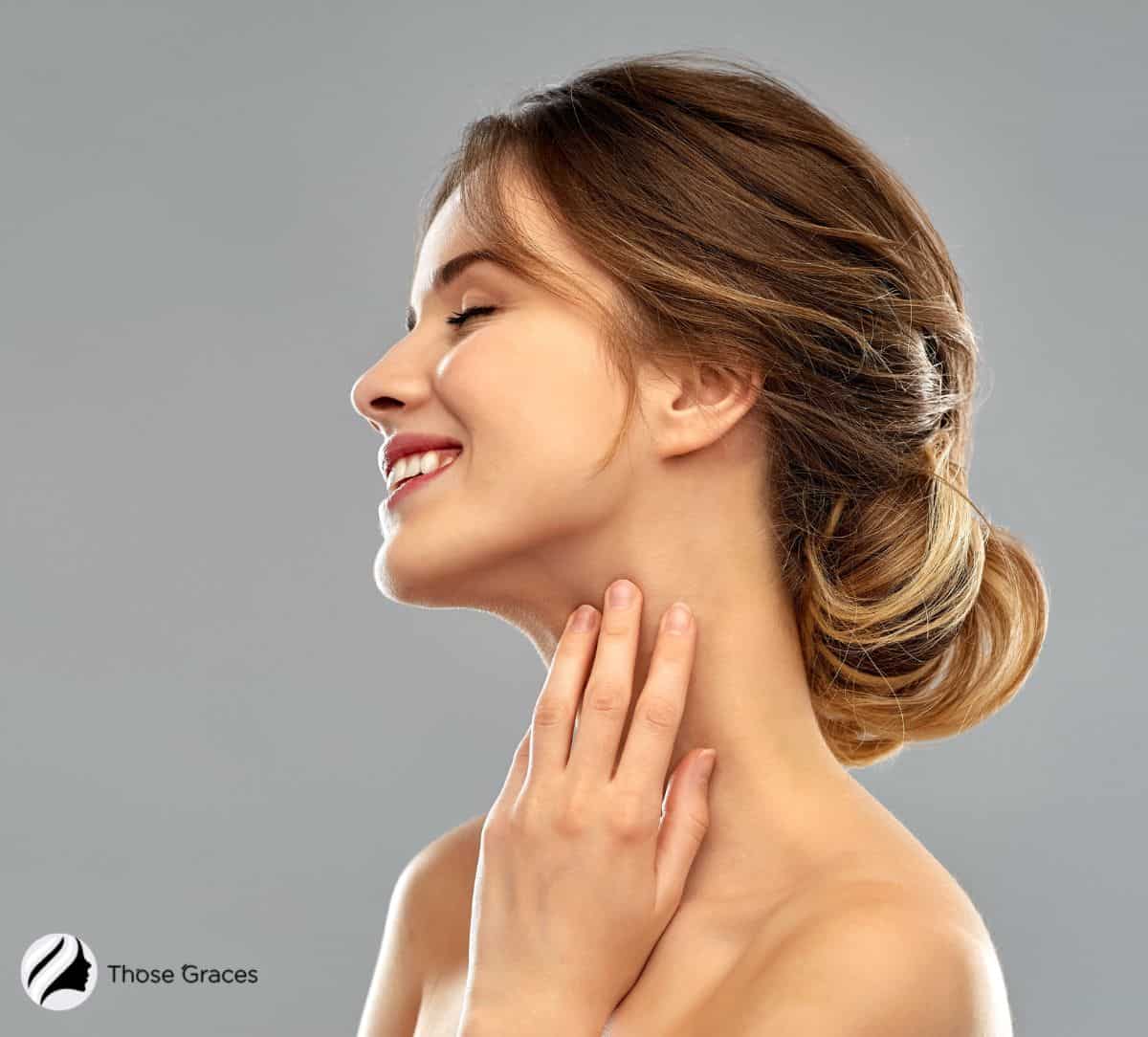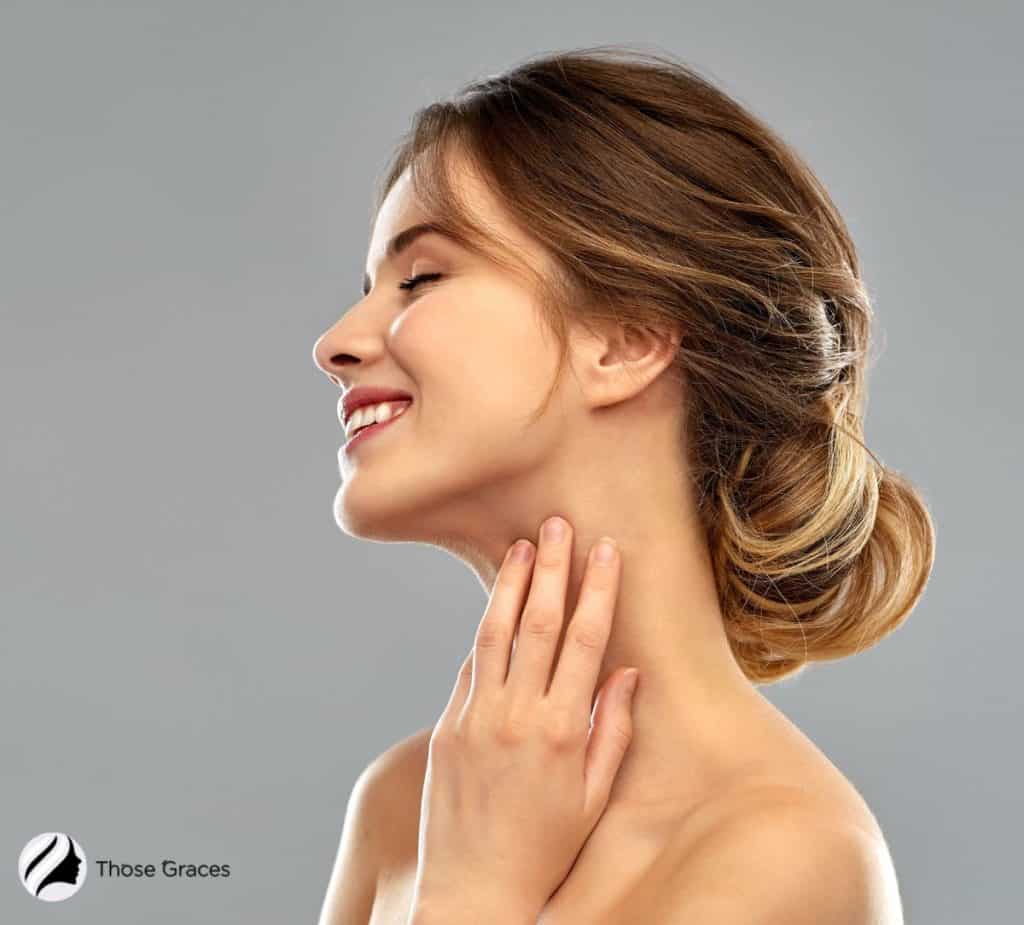 Absolutely. You may notice loose skin in your neck over time and it needs some love for skin firmness.
A microcurrent skin care device can safely reduce the appearance of wrinkles in your neck region too. Think of it as hitting the gym.
Also read, can I use NuFace on jowls if you suffer from a droopy chin?
Graceanne Svendsen, a licensed aesthetician, says, "Microcurrent uses low-voltage electricity to stimulate muscle, adenosine triphosphate (ATP) cell growth, and collagen development in the dermis on the face." (2)
Check out this video on the benefits of using NuFace on the neck.
Is NuFace Good for the Neck?
Studies show that microcurrent technology is extremely effective against wrinkles and aging. The natural current revitalizes loose skin, giving it a tighter appearance which also works on your neck skin. (3)
Our neck area usually has delicate skin which is even more prone to aging and wrinkling, all the more reason you need toning devices such as NuFace trinity to firm your neck skin.
So, does nuface work on the neck? Absolutely. You will see a reduction in the appearance of lines and wrinkles after microcurrent neck treatment.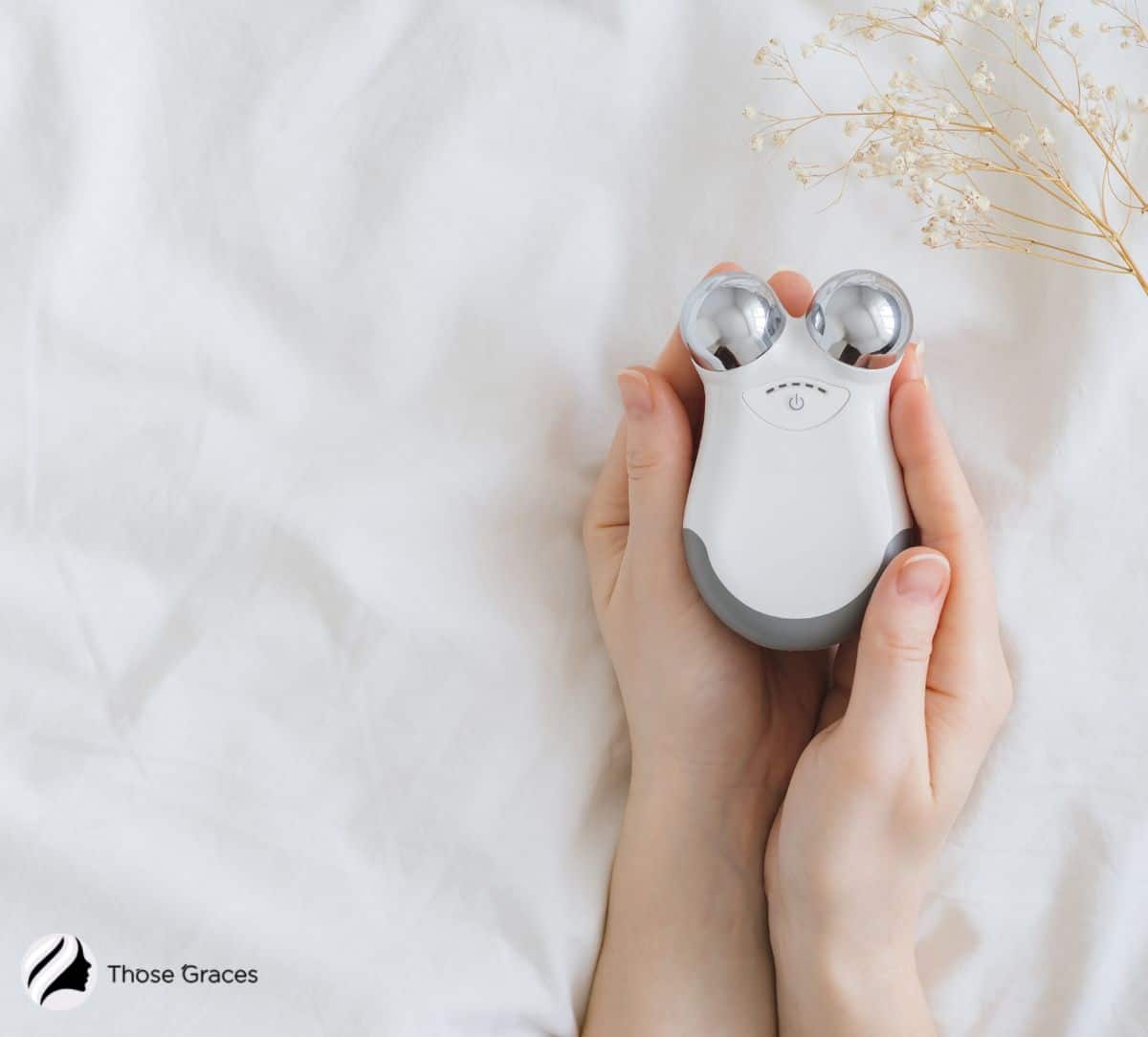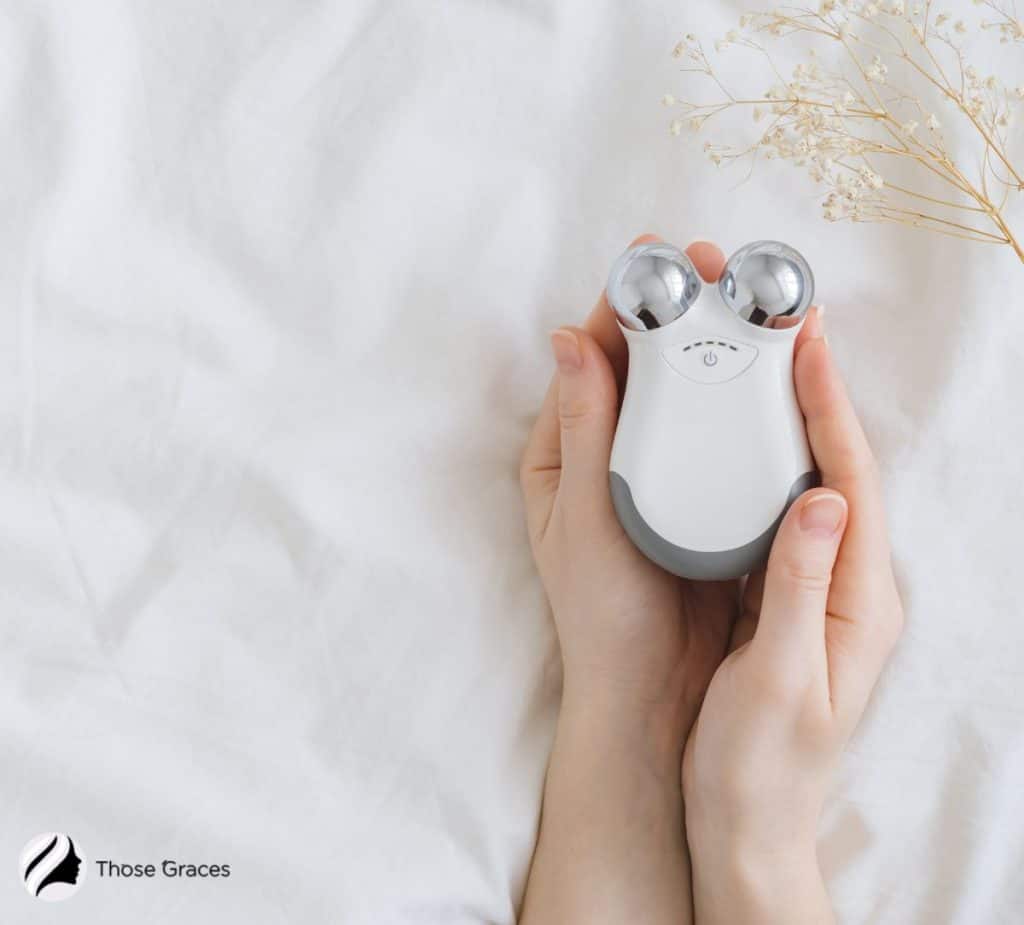 You may also be interested in checking out NuFace gel alternatives to enjoy the benefits of microcurrent without the expensive price tag.
How to Safely Use NuFACE on Your Neck?
So, how to use nuface on the neck? Here is how you can safely use NuFace on your neck:
1. Avoid the Thyroid Region
One of the biggest concerns of using a microcurrent tool on the neck is its effect on the thyroid gland. (4)
When tampered with, it can have several effects such as body swelling, changes in the skin and hair, and weight gain. It even leads to infertility.
But you can avoid the region altogether to enjoy the skin care treatment without side effects. The thyroid gland is located in the middle part of the neck.
Use the microcurrent tool on your neck while avoiding the middle region completely.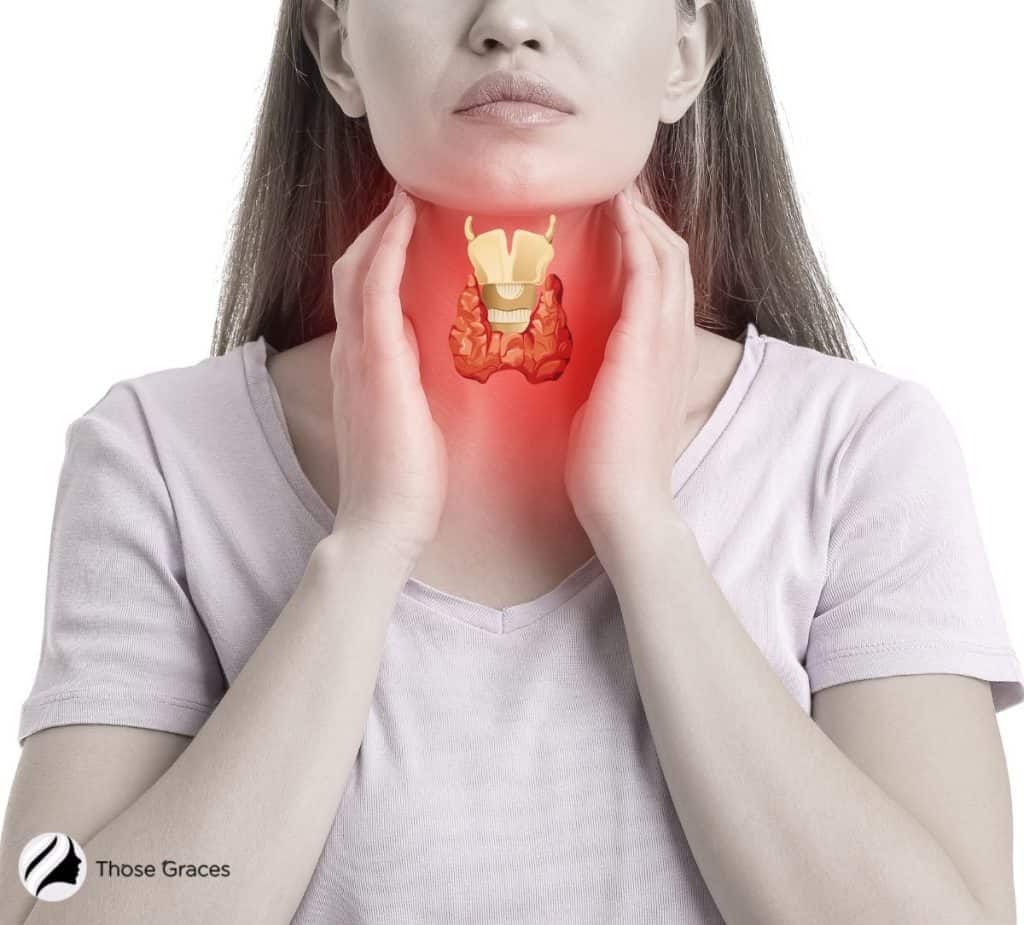 This will assure you don't tamper with the thyroid gland. Here are some NuFace before and after pictures that show the efficacy of electrical muscle stimulation.
2. Use a Sideways and Upward Motion
Start by holding the Nuface microcurrent device along your collarbone and gently moving it sideways for a sculpted look.
Second, hold the NuFace Trinity or NuFace Mini on the lower part of the neck and work your way up slowly. Bring it up to your lower chin for sculpting.
Here is a detailed video on how to use the Nuface trinity on your neck.
3. Do Not Overuse
You only need to go over your neck skin 2-3 times with the NuFace trinity. Hold the device on your skin until you hear the automated beep and let go.
Going over the skin more times than necessary will only cause problems.
FAQs
Does NuFace help sagging jowls?
Yes. NuFace Trinity uses electrical current to tighten facial muscles and provides noticeable differences to overall skin texture including jowls.
Not really. NuFace uses low-level currents and can be used seven days weekly if needed. But it is safer to use it for a couple of days per week.
Can NuFace cause heart palpitations?
Yes. It is best not to use electrical muscle stimulation around the chest area.
Is microcurrent better than Botox?
Yes. Microcurrent skincare device reduces the appearance of lines and provides smoother skin without neurotoxins injected into the skin.
Conclusion
I hope that answers your question, "Does NuFace work on the neck?" I have been using NuFace trinity for some time and have noticed the most significant differences in my smile lines and neck area.
Of course, you won't get it right away. It's like hitting the gym. You need to be consistent with the microcurrent device to notice big changes.
Remember, anything worth doing is going to take time. Stay beautiful, lovelies.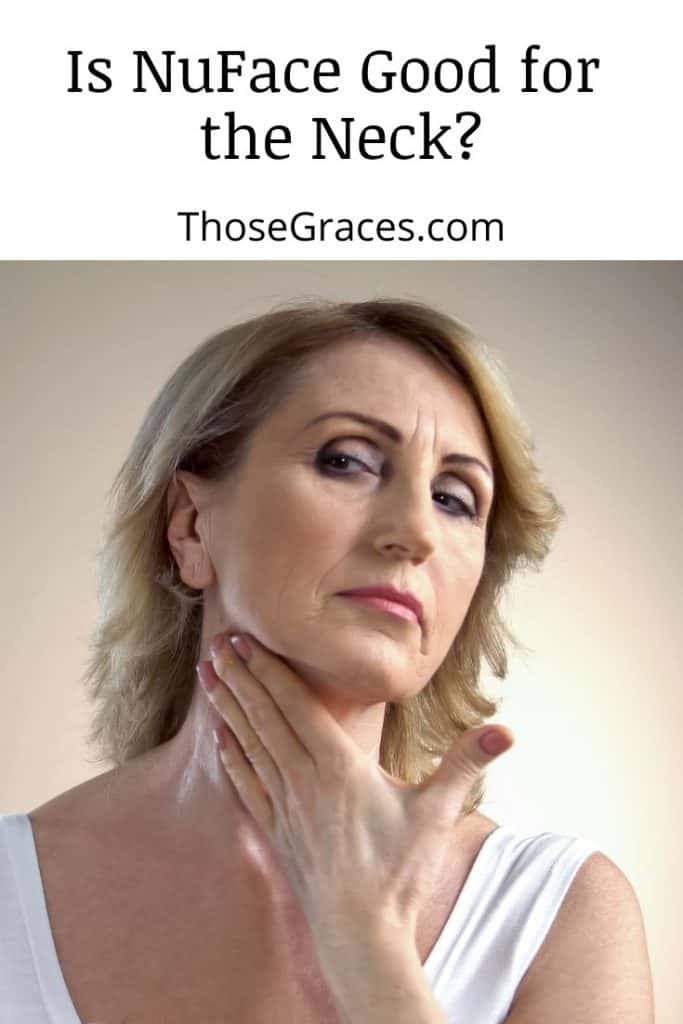 Resources
1. Saniee F. The effect of microcurrents on facial wrinkles. Researchgate. Published September 2012. https://www.researchgate.net/publication/323852520_The_effect_of_microcurrents_on_facial_wrinkles
2. Microcurrent Facial: How It Works, Professional vs. At-Home, Costs & More. Healthline. Published June 26, 2019. Accessed September 18, 2022. https://www.healthline.com/health/beauty-skin-care/microcurrent-facial#how-does-it-work
3. Beynon ME, Pinneri K. An Overview of the Thyroid Gland and Thyroid-Related Deaths for the Forensic Pathologist. Academic Forensic Pathology. 2016;6(2):217-236. doi:10.23907/2016.024