In the battle of NuFACE Fix vs Mini, which one do you think would win?
Why ask a rhetorical question when you can actually go to lengths and discover who is the clear winner? So, that's what I did.
Read on as I elaborate on NuFACE Mini vs Fix for your microcurrent skincare routine. Also, check out the best microcurrent device for face while you're at it.
Key Takeaways
Both NuFACE fix and mini utilize microcurrent technology.
Compact devices for facial treatments.
Regular microcurrent attachment without anything extra.
NuFACE Mini facial devices are more powerful than the Fix.
Provide skin benefits such as muscle tightening and collagen production.
What Is NuFACE Fix & How Does It Work?
The NuFACE Fix is a revolutionary wrinkle reducer that can be used for a quick 3-minute treatment. These beauty devices utilize microcurrent technology to target wrinkles around eyes (1).
Microcurrent skincare devices work incredibly well for facial stimulation and elastin production. Here are some before and after NuFACE pictures in case you want proof!
Zain Husain, a board-certified dermatologist says, "The microcurrent stimulates energy production to drive the creation of collagen and elastin in the skin." (2)
So How Does NuFACE Fix Work Exactly?
Like NuFACE Trinity and NuFACE Mini, this facial toning device utilizes low-level electrical current. It aids in facial stimulation and works as a wrinkle reducer.
It Is a Targeted Wrinkle Reducer
The NuFACE gathers microcurrent technology in a portable size and works as a wrinkle reducer for the eyes, lips, and forehead.
Beauty On the Go
This NuFACE device can be used twice per day to target facial lines. The portable size allows it to be carried around in your purse for a quick facial lift.
– needs transition
NuFACE Mini
Let's talk about NuFACE Mini now. NuFACE Mini facial devices use light therapy to increase the production of collagen and reduce wrinkles. (3)
NuFACE Mini facial devices are not to be confused with NuFACE Trinity device which comes with interchangeable attachments. Want more details on NuFACE Trinity or Mini? You need only ask!
NuFACE Mini devices target the neck, cheeks, forehead, and jawline to give you a visibly lifted look.
While starting, you must use these facial devices seven days per week for the first 2 months. After that, you can use the device three times a week for maintenance.
– Needs transition
What Is the Difference Between NuFACE Fix and Mini?
Now, let's go over the differences of NuFACE Mini vs NuFACE Fix in detail.
While you're at it, also check out Lumina NRG microcurrent 3-in-1 facial toning device reviews in your spare time.
| | | |
| --- | --- | --- |
| | NuFACE Fix | NuFACE Mini |
| Target | NuFACE Fix targets expression lines and wrinkles around the eyes, forehead, and lips. | NuFACE mini covers a larger surface and targets the neck, cheeks, forehead, and jawline. |
| Usage | Can be used two times per day, seven days per week. | Can be used up to seven days per week but needs only three sessions per week for maintenance. |
| Size | Comes in a compact size and easily fits in the purse. | Is slightly larger than NuFACE fix but also comes in a compact size. |
| Primer | Meant to be used with the FIX Line Smoothing Serum. | Meant to be used with the NuFACE Gel Primer. |
| Price | Costs $159 for the set of the microcurrent device and serum. | Costs $209 for the set of the microcurrent device and gel primer. |
NuFACE Fix Vs Mini: Which One Should I Consider?
Both the NuFACE Fix and the NuFACE Mini are incredible facial devices that pack quite a punch.
But in the NuFACE Fix vs NuFACE Mini battle, NuFACE Mini is the clear winner, and here are some reasons why.
1. Overall Facelift
A dedicated wrinkle reducer is good, but what if you could lift your face completely? That's what the NuFACE mini does and does it really well.
While it doesn't come with additional attachments like the NuFACE Trinity, I have used my mini to target wrinkles around the eyes and do a pretty good job.
You just have to be careful with the device and apply it gently to the targeted areas. Ta-da!
2. Covers a Larger Surface
You could use the NuFACE Fix on your entire face if you wanted to, but wouldn't that take forever? The silver balls on the NuFACE Mini are just the right size for your face.
3. Super Easy to Use
Using it for a mere 5 minutes and running it through the skin for 1-2 beeps is enough to act as an overall facial toner. Also, use the device on your expression lines because it helps reduce wrinkles too.
Here is a detailed video on the differences between NuFACE Trinity, Mini, and Fix that may help you decide which one is the clear winner.
Is NuFACE Fix Stronger Than NuFACE Mini?
No. NuFACE Mini is definitely more powerful than NuFace fix.
NuFACE devices all use microcurrent technology, but, of course, the levels of microcurrent energy differ in each device.
Bursts of energy are measured in microamps and determine the strength of the device. NuFACE Mini utilizes 335 microamps of microcurrent while NuFACE fix only utilizes 200 microamps.
This clearly shows that NuFACE mini is a better investment in the long run.
FAQs
Can You Use the Normal Gel Primer with NuFACE Fix?
Yes. Any gel primer that works with microcurrent devices can be used with NuFACE Fix, NuFACE Trinity, or NuFACE Mini.
Is NuFACE a Mini Facial?
Yes. NuFACE is a portable facial toning device that gives you a microcurrent facial easily.
How Often Should You Use NuFACE Mini?
NuFACE Mini device treatment is safe to use every day but cannot be used two times per day.
Does NuFACE Have Side Effects?
Low-level electrical current has several side effects such as mild headache, sensitivity in the skin, and tingling.
Conclusion
And with that, we conclude the NuFACE Fix vs Mini battle, with the NuFACE mini coming out as the clear winner.
Microcurrent facial treatments work incredibly well on the skin, and their effects can be visibly apparent after using them for a couple of weeks.
Give your skin a few minutes of microcurrent every day, and you will be amazed at the results. I know I was.
See you in the next article.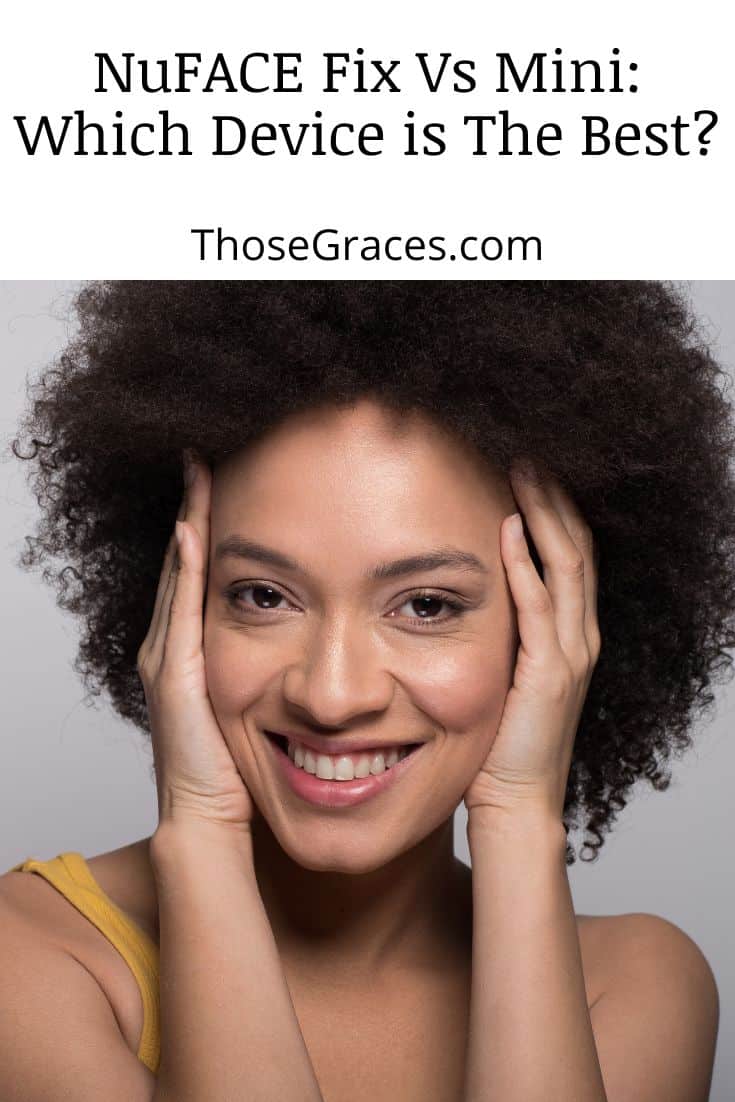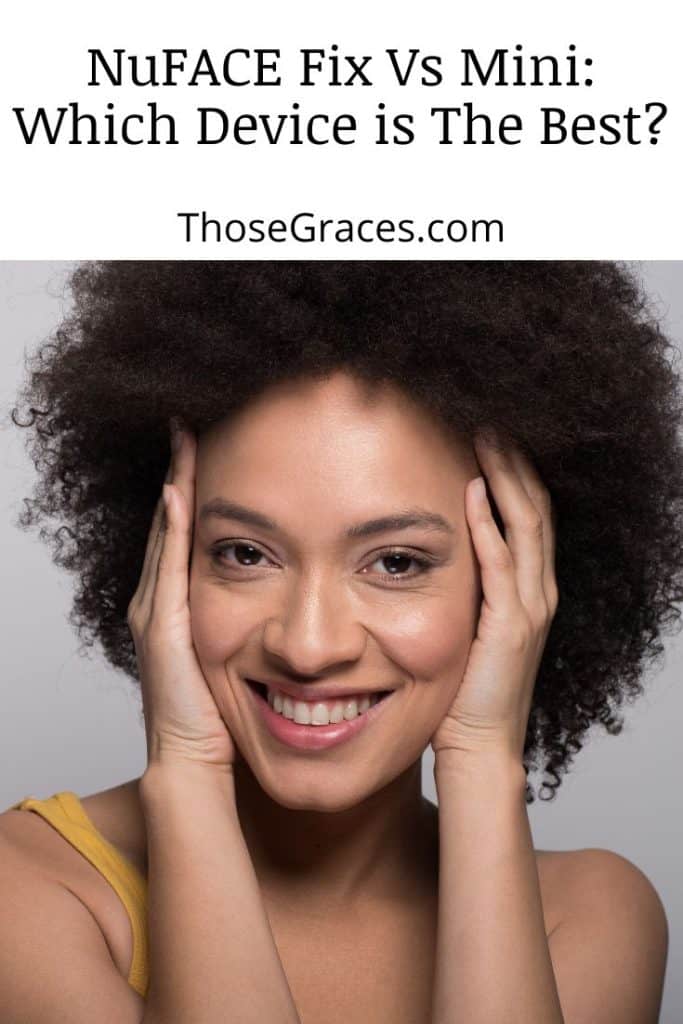 Resources:
1. Yu C, Hu Z-Q, Peng R-Y. Effects and mechanisms of a microcurrent dressing on skin wound healing: a review. Military Medical Research. 2014;1.
2. Bauso A. What's the Deal With At-Home Microcurrent Devices? [Internet]. Allure. Available from: https://www.allure.com/story/at-home-microcurrent-facial-toning-devices
3. Available from: https://www.researchgate.net/publication/323852520_The_effect_of_microcurrents_on_facial_wrinkles