Can't choose between Microderm Glo vs. mini? The release of the Microderm Glo gave people an option to find new at-home microdermabrasion equipment.
After gaining tons of positive customer reviews, the company released the Glo Mini, which kept people asking which one was better.
After an in-depth review of each personal Microderm device, let me share this guide in deciding which one is best for your derma concerns.
This post contains affiliate links. We earn a commission if you make a purchase at no extra cost to you.
Check: The Best Microdermabrasion Tool at Home
What is a Microderm Glo, and How does it Work?
Microdermabrasion is a simple, safe cosmetic technique that involves blowing aluminum oxide crystals or other abrasive substances onto the face, then vacuuming them away with a single handpiece. [1]
Microdermabrasion devices can now be used from home and are a revolutionary new way to get the natural glow in just one session!
The Microderm Glo is a handheld device that does professional microdermabrasion to smooth and polish your face.
This treatment can help improve the appearance of wrinkles, blemishes, dark spots, and scars.
From mature skin with visible pores, your future skin after using the facial treatment machine becomes summer glowy, and you'll achieve the healthiest skin with improved skin texture and clear skin tone.
The personal Microderm tool leaves you with an overall healthier complexion. It can also help to remove dead skin cells and unclog pores.
Here is a review of everything you need to know about Microderm Glo reviews for more information.
Sale
Microderm GLO Diamond Microdermabrasion Machine and Suction Tool - Clinical Micro Dermabrasion Kit for Tone Firm Skin, Advanced Home Facial Treatment System & Exfoliator For Bright Clear Skin
❤️ "THIS SYSTEM HAS TAKEN 10 YEARS OFF MY FACE!" Did you know that over 384,452 happy customers have used our patented Microderm GLO at-home system? Get ready to experience your healthiest skin ever! DERMATOLOGIST RECOMMENDED - LIFETIME WARRANTY
🌟 GET GORGEOUS SKIN WITHOUT PHOTO FILTERS… Do you want to take stunning selfies, without having to use filters to make your skin look perfect? It's never been easier to get model-worthy skin. Just use your Microderm GLO Microdermabrasion Machine once a week to see and feel the diamond difference!
❤️ EXPERIENCE CLINICALLY-PROVEN RESULTS— If you are looking for smaller pores, improved skin radiance, more tone, and softer skin, then you are ready for the beautiful spa results of our Microderm GLO System.
🌟 BE SAFE— GET MICRODERM GLO! Microderm GLO is the only at-home microdermabrasion system that has a patented Diamond Safe 3D suction technology to make sure you don't cut your face! Plus, it's safe and gentle enough for all skin types— including sensitive skin!
❤️ ENJOY OUR "SOFTER SKIN IN 4 MINUTES" GUARANTEE— Did you know you can do a Microderm GLO treatment in 4 minutes to reveal your softest skin? If you're not completely satisfied with your results, we will offer you a full refund. You can click the yellow "Add to Cart" button today with total confidence in your future skin!
What are influencers saying about Microderm Glo?
The 2016 Miss America Betty Maxwell shared on her TikTok that "It is literally my skin's saving grace."
In her review of the product, Beauty vlogger Rose Baby told how much she likes how portable the product is compared to other microdermabrasion tools in the market and the spa device.
Moreover, Instagram's TheDIYBeautyLab [4], one of the happy customers, did a DIY professional treatment while in the car.
She says, "I love this device so much! It pays for itself after only two uses. My skin felt amazing!"
Lastly, fashion stylist and beauty lover Cindy Batchelor also expressed satisfaction, saying, "Over the last week, I have noticed a significant improvement in my skin – it looks healthier!"
ALSO CHECK: Microderm MD vs PMD
What is Microderm Mini, And How Does It Work?
The Mini is the handy version of the Glo, also used as a portable microdermabrasion device.
According to the American Society of Plastic Surgeons, microdermabrasion treatments stimulate collagen production, increase elastin levels and blood flow, and remove dead tissue on the top layer of skin. [2]
Clinical trials show that it promotes skin regeneration on its upper layer to remove the dull layers and reduce pore size.
This beauty gadget is a product for people that will no longer require you for office visits to the beauty salon for your acne scarring, age spots, blackheads, and dead skin cells.
Just follow the guidebook and do spa-quality microdermabrasion wherever you are.
ALSO CHECK: PMD Microdermabrasion vs Trophy Skin
Microderm Glo Mini Features
RECOMMENDED ARTICLE: Microderm Glo vs PMD
1. The Premium Standard Suction Tips
Microderm Mini comes with premium standard interchangeable suction tips depending on the concern. It will help you get that youthful glow through microdermabrasion.
2. Dual Voltage Charging
The Microderm Mini is flexible and can be charged with 100 to 240 voltage charging. It also comes with a USB Charging cable making it handy and accessible.
3. Safe and Effective for All Skin Types
The handheld microdermabrasion machine does gentle exfoliation and can be used by all skin types- normal, oily skin, dry skin, rough skin, and even the most sensitive skin.
4. Four-minute Gorgeous Facial
The product promises to reveal your cleanest skin after the shortest time of a 4-minute Glo Mini Facial Vacuum Pore Cleaner. If you're not satisfied with immediate results, will be offered a full refund!
5. Affordable Price
For the current price, Microderm Glo Mini retails on their website for only $59.99. Compared to the regular spa and clinic facials, the quality product will give you salon-quality results.
How to Use Microderm Glo Mini?
Follow the simple, easy steps through this video.
What are influencers saying about Glo Mini?
Satisfied customers like Knot N' Clay Creations shared that Glo Mini twinned with the facial steamer is "the most amazing skin product on Amazon."
Microderm Glo Mini Diamond Microdermabrasion is her first entry on the "Things You Need on Amazon on her TikTok Series.
Miss Pakistan USA 2018 Moazzma Hunain is also very fond of the product and says, "Microderm mini is a travel-must product. It keeps me looking good in between shoots and travels."
Sale
Microderm GLO MINI Blackhead Remover Pore Vacuum & Facial Tool with Microdermabrasion Add-On Option - #1 Advanced Suction Machine for Face and Nose - Promotes Clean Bright Youthful Glowing Skin
THE #1 SECRET TO HAVING "MAKEUP OPTIONAL" SKIN! Do you want to have skin so healthy, that you don't even need to wear makeup to feel confident? Our Microderm GLO MINI Facial Vacuum Pore Cleaner Tool unlocks the power of your skin's natural radiance and youthful firmness! DERMATOLOGIST RECOMMENDED - LIFETIME WARRANTY
CLINICALLY-PROVEN TO GIVE YOU TOP SPA RESULTS— Did you know our Microderm GLO MINI Facial Vacuum Pore Cleaner Tool is the #1 Dermatologist Recommended machine that is proven to decrease your pores, rebuild your collagen and elastin, and tighten your skin? Join thousands of happy customers that are regaining their youthful glow!
REVEAL YOUR HEALTHIEST, GLOWY SKIN… Are you ready to have beautiful, summer glowy skin— even after just one facial vacuum pore cleaner treatment? Your high-end Microderm GLO MINI has patented Safe3D technology to transform your skin, and promote the growth of vibrant new fresh clean skin!
SAFE & EFFECTIVE FOR ALL SKIN TYPES— If you want professional spa-quality skin results in the comfort of your home, for only a fraction of the price, you will fall in love with your Microderm GLO MINI! It is safe and gentle enough for all skin types- normal, dry, sensitive, combination, oily, and mature skin.
GET GORGEOUS SKIN IN 4 MINUTES— GUARANTEED! Did you know you can do a GLO MINI Facial Vacuum Pore Cleaner treatment in 4 minutes to reveal your cleanest skin? If you're not completely satisfied with your results, we will offer you a full refund. You can click the yellow "Add to Cart" button today with total confidence in your future skin!
What's The Difference Between the Glo and Mini?
Both devices come with a lifetime warranty, with dual voltage charging modes. Here is some information to compare Microderm Glo mini vs Microderm Glo.
| | | |
| --- | --- | --- |
| Features | Microderm Glo | Microderm Glo Mini |
| Design | Palm-sized, waterdrop-shaped, wireless with LED screen | slim, waterdrop-shaped, wireless, one-touch control |
| Suction Modes | automatic, adjustable manual | adjustable manual |
| Suction Tool Levels | 3D suction technology: three suction levels: the highest setting is 22 in/hg | two levels of suction: the low setting is 16 in/hg; high setting is 20 in/hg |
| Diamond Tips | 1 Premium Diamond Head 1 Fine/ Precision Head | 1 Premium Diamond Head 1 Fine/ Precision Head 2 Suction Cups |
| Charging Modes | dual voltage, 100V to 200V | dual voltage, 100V to 200V |
| Product Inclusions | Microderm GLO MINI Machine, Premium Standard & Fine, Blackhead Remover Suction Tips, Filter Replacement Pack (20), Cleaning Brush, Charging Base (Dual Voltage: 100-240V), USB Cable, Portable Carry Pouch, User Manual | Microderm GLO System, Premium Diamond Tips, Fine/Precision Diamond Tip, (20) Replacement Filters, Cleaning Brush, Charging Base, USB Charging Cable, Portable Carry Pouch, User Guide |
| Current Price* | $179.99 | $59.99 |
| Manufacturer Warranty | lifetime warranty | lifetime warranty |
*The current price is referenced from their official website.
Microderm Glo Vs Microderm Mini: Which One To Buy?
Which diamond microdermabrasion machine offers the best result for microdermabrasion facial?
Between Microderm mini vs. Microderm Glo, many offer effective treatments for gorgeous skin.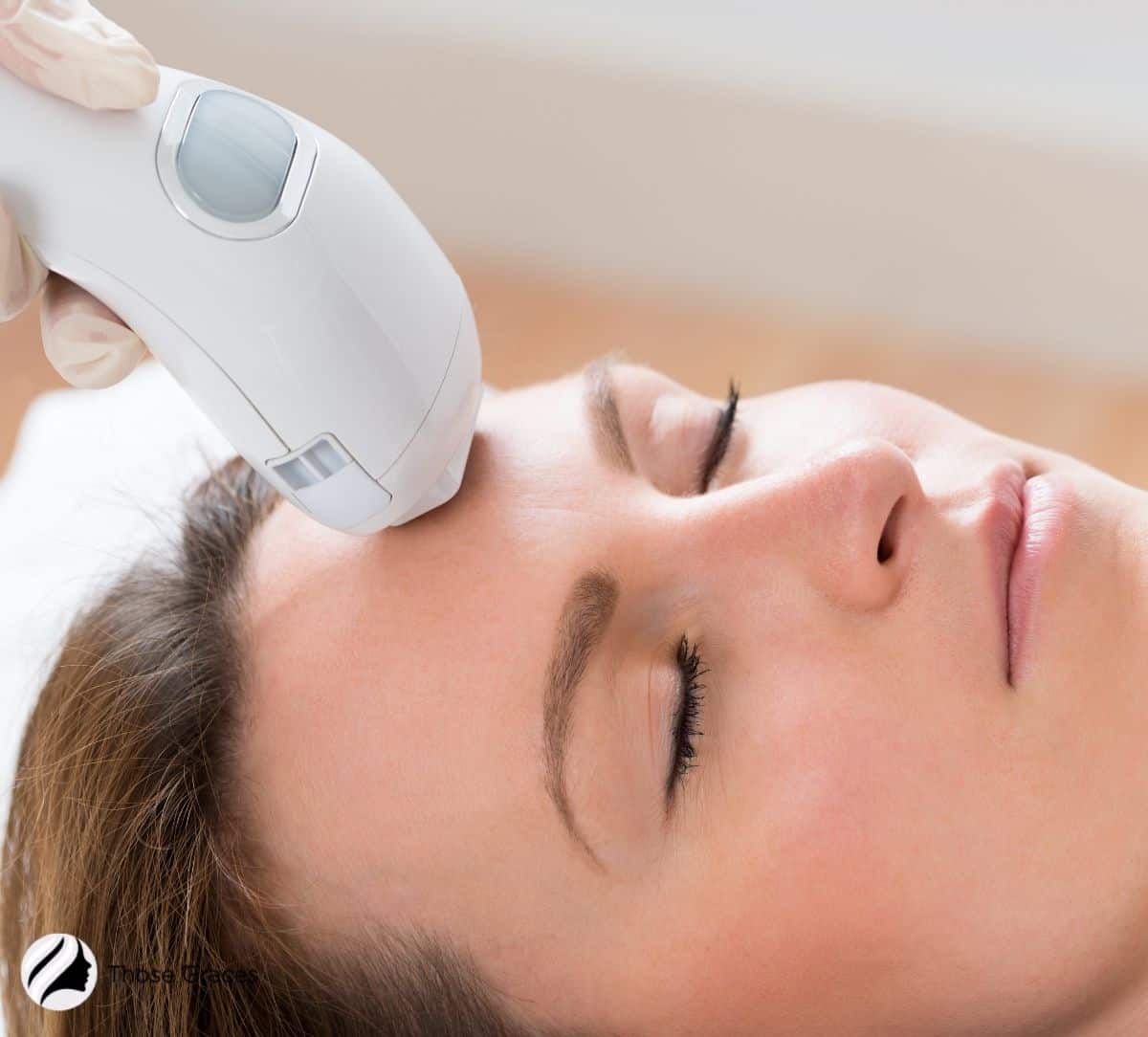 The fantastic tool helps deal with acne scars, sun damage and removes dead cells and skin debris to reveal your model-worthy skin.
For newbies, the Microderm Glo would be a good option because it has Auto Mode, where the LED Display does instructive treatment guidance and a time indicator.
The LED screen also shows the status of the battery charge. The up and down arrow buttons can alter the suction levels.
In addition, there is a Manual Mode where you can undertake longer treatments. For the Mini, the suction levels of this device can be modified by simply pressing the power button again.
Microdermabrasion [3] Glo has three settings, making it suitable for beginners, medium intensity, and high-intensity users. The suction power on the highest setting (Level 3) is 22 in/hg for deeper layers.
The Mini has two settings guided by a light indicator (red and blue light) for simple operation. The high setting is for the more experienced and high-intensity users.
The downside of the Mini treatment is that it is not guided through auto mode for beginners.
When it comes to suction intensity, the Microderm Glo's maximum suction power is 22in/hg, which means more deep skin exfoliation compared to the Mini with 20 in/hg.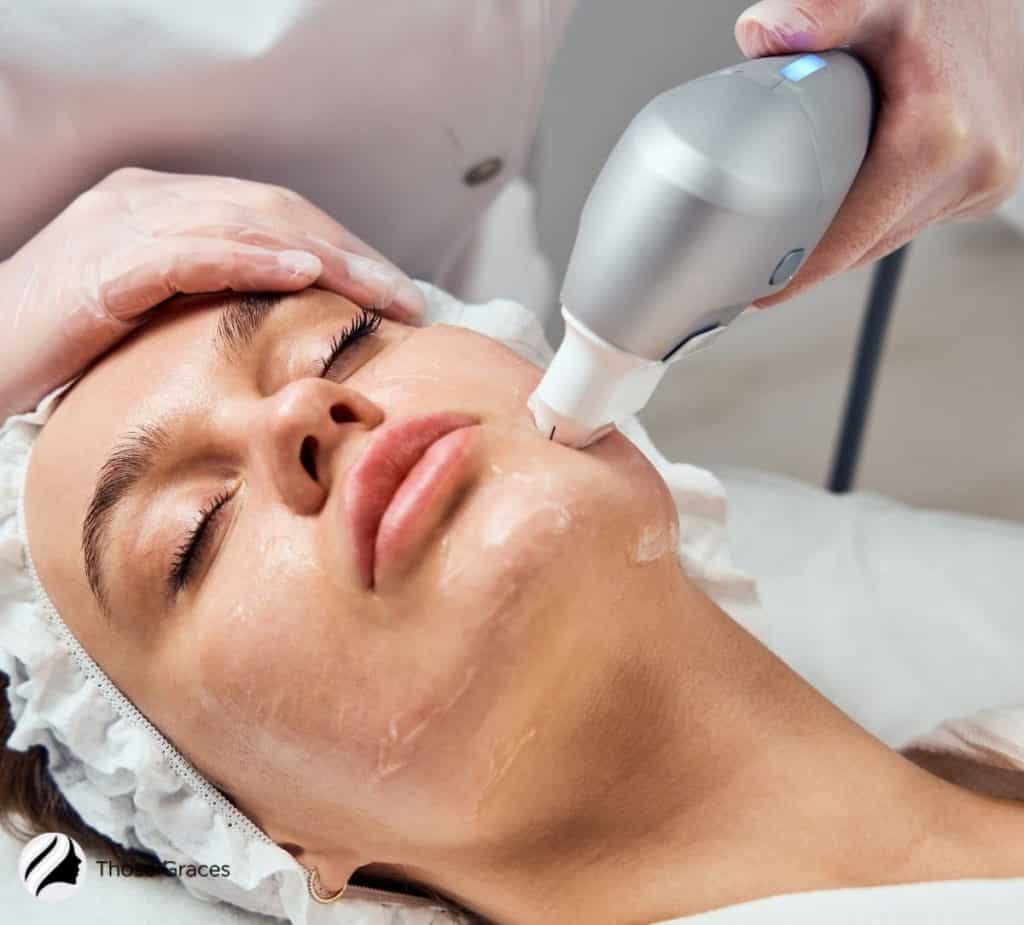 The Glo Mini system offers a compact, water-drop form that promotes mobility, ergonomic comfort, and intuitive one-touch operation.
If you are someone on the go and want something handy, portable, and ergonomic, go for the Mini. If you prefer a guided facial treatment and a deeper exfoliator at home, go for Glo.
For the price, a Premium Diamond Tip, a Fine/Precision Diamond Tip, and two Suction Tips are included with Glo Mini. With Glo, two Premium Diamond Tips are included with the device.
FAQs
Is Microderm Glo safe?
Yes! Both of the Microderm Glo products are gentle with all types of skin.
Reviewers with skin type sensitive or not shared that the skin exfoliator worked for them despite their skin sensitivity.
Does Microderm Glo work?
Yes! Based on Amazon Customer Reviews gave the Microderm Glo premium skin care products a star rating of 4.4 stars.
A high customer rating testifies how much a Microderm GLO Diamond microdermabrasion Machine helps them achieve healthy skin, brighter skin, and improved skin elasticity.
Conclusion
Between Microderm Glo vs. mini, the answer depends on your preference. Whatever you pick, both will give you professional spa-quality skin results.
Go get that softest skin, glowy skin, with natural radiance!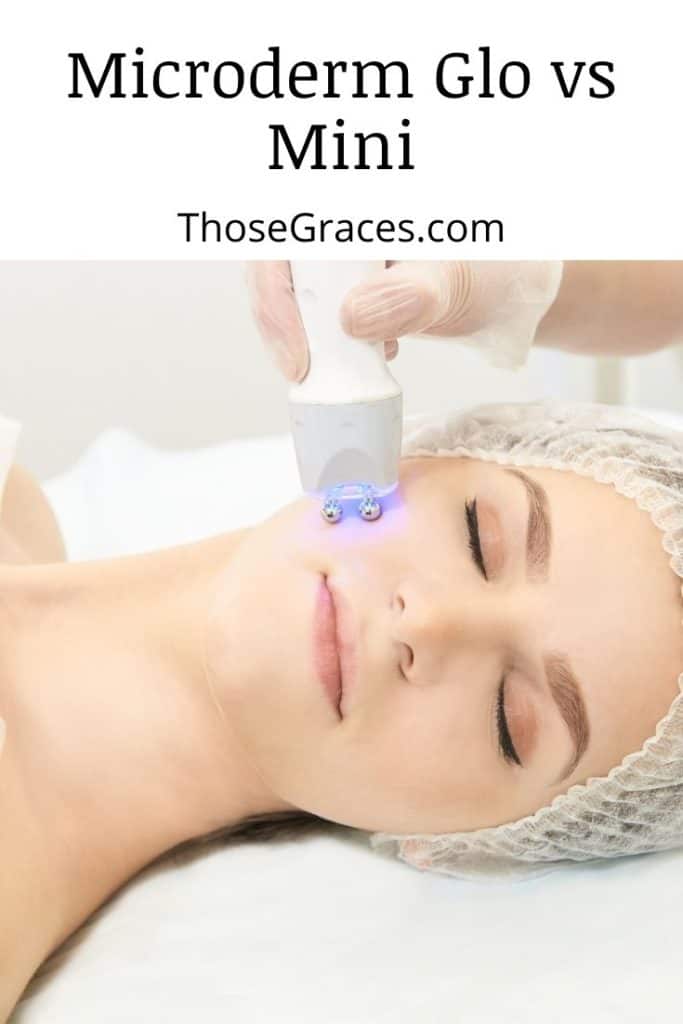 Resources:
1. Spencer JM. Microdermabrasion. American Journal of Clinical Dermatology. 2005;6(2):89-92. doi:10.2165/00128071-200506020-00003
2. Karimipour DJ, Karimipour G, Orringer JS. Microdermabrasion: An Evidence-Based Review. Plastic and Reconstructive Surgery. 2010;125(1):372-377. doi:10.1097/PRS.0b013e3181c2a583
3. Lupo MP. Chapter 14 – Skin Rejuvenation Using Microdermabrasion. ScienceDirect. Published January 1, 2009. Accessed March 30, 2022. https://www.sciencedirect.com/science/article/pii/B9780815515722500191#
4. Login • Instagram. www.instagram.com. Accessed March 30, 2022. https://instagram.com/thediybeautylab?utm_medium=copy_link