If you're looking for the best Korean exfoliators for radiant skin, stick around!
I have oily skin, so for me establishing an exfoliating routine was life-changing.
Besides the long-term skin benefits of exfoliation, I also love that fresh feel after removing the many makeup layers on my skin.
It's like removing that waist-trainer or bra after a long day of wearing it ?.
Anyway, start with a quick look at my favorites below, then keep reading for in-depth reviews.
Don't forget to also check our best Korean beauty box review!
Korean Exfoliator Top Picks at a Glance
If you see the value in these products and choose to purchase via my referral links, I may earn a small commission at no extra cost to you.
See all our picks side-by-side on the comparison table:
Top Benefit
It helps in reducing acne on bumpy skin
It leaves you with a brighter skin
The gel deals with stubborn acne scars
It can be used to moisturize all your body parts
5 Best Korean Exfoliators
They're so many exfoliators on the market, so I chose the most popular ones, and then tried at least 10 of them and narrowed my list to the best 5.
Now that you know how I selected the best K beauty products, let's get started.
No products found.
I know everyone who has used this product has the same story; they were all looking for a cheaper alternative to Tatcha Rice Enzyme Powder. But that's not my case.
I was just looking for an exfoliator that my boyfriend could also use after shaving to reduce the luggage and create more space for my beauty products for a holiday.
That was a while ago, and it worked pretty well for me. But since I know companies change all the time, I tried it one more time for this review – to ensure my review was up to date.
Here is what you need to know about the product.
Features
SRB contains very many skin-friendly products, and that's why it gives amazing results.
The advanced formula has at least 50 types of nutrients, enzymes, and antioxidants, all derived from rice gems and rice bran.
So, why not just use the traditional rice water instead of buying the product? Because SRB contains 10 times the rice extract found in traditional rice water.
Besides the rice extract, the exfoliator is infused with pollen extracts and grape seed to ensure your skin gets enough doses of vitamin B, carotenoids, phytic and lycopene.
Another great feature of SRB is that it doesn't contain preservatives such as artificial colors, glycerin, parabens, PH regulators, etc.
| Benefits | Drawbacks |
| --- | --- |
| It soothes your skin. SRB has a high percentage of rice water, and the latter has amazing anti-inflammatory properties. | Some people feel the bottle is too small for the price. However, I think it's a fair price given the number of ingredients in the product. |
| It exfoliates the skin well creating a good base for applying makeup or simply leaves you feeling fresh after removing makeup. | Packaging is a bit wasteful, it's only really about 50% full. |
| Applying the exfoliator before and after shaving eases the skin. | It may take a little longer to see results compared to other rice products. |
| It keeps your skin smooth and reduces the appearance of large pores leaving your skin healthy. | |
| It's hypoallergenic, so it doesn't trigger any allergic reactions, even for people with sensitive skin. | |
No products found.
How it Compares to Others and Why
There are two ways in which the SRP exfoliator sets itself apart from other products. For starters, it's hypoallergenic, so it doesn't trigger acne, which is always my greatest worry when trying out a new product.
Secondly, it has a high percentage of rice water, which comes with multiple benefits.
Expert Tips
I recommend this product for sensitive skin because it is hypoallergenic, so it doesn't trigger any allergic reactions.
Be patient with the results, and keep applying it regularly even if you don't see results immediately.
No products found.
I tried this Korean exfoliator at least a year ago, and I think it deserves a spot on this list.
If you've read my reviews, you know there is always a story behind all the products I use.
For RadicalClear, I didn't try it to exfoliate my skin and feel good, I had read reviews that it helps in clearing the skin, and I was desperately in search of a product to help clear my acne.
Anyway, let's get to the important factors of the powder wash.
Features
One of the greatest features of this product is its unique water-activated formula that helps in balancing the skin's pH levels.
The powder also has great ingredients such as papaya enzymes that help clean the skin without causing any tension or tightening.
Additionally, the enzyme also helps in getting rid of dead skin cells and dull skin; improving the skin's tone.
My forehead is always dull compared to other parts of my face, and I noticed some improvement when using the product.
RadicaClear Enzyme powder also has a natural protector that helps in controlling sebum or retaining skin moisture.
Another great ingredient of the product is Bromelain, which helps to soothe the skin and reduce skin irritation.
| Benefits | Drawbacks |
| --- | --- |
| It helps in exfoliating the skin by getting rid of dead skin cells | I wish it had a nicer scent. It smells like plain old soap. |
| It helps in reducing acne on bumpy skin, leaving your skin smooth | Some think that it has a bit of a gritty feel (I didn't notice that, though). |
| It keeps the skin moisturized, which is great for those with dry skin | Not a quick fix. Takes time to notice results. |
| It's safe for all skin types because it's hypoallergenic | |
| It helps in balancing the skin's pH, which helps in keeping the skin healthy | |
How it Compares to Others and Why
The most impressive thing about this product is it's hypoallergenic, and it's suitable for any skin tone.
So far, they've not been any complaints of acne or any other allergic reaction from using the product.
Expert Tips
This is a great Korean exfoliator for people looking for something mild. If this is your first time shopping for an exfoliator, start with this one as you learn your skin type.
Enzyme Powder Wash, Scrub And Face Wash, Enzyme Cleaner Peeling, Peels For Face, Korean Exfoliator, Brightens Dermatologist Tested, (1.76 O.z) Radicalclear By DR. ORACLE
UNIQUE WATER ACTIVATED FORMULA: [FEATURES] Rebalance skin's pH levels with the innovative formula, designed by the best Korean dermatological expertise. RADICALCLEAR Enzyme Powder Wash is a hypoallergenic micro cleansing powder, perfect for all occasions and skin types. Leave your skin bright and flawless with the help of this gentle and soft method. Perfect to remove makeup, impurities, dirt, and oil from sensitive skin.
GENTLE AND SOOTHING CARE: The ultra-fine powder made of papaya enzymes naturally brightens and clarifies complexion, while gently exfoliating dull, dry skin and dead skin cells, for a gentle effect against skin irritation and troubles. The enzyme cleansing is the perfect solution to sensitive skin, gently cleansing the skin without tightening or tension.
HYPOALLERGENIC FORMULA: [KEY INGREDIENTS] Our Enzyme Powder Wash uses gentle ingredients to take care of the skin and stop irritation. PAPAYA and BROMELAIN naturally soothe the skin, while being the perfect ingredients to control the sebum and moisture levels on the skin. Our product uses CELLULOSE for a moisture and skin texture improvement, and NATURAL PROTECTOR, our innovative Patented ingredient, designed to retain moisture and control sebum.
FAST AND CONVENIENT: [HOW TO USE] Pour a small amount of powder into the palm of your hand, add a few drops of water and rub your hands together to create a foamy lather. Massage it onto your face and rinse with lukewarm water. RADICALCLEAR Enzyme Powder is your solution for a daily cleanse but also for a trip, for example, where you can conveniently pack your product without worries about spills.
Suitable for all skin types. Dermatologist tested
READ MORE: Top 5 Korean Lip Exfoliator
I've used multiple products from Mizon, and it's genuinely one of my favorite Korean skin care companies.
Like other Mizon products, their toner pad has several amazing skin ingredients that keep your skin healthy.
I use the Mizon peeling toner pad when I'm traveling because there is no risk of causing messes.
Here is more information.
Features
Firstly, the toning pads contain sebum, allantoin, and panthenol. These products help in keeping your skin moisturized and hydrated. It also helps in soothing the skin from any kind of irritation.
Secondly, the gentle exfoliator can be used for multiple purposes. It helps in cleansing impurities by getting rid of dead skin cells, before and after applying makeup, and correcting makeup.
Another great ingredient in the pads is Houttuynia Cordata which has great anti-inflammatory properties.
Other powerful skin ingredients in the product include aloe vera leaf, tea tree leaf oil, and white willow bark extract. They all help in soothing and protecting the skin.
| Benefits | Drawbacks |
| --- | --- |
| It contains multiple ingredients that keep the skin smooth, hydrated, and moisturized. | The toners are mostly made for people with dry skin or combination skin types. |
| It has great anti-inflammatory properties that enhance skin elasticity, preventing premature aging. | Expensive for toner pads (but still among the cheapest products on this list). |
| It has multiple skin ingredients that help in keeping the skin healthy such as tea tree oil and aloe vera. | |
| It leaves you with a brighter skin | |
How it Compares to Others and Why
My favorite feature of this product is that it's made for people with dry or combination skin. Most products favor people with dry or oily skin only, so I think this is awesome.
Expert Tips
The pad toners are great when used the right way. I highly suggest checking the instructions on how to use them for best results.
MIZON Pore Fresh Peeling Toner, AHA, BHA, PHA, Peeling Pads, Soothing, Exfoliating, Toning, Pore-Tightening, Toner Pad (60 Pads)
[Exfoliation] One touch to soothe your skin with gentle exfoliation and skin calming with natural ingredients. Double-sided pad for more coverage.
[3 in 1 ] Safe formula for a simpler skincare routine, tones your skin, removes skin impurities, and soothes your skin. AHA + BHA+PHA to say bye to skin wastes and sebum that are deep inside skin pores.
[LoW pH] Excellent for sensitive skin, toner with mild pH formula that cleanses your skin with no irritation. Toner pad that can be used in the daily skincare routine.
Now that I've given you powder and pad exfoliators, I thought I should give you a gel option too.
I know superfood products are a bit pricey compared to other Korean beauty products in the market.
The review of everyone who uses any of their products always starts or ends with, 'It's a little bit pricey, but well, it's worth the price.
In fact, this facial wash is one of their cheapest products.
Anyway, here are more details on the Elemis Superfood facial wash.
Features
The main ingredient in Elemis is black seed oil which is very rich in antioxidants. The oils keep your skin moisturized and hydrated.
It also reduces inflammation and deals with the bacteria in the wounds to fasten the healing process.
Another great ingredient in the facial wash is the organic pumpkin seed oil that is very great for soothing irritated skin. It also helps in healing dry, mature, and damaged skin.
Nettle extract is another ingredient in the facial wash that's worth mentioning. It helps in clearing acne and any skin blemishes.
| Benefits | Drawbacks |
| --- | --- |
| The gel is very lightweight, which makes it easy to apply and comfortable on your skin | It's a bit pricey compared to other products |
| The gel deals with stubborn acne scars | Some issues with fraudulent products from 3rd party sellers* |
| It leaves your skin super smooth and healthy | |
| It has a sweet citrus scent | |
*Always make sure you read not just product reviews, but also seller feedback before purchasing from a 3rd-party on Amazon.
How it Compares to Others and Why
The best thing about Superfood is that they don't hold back on giving quality products to compete with the market price.
This product may be pricey, but it's packed with so many skin benefits. It will leave your skin healthy and clean.
Expert Tips
Although I've not seen any complaints, be sure to do a patch test to ensure you're not allergic to any of the ingredients.
For best results, try to use the facial wash twice a day.
I had never used any G9SKIN products before this vital peeling gel, but I had heard good things about the company.
Did I love the product? Absolutely. Otherwise, it wouldn't be on this list.
Below are more details regarding the vita peeling gel.
Features
It harnesses the power of Alpha/Beta Hydroxy Acids to dissolve dull and dead skin without causing any tension or tightness of the skin.
The gel also contains grapefruit extract that contains vitamin C & E, which are very effective for preserving healthy skin.
Another great feature of the gel is the ability to protect your skin from environmental pollution factors.
Lastly, the peel leaves your skin smoother and very refined.
| Benefits | Drawbacks |
| --- | --- |
| It has excellent exfoliating properties that leave your skin fresh by pulling dirt and any dead skin cells from your skin. | The ingredients and instructions are in Korean, so you have to research more online for details |
| It contains grapefruit extracts that come with multiple skin health benefits. | The scent isn't pleasant |
| It can be used to moisturize all your body parts, including knees and elbows. | |
| It gives you radiant skin by getting rid of all acne scars | |
How it Compares to Others and Why
It harnesses the power of AHA and BHA that is great at pulling impurities from the skin.
Their complex formula also protects your skin from environmental pollution, which could potentially result to acne.
Expert Tips
The Vita peeling gel can be used for all skin types. However, it calls for patience because it has to peel out the outer layer of the skin first. After this, the product is absorbed well, and that's when you start noticing the glow.
Note that the gel doesn't do much for skin redness, so if that's what you're looking to solve, check out my other suggestions.
Grapefruit Vita Peeling Gel is also available on Lookfantastic.
Sale
G9skin Grapefruit Vita Peeling Gel, 150 ml
💓A mild peeling gel that can provide gentle exfoliation and deep cleansing efffcts and help achieve smooth, clear and brighter skin.
💓Active ingredients: grapefruit extract, vitamin, AHA and BHA
💓Directions: 1. Apply peeling gel on clean and dry skin. 2. Gently massage your face with peeling gel in circular motions. 3. Rinse clean with lukewarm water.
💓Suitable for all skin type and age, can be used on both face and body skin
💓Volume: 150ml
Frequently Asked Questions Regarding the Korean Exfoliator
Here are the commonly asked questions regarding Korean exfoliators.
What is a really good exfoliator?
A good exfoliator contains ingredients that help pull impurities from your skin, such as lactic acid. It should also be infused with ingredients that help to moisturize and hydrate your skin.
That said, a good exfoliator should also match your skin type. For example, if you have dry skin, you'll need an exfoliator with high hydrating power. Similarly, if you have acne-prone skin, it's safe to use a hypoallergenic exfoliator.
How do you use K-beauty exfoliators?
All Korean exfoliators come with instructions on how to apply them because every product is unique.
For example, if you're using a pad toner, you only need to rub your face gently and wait for the magic to happen.
But when you're using a gel exfoliator, you need to gently rub it on your face, add some water to create a lather, and continue rubbing it in to blend in your skin. And then let it sit for 30 minutes before you wash it off with warm water.
Lastly, if you're using a powdered exfoliator, pour a little of it on your palm and rub it on your face until it dissolves.
How often should you exfoliate your skin?
If you've not exfoliated your skin for a very long time, it's safe to do it every day. This is because it takes time to scrape off the dead skin cells and dull skin before your skin starts to glow.
Whether you continue to exfoliate every day after that depends on your lifestyle. If you're outdoors mostly, chances are your skin is exposed to environmental pollutants. In this case, you may need to exfoliate your skin every day.
However, if you're mostly indoors and rarely apply makeup, exfoliating your skin thrice a week is fine. That said, it depends on the products you're using. Mild exfoliators won't cause any reactions even if you exfoliate daily. But aggressive exfoliators may start causing skin reactions.
If you notice your skin turning red, developing acne or irritation, chances are you're over-exfoliating, and it's time to slow down.
Final Thoughts
Skin exfoliation is a big part of every healthy skincare routine. It helps get rid of the dead cells, dull skin, makeup residues, and every other debris.
It's important to ensure you choose the right products to avoid any skin reactions in the process.
I love K-beauty exfoliators because they work for me despite having very sensitive and oily skin.
I hope you got a great product from my best Korean exfoliator list. Which one do you think fits your skin type best and why?
Our Recommendation
No products found.
References
Beautiful-with-Brains-163928370294152. 2020. "Bromelain Benefits: What Does It Do for Skin?" Beautiful with Brains. January 27, 2020. https://www.beautifulwithbrains.com/bromelain/.
"Houttuynia Cordata Skin Benefits." n.d. Skin Library. Accessed June 9, 2021. https://skinlibrary.co.uk/blogs/librarian-edits/houttuynia-cordata.
"Rice Water for Skin: Uses, Benefits and Efficacy." n.d. Healthline. https://www.healthline.com/health/rice-water-for-skin.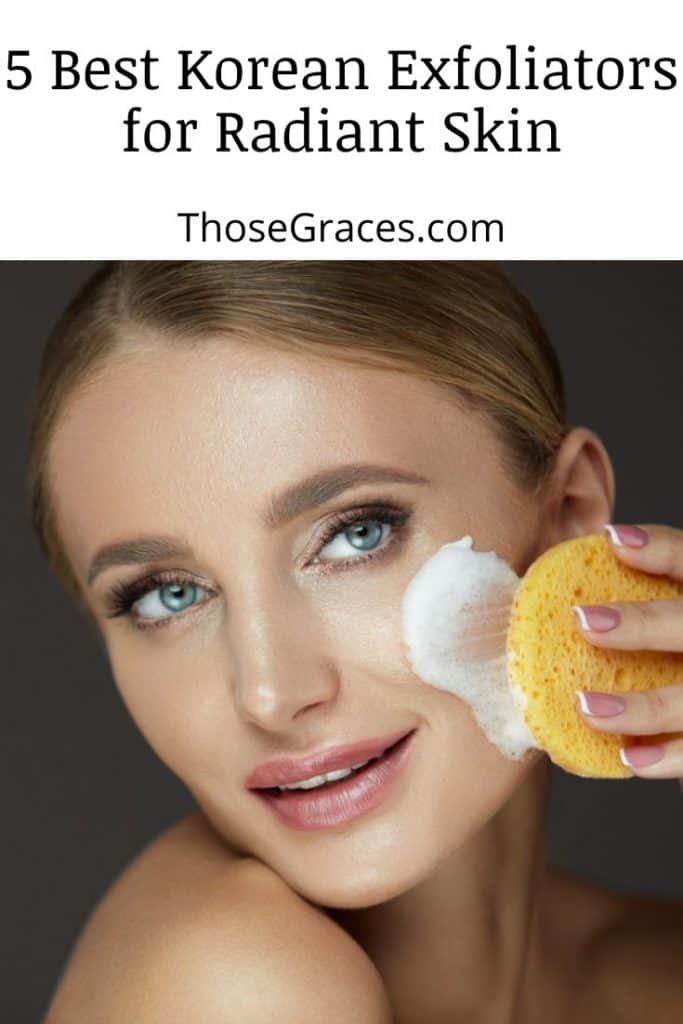 Which is your favorite Korean exfoliator? Have you tried using one? Let us know below!