K-beauty subscription boxes are a fantastic way to try out new Korean products every month without busting your budget.
The only problem is that with SO many subscriptions (and new ones popping up every day), it's hard to know where to start.
No worries, though; I did the hard part for you below!
Check out my absolute favorites first, then keep reading for the full list.
READ MORE: Best K-Beauty Products You Can Find In The US
K-Beauty Subscription Boxes Top Picks at a Glance
If you see the value in these products and choose to purchase via my referral links, I may earn a small commission at no extra cost to you.
Check the table below for a side-by-side comparison of our favorites!
Top Benefit
Selection of full-sized and deluxe items
Offers 3 different pouch options
You can customize your box!
Designed to fit all budgets
Top 5 Best K-Beauty Subscription Box with Reviews
A quick note before we dive in. All of these are available on Cratejoy, my favorite place to buy subscription boxes.
Not only can you manage all of your subs in one spot, but they often have coupons for your first box!
Just check for a little light-green box right above the "subscribe now" box on each product page.
The K-Beauty Box offers up an amazing selection of the best South Korean skin products every month. Literally. It actually ships from Korea.
Experts in the industry curate a selection of full-sized and deluxe items, ranging from sheet masks to moisturizers to serums, all from the top Korean beauty brands.
Along with your full-sized items, they also throw in some free samples, tutorials, and other tips to really bring this box to the next level.
The only thing I don't like is that they don't really tell you upfront how many items to expect or the overall value of the products. I buy A LOT of beauty boxes, and that's the first thing I look for.
Still, I really love that these are AUTHENTIC K-beauty products since they're actually coming from Korea (although that means you'll have to wait a bit longer to get it).
Number of products: Varies monthly
The average value of products: Also varies, but always more than the cost of the box.
Subscription type: monthly
Sooni Pouch calls itself the "No. 1 K Beauty Box," and given the overwhelmingly positive reviews, it's easy to see why.
Each box is jam-packed full of deluxe and full-size products from some of the hottest names in K-beauty.
You'll receive everything from makeup to masks to skincare goodies, all curated by their team of experts and designed to work with any skin type.
The only drawback is that there's no English description of the products included, so you'll need to look them up (or use Google translate, which isn't always accurate).
They offer up three different options, including a mini, standard, and mask-only pouch. The standard box gives you the most bang for your buck, though.
Number of products: 10-12 in the standard, 6-8 in the mini
The average value of products: $100+ for the standard, $60+ for the mini
Subscription type: monthly
Face Tory is THE name in Korean sheet masks, so we can't talk K-beauty boxes without mentioning them!
The brand offers up three different sizes for their subscriptions, including one that costs just under $12 a month!
If you want the most variety and greatest bang for your buck, though, go with the K-Glow Box. For just about $30, you'll get "3 full-sized skincare items and 4 premium sheet masks."
The reviews are exceptional, it's one of the few with 5 solid stars that I've seen on CrateJoy (no matter how perfect something is, someone will have a complaint about it usually).
Number of products: 7 (3 full, 4 masks)
The average value of products: Varies, but always more than $30
Subscription type: monthly
Baby Face Diary is another fabulous mask subscription box, with two different options designed to fit all budgets.
Their Mystery Fun box is a great option if you're on a REALLY tight budget and just want to try out a few new Korean sheet masks every month.
You'll get 4 premium masks curated by their team, along with a detailed guide on how to use them, all for under $10.
They also offer a Mystery Wow box with 8 masks for just over $25. As you can see, while that's double the number of products, it's also more than double the price of the Fun box
So personally, I'd stick with the Fun Box.
Number of products: 4 or 8
The average value of products: Varies, but always at least what you pay for them
Subscription type: monthly
Most skincare subscription boxes don't really offer much in the way of customization. They're pretty much "one size fits all," although they do usually try to curate products for all skin types.
PinkSeoul is different, though. While they only offer one box size, you get to customize it a bit.
Before checking out, they ask you about your skin type (normal, oily, dry, or combo) and your "area of focus" (acne, wrinkles, pigmentation, or just having fun/experimenting).
Each curated box includes a minimum of 4 full-sized goodies, 2 masks, and one accessory.
Number of products: 7
The average value of products: $80+
Subscription type: bi-monthly
There are a few other K-beauty subscription boxes on Cratejoy (check them out here), but these are definitely the highest-rated and most versatile overall in my opinion.
Recommendation
It's hard to give a final recommendation because it depends on what you're looking for. Personally, I like PinkSeoul because you get a variety of goodies AND you can customize your box a bit.
That said, if you want just masks, you really can't go wrong with FaceTory!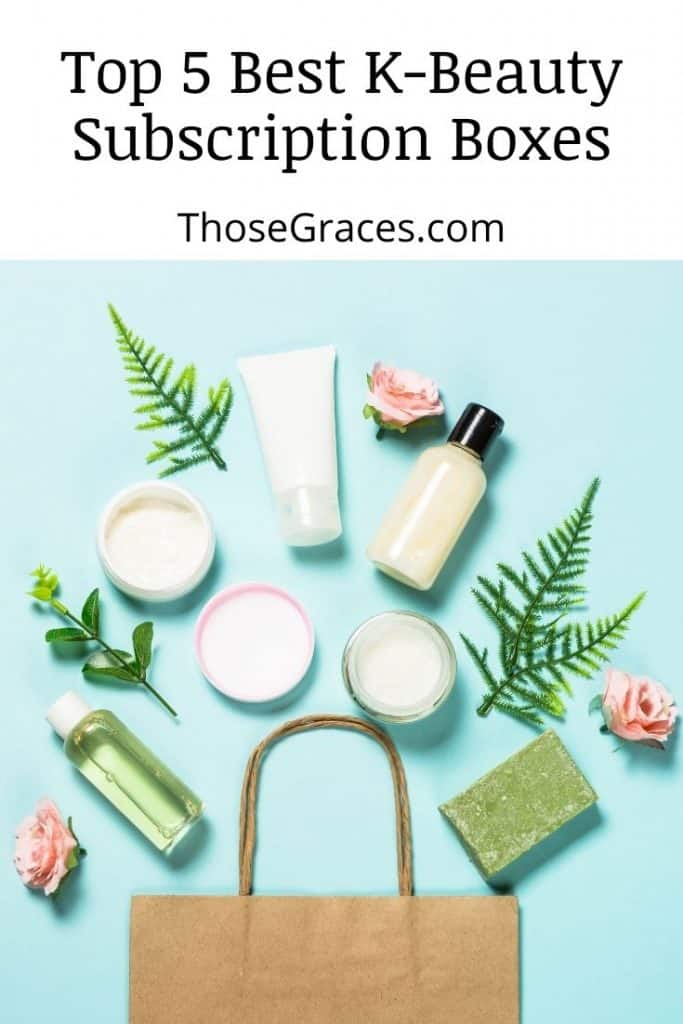 What are your favorite Korean skincare subscription boxes? Share below!