The best Korean ampoule for hyperpigmentation helps fight pesky skin darkening and uneven skin tone.
Hyperpigmentation can be a pain in the *face* and sun damage is a real bummer; I'm not even kidding you! Thanks to these Korean skincare products that target such skin concerns, my skin has never been better.
Don't you worry: in this article, I let you in on all my secrets of getting rid of my hyperpigmentation and keeping it at bay.
Let's start with a quick look at our top picks, then keep reading for all the glorious details.
Best Korean Ampoule for Hyperpigmentation Top Picks at a Glance
If you see the value in these products and choose to purchase via my referral links, I may earn a small commission at no extra cost to you.
Check the table below for a side-by-side comparison of our favorites!
Top Benefit
Works on all skin types and does not aggravate skin sensitivity.
Effective in fading acne scars & dark marks
Formulated without parabens and sulfates.
W/ 19% pure vitamin C to combat pigmentation
5 Best Korean Ampoule for Hyperpigmentation (Review)
Korean skincare products are the best at targeting different forms of hyperpigmentation. But there are so many; you may find yourself wondering where to start.
Thankfully that's what I do: I try out as many products as possible and let you guys know which ones are the best. Think of me as your little human dummy, if you wish.
Whether you're looking for the best Korean ampoule for oily, dry, and acne-prone skin or simply looking to target dark spots and dull skin, you know I got you.
Okay, enough chit-chat. Let's get down to why we're really here, shall we? Here are the top five Korean ampoules for skin that will keep your pigmented skin cells at bay.
Freshly Juiced Vitamin Drop"]
DEAR, KLAIRS make some of the most beloved Korean products, and when you use this brightening ampoule, you'll understand why!
Features
Its topmost active ingredients include Vitamin C that works best on damaged skin from the sun.
The DEAR, KLAIRS Freshly Juiced Vitamin Drop has a fresh drop of 5% pure vitamin C to effectively target skin concerns such as uneven skin texture and pigmentation.
This hypoallergenic vitamin serum with stabilized pure vitamin C works deep in the layers of your skin to treat dull skin tone, dead skin cells, and enlarged pores.
It also contains 5% ascorbic acid that works well on all skin types and skin tones. Even with the potent components in the formula, the ampoule is safe for use every day.
Even if you have sensitive skin prone to get irritated, you may find that the product still works for you.
All ingredients used in the serum are non-comedogenic, meaning your skin will absorb all of the goodness this potent bottle has to offer without having to worry about clogged pores.
Freshly Juiced Vitamin Drop"]
| Benefits | Drawbacks |
| --- | --- |
| Infused with pure vitamin C to transform your skin. | Product tends to change color after some time. |
| Targets acne scars, inflamed skin, and post-inflammatory hyperpigmentation. | Can seem sticky and greasy on certain skin types. |
| Works on all skin types and does not aggravate skin sensitivity. | Just a teensy bit on the pricier side (but worth every penny) |
| Consistent use results in radiant skin that glows from within. | |
| Does not contain synthetic fragrance. | |
| 100% vegan-friendly product. | |
How it compares to other products and why?
Many Korean beauty brands swear by Vitamin C to help their consumers get rid of dark spots and pigments. Not only will this ampoule brightening target pigmentation but will also clear up scars that may have been caused over the years. It also helps prevent blemishes and minimizes the appearance of pores.
[DearKlairs / Wishtrend] Freshly Juiced Vitamin Drop, 5% Hypoallergenic pure vitamin C serum, 35ml, 1.18oz | a potent skin rejuvenator, l ascorbic acid vitamin c serum, antioxidant serum for face, korean skincare
✔️ A daily serum ✔️ - safe and non-irritating to energize and rejuvenate the skin with the power of Vitamin C
✔️ Fresh drop of 5% pure Vitamin C ✔️Concentrated Vitamin C and key ingredients from nature provides plentiful moisture and nutrition for skin.
✔️Multi functional serum ✔️ - helps with irritation, scar, prevent breakouts and minimize pore, Fade brown spots , Protect the skin from pigmentation from occurring.
✔️Containing *non-comedogenic* ingredients ONLY ✔️ - Gentle enough for sensitive skin
Starting from LOT No. NN11 the plastic seal wrap on this product has been removed.* | 35ml, 0.11oz.
A close second on our list and a budget-friendly option is the Jumiso All Day Vitamin Brightening & Balancing serum.
Features
The serum is infused with hyaluronic acid, a cult favorite for those with dry patches to keep their skin hydrated.
The high-concentration ampoule contains vitamin complexes such as A, B, D, E, and K.
It has 86.14% vitamin tree extract that brightens the overall appearance of the skin.
Another favorite component for targeting pigmentation, vitamin C, is also infused in the product.
Other ingredients include Centella Asiatica extract and chamomilla Recutita flower extract.
| Benefits | Drawbacks |
| --- | --- |
| Serum infused with hyaluronic acid for hydrated skin. | May not work for oily or combination skin. |
| Undo environmental damage and helps users get clearer skin. | Formula leaves skin feeling a little oily. |
| Effective in fading acne scars, dark marks, and other types of hyperpigmentation. | |
How it compares to other products and why?
The product helps users say goodbye to their dark patches while making sure their skin remains hydrated and plump.
Expert Tip
It works great on dry skin types but those with oily skin that lacks hydration will also benefit from this ampoule.
JUMISO All Day Vitamin Serum
[Brightening & Balancing] Non-water-based and high concentration serum
contains various vitamin complexes such as A, B, D, E, and K as well as vitamin C and many ingredients that nourish skin, helping skin brightening, soothing, and elasticity care
Instructions: After using toner, in the essence stage, take an appropriate amount and apply it all over the face to absorb.
Precaution: *When the redness or irrigation occurs, stop using and consult your doctor or specialist. *Do not use on the wounded spots *Keep out of reach of children
Main Ingredients: Vitamin Tree Extract, Hyaluronic Acid, Centella Asiatica Extract, Chamomilla Recutita (Matricaria) Flower Extract
Features
The Royal Vita Propolis 33 is power-packed with a high dose of antioxidants and vitamins to brighten and hydrate every layer of skin for an enviable look.
It works on sensitive skin types, too, as the royal jelly extract protects skin from free radicles and creates supple and plump skin.
The product is infused with Niacinamide, a tried and tested component that effectively reduces dark spots, acne scars, and pigmentation from the sun.
Vitamin Tree extract provides omega-7 essential fatty acid to boost elasticity.
Even though it has a honey-like texture, it is easily absorbable and lightweight.
Vitamins C, B3, and B5 help revitalize skin for a glow that will have people talking about you for days.
| Benefits | Drawbacks |
| --- | --- |
| High dose of vitamins and antioxidants to brighten the skin. | Formula is a bit greasy/sticky. |
| Infused with Niacinamide, an ingredient that targets dark spots. | Does not work for oily skin. |
| Vitamin Tree extracts to boost elasticity in the skin. | |
How it compares to other products and why?
This ampoule by Dr. Ceuracle is their best seller, and for a good reason. Packed with antioxidants and vitamins, this serum works as advertised.
Features
Tony Moly Vital Vita 12 Ampoule promises smoother skin with effective ingredients.
The Synergy ampoule is infused with Niacinamide and adenosine.
It also has other ingredients such as turmeric root extract, vitamin C, neem tree extract, and turmeric root extract to keep your skin clean and healthy.
Expert Tip
Tony Moly offers a wide range of ampoules that target dullness or soothe irritated skin and can be layered over one another to fight several skin concerns.
| Benefits | Drawbacks |
| --- | --- |
| Vitamin C serum to target dark spots. | Formula is watery. |
| Infused with Niacinamide, neem tree extract, and turmeric root extract. | Can cause tingling or burning on sensitive skin. |
| Formulated without parabens and sulfates. | |
How it compares to other products and why?
Tony Moly Vital Vita 12 Ampoule is lightweight but does its job impeccably well targeting pesky discoloration and dark spots.
Features
The Mizon Real Vitamin C Ampoule is formulated with 19% pure vitamin C to improve skin radiance and even your skin tone.
The product is enriched with EWG-verified moisturizing agents extracted from fermented corn to help you achieve a dewy complexion.
This ampoule contains zero purified water and consists only of pure vitamin C and moisturizers that are easily absorbed by the skin.
It also has Arbutin, an ingredient used by several Korean products, to fight pigmentation without destroying the effectiveness of pure vitamin C.
Expert Tip
This potent formula may be too much for sensitive skin, but can be used by diluting the ampoule with a cream.
| Benefits | Drawbacks |
| --- | --- |
| 19% pure vitamin C to combat pigmentation. | Can be too harsh on sensitive skin. |
| Enriched with fermented corn extracts for hydration. | Does not spread easily on face. |
| Infused with arbutin for dark patches and spots. | |
How it compares to other products and why?
Thanks to Vitamin C and other ingredients, users experience their skin tone getting better after just a few weeks' use.
Mizon Real Vitamin C Ampoule, Pure Vitamin C 19% No Water Added, Only 10 Ingredients Formula for tone correction treatment, Nutrition and Face Moisturizer
Pure Vitamin C: Unlike most brands in the market, Mizon's Vitamin C is made with 19% Pure Vitamin C and 0% Water. Small particles allow it to stabilized effectively and deliver the active ingredients to the skin.
Excellent absorption: not adding water to the formula allows to effectively control the Vitamin C from being oxidized with water, temperature, or light. Delivers the active ingredients of Vitamin C directly to skin.
Minimalist Formula: Natural moisturizing ingredients, the formula only contains 10 ingredients to moisturize, supply nutrition and provide vitality to the skin.
Safe: Vitamin C Ampoules that contained purified water will change its color drastically after opening. However, Mizon's Vitamin C Ampoule test by manufacturer showed slightly changes when kept in room temperature between 0 to 30 degrees.
Total Skincare: Vitamin C properties great for tone correction treatment, moisturizing, skin elasticity, and antioxidation. Soft texture that can be applied smoothly on the skin without stickiness.
How to Choose the Best Ampoule for Hyperpigmentation
Whether you're looking for the best ampoule for skin brightening or the best Korean anti aging ampoule, Korean beauty products have got your back.
But is every product worth it? Here are some tips to look out for when getting the best ampoule for you.
Get Ampoules for Skin Targeted for Pigmentation
Several products have Vitamin C as their key ingredient to target sun spots and radical damage. Finding one specifically meant for your skin concern will work best.
Steer Clear of Harmful Chemicals
Take a good look at the Korean skincare ingredients list and stay away from harmful ingredients such as parabens and sulfates that do more harm than good.
Look for a Hypoallergenic Formula
The skin is easily aggravated if not given the right products. If you wish to not get any more brown spots, look for a lightweight formula that is hypoallergenic.
FAQs
How do Koreans remove dark spots?
Korean skincare brands swear by products that contain vitamin C to fight dark patches. They also use acidic exfoliators to clarify their skin further.
Why is Korean skin flawless?
The Korean skincare routine consists of 10 steps that focus on one thing: flawless skin! People in Korea invest in their skincare and are taught to care for their skin from a young age.
What is the fastest way to get rid of hyperpigmentation?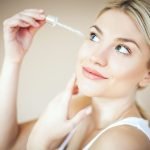 Using serums targeted for pigmentation can take some time to show effects. Other procedures such as chemical peels, microdermabrasion, or laser treatment work faster to remove dark spots.
Conclusion
If only we could have perfect skin without putting in any effort. Thankfully, the only thing Korean products demand of you is your time and consistency.
With their natural ingredients, these ampoules work great on pigmented skin and provide anti-aging benefits too. Goodbye sunspots!
References
"10 Best Korean Products for Brightening Hyperpigmentation." 2021. Go Bloom & Glow. 2021. https://gobloomandglow.com/blogs/glow-mag/10-best-korean-products-for-brightening-hyperpigmentation.
"How to Fade Hyperpigmentation and Get Brighter Skin with Korean Skincare." 2018. Korean Skincare Tips. October 7, 2018. https://koreanskincaretips.com/how-to-fade-hyperpigmentation-using-korean-skincare/.
Nudie Glow. 2020. "5 Best Korean Skin Care Ingredients to Treat Hyperpigmentation." Medium. Medium. June 22, 2020. https://nudieglow.medium.com/5-best-korean-skin-care-ingredients-to-treat-hyperpigmentation-828647d2c2bd.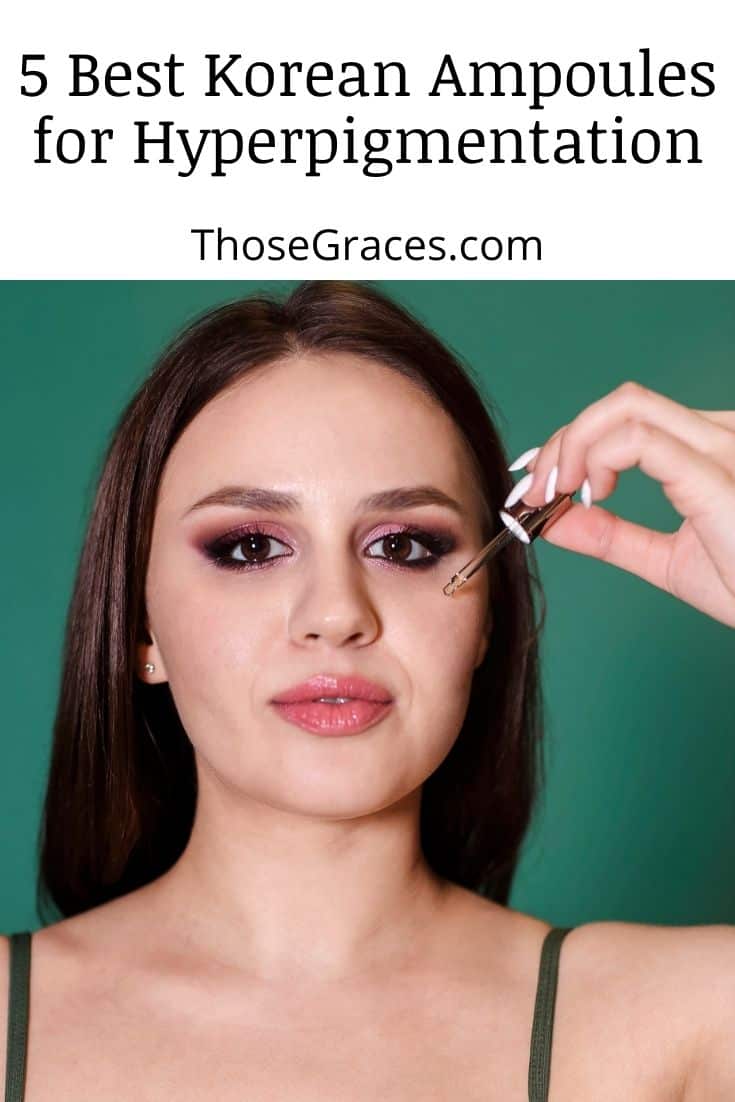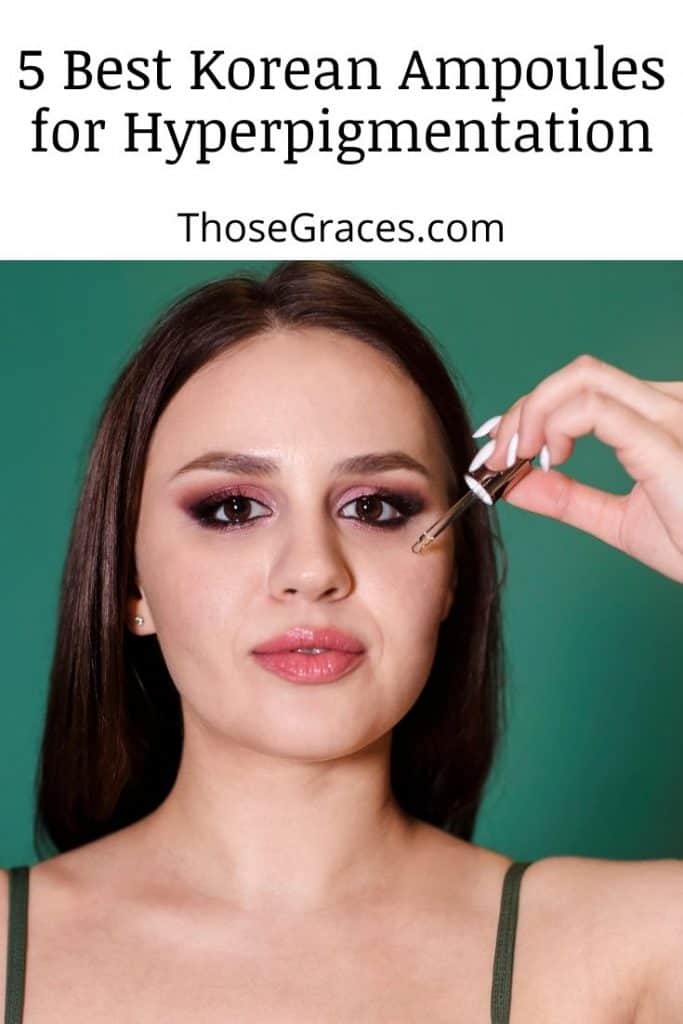 For you, which is the best Korean ampoule for hyperpigmentation? Please share your top pick below!