Thinking of following the Korean skincare routine and wondering, "But what is Korean ampoule?"
Trust me; I've been there too.
The good news is that you get to learn from all of my research!
Keep reading to find out everything you need to know about Korean ampoules and their role K-beauty!
What is Korean Ampoule? Here's What You Need to Know
Before being acquainted with Korean skincare, I had never even heard the word 'ampoule.'
If anyone had asked, I'd probably say something goofy like it's an abundance of poultry or something ridiculous. (Ample poultry, get it? HA!)
But, times have changed, and I can proudly share with you what an ampoule is.
Ampoules Are Supercharged Beauty Products
Our friends in South Korea flaunt radiant skin, free of dark spots and uneven skin tone. Just how do they do that?
With these miracle products, we call ampoules, of course. Here's why they are of the utmost importance in the Korean Skincare regimen.
Ampoules are lightweight fluids with a high amount of active ingredients to effectively target skin concerns such as damaged skin, rough skin, and the appearance of wrinkles.
With a high concentration of its most potent ingredient, the supercharged serum helps users achieve a brighter complexion.
READ MORE: Best Vitamin C Serum Korean
They Are Not the Same as Serums
Even though serums are packed with high amounts of nutrients, they are not the same as ampoules.
Ampoules are more concentrated than serums and are generally formulated with fewer ingredients than those in serums.
Since they are a high-concentration product, a little goes a long way. Only a drop or two is enough to add a layer of hydration and better your dull complexion.
They Cannot Be Used Every Day
But, how to use the ampoule in Korean skincare? Good question. Even though skin ampoules are loaded with anti-aging ingredients, they are not meant to be part of your daily routine.
Aestheticians advise users to use it once in two days. When using, they are meant to go on your skin pre-essence or serum.
How to Choose the Best Korean Ampoule for Your Skin Type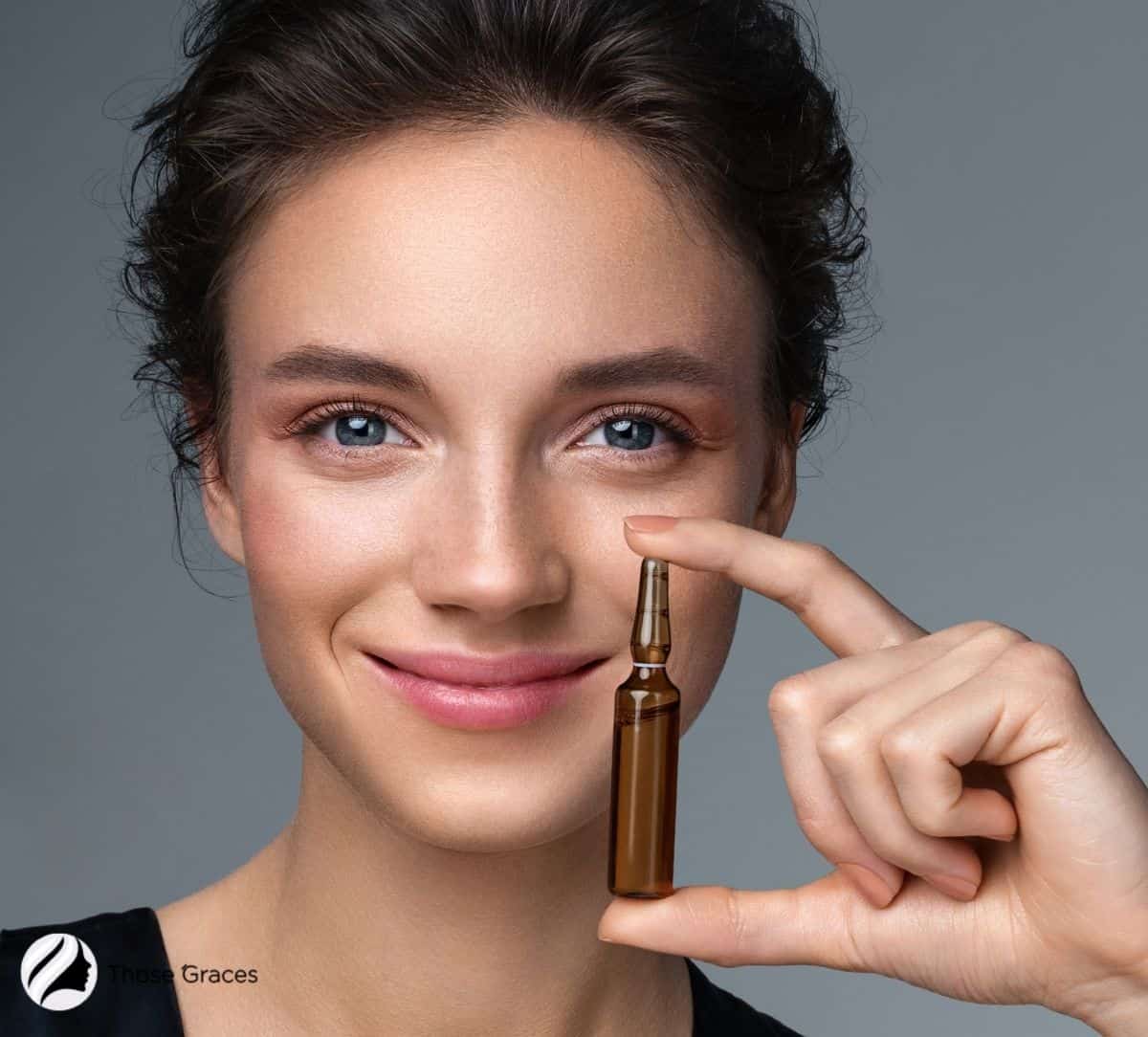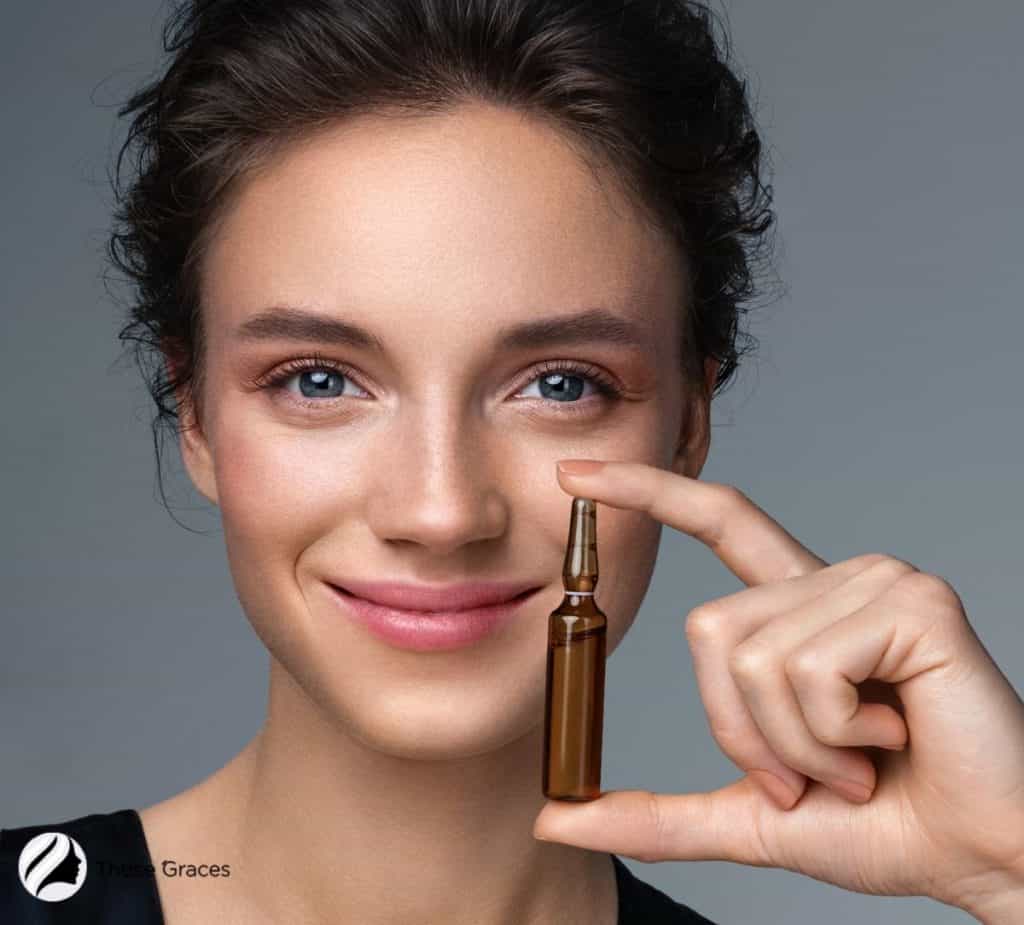 Your search for the Best Ampoules For Oily, Dry, and Acne-Prone Skin is over!
It's easy to find the perfect ampoule for you, thanks to the inclusive Korean Beauty market.
You could also find ampoules based on your skin concerns rather than your skin type; for instance, you may wish to take a look at the best Korean ampoule for hyperpigmentation to reverse skin damage caused by environmental factors.
Most ampoules are packed with good ingredients, but not all of them are okay for your skin type. Here are a few pointers on what to look for in an ampoule:
Dry Skin
Beauties with dry skin possibly need an ampoule with skin moisturizing properties, helping users get better skin health.
Products such as the Mizon Snail Repair Intensive Ampoule are packed with the goodness of snail secretion filtrate, a key player in the Korean skincare formula.
It provides extra hydration for dull skin and promotes skin elasticity.
Other products loaded with hyaluronic acids, such as the Dr. Barbara Sturm Hyaluronic Ampoules, are slightly pricey but completely worth it if you have dehydrated skin.
Oily Skin
Oily skin needs extra love, i.e., ampoules for skin that control sebum production, unclog pores, and possess hydrating properties.
A popular ampule for oily and acne-prone skin is the COSRx Centella Blemish Ampoule that is powered by Centella Asiatica Extract, a beloved ingredient used by Korean products in acne treatments.
If you have troubled skin due to excess oil production, this product should work wonders on your skin.
Sensitive Skin
Skin ampoules made with a hypoallergenic formula are best used by those with skin sensitivity to not aggravate their skin irritation. It is best to steer clear of harmful ingredients such as artificial dyes and fragrances.
One of our favorites is the Tosowoong Propolis Sparkle Ampoule, which is formulated without parabens and consists of 80% propolis extract.
It also contains honey that is loaded with anti-inflammatory and anti-bacterial properties.
Combination Skin
Those with combination skin may benefit from ampoules with high concentrations of vitamin C. Vitamin C is a staple in Korean skincare that has brightening properties.
We love the Vital Vita 12 Ampoule by Tony Moly that is packed with the goodness of Vitamin C and has mild exfoliating properties. It also has Vitamin B12 that fights free radical damage and slows down the aging process.
FAQs
Are ampoules and skin capsules the same?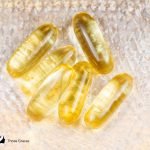 Not necessarily. Skin capsules are tiny doses of a product, just enough to be used at one time. They could be capsules of serums or packed with highly concentrated ingredients such as an ampoule. It depends on what product you get.
Should I use an ampoule every day?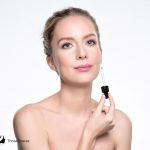 No. Ampoules are supercharged products that need not be a part of your skincare regimen every day. It is best to apply an ampoule sparingly, i.e., once every two days or depending on what your skin type is.
How often should I use ampoule?
It is best to use an ampoule two to three times a week or less if your skin is more sensitive. It should be used before essence, or a serum since products with higher concentrations are absorbed faster by the skin.
Can I use moisturizer after ampoule?
Yes. Aestheticians recommend using a moisturizer after applying an ampoule on the face. This way, the ingredients in the ampoule are absorbed by the skin, and the moisturizer acts as a skin barrier.
Can I use ampoule and serum together?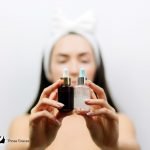 Definitely. Korean skincare routine is all about layering. You could start off with an ampoule and go on to apply essence. Finish strong with a serum of your choice to target your skin concerns.
Korean skincare has come a long way, and we're not complaining.
If anything, we want them to make more and more products that can help us achieve glass skin that pretty much all the K-pop celebs flaunt! I mean, talk about a new standard of beauty!
Ampoules are supercharged, lightweight fluids that reverse environmental damage, target skin issues, and help users achieve radiant-looking skin that is pretty much the dream we have been chasing since day one!
References
Bylka, Wiesława, Paulina Znajdek-Awiżeń, Elżbieta Studzińska-Sroka, and Małgorzata Brzezińska. 2013. "Centella Asiatica in Cosmetology." Advances in Dermatology and Allergology 1: 46–49. https://doi.org/10.5114/pdia.2013.33378.
"NEW & TRENDING." 2021. Lancome. 2021. https://www.lancome-usa.com/beauty-magazine/skincare/what-is-an-ampoule-and-how-to-use-it.html.
Xue, Faith. 2020. "The ONE Skincare Product Every Korean Woman Uses." Byrdie. 2020. https://www.byrdie.com/ampoules.