If you're on the hunt for some fun & funky summer nail designs, I have you covered!
I found you cute ideas inspired by watermelons and strawberries, pastels, adorable anchors, and more!
With a wide range of the designs below like indie nail designs, the hardest part will be choosing which one to try first!
Check them out; then keep reading for tips for success!
Don't forget to also check our nail art boxes review!
Our Top Picks
This post contains affiliate links. We earn a commission if you make a purchase at no extra cost to you.
Check out the table for a quick overview of our favorite nail polishes to use for these designs, then read on for more details!
10 COLORFUL & STYLISH SUMMER NAIL DESIGNS
Summer is all about fun, colors, flowers, and joy. It's all about pretty nails too, and these amazing summer nail art designs totally prove it!
1: Strawberry Polka Nails
Strawberry nails anyone? Add a pop of summer vibes with the bright red nail color. The polka dots make it appear even cuter!
This strawberry nail art definitely screams summer. You can also add stones to make it stand out more.
If you can't draw strawberries, use a sticker. It looks equally beautiful and does the job easier!
For an eye-catching color, this nail polish set is perfect!
READ MORE: Fiberglass Nails vs Acrylic Nails
2: Multi-colored Manicure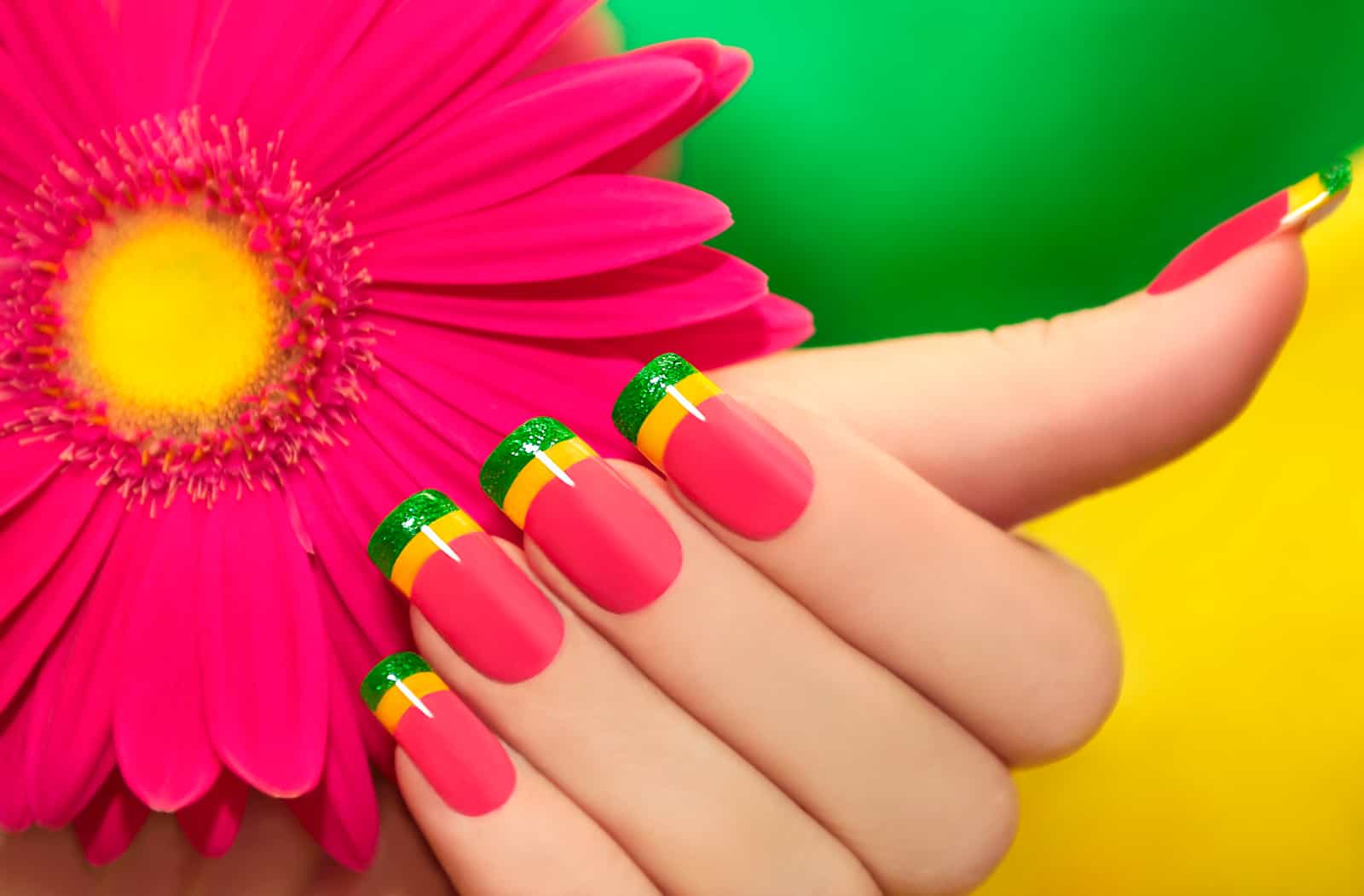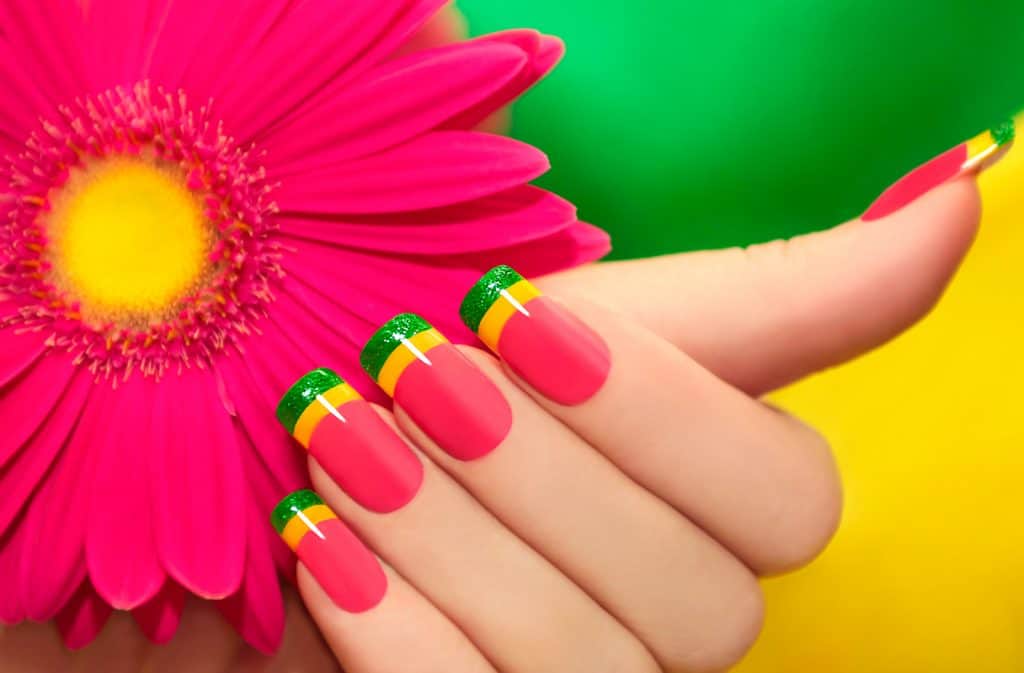 Summer is all about vibrant colors. This flower-inspired nail art is not only easy to do but also quick. You can experiment with different shades!
One can never go wrong with pink and yellow. This multi-color nail is loosely based on the classic French manicure. You can use tape if you mess up creating clear bold lines.
ALSO CHECK: Fall Dip Nail Ideas
3: Watermelon Nail Art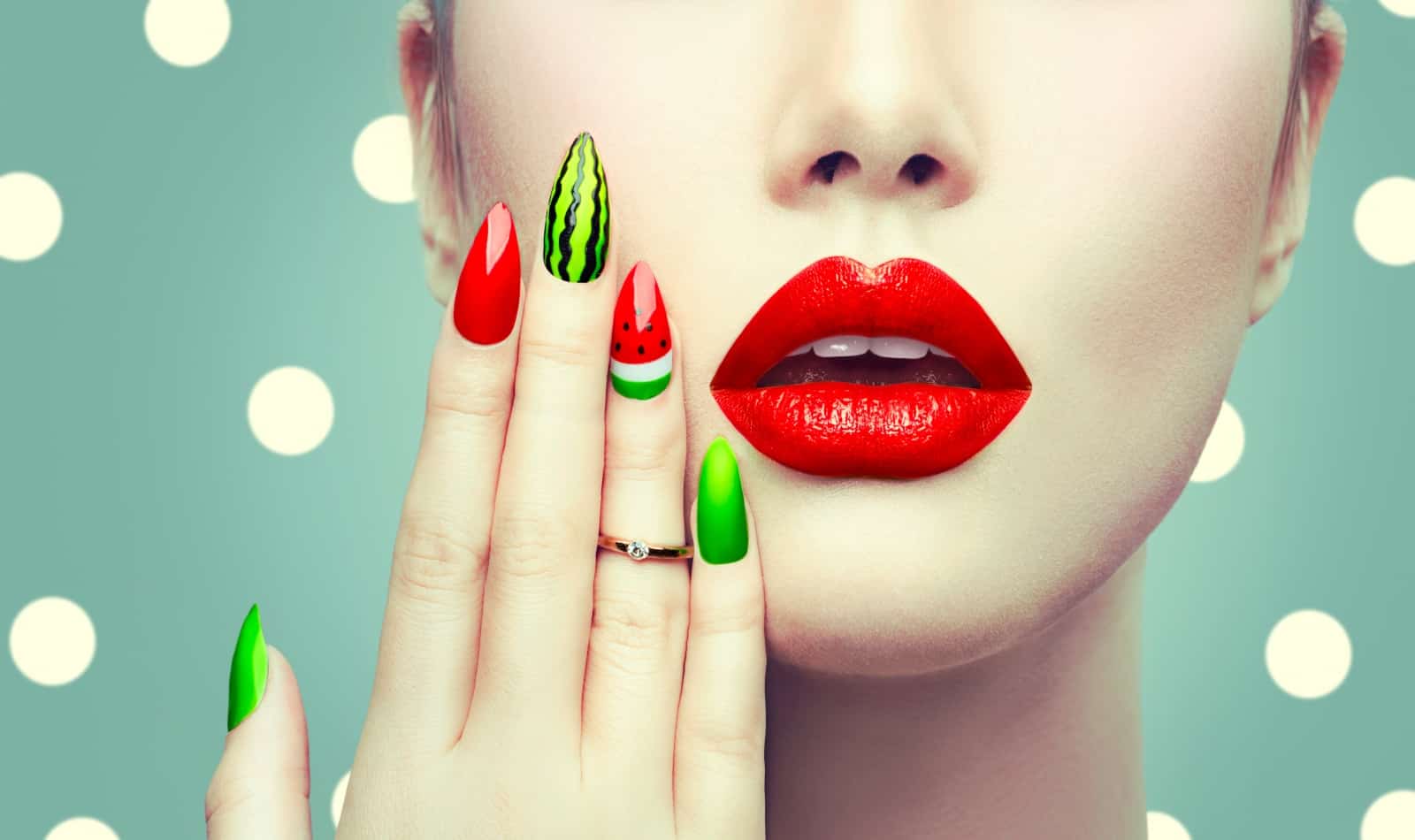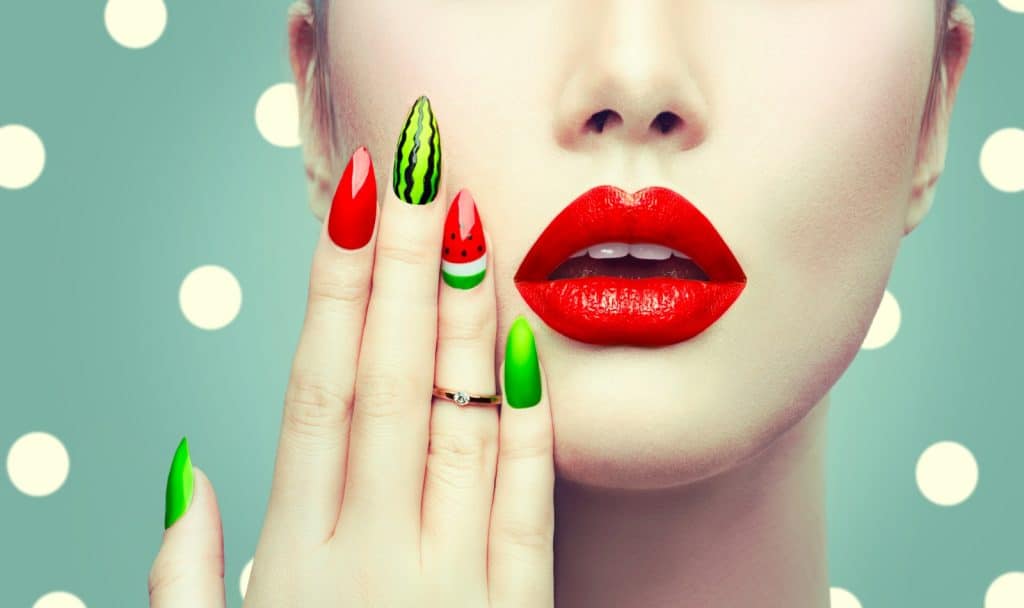 Don't let the complicated-looking nail art deter you! I know it doesn't look it, but it's actually pretty simple to pull off.
All you need is watermelon color nail paints – green, red, and black.
Add some dots with black for the seeds. Play around with green and red. They both will add together to a fun watermelon nail art.
4: Anchor Nail Art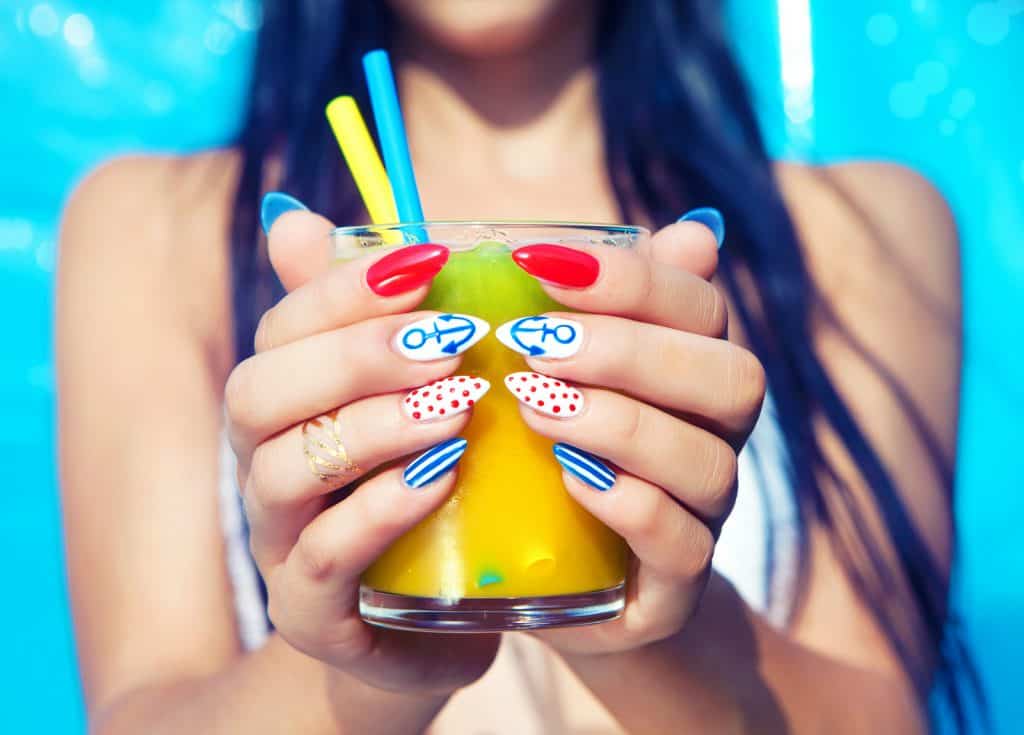 Anchor nail art is a popular summer design. It looks super cute and you can choose from various colors too.
The anchor is fairly easy to draw, making this a great option for beginners. In the end, it's just a line and a curve. You can also add stripes or dots to jazz it up.
5: Pastel Nails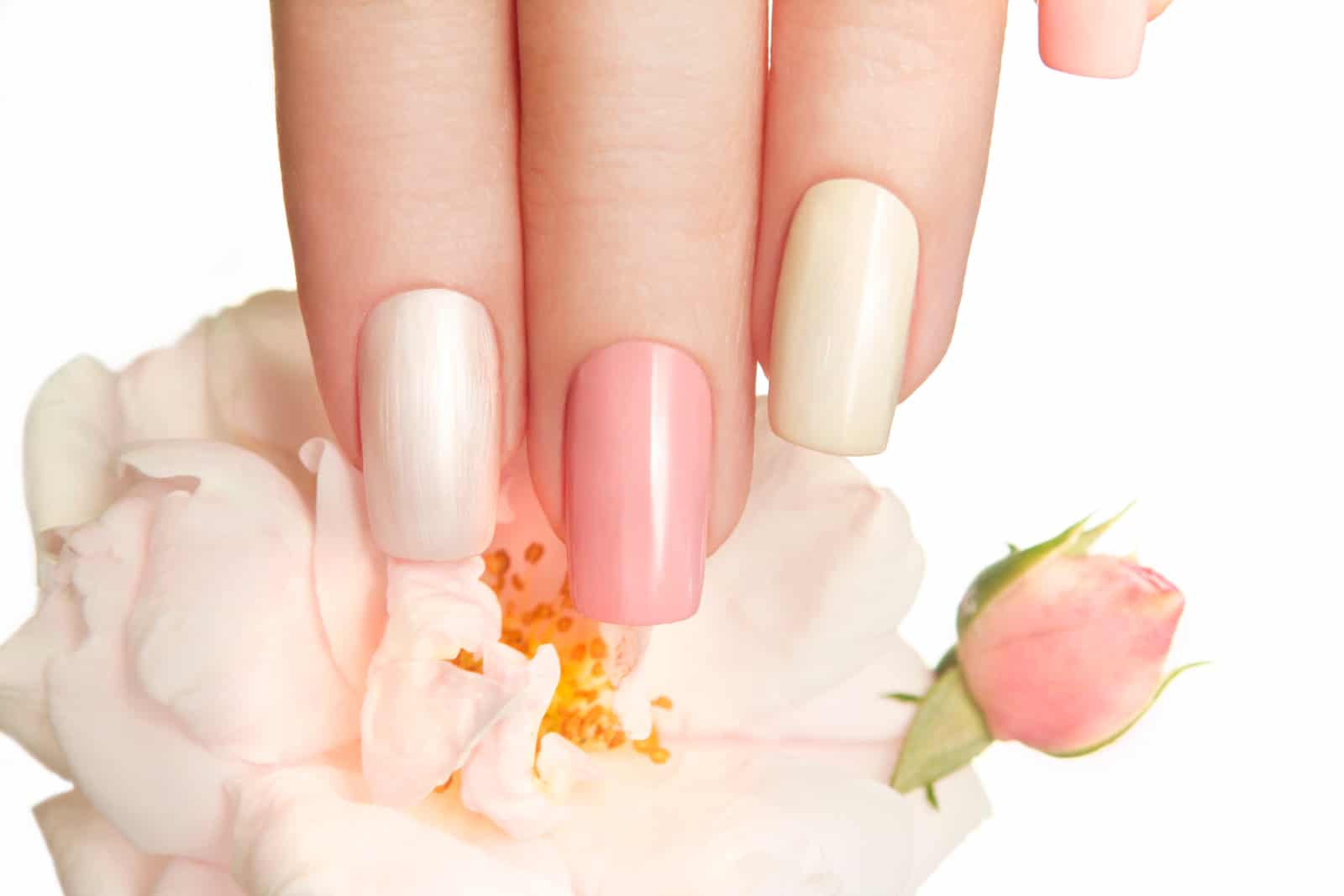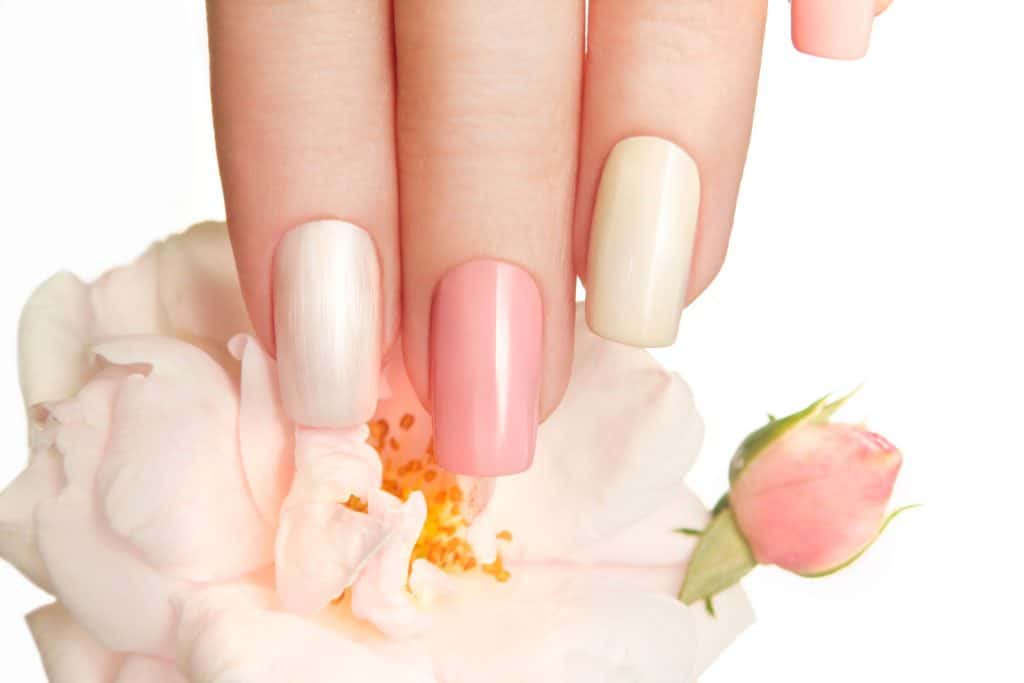 Soft pastel nails for summer are an amazing trend to rock!
You can go for one color across all your nails or switch it up and paint each one a different shade. I personally love this soft purple by Essie!
The choice is yours! Pastel nail art looks classy and delicate yet trendy. They're surely the perfect summer nail design.
Sale
essie Salon-Quality Nail Polish, 8-Free Vegan, Soft Purple, Go Ginza, 0.46 fl oz
Glossy Shine Nail Polish: essies Go Ginza is a soft purple nail polish with a glossy shine finish. Salon quality nail color formula provides flawless coverage and glossy shine.
Even, Professional Application: Our exclusive easy glide brush fits every nail size and allows for quick, streak-free, even and professional application at home. Flawless nail color coverage and durability with every brush stroke.
The Perfect Manicure: Apply 1 coat of any of our base coat polishes on nails, follow with two coats of essie nail polish, and finish with any 1 of our top coat offerings. Follow with essie apricot cuticle oil, a nail care essential.
Iconic and Trendsetting Colors: from the essie collection, which has produced over a thousand nail polish shades and counting. essie nail polish takes from fashion and cultural trends to make manicure possibilities endless.
America's Nail Expert: essie is a leader in nail luxury, committed to high quality standards. Our nail polish has a vegan formula with no animal derived ingredients and no animal testing. essie nail polishes and nail care products make life colorful.
6: Color Stripes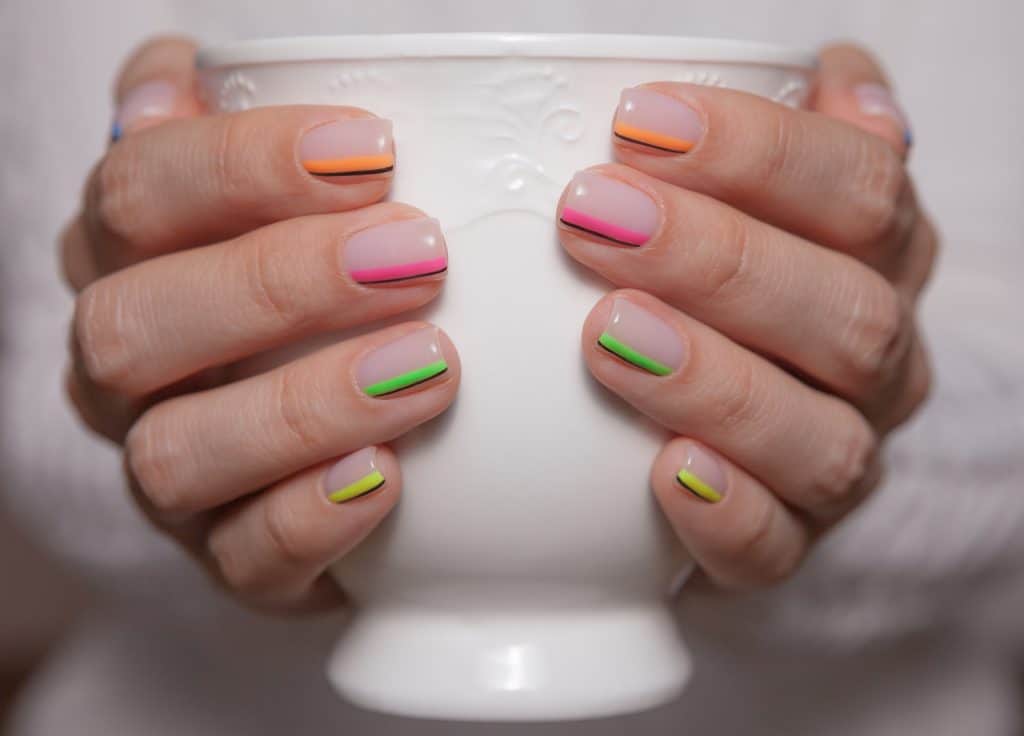 Super cute nail design that's appealing and simple.
Just draw two stripes on the edges of your nail bed. You can also create this same nail art with a colored or white base coat.
For example, go bold with this red shade from OPI, then add green stripes for an "abstract watermelon" vibe.
Or switch the color combination of the stripes, or draw more than two stripes. Whatever you feel like!
READ MORE: Short Gel Nails Ideas
7: Neon Bright Nails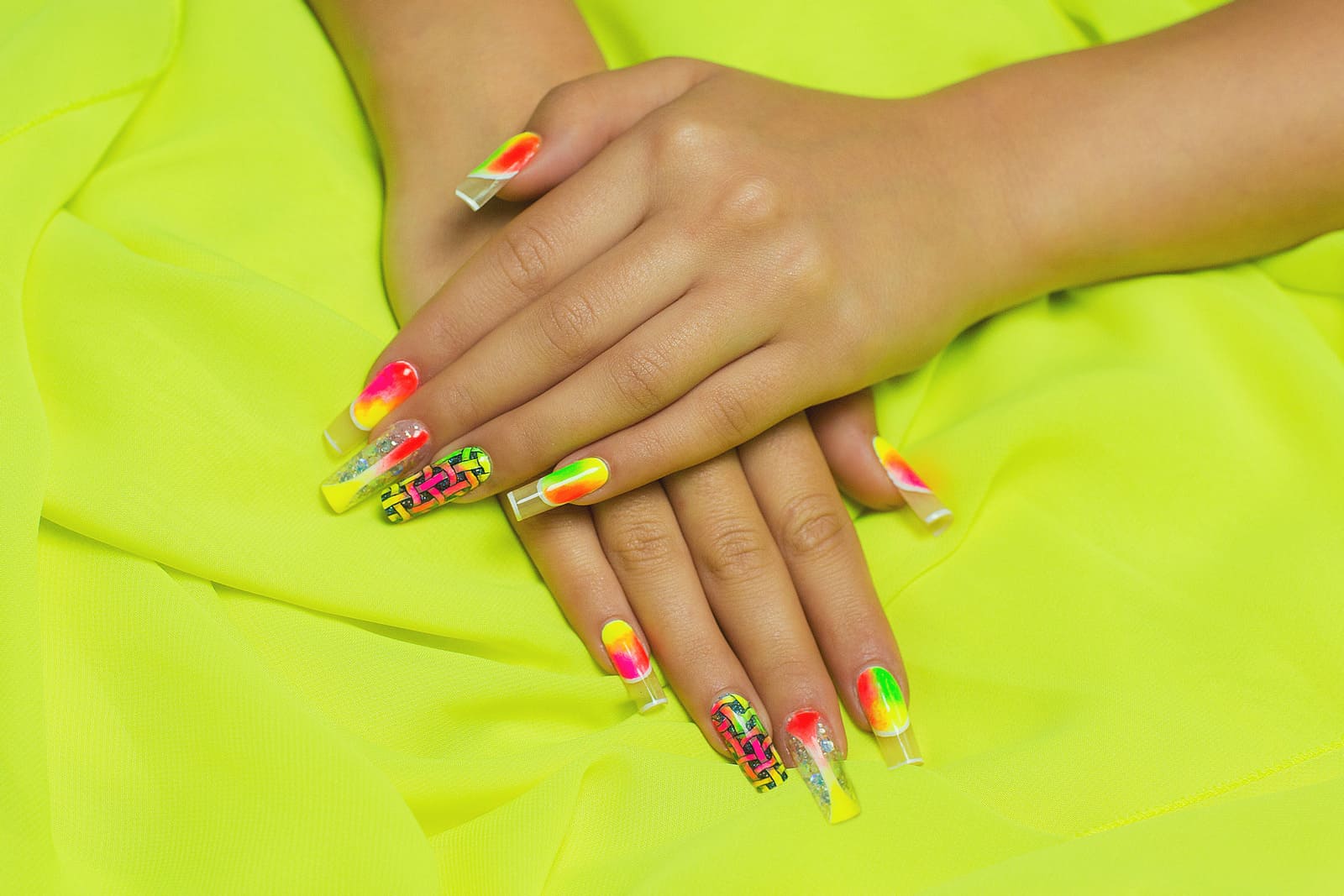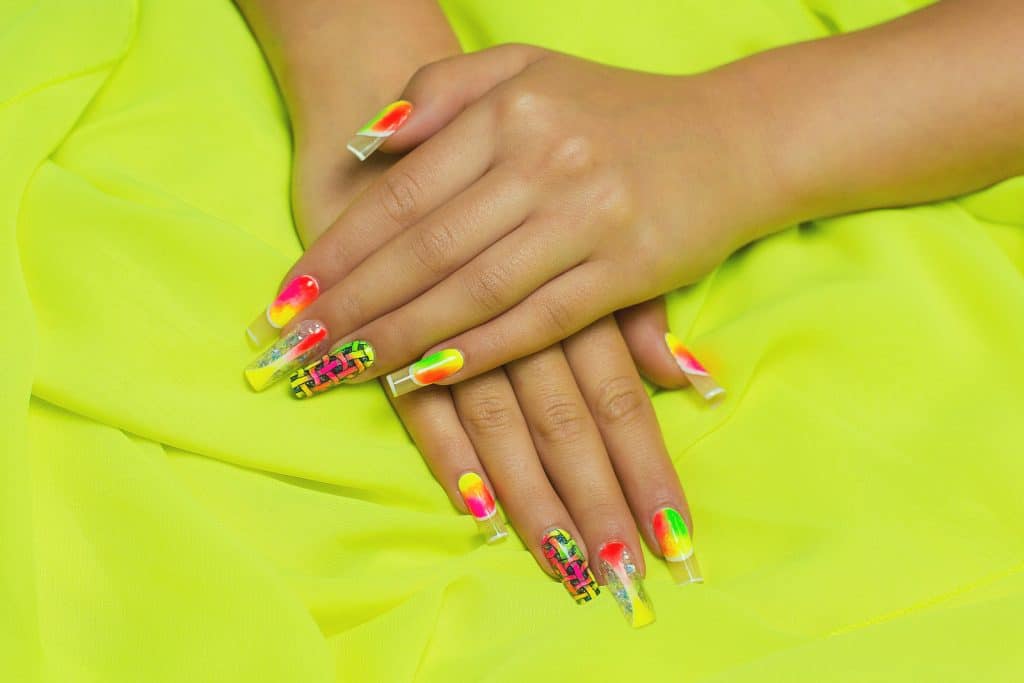 Neon colors look beautiful and popping. Gather all the neon-bright shades, like yellow, pink, and red. You get the picture, basically everything bright and dazzling!
You can also just grab a neon nail polish kit, like this one on Amazon.
Apply the different nail polish onto a sponge. There is no layout or any particular arrangement. Just go with the flow!
Once done, gently press the sponge onto your nail bed. Remove after a few seconds. You can add a white polish as a base coat. This will make the color pop off perfectly.
Clean the edges with a nail paint remover and top it off with a clear coat. You can even add flower stickers or leaves for more summer elements!
Beetles Gel Nail Polish Set - Pool Party Collection 6 Colors Rainbow Turquoise Purple Blue Pink Neon Gel Polish Kit Soak Off UV LED Lamp DIY Home Salon Nail Art Gift for Girls
【New Trend Gel Polish Set】:This is a set of neon bright colors gel nail polish which are ideal for beach or pool party! These popular and trendy nail colors are suitable for all year around.Color Number is: 876-877-878-879-880-881.
【Environmental & Healthy】: The 6pcs pool party series gel polish set are made from 9 Toxin Free Ingredient which makes it safe and has low odor. With good tenacity and highly pigmented, Beetles premium gel material bring you brilliant shine finish, smooth appearance and flawless coverage.
【Easy Application 】:The series of blue purple pink yellow green gel nail polish set need to be cured under LED nail lamp. Average for LED lamp 60-120 secs. ★Kindly note: The matte and glossy top coat are not included in this set which need to order separately.This item is UV gel. It is still sticky after curing. It must be used with a base coat and top coat! This item does not include base&top coat, which needs to be purchased separately.
【Make Fun with Nail Art】:Highly praised and appreciated by the consuming public. Perfect for all daily working or dating, party or ceremony activity,such as birthday, holiday, anniversary, Christmas gift.
【Sincerely Service】: Gorgeous shades of Gel Polish, hassle-free and friendly customer service.As a valued Beetles Beauty customer, we want you to be fully satisfied with your products. Please contact us directly if there are any problems. We guarantee a fast replacement or refund service!
8: Flower Power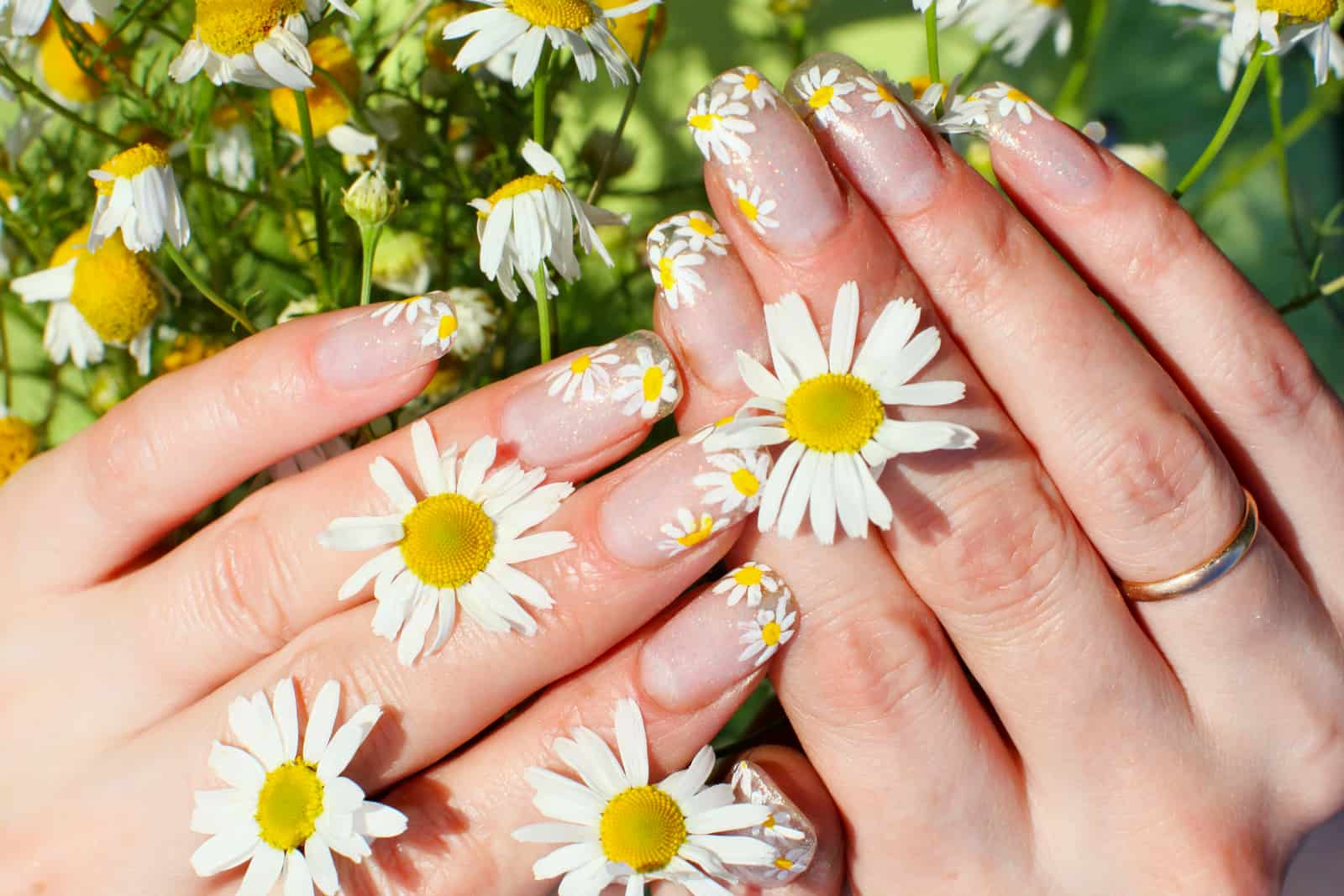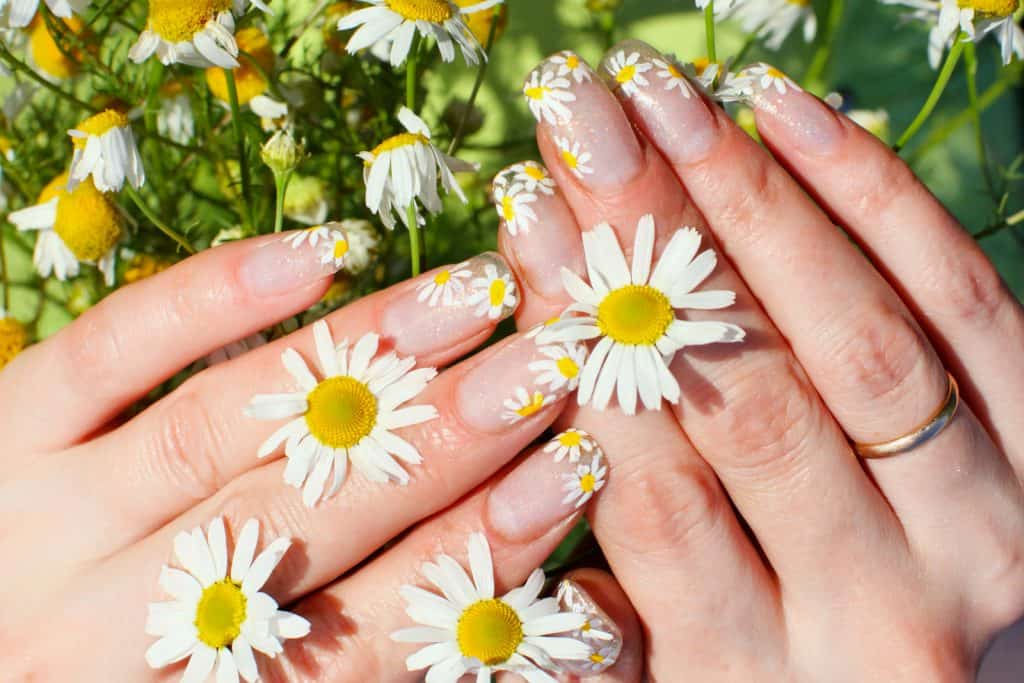 The flower nail art looks pretty and is also easy. You need to create small lines or stripes and a dot at the center. Voila, you're done!
This one is chamomile-inspired flower power nails. So you'll need white and faint yellow-colored nail paints.
Hop on to this nail art trend with whichever your favorite flower is.
I personally love sunflowers. They're so beautiful. So I'll use bright yellow and black polish for the look. Get your creative juices flowing!
9: Classic Colored Summer Nails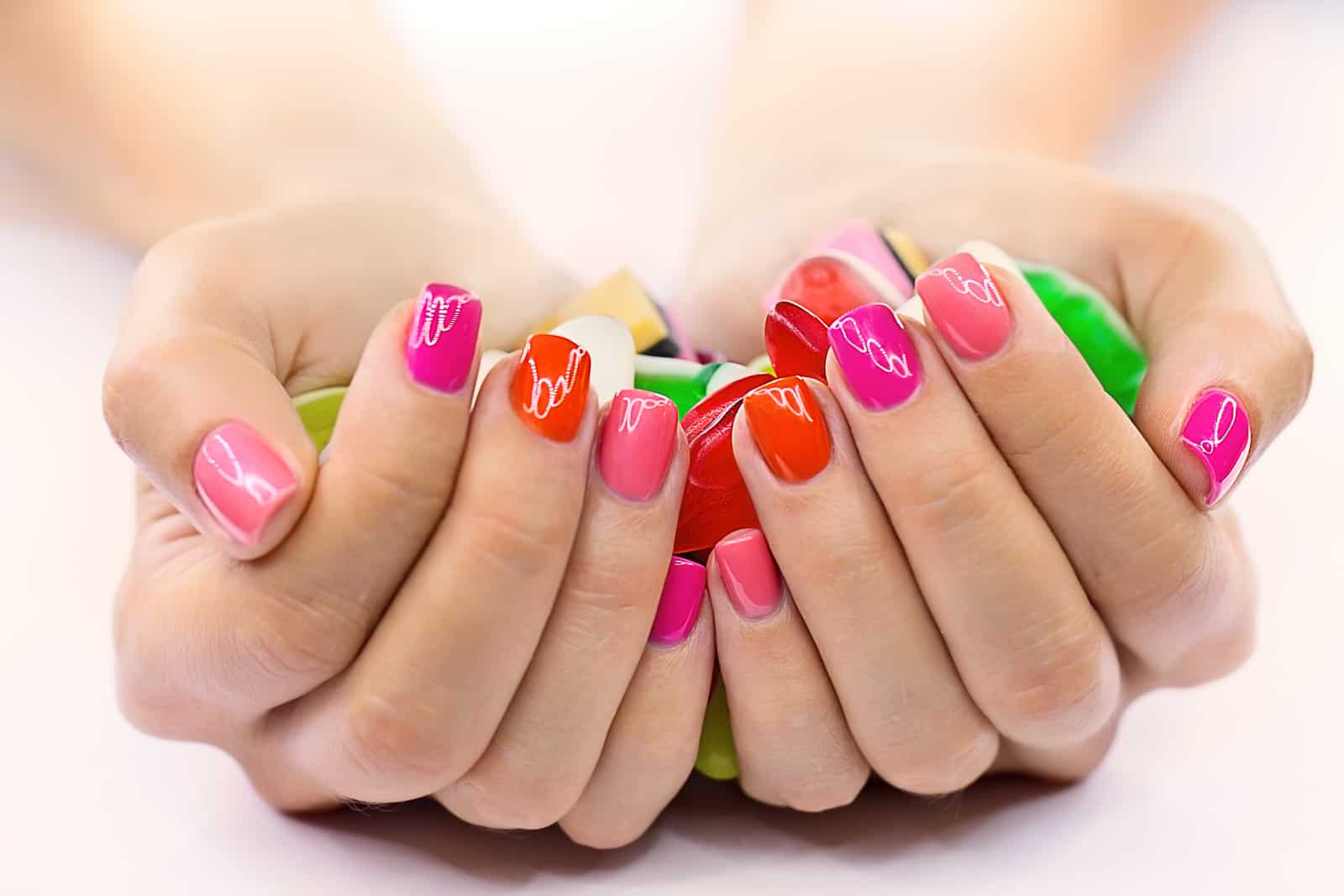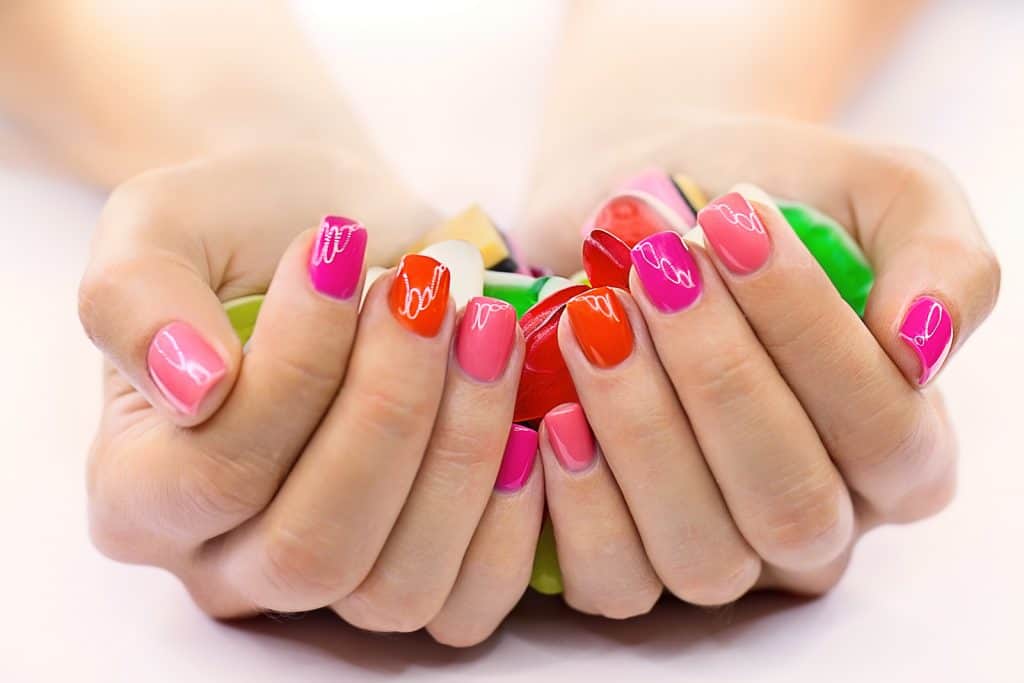 Simple, easy, and gorgeous! Yes, please. Just paint your nails with the brightest pink, yellow, and oranges you can get your hands on– like this Sun Kissed shade!
I feel totally connected to my inner child while doing this nail design.
You can also add a dot at the center or some random polka dots here & there.
Whatever you decide to do, this nail design always draws attention and looks pretty elegant!
Sale
10: Ombre Sky Nails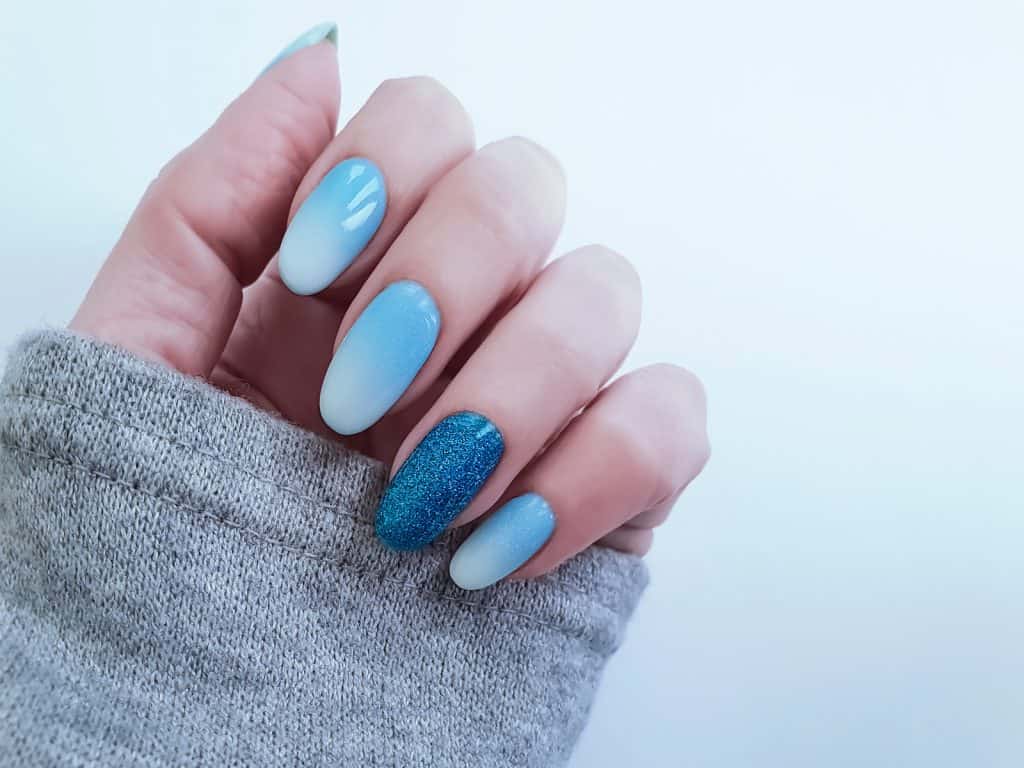 These nails remind me of the clear blue summer sky. They look great and you can do them all by yourself. All you need is a sponge to create the ombre effect.
To create a contrast, use two similar yet different colored polish. Preferably one slightly lighter than the other.
This creates a wonderful ombre effect. If you're feeling extra creative, add some clouds using white nail paint.
Tips for success:
Whether you go with a simple ombre effect or over-the-top watermelon design, these tips below will help you paint those nails like a pro.
Start with clean, dry hands. I use a sugar scrub first to really cleanse and soften then.

Make sure to apply a base coat as it helps to even the base and protects your nail bed.

Use a cello tape as a grid line for easy guidance.

You can use a pin end or an old ball pen to create polka dots

Finish off with a topcoat. They help in preventing chipping away of the nail paint.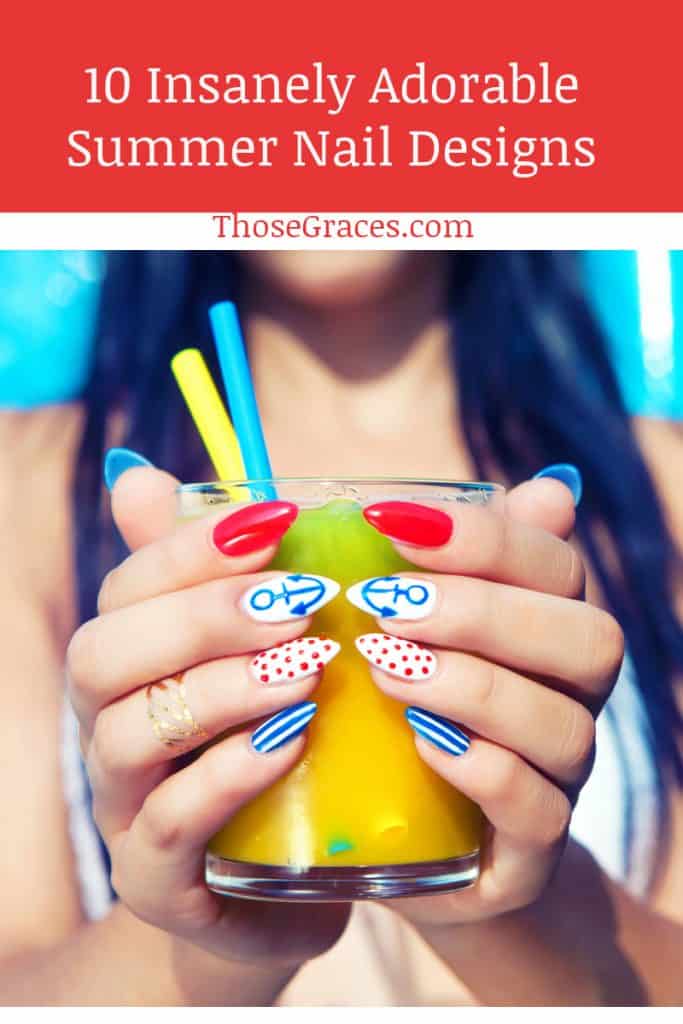 What are your favorite summer nail designs? share with us below!
Don't forget to check our web story for these beautiful summer nails!