Have you heard of the Korean double cleansing routine?
If not, prepare to have your mind blown!
This two-step process removes more dirt, grease and grime than any single cleanser alone.
Read on to learn what it is and how to incorporate it into your own skincare ritual.
Check: Best Korean Essences for Your Skin
Our Top Picks
Check out the table for a quick overview of our favorite cleansers, then read on for more details!
This post contains affiliate links. We earn a commission if you make a purchase at no extra cost to you.
Top Benefit
2-IN-1 Makeup Remover and Cleanser
Formulated With Nourishing Antioxidants
Soap free; Oil free; Fragrance free; Non comedogenic; Allergy tested; Paraben free
WHAT IS THE KOREAN DOUBLE CLEANSING METHOD?
The name itself says it all! It means cleaning your face twice. Cleansing is the first step in your skincare routine, whether day or night, right?
Well, rather than just using one type of cleanser, this method uses two: oil-based and water-based.
First, you apply an oil-based cleanser, then continue cleansing your face with a water-based one.
In the morning, it creates the perfect blank canvas for your makeup. At night, it really helps wash away every last impurity.
Even if you don't wear makeup, double cleansing helps to get rid of sebum (fancy word for oil), impurities, dead skin cells, and more.
It also helps even out your skin tone and minimize your pores.
Basically, no matter what follows, the Korean double cleansing method gives you fresh-looking and extremely clean face for the rest of your routine.
Korean gisaeng (similar to Japan's geishas) have been using the double cleansing method for centuries, and for good reason. Let's talk about why it's so effective.
CHECK MORE: Korean Hacks for Flawless Skin
What is the Purpose of
Double Cleansing

?

Oil-based cleansers efficiently dissolve other oil-based products. On the other hand, water-based ones do the same with the materials that are made with water.

Just like in chemistry, you know that oil and water don't mix together.

So, if you're just using one type of cleanser, you leave the molecules of the other products on your skin.

In other words, when you cleanse your skin only with a water-based cleanser, you will still have oil-based products -like sunscreen or other makeup products- on your skin.

That is why it is important to double cleanse before applying the rest of your favorite products (such as makeup in the AM and moisturizers in the PM).

Check: The Best Skincare Monthly Box
What Do You Need for
Double Cleansing

?

It is very simple. All you need is:
An oil-based cleanser
A water-based cleanser
Let's go over each in a bit more detail.
Oil-based cleanser
First up, the oil-based product, which will smoothly and gently remove all the impurities from your skin, leaving it with a smooth and clean face.
There are so many options on the market for oil-based cleansers. Choose one best suited for your skin type, whether you have dry, oily, sensitive, or combination skin.
This type of cleanser also comes in various forms. You can find cleansing balms, creams, lotions, and gels.
From my experience, the cleansing balms are more convenient to apply as they melt over your skin temperature over time.
If you have oily or acne-prone skin, make sure to look for a cleanser that does not clog your pores.
On the other hand, for those who have dry skin or sensitive skin, look for an oil-based cleanser with moisturizing ingredients that will gently cleanse your face without stripping off the natural oils.
Best Oil-Based Cleansers
I have picked out some of the best oil-based cleansers for different skin types. So everyone can find the product they are looking for.
1. Tatcha Pure Camellia Cleansing Oil.
For dry skin, you can try Tatcha Pure Camellia Cleansing Oil. It does a great job of balancing out your skin's pH. I also like it because it doesn't contain mineral oil.
TATCHA Pure One Step Camellia Cleansing Oil: 2 in 1 Makeup Remover to Gently Cleanse and Dissolve Waterproof Makeup Leaving Silky Skin, 150 ml | 5.1 oz
THIS 2-IN-1 makeup remover and cleanser of Camellia Oil gently melts away impurities, even waterproof makeup, leaving behind pure, silky soft skin.
THOROUGHLY CLEANSES the skin without stripping it of its natural moisture, leaving skin balanced and nourished. It does not contain mineral oil, so the liquid emulsifies completely and leaves no oily residue. Ideal for all skin types.
JAPANESE CAMELLIA OIL (Tsubaki): Richer in oleic acid than olive oil and an excellent source of Vitamins A, B, D and E and nourishing Omegas 3, 6, and 9, this featherweight botanical oil has been prized in Asia for centuries for its superb moisturizing and antioxidant activity.
HADASEI-3 COMPLEX: Tatcha's proprietary trio of Japanese superfoods—Green Tea, Rice and Algae—helps to restore healthy-looking, youthful radiance.
BEAUTIFUL FACES, BEAUTIFUL FUTURES: Every Tatcha purchase supports education equality worldwide. In 2014, we created this fund to help girls stay in school through the Girl's Education Program in Asia and Africa. As of 2021, your purchases also bring diverse books to underserved communities in the United States through Room to Read's U.S. Literacy Initiative.
2. Black Cleansing Oil from Erborian
For oily skin, use the Black Cleansing Oil from Erborian. It's made with charcoal and actually comes from Korea.
No products found.
3. Squalane + Antioxidant Cleansing Oil from Biossance
People with sensitive skin can check the Squalane + Antioxidant Cleansing Oil from Biossance. It's 100% natural and derived from plants.
Biossance Squalane + Antioxidant Makeup Removing Cleansing Oil 6.76 oz / 200 mL
Biossance Squalane + Antioxidant Cleansing Oil. A powerful yet lightweight facial cleansing oil that dissolves impurities deep into the pores and removes long-wear makeup, leaving skin with a beautiful, healthy look and feel.
Get Touchable, Smooth and Visibly Refreshed Skin. Safe for all skin types including oily and sensitive the cleansing oil lifts away pollutants and products without stripping the skin. Your face is left feeling cushiony-soft, moisturized and nourished.
Made with Natural and Effective Ingredients. A skincare game-changer, antioxidants target stress and signs of ageing. Squalane mimic's the body's natural hydrating oils to provide deep and fast-absorbing moisture without the greasy feeling.
Part of Your Daily Nontoxic Skincare Routine. Apply 1-2 pumps to hands and gently massage into dry your face, neck and décolleté. Then add water and continue massaging to break down makeup and impurities. Rinse and pat dry.
Committed to Clean Beauty. As part of Biossance's commitment to high standards for your skin and the environment, all products are vegan, cruelty free and made without paraben or synthetic fragrances or PEG.
After gently applying the cleanser and washing it off with warm water, you can continue to the next step.
Water-based cleanser
You can find water-based cleansers either in foaming or non-foaming form.
They have the same function as the oil-based cleansers, but at this point, you remove the water-based molecules from your face like sweat and dirt.
Foaming cleansers are applied on a wet face with gentle massaging, just the way you wash your face every day.
With non-foaming products, you can use a cleansing sponge, which will help to keep the product on your face while cleansing.
Best water-Based Cleansers
Here are some of the best cleansers with a water-base that you can use in your skincare routine
For dry skin and my personal favorite is the La Roche Posay Tolleriane. It's super affordable, too!
Sale
La Roche-Posay Toleriane Purifying Foaming Facial, Oil Free Face Wash for Oily Skin and for Sensitive Skin with Niacinamide, Pore Cleanser Won't Dry Out Skin, Unscented
Toleriane Purifying Foaming Facial Cleanser is a daily foaming face wash for normal to oily, sensitive skin.
Formulated with La Roche-Posay prebiotic thermal spring water, niacinamide, and ceramide-3, this face wash gently cleanses skin of dirt, makeup, and impurities while maintaining the skin's natural moisture barrier and pH.
Gentle, yet purifying facial cleanser maintains skin's natural barrier and pH with consumers saying skin felt healthier and effectively cleansed.
Its gentle foaming formula leaves skin feeling clean, fresh, and comfortable with no pore-clogging residue.
Soap free; Oil free; Fragrance free; Non comedogenic; Allergy tested; Paraben free
2. Youth to The People Superfood Antioxidant Cleanser
For oily skin, you can use the Youth to The People Superfood Antioxidant Cleanser. You actually get two products for the fairly low price.
Youth To The People Superfood Duo Mini Clean Skincare Kit - Vegan Gel Foaming Green Tea Cleanser (1oz) with Kale + Spinach - Air-Whip Moisture Cream (0.5oz) with Hyaluronic Acid - Trial Size Set
Two superfood Youth To The People essentials (Cleanser & Moisture Cream) in convenient travel sizes (1oz & .5oz).
Custom Superfoods Blend: Kale, spinach, green tea, alfalfa, vitamins C, E, K.
Both the silky, pH-balanced gel cleanser and air-whipped moisture cream have a clean, herbaceous scent.
Clean, 100% vegan formula. Proprietary cold-pressed plant extracts harnesses powerful antioxidants & phytonutrients from pure, effective ingredients.
No parabens, phthalates, sulfates, phthalates, dimethicone, or mineral oil. USA made and supplied in recyclable packaging. No animal testing.
3. Ole Henriksen Ole Find Your Balance™ Oil Control Cleanser
For sensitive and acne-prone skin, try Ole Henriksen Ole Find Your Balance™ Oil Control Cleanser.
It's a bit pricier than the first two, but still reasonable- and totally worth it.
OLEHENRIKSEN Find Your Balance™ Oil Control Cleanser 5 oz/ 147 mL
A pore-purifying cleanser with powerful AHAs to reduce excess oil and unclog pores, without stripping skin.
Solutions for: - Oiliness - Pores - Acne and blemishes
Good for: ✔ Oily ✔ Combination
Find Your Balance Oil Control Cleanser reduces excess oil and deeply cleanses pores. Formulated with Green Fusion Complex and neem seed oil, its deep cleansing action helps unclog and purify pores without stripping skin, while the invigorating eucalyptus scent awakens the senses
Powerful AHAs—glycolic and lactic acids—help loosen and lift dead skin cells that can cause pore-clogging build-up. Instantly, the complexion is refreshed and balanced with a healthy-looking glow.
As this is the final cleansing step, your skin should feel amazingly fresh and free of impurities.
However, it should not feel too tight! You're looking for a soft and hydrated vibe, not a "I left my clay mask on for too long and now I can't move my face" vibe.
Now that we've covered what it is and how to do it, let's go over some other frequently asked questions about the Korean double cleansing routine.
READ MORE: Korean Skin Care Secrets
Can
Double Cleansing

Damage Your Skin?

When done right, no, double cleansing shouldn't damage your skin. I'm not a dermatologist, of course, so I make no guarantees.

On the other hand, over-washing- whether it's with one cleanser or two- will strip away extra layers of your skin and cause it to lose its own natural oils.

That, in turn, makes your skin drier, more sensitive, and more prone to damage.

As long as you are using proper products and following the tips of application techniques, your face will glow and feel smooth after double cleansing.

That said, if you have very dry or sensitive skin- or are prone to certain skin conditions- consult with your dermatologist before trying double cleansing.
When Should You Opt for
Double Cleansing

?
Many people ask if you should double-cleanse your face even if you don't wear makeup.
The answer is yes! However, some nuances will help you understand the process easier.
When not using makeup regularly, you can double-cleanse your face once at the end of the day. This way, you will remove all the impurities and sebum from your face.
It is wrong to think that you only need a good cleansing routine when you use makeup. Every day we get dirt and pollution onto our skin from the air.
We also use sunscreen and other creams to keep our faces protected during the day.
It's important to clean those products from our faces when we go to sleep so that our skin can breathe and have its natural oils and moisture to work overnight.
If we skip this part of our bedtime ritual, it will cause more damage, contribute to a breakdown of collagen, and cause wrinkles and dark spots.
Those who wear makeup every day can double-cleanse twice a day, once in the morning and the other before bed.
Basically, whether you are using makeup daily or don't use makeup at all, you can and need to double-cleanse.
Just pick a frequency of double-cleansing, and stick to it to get the best results.
Final Thoughts
I really feel that the Korean double cleansing method is vital to a good skincare routine.
Cleaning your face is the most essential and important step of your beauty ritual, and this method takes it to whole new levels.
It is not necessary to use expensive products, high-end serums, and treatments to get smooth and even skin.
All you need to do is to start your routine with proper cleansing.
No matter your skin type, whether you have oily, dry, sensitive, acne-prone, or normal skin, you should see amazing results!
Just remember, start with the oil-based product and continue with the water-based one.
Related: Curious if the Korean Foot Peel Mask Works? Here is My Experience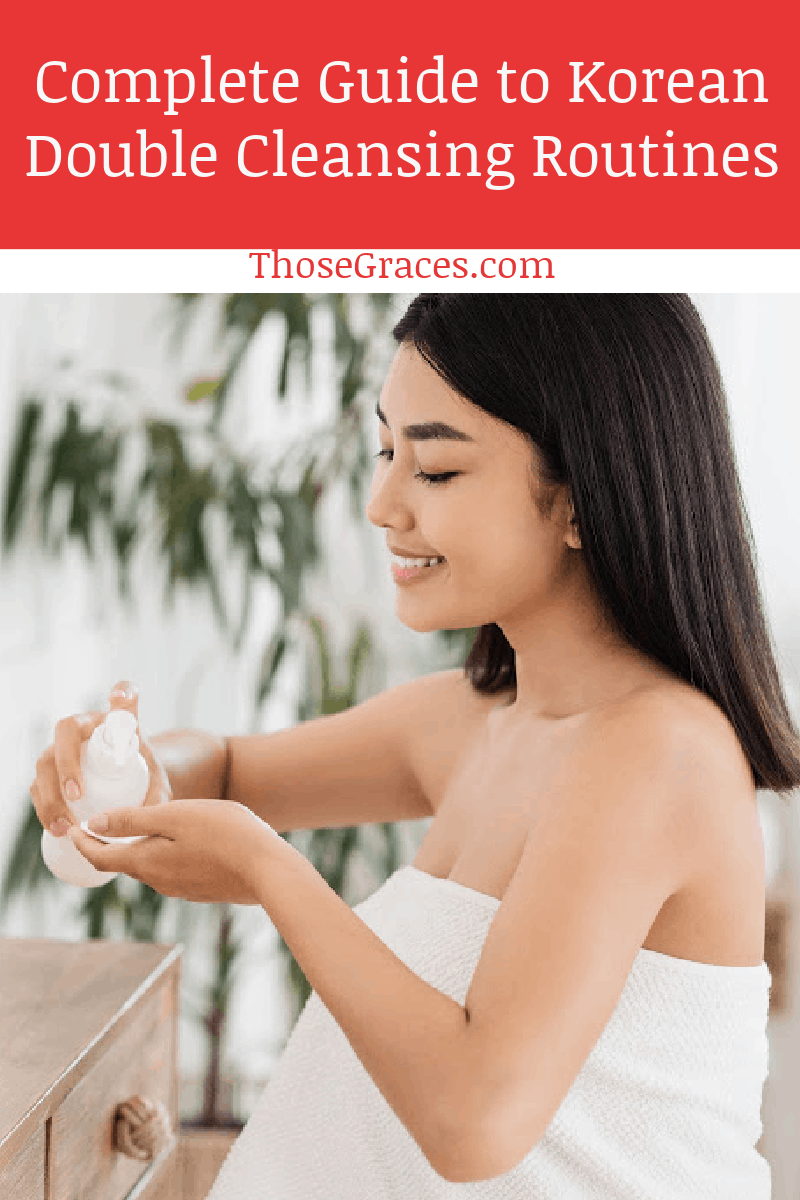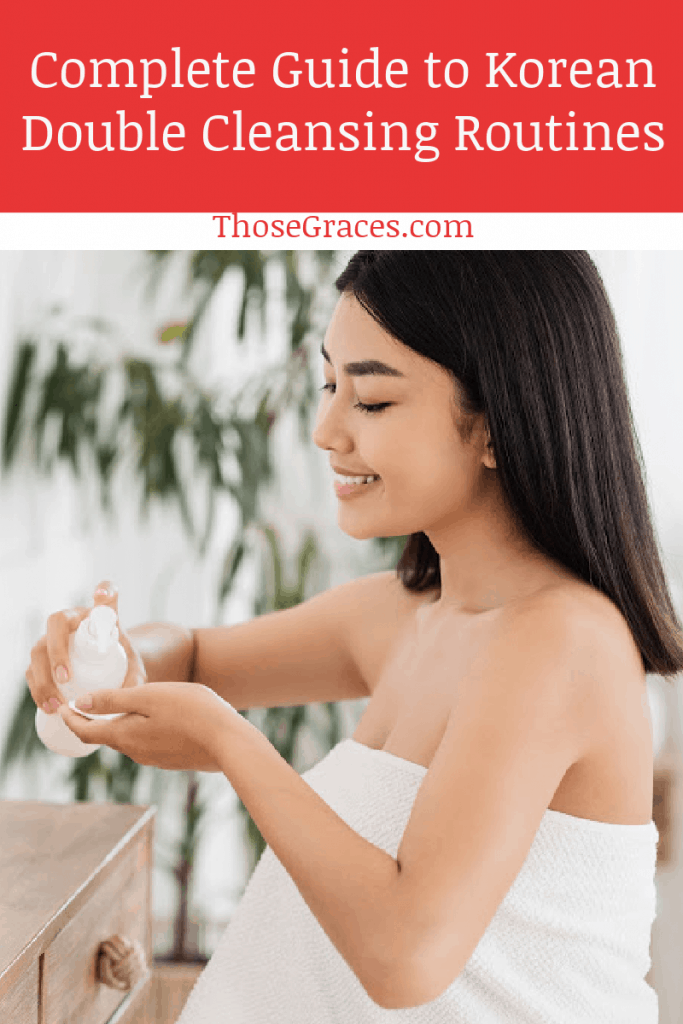 What do you think about Korean double cleansing share your thoughts below!