Looking for an easy body scrub homemade recipe?
We've got you covered!
Below, we'll check out three super simple ideas that you can add to your cheap skincare routine.
Let's get started, shall we?
FYI, this post contains affiliate links. If you make a purchase through these links, we earn a small commission at no extra charge to you.
BODY SCRUBS AT HOME THAT YOU SHOULD TRY: 3 HOMEMADE RECIPES
Body scrubs help you exfoliate dead skin from your body, making it look fresher, smoother, and healthier.
Of course, there are various store-bought options to choose from, but why spend money on something if you can make it at home?
A body scrub is a mixture of liquid and exfoliating ingredients that gently remove the dead skin from your body and boosting your blood circulation.
The most popular components of a DIY body scrub are coconut oil, olive oil, Aloe Vera, honey, coffee granules, brown sugar, green tea, and many other beneficial ingredients.
All these ingredients have nutritional, moisturizing, and exfoliating features.
So mixing them in the proper amount and exfoliating your body once in a while will not only make your skin smooth but will also help you to relax and enjoy the process.
Here are our favorite homemade body scrubs that will give you the absolute feeling of soft, fresh, and vibrant skin.
While most of the ingredients can be found in your kitchen, we did include a few recommended products in case you need to shop for them.
# 1 EXFOLIATING COFFEE AND COCONUT OIL BODY SCRUB
Coffee is a common component for a lot of homemade body scrubs.
Due to its tiny granules, coffee is not harsh on the skin but shows effective results for removing the dead cells from your skin, making it smooth and soft.
Ingredients
It is so easy to make this body scrub. All you will need is
1/2 cup coffee grounds,
2 tbsps. of hot water
1 tbsp. of melted coconut oil
How to make it
Mix all the ingredients in a mixing bowl and thoroughly blend them.
You don't want the consistency to be runny, so you can add as many coffee granules as you get the damp-sand-like texture.
After getting the desired consistency, gently apply it to your body in circular motions for 3-5 minutes and wash it with lukewarm water.
You will instantly feel the softness of your skin after pat-drying the scrubbed area. It also helps to get rid of dark spots, cellulite, and sun-damage.
It is best to use this scrub two times a week.
For other easy turmeric body scrubs, check out this video:
#2 REFRESHING PEPPERMINT AND BROWN SUGAR BODY SCRUB
If you feel tired and want to feel that oomph of energy and freshness, this is the perfect body scrub for you.
You will be using peppermint essential oil for this one that will loosen your nerves and liven your energy after a stressful day.
The olive oil used in this scrub will keep your skin moisturized and glowy.
Ingredients
Make this body scrub by combining:
How to make it
Mix the ingredients in a bowl or a jar as long as you reach a grainy paste consistency.
After washing your skin, apply the scrub and gently massage it with your fingers in circular motions for 5-10 minutes and wash the scrub off with warm water.
You will see that you are more relaxed and calm after the application.
#3 BRIGHTENING ALOE VERA AND SUGAR BODY SCRUB
The Aloe Vera, sugar, and olive oil scrub will bring your body brightness, exfoliate the dead cells from your body, and provide the needed hydration to your skin.
Ingredients
The mixing steps are pretty simple. You will need to mix:
Organic Aloe Vera Gel From Freshly Cut Aloe Plant, Deeply Hydrating Moisturizing Skin & Hair, Organic Aloe for Healthy Skin & After Sun Relief, Absorbs Rapidly With No Sticky Residue (8.5oz/250ml)
【100% Natural Organic Aloe Vera Gel】Our Aloe Vera Gel is 100% Natural and made from 98.45% organic aloe vera plants, freshly harvested and cold-pressed to retain its essential nutrients and vitamins. No color or fragrance added in the gel. The gentle healing and nourishing properties of Aloe Vera are completely preserved in the gel to give you healthier skin and hair.
【Fast Absorption & No Sticky Residue】This Aloe Vera Gel absorbs into your skin and hair quickly without any oily or sticky residue. It is made from natural ingredients so it does not leave a layer of artificial thickener on your skin after use. Leave your skin and hair smooth and silky.
【Deeply Hydrating, Soothes & Heals Skin】This multi-care Aloe Vera Gel has powerful moisturizing properties derived from nature, protecting your skin from environmental factors and soothes skin from itching, sunburns, dryness, irritations, dandruff and razor burn. It provides instant cooling to rashes and redness on face, repairs skin and keeps it healthy.
【Reduce Dandruff & Itchy Scalps】Aloe Vera Gel can be used for hair and scalp to provide them with much needed hydration to encourage a less itchy and flaky scalp. It is a great conditioner for dry brittle hair, dry scalps, razor burns, rashes, and dandruff. Its properties help soothe any scalp irritation.
【Top Quality Guarantee】Our Aloe Vera Gel is manufactured with a stringent manufacturing process and gone through strict quality checks, it does not contain any of the harsh or not-good-for-you ingredients or fillers. No animal test used.
How to Make It
Note that you can always adjust the proportions to get the desired consistency. After making the scrub, you should gently massage it onto your body for 5-10 minutes.
Use circular motions to activate your blood circulation and get more effective results.
Wash the scrub remaining with warm water and pat dry with a clean towel to feel the silky soft, and hydrated skin.
To get better results for brightening, you should use the scrub 2-3 times a week.
final words
If you have dry or sensitive skin, you should apply the scrubs as gently as possible.
Do not rub the granules too aggressively, as it will not be effective and will cause worse results.
It is more than enough to exfoliate your skin two times a week, so do not overuse them.
Additionally, it is easier and more fun to make body scrubs at home than to buy one from the store.
You will get the same nourishing, hydrating, and exfoliating effect with DIY scrubs. So it is essential to include this treatment in your skincare routine as it is beneficial for having silky, fresh, and healthy skin.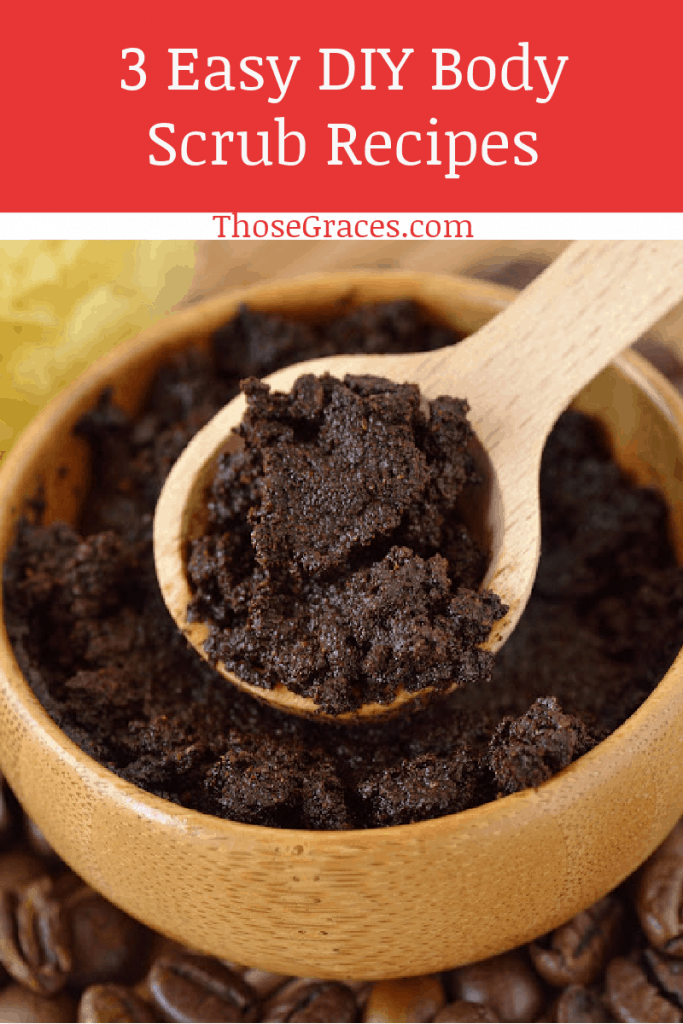 What are your favorite recipes for making body scrubs at home? Share below!