Looking for some awesome turmeric body scrub recipes to give your skin a good rub-down and remove dead cells?
We've got you covered with five super simple recipes that are perfect for your cheap skincare routine.
For most, we've even included an easy-to-follow video tutorial.
All these will help you set up a new and improved beauty routine, so your skin will stay as healthy as possible.
Related: Turmeric Benefits For Hair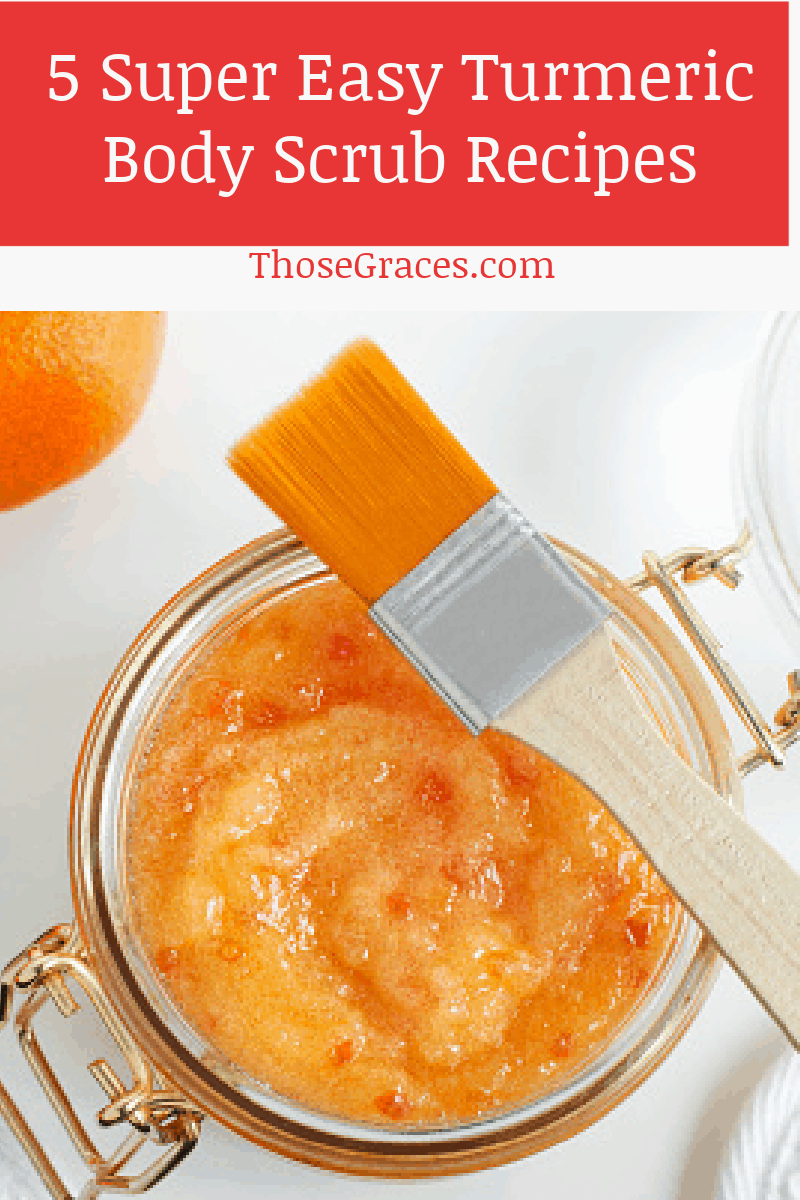 Turmeric Body Scrub Recipes
We talked about the benefits of this amazing spice yesterday when we shared at-home turmeric face masks.
A quick refresh, though- it removes any dark spots, boosts the healing of wounds including acne scarring, and gives you incredible, glowing skin.
Those same benefits apply not just to your face, but to your whole body!
Let's check out some easy recipes in a sec. Just two quick notes.
1- Please consult a dermatologist before using any new skincare product, including DIY scrubs.
2- This post contains affiliate links. If you make a purchase through these links, we earn a small commission at no extra charge to you.
Got it? Good! Let's get started!
1. Sugar and Turmeric Body Scrub
Sugar is one of the best and natural ingredients for a body scrub.
It carefully exfoliates the skin, leaving it smooth and shiny.
It's very easy to make, you can use it once every couple of days if you need to, and as long as you store it in an air-tight container, you will be able to keep it for up to one month.
In order to make this recipe, you will need:
The almond oil can be replaced with coconut oil, since it's a little easier to find, and there's no problem if you don't have vitamin E drops.
2. Baking Soda and Turmeric Body Scrub
Baking soda is one of the ingredients we never think to use in our beauty routines.
However, it's a great solution if you want to exfoliate your skin and leave it healthy and shiny.
It's antiseptic, and thanks to its grainy nature, it will clean your pores.
For this recipe, you need
1 ¼ cup of baking soda
1 teaspoon of turmeric
¼ teaspoon of orange essential oil
¾ cup of coconut oil
1 tablespoon of Kaolin clay
and 1 tablespoon of glycerin.
All you need to do is mix them together, and apply it to your skin. You can follow the instructions in this video.
3. Citrus Turmeric Body Scrub
We keep talking about how good turmeric is for the skin, and for good reason.
In addition, this body scrub contains Kaolin clay and orange essential oil.
Kaolin clay is amazing to keep your skin clean and moisturized, while citrus oil contains vitamin C which is essential for the skin.
You can make this body scrub using:
1 ½ cup of sugar
½ tablespoon of turmeric
2 tablespoons of Kaolin clay
10 drops of glycerin
15-20 drops of blood orange and sweet orange essential oil.
If your skin is light, you may want to use less than ½ tablespoon of turmeric, so it doesn't stain our skin.
You can follow this video for detailed instructions.
4. Coffee and Turmeric Body Scrub
Coffee is very rich in antioxidants, meaning that it will protect your skin from harmful external factors.
It can also improve your blood flow, and help you make a wonderful scrub.
This scrub is all about coffee and turmeric, so there are a lot of benefits to consider.
For this recipe, you need:
a bowl of sugar
2 tablespoons of turmeric
½ tablespoon of grounded coffee
2 tablespoons of vitamin E oil
2-4 tablespoons of coconut oil
and a few drops of peppermint oil.
Check out the video below for the complete tutorial.
5. 3-ingredient last-minute turmeric scrub
This last one isn't so much a recipe as a formula that allows you to use whatever you have on hand to make turmeric body scrubs.
It's great for those times when you only have turmeric plus maybe one or two other ingredients laying around.
All you need is:
This isn't an exact science, and you don't need a tutorial for it. Here's literally ALL you need to do:
Put about a cup of sugar in a bowl (any bowl is fine, but metal or glass works best).
Toss in about 1/2 teaspoon of your turmeric powder, and sift it around until it's blended.
Add in enough oil so that the mixture is moist, but not runny. Basically, when it reaches the consistency that you prefer, stop.
I told you it was easy! I've used this formula for pretty much all of my "I just need something for my shower and don't have time to waste" scrubs.
I know someone is thinking, "But wait! What kind of sugar? What kind of oil??? You're being too vague!"
That's really the beauty of this formula, though. It doesn't matter. I promise you, it doesn't.
I've used raw sugar, brown sugar, and plain old granulated sugar. The only one I don't recommend is powdered sugar!
As for oil, sweet almond is my favorite, but I've used coconut (in liquid form) and even just olive oil.
If you want, you can toss in some essential oils (a couple of drops is more than enough).
Really, this is a totally no-stress recipe.