Looking for some luxurious at-home turmeric face masks to buy or DIY?
Curious about why you'd even want to use this spice on your face?
Check out the benefits below, then read on for some of our favorite homemade and store-bought ideas!
You may also want to check out these At-Home Face Masks Without Honey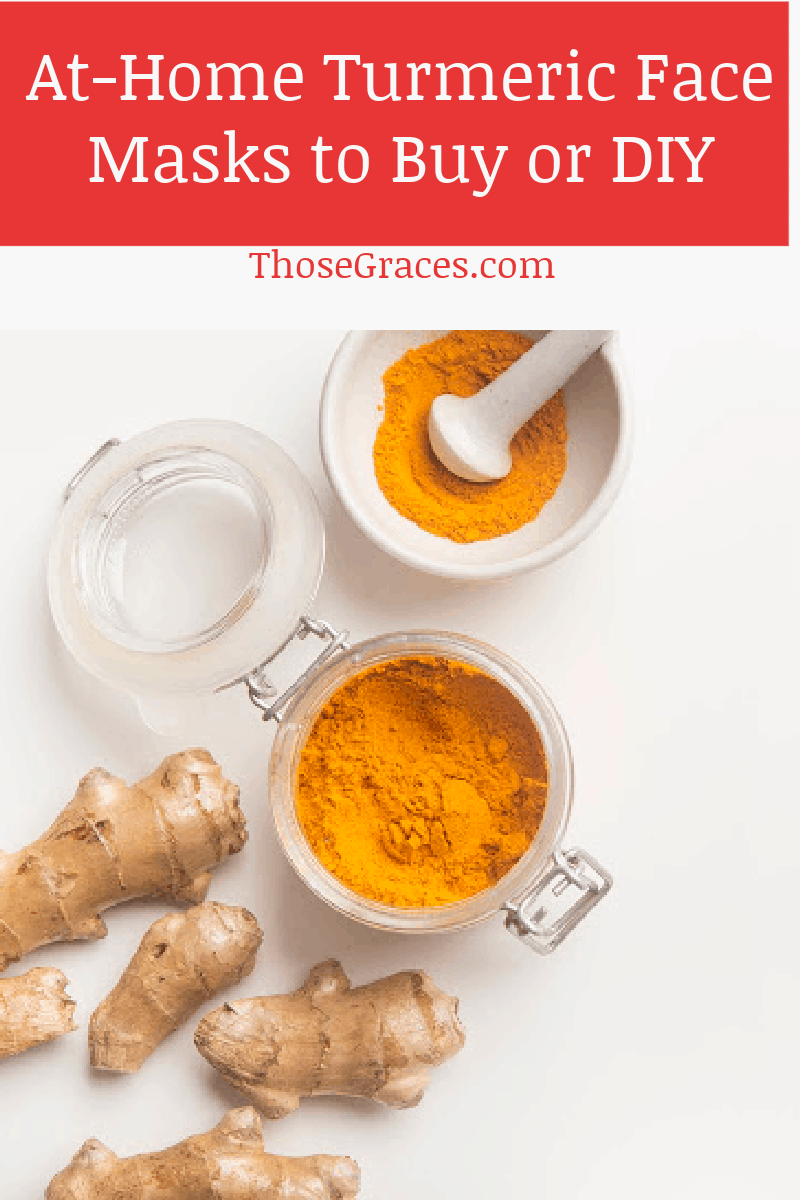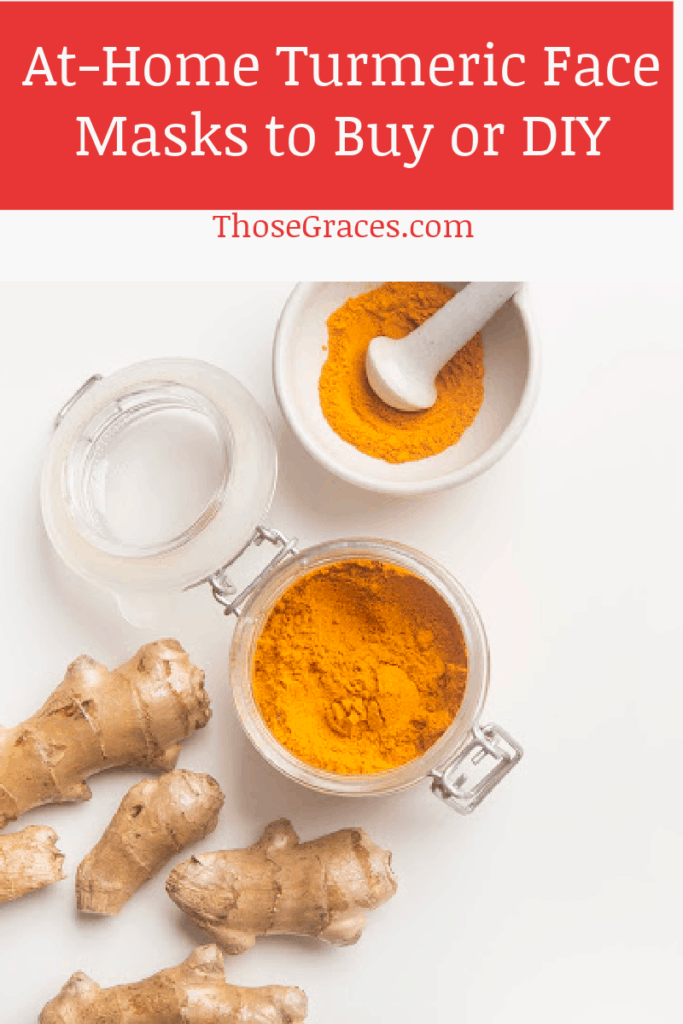 Benefits of turmeric face masks
Before we talk about the benefits of turmeric, it's important to note that this isn't medical advice.
If you have a skin condition, talk to your dermatologist before using any new product, including at-home face masks.
Even though it's an ordinary household spice, turmeric has an extraordinary reputation as being beneficial for your whole body.
Most people know about the spice because of its properties as a natural pain reliever.
However, the same compounds that make it great for pain also make it wonderful for your skin!
Turmeric has anti-inflammatory properties that can help relieve conditions like acne, redness, or even wrinkles.
In short, it can make your skin glow, help your skin regenerate from acne episodes and prevent new ones, and helps remove dark spots from your skin.
Of course, in order to use it correctly, you need to know how to combine it with other ingredients, and have radiant skin.
Let's start with some DIY ideas, shall we?
Related: Turmeric Benefits For Hair
DIY Turmeric Facemasks
A little turmeric and a few other household ingredients is all it takes to make these amazing face masks.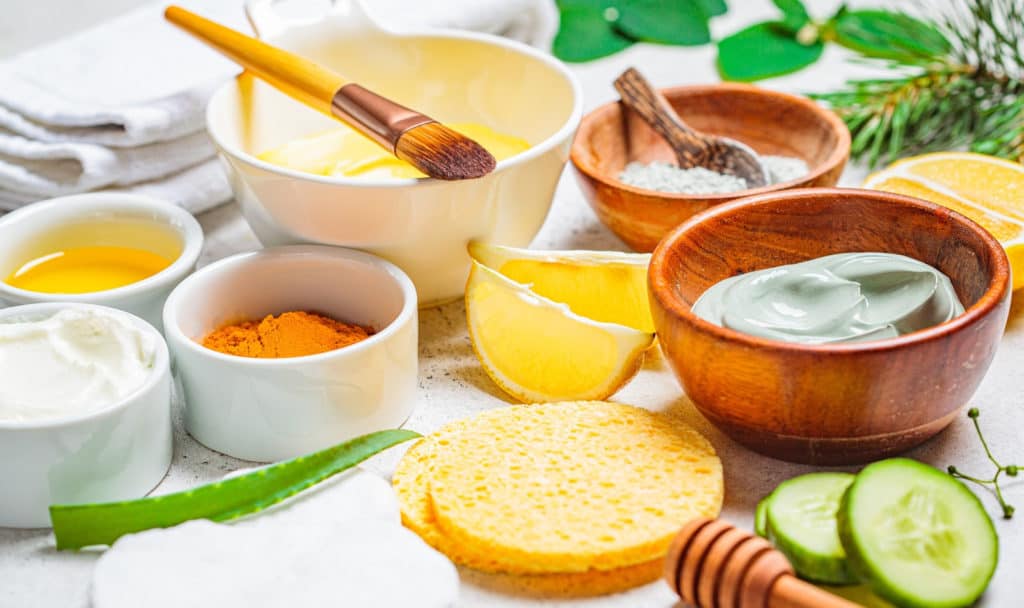 1. Skin Brightening Turmeric Face Mask
In order to get brighter skin, you can make a mask out of turmeric, lemon juice, and milk.
Both turmeric and lemon have powerful lightening properties and will help you get rid of any dark spots, while milk will keep your skin soft and moisturized.
In order to make this mask, you need to take three teaspoons of turmeric, and then add lemon juice and milk in a 2:1 proportion, until you get a thick paste.
Apply it on your face, and leave it there for 10 to 15 minutes. When you're done, simply rinse it off and follow your normal routine.
Related: BENTONITE CLAY FACE MASKS
2. Acne Turmeric Face Mask
Turmeric is very good for acne, in both treating and preventing it. If you combine it with honey, you get the best antibacterial combo.
All you need to do is mix two tablespoons of turmeric with a tablespoon of honey, and apply it on your face for 15 minutes at most.
The consistency needs to be thick, as putting raw turmeric on your face can leave it very dry.
Remember to thoroughly clean it when you're done, as honey can attract dust and clog your pores.
You can also try the tutorial in the video below!
3. Soothing Turmeric Face Mask
Certain situations and allergens can cause very bad allergies, and they are definitely not pleasant.
However, turmeric combined with aloe vera is a great solution for irritated skin.
What you want to do is get three spoons of turmeric in a small bowl and add aloe vera gel until you get a nice consistency.
After that, apply it to your face for 15 minutes, and you're done!
I love this tutorial video below, too.
4. Regenerating Turmeric Face Mask
If your skin needs fast regeneration, you can think of making a turmeric and coconut oil face mask.
It's moisturizing, regenerating, and your skin will start healing in no time.
All you need to do is mix a teaspoon of turmeric with a teaspoon of coconut oil, and leave it on your face for 20 minutes.
Remember to clean your face thoroughly after you're done, as coconut oil can attract dust and clog your pores.
Turmeric Facemasks to Buy
Prefer to just buy something that's ready to apply? No problem!
These store-bought turmeric face masks are amazing!
FYI, this post contains affiliate links. If you make a purchase through these links, we earn a small commission at no extra charge to you.
5. Himalaya Purifying Mask with Turmeric
I was always a big fan of Himalaya.
They have amazing products, the prices are always small, and everything is as natural as possible.
If you have the chance, I highly recommend this facial mask with turmeric.
Himalaya Purifying Neem Mask for Deep Cleaning, to Reduce Acne & Leave a Clean, Clear Complexion, 5.07 oz
WITH NEEM & TURMERIC: That help purify skin, improve its resilience and provide calming and soothing properties to leave your skin clear and glowing
IDEAL FOR NORMAL TO OILY SKIN: Helps visibly reduce oiliness and clean clogged pores. Soothe your skin, reduce occasional acne and reveal your clear, blemish free complexion
DERMATOLOGICALLY TESTED: Enjoy the sensory pleasure of a gentle and mild facial scrub that is non-drying on your skin
FREE FROM COMMON CONCERNS: Includes ingredients for quality and stability, but remains free from other ingredients such as phthalates, SLS, SLES and parabens
CRUELTY FREE: We care about our furry friends. That's why we never test our personal care products on animals
6. Anairui Turmeric Clay Mask
This is a very good turmeric facial mask, and it's good for any skin type.
It's got anti-inflammatory, brightening, repairing, and anti-aging properties, so it's basically a miracle in a box.
Sale
ANAI RUI Turmeric Vitamin C Face Mask, Clay Facial Mask with Vitamin C E and Aloe, Skin Care for Acne & Dark Spots, Smooth & Refine Pores, 4.23 OZ…
Skincare Facial Mask -- Turmeric with the properties of soothing and enhancing skin glow, infused with Vitamin C, this turmeric vitamin c clay mask restores the look of radiance, helps in addressing problems of uneven skin tone skin, leaving skin feeling soft, supple, and radiant.
Radiant & Smooth Skin -- Turmeric is often used in India as a traditional ingredient in daily skin care routine. This turmeric facial mask with vitamin c is perfect face mask for skin care. With ingredients such as vitamin C and E, this turmeric facial mask also fights emerging signs of sagging skin, lines and wrinkles.
Nourish & Refresh -- Unlike other turmeric skin care products, this clay mask contains powerful ingredients Vitamin C & E, featuring hyaluronic acid and Aleo vera, this mask offers nourishment to ease dry and delicate skin, enhances skin's water retention, resolves skin aging, wrinkles.
Deep Cleansing Mask -- This clay mask can help cleanse pores, draw out surface skin oil, dirt, and impurities, leave skin with natural glow and smooth, supple, with the properties of purifying and refining pores, make it perfect for oily skin, help minimize and reduce pores.
Best Service -- Our clay mask fits most skin types, oily, dry, normal, combination, acne-prone, PH balanced, Hypo-Allergenic, paraben free, No SLS, and cruelty free. [If for any reason you decide this product isn't a good fit for your skin, send us a simple message via Amazon, we offer a 60-day money-back service, you don't need return.
Related: DIY Clay Masks
7. JJ Beauty Turmeric and Vitamin C Facial Mask
No products found.
Between the antioxidant properties of vitamin C and turmeric's lightening effect, this mask offers a wonderful solution if you're dealing with dark spots or acne scars.
Just apply it according to the instructions and you're done!
No products found.
Remember that you shouldn't use a turmeric mask every day, as it can stain your skin.
However, applied once every couple of days for 15 minutes, you will be fine!
Again, though, ask your dermatologist first if you have any existing skin conditions.
Turmeric face masks can become a big part of your weekly routine, and with so many options to choose from, it may be the best decision you ever made!
Related: 5 Super Easy Turmeric Body Scrub Recipes to Make
What are your favorite at-home turmeric face masks? Share below!