Want to try out some bentonite clay face masks but not sure where to start?
We've got you covered below!
We'll go over some amazing at-home beauty options to DIY as well as some to buy.
Let's dig in and get that skin glowing!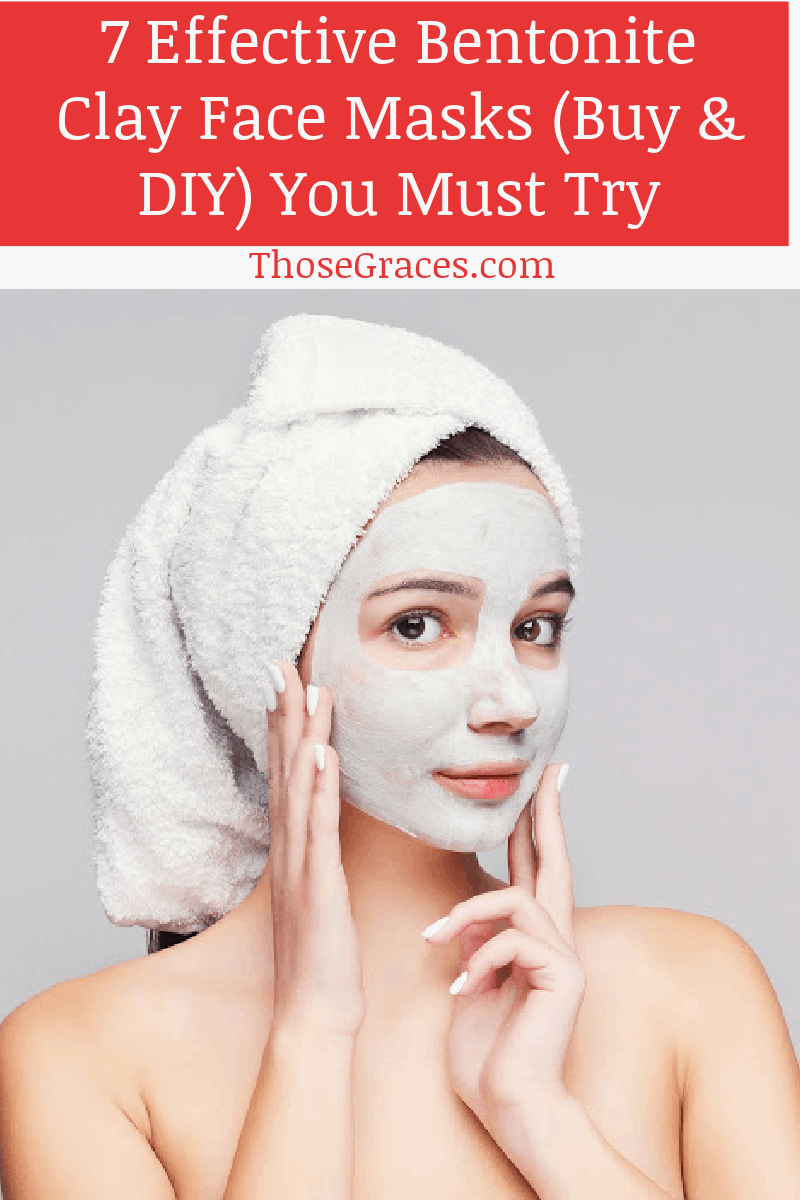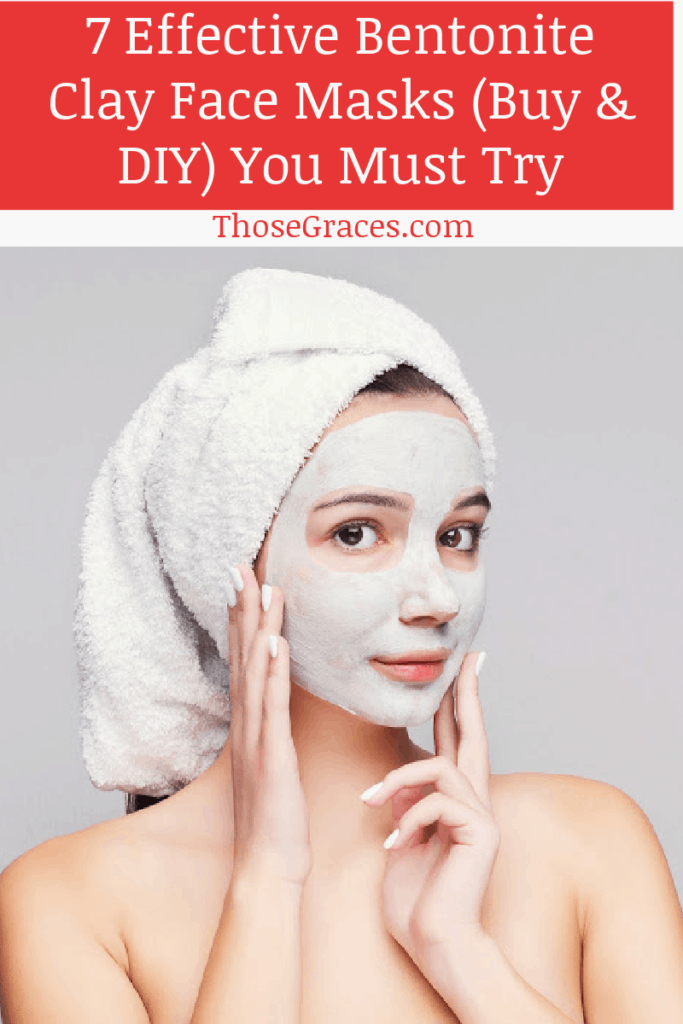 7 Effective Bentonite Clay Face Masks (Buy & DIY) You Must Try
We can all agree that nothing is more frustrating than breaking skin, dry skin, or acne.
It's everyone's dream to wake up with smooth baby skin and enjoy that glow.
According to Cision PR Newswire, 86% percent of people aged between 19 and 24 say that acne affects their self-esteem and confidence.
The truth is this never stops with age.
But what do you do after you've tried eating healthy and drinking 8 glasses of water, and you still don't get the results you're looking for?
You try something new. Below, I'll give you a list of the best bentonite clay face masks.
You check out more bentonite clay mask benefits here.
For now, let's move on to my favorite options to buy or DIY.
Best Bentonite Face Clay Masks to Buy
Maybe you're just not in the mood to read through a bentonite clay mask recipe and dig out all of the ingredients.
Perhaps you just want something that's ready!
So, I'll start with the best bentonite clay face masks in the market.
FYI, this post contains affiliate links. If you make a purchase through these links, we earn a small commission at no extra charge to you.
1.Skin Organics Bentonite Mask
The Skin Organics bentonite clay mask is best for oily and blemish-prone skin.
It helps in cleansing any impurities, toxins, and pollutants on your skin. For best results, mix your bentonite clay with water or apple cider.
After a week of using the bentonite, you should see a difference in your skin.
Your acne will start disappearing, and your skin will feel a lot smoother.
Skin Organics is also a certified cruelty-free beauty brand.
Sale
Sky Organics Indian Healing Clay with Detoxifying Bentonite Clay for Face, 100% Pure to Detoxify, Purify & Cleanse, 16 Oz.
WHY WE LOVE IT: Sky Organics Indian Healing Clay with Detoxifying Bentonite Clay helps remove toxins, impurities and everyday pollutants from skin to support clearer looking skin.
FOR CLEARER LOOKING SKIN: Sky Organics Indian Healing Clay with Detoxifying Bentonite Clay is a powdered clay extracts pore-clogging impurities from skin as it dries - minimizing the look of pores and exfoliating dull areas.
100% PURE BENTONITE: Sky Organics Indian Healing Clay with Detoxifying Bentonite Clay is weathered volcanic ash, rich in minerals that, when mixed with water or apple cider vinegar, creates a detoxifying face mask that pulls out impurities - naturally!
FOR BEST RESULTS: Once or twice weekly, mix 1 tablespoon of Sky Organics Bentonite Clay with 1 tablespoon or more of water or apple cider vinegar to create a thick paste and apply to clean, dry face and neck, avoiding sensitive areas and the eyes. Leave on for 10-20 minutes and rinse with warm water. Follow with Organic Rosewater Facial Mist to refresh and soothe skin.
GOOD FOR YOU, GOOD FOR THE PLANET: Sky Organics Bentonite Clay is pure, 100% vegan and cruelty-free and is responsibly made with the highest quality ingredients.
2. Aztec Secret Face Mask
The Aztec Secret mask is definitely one of the best! The clay has the right ingredients.
It acts as a poultice, and pulls out impurities by replacing bad ions with good ions.
After applying the Aztec secret, my oil skin acne-prone skin feels so soft, clean, and fresh!
Aztec secret has been around on Amazon for a long time, and I'm hoping it will continue being there.
I apply it in two ways.
Sometimes, I mix it with apple cider (try this on the bottom of your feet. It gives you a fantastic feeling).
And other times, I mix it with honey and avocado and apply it on the stubborn acne.
3. Cetaphil Pro Dermacontrol Purifying Clay Mask
The Cetaphil Pro mask purifies your skin and detoxifies the skin, and cleanse pores, leaving your skin feeling clean and refreshed.
It absorbs excess oil on your skin and improves your skin tone.
As the bentonite clay absorbs the surface and any pore-clogging impurities, the Amazonian clay provides exotification to lift away any dead skin.
If you have sensitive skin, Cetaphil Pro will serve you well as it's hypoallergenic and non-comedogenic, so it won't clog your skin pores or irritate it.
Sale
Homemade Bentonite Clay Masks Recipes
If you prefer to make your skin products for yourself, here are DIY bentonite clay mask ideas.
Related: DIY Clay Masks
4. Bentonite Clay Mask Recipe with Apple Cider Vinegar
This mask will only take you 20 minutes to prepare, and it will be totally worth it.
Ingredients
¼ tablespoon of apple cider vinegar
2 tablespoon bentonite clay
3 drops tea tree oil
Distilled water
Directions
Mix the water with bentonite clay to create a smooth paste.
Next, add the rest of the ingredients, then slather it on your face.
Just make sure you keep it away from your eyes and mouth.
Leave it on until it feels dry hardened to the touch, then rinse clean with warm water.
Here is another fantastic version of the same recipe:
5.Bentonite, Jojoba and Essential Oil Face Mask
This one inspired by CBD Medic's hydrated mask will keep your skin feeling oh-so soft and amazing!@
Ingredients
3 drops of lavender essential oil
Rosewater (or just purified water if you don't have any)
¼ tablespoon apple cider vinegar
5 drops calendula infused oil
¼ tablespoon jojoba
2 tablespoon bentonite clay
Directions
Mix the bentonite clay with water until you form a paste, and then add all the other ingredients.
Apply the mask on your face, avoiding your eyes and mouth, and leave it for 15 minutes before washing it with warm water.
Here is another version that works too.
6. Bentonite Clay Mask Recipe for Dark Spots & Aging
Honestly, in this era, premature aging is a nightmare for any woman.
Little acne can be stressful, but those wrinkles in the forehead and those dark spots can be devastating.
If you're sailing in this boat, try this DIY bentonite clay and lemon juice mask.
Ingredients
1 teaspoon fresh lemon juice (bottled stuff works, too, though)
1/4 teaspoon argan oil (jojoba, avocado, or rosehip oils work well, too)
1 tablespoon bentonite clay
Directions
Mix the lemon juice and argan oil together first, then add that mixture to the clay.
Use a brush or your fingertips to apply it to your face, paying close attention to dark spots.
Let hardened, then rinse with warm water.
Here is another version you can try out.
7. Bentonite Mask for Rash & Irritation Relief
If you're having those irritating face rashes, try this DIY bentonite mask.
Ingredients
5 drops tea tree oil
5 drops calendula oil
5 drops peppermint oil
¼ cup grapeseed oil or jojoba oil
1 tablespoon apple cider vinegar
¼ cup of warm water
3-4 tablespoon bentonite clay
Directions
Mix the grapeseed oil with warm water and apply it to your face.
Once it dries off, and the bentonite clay in a bowl.
Add all the other ingredients and mix to form a smooth, thick paste.
Apply it on your face and wait until it dries, and then rinse it with warm water.
I love this version too.
Best Bentonite Clay Masks Recommendations (Final Words)
Acne or breaking skin is one of the most frustrating things anyone can experience.
It affects your self-esteem and confidence, and I can attest to this.
And although everyone tells you it doesn't define you, honestly, all you want is good skin.
These ideas all put you closer to your goals.
Related: Bentonite Clay For Hair Growth, Detox & Styling
Have you used bentonite clay face masks before? If yes, did you see any results? Share below!