If you're curious about how to use bentonite clay for hair, you're in the right place!
This amazingly inexpensive natural material is the perfect addition to your cheap beauty routine!
Below, we'll talk about how to use it for everything from caring for grey hair to styling your luxurious locks.
Let's get started!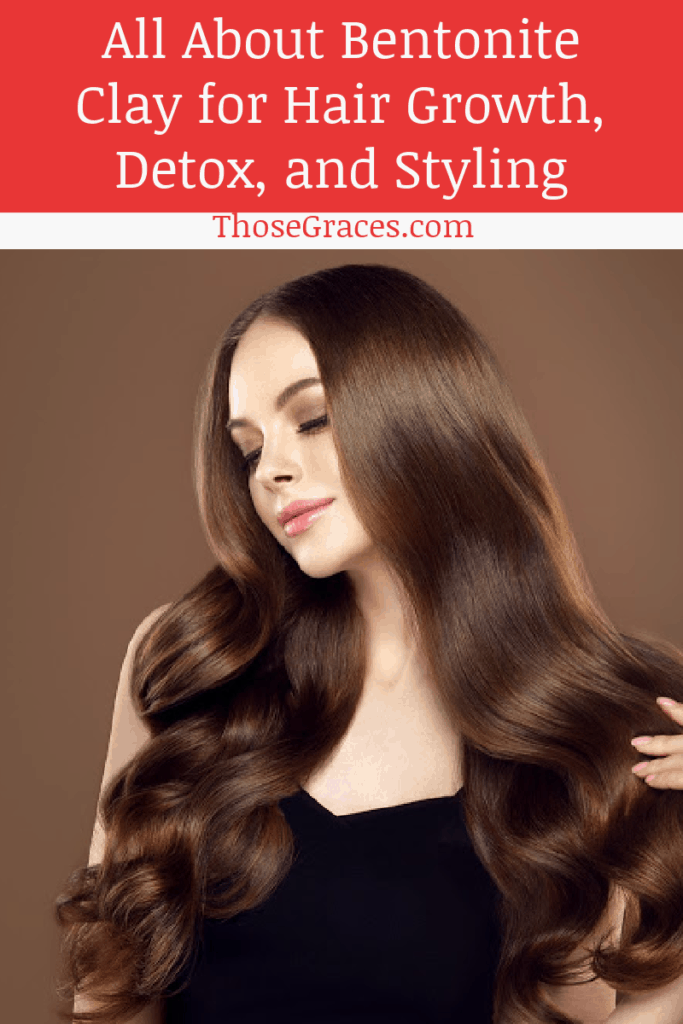 Bentonite Clay for Hair Growth, Detox, and Styling
Bentonite clay may sound like a nerdy term that only geologists should understand, but it's actually a powerful hair care product.
If you've been struggling with stubborn dandruff, stunted hair growth, or dull hair, then this may be your best shot of putting your problem to rest.
I love using a bentonite clay hair mask because my natural hair can get very dull and fragile. And I'm recommending it because I've experienced its magic firsthand.
In this blog post, I'll discuss some of the best bentonite clay hair masks you can DIY and others that are readily available in the market for different purposes.
Without further ado, let's get started.
FYI, this post contains affiliate links. If you make a purchase through these links, we earn a small commission at no extra charge to you.
Related: Kaolin Clay vs. Bentonite Clay for Hair
Bentonite Clay for Grey Hair
Gone are the days that grey hair meant it was time to start dying your hair black. It's a trend now, and it's sexy and confident.
That said, grey hair may need more care to avoid breakage, maintain a decent volume, and keep it healthy in general.
Using a bentonite mask at least twice a week can solve all the above problems and allow you to rock with your grey hair.
Stay to the end to learn the best products in the market and how to make your bentonite clay mask in the market.
Bentonite Clay Hair Products
Technically, with simple bentonite clay, you can create several bentonite clay hair masks.
But if you prefer bentonite clay hair products that are available in the market, these are my best recommendations.
Barbershop Matte Hair Clay
The Barbershop Matte hair clay has both bentonite clay and kaolin clay, which makes it very effective.
It's good for all hair types and different hairstyles. The clay has fantastic minerals and vitamins that keep your hair healthy and moisturized.
After application, your hair won't be all greasy, but it will be very manageable; you'll even be able to style it in the course of the day if need be.
The clay has a very great scent. It's not strong or unbearable in any way.
The barbershop matte hair clay is available on Amazon.
Molivera Bentonite Clay
This is one of the most premium bentonite clay masks available in the market.
It's 100% pure sodium bentonite clay, which means you're assured of no allergies.
It helps in rejuvenating your hair with minerals improving both its health and appearance.
The mask also helps with moisturizing hair. For instance, my hair can be very dull, and sometimes even after oiling it, it's hard to see the glow.
After using the bentonite clay, I realized that my hair was absorbing oil better and looked moisturized.
Molivera bentonite clay is also good for your skin, so you can apply it on your face too.
I like to apply it to both my hair and face to experience maximum benefits.
You can buy the clay on Amazon.
Activated Charcoal Bentonite Clay
This is a fantastic product if you want to detox your hair.
With the help of the active charcoal, the clay eliminates the surface dirt and pulls the dirt from your scalp.
The mask leaves your hair feeling clean and very fresh.
Besides hair care, the clay can be used to whiten teeth, remove acne, detoxify your skin, and solve digestion problems.
You can check out the clay on Amazon.
Bentonite Clay Hair Pomade
If you're looking for a bentonite clay for hairstyling, then this one by Sebastian is your best shot.
The clay comes in handy when you need to add texture and separate short and long styles.
It contains bentonite clay, which removes chemicals, impurities, heavy metals, and product buildup.
The product also conditions, moisturizes, reduces frizz, and encourages shine and curl definition. It also has a very sweet scent, so your hair will be smelling all good.
Don't forget to try this Korean see through bangs for round face!
Bentonite Clay Hair DIY Ideas
If you love making your hair masks, I got you. Here are some of the easiest and effective bentonite clay hair recipes.
Bentonite Clay Mask for Hair Growth
If you want to increase your hair growth, this mask will come in handy.
I found the inspiration for this mask from Stylecraze, and I love it. Here is how to make one.
Ingredients
Water (as needed)
½ tablespoon of almond oil
½ tablespoon of castor oil
1 tablespoon of coconut oil
6 tablespoons of apple cider
½ cup of bentonite clay
Directions
Mix the almond oil, castor oil, coconut oil, and bentonite clay using a wooden spoon (metallic objects compromise any clay's effectiveness).
Add the apple cider and let it froth for a couple of seconds before mixing it with the mixture.
Let it sit for a few minutes. You should have a thick paste with a yogurt-like consistency.
For best results, apply to wet hair as it helps the clay melt in the hair effortlessly.
Apply the bentonite clay mask from the roots to the tip of your hair, allow it to rest for 20 minutes in a shower cap, and rinse it off with warm water.
Bentonite Clay Detox for Natural Hair
If you've been struggling with scalp itchiness and you've tried all shampoos without any success eliminating dandruff, then this recipe will help.
I got the inspiration from Swirlycurly, and it's very effective.
Here is how to make a bentonite clay detox mask for your hair.
Ingredients
¼ cup of water
½ cup of apple cider vinegar (ACV)
1 teaspoon of lavender or rosemary essentials
½ cup of bentonite clay
Directions
Put your clay on a ceramic or glass bowl
Pour water and ACV into the bowl
Mix to get a consistent thick texture
Apply to your hair and let the detox magic happen
You can also use this paste as shampoo.
Bentonite Clay for Hair (Conclusion)
You may have had bentonite clay's effectiveness when it comes to removing acne and clearing the skin. But what you don't know is that it's a fantastic hair care product too.
You can use it to get rid of dandruff, grow your hair, and style your hair. Try the above products at least twice a week to achieve the desired results.
Got any questions or experience with bentonite clay for hair? Please tell us about it in the comment section.