Korean bangs are the ultimate hairstyle hit at the moment!
If you've been dying for a hairdo change and you love a fresh fringe, you've come to the right spot.
I'll try to convince you to do the same thing I did and try the infamous see-through Korean bangs!
Now, let's dive into the reasons why this hairstyle is so popular and the variety of bangs inspired by Korean beauties you can opt for.
Check: Best Korean Beauty Products You Should Try
Why Korean Bangs Are So Popular?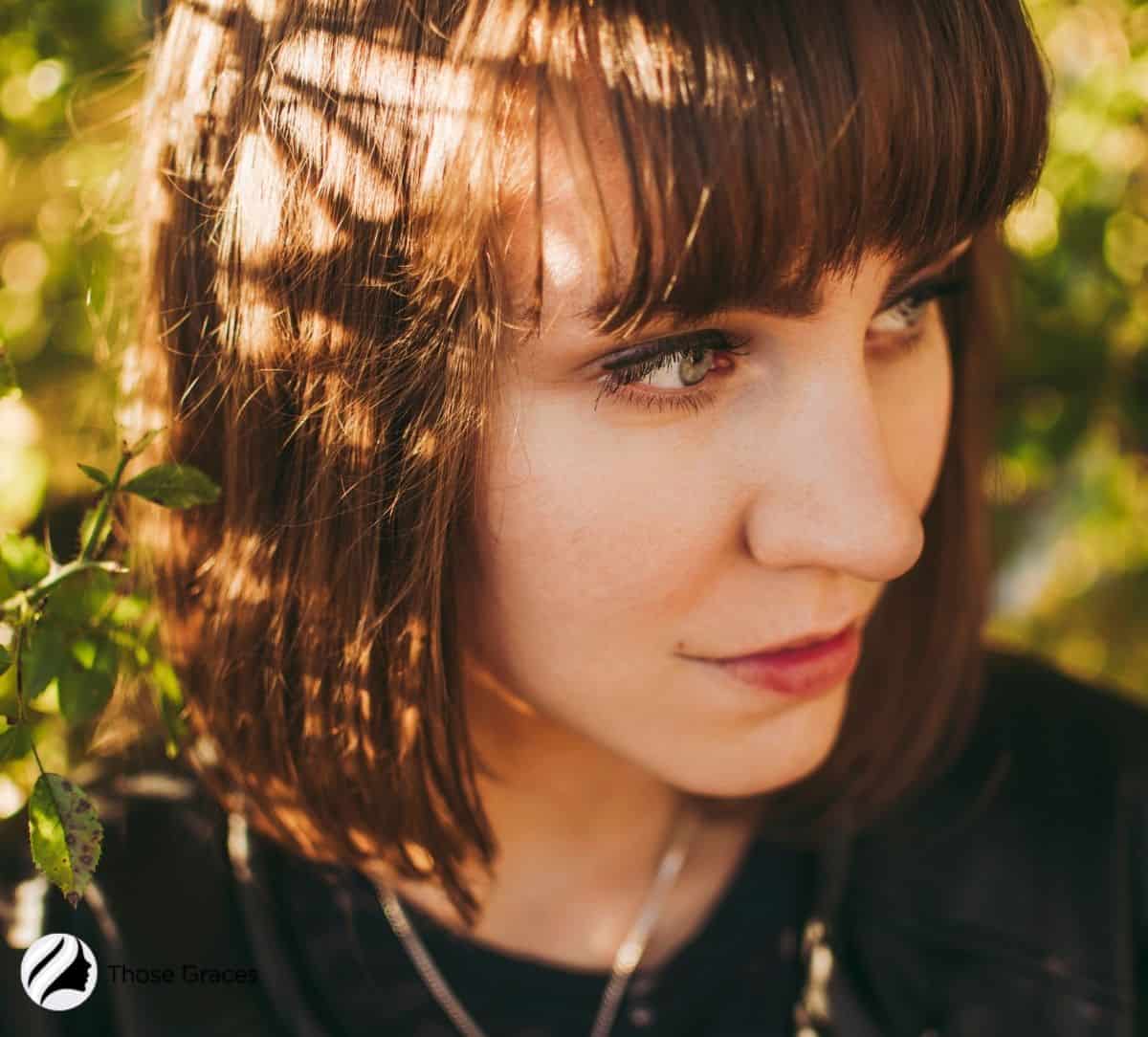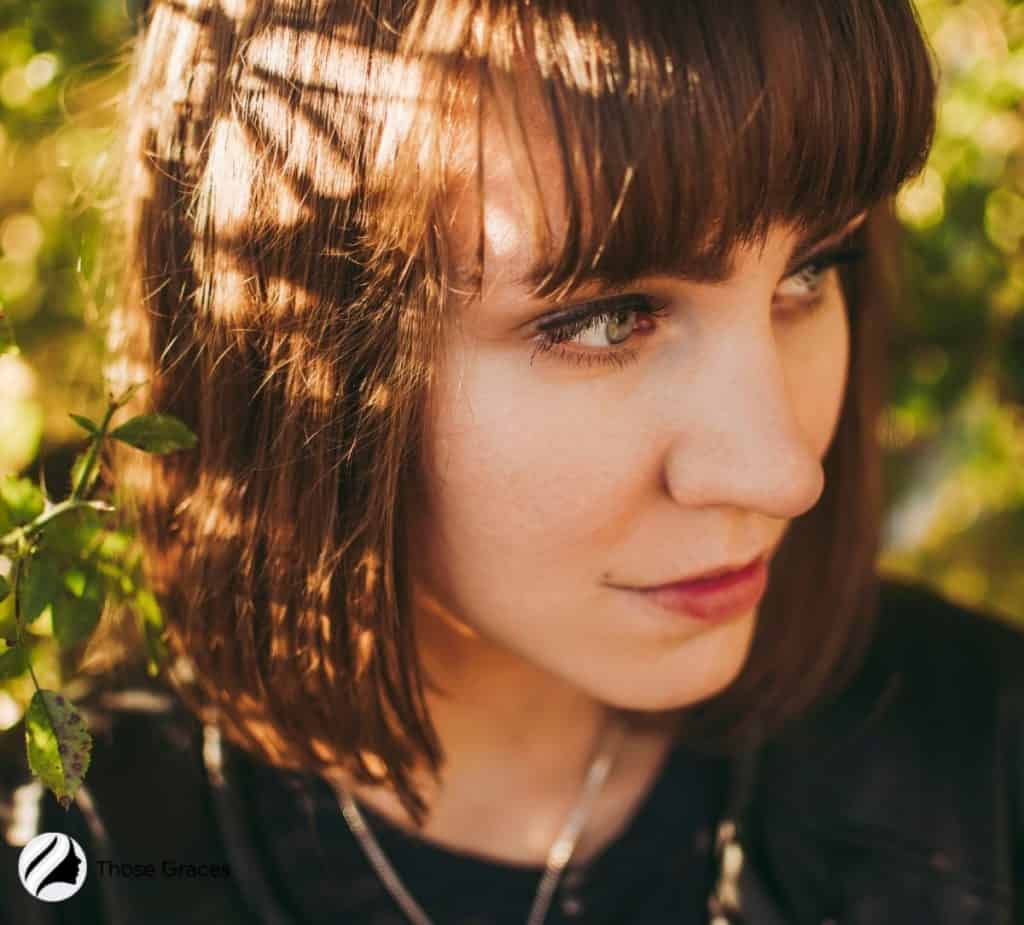 Each year, the average woman goes 3.81 times to the hair salon, and each trip costs her $54.34.
If you're spending that much on getting your hair cut, the least you can do is opt for a flirty, popular style.
Korean bangs hairstyles are trending everywhere right now and for a good reason.
Everyone who's up for choppy bangs that are see-through, easy to maintain, and are quick to grow out, should try this hairstyle.
If you wanted to know why K-inspired bangs are so huge, check these reasons out:
Flattering For Everyone
These unique wispy textured bangs are flattering for all face shapes, especially for ladies with wide faces. Also, K bangs look so stunning on all hair lengths.
Face Framing
This see-through fringe is layered, shorter in the middle and longer on the sides. It frames the face beautifully, creating the illusion of a thinner face and a smaller forehead.
K Stars Love Them
If you're even a little familiar with K stars, you already know that most of them sport fabulous haircuts with bangs.
It's so hard not to get inspired by these beauties; they simply know how to pull off even the craziest fringe.
6 Korean Bangs Hairstyles
K-style bangs come in many forms to suit everyone, and that's the beauty of this hairstyle. If you're still unsure which hairdo works best for you, keep reading to find some trendy ideas.
#1 Korean See-Through Bangs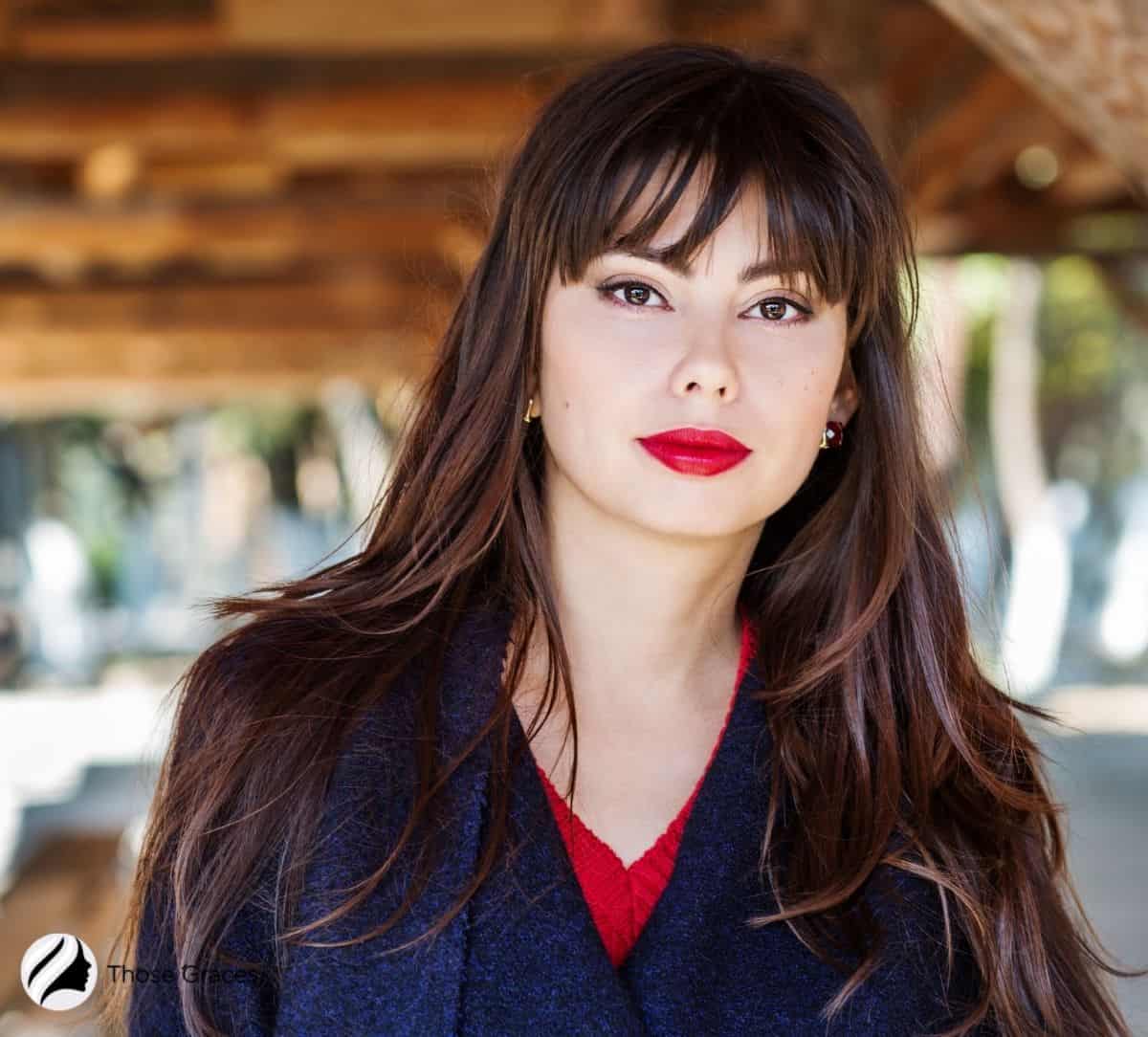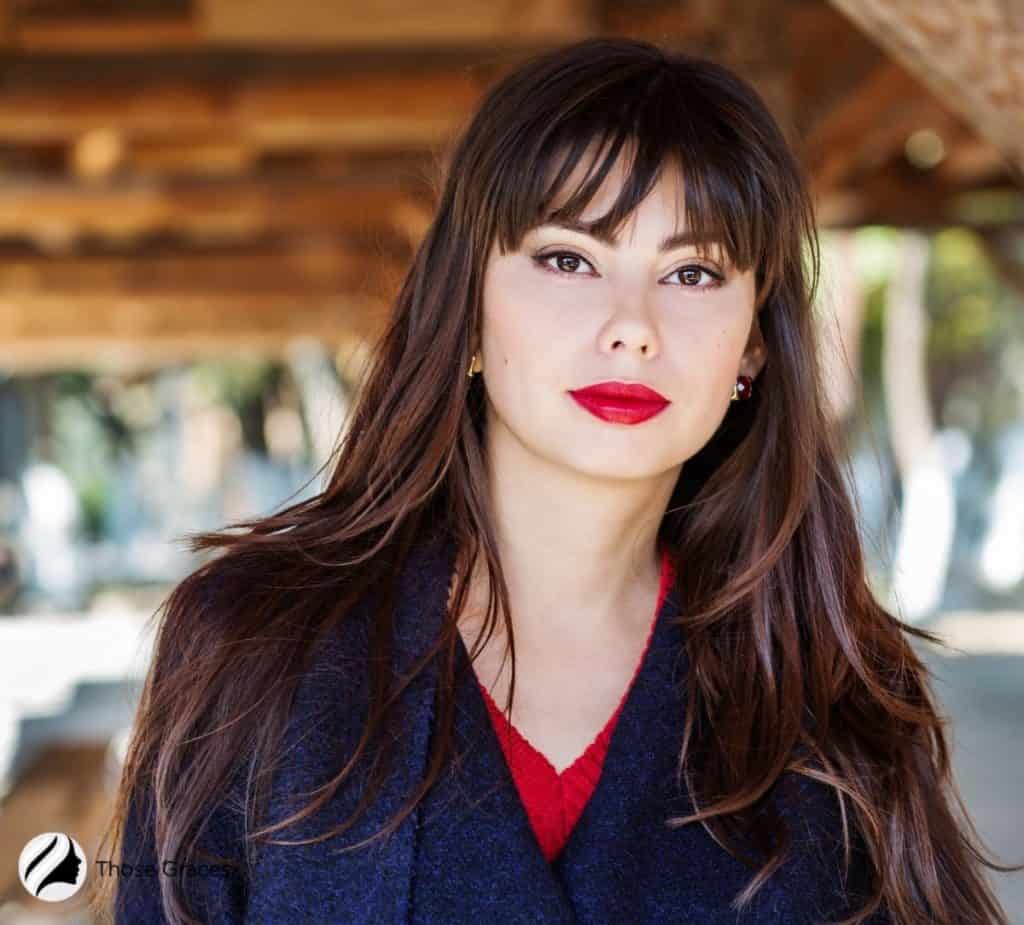 If you ever feel like you need a change, but you're not quite sure you want to go all-in, try see-through bangs.
This means that you won't have to cut too much of your hair to actually have a fringe, and you'll be as chic as it gets.
See-through Korean bangs are the easiest to style and easiest to grow out.
That's why they're the perfect choice for all the ladies getting fringe for the first time.
Plus, they work wonders with all hair lengths! What more could you ask for?
This style of bangs is also known as air bangs because they're subtle, not voluminous, and pretty versatile.
If you have a bad bang day, you can simply transform them into side bangs or get a cute hair clip and create an effortless, messy do.
When my Korean-inspired bangs get a little long, I love curling them with a curling iron and getting the rest of my hair up in a high bun.
#2 Korean Wavy Bangs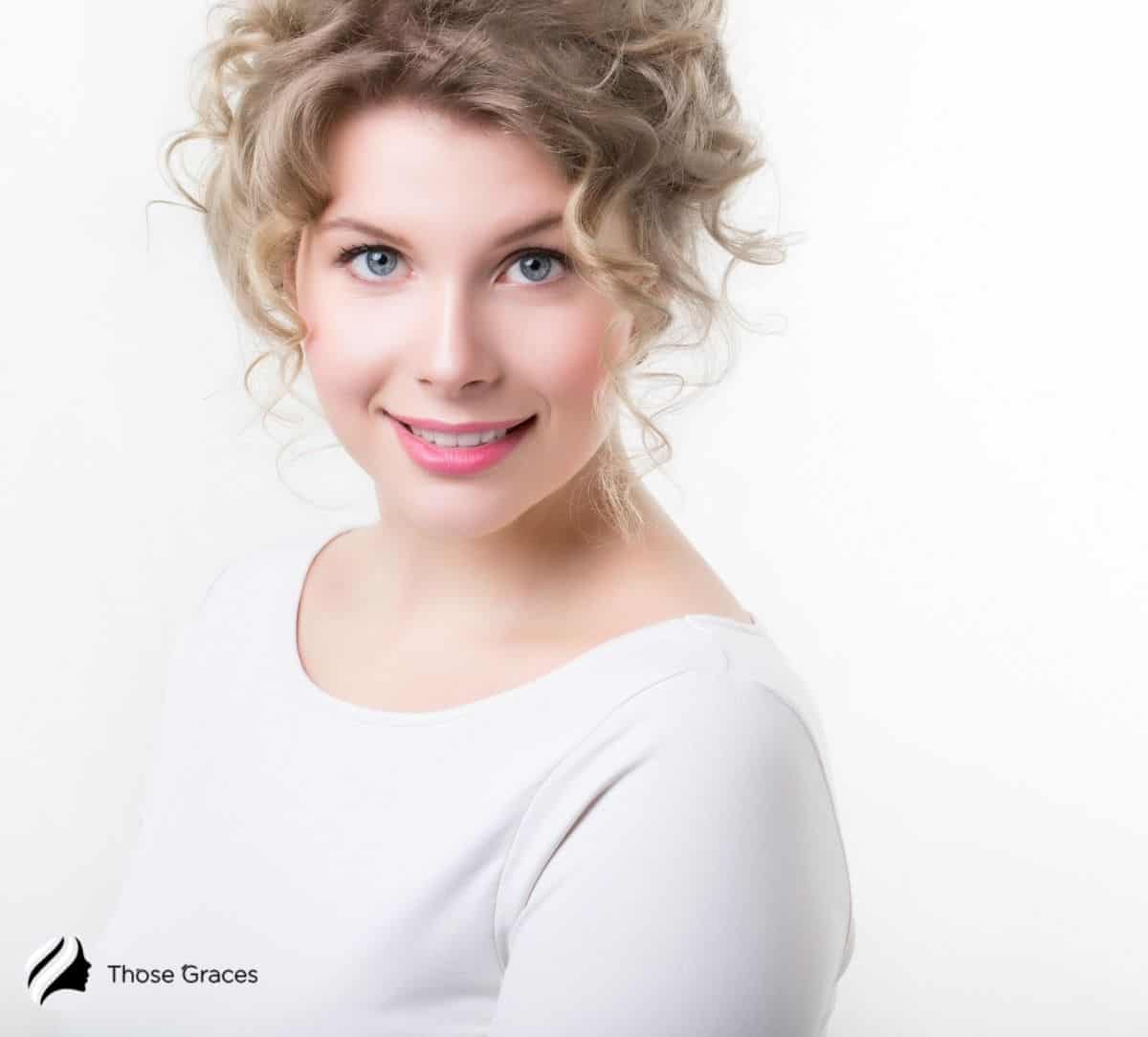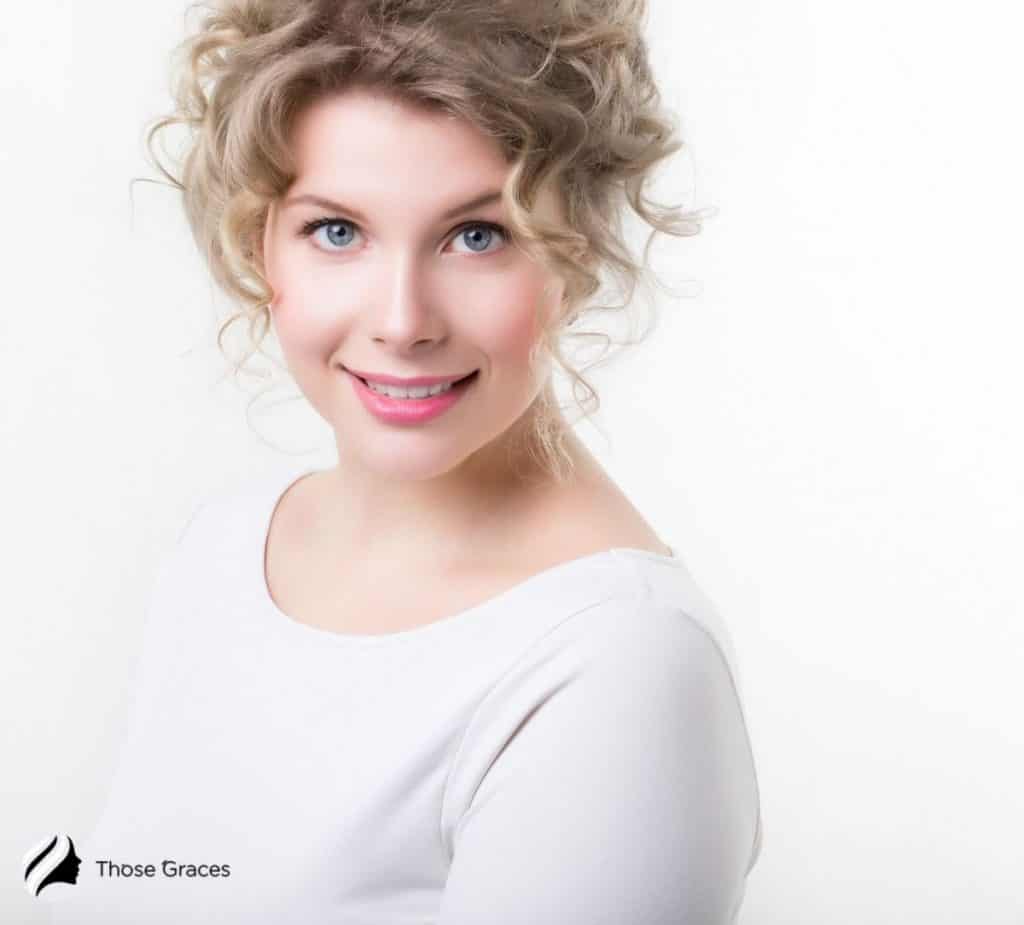 Who says that bangs are boring?
Since the all-time classic bangs of Korean girls are pretty long, you can zhuzh them up with a curling iron or a hair straightener.
Just add curl or two here and there, and you'll be the coolest person with a fringe.
You can also opt for soft, romantic waves and keep the rest of your hair messy and wavy too.
#3 Korean Side Bangs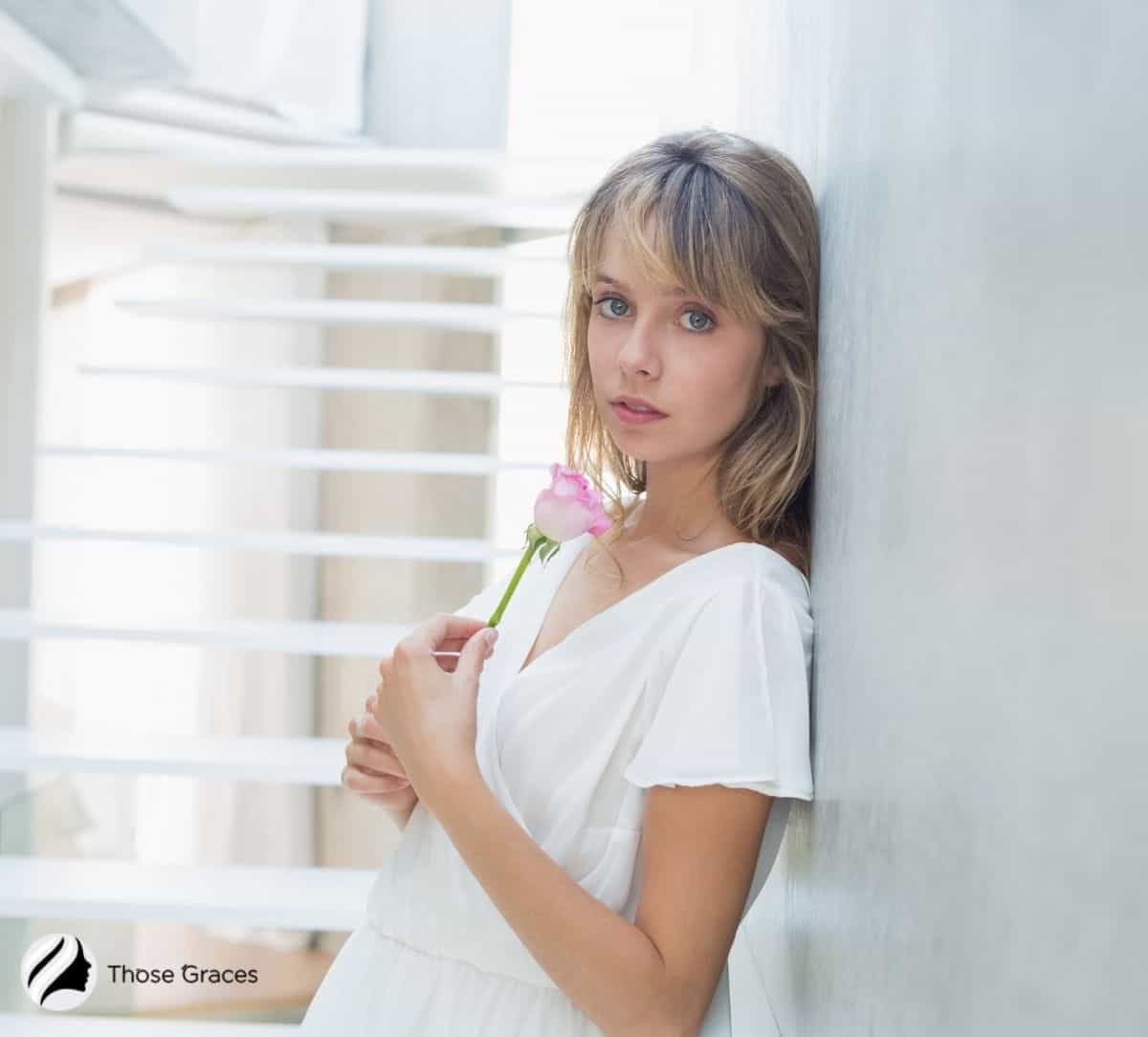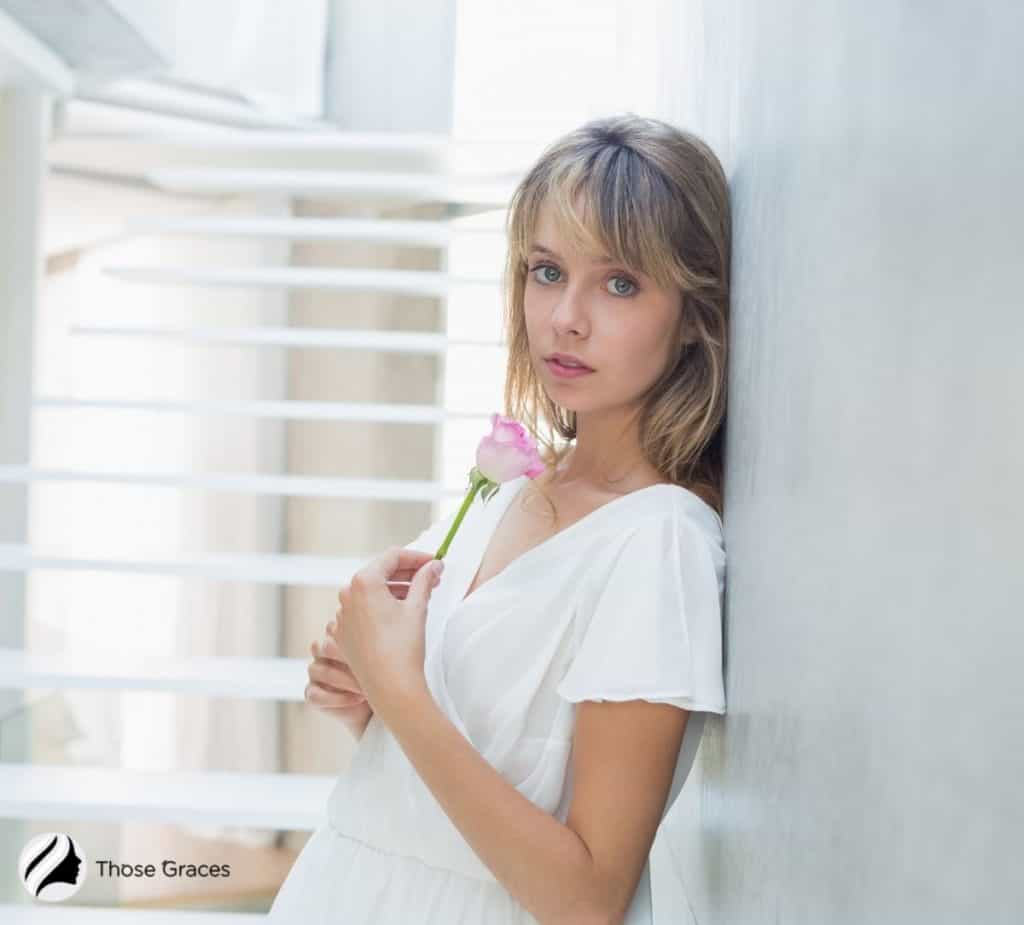 K-pop side-swept bangs have been a thing for a while.
This popular style means that you have bangs without risking covering your forehead and without having to do a significant change.
They pair wonderfully with a high pony or a boho braid.
When you want to impress someone and love flaunting a side part, this hairdo should be your choice.
#4 Korean Blunt Bangs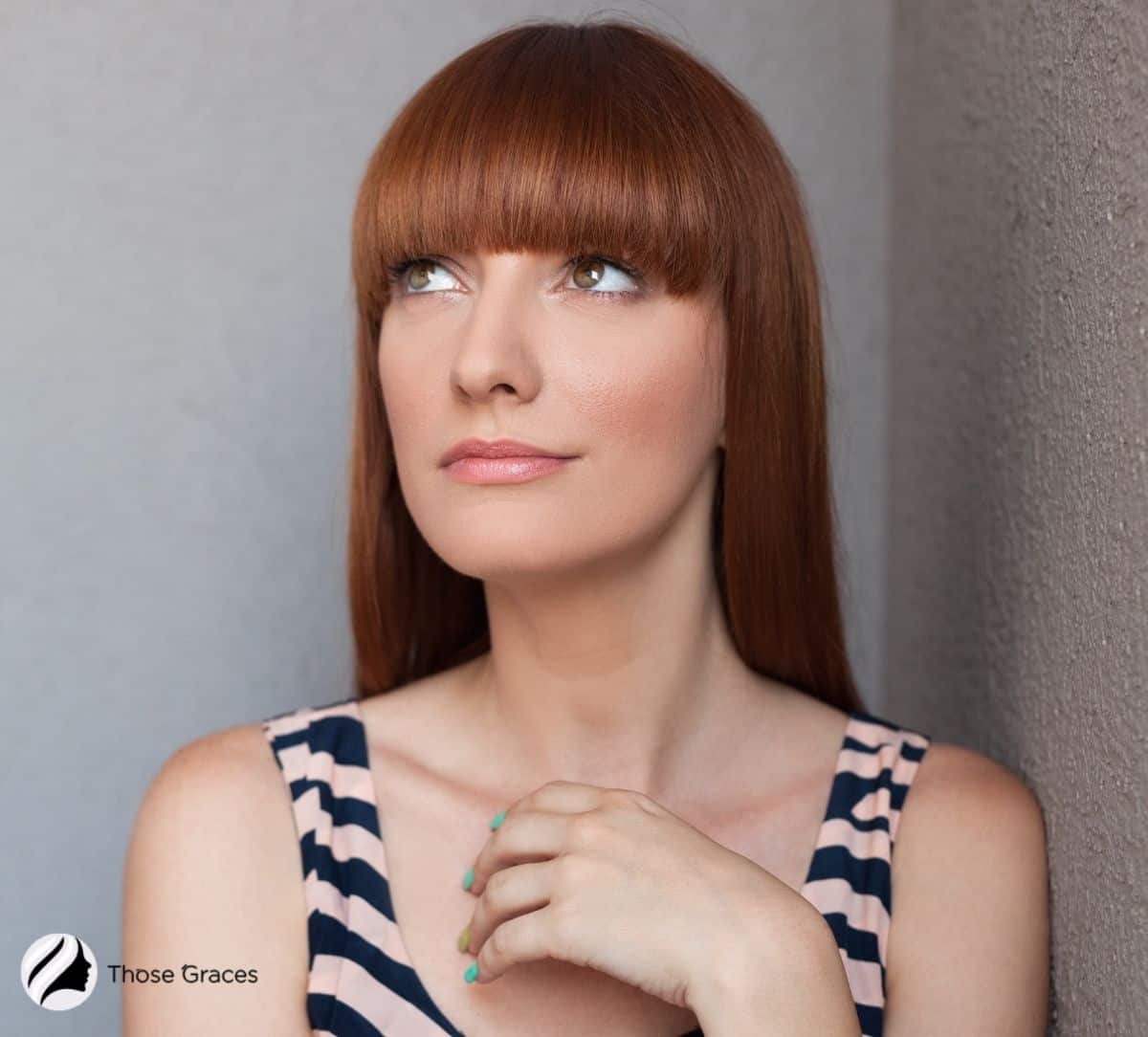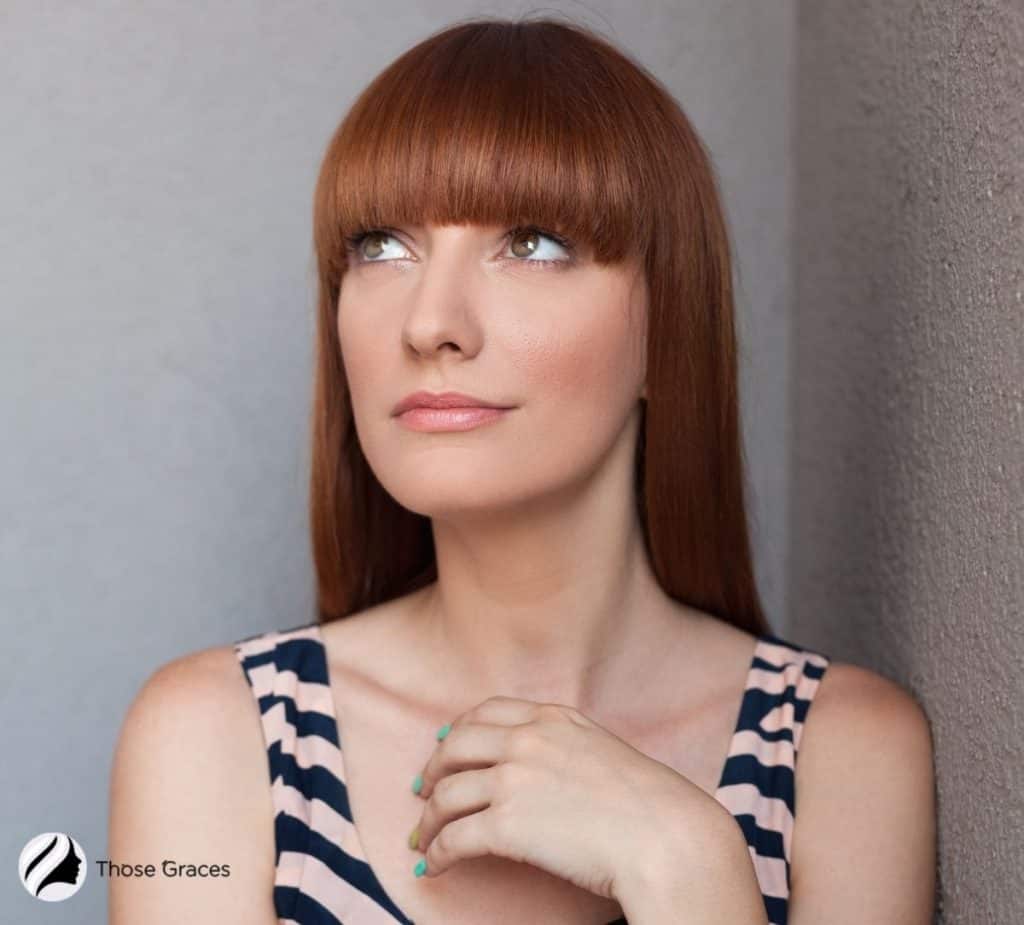 Rocking a blunt bang is more time-consuming and requires regular visits to the hair salon, but it looks so powerful and eye-catching.
I've tried blunt bangs in the past, and they're really flattering for round face shapes.
Because I have thick, straight hair, I found it a little hard to style blunt bangs.
However, I have to admit that they look so unique and chic.
Korean girls love styling their blunt voluminous bangs with a short, sassy bob or a lob.
Next time I'm ready for a major change, this will be my go-to hairstyle.
#5 Korean Curtain Bangs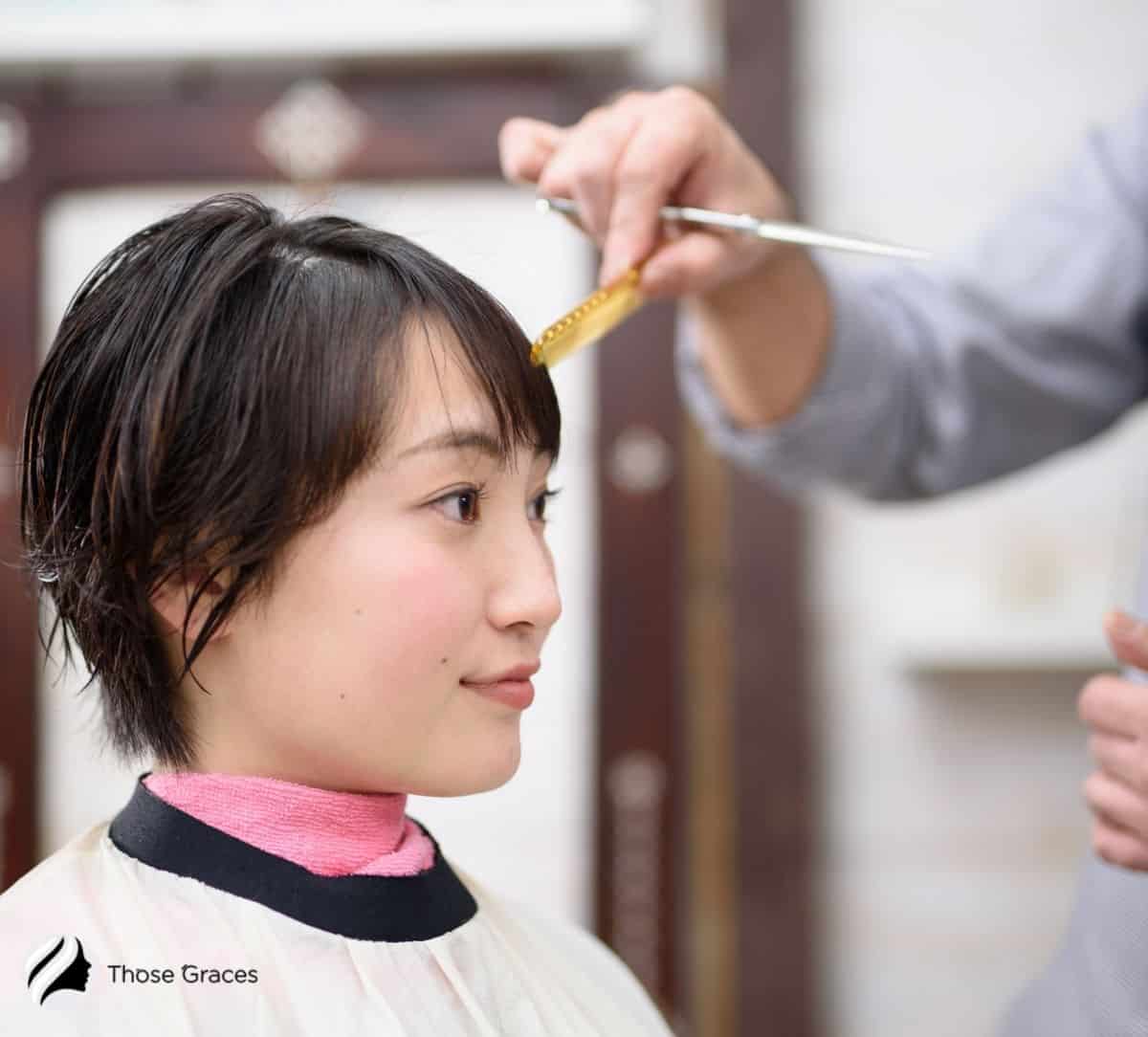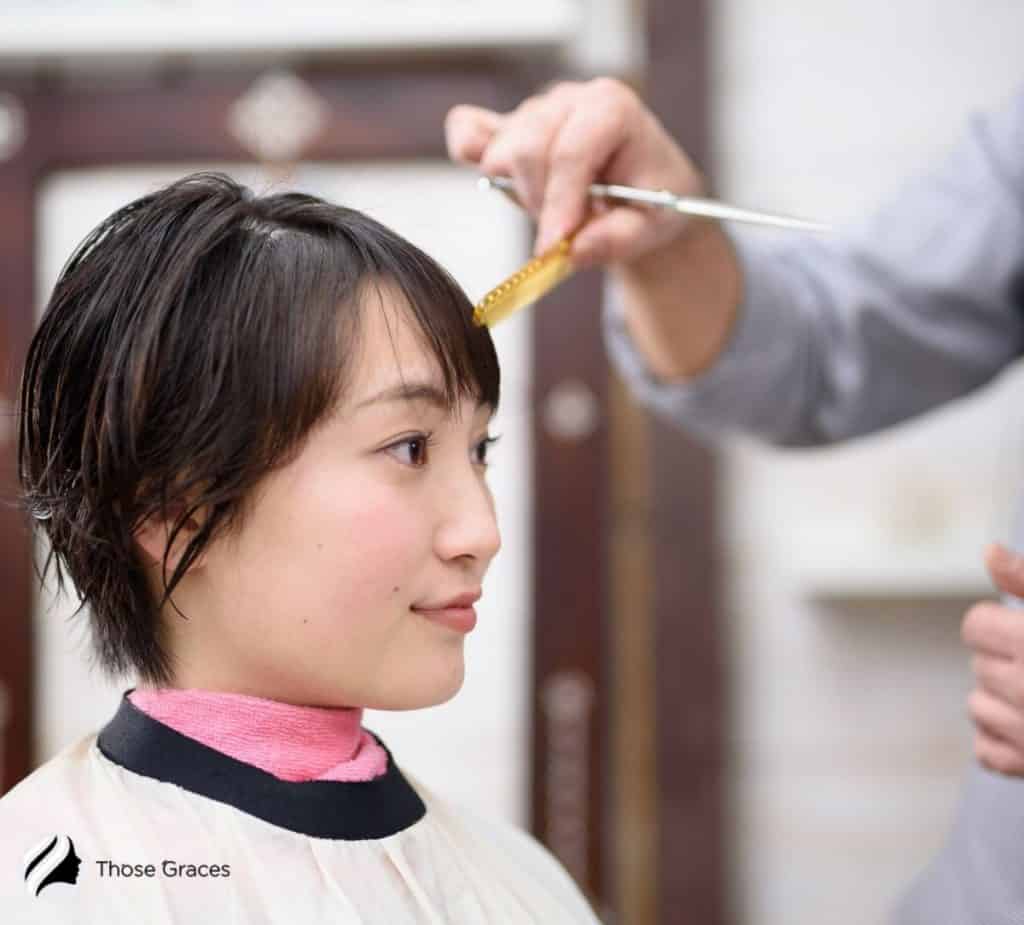 Curtain bangs are a worldwide trend right now!
If you want to be the coolest girl in town, this is the hairstyle that I recommend.
It's always been my favorite because it's perfect for ladies who want to have bangs but need a sophisticated, chic, effortless style.
Curtain choppy bangs will frame your face and convince you that you should opt for the full see-through hairstyle next time without hesitation.
This style will slim down your face, and they work wonders for round and heart-shaped faces.
#6 Korean Baby Hair Bangs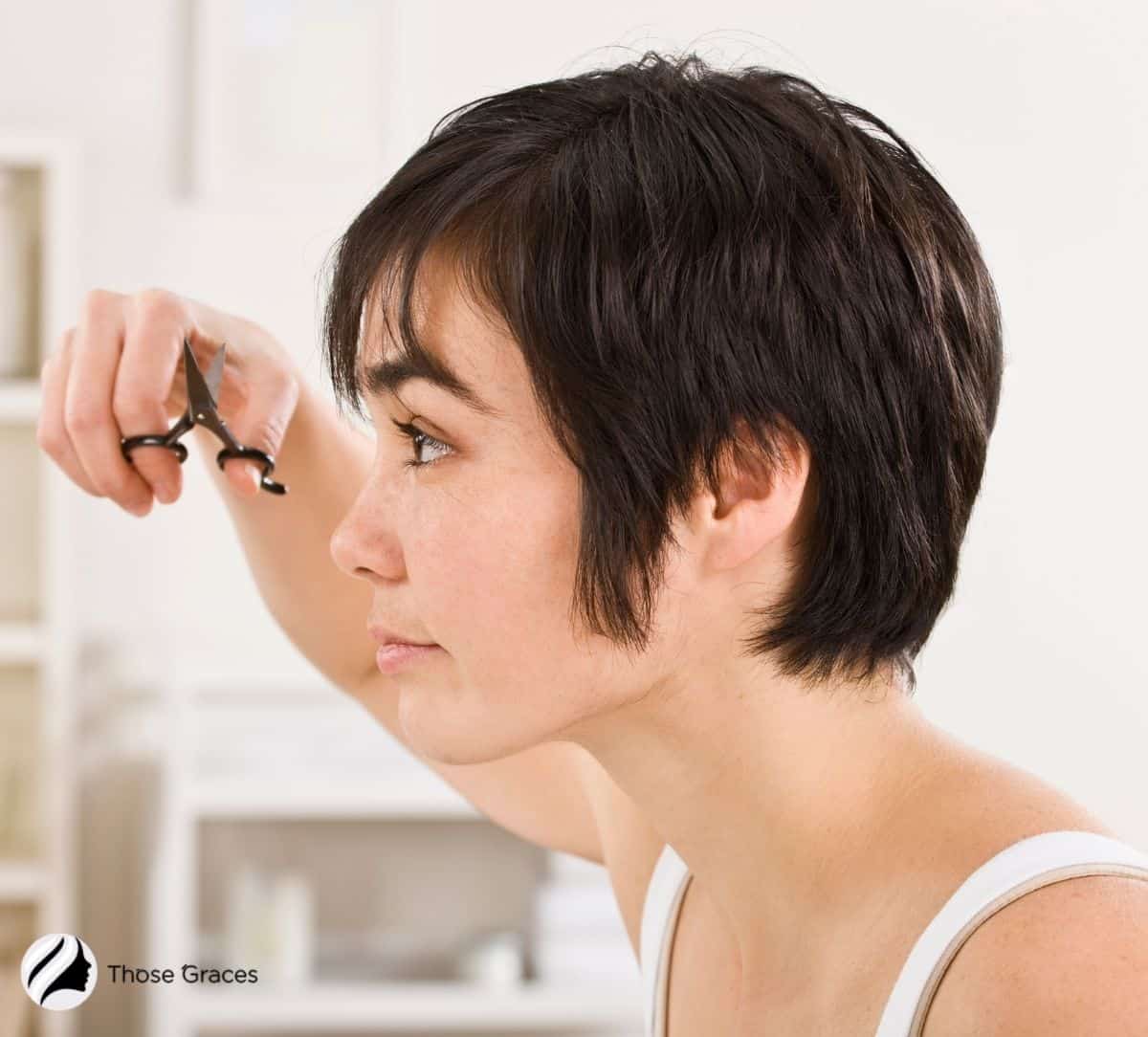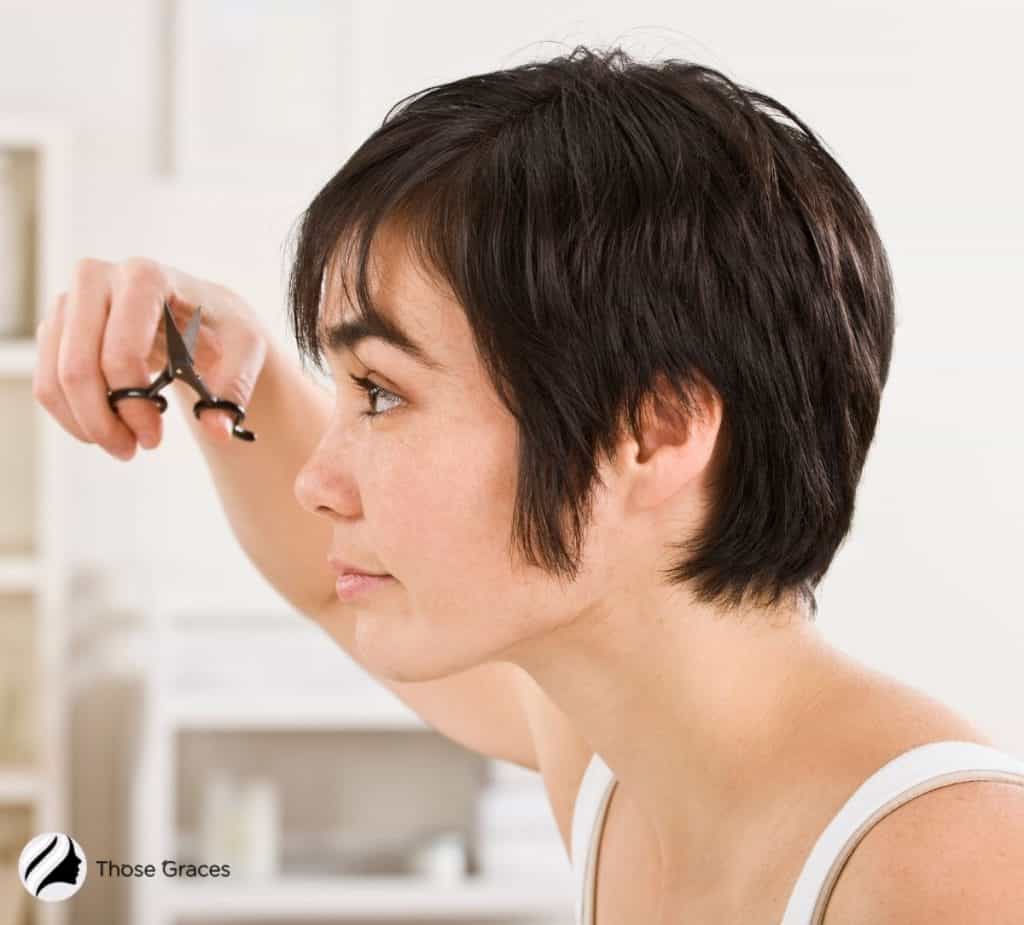 The cutest, most lovable do on this list is the baby hair bangs!
Although it looks like it's the riskiest one, it's much easier to maintain than you think. If you're one of those bold girls who loves to experiment, don't hesitate to cut your fringe this short.
Everyone around you will love the new hairstyle, plus you'll be following the steps of major celebrities such as Emma Watson and many Korean stars.
How to Achieve Korean Bangs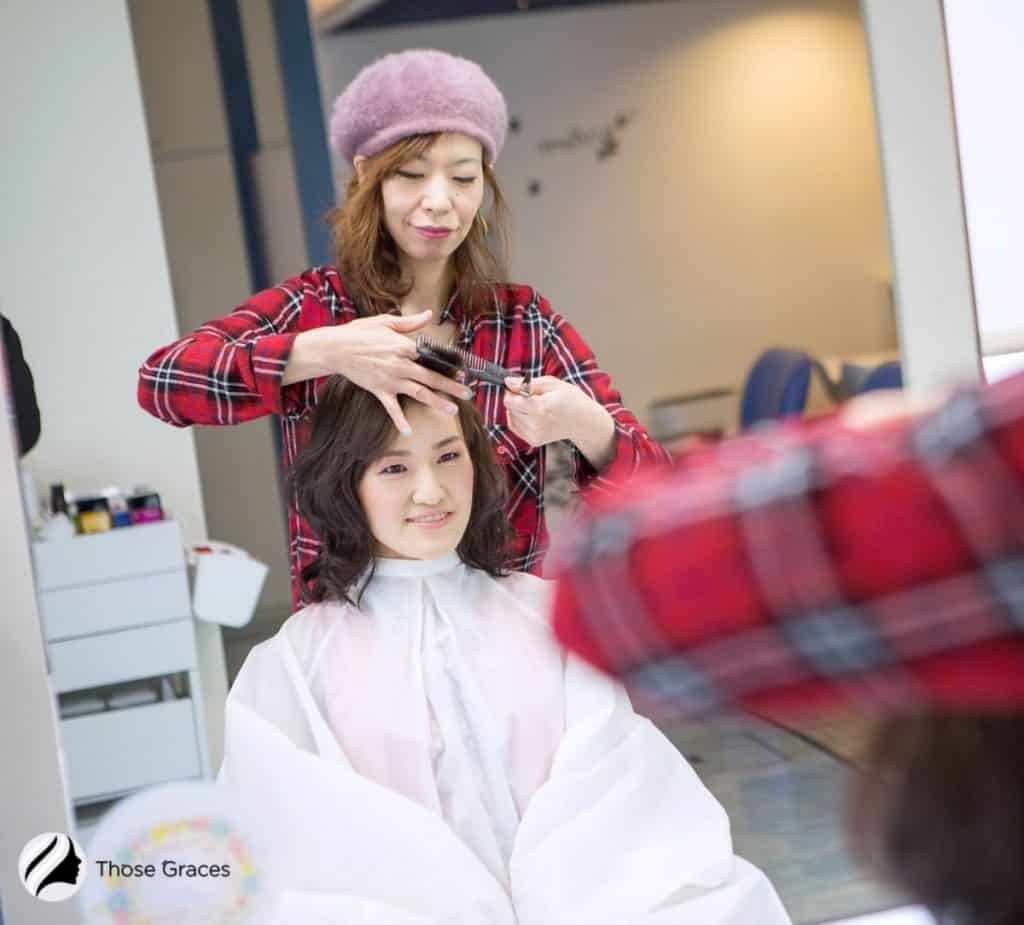 If you've been obsessed with Korean girls and the way they style their hair, then it's time for a change.
Korean bangs have been on my mind for so long, but I didn't gather the courage to do it until last week.
And ladies, let me tell you, it's been one of the best decisions in my life.
If you're not ready for the commitment or are scared that these bangs are not meant for you, I recommend trying sheer bangs.
The cutting steps are the same; you just make them wispier and use less hair.
Although I highly recommend leaving the cutting job to a professional, there is also the option to cut your own bangs at home.
This is a step-by-step guide to help you achieve the do you've been eyeing for a while:
Step 1
Start by combing your hair. It's best if you cut it while it's dry. Many people make the mistake of cutting it wet, then their entire week or even month is ruined.
Use a comb to separate the hair that you need to cut shorter.
Place the strands right in front of your eyes and forehead. You should decide now how long you want the bangs to be.
For the typical K-style bangs, you want to cut between the upper lash line and your brows.
Step 2
Once you're set on the length, separate the middle part of the hair section and prepare your scissors.
This is the first section you need to cut because it should be straight and with equal length on both sides.
Use a vertical cutting technique so that the fringe can be wispy with thin ends that you'll easily style.
If you cut horizontally, the bangs will be blunt and much harder to tame. I've tried blunt bangs in the past, but they were so hard to style because of my thick hair.
Step 3
Once you've cut the middle section, you want to create crescent-shaped bangs. In other words, the sides of your Korean fringe will be longer than the middle part and will frame your face.
Cut one side first, starting from the middle section and moving diagonally towards your jaw bone. Do the same thing with the other side and compare to see if both are the same.
You should try to make both sides as symmetrical as possible.
Step 4
Now that you're done cutting, just spread out the bangs and you're ready to go! This hairstyle is perfect for ladies with a wide forehead and wide face because they give a thinner appearance.
Step 5
Now that you've cut your new amazing bangs, it's time to learn how to style them. I wanted to know how Korean girls do it, so I started digging deep for videos.
The best advice that I saw and tried is to use hair rollers. I know it sounds strange, but bear with me.
Rollers will give your fringe a lift right from the roots and will give your hair a nice, natural curl.
Plus, you won't lose volume or need to deal with messy fly-aways that happen whenever you use a hair straightener.
Although I'm not a fan of straighteners for fringe, a lot of women love this tool as a fast, simple solution to slightly curl their bangs inwards.
Korean Bangs FAQs
What Are Korean Bangs Called?
When you see air fringe, Korean see-through bangs, Korean air bangs, K bangs, K-inspired bangs, Korean girl bangs, choppy, wispy, effortless bangs mentioned anywhere, you should know that it's the same hairstyle as Korean bangs.
Why Do Korean Guys Have Bangs?
Korean guys add fringe to their dos because it's popular, or they're trying to hide their forehead and make their face appear leaner using these wispy, cool bangs. Koreans are often conscious about the size of their forehead and have different beauty standards.
Conclusion
It's no secret that I love everything K-related. I have a favorite Korean primer, Korean foundation, and now I have a favorite Korean hairstyle.
I've been on the hunt for the perfect bangs that will make my chubby cheeks appear slimmer and won't be too risky for a fringe beginner.
After seeing K-inspired bangs all over my feed, I decided it was time for a change.
These Korean-inspired bangs are so easy to pull off and so alluring that every single lady wants to try them out.
Thankfully, Koreans have many types of bangs that you can opt for, aside from the classic see-through fringe. After going over the hairstyles, can you pick a favorite?
References
Dec 25, Ira Nopuente |, and 2019. n.d. "Want K-Style Bangs? Here's How You Can Do It by Yourself." COSMO.PH. Accessed June 3, 2021. https://www.cosmo.ph/beauty/hair/k-style-bangs-tutorial-a1014-20191224.
"How to Cut Your Own Korean See-through Bangs." 2015. Be Asia: Fashion, Beauty, Lifestyle & Celebrity News. September 30, 2015. http://asia.be.com/beauty/hair/how-to/cut-see-bangs-82999.html#item=1.
"Korean Hairstyles for Round Faces, according to Hair Experts." n.d. Hana Story. Accessed June 3, 2021. https://www.hanastory.com/blogs/news/korean-hairstyle-round-face-best.
Li, George. 2020. "How Much Do People Spend on Haircuts?" Medium. April 25, 2020. https://towardsdatascience.com/analyzing-who-spends-more-on-haircuts-men-or-women-a90003e98312.
"See-through Korean Bangs and Why You Are NOT Suitable for It." n.d. Beautyundercover. Accessed June 3, 2021. https://www.beautyundercover.sg/See-Through-Korean-Bangs-not-suitable.
Tan, Iris. 2020. "7 Types of Korean Bangs & How to Create the Hairstyle." Shopee Blog | Shopee Singapore. May 22, 2020. https://shopee.sg/blog/korean-bangs-create-hairstyle/.
Have you tried any Korean bangs hairstyles? Can you share with us your thoughts about it?