Finding great zero-waste makeup is not as easy as it sounds, as unfortunately, eco-friendly and sustainable brands are rare.
Although I've been into organic makeup for a while, I got interested in zero-waste beauty after finding out that each year the cosmetics industry produces more than 120 billion units of packaging.
On my search for the perfect makeup that comes in great packaging, I found five brands that support the same causes that I do.
If you keep reading, you'll find out more about these fantastic brands and my favorite zero-waste beauty products that I can't live without so what are you waiting for? Stop beauty waste now!
Zero-Waste Makeup Top Picks at a Glance
FYI, this post contains affiliate links. We earn a commission if you make a purchase at no extra cost to you.
Check this comparison table for a quick guide. Read the review for further details.
Top Benefit
The brand donates to the Plastic Ocean Project that works to reduce plastic waste from the oceans
The brand is completely plastic-free
Top 5 Best Zero-Waste Makeup Brands
According to recent research, almost 50% of Brits are ready to pay more to avoid plastic packaging.
When I first started exploring zero-waste makeup, I thought that I would also have to splurge a lot to enjoy recyclable packaging.
Thankfully, these five brands make it possible for consumers to stay within budget and get the high-quality makeup products they deserve.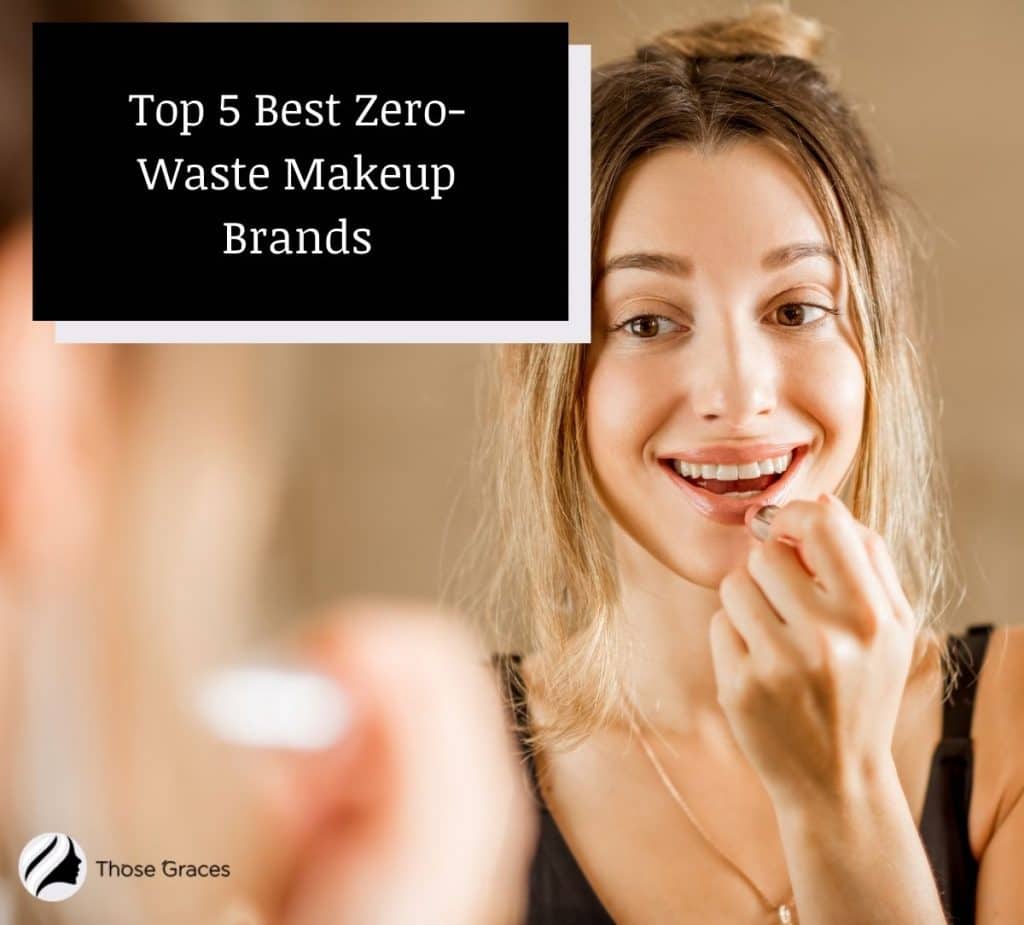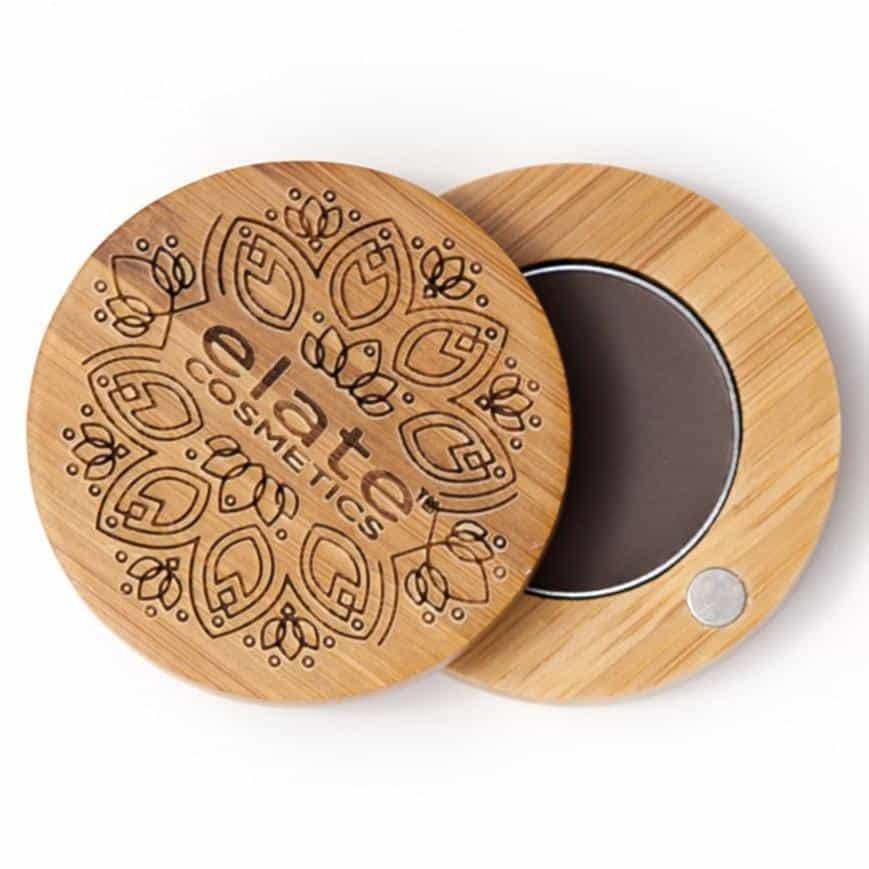 I've been exploring zero-waste makeup for quite some time, and thankfully the market for more sustainable beauty is slowly growing.
Although I've tried numerous brands so far, Elate will still be my favorite.
This is the absolute winner on the list because 75% of their ingredients are organic, their products are affordable, the brand offers a wide range of makeup products, the quality is exceptional, and the packaging is made of recyclable materials.
"I did a sample of Elate Cosmetics and LOVED it. It came in tiny jars that I can reuse. It didn't break me out and the foundation samples I got lasted three uses. Best decision made this year!"

Reddit user bandabearsrock.
Features
Elate is a zero-waste makeup brand that thinks about how they affect the environment with their production.
Their product packaging is recyclable, they pack the orders in the smallest possible recyclable boxes, and they are around 75% waste-free.
This is a 100% vegan and cruelty-free brand that donates and supports environmental charities.
"We pack your order in size-appropriate boxes made from recyclable post-consumer material. Boxes are padded using a paper fill material called Geami to ensure your products are protected on their trip home to you."
| Benefits | Drawbacks |
| --- | --- |
| Wide range of products available | They use palm oil derivatives, but they're sustainably sourced |
| Their products are affordable | |
| Elate offers refills | |
| Their packaging is mainly based on bamboo, seed paper, glass, and aluminum | |
Benefits
Wide range of products available
Elate Beauty offers a wide range of products, including eye liner, mascara, brow balm, liquid foundation, pressed eye color, eyecolor pencils, lip balms, lip pencils, lipsticks, lip glosses, cream blush, concealer, bronzer, loose powder, makeup brushes, palettes, eye makeup remover balm, kits and more.
Their products are affordable
Elate's products fall in a more affordable category compared to other zero-waste makeup brands.
You can get refills for some of the brand's products, such as brow balm and eyeshadows.
Their packaging is mainly based on bamboo, seed paper, glass, and aluminum
Although Elate still uses recyclable plastic for some of its products, the majority of its packaging is made of recyclable sources such as seed paper, bamboo, glass, and aluminum.
Drawbacks
They use palm oil derivatives, but they're sustainably sourced
The brand makes sure to source its palm oil derivatives sustainably.
Our Favorite Product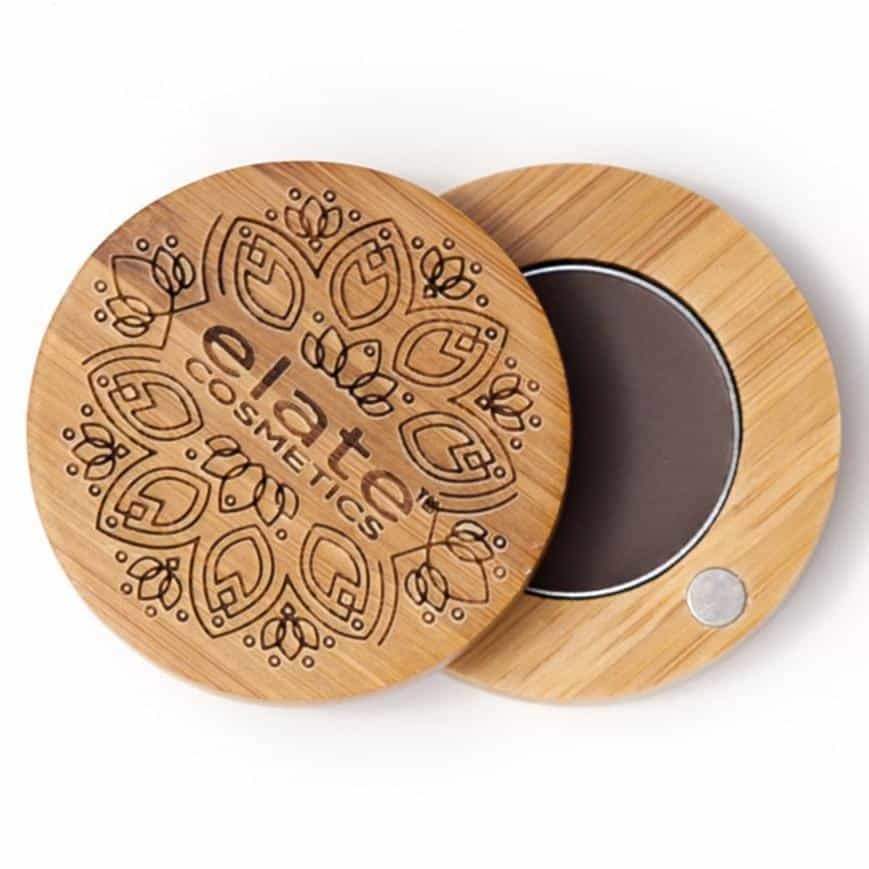 The Elate Cosmetics Brow Balm is my favorite brow product of all time. My bushy brows are hard to tame and fill, but this balm makes it so easy to shape them to perfection.
Another thing that I love and find so cute is the reusable bamboo compact that the product is packed in. The refill comes in a seed paper envelope that you can plant and grow flowers from it. Crazy, right?
How it Compares to Others and Why
This is one of the rare brands with such a diverse and affordable range.
Elate Cosmetics donates 2% of their annual sales to charity, plus work according to fair trade guidelines to provide their workers with proper pay.
Expert Tips
The brow balm is so easy to use- you just need a brow brush. There are two shades to choose from, and I've used the darker one as a contour powder on several occasions.
Related: How Do You Remove Zero Waste Makeup?
2. Aether Beauty– Best Eyeshadow Palettes
Tillia Abbitt, a product development professional, founded Aether Beauty in 2018 after working in Sephora's product development team for seven years.
Tillia's passion for sustainable beauty led her to discover that only 11 ingredients are banned from colored cosmetics in the US, while Europe has a much more extensive list.
"Your skin is important to us, which is why we use organic Skincare oils in formulating our vegan products and ban over 2500 ingredients."
This is all I had to read about the brand before deciding to order some of their top-selling makeup products.
Aether's mission is quite powerful, and I love supporting brands that want to make the world a better place.
Features
Aether has a wide range of beauty products, including eyeshadow palettes, lip cremes, highlighters, cheek palettes, and illuminating oils.
The brand uses only organic ingredients, non-GMO, non-toxic, vegan, and fair-trade.
The packaging for the eyeshadow palettes is made of FSC-Certified paper, while the pans are made of recyclable aluminum.
The shipping box is made of a fully recyclable FSC-Certified cardboard box, and the biodegradable stickers are sugar-based.
| Benefits | Drawbacks |
| --- | --- |
| Reduce the carbon emission by 25% with their packaging made of recycled materials | Their product range could be more diverse |
| Aether Beauty only uses carbon-neutral shipping for their zero-waste cosmetics | The products are costly |
| The brand has banned over 2500 ingredients, so you can be sure you're getting the clean beauty experience you've been looking for | |
| A portion of each sale supports environmental charities | |
Our Favorite Product
My personal favorite Aether Beauty product is the Summer Solstice Palette.
I found it so crazy and amazing that this palette actually contains crystals in the ingredient list.
What's even better, the outer packaging is made of paper, and it's almost 100% recyclable. The pigmentation of these shadows is insane, and I love how well the shades work on all skin tones.
How it Compares to Others and Why
If you're more into colorful makeup that you'll use every day and for special occasions, Aether Beauty is the place to shop.
They have the most vibrant eyeshadows and stunning highlighters that will help you achieve a surreal glow.
Expert Tips
If you want to get the best out of this palette, you can get the brush wet, then dip it into the pan. It will intensify the color and the glow.
Although Aether Beauty doesn't sell brushes, you can opt for one of the zero-waste brushes from the other brands I review in this article.
Sale
ĀTHR Moonlight Crystal Eyeshadow Palette | 12 Shades | Clean, Organic, Vegan, Cruelty-Free & Recyclable
Illuminated by the full moon, this 12-shade eyeshadow palette combines moody mauves, sultry shimmers and deep mattes to help you create infinite eye looks.
Just like silk, our eyeshadow formula effortlessly glides along the skin, delivering high color payoff with just one swipe.
Harnessing the power of sapphires, this high-frequency, high-payoff eyeshadow palette magnifies your radiance, improves skin brightness and protects against negative energies.
10% of proceeds for the Moonlight Eyeshadow Palette will go to the Attic Youth Center, dedicated to serving exclusively LGBTQ youth and Allies.
Ingredients: Desert-derived Moringa Seed Oil (helps to smooth fine lines and wrinkles), Organic Shea Butter (increases moisture in the skin), Organic Coconut Oil (serves as a smoothing agent that helps deliver creamy, one-swipe payoff), and Sapphire (magnifies skin radiance and brightness).
Related: Best Zero Waste Conditioner and Shampoo
3. River Organics– Best Zero-Waste Shipping Packaging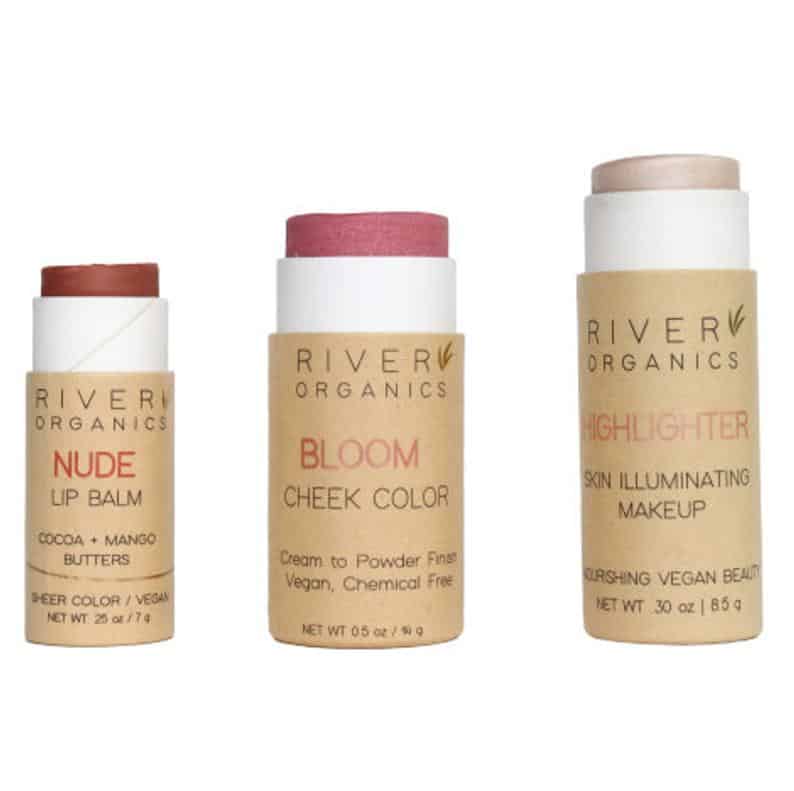 Corinne and Fabien are the husband-and-wife duo behind the zero-waste brand called River Organics.
This beauty company focuses on creating beauty products that are hydrating for all skin types and come in sustainable packaging.
Fabien worked in Chanel's skincare laboratories, where he got the knowledge and experience to start his own brand.
River Organics' makeup aims to plump the skin naturally while also delivering that cosmetic effect.
The brand lists all the ingredients they use in the products and works on being as zero-waste as possible.
Features
The range of River Organics includes blush, concealer, zero-waste mascara, eyebrow wax, highlighter, bronzer, facial oil, body oil, makeup brushes, sets, lip balm, lip stain.
They ship their products in recycled envelopes and use sugarcane-based labels. You won't find any leaflets or promo material in the shipment from this brand.
For the packaging of their products, the brand utilizes biodegradable sugar cane labels, metal caps, and eco-friendly paper packaging. Their beauty products are not only zero-waste but also vegan.
| Benefits | Drawbacks |
| --- | --- |
| Compostable paper packaging of the products | River Organics uses Mica, but it's lab-made |
| Minimal shipment packaging in recycled envelopes with no marketing materials included | Somewhat small color selection |
| The brand donates to the Plastic Ocean Project that works to reduce plastic waste from the oceans | |
| They use organic nourishing oils such as coconut, mango, macadamia | |
Our Favorite Product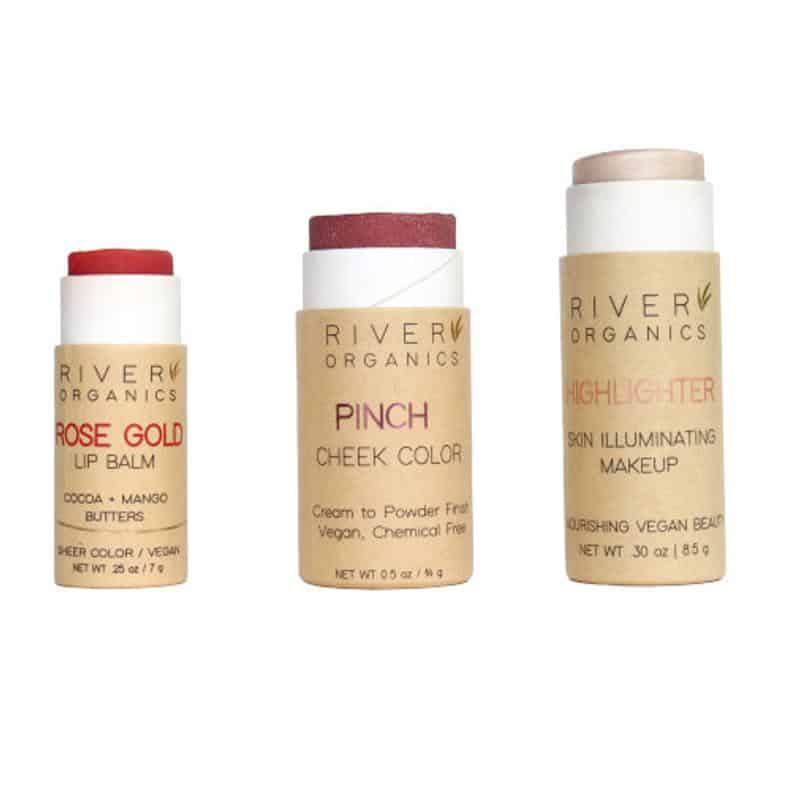 My most favorite product is the River Organics Makeup Set. It includes three products, a lip balm, a highlighter, and a blush.
The price for the set is quite affordable, considering that the three products are certified organic, packed in compostable packaging, and shipped in zero-waste packaging.
How it Compares to Others and Why
River Organics also has a few skincare products on their list. The prices of their beauty range are affordable for the size, and they also offer samples.
Expert Tips
I use all three products with my fingers. That's the best way to achieve a natural glow that will last all day.
You can also apply it on the one hand, rub it with the other and use both for application. That's how you'll warm up the product, and it will apply even better.
4. Nudi Goods– Best 100% Plastic-Free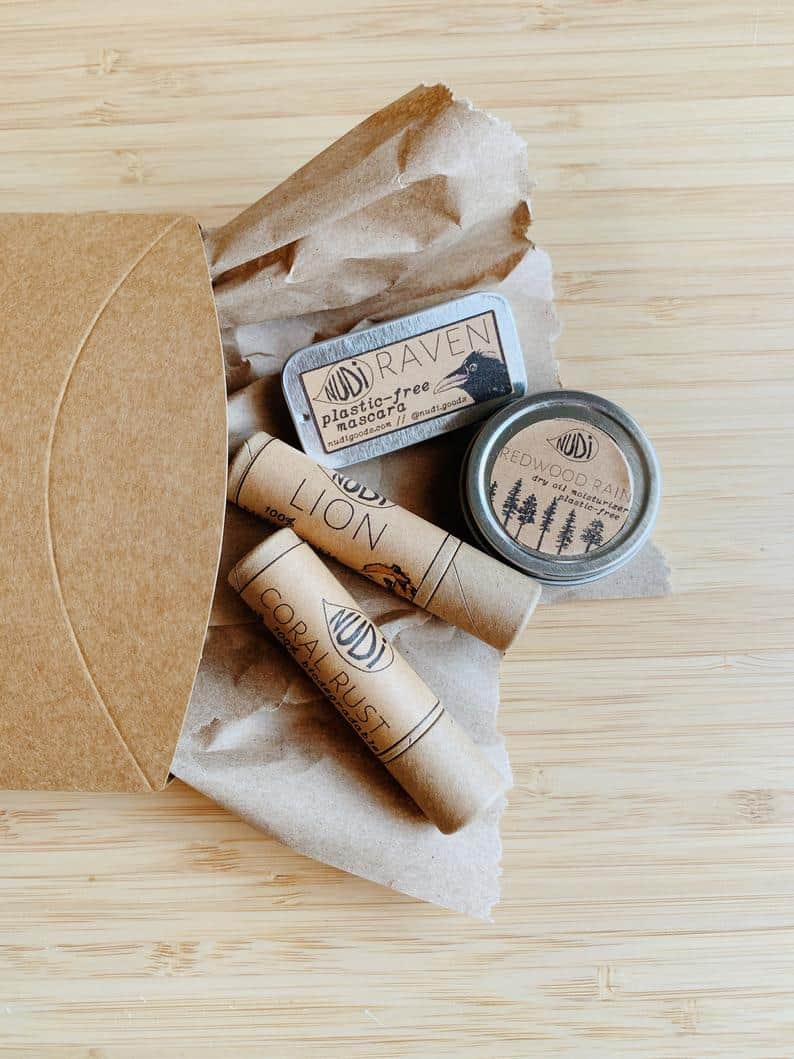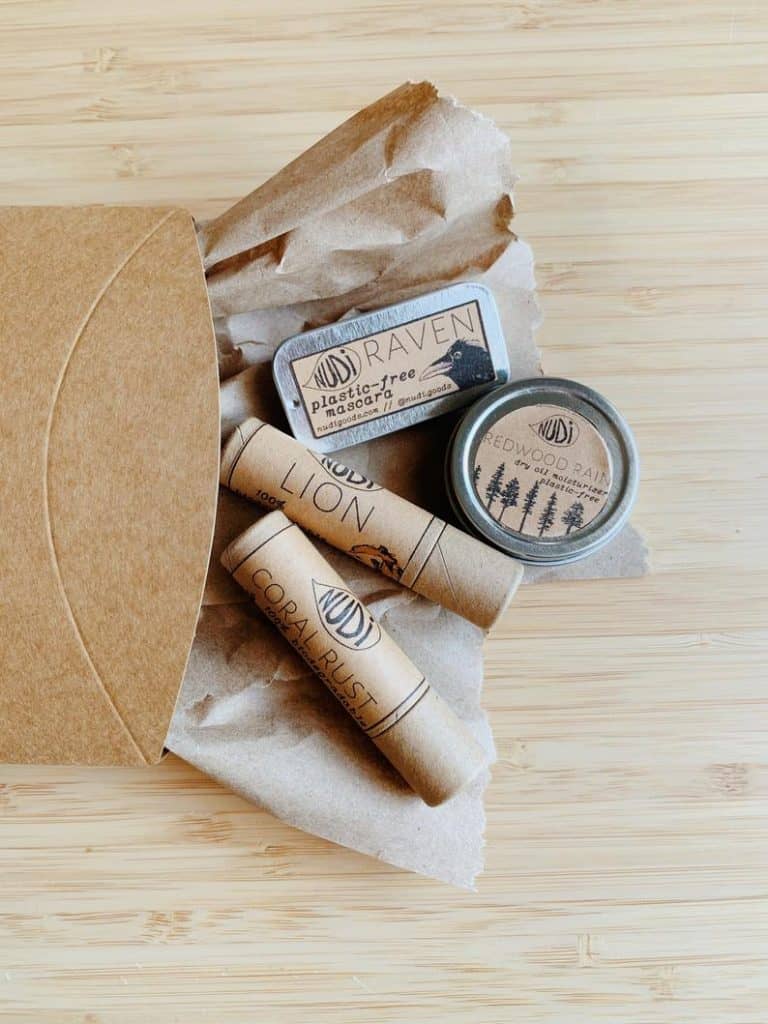 Nudi Goods' story started in 2017 in the Marine Headlands by photographer Jamie.
The brand's founder is a person who lives a sustainable and zero-waste life herself, always opting to make her brand better and cleaner.
This brand is plastic-free, ocean-friendly, environmentally responsible, and utilizes the simplest ingredients to deliver a superb experience.
Features
Nudi Goods sells skincare, makeup, and home goods.
Their range of zero-waste makeup products includes mascara, brow wax, loose eyeshadow, shimmer sticks, eyeshadow, and lip brush.
They use either compostable paper packaging or metal tins for their products.
| Benefits | Drawbacks |
| --- | --- |
| The Nudi Goods makeup and skincare products are affordable | The makeup range is not as diverse as other brands on the list |
| The brand is completely plastic-free | They used mica, but it's sustainably sourced |
| The packaging is either 100% biodegradable, recyclable, or reusable | |
| Their products are palm-oil free | |
Our Favorite Product
Now, let's get to the most important part. My absolute favorite product from the brand is the Nudi Goods Starter Pack.
This pack includes the Raven Mascara, Coral Rust Balm, Original Tinted Lip Balm, the Lion Brow Taming Wax, and a Redwood Rain Dry Oil Moisturizer sample.
I needed a complete kit that will help me get ready in a matter of minutes, so I decided to purchase this one.
Ever since I got it, I've gifted it to friends and repurchased it several times. The price for the number of products that you get is fantastic.
The taming wax is perfect for my stubborn brows, and the tinted lip balm gives me a fresh look whenever I need to.
I also love that the products are easy to just throw in your bag and carry around without them taking too much space.
How it Compares to Others and Why
The product range of Nudi Goods is not as diverse as the other reviewed brands, but the products that they have are excellent and reasonably priced. I'm also a huge fan of their skincare products.
Expert Tips
Since these products are based on natural oils and butter, they are multi-purpose. I've used the balm on my cheeks and the taming wax on my eyelashes.
In other words, you can save money by purchasing a set and getting creative with the products.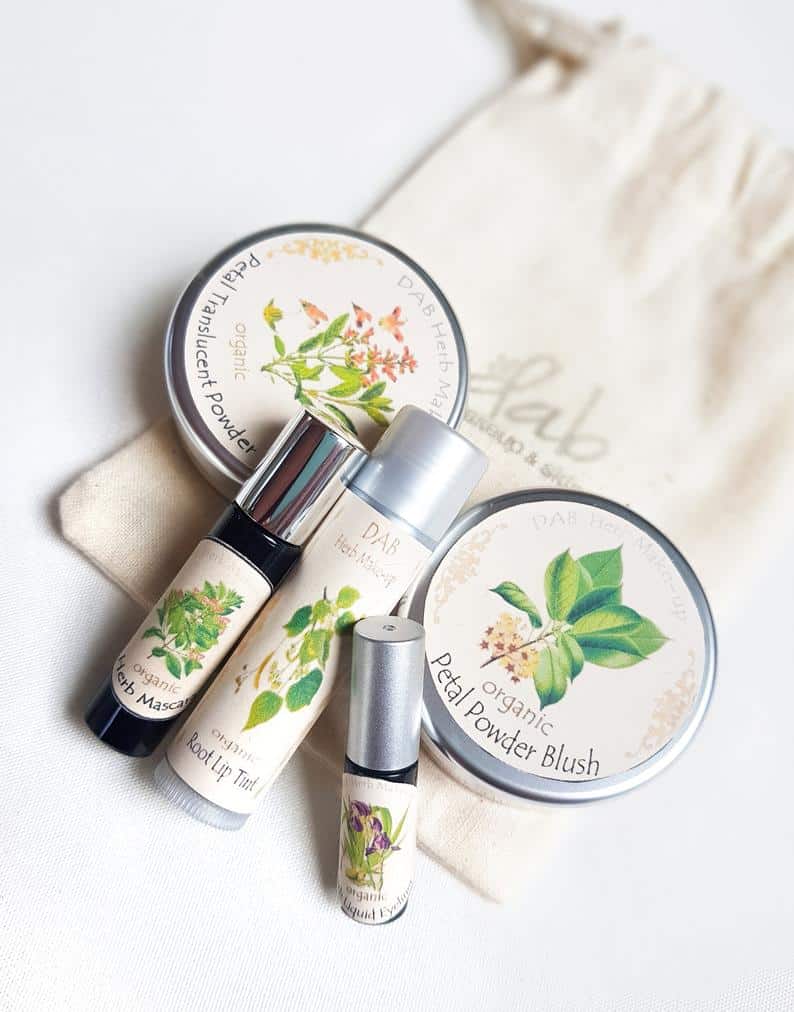 "Dubbed "medicinal makeup" by many, our botanical makeup and skin care uses high-performance essential oil infusions to promote healing and radiance from within.​"
Dab Herb was founded by owner Crissy, who started making organic makeup for her own needs. Her goal was to create an ingredient list that is as clean as possible.
On her pursue of organic makeup, Crissy managed to build zero-waste makeup that supports sustainable practices.
Her motto "Nature to Nurture" means that Dab Herb is certified organic, vegan, cruelty-free, with the highest-quality, pure, food-grade ingredients.
Features
The range of products of Dab Herb includes translucent powder, foundation, concealer, powder blush, primer, cheek balms, herb foundation, color correctors, tinted moisturize.
It also covers a variety of products for eyes and lips, such as mascara bar, eye balm, eye gel, eyeshadow palette, eyebrow/eyelash balm, eyeliner, mascara stick, lip balms, lip paint, lip gloss, lip tins.
As you can see, this is one of the most diverse makeup selections among the other brands. Dab Herb even offers several varieties of a single product.
Their packaging is mainly made of reusable glass containers that you can repurpose easily.
What's very interesting is that if you want a refill, the brand requires you to send back the empty containers, and you'll get a discount on your purchase.
If you want a refill on the powdered products, you don't have to send back the container.
| Benefits | Drawbacks |
| --- | --- |
| Palm oil-free products, no palm oil derivatives too | Some prices are a bit high for the size of the products. |
| The brand offers refills for some of its products | Takes up to 3 weeks to receive. |
| Dab Herb asks customers to send back the containers in order to get refills | |
| Their range of skincare and makeup products is very diverse | |
Our Favorite Product
The Organic Makeup Set includes the following products: Petal Translucent Powder, Herb/Henna Mascara, Coconut Liquid Eyeliner, Root Lip Tint, and Petal Powder Blush.
I love purchasing sets that contain all the products I need without having to look elsewhere.
Although I've tried most of Dab Herb's selection, these five products in the set are my favorite.
I have to admit that the price is a little high, but at least I'm sure that I'm getting the high-quality that I'm looking for.
How it Compares to Others and Why
Dab Herb doesn't use palm oil in their products, and they don't use palm oil derivatives. Most of the other zero-waste brands add palm oil, but they make sure to source it sustainably.
As I mentioned before, they have the widest range of makeup products among the other reviewed brands.
Expert Tips
If you want to get the best out of these products, just use them for multiple purposes. For example, if you opt for a cream blush from the brand, rub it on your fingers and add it to your lips like a balm. That's the beauty of natural products, and you don't have to worry if it's suitable for the entire face or not.
FAQS
Is Milk Makeup Eco-Friendly?
Milk Makeup is an eco-friendly brand that focuses on making its products and service more sustainable. The brand uses sustainable shipping boxes and bags, removed the leaflets from all their products, doesn't use packaging unless necessary, uses 100% recyclable inner bag, and paperboard made outer packaging.
Is RMS Beauty Zero-Waste?
RMS Beauty is a zero-waste, plastic-free makeup brand. 100% of their packaging is recyclable or reusable. The brand uses organic, natural ingredients to create nourishing and rich products for the skin. All products are free of synthetic vitamins, GMO-free, free of harmful chemicals and synthetic preservatives.
Is ILIA A Zero-Waste Brand?
Yes, ILIA is a zero-waste makeup brand that uses aluminum and glass for its packaging. The brand also uses responsibly sourced paper for the packaging. ILIA recently started its TerraCycle's Zero Waste Box platform that encourages customers to mail back five empty beauty products per month from any brand. ILIA will recycle the packaging responsibly so that they don't end up polluting the environment.
Final Recommendation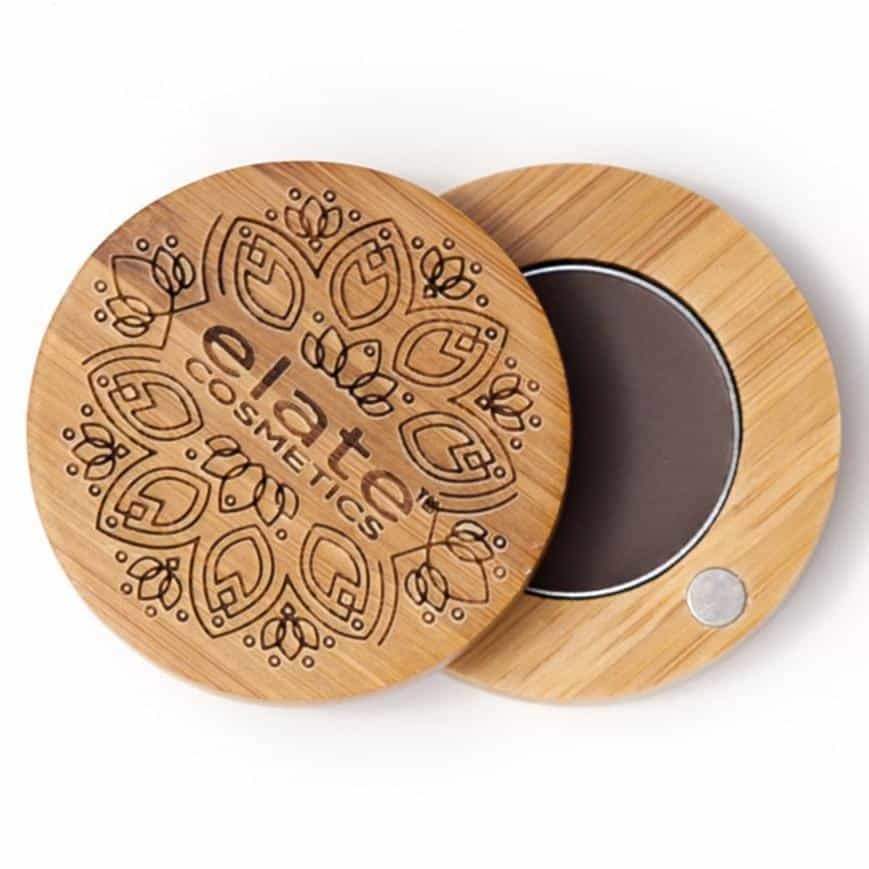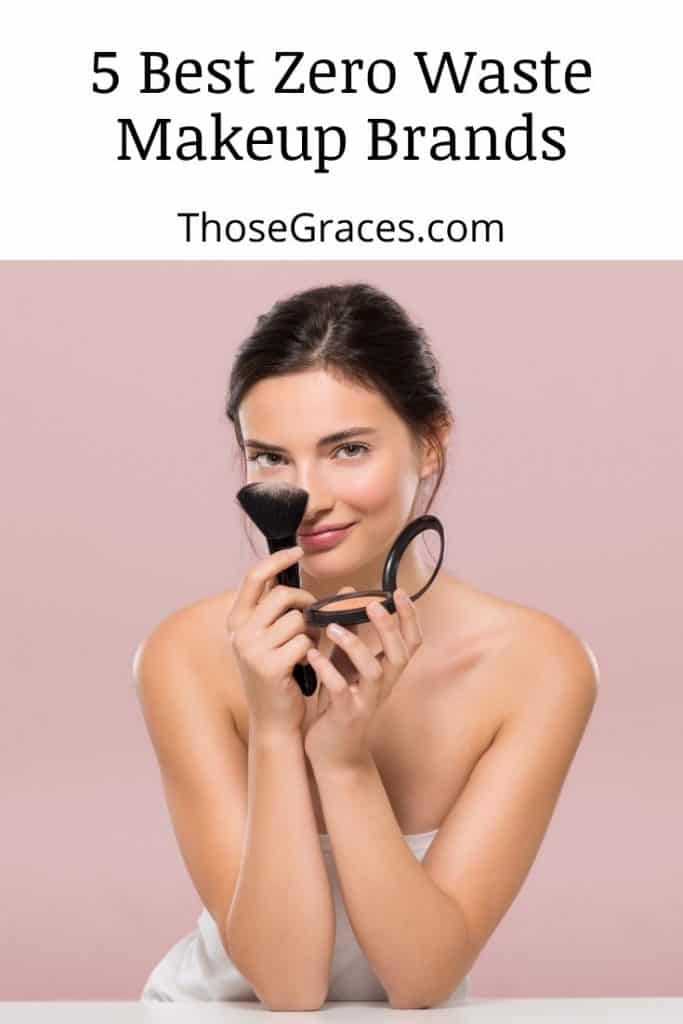 Which is your favorite zero waste makeup? Please share with us!