Let's talk kaolin clay for hair, shall we?
If you didn't know, this white clay is particularly amazing for pretty much all hair types!
From keeping locks shiny to giving you more volume, we're checking out the best products below.
We even included a couple of DIY hair masks to try out!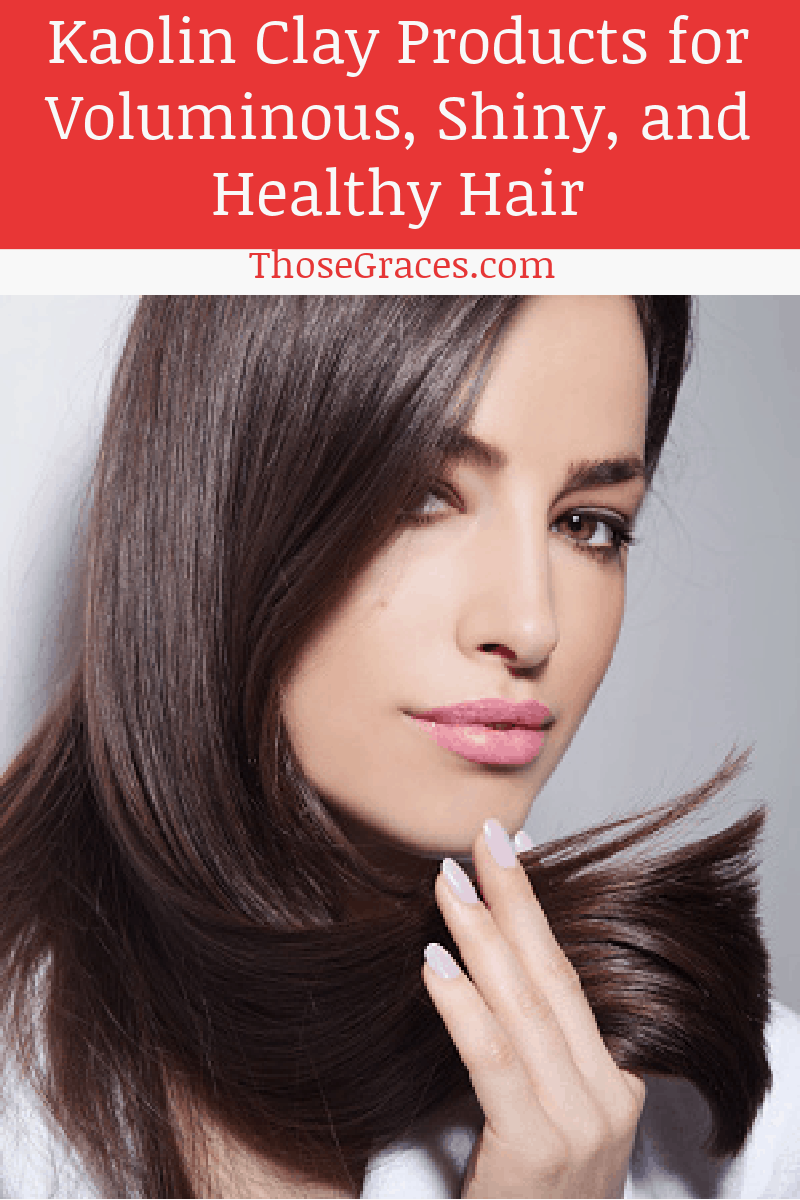 Kaolin Clay for Hair: 7 Ideas for Shiny, Healthy & Voluminous Locks
Like skincare, hair care is very important if you want to maintain healthy, long hair strands.
You have to be intentional about it and actively participate in ensuring your hair's volume is excellent, you don't have dandruff, and your hair is well moisturized.
Thankfully, kaolin clay can help you achieve this easily.
This can be done at home through simple DIY recipes, or you can simply get readily available kaolin hair products.
But how do you know what kaolin products are best for your hair? Well, that's why I'm here.
Let me take you through the best products.
Related: Kaolin Clay vs. Bentonite Clay for Hair
Kaolin Clay for Gray Hair
Unlike in the past decades, when people hated grey hair and often dyed it to avoid being noticed, things have changed, and people have embraced it.
But as much as it looks really awesome, it requires more attention to keep the glow, volume, and length.
Kaolin hair can make this happen and benefit your hair in multiple ways.
Here is a video of how to make a kaolin shampoo to keep your grey hair healthy, bright, and glowing.
Kaolin Clay Hair Products
There are several kaolin products on the market. Most of them can be used for both skin and hair care.
Here are my favorite kaolin clay hair products.
FYI, this post contains affiliate links. If you make a purchase through these links, we earn a small commission at no extra charge to you.
1. MB Herbs Light Kaolin Clay
This is one of the best kaolin clay products on the market. However, it takes roughly two weeks to see any results, so don't despair.
The MB herbs light kaolin clay has fantastic products that help eliminate dandruff from your hair, increase hair volume, and improve the glow. For best results, use together with apple cider vinegar or honey.
It works for all hair types and has no history of allergy reactions.
You can buy the product from Amazon.
MB Herbals Light Kaolin Clay 250 Grams (8.81 oz) | Kaolin White Clay for Face Pack
Kaolin Clay is one of the most gentle among all Clays used in Skin Care.
Kaolin Clay is most suitable for people with Sensitive Skin.
KAOLIN CLAY & APPLE CIDER VINEGAR FACE MASK: Mix 1 TbSp Kaolin Clay, 2 TbSp Apple Cider Vineger and 1 or 2 Drops of Frankincense Oil in a bowl. Apply the mixture to your face, avoiding the eye area. Allow it to sit for 10 minutes or until it dries. Wash with warm water and then with cold water. Apply a face moisturizer.
KAOLIN CLAY & HONEY FACE MASK: Mix 2 TeaSp Kaolin Clay, 1 Tea Sp Honey and 1 TableSpoon Rose Water in a bowl. Spread the mixture on your face avoiding the eye area. Allow it to dry for 10 minutes. Wash with warm water and then splash your face with cold water.
Kaolin Clay was first discovered in Kaoling Hill in China. Kaolin Clay is found in many parts of the world. MB Herbals Kaolin Clay is extracted from India. Product of India.
2. Dry Shampoo with Kaolin and Palmarosa
This is an instant hair refresher. It helps in eliminating odor and absorbs any excess oil without leaving any traces of white residue.
Benefits of the spray include cleaning the scalp by pulling any dirt, increasing hair volume, balancing the scalp, and improving hair texture. I also consider the amazing scent it leaves in the hair all day a major pro.
This can be a quick fix when you don't have time to wash your hair, as it can be applied to dry hair.
You can check out the product on Amazon.
3. Kaolin Clay and Honey Conditioner
If you're looking for a great kaolin hair conditioner, then you'll love this one.
It's perfect for all hair types.
Along with kaolin and honey, it also contains rosemary essential oil, which is great for growing healthier locks.
Plus, it leaves your scalp feeling tingly and refreshed! Try it when you have a headache, it's amazing!
Try this Korean bangs for heart shaped face!
Kaolin Clay Hair DIY Ideas
Besides buying kaolin hair products, you can also make your products at home. Here are some ideas.
4. Kaolin Shampoo Paste
This idea was inspired by biome, and it's absolutely wonderful. This shampoo leaves your hair hydrated, voluminous, frizzy, and clean. There are also other long-term benefits such as growth and eradication of dandruff.
Here is how to make a simple kaolin shampoo.
Ingredients
10 drops of rosemary or lavender essential oil
2 teaspoons of rose hydrosol
11/2 tablespoon of apple cider vinegar (ACV)
1 tablespoon of castor oil
3 tablespoons of kaolin clay
Directions
Mix all ingredients to form a smooth mixture (remember to use a wooden spoon to avoid affecting the clay's negatively charged ions).
If your paste is still lumpy, add more apple cider vinegar to get the desired paste.
Apply on damp hair by gently massaging your hair from roots to the tips until it's all coated.
Allow the kaolin shampoo to sit for at least two minutes before washing it off with warm water. And then blast your hair with cold water to seal the cuticles.
Gently dry towel and preferably apply herbal conditioning hair products.
Check out the video below to get a good idea of how this will work on natural hair.
5. Kaolin Hair Mask for Glowing Hair¨
If your hair isn't absorbing oil well, and it's always dull, then this mask will help. The recipe was inspired by lunata beauty. Here is how to do it.
Ingredients
½ cup of kaolin clay
Water (you can substitute water with aloe vera juice or rosewater)
2-3 oils of lavender essential oil
Directions
Put your kaolin clay in a wooden bowl, add water (as needed) and your essential oil.
Stir slowly to form a smooth paste
Apply it gently on damp hair, and allow it to rest for 15 minutes before washing it off
Use the paste every once a week for best results.
Kaolin Clay for Hair (Final Thoughts)
Washing your hair with clay is as beneficial as washing your face with clay. For example, using kaolin clay detoxifies your hair, leaving it healthy and shiny.
My favorite part of using kaolin clay shampoo and hair products is that they're hypoallergenic, and they don't cause any irritation in my scalp.
Try kaolin hair products today, and share your experience with us if you're already doing so.
Do you have any other great ways to use kaolin clay for hair? Share below!