If you're looking for the best rhassoul clay masks for your skin and hair, we've got you covered!
Below, we'll look at two awesome DIY options (you can find more in our Rhassoul Clay benefits post, too).
Then, we'll check out the best store-bought masks!
Let's dig in!
6 Amazing Rhassoul Clay Masks for Skin & Hair Care (DIY and Buy)
A good beauty routine is essential if you want healthy hair and a flawless skin.
But again, you got to know the right products to use to get good results.
Sometimes, what you least expect could help is your one ticket to achieving an acne-free face.
When I was struggling with acne, spots, and bad hair, I didn't believe that a simple mask could make any difference.
But then I decided to try it for the sake of trying because I didn't have anything to lose.
I'm not saying I woke up the next morning with shiny hair and a flawless face, but I saw some developments for once.
If you've been trying everything else without any results, try these rhassoul clay masks.
FYI, this post contains affiliate links. If you make a purchase through these links, we earn a small commission at no extra charge to you.
1.Homemade Natural Rhassoul Clay Mask for Any Skin
I know many skincare products have categories for aging skin, dry skin, acne face, and oily skin.
But rhassoul clay works for all skin types, especially overly sensitive skin or maturing skin.
Here is a simple DIY rhassoul clay face mask inspired by the Soap Deli News that you can add to your skincare routine.
Ingredients
1 tbsp of lavender blossoms
1 tbsp of calendula petals
1 tbsp of chamomile petals
1 tbsp of colloidal oatmeal
8 drops of franchise essential oil
8 drops of lavender essential oil
8 drops of bergamot essential oil
2 oz of red rhassoul clay
Directions
Mix your chamomile, lavender, and calendula flowers and grind them into a fine mixture using a coffee grinder or food processor.
Add your clay, colloidal oatmeal, as well as lavender, bergamot, and franchise oils.
Use a fork to make an even mixture and store your mask in an airtight container.
During application, mix your clay with a tablespoon of aloe vera, green tea, milk, or water.
Apply the mask to your face and let it rest for at least 15 minutes. Use a damp cloth to remove it and dry your face gently.
Here is another version that's worth trying.
2. DIY Rhassoul Clay Hair Mask for Healthy & Shiny Hair
I came across this hair mask at Queen Lynn La Beauté que tu mérites, and I've loved it since then.
Here is how to make something similar.
Ingredients
¼ cup of rhassoul clay
Water (as needed)
2 tbsp of argan oil
5 drops of luxurious rose essential oil
Wooden spoon and bowl (avoid metal as it makes clay lose its potency)
Shower cap
Directions
Put your clay in your wooden bowl, followed by argan oil.
Next, add water to form a smooth paste. Lastly, add your rose essential oil and mix again to form a uniform mixture.
Apply the mask gently on your scalp before your shower, and wear a shower cap.
Allow it to rest for at least seven minutes before rinsing it with warm water.
Don't use any shampoo because the rhassoul clay mask acts as a shampoo too.
If you want to explore another version, you can try the method below.
Best Rhassoul Mask to Buy
If you're not a crafty person, or you simply have no time to make homemade rhassoul clay, that's okay.
I also have my lazy moments, so I buy a ready-made mask to use for these days.
Here is a list of the best rhassoul mask clay recommendations.
3. Zakia's Rhassoul Clay Mask
This is a fantastic clay mask. It's packed in environmentally friendly resealable bags, which is a plus if you like to conserve the environment.
The rhassoul mask is perfect for both your skin and hair care. It cleanses your scalp by removing all impurities without stripping your hair from its sebum. You can also use it as a shampoo to nourish, clean, and strengthen your hair.
It's also great for your skin because it's highly absorbent, which allows it to clean your skin without flakiness or dryness.
The mask is available on Amazon.
Moroccan Ghassoul Clay Mask - Organic Natural Facial Mask and Skin Care Treatment - Anti-aging Mud Mask Heals Dry & Oily Skin, Acne, Eczema & Psoriasis - 8 Oz
100% PURE ORGANIC! Exquisite all natural and organic detoxifying clay is unique in its composition, quality and purity. Zero additives whatsoever. 8 oz of pure heaven for your skin.
INCREDIBLE FOR SKIN! Highly absorbent clay helps to naturally cleanse skin without dryness or flakiness. Known to improve skin elasticity, tone, reduce blemishes and blackheads
INCREDIBLE FOR HAIR! Naturally cleanses hair and scalp by removing impurities and buildup without stripping the hair of its sebum. Can be used in your hair shampoo to help nourish, clean and strengthen your hair.
NUTRIENT RICH! Ghassoul natural clay is hugely rich in silica (+50%), Magnesium, Calcium and Potassium helping promote Collagen to help look and feel youthful
CONVENIENT! Zakia's Ghassoul Ghassoul Clay Powder is packaged in an environmentally safe, sturdy resealable bag for long term storage
4. Poppy Austin Rhassoul Clay (Fast Mix)
I know this isn't a clay mask, but it's worth a mention. All you need is to mix the clay with water, and you have your mask.
Poppin Austin rhassoul clay is a natural and organic product, with zero additives whatsoever.
The clay mask has very stunning results for both hair and skin. After a few days of application, you notice your acne literally peel off. For best results, avoid overusing and moisturize well after use.
It also works well for hair care. After application, it leaves your hair feeling lighter and manageable.
You can buy the Poppy Austin rhassoul clay on Amazon.
Sale
Rhassoul Clay for Hair & Face - 3x Deeper Cleansing, Vegan Certified, Cruelty Free & Eco Friendly Ghassoul Powder - All Natural Face Wash, Blackhead Remover & Pore Minimiser - Plastic Free
PURE AND NATURAL - This exquisite all natural and vegan certified detoxifying clay is unique in its quality and purity; It is meticulously selected from ancient mineral-rich deposits, found deep within the fertile Atlas Mountains, and contains 100% pure Rhassoul; NEVER tested on animals and free from parabens, fragrances, additives and alcohol
FAST ACTING - Simply mix with a little water to create a smooth creamy texture, then glide effortlessly over your face, neck and hair as desired; Within seconds, you will feel a gentle tightening, as the intense detoxification begins to absorb impurities and harmful substances, cleansing deep into your pores to restore firmness and elasticity
STUNNING RESULTS - You can expect a buttery soft, smooth and toned skin complexion, free from dryness, blemishes, blackheads and blocked pores; Your hair will feel light, manageable and conditioned, with curls defined and frizz controlled; Eczema, psoriasis, and acne are treated and calmed without stripping your skin of essential natural oils
MULTI-PURPOSE - Our Spa grade Rhassoul Clay is a versatile and multi-purpose daily cleanser that can also be used as a detoxifying face mask, skin conditioner and hair restoration treatment; It delivers one of the world's most powerful deep pore facials WITHOUT harsh chemicals, and can be applied daily to even the most dry, flaky and sensitive skin
FULLY GUARANTEED - Try Poppy Austin's 100% pure Rhassoul Clay for 1 month; If you're not completely in love with the product, we'll refund your money under our 30 day money back manufacturer's guarantee; So what have you got to lose? Order risk free today to soon experience the flawless, plump and heavenly skin tone you have always wanted
5. Monita Natural Care Rhassoul Clay Mask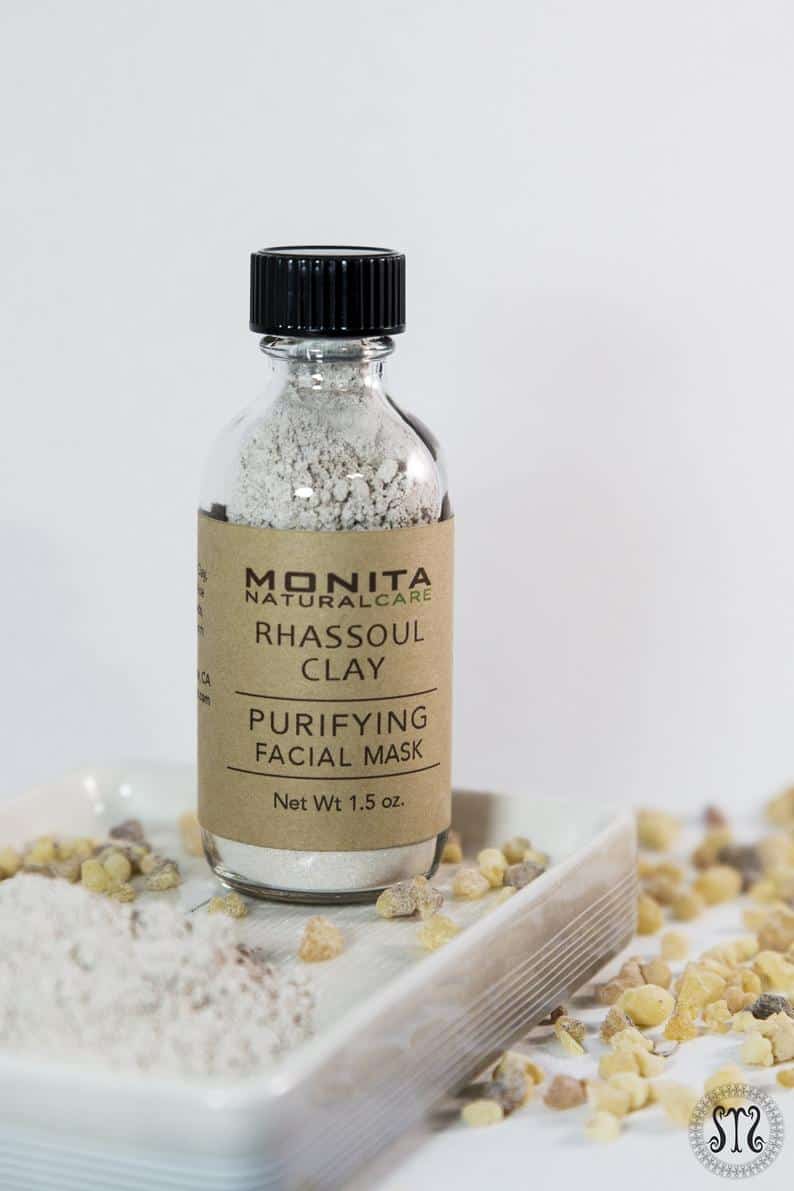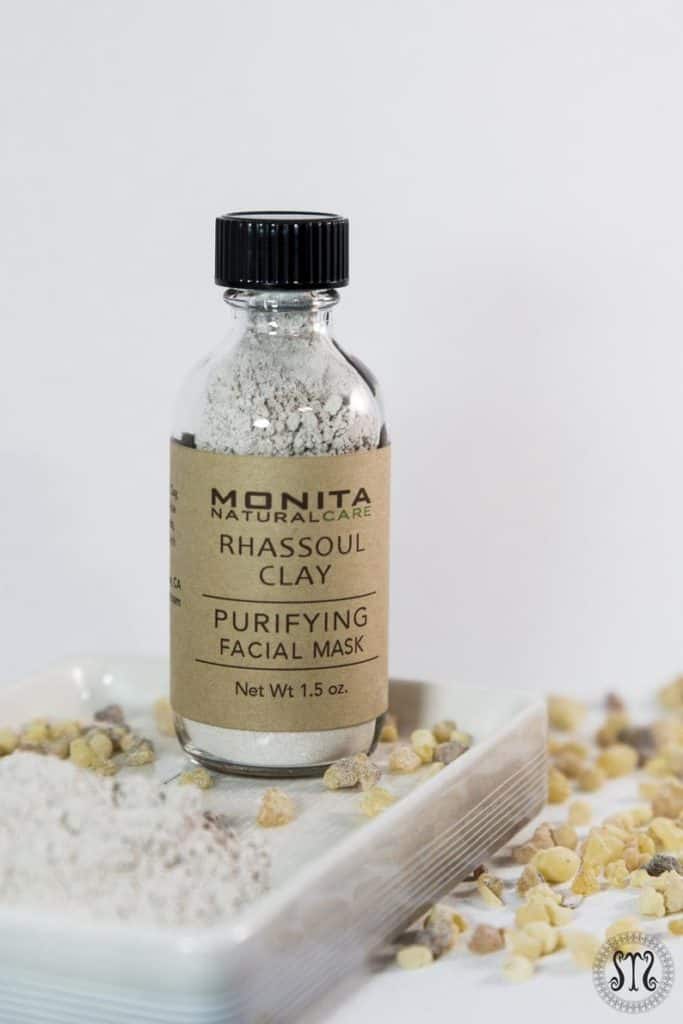 This is a fantastic clay mask that has kaolin clay as well. And although it is excellent for all skin types, it's especially beneficial for dry and aging skin.
To apply, mix it with any liquid of your choice and allow it to rest for fifteen minutes before rinsing.
For dry skin, add rosehip seed oil, sweet almond oil, or avocado oil to add moisture.
The clay mask is currently available at Etsy.
6. Mandala Organic Rhassoul Clay Mask
One thing that makes the Mandala rhassoul clay mask special is that it's handmade. Since it's organic, there is no fear of skin breaking or any other ugly reactions.
It can be used for all skin types.
You can check this rhassoul mask on Etsy.
Best Rhassoul Clay Masks (Final Thoughts)
I've tried very many skincare products, and I only recommend what I think is helpful.
This is because I understand the emotional and psychological struggles that come with a face full of acne.
Take a chance with the above rhassoul clay masks, and you're highly likely to see a big difference than you've seen with chemical products.
If you're already using the rhassoul clay mask, please tell us which brand you're using and share your experience with us below.