Thinking about trying out some rhassoul clay hair masks to see how they work for you?
Then you'll want to stick around!
Below, we'll go over my favorite options to buy or make yourself.
You'll definitely one to add at least one of them to your daily beauty routine!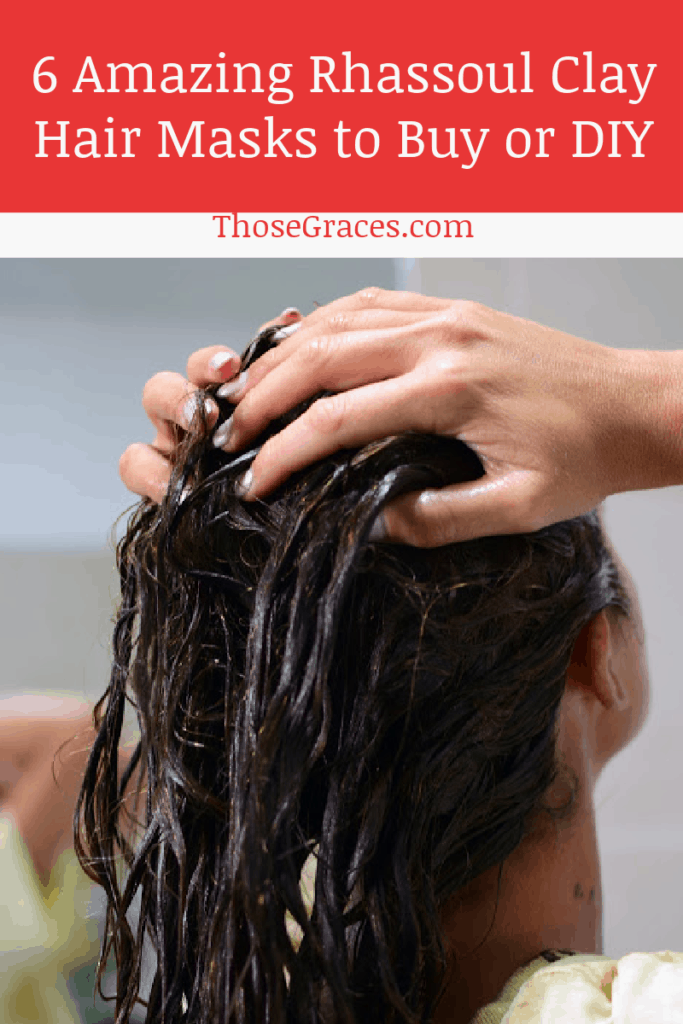 6 Amazing Rhassoul Clay Hair Masks to Buy or DIY
The first time I heard about using clay for hair, I wasn't so receptive, and I didn't believe it could make any difference for my natural hair.
And if I'm honest, I just didn't want to have any clay in my hair.
But in the spirit of keeping an open mind, I decided to go for it.
And now, I do it at least once or twice a week.
So, Why Rhassoul Clay?
The science behind rhassoul clay for hair is that it has a component of sand called silica.
Natural silica gives your hair a glossy sheen and removes dead cells from your scalp.
The conditioning property of rhassoul clay hair gives your hair volume and removes any excess oil and impurities from your scalp.
Related: Rhassoul Clay vs. Bentonite Clay
Rhassoul Clay Hair Mask to Buy
There are very many rhassoul clay masks for hair that you can buy in the market that are effective.
Some of them are simply in powder form, and you only need to add water or apple cider vinegar to get the mask.
Here are my top choices.
FYI, this post contains affiliate links. If you make a purchase through these links, we earn a small commission at no extra charge to you.
1. Elbahaya Organic Rhassoul with Rose Water
I came along with this product when my hair was in really bad shape, and it really helped restore a healthy look.
It's good if your hair has been overprocessed or you've realized other damages.
The clay also cleans your hair by pulling off any impurities and annoying dandruff from your skin.
It's good for all hair types, and there is no risk of any allergies or itchiness since it's 100% original.
And unlike other natural clay shampoos, Elbahaya has a sweet scent (natural rose scent) that you'll love.
You can also use the clay as a face mask. Check out Elbahaya organic clay on Amazon.
Organic Rhassoul with Rose Water Detox Clay for Hair & Face Cruelty-Free, Moroccan Ghassoul Deep Pore Cleanser, Conditioner and Pore Minimiser 250g
Rhassoul Clay has been used for years for skin & hair as a natural detoxifying, shampoo and conditioner. and the finest beauty spas across the globe currently utilize it for therapeutic benefits and its extraordinary restorative & absorption ability.
Repairs and restores damaged and over processed hair to restore a healthy look while promoting natural hair growth.
Eliminates toxins and improves skin elasticity, minimizes pores, improves skin clarity & texture leaves your skin clear, youthful-looking and radiant.
Apply over your face and hair as desired and let act for 5 -10 minutes. you will feel a gentle tightening, as the intense detoxification begins to absorb harmful substances, cleansing deep into your pores to restore firmness and elasticity.
Our rhassoul clay is 100% organic and obviously because It's organic there are No parabens, No nasty chemicals, No preservatives, or synthetic coloring. just the good stuff.
2. Fatima's Garden Rhassoul Clay
The Fatima Garden's rhassoul clay is combined with herbals that make it better than other clay shampoos.
The herbs are great for soothing sensitive scalp that has suffered any irritation or itchiness. On the other hand, rhassoul clay helps remove any impurities on your scalp, leaving your hair clean and shiny.
This clay mask is vegan, cruelty-free, and organic, so you're sure you won't be experiencing any allergic reactions.
You can buy the clay mask from Amazon.
3. Rhassoul Clay Queen Curls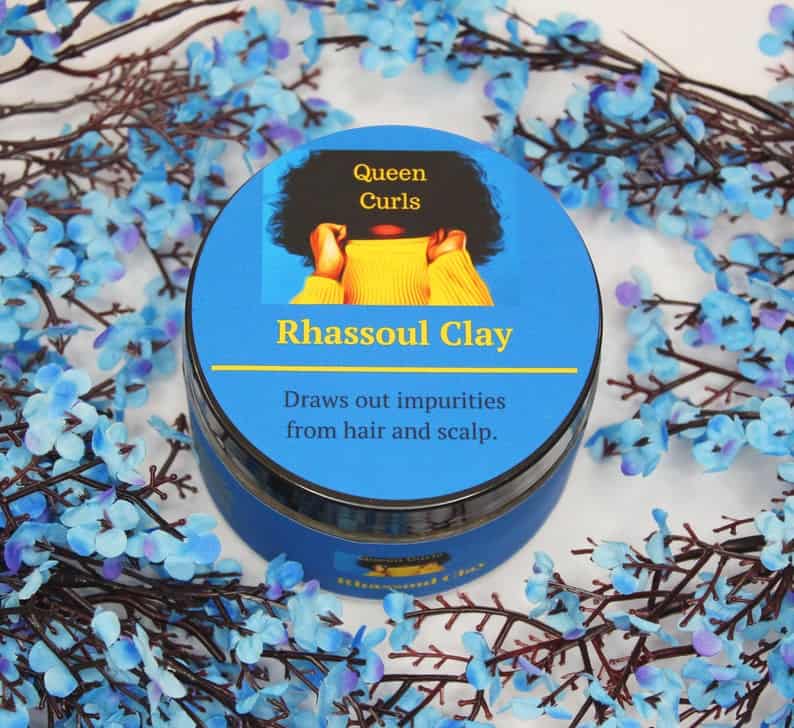 This clay moisturizes, softens your hair, and removes toxins as well as product build-up.
The clay also unblocks your scalp's pores and improves your hair's elasticity. If you've used bentonite clay, the experience is almost similar.
For best results, mix the rhassoul clay with apple cider vinegar or distilled water to get the consistency you desire, and apply it before shampooing.
Make an effort to use the shampoo at least once a week, especially if you're not doing protective styling.
Buy the rhassoul clay queen curls on Etsy.
4. Funky Soap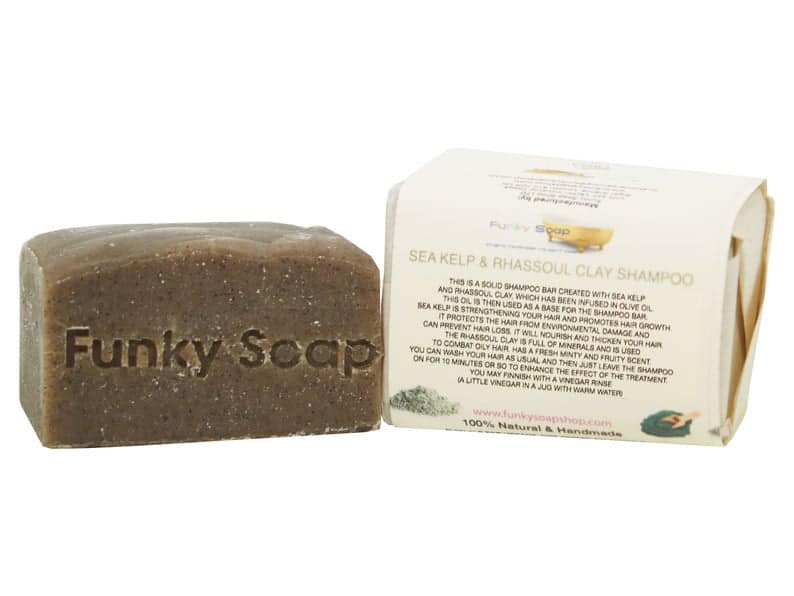 I love the funky soap because it's a very brilliant idea. Unlike other clay shampoos that come in the form of a paste, funky comes in the form of bar soap.
This solid shampoo is infused with olive oil and also contains rhassoul clay and sea kelp. It strengthens your hair and boosts its growth.
The shampoo also thickens and nourishes your hair with all the valuable minerals in the ingredients. It also has a fruity scent and minty scent, which is very pleasant.
To enhance the shampoo's performance, allow it to rest for at least 10 minutes before rinsing it off. You can go an extra mile and rinse it off with a mixture of warm water and vinegar.
Check out the soap on Etsy.
Rhassoul Clay Hair Mask Recipe
If you enjoy preparing your hair products, here are rhassoul hair mask recipes you can try out.
5. Rhassoul Clay Hair Shampoo
If you're trying to avoid store shampoo, then you should try this rhassoul clay DIY shampoo idea.
It leaves your scalp refreshed and your hair all merry.
I was inspired by the recipe from hair buddha, and I love it.
Here is how to go about it.
Ingredients
1 tablespoon of aloe vera
2-3 tablespoons of rhassoul clay
Water (as needed)
Directions
Simply place your clay and aloe vera in your bowl, and slowly add warm water. Mix to get a thick paste.
Massage your paste into your scalp and hair, and leave it for 10 minutes before rinsing it off.
You can improve the shampoo further by adding other essentials such as honey or rose water.
Check out the video below for more tips on how to use it.
READ MORE: Different Types of Korean Bangs
6. Rhassoul Hair Mask for Detox
Every once in a while, it's important to detox your hair. Our hair goes through a lot, from product build-up to the sun's hot exposure and environmental pollution.
Here is how to make a detox shampoo for your hair.
Ingredients
1 tablespoon of honey
1 tablespoon of coconut oil
1 tablespoon of argan oil
6 drops of peppermint essential oil
6 tablespoons of water
3 tablespoons of rhassoul clay
Directions
Place all your ingredients in a bowl (except water)
Add water and keep stirring to get a smooth paste
Apply it on your hair (preferably damp hair for easy absorption)
Let it sit for 15 minutes, and rinse it off with lukewarm water
Detox your hair at least twice a month
https://www.youtube.com/watch?v=MUXZ6T3FlA8
Rhassoul Clay for Hair (Final Thoughts)
Honestly speaking, I love the results rhassoul clay gives, especially after weeks of using multiple products.
I love to use it once a week to detox my hair from all the pollutants.
I've got a very sensitive scalp, and the clay helps in relaxing and removing impurities, leaving me feeling squeaky clean and bouncy.
I highly recommend rhassoul clay as a shampoo and detox agent.
Have you used rhassoul clay for your hair before? Please share your experience with us below!