Curious to know if there are any great face masks for glowing skin?
I'm happy to tell you that there are!
They include DIY masks for a cheap at-home beauty routine to ideas that you can buy right away.
Let's check them out!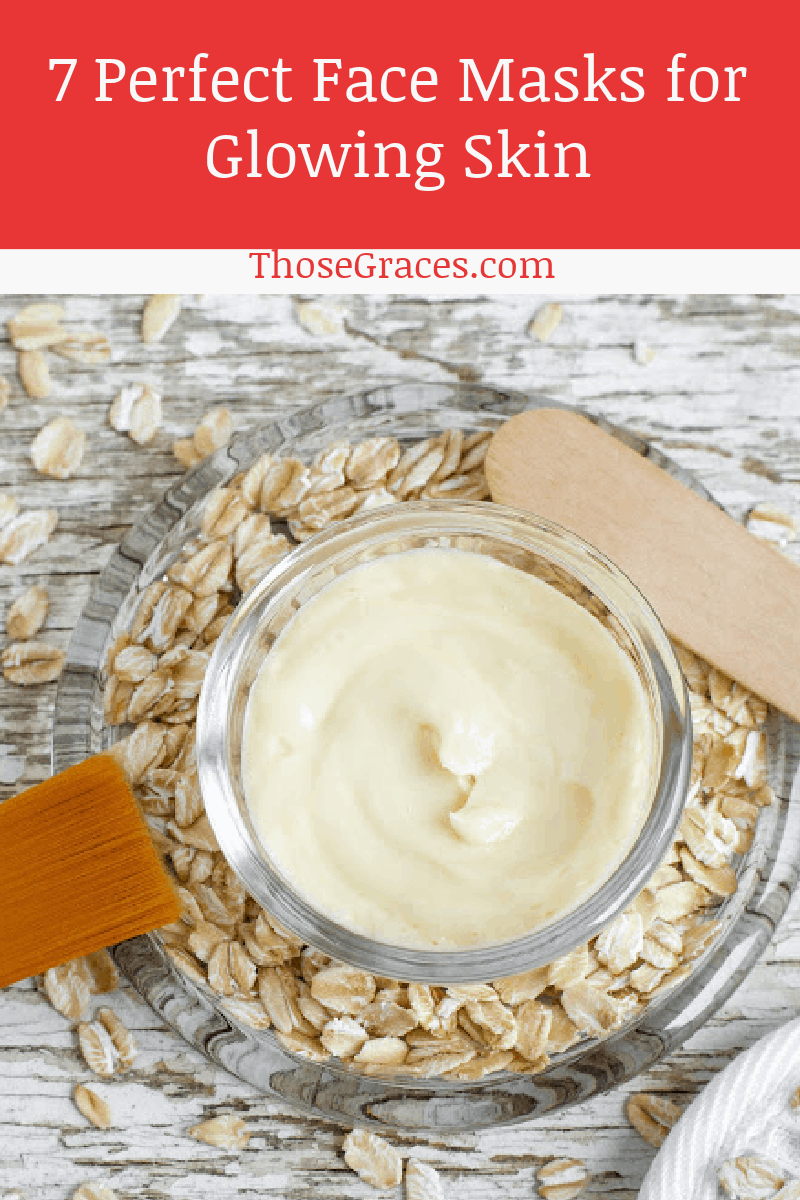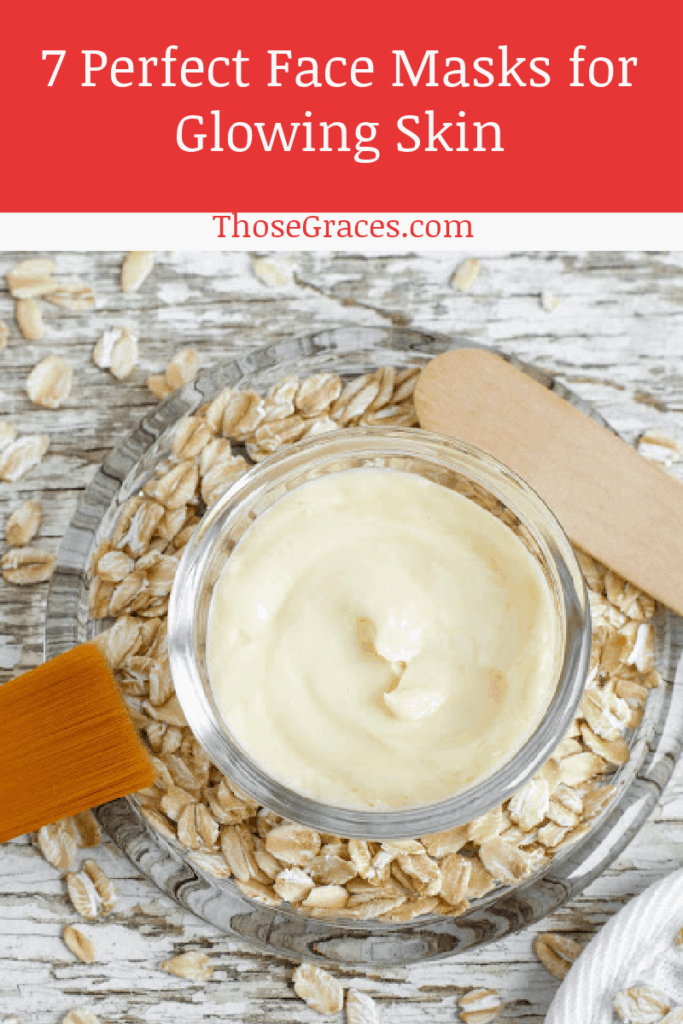 7 Spectacular Face Masks for Glowing Skin to Buy or Make
We all love that "fresh from the spa" shine, but sometimes our finances and schedules don't let us visit the best facialist in town.
But that doesn't mean that you can't achieve a glowing skin or enjoy a good face treat. In fact, there is more than one way you can do that.
One, you can buy a facemask and bring the spa home, or make your face mask and still enjoy benefits.
In this blog post, I'll give you two options: a list for face masks you can buy and get that glow on your own, and another list for easy homemade masks that you can craft in a few minutes.
Let's dive in.
DIY Face Masks for Glowing Skin
If you don't have a skincare budget or you simply enjoy making your face products, here are easy homemade masks for skin glow that you'll love.
I've included instructions for the one I use, plus videos with alternative tutorials.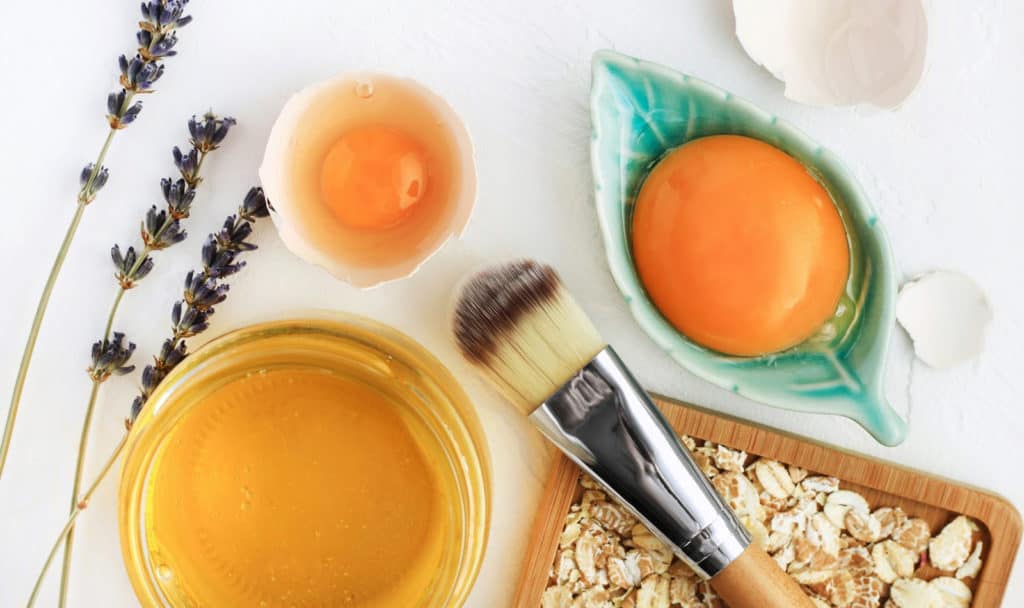 1.Grapefruit & Oatmeal Mask for Glowing Skin
Although oatmeal is known as a healthy breakfast dish, it can also be used as a skincare product.
Oats are rich in antioxidants, so they reduce inflammation and clean the body by absorbing dirt.
Here is an easy recipe for glowing skin that's mainly inspired by hello glow.
Besides oatmeal, it has grapefruits that are very good at gently exfoliating skin and brightening the skin, as well as clearing pores.
Ingredients
½ cup of milk (full fat)
½ cup cooked oatmeal (please don't use instant oatmeal)
½ cup of blended juice of ruby red fruit
Directions
Mix all your ingredients, and apply them to your skin. Allow the mask to rest for 15 minutes and then rinse.
2. Salt and Cucumber Face Mask
This face mask works because cucumber calms the skin, while sea salt contains essential minerals.
The mask clears the skin and keeps it oil-free. Regular usage helps you achieve bright and glowing skin.
Here is how to make the mask.
Ingredients
½ cup of sea salt
½ cup cucumber
¼ teaspoon of peppermint oil
Directions
Combine the essential oil with cucumber and sea salt
Spread the paste evenly on your face and rub it in gently
Massage the paste for ten minutes, and then let it rest for ten more minutes.
Dry the face and pat it dry
3. Gram Flour and Almond Oil
Almond has great essentials that enhance healthy skin, and besan (gram flour) opens the clogged pores.
The cream moisturizes your skin and keeps it from drying.
Here is how to make one.
Ingredients
1 teaspoon almond oil
1 tablespoon besan (gram flour)
Directions
Mix the gram flour with almond oil to form a creamy substance. You can add the almond oil to get the desired thickness
Apply it to your face gently, avoiding the eyes
Massage your face in circular motions
Wash the cream with lukewarm water after 15 minutes
4. Turmeric and Lemon Face Mask
This is one of my favorite herbal remedies for bright and glowing skin.
I like to add a tablespoon of honey to hydrate the skin and make it soft.
Lemon is very rich in vitamin C, and it eliminates spots and dark patches.
Here is how to make the turmeric face mask.
Ingredients
1 tablespoon honey
½ lemon (squeeze to get the juice)
½ teaspoon turmeric
Directions
Put your honey in a bowl and add lemon and turmeric juice.
Blend well and massage the mixture on your face
Let your mask sit for at least ten minutes and rinse your face with cold water.
Best Glowing Face Mask to Buy
If you're not a fan of crafting stuff, here are some of the best glowing masks on the market.
FYI, this post contains affiliate links. If you make a purchase through these links, we earn a small commission at no extra charge to you.
5. Andalou Naturals Glycolic Brightening Mask With Pumpkin Honey
This mask works well with every skin by brightening the skin and removing any dullness.
Its main ingredients are vitamin C, pumpkin, and aloe vera. Vitamin C helps in protecting your skin's complexion and supports your skin's vitality.
On the other hand, pumpkin is rich in beta carotene and helps your skin texture as well as even your skin tone.
And with aloe vera, you get so many benefits, including hydration effects.
The mask will also help unclog your pores, leaving you feeling refreshed.
You can check out this mask on Amazon.
Sale
Andalou Naturals Brightening Mask, Pumpkin Honey Glycolic, 1.7 Ounce
Pumpkin Exfoliating Mask: Our Pumpkin Honey Glycolic Mask helps gently clean dirt, impurities and dry cells to exfoliate skin and leave your face feeling and looking smooth, bright and even in tone
Brightening With Vitamin C: Andalou Naturals' skin care products with vitamin C may help fight sun damage and promote brighter, more even skin tone in normal and combination skin types
Ingredients From Nature: We support Superior Source Ingredient Standards and only use ingredients that are organic, non-GMO, gluten free, sustainable, fair trade, cruelty free, and nature-derived
Fruit Stem Cell Science: Every Andalou Natural's product—including masks, creams, serums, moisturizers, cleansers, and toners—use nature's antioxidant defense solution to protect and support healthy skin and hair
Andalou Naturals: Non-GMO remains a core brand value of Andalou Naturals and we continue to source superior non-GMO ingredients for our products
6. Pearl Brightening
I'm sure you've heard about the magic of pearls when it comes to glowing skin. They help improve a balanced skin tone to create a healthy and illuminating complexion.
The face mask also has ingredients that brighten and clarify your skin and slow down premature aging.
I recommend this mask, especially if you're after fast results for an occasion.
After a day of application, you'll see some changes that will last for up to two days.
You can buy the pearl mask on Amazon.
LAPCOS Pearl Sheet Mask, Daily Face Mask with Probiotics to Brighten and Clarify Skin, Korean Beauty Favorite, 5-Pack
BRIGHTEN & CLARIFY SKIN - Our Pearl mask, a brightening tencel sheet mask with Pearl extract, contains anti-aging benefits to promote rejuvenation and help your skin emulate the soft, classic beauty of the gemstone.
WITH PROBIOTICS & WHITE FLOWER - Moisturizing & revitalizing, Lactobacillus, a friendly bacteria and probiotic that helps to nurture the microbiome. Luxurious White Flower conditions skin
GLOWING COMPLEXION - Pearls are long held symbols of beauty and sophistication.The mask's brightening essences improve and balance skin tone to reveal a healthy, illuminating complexion
K-BEAUTY ESSENTIAL - A cult favorite brand, created with the highest quality ingredients and uncompromizing dedication to innovation in beauty and skincare.
HOW TO USE - After cleansing and toning, unfold a single sheet and gently spread over face avoiding the eye and mouth areas. Leave on for 10-20 minutes and remove mask, gently patting remaining serum until it is fully absorbed
7. 24 Gold peel of Mask
This is another excellent face mask to try if you want a glamorous face. This mask acts as a blackhead remover.
It cleanses your face by absorbing excess oil and minimizing your pore's appearance, leaving your face looking refreshed and bright.
Another pro of the 24 gold peel mask is its excellent anti-wrinkle and anti-aging agent.
It contains effective ingredients that reduce any signs of premature aging, leaving your face feeling tight, light, and healthy.
That said, if you have sensitive skin, try this product at the back of your ear to see how it reacts.
If you don't experience any reaction in 24 hours, then you're good to go.
I have sensitive skin and experienced no reactions.
The mask is available on Amazon.
Blackhead Remover Mask, Blackhead Peel off Mask, Peel off Face Masks,24K Gold Facial Mask- Anti-Aging,Exfoliating Mask, Deep Cleansing Blackhead& Pore,Reduces Fine Lines& Wrinkles-120g
Do you want to get healthy skin and make yourself glamorous? - Our blackhead remover face mask works as a Deep Cleansing Purifying Face Peel and Nose Mask to visibly minimize the appearance of pores, absorbs excess oil, and gently exfoliates forfresh-faced appearance.
Deep Cleansing : Loose porous structure enhances its adsorption capacity. Shrink the skin pores and bring deeply cleansing. Effectively clear skin problems such as blackheads and wrinkles.
High-quality formula: 24K Gold is an excellent anti-aging and anti-wrinkle formula based on powerful ingredients that reduce signs of skin aging, tightening. Formulated with a cleansing formula for a healthier skin look.
Note: If you are sensitive to the skin or odors, it is strongly recommended to test the skin behind the ears before use. If you do not have any allergies like redness or itching after 24 hours, use it immediately.
We always strive to deliver the best quality product for our customers. However, if you are not satisfied with the product, please do not hesitate to reach out to us.
Best Face Mask for Glowing Skin (Final Thoughts)
Sometimes hiding under that thick of makeup becomes exhausting. But again, how else do you hide those pigments, freckles, spots, and other imperfections?
We've all been there.
Fortunately, there are several things you can do to get a natural glow, and that includes using glowing face masks regularly.
Make an effort to try at least two of the listed face masks and commit to trying applying the mask at least twice a week.
If you have any questions about skincare, let us know in the comment section.
Do you have any other favorite face masks for glowing skin? Share below!