If you're looking for face masks without honey, stick around!
Whether you're a vegan looking for cruelty-free beauty products or just allergic to the sweet stuff, we've got you covered.
Or should I say, we have your face covered, since we're talking masks!
Keep reading to check out my favorite DIY and store bought honey-free face masks.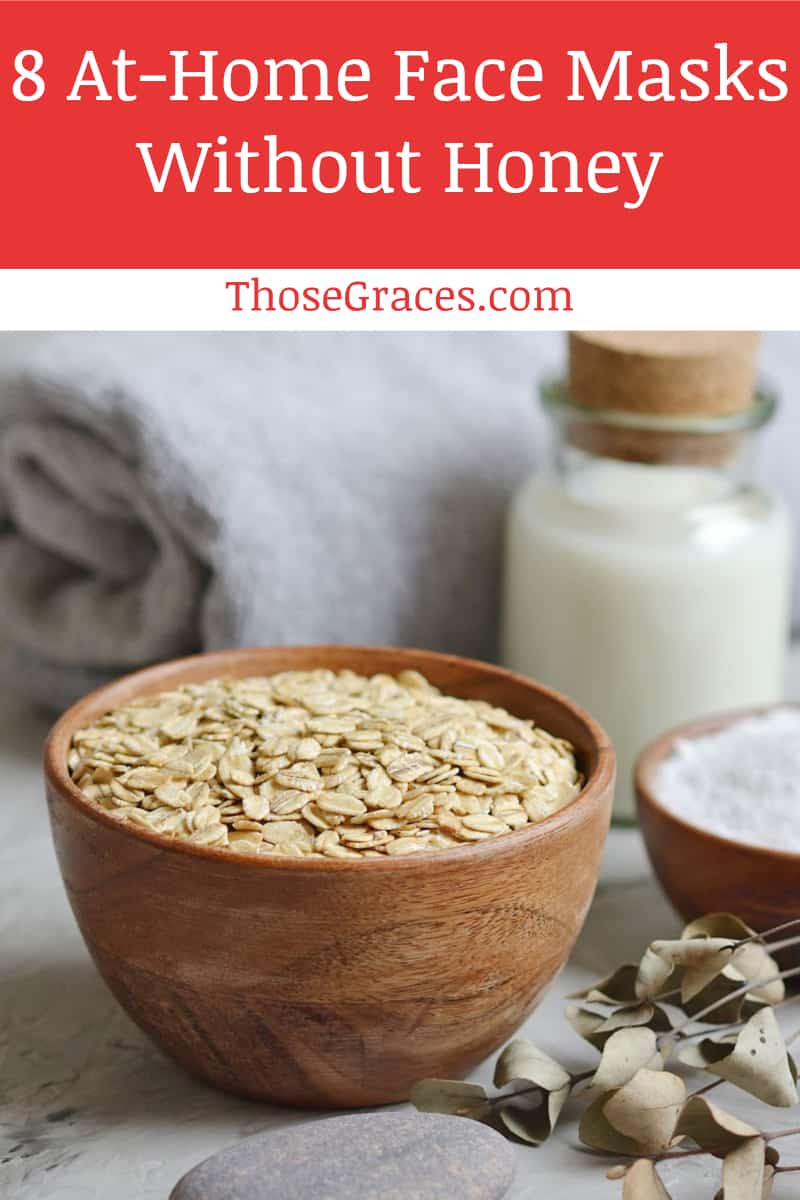 DIY Face Masks Without Honey
Even though honey is a great, natural product you can use on your face, not everyone wants to use it.
Some people are allergic to it (my friend's mom becomes violently ill if she's even exposed to a tiny amount).
Others just don't want to use ANY animal by-product, and that includes honey.
Whatever the reason, all these at-home face masks have no honey, so you don't have to deal with allergies or ethical issues.
Related: Kaolin Clay Face Masks
1. Exfoliating Oatmeal Face Mask without Honey
Everyone should exfoliate at least once a week, and this recipe is a lifesaver.
All you need is a quarter of a cup of oatmeal, half a cup of hot water, two tablespoons of plain yogurt, and one egg white.
Mix them together nicely, and apply the mask on your face for 15 minutes.
When the time is done, gently clean it up with warm water, and you're done!
2. Rejuvenating Face Mask
This is probably the easiest face mask you can think of, and it has amazing properties.
Ever since antiquity, people have been using milk in order to improve the aspect of their skin.
However, it can be hard to make the milk stay on your skin without honey.
The solution is to use powdered milk!
Mix five spoons of powdered milk with enough water to create a thick paste, and apply it on your face for about 20 minutes.
Your skin will feel brand new, and you may want to do it again!
Related: BENTONITE CLAY FACE MASKS
3. Moisturizing Face Mask
This mask is all about bananas.
They have incredible quantities of vitamin E, so your skin will be healthy and moisturized.
Combined with yogurt, which has the potential of soothing your skin, this can be the perfect mask.
All you need for this mask is half a banana and two teaspoons of yogurt. Mix them well, and leave it on your face for about 10 minutes.
When it's done, simply rinse it off with warm water.
You can also add some turmeric, like the one in the video below.
Related: Face Masks For Dry Skin
4. Brightening Homemade face mask without honey or yogurt
This one is perfect for those times when your face looks a little off and it's lacking that fabulous shine.
All you need for this one is one tablespoon of cocoa powder, half a papaya, and two teaspoons of aloe vera gel.
Aloe vera is filled with necessary skin nutrients, such as vitamins A, B, C, and D, while the cocoa powder will give you an incredible glow.
After mixing all the ingredients together, all you need to do is apply it on your face for about 10 minutes, and then rinse it off with warm water.
5. Oil Control Face Mask
Most at-home face masks for oil control contain honey, but I did find a very effective one, without it.
This one is based on cucumber, which has incredibly oil control properties.
When you combine it with avocado, that has incredible nourishing properties, you get a mix that will help your skin for months to come.
In order to make this mask yourself, you need to blend half an avocado with half a cucumber, and then apply the mixture to your face.
After about 15 minutes you can wash it off and enjoy all its properties.
Face Masks Without Honey you Can Buy
If you'd rather buy than DIY, check out these three amazing offerings!
6. Dead Sea Mud Mask
This dead sea mud mask is perfect if you have oily skin, and you're prone to acne.
It's made to deep clean your pores, and leave your skin as healthy as possible.
7. Avocado and Marine Clay Face Mask
Avocado is amazing for the skin, and this face mask with marine clay and avocado will definitely leave your skin feeling healthy and moisturized.
On top of everything, it's vegan!
Related: DIY Clay Masks
8. Ginger and Lemon Exfoliating Face Mask
You need to exfoliate your skin at least once a month, and this face mask can do exactly that.
Lemon is an amazing ingredient for the face, and will balance your skin pH, while the ginger will fade any dark spots.
It's not mandatory to use honey in any facemask.
Even though it has wonderful properties in general, it's not good for everyone.
However, these at-home face masks without honey will definitely help you!
Related: 7 Amazing At-Home Turmeric Face Masks to Buy or DIY
Do you have any other favorite at-home face masks without honey? Share below!