Looking for the best natural face wash for dry skin?
We've got your back (or rather, your face!)
Below, we'll check out 5 amazing natural products to banish that flaky skin in a flash.
Let's dive right in!
Our Top Picks
FYI, this post contains affiliate links. If you make a purchase through these links, we earn a small commission at no extra charge to you.
In a rush and need something right away? Check out our top picks on the table below!
Top Benefit
Promotes regeneration of new skin cells
Comes with exfoliating muslin cloth
All about Natural Face Wash for Dry Skin
Most people with dry skin reach for moisturizer first and don't even think about face wash.
While a good lotion can really help, it is equally crucial to wash your face to keep your skin looking healthy.
In fact, I'd argue that a good cleanser is even more important than what you put on afterward.
The right one removes all that dead skin that leaves your face looking dull and flaky.
Below are some of my favorite natural face wash products for dry skin.
The Top 5 Natural Face Wash for Dry Skin
Tata Harper dishes out some of the best natural beauty products and this regenerative face wash is no exception.
It's a great multitasking product that acts as a cleanser and toner! After using it for about a week, my dry skin was left with flawless results.
This is because it is natural, organic, and is equipped with 16 high performing botanical ingredients to get rid of dirt and gently exfoliate.
The botanical ingredients include; olive oil, calendula extract, apricot microsphere, and much more.
| | |
| --- | --- |
| Pros | Cons |
| Removes dead skin cell for a brighter complexion | It is expensive |
| Non-foaming cleanser | |
| It is deeply hydrating | |
| Promotes the regeneration of new skin cells | |
| Clears pores | |
I would recommend all Tata Harper products as they are highly effective and help keep dirt off your skin.
Tata Harper Regenerating Cleanser, Daily Exfoliating Treatment, 100% Natural, Made Fresh in Vermont, 125 ml
WHAT IT IS: A daily cleansing & exfoliating treatment that buffs and polishes for radiant, healthy looking skin
BENEFITS: Our best selling cleanser provides gentle physical and chemical exfoliation with apricot microspheres and BHA from white willow bark to give you a healthy looking, radiant glow
INGREDIENTS: 16 High-performance botanical ingredients. This award winning formula buffs and polishes with 4 sources to dissolve buildup, 4 sources to refine pores, and 8 sources of plumping hydration
100% NATURAL: 100% natural, nontoxic, and free from all fillers, synthetics, artificial colors and fragrances. Our non-toxic products will never make you choose between health and results or between natural and high-performance
MADE FRESH IN VERMONT: Buying direct from Tata Harper guarantees the most farm fresh, authenticated product online. No outsourcing. No shortcuts. We do it all ourselves. With our own people. On our own farm
Are you looking for a rich, creamy, milk cleanser for your dry skin? Then this is your perfect match.
After reading the reviews, I decided to try out this oil cream cleanser.
The 100% Pure Argan Oil Creamy Cleanser contains moisturizing argan oil that fully hydrated my skin and gently removes excess sebum, dirt, and make-up.
Infused with natural oils like acai, argan, and coconut, this cleanser left my skin feeling nourished.
| | |
| --- | --- |
| Pros | Cons |
| Perfect for dry skin as the rich Argan oil leaves the skin soft and supple | It makes the skin a bit oily |
| It gently yet effectively removes impurities from the skin | Tends to go out of stock often |
| It's a non-foaming product | |
| Moisturizes and nourishes your skin daily | |
| Free from chemical preservatives and sulphates | |
I would definitely recommend this product to people who fear applying make-up due to their sensitive skin. The product will remove all impurities leaving your skin soft.
100% PURE Argan Oil Creamy Cleanser Daily Moisturizing Face Wash & Makeup Remover - Natural Anti-Aging Cleansing Botanicals for Clear Skin & Healthy Radiant Glow - 3.4 Fl Oz
SUPER HYDRATING CLEAN - Nourishing facial soap with luscious foaming lather for skin that's soft and supple; ultra-gentle on sensitive skin, but tough on grease and acne-causing bacteria without stripping healthy lipids or moisture.
SILKY SMOOTH PLANT-BASED SKIN CARE - Vitamin-rich argan oil, acai oil, and rosehip oil deeply moisturize and detoxify skin without leaving an oily residue; locks in hydration and nourishes acne-prone skin to help prevent breakouts.
MOTHER NATURE'S ANTI AGERS - Loaded with luxe, skin-loving antioxidants CoQ10, alpha lipoic acid, resveratrol, rosehip, acai and vitamin C to combat pesky fine lines and wrinkles and help stimulate collagen production.
GIVE YOUR SKIN SOME LOVE - Use daily to feed dry, thirsty skin by gently and thoroughly massaging in circular motions to create a rich foam and rinse with water; use as the first step in your morning routine or at night on all skin types women or men.
BEAUTY DOESN'T GET ANY CLEANER - You don't have to choose health or beauty, have both. With well-researched healthy, natural, and organic ingredients and strict purity standards, we bring cruelty-free, ethically sourced products without harsh toxic chemicals, heavy metals, fragrances, or dyes. Gluten-free, vegan, and Made in the USA.
I really like having this cleanser as part of my morning and evening skincare routine.
The One Love Organics cleansing oil is a non-stripping oil cleanser that lifts away make-up and other impurities while moisturizing the skin.
It is designed with dehydrated skin in mind, yet it is effective for all skin types.
It gently glides over my skin and this is a great way for giving my face a little massage while cleansing.
If you are looking for that product that works best for people with sensitive eyes like mine then One Love Organic is the wash for you!
| | |
| --- | --- |
| Pros | Cons |
| Exfoliates, smooths, and tone the skin gently | Has a shorter shelf life span |
| It rinses clean with no washcloth required | Fairly pricey |
| Has a beautiful aroma of citrus and pineapple | |
| Easy rinse meaning you will look forward to washing your face | |
No products found.
Even though my skin is dry, I am highly prone to acne and this product came to work wonders for me.
Wake your skin up by applying OSEA Ocean Cleanser. A cleanser made with algae extract, Vitamin E, jojoba, and sesame seeds.
It has a PH balance formula to remove excess oils, surface impurities and gently exfoliates to minimize the appearance of the pores.
You are only required to apply the face wash to damp skin and rinse off with warm water.
| | |
| --- | --- |
| Pros | Cons |
| Has a lovely smell and produces less foam | Not great as an anti-aging cleanser |
| It cleanses effectively and doesn't leave the skin dry | Customer service complaints |
| Removes impurities while protecting the skin's natural moisture barrier | |
| Formulated with a plant-based probiotic | |
| It is PH balanced | |
This is the perfect cleanser for people with normal to dry skin, but if your skin is oily then I'd recommend you try a different product.
It's also not really an "anti-aging" product. Some customers felt it did nothing for their more mature skin.
Not sure what results they expected, but if you're looking for a wrinkle-reducer, look elsewhere.
No products found.
Pai Middlemist Seven was the 7th product to be born into the Pai Skincare range. It is a gentle cream cleanser that is perfect for people with sensitive skin.
With sensitive skin, I find it hard to apply make-up since other products are irritating thus clogging my pores.
After reading about this cleanser, I had to go and purchase it. This is because it has a trio of oils that with ease lift away dirt and make-up.
The cleanser ensures that my face is cleansed without stripping my face of its defensive humidity, oil, and PH balance.
The Pai Middlemist cleanser is rich in Omega 6, antioxidants and rose to help soothe and improve your dry skin.
| | |
| --- | --- |
| Pros | Cons |
| Suitable for all sensitive skin types | It is expensive |
| Helps in decongestion | May contain preservatives for a prolonged shelf life |
| Replenishes the skin's moisture barrier leaving it soft | |
| Has an exfoliating muslin cloth that lifts away from the dead skin cells | |
I recommend that you try the Pai cleanser as it is suitable for all skin types including sensitive ones.
How to Select the Best Natural Face Wash for Dry Skin
The best face wash for dry skin is one that takes care of your skin hydration as much as it cleanses.
Unless a dermatologist tells you otherwise, natural products are best for your skincare routine- be it face masks or scrubs.
While even the most natural ingredient can still cause a reaction in some people, overall they're far more hypoallergenic than chemical-laden products.
Here is how to choose the best face wash for dry skin;
Get to know your skin type
Confirm that you have a dry skin type.
To check whether your skin is dry, look out for signs like skin tightness and dryness, roughness, excess flaking, skin cracks, and much more.
learn what to avoid
Before using any face wash, ensure that you read the ingredients and see if they can good or will worsen your skin concerns.
Look out for chemicals that have a negative reputation for worsening dry skin by removing the necessary moisture content from the skin.
Sodium chloride, isopropyl alcohol, ammonium lauryl sulfate, salicylic acids, and several more are found in these chemicals.
The easiest way to quickly "vet" a product is to search for it on EWG's Skin Deep Database.
what to look for
With a wide range of face products in the market, it can be hard to figure out which product is best for what exactly the skin requires.
Therefore, start by understanding your skin a little more, for example, its PH level.
conclusion
Other than moisturizing and cleansing, there are other important points to follow when dealing with dry skin.
I hope that you have received relevant information on the best natural face wash for dry skin. All the products named above have pros and cons to guide you before making a purchase.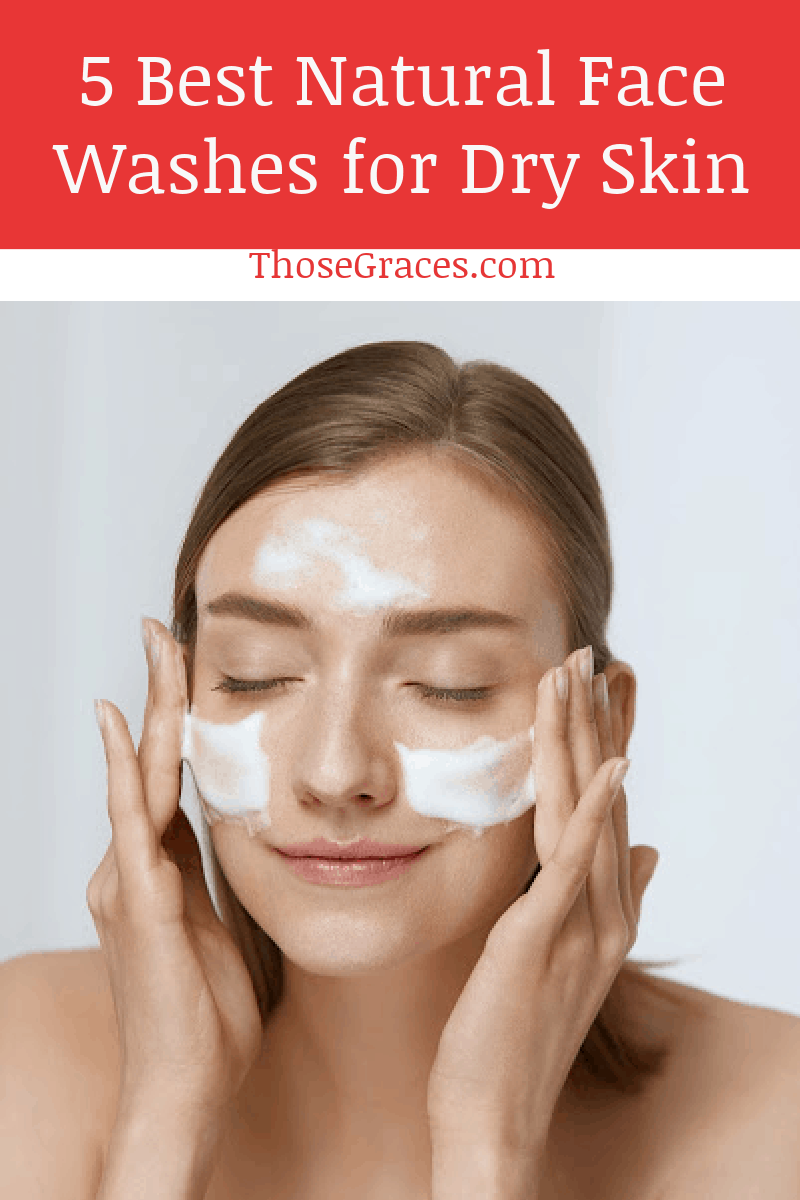 what is your favorite best natural face wash for dry skin?