My first encounter with hydro microdermabrasion was about 23 years ago.
My niece, Jill, had asked our Aunt Lara how she managed to look so young at age 72.
What started as an innocent question spiraled into an exciting revelation that has helped me maintain youthful skin.
Over the years, I've found out more hydro microdermabrasion (a mouthful, for sure), and in this article, I'll be sharing some incredible hacks with you.
CHECK: Best Professional Hydrafacial Machine
What is Hydro Microdermabrasion?
Hydro microdermabrasion is a non-invasive skin procedure that involves exfoliation and intense hydration to clear dead skin cells, remove excess oil and plump the skin.
It helps to improve skin texture, reduce wrinkles and fine lines and deepen skin hydration.
Due to exposure to several environmental conditions and elements, the superficial layer of the skin constantly undergoes rejuvenation.
Hydro microdermabrasion is concerned with how dead skin cells are continuously being replaced by underlying new cell layers (1).
By removing dead skin cells, healthier new cells underneath them are revealed, giving you a cleaner look.
So how does this treatment work? Let's take a closer look.
How Does Hydro Microdermabrasion Work?
Hydro microdermabrasion works by utilizing a diamond-tipped wand to exfoliate the skin gently. The exfoliation occurs through a light suction that stimulates circulation and collagen production.
Collagen production helps to restore firmness and elasticity to the skin. This could be what determines if you'd end up with acne or healthy skin.
The hydro microdermabrasion process helps to clean up facial skin pores and gives the skin an attractive glow.
It utilizes water jets for hydrating and delivering serum to the deeper layers of the skin.
I know you're curious to know exactly how the process goes. So, what are the steps involved?
Hydro Microdermabrasion Treatment
For a better understanding of the hydro microdermabrasion procedure, I'll be breaking down the treatment into four simple steps:
#1 Skin Examination and Cleansing
Before your esthetician begins to work on your skin, your skin has to be analyzed under a radiant magnifying lamp. This is necessary to detect what skin type you have (e.g., oily skin, dry skin, etc.).
Besides detecting skin types, your esthetician wants to know if there are other skin concerns such as having sensitive skin or even discolored skin. This will help them select the appropriate products for deep cleansing of your skin.
#2 Skin Exfoliation
Using a foam exfoliant, the dead skin cells are removed. The use of steam may be employed to unclog the skin pores.
#3 Facial Massage and Mask
The next step is a facial massage and this helps to stimulate circulation.
This is followed by a facial mask which helps to further pull out impurities and hydrate the skin.
#4 Final Stage
The final stage involves the application of serums, moisturizers, and sunscreen.
While using a professional is the best option if you are just starting out, there are dermatologist recommended microdermabrasion at-home devices for those who are more experiences.
Check out this video for an actual demonstration.
What Are The Benefits of Hydro Microdermabrasion?
At this point, you'll agree that hydro microdermabrasion is on a level of its own. It simply does magic to your skin.
Let's take a look at some of the benefits of microdermabrasion.
1. Helps to Fade Discolorations and Dark spots
Hydro microdermabrasion lightens age spots, dark spots, and discolored marks. By using diamond crystals, dead skin cells are gently eroded and as newer cells emerge, the skin receives a new appearance.
2. Stretch Marks and Acne Scars Reduction
According to research, the production of collagen is very beneficial to the skin (2). Among other benefits, it helps to reduce stretch marks and acne scars on the skin.
3. Unclogging Pores and Removing Blackheads
Hydro microdermabrasion helps to lift blackheads and unclog pores through suction (3).
4. Softens and Smoothens the Skin
After the removal of dead skin cells and the improved hydration that this procedure brings, your skin will be softer and smoother than it was before the treatment.
Side Effects of Hydro Microdermabrasion
Hydro microdermabrasion does not have any serious side effects as it is a non-surgical procedure. You may only experience a few mild reactions which will subside after an hour.
These mild effects commonly include:
1. Tenderness
2. Redness
Your face may appear pink due to increased blood flow.
3. Mild Swelling
Is this skin treatment suitable for most people? Find out if you can get it.
Check out hydrafacial side effects to learn more about that skin treament.
Who Should Do Hydro Microdermabrasion?
Hydro Microdermabrasion is suitable for everyone. It works for all skin types.
You should consider having the procedure if you'd love to have the dead cells at the superficial layer of your skin lifted so that new cells can glow through.
Hydro microdermabrasion is also a good way to combat aging skin effects such as wrinkles, hyperpigmentation, scarring, enlarged pores, blackheads, congested or blemished skin, etc.
You might be wondering if the procedure is painful. Read on to find out.
Does Hydro Microdermabrasion Hurt?
No, hydro microdermabrasion doesn't hurt.
Thoughts of a diamond-tipped wand drawn along your face or having crystals applied deeply into your skin seem quite harsh. But, in reality, the process is nothing like that.
Though you may have to endure the rough movements across your face, somewhat like having a gritty facial massage, it isn't a painful procedure. You might only feel pain if your technician is slightly heavy-handed and you should notify them if that's the case.
The entire process is a minor tugging on your skin dealing mainly with the skin surface layers. At most, it can tickle.
Is it healthy for your skin? Let's find out.
Is Hydro Microdermabrasion Good For Your Skin?
Yes, hydro microdermabrasion is very good for your skin.
Hydro Microdermabrasion can cause incredible improvement to your skin.
Could it be that simple procedure you need to put an end to that unwanted skin concern? You should consider hydro microdermabrasion if you want to get:
Replenished skin moisture/ increased skin hydration
Improved circulation in the skin
Smaller skin pores
Lesser wrinkles and fine lines
Shiny skin tone
Uniform skin texture.
You might wonder if microdermabrasion is the best option for you. Next, I'll compare it to another skin treatment.
Is Hydrodermabrasion Better Than Microdermabrasion?
Yes, hydrodermabrasion is better than microdermabrasion for several reasons.
Microdermabrasion uses a handheld device for spraying abrasive microcrystals across the face to exfoliate the skin(4).
The procedure is slightly invasive and often causes mild inflammation and redness which would require you to protect your skin with sunscreen for a few days.
Hydrodermabrasion, on the other hand, employs the use of oxygen and saline solution (serum) and a device that sprays a supersonic jet of water droplets for exfoliating the skin. It has the added advantage of skin hydration and improved circulation.
Hydrodermabrasion may be a better option if you have sensitive skin or other skin concerns such as blotchiness or acne as microdermabrasion may worsen such skin conditions.
This video will help you learn more about the differences between hydrodermabrasion and microdermabrasion:
Now that you know more about this pretty amazing skin care treament, let's see how often you can get it.
How Often Can You Get a Hydrafacial?
Once every four weeks is the ideal time to get a hydrafacial.
You should be able to maintain your skin in good condition with that.
However, those with oily skin or acne-prone skin might need to have hydrafacial more often. Having it once every three weeks might be helpful.
FAQs
Is There Downtime With Hydro Microdermabrasion?
There's no downtime with the procedure except if it's badly done. In a few hours after the hydro microdermabrasion procedure, you can get on with your day.
Can I Do Hydro Microdermabrasion at Home?
You can not have the procedure in your home.
It should be handled by a trained professional who is competent enough to identify specific skin types and has the skills and equipment to conduct the procedure without any unnecessary mistakes.
You can try using an exfoliating scrub if you prefer to have a skin treatment at home.
Conclusion
Now that you've unlocked the superpower in your skin, you can look much younger and healthier than your age!
It would help to minimize exposure to sunlight and consume healthy foods. This will help lock in the effects of hydro microdermabrasion for as long as possible.
Your esthetician could also recommend skin care products to help you maintain that skin magic.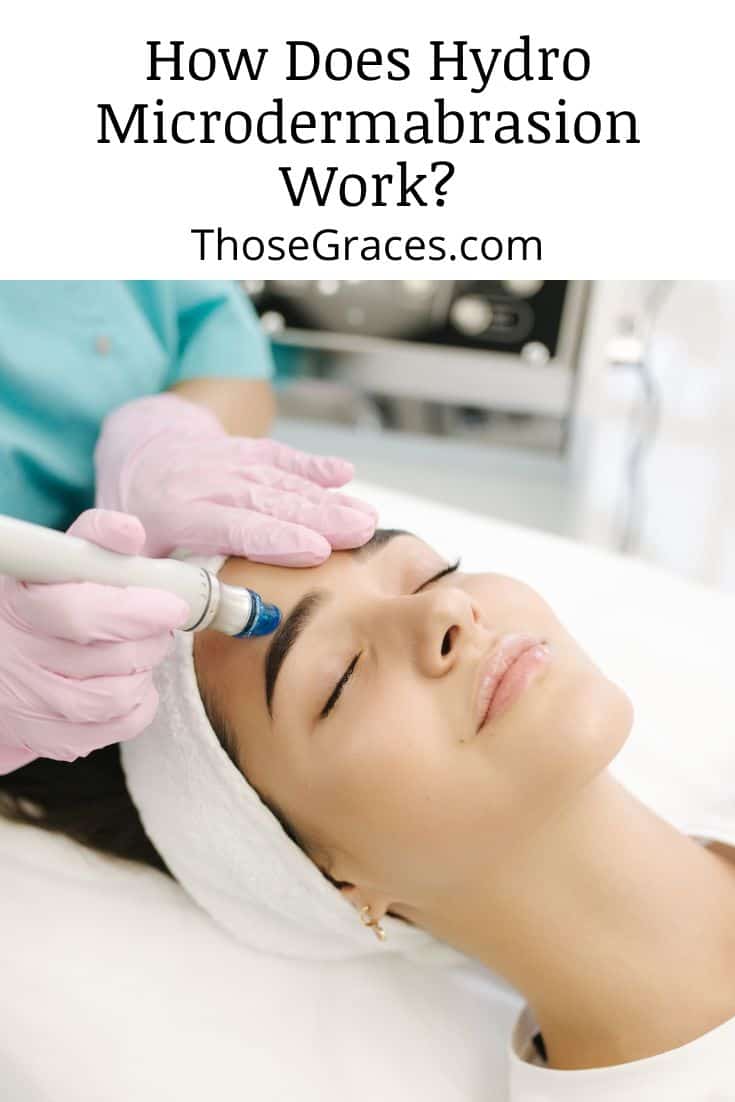 Resources
1. Has C. Peeling Skin Disorders: A Paradigm for Skin Desquamation. Journal of Investigative Dermatology. 2018;138:1689–91.
2. Reilly DM, Lozano J. Skin collagen through the lifestages: importance for skin health and beauty. Plastic and Aesthetic Research. 2021;2021.
3. Comedo – an overview | ScienceDirect Topics [Internet]. www.sciencedirect.com. [cited 2022 Aug 7]. Available from: https://www.sciencedirect.com/topics/medicine-and-dentistry/comedo
4. Shah M, Crane JS. Microdermabrasion [Internet]. PubMed. Treasure Island (FL): StatPearls Publishing; 2020. Available from: https://www.ncbi.nlm.nih.gov/books/NBK535383/