Thinking about having a facial treatment but not sure what hydrafacial side effects there are and if there are any benefits?
Not to worry, millions of people out there also share your concerns, myself included when I was considering this skin treatment for the first time.
After research, speaking to experts, and trying the treatment myself I learned everything you need to know.
In this article, I'll be sharing what I've learned about hydrafacial treatment processes and hope you'll find it super helpful.
Let's go!
What is a Hydrafacial?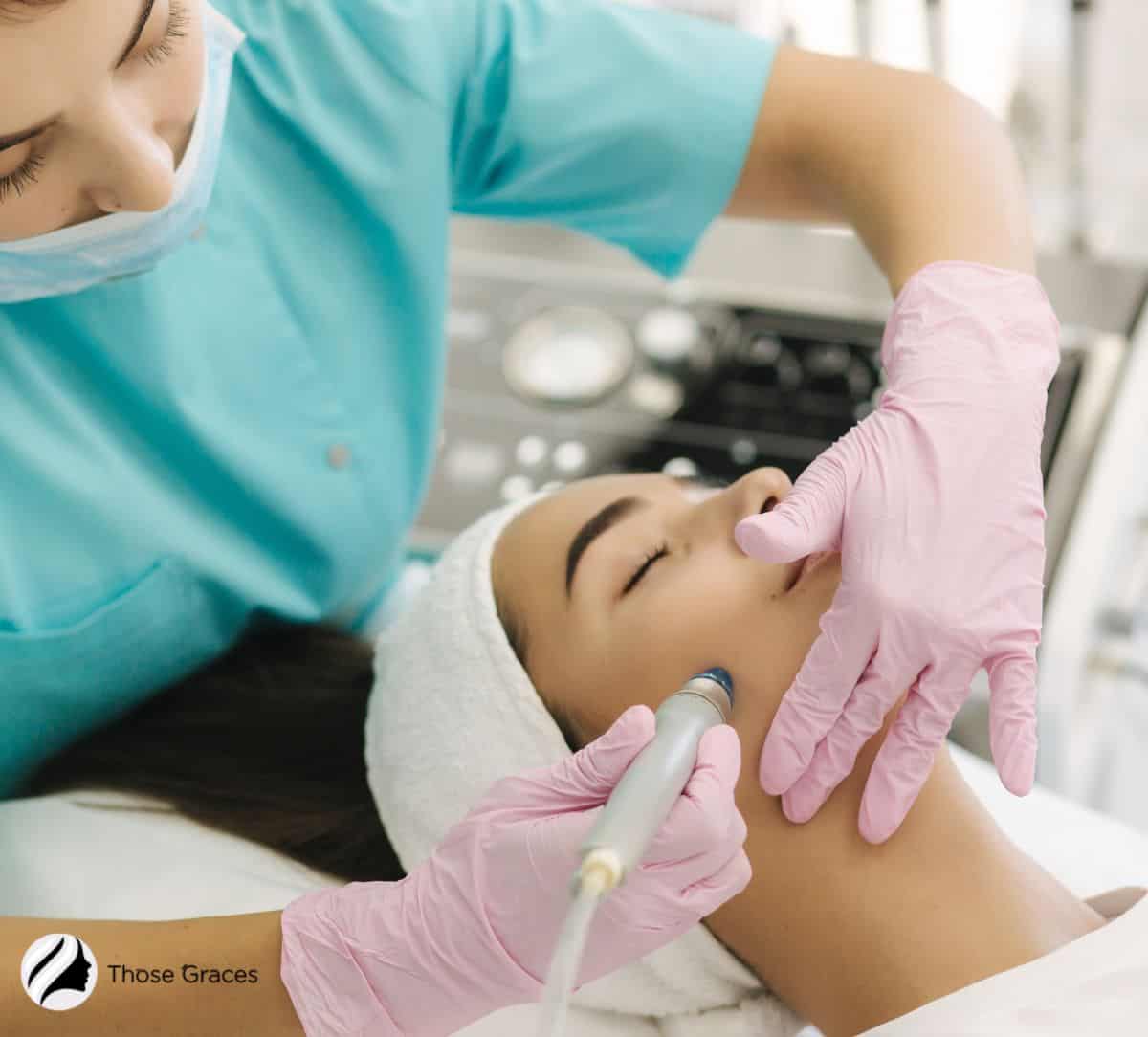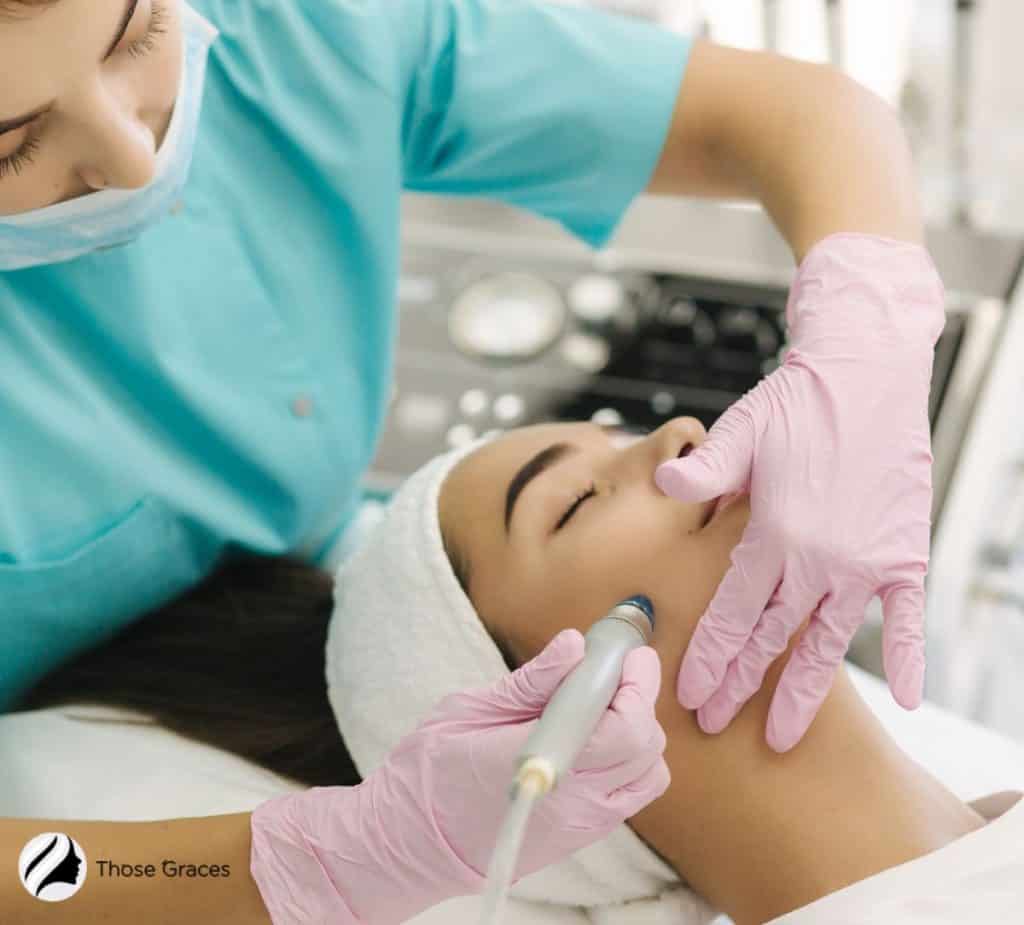 Hydrafacial is a resurfacing skin treatment that clears out pores and hydrates the skin. It involves using a patented device to exfoliate, cleanse, extract and hydrate the face.
It is one of the few facial treatments that can maintain your skin health for longer periods, even longer than your regular spa facials. In just one hydrafacial session, you can have your skin glowing and appearing smooth again.
Pretty amazing, yes? Who doesn't want a quick way to get their skin looking its best?
Because it is a patented skin treatment, only licensed spas or licensed hydrafacial estheticians can offer this service.
If you want to learn about other types of treatments, check out hydro microdermabrasion.
To learn more about the benefits of hydrafacial, keep reading.
How Does Hydrafacial Work?
Hydrafacials work by using a proprietary device, the Hydrafacial MD device. This device has an exfoliating tip and through suction, it can lift dead skin cells from the face.
After exfoliating the facial skin, the last step involves the infusion of serum into the skin. This final step is a major factor that differentiates this treatment process from microdermabrasion.
According to the American Society of Plastic Surgeons, "microdermabrasion is a minimally invasive procedure that employs the use of a mildly abrasive instrument that gently sands your skin, removing the thicker, uneven outer layer." [1]
The infusion of hydrating serum and the use of suction for the exfoliation process makes the hydrafacial treatment suitable for all skin types.
Hydrafacial Treatment
The Hydrafacial procedure involves three steps, namely cleansing, extracting, and hydrating. Let's look at them in detail.
Cleansing
This step involves a skin resurfacing process in which dead skin cells are removed by chemical peeling and a new layer is uncovered.
Using a mix of serums the dirt and oil-clogged pores are also cleansed.
Extracting
The debris formed by the dead cells and the dirt from the clogged pores is extracted by suction. This step is followed by intense hydration that aims to improve and strengthen the skin.
Hydrating
Serums enriched with hyaluronic acid, peptides, and antioxidants are applied at this stage to improve the skin. This is also the stage where your esthetician addresses specific skin concerns.
For more detailed understanding of Hydrafacial procedure step by step, you can check out this video:
If you also have an interest in microdermabrasion check out our guide to the best affordable microdermabrasion machine.
So, what are the benefits of this process? Let's take a look.
What are the Benefits of a Hydrafacial?
The Hydrafacial treatment is indeed beneficial to the skin as it improves overall skin tone and texture. Hydrafacial benefits and can be the solution to most skin issues such as: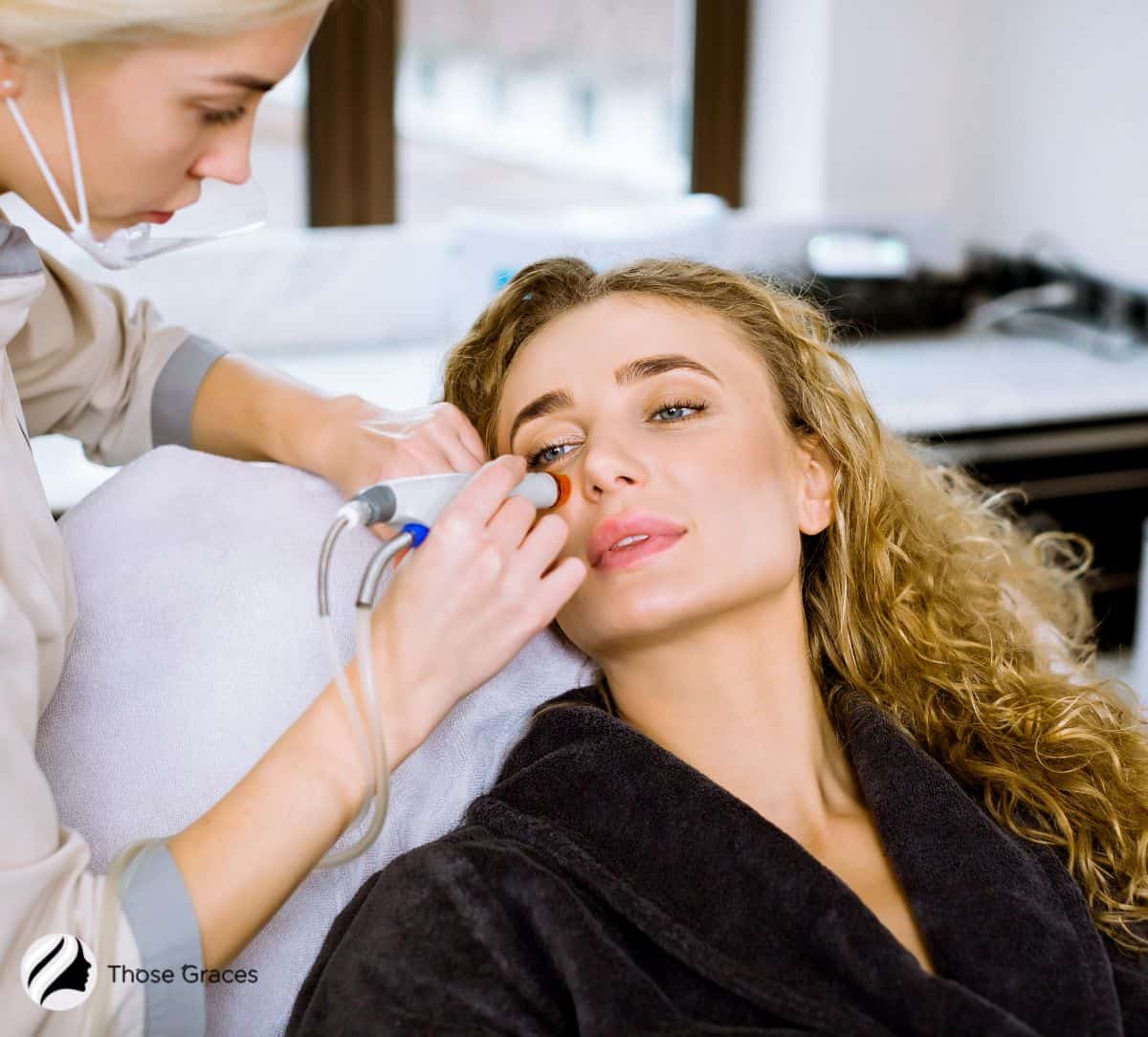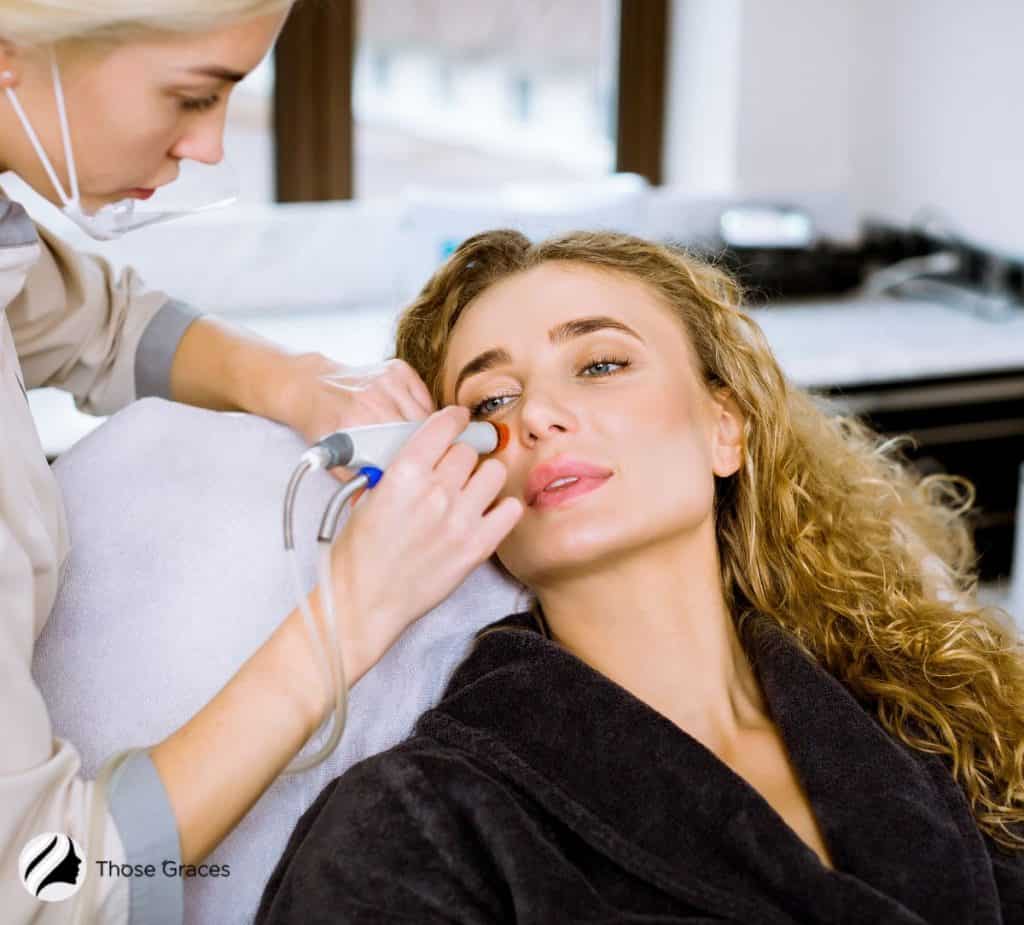 Helps Acne
The Hydrafacial procedure is effective for oily and acne-prone skins.[2] The deep exfoliation that the procedure employs helps to eliminate dead cells that have formed clogged pores.
Reduces Blackheads
Blackheads are a non-inflammatory type of acne usually caused by dead skin cells. The exfoliating and extracting process of this facial treatment is beneficial in removing blackheads.
Helps Aging Skin Concerns
Signs of skin aging include the appearance of wrinkles, dark spots, brown spots, fine lines, permanent acne scars, hyperpigmentation, and enlarged pores. [3]
Hydrafacial can help eliminate these skin conditions while giving you smoother, brighter, and firmer skin.
The Hydrafacial procedure is customizable, making it a suitable treatment for different skin types such as oily skin, and dry skin, and for addressing different kinds of skin concerns e.g., sensitive skin, uneven skin tones, etc.
Hydrafacial Side Effects
One amazing thing about Hydrafacial treatment is that there are no complications to the procedure. When I found this out, I was much for willing to give it a try!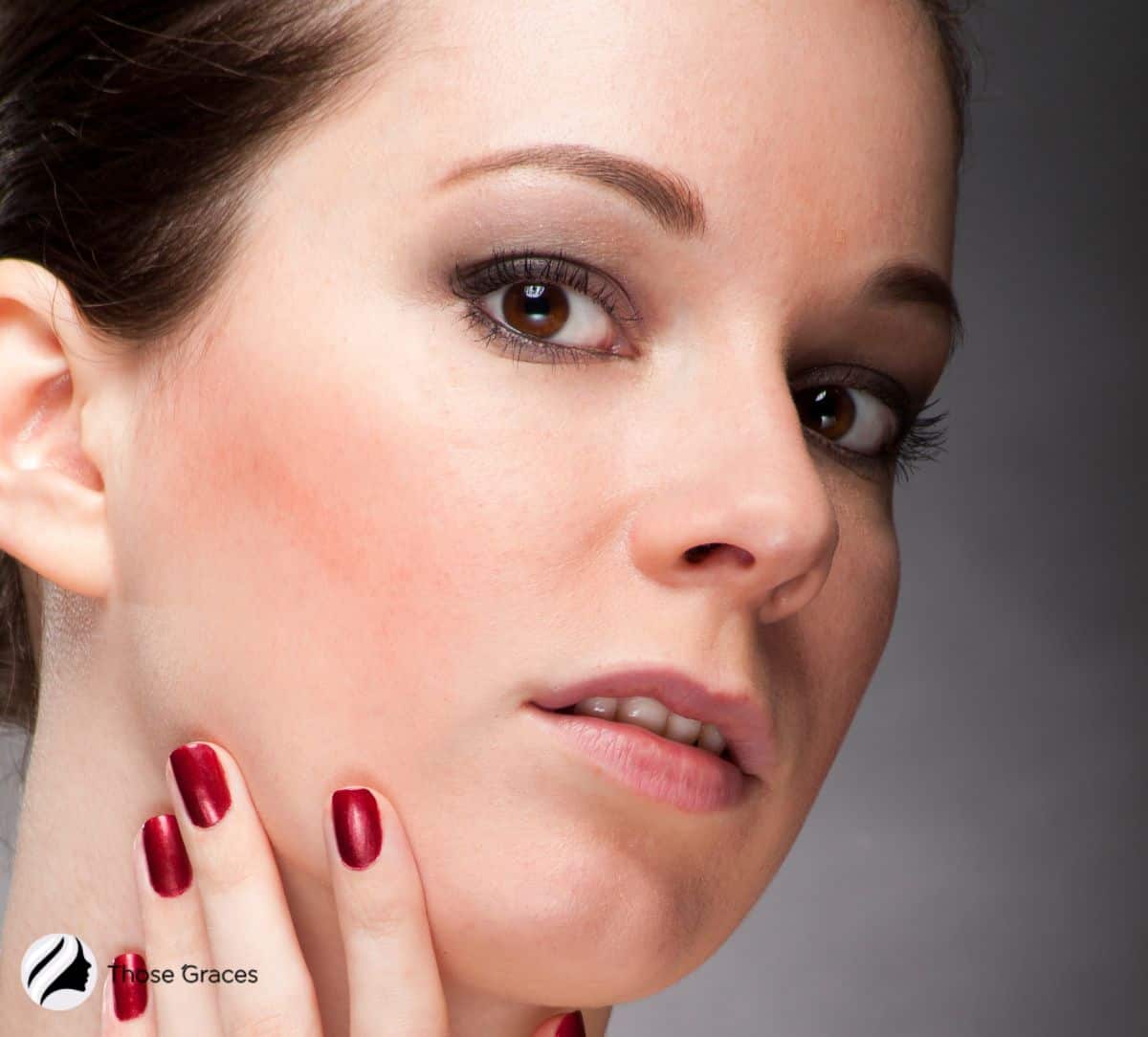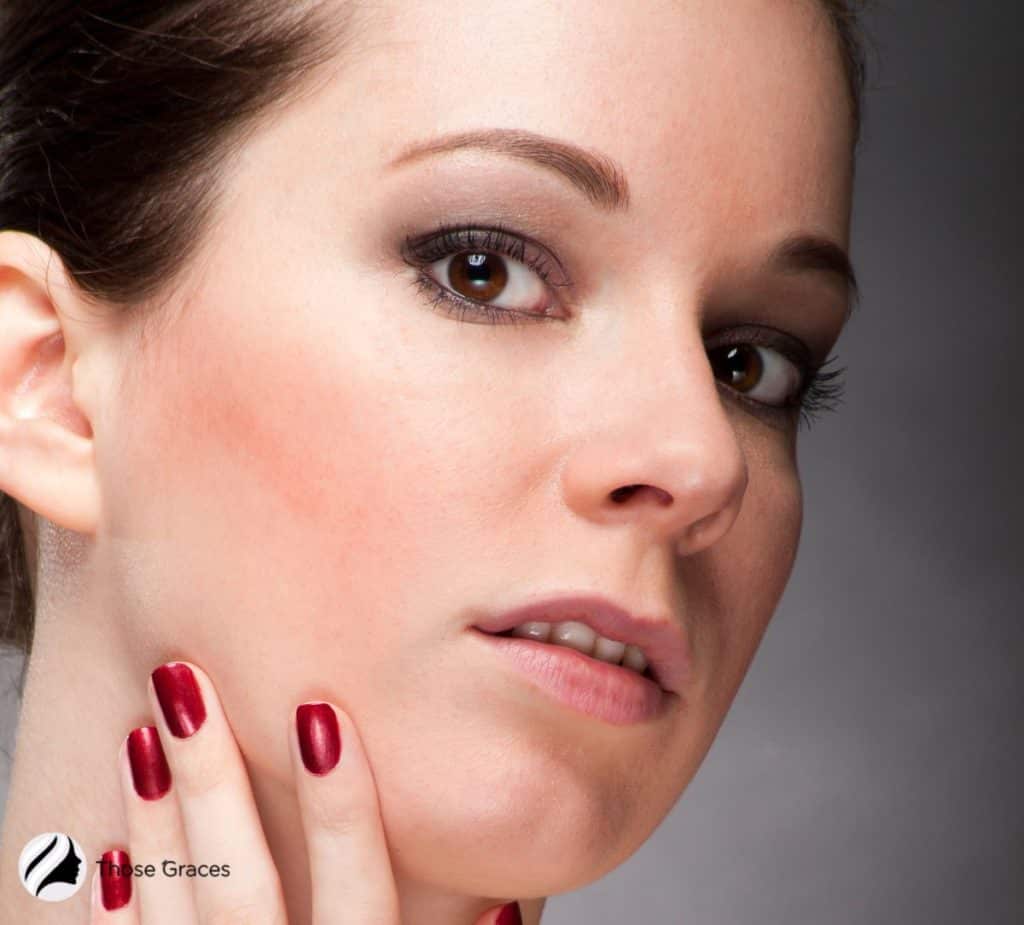 Besides having to endure the light pressure that the suction power from the wand might create, you may only experience a few side effects of hydrafacial such as:
Mild redness: This is usually due to increased blood circulation.
Irritation: For those with sensitive skin, the infused serum might cause slight irritation. If you have active rashes you should avoid this procedure.
These side effects will normally disappear in less than an hour after the procedure if they occur at all. To minimize adverse effects, your esthetician can make customizable adjustments to suit your skin.
My skin is a little sensitive, so I made sure to let my esthetician know beforehand. They were able to make slight changes to the treatment and I had a comfortable experience.
Who Should Do Hydra Facial?
Generally, anyone desiring improved skin health should consider doing hydrafacial.
In reality, no matter how fantastic your skin is, as you grow older, signs of skin aging will begin to surface, and having facial treatments like a hydrafacial then becomes necessary.
Those battling skin conditions such as hyperpigmentation, acne, sun damage, etc., will need regular treatment. Anyone interested in reactivating a youthful glow for themselves can do hydrafacial.
I found this treatment really appealing because it gets good results with little to no risk of side effects.
However, if you have severe acne, sunburn, or an active rash, you should avoid this procedure.
For pregnant women, the American Academy of Dermatology Association says salicylic acid (an important component of the Hydrafacial serum) should only be used for a limited period during pregnancy. [4]
Don't forget to check our list of the best professional hydrafacial machine.
Does Hydrafacial Hurt?
No, hydrafacial has a firm "no torture" policy. Most patients often find the process as comfortable as a light massage.
The process mainly involves a chemical peeling of the dead skin cells, followed by extraction. Exfoliation sometimes comes with itchy sensations or feelings of something rubbing over your face but it is never unpleasant or painful.
You may feel a little tugging on your face during the vacuum-like part of the procedure, but overall, the process is soothing. I personally, found it quite a relaxing experience.
It's practically non-invasive, so you don't need to worry about sustaining punctures or minor cuts.
For those who have peculiar skin health challenges such as sensitive skin, your esthetician will apply customized techniques that will work well for you without any issues.
Is a Hydrafacial Worth It?
Yes, a hydrafacial, when properly done, is worth it. Especially if you're considering how long the effects last. Your skin can retain a healthy glow several weeks after the treatment.
How Often Should I Get a Hydrafacial?
Generally, the recommended time for continued treatment is every four weeks.
Those with more sensitive skin conditions such as oily and acne-prone skin might require a more frequent appointment with their esthetician.
FAQs
Can a Hydrafacial Damage your Skin?
As of now, there's no skin damage confirmed with the hydrafacial procedure. However, as long as you do not have sensitive or acne-prone skin, you do not need to worry about skin damage.
Is a HydraFacial Better than a Regular Facial?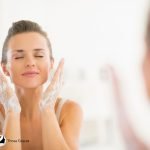 Hydrafacial treatment is better than regular facials in most cases. The extraction process is not manual. The results are instantaneous and long-lasting.
It also imparts other benefits such as improved hydration and reduced fine lines and dark spots.
Do Celebrities Get Hydrafacials?
Yes, celebrities get hydrafacials. Usually, celebrities love skincare treatments with visible, immediate results without downtime.
The hydrafacial procedure offers all of these, and that makes it a great pick for celebrities.
Conclusion
Isn't it just magical that you can walk out the door with a more refined and radiant look in less than an hour? Who wouldn't want that?
Plus the added bonus that the negative side effects of hydrafacial are zero or very minimal.
This procedure is a robust package everyone who loves their skin should consider.
Besides the short-term hydrafacial side effects listed above, there aren't any long-term side effects confirmed with the procedure yet.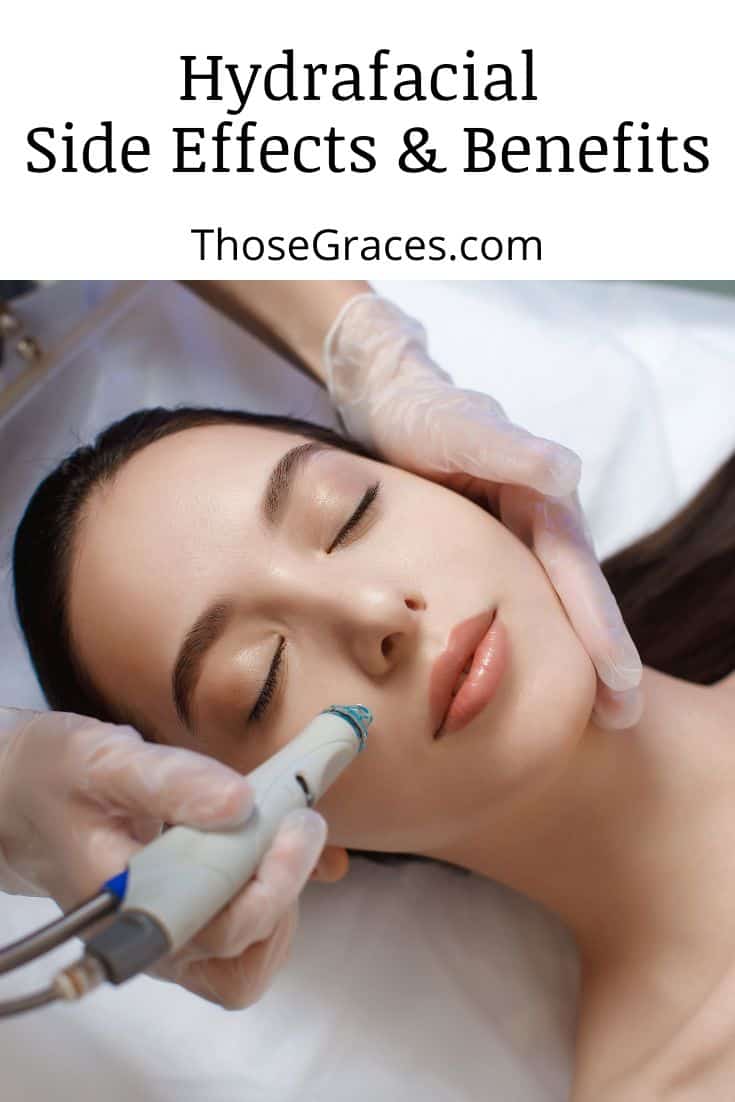 Dispel your worries and rumors and get your facial skin that new glow that it deserves! Has anyone used this treatment? How did you find the results? Let me know in the comments.
Resources
1. Microdermabrasion [Internet]. American Society of Plastic Surgeons. Available from: https://www.plasticsurgery.org/cosmetic-procedures/microdermabrasion#:~:text=What%20is%20microdermabrasion%3F
2. Acne Vulgaris – an overview | ScienceDirect Topics [Internet]. www.sciencedirect.com. Available from: https://www.sciencedirect.com/topics/medicine-and-dentistry/acne-vulgaris
3. Ortonne J-P, Bissett DL. Latest Insights into Skin Hyperpigmentation. Journal of Investigative Dermatology Symposium Proceedings. 2008;13:10–4.
4. Is any acne treatment safe to use during pregnancy? [Internet]. www.aad.org. Available from: https://www.aad.org/public/diseases/acne/derm-treat/pregnancy