Oh, honey! Celebrities with short hair are taking the world by storm, and I, your trusty beauty enthusiast, am here to spill the tea on this fabulous trend.
I've tried and tested these chic styles, and let me tell you, they are a game-changer!
So, buckle up, gorgeous, and let's dive into the magical world of pixie cuts, bobs, and everything in between with expert tips on how to rock these iconic looks.
15 Famous Celebrities With Short Hairstyles
1. Ellen DeGeneres's Super Pixie
Ellen DeGeneres is known for many great things, and her signature pixie haircut is one of them.
It's a simple, fuss-free style that provides so much edge to your look.
Even without gels and combs. She has always been rocking this super pixie, from her famous daytime show to many red-carpet events.
And if you also want to sport such a simple yet impressive haircut, then it's high time you do it now.
Unlike many other hairstyles and haircuts you can try at home, we suggest you visit your hairdresser to adorn your tresses with the Ellen DeGeneres pixie cut.
Otherwise, there is a high chance that you might have to go bald if you try doing it yourself.
Journey through style with my guides on 'Black Hairstyles from the 90s' and discover modern flair with 'Pixie Haircuts for Fine Hair' for the perfect look!
2. Keira Knightley's Angled Bob
Got a round face?
Try this razor-sharp angled bob that Keira Knightley has sported in many red-carpet events.
This chic, long in the front and shorter in the back haircut not only adds incredible volume to your manes [1] but also perfectly frames your face with those pronounced angles.
To style your bob just like Keira Knightley's angled one, apply some volumizing mousse all over your damp hair.
A volumizing mousse, like the John Frieda Luxurious Volume Perfectly Full Mousse, not only adds the required lift but also creates a base for the styling.
Then using a blow dryer and a round brush, dry all your manes to look fuller and bouncier.
Once all your tresses are completely dried and have the required volume, take a flat iron and lightly smooth out the bob to look exactly like Keira's.
3. Victoria Beckham's Signature Bob
No one sports short hair as Victoria Beckham does. Her fine, thin tresses are made for a shorter, more voluminous haircut.
Over the years, she has inspired many girls to sport a hairstyle like hers.
And if you also want to try her signature stacked bob, try it now.
This haircut accentuates your cheekbones and angles and elevates your overall aura by several notches.
The best part of this haircut is that it provides an excellent amount of volume.
The short, stacked bob at the back and slightly longer face-shaping strands at the front make for a perfect combination of style and comfort at the same time.
4. Emma Stone's Romantic Lob
Loved Emma Stone's long bob? Why not try it for yourself?
The soft, romantic lob that Emma Stone sports often is perfect for any occasion.
From red carpet events to weddings, this side-swept bangs and minimal layering is a universally flattering hairdo to rock.
Adorning your lob with this romantic hairdo is as simple and fuss-free as it looks.
First, detangle your manes with a wide-tooth comb and spray on a liberal amount of heat [2] protectant spray all over the tresses.
Then, using a 1-inch curling iron, create alternate curls in your hair and let them sit for a minute.
Run your fingers through them to not only interconnect the curls but also to give an overall look a soft, natural vibe.
5. Ruth Negga's Short Natural Curls
If you have natural hair and want to cut it super short, get inspiration from Ruth Negga's Golden Globes hairstyle.
Her tight curly locks and the pixie-style cut make for a refreshingly youthful change.
To rock this hairdo all day, with pride and ease, you only need to visit your hairdresser right now and chop off your luscious natural curls into Ruth Negga's pixie curls.
Short hair always grows back; thus, don't hold yourself back from trying this amazing do.
If you're considering chopping your locks, don't miss out on learning about the pros of short hair. And for a trendy update, check out our guide on Korean types of bangs!
6. Jane Fonda's Signature Shag
Jane Fonda's style is as popular as her films.
Her signature short shag hairstyle has been the inspiration of many fashionistas out there for years.
Even though this is quite an old do, its appeal is still the same as in the '80s. Proving that some hairstyles don't go out of style.
To rock a hairstyle like Jane Fonda's 19 Annual Hollywood Film Awards one, we suggest you cut uniform layers all over your manes.
Then using a blow dryer and a round brush, tease all your layers to create a voluminous, full-bodied hairstyle that is perfect for any black-tie occasion.
7. Jenifer Aniston's Famous Friends Cut
Every "Friends" fan wanted to try Jenifer Aniston's short stacked layer at least once in their life.
This was one of the most tried-out hairdos in the 1990s than any other hairstyle ever was.
So what made the "The Rachel" haircut iconic? Other than the fact that Jenifer Aniston sported it.
"The Rachel" hairdo is super stylish yet comfortable, and that's why every other fashionista wanted to rock this haircut back then.
If you still want to try this haircut, I suggest you ask your hairdresser for the choppy layers falling just above the collarbone with chunky blonde highlights.
Blow-dry them daily with a round brush to maintain your "Rachel" look even in the 2020s.
8. Taylor Swift's Voluminous Bob
Taylor Swift never fails to impress us with her style.
The world was in awe when she sported the super short bob that showed off her long neck perfectly.
The blunt bob she flaunted was sleek yet voluminous to add depth to the overall look.
Moreover, the perfectly placed bangs softened the fierce look and covered her entire forehead.
This is an edgy style, but it's not too daring to try.
To sport this look, you first must blow dry your hair upside down with a round brush to give it the much-required body and volume.
Then flip your manes and lightly brush them to smoothen them for a sleeker outlook.
Next, with a flat iron, straighten your bangs with a flip at the roots to ensure that the bangs also have the same volume as the bob..
9. Penelope Cruz's Beachy Shoulder Length
Penelope Cruz is a dream.
Everything she does, every fashion move she makes, is replicated by several million girls in the world.
And her beach shoulder-length hair is no different.
This wispy layered lob is super simple to create but has a great impact on the way you look.
It makes you stand up in the crowd without even trying hard.
If you want to adorn your long bob with this wispy, salty hairstyle, you only need a suitable curling iron.
For the styling process, apply a handful of volumizing mousse all over your shoulder-length tresses to add some volume and build a perfect base for the waving.
Then using a wide barrel curling iron, such as this T3 SinglePass Curl Professional Curling Iron, create barely there, loose waves in your manes to look exactly like Penelope Cruz's hair.
10. Elsa Pataky's Layered Bob
No one flaunts Bob as Elsa Pataky does.
She shows off her sexy bob like a queen!
Her layered bob with just the right curls here and there looks so chic and works everywhere regardless of the event.
If you really want to up your hairstyle by a few notches, then this layered bob is a must-try for you.
To achieve this laid-back yet sexy look, style your bob with loose waves or light curls.
Don't forget to feather the ends of the curls to make your hair look thicker and fuller.
11. Zoë Kravitz's Choppy Pixie Cut
Big Little Lies star Zoë Kravitz has undergone the most shocking yet pleasant hair transformation.
She chopped down her signature long braids into a super sexy short pixie crop and looked almost unrecognizable.
Like Zoë, if you are also not a fan of bangs and long hair, her funky pixie cut is just the right one for you.
Use a narrow plated flat iron to twist your super short strands so that they don't fall flat and look incredibly edgy
12. Twiggy's Sleek Crop
A cropped cut is always not about wispy twists, and Twiggy showed us just that.
Her super, sleek side-parted crop cut kick-started her modeling career in the early '60s, and ever since, this iconic hairstyle has been a favorite among women with short hair.
To flaunt this hairdo perfectly, first, flat iron your short tresses to pin-straight tresses and then apply a generous amount of hair gel to get that sleek, shiny effect.
After you are done, part them on any side you wish, and voila! You are ready to rock Twiggy's iconic sleek crop anywhere and everywhere you want.
13. Julianne Hough's Texturized Bob
Julianne Hough has been rocking this amazing bob for a while.
And from the time she flaunted this sassy bob haircut, everyone has gone gaga over this.
Her bold, chin-length bob features a classic bob outline paired with thinned-out ends to give an illusion of an even shorter, more voluminous haircut.
If you also want to style your bob just like Julianne Hough's one, we suggest you start by spritzing on some dry shampoo all over your tresses.
This is to build the body as well as to give them a velvety matte finish.
Then using a flat iron, create a little bit of bend at the front to frame your face.
Leave the ends straight to give your overall look a much-texturized vibe.
14. Miley Cyrus's Edgy Razor Cut
Miley Cyrus made jaws drop when she chopped off her signature long locks to debut her super short razor cut.
Even though she rocked this cut, it is certainly not everyone's cup of tea.
If you are someone who is edgy and likes to take a risk with your hair, then we would suggest you try out this daring look, even only for once.
Even though this completely disconnected haircut has long tresses on top and almost shaved ones on the sides, it's not as difficult to style as you might think.
Apply a bit of gel through wet hair and blow-dry it for a slight lift. Then backcomb the long tresses and you are ready to rock on.
15. Kristen Stewart's Asymmetrical Pixie
Kristen Stewart shows us that some hairstyles never get outdated, and her asymmetrical bob is one of them.
This high-at-the-back and low-at-the-front hairdo is one versatile haircut that works well with edgy outfits.
And if you want to flaunt this hairdo, your best option is to visit a hairdresser rather than try it at home.
FAQs
Which short hairstyles are popular among celebrities right now?
Pixie cuts, blunt bobs, and asymmetrical styles are currently making waves in the celebrity world.
How can I style my short hair like a celebrity?
Embrace texture with sea salt spray or styling paste, add volume with a root-lifting product, and experiment with accessories like headbands or barrettes.
How do I know if a short hairstyle will suit me?
Consult a professional stylist for personalized advice or use face shape guides and virtual hairstyle apps to see how various cuts might look on you.
Wrapping Up
In conclusion, short hair is all the rage among our favorite celebrities, and it's easy to see why! These stunning styles are versatile, low-maintenance, and oh-so-trendy.
From chic pixie cuts to edgy bobs, these celebs have shown us that confidence and creativity know no bounds when it comes to hair. Who knew short locks could pack such a punch?
So, if you're looking for a fresh change or simply want to channel your inner Hollywood star, short hair is definitely the way to go. Trust me; your tresses will thank you for it!
Now that you're inspired don't hesitate to make the big chop and flaunt your fabulous new 'do. After all, if these A-listers can rock it, why can't you?
And remember, the world of beauty is ever-evolving, so keep an eye out for new trends and hair inspiration. What will be the next big thing? Only time will tell! So, tell me, are you ready to make the cut and join the short hair revolution?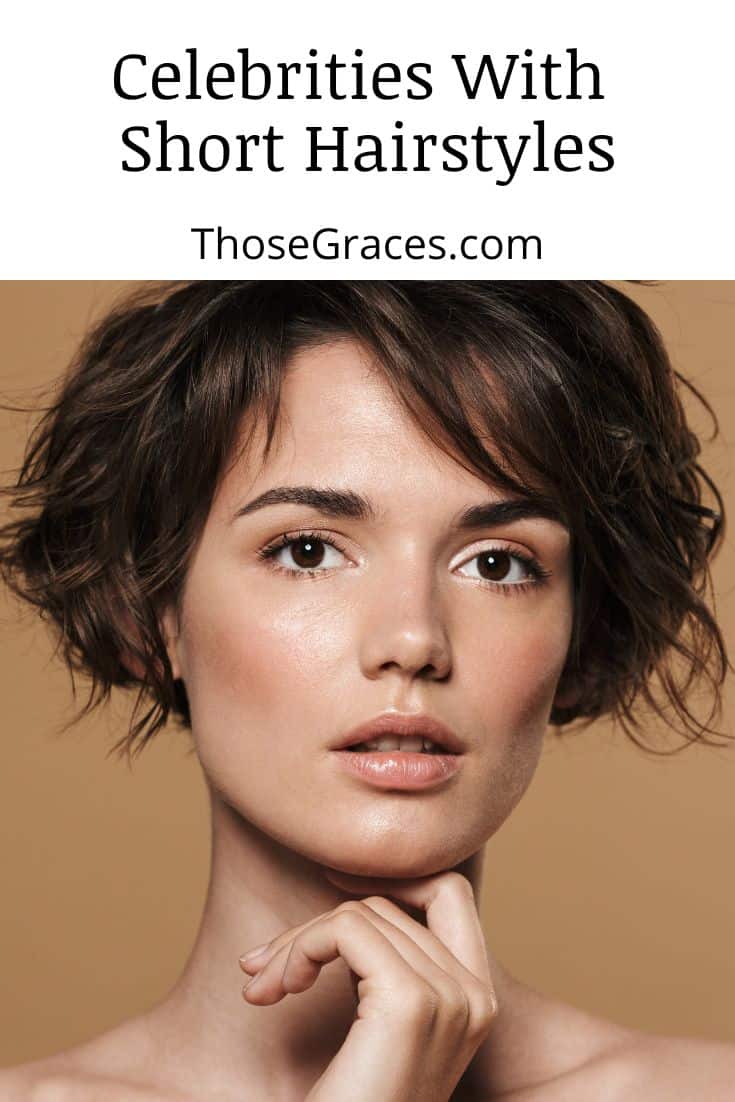 Sources
1. Jackson-Cannady A. Pump Up Your Hair Volume [Internet]. WebMD. [cited 2023 Apr 24]. Available from: https://www.webmd.com/beauty/features/pump-up-hair-volume
2. Heat-Damaged Hair: How to Repair It Without a Haircut [Internet]. Healthline. 2019. Available from: https://www.healthline.com/health/beauty-skin-care/heat-damaged-hair